Has the holiday season brought an inner Scrooge McDuck out of you? Don't worry, we all have moments of Grinch-like behavior this time of year.
But at least with my list of perfect Disney stocking stuffers, you can give your loved ones some extra delight this Christmas morning.
From Mickey and Minnie to Star Wars and Marvel, here are 26 perfect Disney stocking stuffers for everyone in your family – plus 20 super cute Christmas stockings to put it all in.
Disney Christmas Stockings
Now that you know what to get, you're gonna need an actual stocking to stuff. Here are my top picks for Disney Christmas stockings:
What are your favorite Disney stocking stuffers to give each year?
I hope my list of stocking stuffers and Christmas stockings has made your holiday shopping much easier so you can spend more time with your family.
So go ahead and get those tiny gifts ordered so you can sit back and relax more this year.
But before you go – what are your favorite Disney stocking stuffers? Let me know in the comments below so everyone can get some inspiration for a memorable holiday season.
Merry Christmas!
---
About the author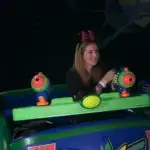 Meg Frost is the creator of The Park Pixie, where she covers Disney World, Disney+, and Disney fandom.
She holds an M.A. in Journalism from Northeastern University and B.S. in Communication & American Studies from University of Miami in Florida.
---