It's no secret that fans of Marvel have been captivated by the character Loki, Tom Hiddleston's portrayal of Thor's trickster brother.
And now with his own show on Disney+, Loki continues to win over fan hearts with his mischievous charm.
Whether it's a heart-melting confession or a quip filled with cynicism, Loki, Mobius, Sylvie, and friends consistently dish out one-liners worth pondering over.
Let's take a journey filled with uproarious laughter as we reminisce season one of Loki series quotes while we wait for the new season to debut later this year.
SPOILER ALERT: This post may contain spoilers to movie or show plots.
Glorious Purpose: Season 1, Episode 1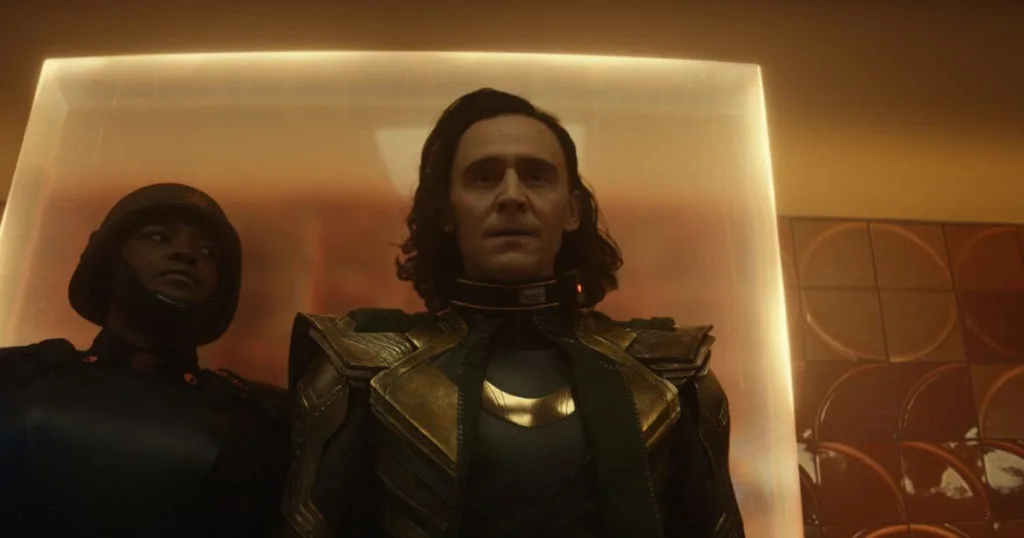 Did you ever wonder where Loki was off to when he stole the Tesseract in Avengers: Endgame?
Well, you're in luck because his self-titled series kicks off with the answer to this very question!
Our favorite God of Mischief is back and he's causing trouble once again – because what else would he be doing?
Loki's escape isn't long-lived, as he's quickly caught by the Time Variance Authority, aka TVA.
Who's that? You'll have to watch to find out!
One thing's for certain, this episode neither disappoints nor lacks in action. Exciting, isn't it?
---
Now hang on just a minute! – Loki
Absolutely not! This is fine Asgardian leather! – Loki
I can't believe you were D.B. Cooper! – Mobius to Loki
I am Loki of Asgard and I am burdened with glorious purpose. – Loki
Look, I can't offer you salvation. But I can offer you something better. – Mobius
Thanks for visiting the TVA. Don't hesitate to let us know how we're doing! – Miss Minutes
Time keepers? The sacred timeline? Who actually believes this bunkum? – Loki to Miss Minutes
On behalf of the Time Variance Authority, I hereby arrest you for crimes against the Sacred Timeline. Hands up. You're coming with us. – Hunter B-15
It's been a very long day and I think I've had my fill of idiots in armored suits telling me what to do. So if you don't mind, this is actually your last chance. Now get out of my way. – Loki to Hunter B-15
You weren't born to be King, Loki. You were born to cause pain and suffering and death. That's how it is. That's how it will be. All so that others can achieve the best versions of themselves. – Mobius to Loki
Welcome to the Time Variance Authority! I'm Miss Minutes and it's my job to catch you up before you stand trial for your crimes. So let's not waste another minute. Settle in, sharpen your pencils, and check this out! – Miss Minutes
Mobius: You've always lived within your set path.
Loki: I live within whatever path I choose!
Loki: Is this an infinity stone? How do you have this?
Casey: Oh, we use them as paperweights.
Loki: I am gonna burn this place to the ground!
Mobius: I'll show you to my desk. You can start there.
Loki: You ridiculous bureaucrats will not dictate how my story ends!
Judge Renslayer: It's not your story, Mr. Laufeyson. It never was.
Judge Renslayer: Are you guilty or not, Sir?
Loki: Guilty of being the God of Mischief? Yes. Guilty of finding all this incredibly tedious? Yes. Guilty of a crime against the Sacred Timeline? Absolutely not. You have the wrong person.
Mobius: It's funny…for someone born to rule, you sure do lose a lot. You might even say it's in your nature.
Loki: You know, things didn't turn out so well for the last person who said that to me.
Mobius: Oh yeah. Phil Coulson.
Clerk: Please sign to verify this is everything you've ever said.
Loki: What?
Clerk: Sign this too.
Loki: This is absurd!
Clerk: And this.
Clerk: Please confirm to your knowledge that you are not a fully robotic being, were born an organic creature, and do in fact possess what many creatures call a soul.
Loki: What? To my knowledge? Do a lot of people not know if they're robots?
Clerk: Thank you for your confirmation. Please move through.
Loki: What if I was a robot and I didn't know it?
Clerk: The machine would melt you from the inside out. Please move along, Sir.
Loki: What's your name?
Casey: Casey.
Loki: Give me the Tesseract or I'll gut you like a fish, Casey!
Casey: What's a fish?
Loki: How do you now know what a fish is?
Casey: I've lived my entire life behind a desk.
Loki: Well, what difference does it make?
Casey: I wanna know exactly what I'm being threatened with before I comply.
Loki: Death, Casey. Violent, painful death!
Casey: Okay, okay. I comply, I comply, I comply. Jeez!
The Variant: Season 1, Episode 2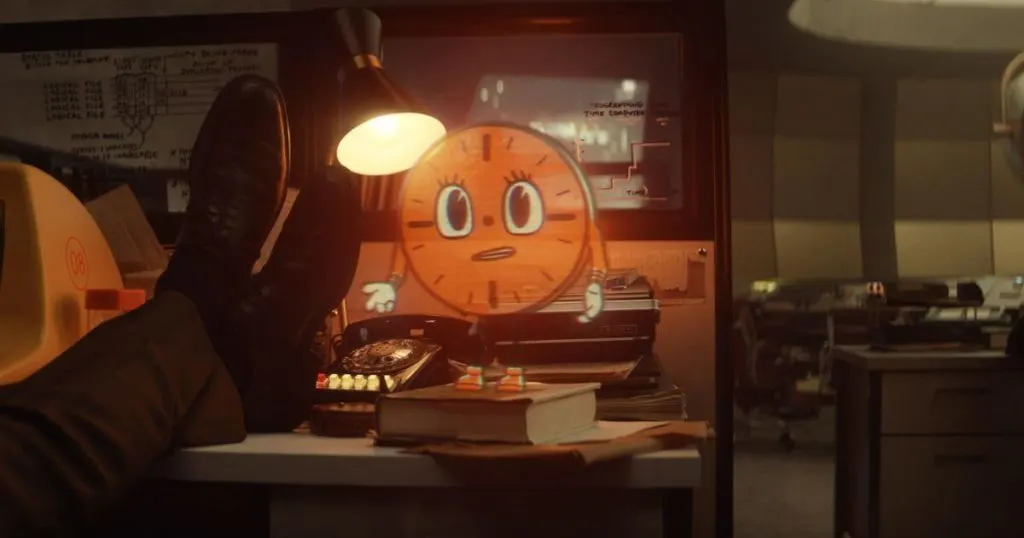 Well, well, well, what do we have here? Another juicy episode of Loki on our hands.
In episode two, appropriately titled The Variant, we dive deeper into the world of the TVA, where they're on the hunt for different variants of the God of Mischief.
Our favorite antagonist, Loki, is tasked with helping Agent Mobius track down a particularly tricky variant who seems to have it out for the TVA.
And of course, we can't forget about the no-nonsense Hunter B-15 who keeps Loki in line while they go on their adventure.
As always, they encounter some mind-bending twists and turns. All we can say is, buckle up, because this episode is a wild ride from start to finish.
---
God, now I understand why Thor found this so annoying. – Loki
No one bad is ever truly bad. And no one good is ever truly good. – Loki
Why is it the because you can't trust are always saying "trust me"? – Mobius
Just because I have to work with you doesn't mean I wanna hear your voice. – Sylvie to Loki
The Time Variance Authority and the gods of Asgard, one and the same. Drunk with power, blinded to the truth. Those you underestimate will devour you. – Loki
Loki: I'd never stab anyone in the back. That's such a boring form of betrayal.
Mobius: Loki, I've studied almost every moment of your entire life. You've literally stabbed people in the back, like, 50 times.
Loki: Well I'd never do it again because it got old!
You know, some things…actually most things in history are kind of dumb and everything gets ruined eventually. But in the early 90s, for a brief, shining moment, there was a beautiful union of form and function, which we call the jet-ski, and a reasonable man cannot differ. – Mobius to Loki
Lamentis: Season 1, Episode 3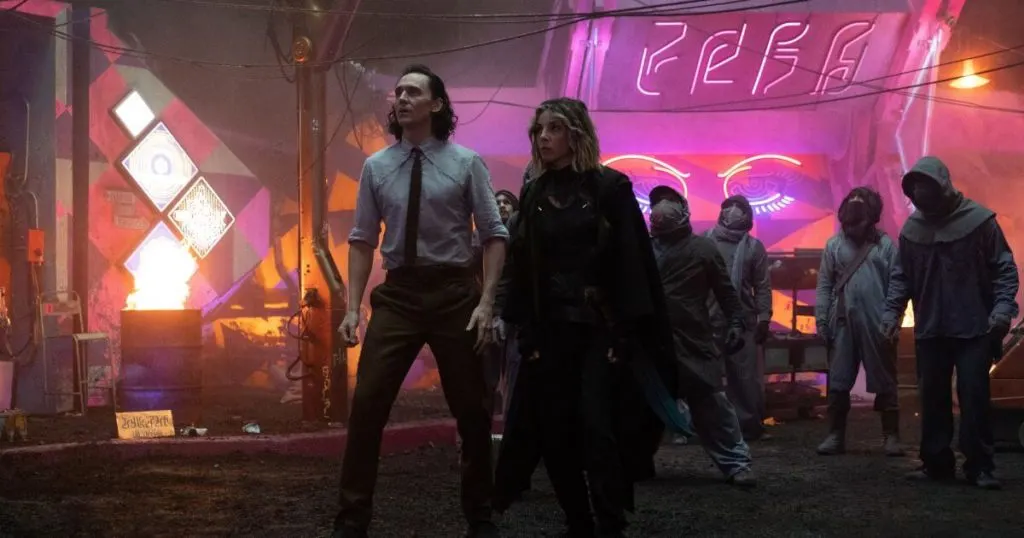 Oh, Loki, you mischievous scamp. Season 1, episode 3, otherwise known as Lamentis was a wild ride full of apocalyptic events and one fierce lady named Sylvie.
Our favorite trickster found himself stranded on a planet that was about to be destroyed, with none other than Sylvie as his companion.
As they tried to find a way off the doomed world, their bickering and banter had us living for every moment.
Oh, and did we mention the insane action sequences? This episode had it all – drama, humor, and even a little bit of heart.
Give it a watch, and you'll see what we mean. Don't worry, we won't give away too many spoilers. We're not Loki, after all.
---
What exactly makes a Loki a Loki? – Sylvie
Brute force is no substitute for diplomacy and guile. – Loki
Love is a dagger. It's a weapon to be wielded far away or up close. You can see yourself in it. It's beautiful. Until it makes you bleed. But ultimately when you reach for it, it isn't real. – Loki to Sylvie
Loki: How do I look?
Sylvie: Like someone with a shit plan.
Sylvie: You're not a serious man.
Loki: You're right. I'm a God.
Sylvie: You're a clown.
Loki: So on the subject of love, is there a lucky beau waiting for you at the end of this crusade?
Sylvie: Yeah, there is, actually. Managed to maintain quite a serious long-distance relationship with a postman whilst running across time from one apocalypse to another.
Loki: And with charm like that, who could resist you?
The Nexus Event: Season 1, Episode 4: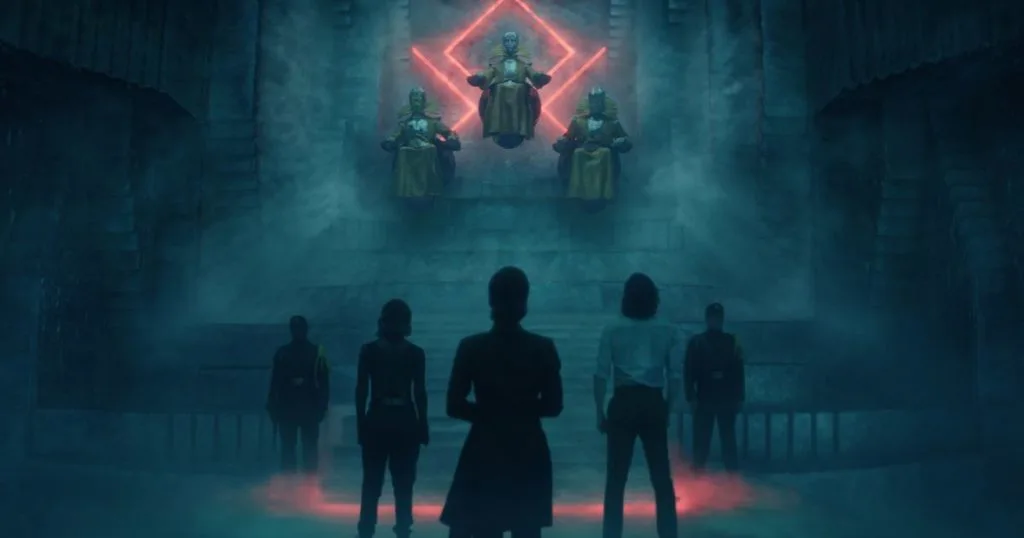 Oh my, Loki episode 4 left me in a tizzy! The Nexus Event has me questioning everything.
Mobius and Hunter B-15 got some serious explaining to do! And don't even get me started on Loki and Sylvie's chemistry. Is it weird? Is it not?
Who cares, give me more!
But seriously, this episode gave us some major plot development and answered some questions while leaving us with even more.
Can we just fast forward to the next episode already? This show is just getting too good!
Here are some of the best lines and scenes from episode 4, The Nexus Event.
---
I looked happy. – Hunter B-15
For all time. Always. – Hunter B-15
You are alone and you always will be. – Sif to Loki
The universe wants to break free, so it manifests chaos. – Sylvie
I've lost track of the number of times I've been killed, so go ahead, do your worst. – Loki
Welcome to the real world. Down there, we're awful to one another to get what we want. – Loki
You could be whoever, whatever you want to be. Even someone good. I mean, just in case anyone ever told you different. – Mobius
It's the Apocalypse. Two variants of the same being. Especially you, forming this kind of sick, twisted romantic relationship. That's pure chaos. That could break reality. It's breaking my reality right now. What an incredible, seismic narcissist. You fell for yourself. – Mobius to Loki
Mobius: So I'm just supposed to take the word of two Lokis?
Loki: How about the word of a friend?
Sylvie: Do you think what makes a Loki a Loki is the fact we're destined to lose?
Loki: No. We may lose, sometimes painfully, but we don't die. We survive.
Loki: You know, of all the liars in this place, and there are a great many, you're the biggest.
Mobius: Why? 'Cause I lied about your girlfriend?
Loki: Oh, no. That I can respect. I mean, the lies you tell yourself.
Mobius: You know what occurred to me? That you're not really the God of Mischief.
Loki: Oh, here it comes. The folksy dopey insult from the folksy dope. What am I? The God of Self-Sabotage, yeah? The God of Backstabbing?
Mobius: Just kind of an asshole and a bad friend.
Journey Into Mystery: Season 1, Episode 5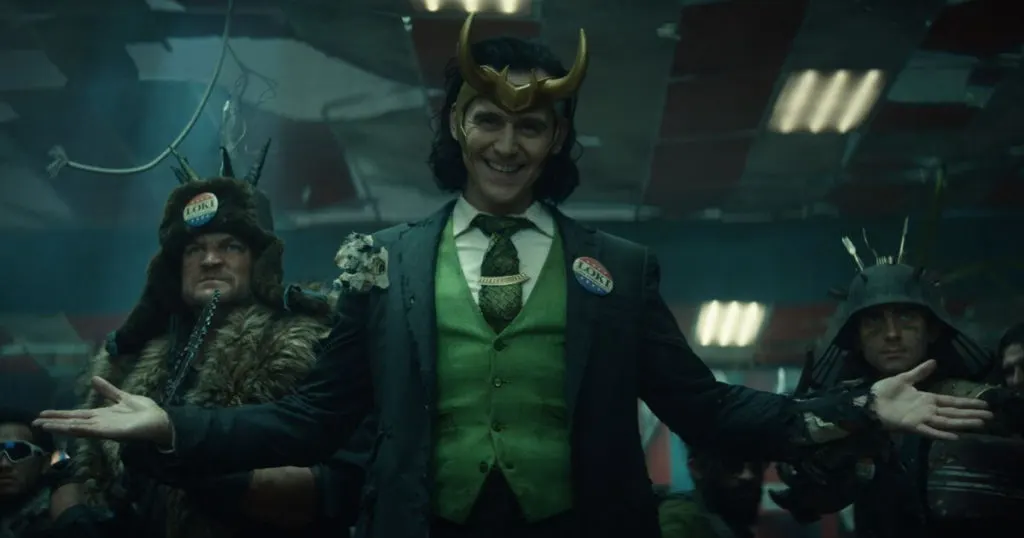 Oh boy, Journey Into Mystery, episode five of Loki, was one wild ride!
We finally got a glimpse of The Void, a desolate wasteland that's home to countless Loki variants that the Time Variance Authority (TVA) have pruned from existence.
Our favorite trickster god, Loki, met a whole bunch of new Loki variants, including Kid Loki, Classic Loki, Boastful Loki, and even President Loki.
But the cherry on top of this crazy cake? Alligator Loki, a Loki variant that's also an alligator, although fans quickly dubbed him Croki (crocodile + Loki).
Yep, you read that right, an alligator!
The episode was filled with Easter eggs and heartwarming moments that'll keep you reeling until the next episode.
---
I think we're stronger than we realize. – Loki
Why the hell is there an alligator in here? – President Loki
Don't die isn't a plan. It's a general demand of living. – Loki
I guess when you think the ends justify the means, there's not much you won't do. – Mobius
Loki: What will you do at the TVA?
Mobius: Burn it to the ground. Thanks for the spark.
Mobius: All that time I really believed we were the good guys.
Sylvie: Annihilating entire realities. Orphaning little girls. Classic hero stuff.
Look, it's been a very, very very trying past few days. Months? I don't even know how long it's been since New York. All I know is, I got pruned and I woke up here, and now I'm surrounded by Variants of myself, plus an alligator, which I'm heartbroken to report I didn't even find all that strange! – Loki
Alligator Loki: ::growl::
Classic Loki: That's alligator for growling and saying liar at the same time.
Boastful Loki: Well at least my nexus event wasn't eating the wrong neighbor's cat!
Sylvie: How do I know that in the final moments you won't betray me?
Loki: Listen, Sylvie. I betrayed everyone who ever loved me. I betrayed my father, my brother, my home. I know what I did and I know why I did it. And that's not who I am anymore.
Classic Loki: You really don't remember him?
Mobius: I mean, the TVA arrested a lot of Lokis. But no, I don't remember an alligator. I mean. who's to say he's even a Loki variant?
Classic Loki: He is green, isn't he?
Mobius: I don't know. He could be lying. The long con. Of course, that just makes him more likely to be a Loki. It's always the game within the game with you guys, which I respect.
Classic Loki: I have to say, it feels odd walking toward the gargantuan creature. Do you have a plan of action?
Loki: Get inside, find its heart or brain or whatever, and then, you know, do it in.
Kid Loki: I mean…
Loki: Okay, just because it's not complicated doesn't mean it's bad.
Kid Loki: It also doesn't mean it's good.
Alligator Loki: ::growl::
Loki: See? He's on board!
Classic Loki: He's praying. He thinks we're going to die.
For All Time, Always: Season 1, Episode 6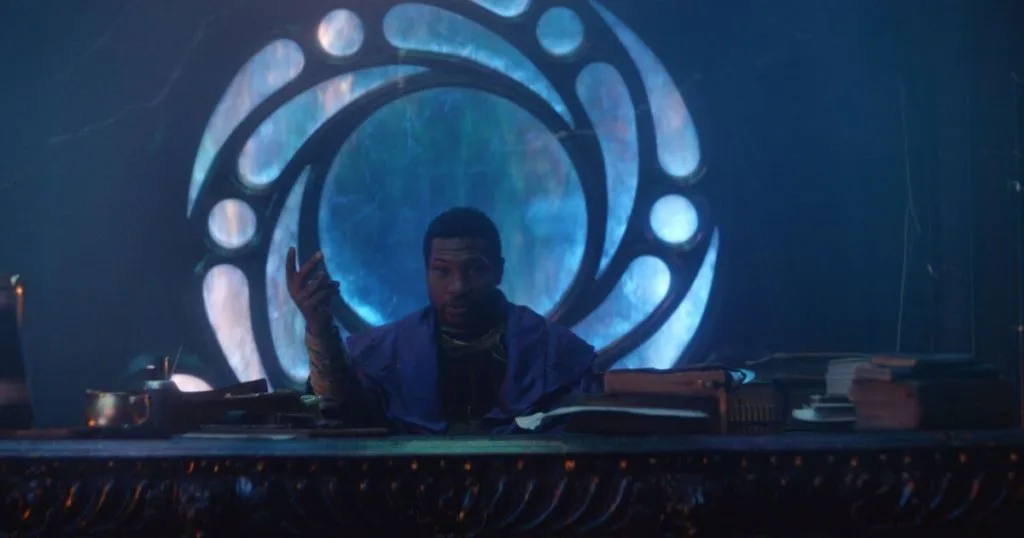 Episode 6, titled For All Time. Always. is a whirlwind of betrayal, heartache, and cosmic implications.
Our hero, or rather, anti-hero, finds himself face to face with Sylvie, his alternate timeline counterpart. Together, they confront He Who Remains, the creator of the sacred timeline.
But things don't go as planned (do they ever?), and Loki ends up at a crossroad with a decision that could potentially change the fabric of reality as we know it.
Trust me, you won't want to miss the final episode of season 1. Not only is it an epic episode, but it sets up Phase Five of the Marvel Cinematic Universe.
---
Evil Loki's master plan comes together. – Loki
At the end, it is only He Who Remains. – Miss Minutes
See you soon. – He Who Remains after getting stabbed by Sylvie
Only one person gets free will. The one in charge. – Judge Renslayer
If you think I'm evil, just wait 'til you meet my variants. – He Who Remains
One man's void is another man's piece of cake. – Mobius to Judge Renslayer
You're a flea on a back of a dragon in for one hell of a ride. – He Who Remains to Loki
You can't get to the end until you've been changed by the journey. – He Who Remains
I've been where you are. I've felt what you feel. Don't ask me how I know. All I know is I don't wanna hurt you. I just want you to be ok. – Loki to Sylvie
You may hate the dictator, but something far worse is gonna fill that void if you dispose of him. I've lived a million lifetimes. I've gone through every scenario. This is the only way. – He Who Remains
I'm tired and I'm older. I'm older than I look. This game is for the young, the hungry. I've gone through a lot of scenarios trying to find the right person to take this spot. It turns out that person came in two. – He Who Remains
Mobius: For all time.
Hunter B-15: Always.
Loki: He Who Remains.
Sylvie: Not much longer.
Sylvie: Why aren't we seeing this the same way?
Loki: Because you can't trust and I can't be trusted.
He Who Remains: Not what you were expecting, huh?
Loki: You're just a man.
He Who Remains: Flesh and blood. Don't tell me I'm a disappointment.
Sylvie: No, just a little bit easier to kill.
What are your favorite Marvel Loki series quotes?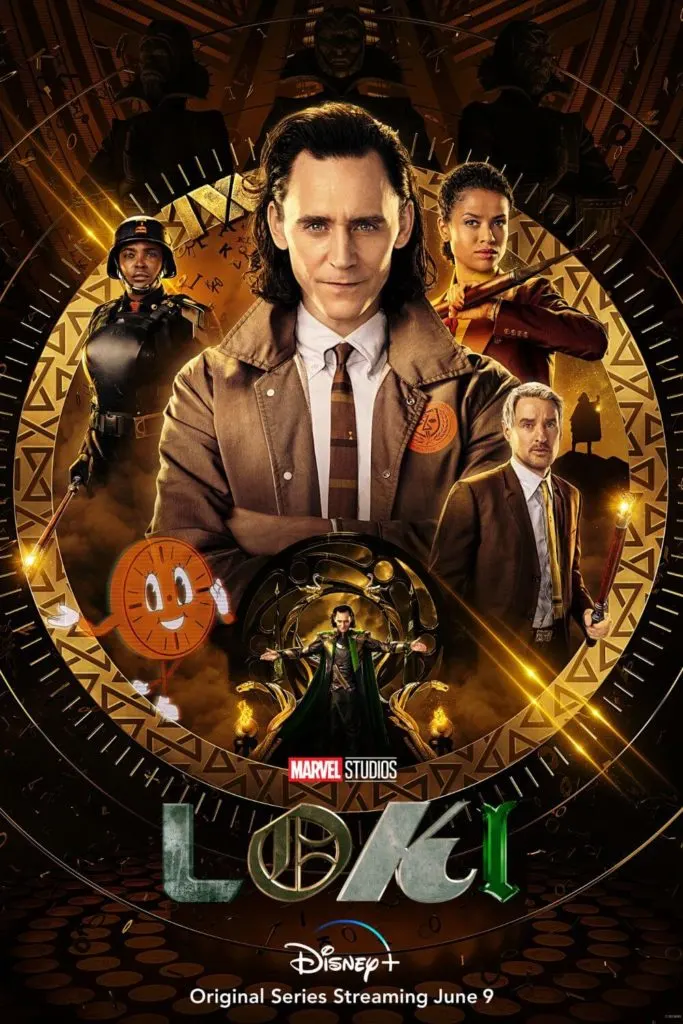 We've come to the end of our exploration into the best Loki series quotes!
Every episode of the show delivers both hilarious and heartrending words of wisdom from our beloved Trickster God and his sidekicks.
From wise-cracks that make us laugh, to insightful truths that teach us more about suffering and redemption, the cast has something for everyone.
Did your favorite quote make the list? If not, there's plenty more where these came from – why not take a deep dive into another round of watching the series on Disney+? Who knows what wisdom awaits!
You never know when you might discover a quote that speaks to your soul.
Be sure to tune into Disney+ on October 6 when season two premieres!
So, let's hear it – what are your favorite Loki series quotes? Share in the comments below.
---
About the author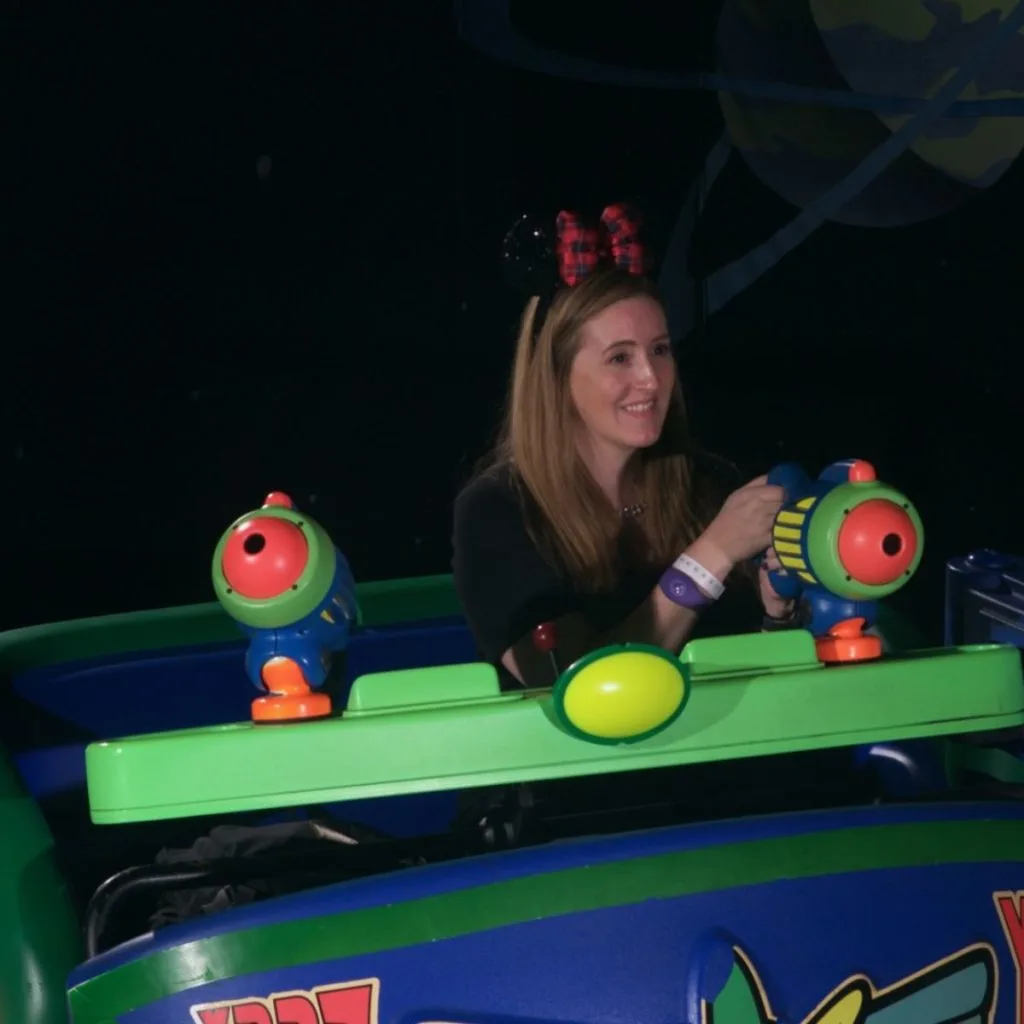 Meg Frost is the creator of The Park Pixie, where she covers Disney World, Disney+, and Disney fandom.
She holds an M.A. in Journalism from Northeastern University and B.S. in Communication & American Studies from University of Miami.
---