Are you ready to get your holiday cheer on? Then it's time to dig into the best Christmas movies on Disney Plus, from classic animated favorites to new original titles.
With so many festive films at your fingertips on this streaming service, there's going to be something for everyone in the family, no matter what type of movie you love the most.
So grab a cup of hot cocoa and curl up with some magic this season with my collection of the best Christmas movies streaming on Disney+!
NOTE: This post may contain spoilers to movie or show plots. These movies and shows are available to stream on Disney+ in the US as of publication time, unless otherwise noted. Availability can change at any time.
Babes in Toyland (1961)
Babes in Toyland, starring The Mickey Mouse Club alumna Annette Funicello, is a timeless tale that follows young couple Tom and Mary as they battle the fiendish Barnaby to save Toyland's inhabitants.
Beauty & the Beast: The Enchanted Christmas (1997)
If you are looking for some animated Christmas-filled fun, then Beauty & the Beast: The Enchanted Christmas is just what you need!
This 1997 animated movie follows our beloved characters Belle and The Beast as they strive to create the best winter holiday ever.
Christmas…Again? (2021)
In Christmas…Again?, Rowena finds herself in a Groundhog Day-like situation after complaining to Santa that her holiday was lackluster and she'd like a do-over.
Now she's stuck reliving Christmas day over and over – until she can find her Christmas spirit.
A Christmas Carol (various versions)
Disney Plus has several versions of the Charles Dickens classic story, Disney's A Christmas Carol (2009).
My favorite version is the one starring Jim Carrey, whose cantankerous character is taken on a journey on a cold Christmas Eve by the ghosts of Past, Present, and Yet to Come.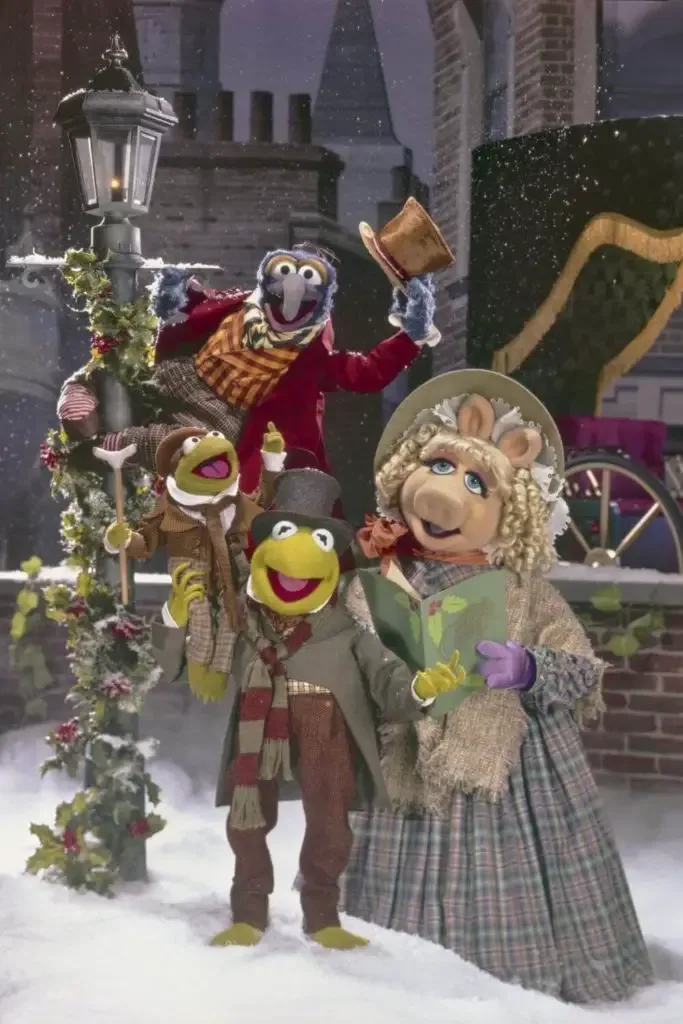 Other versions of this story available on Disney+ include Mickey's Christmas Carol (1983) and The Muppets Christmas Carol (1992).
The Christmas Consultant (2012)
A super busy mom hires a consultant to help her and her family get through the holidays.
But will she get what she thinks she wants or what she needs instead?
The Christmas Star (1986)
The Christmas Star follows the mischievous, grumpy Horace (Edward Asner) as a prison escapee dressed as Santa Claus.
Along the way, he runs into two kids who think he's the real deal, so he plays along to stay hidden from the police.
As Horace gets to know the kids and their friends, his begins to learn the true spirit of Christmas and must decide: continue running or turn himself in.
Dashing Through the Snow (2023)
Coming to Disney+ on November 17, 2023, is an original Christmas movie starring Chris (Ludacris) Bridges, Lil Rel Howery, and Teyonah Parris.
Ludacris plays a dad and social worker in Atlanta who has sadly lost the magic of the holidays due to childhood trauma.
Through the film, he is encouraged by his estranged wife, daughter, and the big man himself (played by Lil Rel Howery) to find the spirit again.
Decorating Disney: Holiday Magic (2017)
In this documentary, Disney fans are taken on a journey to experience the Disney parks all decked out for the holidays season.
The inside look into the parks' vibrant decorations and creative craftsmanship is such a fun way to celebrate this special time of year, don't you agree?
Diary of a Wimpy Kid Christmas: Cabin Fever (2023)
Coming to the streaming service on December 8 is a brand new Wimpy Kid adventure – this time set during the Christmas season.
In this fun film, Greg Heffley and his family get snowed in. Now Greg has to deal with his annoying brothers all while worrying whether he'll get the gaming console he's wished for this holiday season.
The Disney Holiday Sing Along (2020)
Hosted by Ryan Seacrest, musicians like BTS, Chloe x Halle, and Andrea Bocelli, come together to sing classic Disney songs and traditional festive tunes.
This is a great option to put on while you're trimming the tree or decorating cookies.
Disney's Fairy Tale Weddings: Holiday Magic (2017)
Disney's popular Fairy Tale Weddings show gets a holiday twist in this Christmas spin-off special.
Follow couples from around the world who have chosen Disney as the backdrop for their most magical and special day, whether it be an engagement or wedding.
From dazzling light displays to warm Christmas spirit, all perfectly shot in entertaining settings that bring out Disney's signature brand of magic, this special will make you want to plan your own Disney wedding!
Ernest Saves Christmas (1988)
I grew up watching the Ernest movies and was so delighted to find this available on Disney+!
In this classic holiday movie, Ernest (Jim Varney) acts as a guardian angel to help a disillusioned old man find the next Santa Claus before Christmas is ruined forever.
With his typical goofball antics and naive charm, Ernest encounters a variety of characters on his quest, including an orphaned elf who follows him around relentlessly.
Will the bumbling Ernest be able to save our favorite cheery holiday?
Feliz NaviDAD (2020)
David (Mario Lopez) is a single dad who lost his wife and his holiday spirit.
His daughter and sister conspire to help him find love again by signing him up for online dating.
Will he find love and the Christmas spirit again?
Godmothered (2020)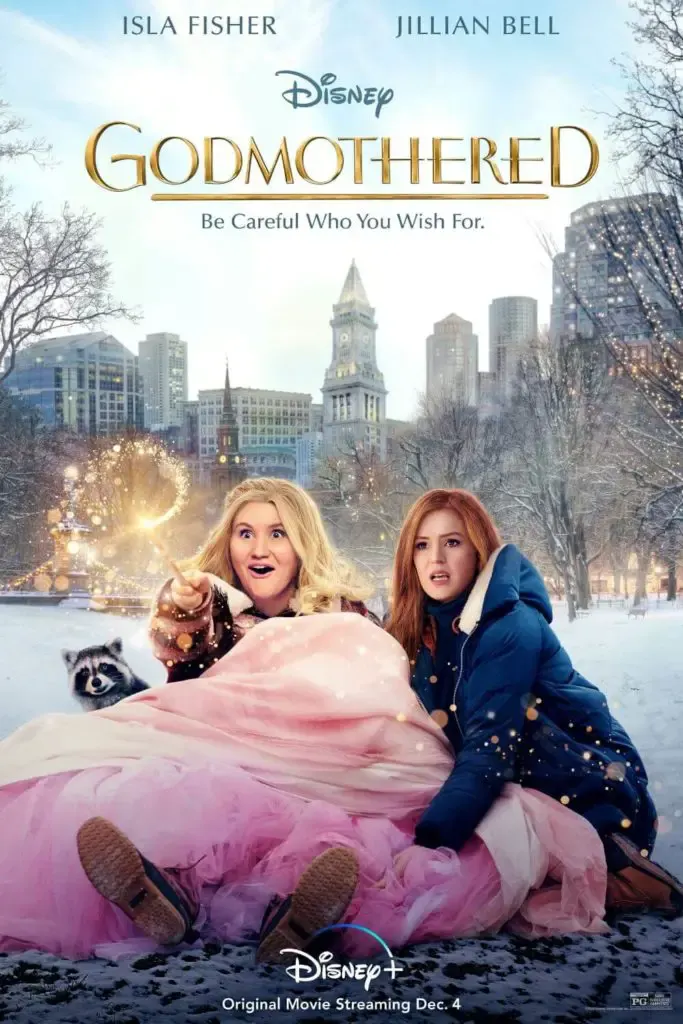 Godmothered is a modern take on the classic Cinderella story.
It follows fairy godmother-in-training Eleanor (Jillian Bell) who is determined to prove "happily ever after" still exists to single mom, Mackenzie.
With plenty of charm and sass, Godmothered is sure to have you laughing yourself right into the holiday spirit.
Good Luck, Charlie: It's Christmas (2011)
In Good Luck, Charlie: It's Christmas, viewers are treated to feel-good holiday fun as the Duncan family embarks on a road trip after missing their flight to Palm Springs.
Along the way they make new acquaintances, face off with old enemies, enjoy pre-Christmas cheer, with a few chaotic road trip mishaps here and there!
The Duncan kids must then pull together and make difficult choices if they want to save their family's holiday.
With plenty of laughs along the way it's sure to please any fan of festive family flicks!
The Guardians of the Galaxy Holiday Special (2022)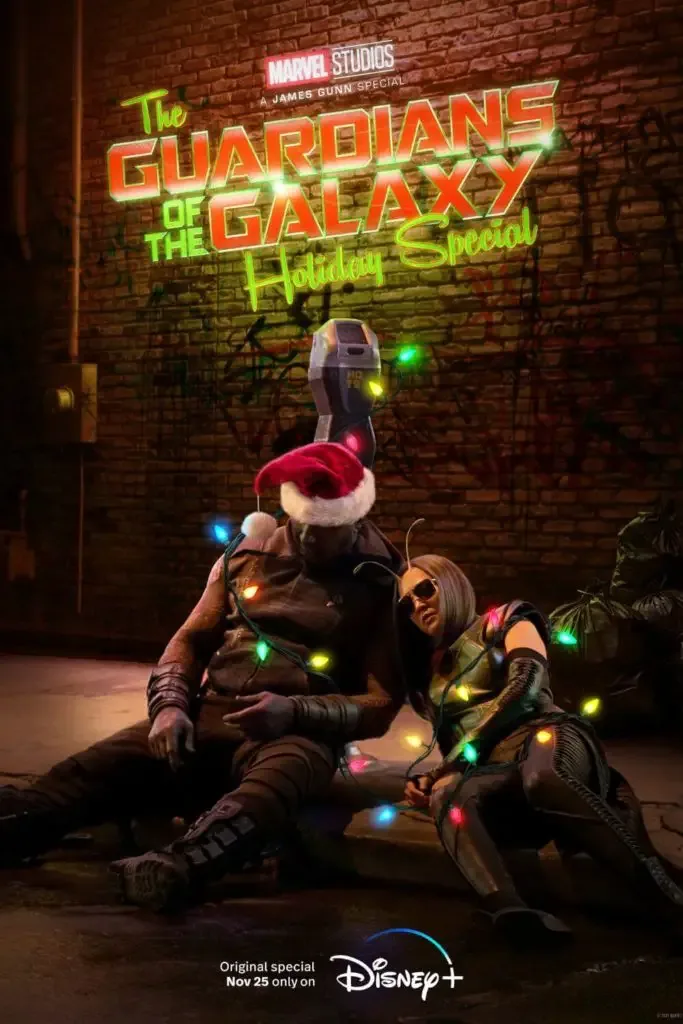 This 44-minute Christmas movie features Mantis and Drax as they travel to Earth in search of the perfect Christmas present for Peter.
The Guardians of the Galaxy Holiday Special includes all the Guardians' goofiness you know and love, plus your favorite characters, such as Peter Quill aka Star Lord, Rocket, Groot, Nebula, Kraglin, Yondu, and Kevin Bacon.
Kevin Bacon?? Yes, Kevin Bacon!
Although this one is new, it has quickly become one of my favorite Christmas movies on Disney Plus!
High School Musical: The Musical Holiday Special (2020)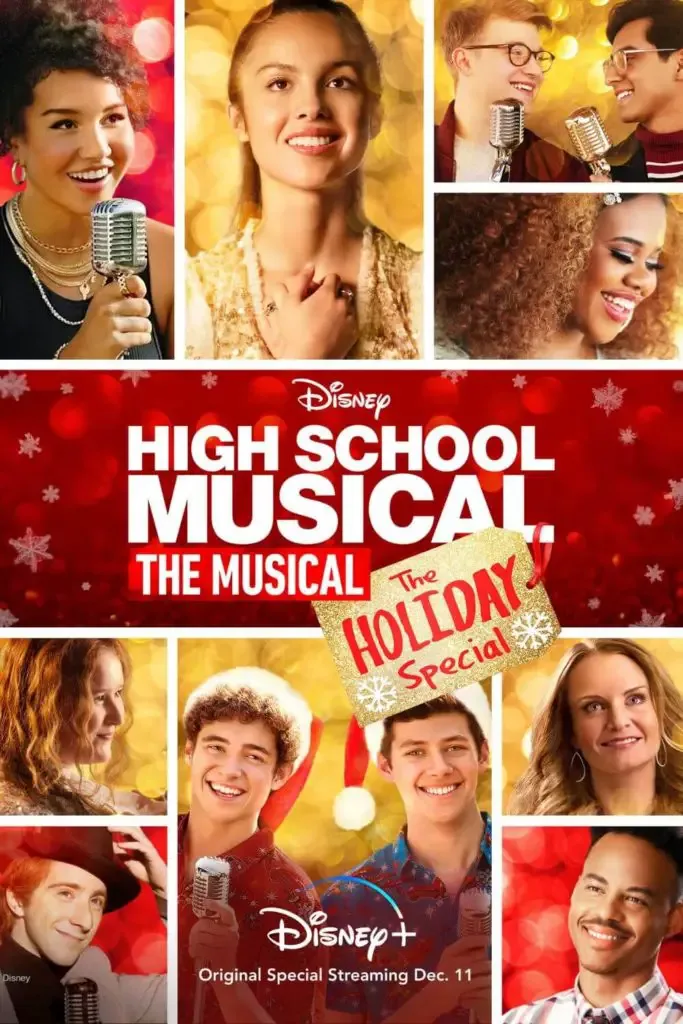 In High School Musical: The Musical Holiday Special, our favorite students from the show put on entertaining performances, tell stories, and all-in-all make holiday magic.
There's even a brand new holiday song, The Perfect Gift, performed by Joshua Bassett.
The Hip Hop Nutcracker (2022)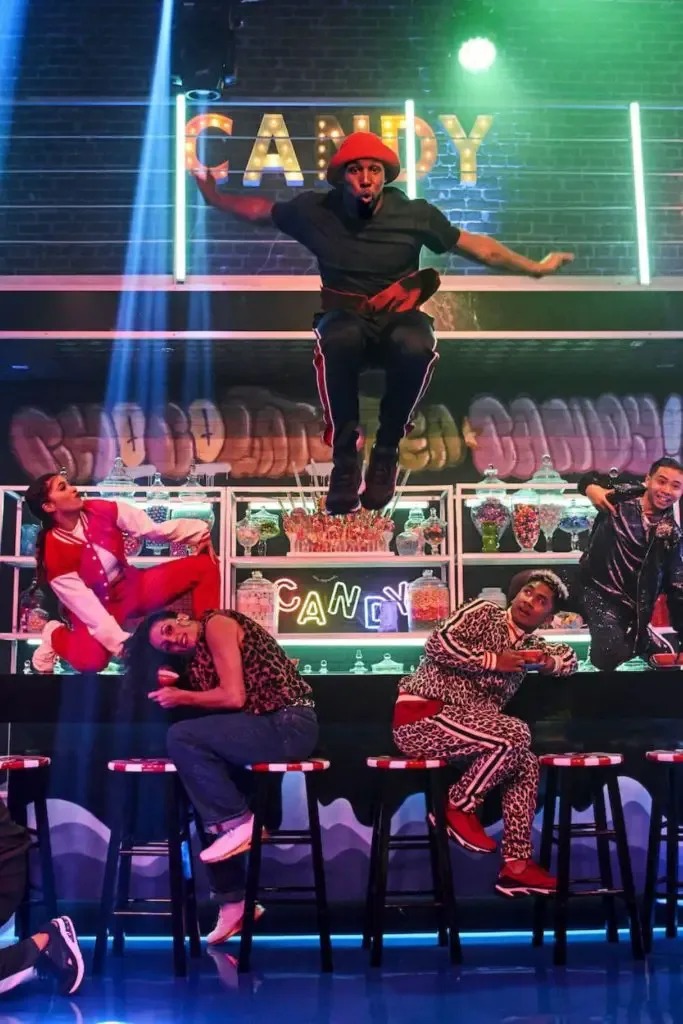 At the moment this seems to no longer be on the streaming service, but I'm leaving it here in hopes it returns closer to the winter holidays, as it was such a fun twist on the traditional Nutcracker special! Last checked September 19, 2023.
The Hip Hop Nutcracker offers a fun and modern twist on the classic holiday ballet.
Directed by Nikki Parsons, this unique performance brings together amazing hip hop talent, such as former So You Think You Can Dance stars Stephen Boss and Allison Holker Boss, to transport audiences through Tchaikovsky's traditional score.
Audiences of all ages can enjoy the fresh take on beloved choreography while taking part in larger-than-life digital scenery and an array of breathtaking special effects that have been crafted to inspire and captivate.
Holiday House Party (2020)
Hosted by Miranda May from BUNK'D, Holiday House Party includes fun holiday-themed sketches performed by other Disney stars.
Holiday MagicQuest (2020 & 2021)
Disney's latest holiday special, Holiday MagicQuest, finds Disney stars completing challenges in the Disney parks, which they have to themselves overnight.
There's a 2020 and 2021 version of this fun special, so be sure to check out both!
Epic Holiday Showdown (2020)
This fun special is quite similar to Holiday MagicQuest, in that it stars Disney stars who have to complete holiday challenges – but this time it's to break a curse from Scrooge!
Home Alone (1990)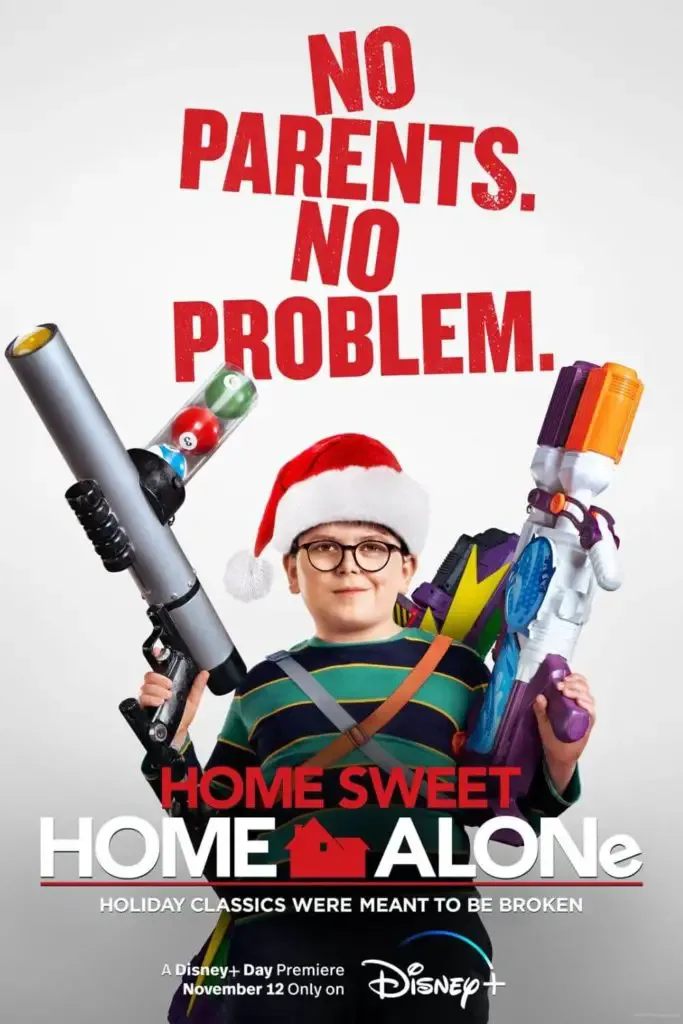 At the moment, Home Alone and Home Alone 2: Lost in New York are not on Disney+ in the US. It's likely that it will be added closer to the holiday season. Last checked September 19, 2023.
Home Alone is a classic holiday movie that follows the mischievous 8-year-old Kevin McCallister (Macauley Culkin) as he defends his house from two bumbling burglars after being mistakenly left home alone while his family jets off to Paris.
No matter how many times it's seen, this holiday staple never gets old. It's become a must-watch each Christmas season for my family!
Also available:
Home Alone 2: Lost in New York
Home Alone 3
Home Alone 4
Home Alone: The Holiday Heist
Home Sweet Home Alone
I'll Be Home for Christmas (1998)
In I'll Be Home for Christmas, Jake Wilkinson (Jonathan Taylor Thomas) embarks on a hilarious adventure with an unruly group of assorted characters to get home before his family serves Christmas Eve dinner.
From car chases to odd mishaps along the way, this comedy is sure to have you in stitches and wishing JTT starred in more holiday films!
Jingle All the Way (1990)
This film is not currently available on Disney+ in the US, but is likely to be added closer to the holiday season. Last checked September 19, 2023.
Jingle All the Way follows one man's journey (Arnold Schwarzenegger as Howard) as he desperately searches for an elusive toy, Turbo Man, that his son desperately wants for Christmas.
Of course when Howard gets to the store, there is only one left, which sets up a hilarious showdown as he must take on a fellow crazed father (Sinbad as Myron) determined to get his hands on the precious toy first.
The film is filled with comedic moments that will have you LOL-ing as Howard struggles (and fails) to remain respectful amid all of the chaos going down in order to claim the prized item for his son.
Also available: Jingle All the Way 2 (2014)
LEGO Star Wars Holiday Special (2020)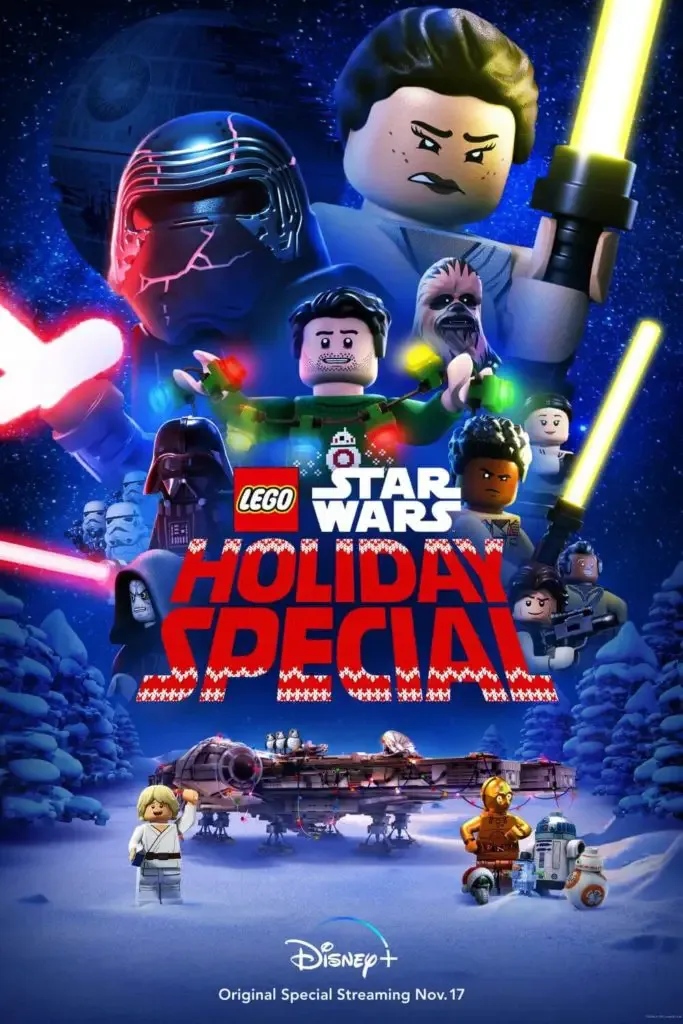 Ah, Star Wars. The classic sci-fi movie franchise that has captivated viewers for generations. And now you can celebrate the holidays with the LEGO Star Wars Holiday Special on Disney+!
Rey Skywalker and BB-8 set out to learn more about the Force at a distant Jedi temple, but might not make it back in time to celebrate Christmas with their friends. Will they make it?
Mickey and Minnie Wish Upon a Christmas (2021)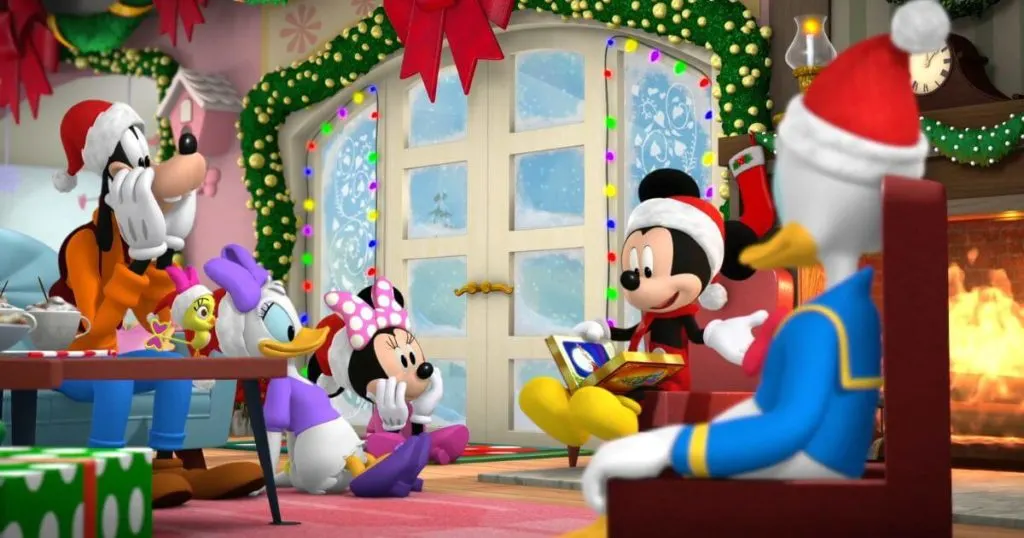 In Disney Junior's Mickey and Minnie Wish Upon a Christmas, Mickey, Minnie, and their friends race to get home for the holidays to spend it together.
Will they all make it in time?
Mickey's Once Upon a Christmas (1999)
In Mickey's Once Upon a Christmas, Mickey and all his pals take a trip down memory lane to ensure that the true spirit of Christmas is alive and well.
The movie showcases three stories about the importance of family, friends, forgiveness, and love for one another during the holiday season.
Mickey, Donald Duck, Goofy, Daisy Duck, Minnie Mouse and Scrooge McDuck star in this delightful family film sure to put a twinkle in your eye this Christmas!
Also available: Mickey's Twice Upon a Christmas (2004)
Mickey Saves Christmas (2022)
Mickey Saves Christmas follows Mickey Mouse on a mission to the North Pole to help save Christmas after Pluto accidentally causes Santa's sleight to crash and all the presents are lost.
Miracle on 34th Street (multiple versions)
Miracle on 34th Street follows the age-old story of a special man who brings joy to everyone around him, only this time it's playing out on the streets of New York City.
Kris Kringle, who is convinced he's the real Santa Claus, sets out to prove his case in court. Along the way he helps restore faith in the season in those that cross his path.
Disney+ has both the original 1947 and 1994 remake available to stream.
A Muppet Christmas: Letters to Santa
This film is not currently available on Disney+ in the US, but likely to be added back closer to the holidays. Last checked September 19, 2023.
Jim Henson's beloved Muppets help to spread some Christmas cheer in A Muppet Christmas: Letters to Santa.
This movie follows the adventures of Kermit and friends as they work together to make sure Santa receives three very special letters that Gonzo forgot to mail.
With plenty of laughs, sweet songs, and the undeniable charm of Jim Henson's masterpiece characters, A Muppet Christmas: Letters to Santa is sure to become a holiday favorite in any household.
The Naughty Nine (2023)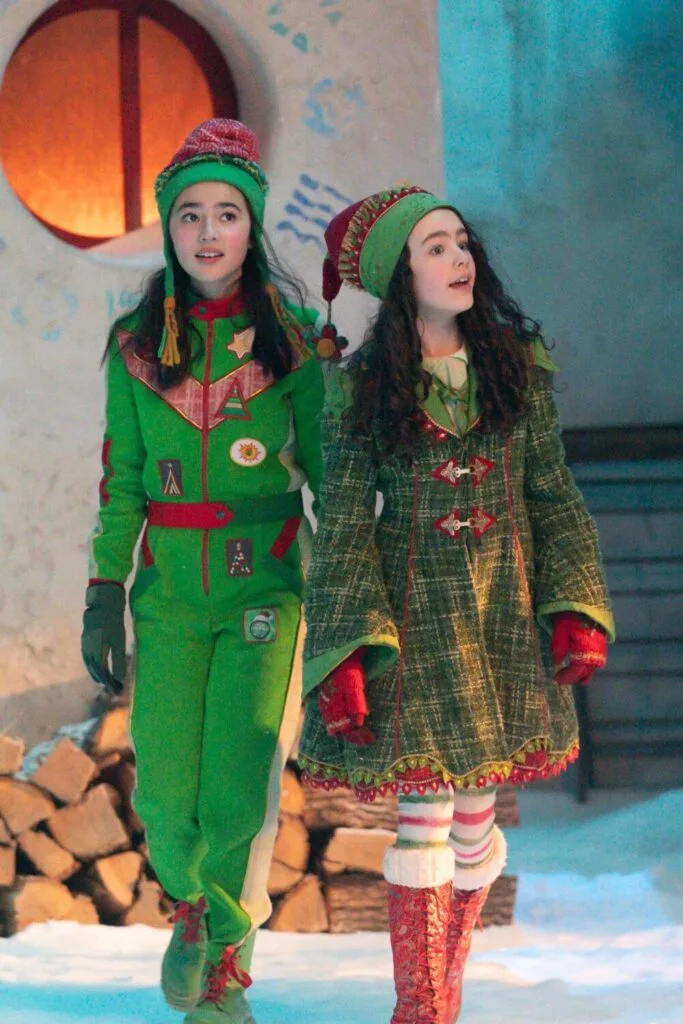 Coming to Disney+ on November 23 is an all-new Disney Channel Original Movie – The Naughty Nine.
In this film, a group of nine children on the naughty list plot to break into Santa's Village at the North Pole to have a word with Santa after not getting gifts this year.
I cannot wait to see this film – it sounds so like it'll be a lot of laughs. Also, Danny Glover plays Santa and I have very fond memories of seeing him in films growing up!
The film will first debut on the Disney Channel on November 22.
Noelle (2019)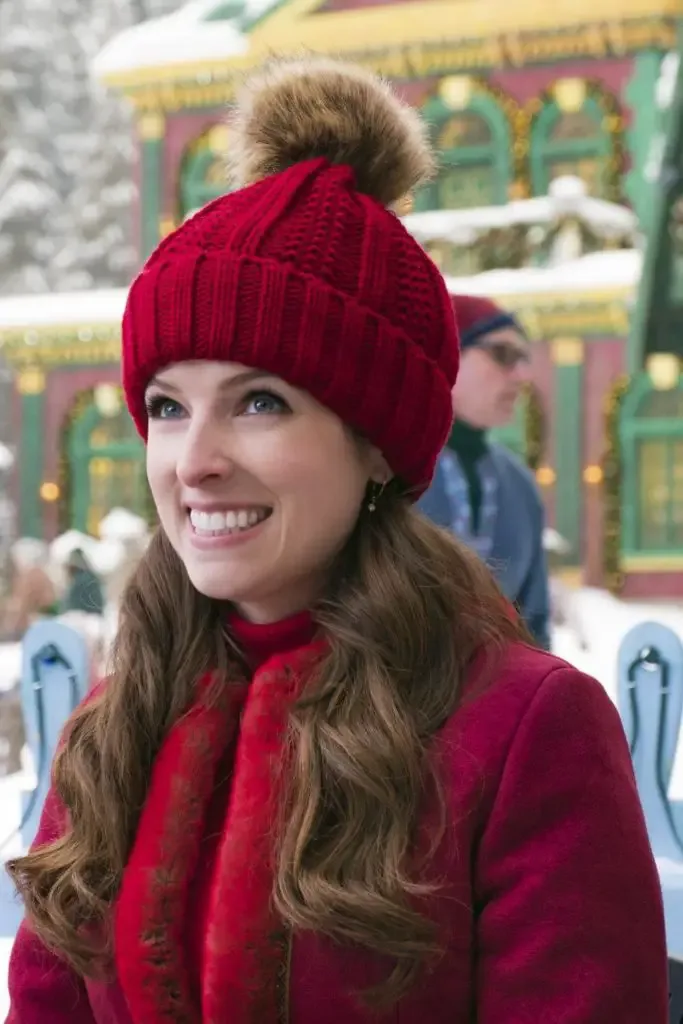 In Noelle, the lovable and hardworking Noelle (Anna Kendrick), is the daughter of Kris Kringle (aka Santa Claus!) and sister of Nick (Bill Hader).
Noelle must come to her beloved brother Nick's rescue after he turns down his dad's offer to take over as Santa Claus and runs away.
I love this Disney+ original movie and am secretly hoping for a sequel!
The Nutcracker and the Four Realms (2018)
The classic story of The Nutcracker comes to life in a stunning cinematic experience with The Nutcracker and the Four Realms
Starring Keira Knightley as The Sugar Plum Fairy, Mackenzie Foy as Clara, and Morgan Freeman as The Godfather Drosselmeyer, this movie transports viewers to an enchanted land of fairies, toys, and lively characters.
One Magic Christmas (1985)
Disney's One Magic Christmas tells the story of a family, parents Ginnie and Jack plus kids Cal and Abbie, during a particularly tough financial Christmas season.
Abbie desperately wants to ensure that her family has a magical Christmas despite the hardships they are facing. Unbeknownst to them, an angel, Gideon, has been assigned to help them.
Can Gideon help turn their holiday around?
Richie Rich's Christmas Wish (1998)
In Richie Rich's Christmas Wish, Richie Rich, the world's richest kid, transports to an alternate universe where his up-to-no-good cousin, Reggie Van Dough, is master of the house instead of him.
Follow along as Richie tries to figure out how to get back home in time for Christmas.
Santa Buddies: The Legend of Santa Paws (2009)
Santa Buddies: The Legend of Santa Paws follows a team of adorable four-legged friends on their adventure to bring the Spirit of Christmas back to the world before it's too late.
When all hope appears lost, these heroic hounds must rise above and show humans everywhere that even the littlest creatures can be mighty when they put their hearts and minds together.
Also available:
The Search for Santa Paws
Santa Paws 2: The Santa Pups
The Santa Clause (1994)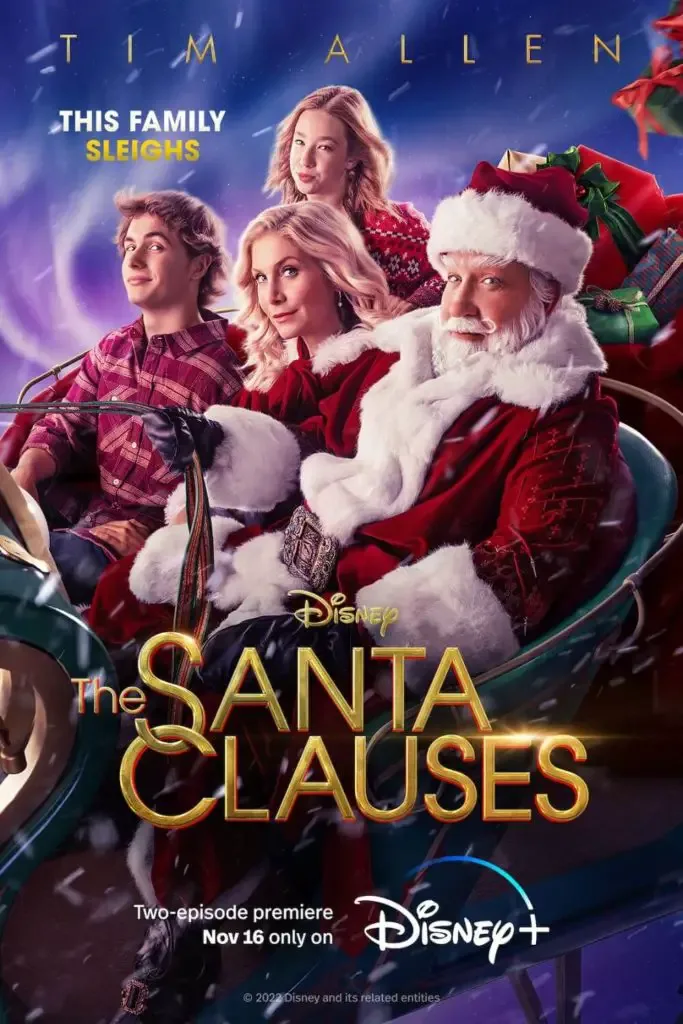 The Santa Clause follows Scott Calvin (Tim Allen), a toy executive who unwittingly becomes Santa Claus after the previous one falls off his roof.
Along the way he must convince his ex-wife that he actually IS Saint Nick so that he can continue co-parenting their son.
This classic movie has spawned two sequels, as well as a Disney+ original show, all available to stream:
The Santa Clause 2 (2002)
The Santa Clause 3: The Escape Clause (2006)
The Santa Clauses (2022-ongoing)
The Santa Con (2014)
DeMarco (Jaleel White), fresh out of jail, is forced by his parole officer to get a job as a mall Santa, promises a young boy that he will help his separated parents get back together.
Will he pull it off or will he ruin Christmas?
Tim Burton's The Nightmare Before Christmas (1993)
Tim Burton shook up the holiday season with his 1993 animated film, The Nightmare Before Christmas.
Jack Skellington, known as the Pumpkin King of Halloween Town, gets sick of celebrating the same holiday every year and finds a portal to Christmas Town and goes about attempting to take over for Santa Claus.
Although his plan might seem a bit ghoulish to some, the delightfully dark elements Tim Burton brings to the movie make it an extravagant treat.
'Twas the Night (2001)
In this Disney Channel Original Movie, a young boy, Danny, and his criminal uncle, Nick, are forced to take the reigns as Santa after the big dude is knocked out on Christmas Eve.
Unfortunately Nick pulls one of his stunts, leaving Danny to teach him to be a better person, instead of the other way around!
The Ultimate Christmas Present (2000)
Disney Channel's The Ultimate Christmas Present is a heartwarming movie perfect for the holiday season.
Allie and Sam find a weather machine and use it to create a snowstorm in Los Angeles so they can get a snow day. Except it doesn't go according to plan and might ruin Christmas!
Winnie the Pooh: A Very Merry Pooh Year (2002)
Rabbit complains about his friends' annoying habits, who then try to appease him by making New Year's resolutions to change their ways.
Except then they become the opposite of who they are! Will Rabbit realize his mistake and learn to appreciate his friends better?
Disney Christmas Shorts on Disney Plus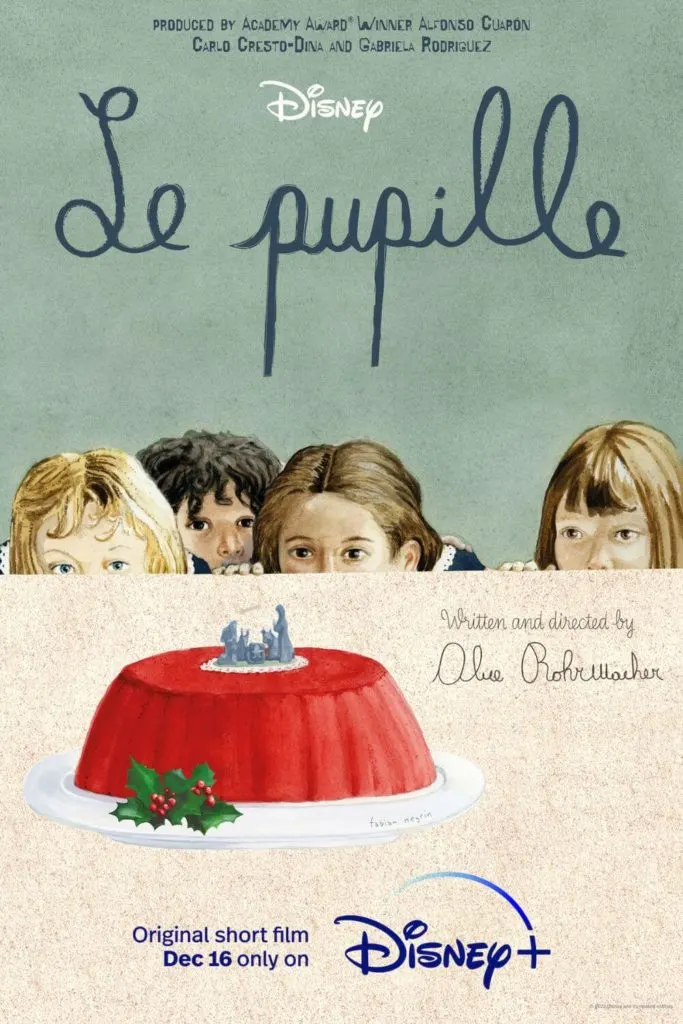 There are a number of Christmas-themed short movies available on Disney+ which make for a great before-bed treat during the Holiday season:
Duck the Halls: A Mickey Mouse Christmas Special (2016)
Lola (2020)
The Gift (2022)
Ice Age: A Mammoth Christmas (2011)
Le Pupille (2022)
Olaf's Frozen Adventure (2017)
Once Upon a Snowman (2020)
Pluto's Christmas Tree (1952)
Prep & Landing (2009)
Prep & Landing: Operation Secret Santa (2010)
Prep & Landing: Naughty or Nice (2011)
Puppy for Hannukah (2020)
Santa's Workshop (1932)
The Simpsons Meet the Bocelli's in Feliz Navidad (2022)
The Small One (1978)
The Wonderful Winter of Mickey Mouse (2022)
Christmas Series on Disney Plus
Get in the holiday spirit by watching an episode of a fun Christmas-themed series, perfect if you don't have enough time to sit down for a full movie!
Here are some of the best Christmas shows on Disney+:
Donna Hay Christmas (2022)
Join Australian chef Donna Hay as she shows us how to make fun, easy, delicious, and festive dishes for the Christmas holiday season.
The Great Christmas Light Fight (2021-22)
Neighbors compete to build the best and brightest Christmas light display in the neighborhood.
What are your favorite Christmas movies on Disney Plus?
All in all, Disney Plus has some of the best Christmas movies and specials to watch this holiday season.
There is something for everyone, from the old classic animated movies to witty comedies.
So as we approach the most wonderful time of the year, why not cozy up in front of your screen and enjoy these fantastic festive treats?
Or if you aren't in the movie-watching mood but want some Christmas-y ambiance, press play on the Arendelle Castle Yule Log to transform your TV into a fireplace.
P.S. Before you go, be sure to check out my post about the best Easter movies on Disney+ for your next holiday movie night.
---
About the author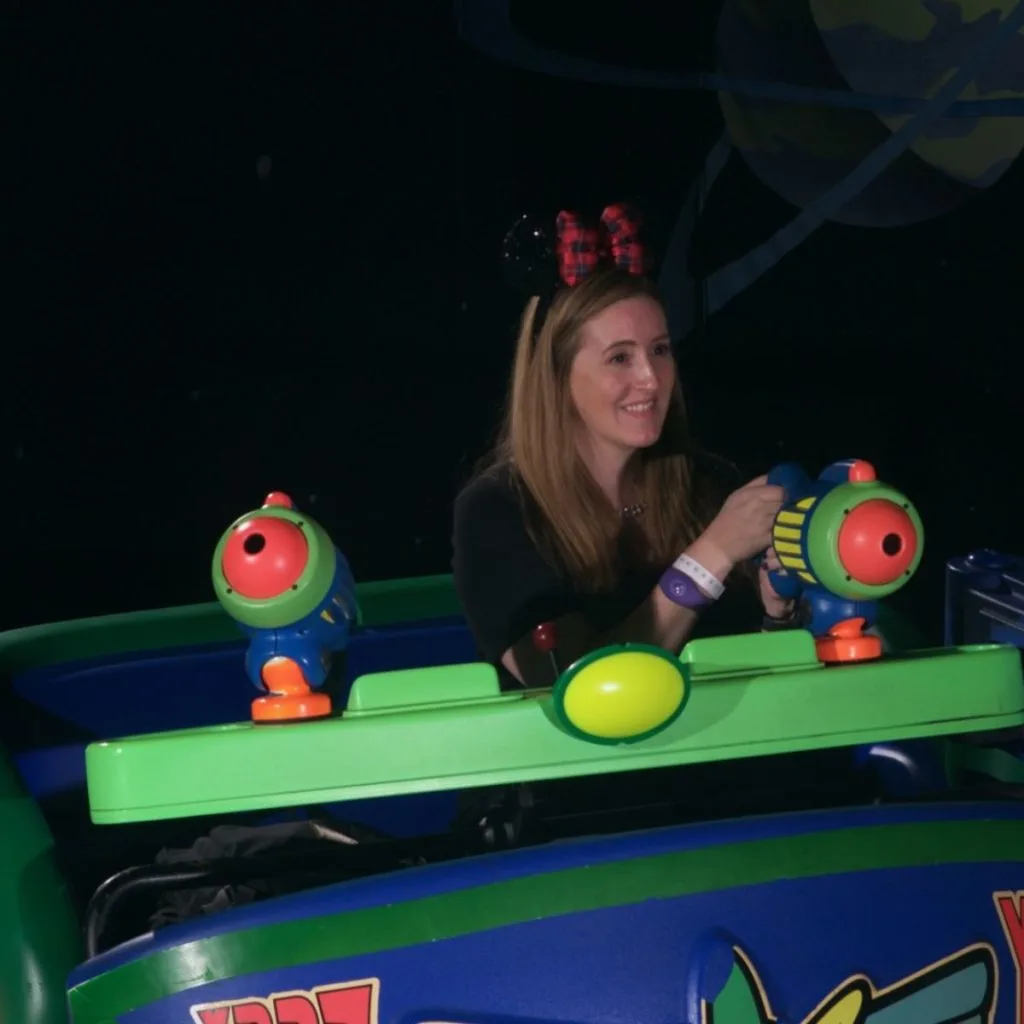 Meg Frost is the creator of The Park Pixie, where she covers Disney World, Disney+, and Disney fandom.
She holds an M.A. in Journalism from Northeastern University and B.S. in Communication & American Studies from University of Miami.
---
This post was originally published March 21, 2023. It was last updated September 30, 2023.