Do you consider Disney Plus the end-zone for sports movies? If not, you definitely should!
Whether you're looking to find inspiration on the gridiron or just want to rewatch some of your favorite football films, this magical streaming service has something for every football fan.
From beloved classics like Remember the Titans to lesser-known gems that are sure to broaden your list of must-sees, check out my list of the best football movies on Disney Plus, with a few shows sprinkled in.
Disclaimer: These movies and shows are available to stream on Disney+ in the US as of publication time, unless otherwise noted. Availability can change at any time.
The Book of Manning
The Book of Manning is an intimate look at NFL great Archie Manning and his family.
The unexpected death of Manning's father changed the way he raised his sons, Cooper, Peyton, and Eli.
Eli and Peyton went on to also play for the NFL. While Cooper suffered a football-career ending medical diagnosis in college, but became a sports commentator.
The Best that Never Was
ESPN Films' 30 for 30 documentary The Best that Never Was follows the story of football prodigy, Marcus Dupree.
This film wonderfully captures Dupree's story and his struggles after committing to the University of Oklahoma.
Safety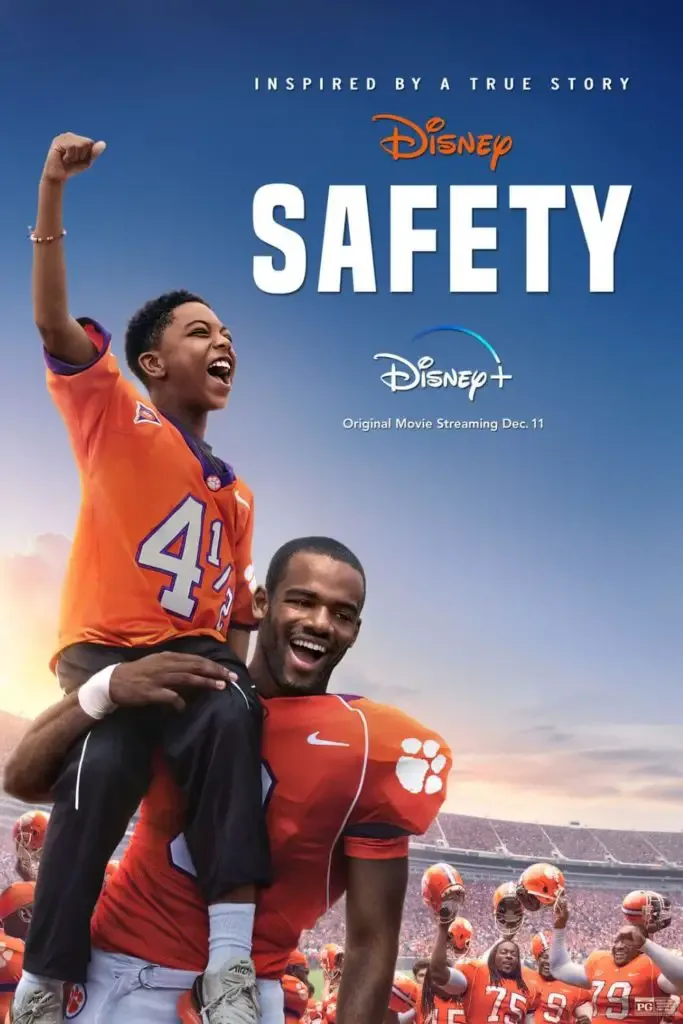 Break out the tissues, because you're gonna need them for this Disney Plus original movie!
Safety follows the true story of Ray McElrathbey, a football player at Clemson University during the 2000s.
McElrathbey somehow juggled playing college football, going to school, and raising his 11-year-old brother, Fahmarr, after their mother relapses on drugs.
Invincible
Everyone loves a great underdog story, and Disney+'s Invincible is perhaps the best underdog story to hit the screen yet.
Starring Mark Wahlberg as Vince Papale, this movie tells the inspiring tale of an average guy who gets a chance to fulfill his dreams of playing for the Philadelphia Eagles.
With every obstacle he faces, Papale rises to the challenge and proves that anything is possible with sheer grit and determination.
Whether you're cheering on this underdog throughout his exhilarating journey or simply enjoying some football nostalgia, make sure to watch Invincible!
Catholics vs Convicts
Ready to re-live the classic matchup between Notre Dame and the University of Miami?
Catholics vs Convicts, now available on Disney Plus, takes you back to one of college football's greatest rivalries.
Tune in for a thrilling journey full of big plays and intense moments in this much hyped 1988 game between the two rivals.
Run Ricky Run
Run Ricky Run tells the story of former Miami Dolphin running back Ricky Williams.
Williams retired early from the NFL after a string of failed drug tests. After spending a year living in a tent in Australia, he returned to the game.
The documentary was filmed as it happened and up to a few years after his return to the NFL.
Gus
Gus is a charming story of football-playing mule brought in for half-time entertainment for an NFL team. Plus, the team owner needs to make money to pay off debts!
But Gus does so well, they end up putting him on the team as a kicker! Can a mule really help the team win?
Small Potatoes: Who Killed the USFL?
ESPN Films' Small Potatoes: Who Killed the USFL? takes a deep dive into the rise and fall of the United States Football League (USFL).
This documentary dives into the short life of the USFL and what led to its fall.
Did it grow too quickly? Was it Donald Trump's insistence that they take on the NFL and move the season to the Fall? Or was the NFL simply too big of a force to take on?
Al Davis vs. the NFL
Al Davis vs. the NFL tells the story of the long-running feud between controversial Oakland Raiders owner Al Davis and legendary NFL commissioner Pete Rozelle.
Pony Excess
ESPN Films' 30 for 30 series brings another football documentary to add to your viewing list.
Pony Excess digs into the story of Southern Methodist University in Dallas and their powerhouse football program in the 1990s.
That is, until they were caught cheating and penalized by the NCAA.
Remember the Titans
As one of the most beloved football movies on Disney Plus, Remember The Titans follows the story of football coach Herman Boone and his attempts to unify a newly integrated football team from T.C. Williams High School in Alexandria, Virginia during the early 1970s.
Filled with inspiring dialogue, memorable scenes, and iconic performances from Denzel Washington and Will Patton, Remember The Titans reigns as a prime example for those who seek courage and unity in an era of cultural polarization.
Year of the Scab
ESPN Films shines a light on the 1987 NFL football player strike in Year of the Scab.
With no players, the league brought in no-name athletes, aka scabs, giving many hopefuls one last chance.
Deion's Double Play
This fun ESPN documentary captures the time when Deion Sanders, an athlete who played in both the NFL and MLB.
One year, the seasons overlapped for 24 hours, leading Sanders to juggle both.
Through interviews with current and former athletes, coaches, and family members, fans are transported back in time to experience this iconic moment up close.
Youngstown Boys
Just in time for college football season, ESPN Films brings you the captivating documentary, Youngstown Boys.
This installment of their 30 for 30 series delves into the rise and fall of former Ohio State University running back, Maurice Clarett, alongside his coach, Jim Tressel.
Goofy: How to Play Football
In Goofy: How to Play Football everyone's favorite goofball, Goofy, shows us what football is all about.
Attempted interceptions in tree tops, fumbles off fire hydrants, and accidental touchdowns are just a few of the funny moments you can expect in this 7-minute short film.
The Gospel According to Mac
ESPN Films' documentary The Gospel According to Mac provides an inspirational look at Bill McCartney, aka Coach Mac.
As a three-time choice for the Coach of the Year Award and the mastermind behind the University of Colorado-Boulder Buffaloes' road to victory in 1990, McCartney was no stranger to success.
The documentary includes his beginnings as a freshman player through his meteoric rise as the head coach of Colorado Buffaloes, as well as how his faith made it all happen.
Four Falls of Buffalo
Four Falls of Buffalo focuses on the Buffalo Bills in the 1990s, when the team was at the top of their game.
From looking back at all 4 of their Super Bowl losses to telling compelling personal stories from team members and fans alike, Four Falls of Buffalo is about more than just a sports drama.
It's about how much we can take away from our experiences and how important it is to stay resilient through adversity.
Elway to Marino
ESPN Films' 30 for 30 series takes us back in time to the infamous NFL draft of 1983.
During that time, a whopping 6 quarterbacks were selected in the first round – the most ever. This included famous quarterbacks, John Elway and Dan Marino.
The Game Plan
In The Game Plan we meet Joe Kingman (Dwayne "The Rock" Johnson), a football star and notorious bachelor. Until one day, a young girl, Peyton (Madison Pettis) shows up on his doorstep, claiming to be his daughter.
Unable to get ahold of Peyton's mom, he takes the girl in. Suddenly he's gone from bachelor of the year to dad of the year, as he juggles his career with ballet lessons and raising a girl.
But suddenly someone steps in to take Peyton – and it's not who you'd expect. Will the bond they built help keep them together?
The Two Bills
ESPN Films gives us a glimpse into two of the most successful coaches in NFL history, Bill Parcell and Bill Belichick.
We look into the lives and coaching strategies of both Bills, including their long friendship to their falling out.
Trojan War
The ESPN Films documentary Trojan War details the University of Southern California Trojans' thrilling rise to national prominence during Coach Pete Carroll's era.
Brian and the Boz
In Brian and the Boz, ESPN Films' 30 for 30 documentary series turns its lens to examine Bosworth's fascinating career.
From his brash beginnings at the University of Oklahoma, to his infamous NFL tenure with the Seattle Seahawks, this film paints an in-depth portrait of Bosworth from his own point of view, as he passes on lessons learned to his son.
BONUS: Becoming, Episode 10 with Rob Gronkowski
The Disney Plus series Becoming tells the stories of how celebrities and athletes became who they are.
In season 1, episode 10, we get the story of NFL tight end, Rob Gronkowski.
His journey began with playing for the University of Arizona and then joining the New England Patriots in 2010.
After nine seasons with the Pats, he shocked fans with his retirement in 2019. He came back later that year only to get traded to the Tampa Bay Buccaneers. He has since retired, permanently.
Now viewers get an up close and personal look at Gronkowski's life off the field as we follow him on his compelling journey.
What are your favorite football movies on Disney Plus?
With so many football movies available to watch on Disney Plus, sports fans can make the most of their streaming subscription.
From dramatic films like Remember the Titans to shorts like Goofy: How to Play Football, Disney Plus is quickly becoming a go-to destination for sports fans.
So break out the popcorn and tackle a football movie marathon with your Disney Plus subscription today!