Looking for a way to get your basketball fix from the comfort of your home? Well, look no further than Disney Plus!
I've put together the ultimate list of the best basketball movies on Disney Plus, plus 3 fun shows.
So warm up those Netflix thumbs because these are some slam-dunk worthy picks that will be nothing but net!
Disclaimer: These movies and shows are available to stream on Disney+ in the US as of publication time, unless otherwise noted. Availability can change at any time.
Bad Boys
ESPN Films brings us Bad Boys, a documentary about the Detroit Pistons during their rise to prominence in the late 1980s and early 1990s.
Bad Boys includes appearances from a few team members from those years, such as Dennis Rodman, Isiah Thomas, Mark Aguirre, and Rick Mahorn.
Big Shot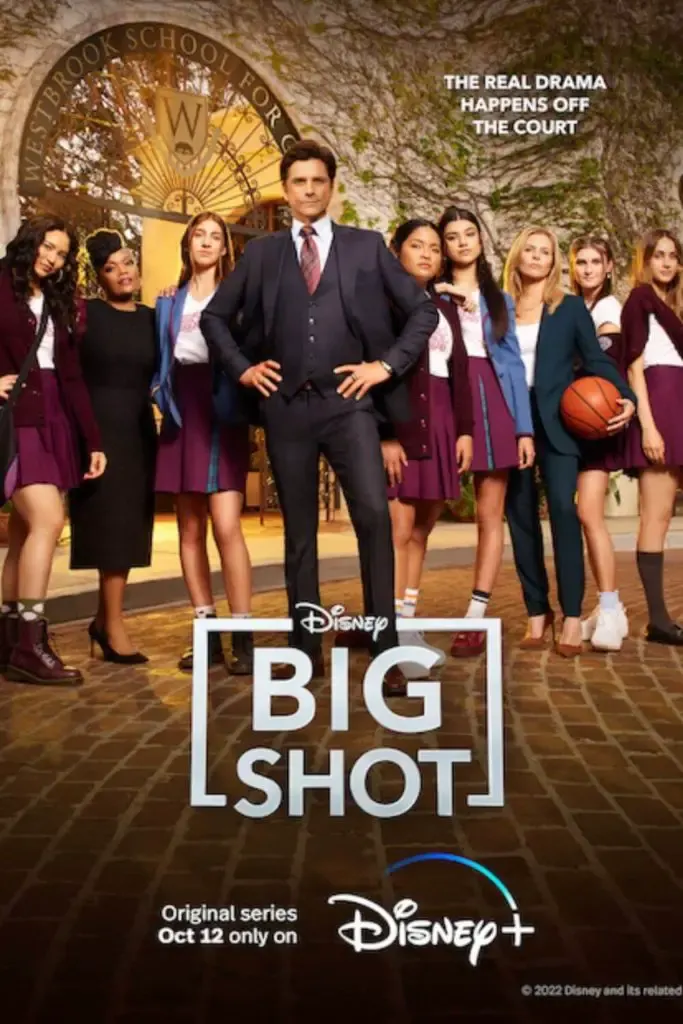 Big Shot is a series that stars John Stamos as a grumpy, yet charming, basketball coach named Marvyn Korn.
Korn gets fired from his job as head coach for the University of Wisconsin. He is then forced to take a job at an all-girls high school with a faltering team.
The show ran for two seasons before it was cancelled in February 2023.
Chang Can Dunk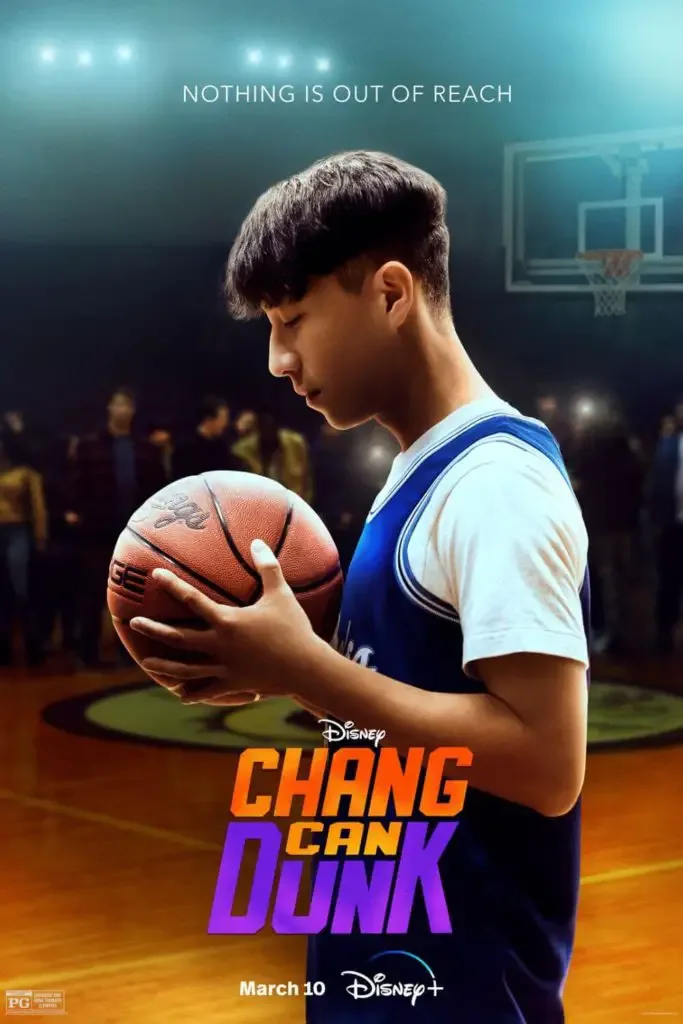 Marching band student Chang (Bloom Li) makes a bet with the top basketball player at his school that he can dunk by the time their homecoming rolls around.
Will he pull off this seemingly impossible task and if so, at what cost?
The Crossover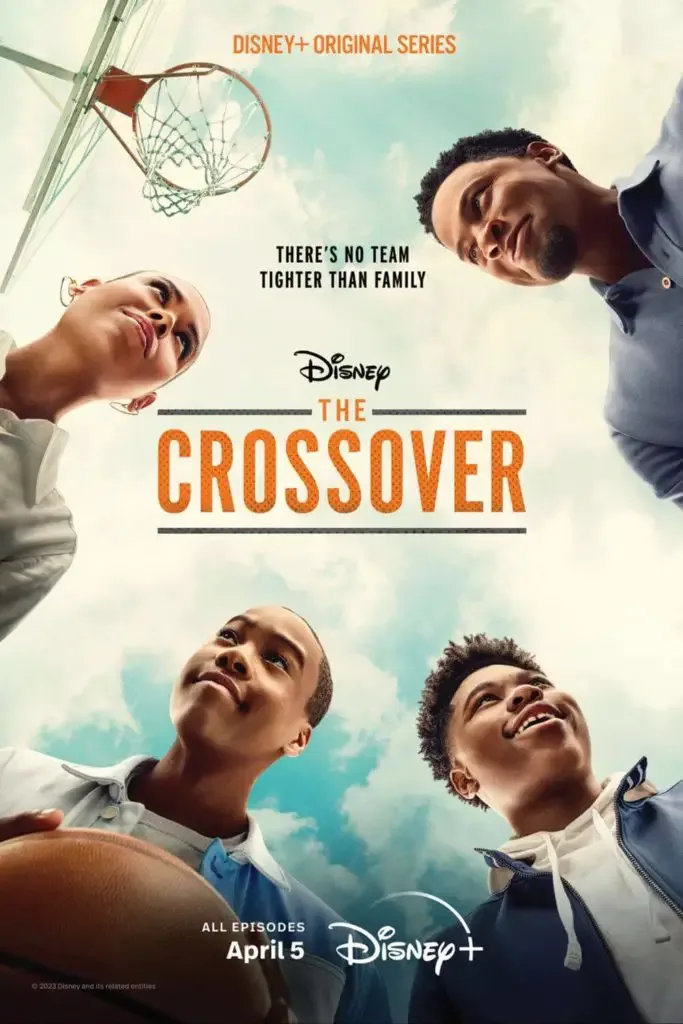 Coming to Disney+ on April 5 is a new show, The Crossover, based on the eponymous novel by Kwame Alexander.
Josh Bell recounts he and his brother Jordan's teen years, a time when they were considered basketball hotshots.
At the same time, their father was adjusting to life as a retired professional basketball player. And their mom was finally getting a chance to pursue her dreams.
D. Wade: Life Unexpected
D. Wade: Life Unexpected is an unmissable ESPN Films 30 for 30 documentary about Dwayne Wade's remarkable story from an underprivileged kid from the south side of Chicago to NBA champion.
The film looks at his journey and stories from those he worked with or confided in, such as his wife Gabrielle Union, Carmelo Anthony, Chris Bosh, his former coaches, and more.
Dickie V
Dick Vitale, commonly known as Dickie V, is one of the most recognizable voices in college basketball as a long-time broadcaster and commentator for ESPN.
This documentary examines his storied career and lasting impact on college basketball as he continues to battle cancer (lymphoma and melanoma).
It include rare footage and interviews with big basketball names like Magic Johnson, Charles Barkley, Mike Tirico, and more.
The Dominican Dream
Felipe Lopez, one of the top high school recruits of 1994, is the focus of ESPN Films' 30 for 30 documentary, The Dominican Dream.
Lopez moved to the US when he was 14 to play basketball and was quickly scouted, ultimately committing to St. John's and going on to play in the NBA for 4 years.
Double Dribble
If you're looking for a short and sweet basketball adventure, look no further than the classic Goofy short film, Double Dribble!
This short film follows our beloved Disney friend, Goofy, as he struggles to learn the rules of basketball, making silly mistakes and laughing along the way.
Double Teamed
Double Teamed is an inspiring and entertaining story based on the story of real-life twins Heather and Heidi Burge, who made their dream of becoming professional basketball players come true.
Full-Court Miracle
Full-Court Miracle, a Disney Channel Original Movie now on Disney+, takes on the real-life story of Lamont Carr.
Carr was a star college basketball player who becomes injured, killing his prospective career in the NBA. However, he soon finds purpose as a basketball coach for a ragtag team at a Hebrew school
Through Carr's hard work and determination, can he bring the team together and make them champions?
Glory Road
Based on a true story, Glory Road follows the story of Don Haskins, a new basketball coach at Texas Western College in 1966.
Haskins assembles a new team of players, regardless of race, which was unheard of at the time, so that the Texas Western Miners can become a winning team.
Through exhilarating highs and soul-crushing lows, Haskins' team navigates race relations in pursuit of a championship title.
This uplifting story of dedication and determination is simply unforgettable and should be on everyone's Disney+ bucket list.
Guru of Go
ESPN Films 30 for 30 series brings us another excellent documentary, Guru of Go, which centers around Paul Westhead.
Westhead was the head coach of the Los Angeles Lakers when they won the championship in 1980, but was pushed out not long after due to losing seasons.
He then goes on to coach for a small college, Loyola Marymount, where he pioneers a new offensive system.
I Hate Christian Laettner
This documentary makes Duke's star basketball player from the 90's, Christian Laettner, an infamous figure and examines why he became one of the most hated players, despite his successes on the court.
Like Mike
Calvin Cambridge (Lil Bow Wow) is a young orphan who dreams of becoming a basketball star in the 2002 family film, Like Mike.
After finding a magical pair of sneakers that belonged to Michael Jordan himself, Calvin's dreams come true after he is signed to a contract with a local team after displaying impressive skills in a half-time contest.
Also on Disney+ is the sequel, Like Mike 2: Streetball.
Liv and Maddie
This basketball-centric show follows identical twins, Liv and Maddie, both played by Dove Cameron.
Liv is an actress who moves home after 4 years when the show starred in has ended. Maddie is a star athlete on the local school's basketball team.
The twins are very much un-twin-like, leading to some comedic situations.
This cute Disney Channel series ran for 4 seasons and ended in 2017.
The Luck of the Irish
The Luck of the Irish follows Kyle, a teen basketball player who suddenly finds out he is a leprechaun after his streak of luck and athleticism runs out when his lucky coin is stolen.
Follow him as he learns about his family's mysterious past and searches for his coin – which turns out to be crucial for their survival amidst humans.
Phi Slama Jama
This ESPN Films documentary transports viewers to Houston in the early 1980s, when the Houston Cougars were dominating college courts.
The film follows their remarkable journey as they battle their way to 3 appearances in the NCAA Final Four in a row, as well as the "fraternity" of players.
Appearances include former teammates Benny Anders, Clyde Drexler, and Hakeem Olajuwon, among others.
The Real MVP: The Wanda Durant Story
Kevin Durant is one of the most well-known and talented players in basketball. But his success would not be possible without his mother's incredible support.
Wanda Durant was a single mothers who raised 3 kids. Despite her own challenges, she remained steadfast in her mission to make sure Kevin achieved greatness.
This made-for-tv movie is a heartwarming peek into a real-life story that we don't hear about often: the people behind the big names.
Rise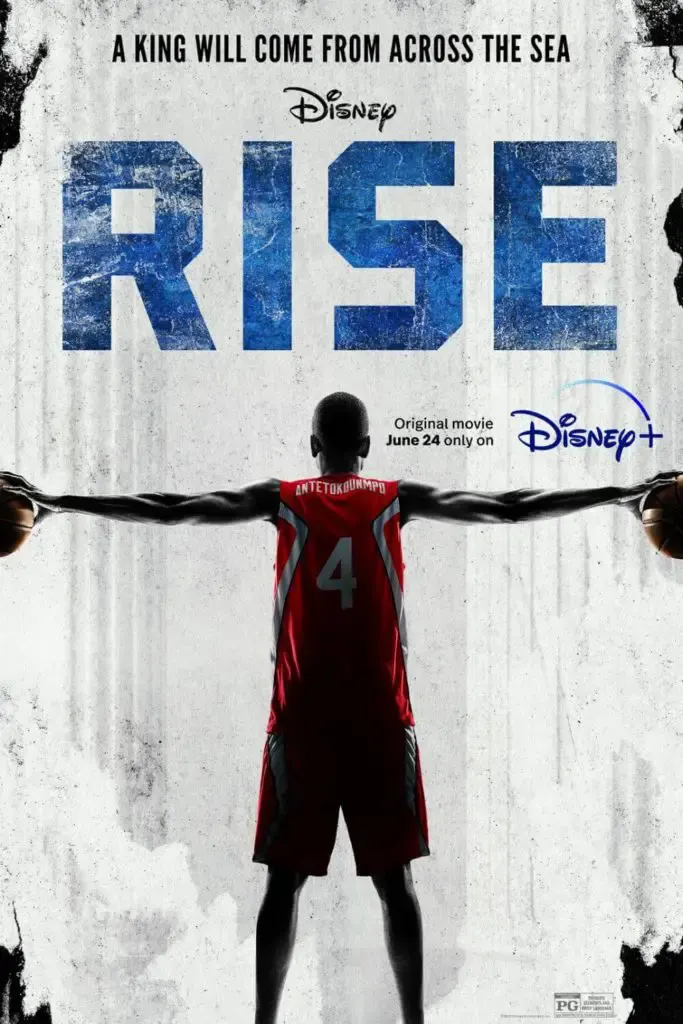 Rise tells the story of 3 Nigerian-Greek brothers, Giannis, Thanasis, and Kostas Antetokounmpo, and their journey to fame as NBA basketball players.
The movie follows the trio as they work to achieve their dreams against long odds and daunting obstacles, including poverty.
Survive and Advance
In this documentary, we follow the story of the 1983 North Carolina State University Wolfpack men's basketball team and their coach, Jim Valvano.
This underdog team advanced to the NCAA finals and won, despite playing against teams like the Houston Cougars (of Phi Slama Jama fame).
There's No Place Like Home
Josh Swade is an average college basketball fan, particularly for the University of Kansas Jayhawks.
After all, James Naismith, the inventor of basketball, coached there for 40 years!
This documentary follows the story of when Swade found out a document with Naismith's original rules of basketball written on it was up for auction and convinced someone to buy and donate it to Kansas.
This Magic Moment
ESPN Films' 30 for 30 documentary This Magic Moment tells the rags-to-riches story of the Orlando Magic's thrilling and historic run to the 1995 NBA Finals.
Featuring interviews from Shaquille O'Neal, Penny Hardaway, and other members of that unforgettable team, fans get an up-close look at how a ragtag bunch of incredible talents turned into an iconic powerhouse.
What are your favorite basketball movies on Disney Plus?
From classic favorites such as Like Mike to more recent films like Chang Can Dunk, there's a basketball movie or show on Disney Plus for every fan to enjoy.
But now it's time to hear from you! What are your favorite basketball movies on Disney Plus? What movies or shows should they add? Let me know in the comments below.
Next up, check out these posts:
This post was originally published March 26, 2023. It was last updated April 4, 2023.