If you're as big a Disney fan as me, I bet you have a subscription to Disney's streaming service, Disney+. But if not, I bet you'll be signing up for it by the end of this post!
There are so many awesome movies and shows, that it can be so hard to pick something to watch!
Well, pop some popcorn and get ready for some streaming this spooky season. This guide will help put an end to the analysis paralysis with recommendations on the best Disney Halloween movies on Disney Plus (and shows, too).
The Adventures of Ichabod and Mr. Toad (1949)
This classic Disney film is actually two mini movies in one.
The first half of the movie is a retelling of The Wind in the Willows, which isn't very Halloweeny in my opinion.
However, the second part of the movie is a retelling of The Legend of Sleepy Hollow, a family-friendly spooky story.
The Black Cauldron (1985)
A young boy, Taran, dreams of becoming a knight. He gets his chance to prove his worthiness when a magical pig he was left to look after, Hen-Wren, is stolen by the Horned King.
Taran must rescue Hen-Wren and prevent the King from finding the black cauldron and using it for evil.
Calling All the Monsters (2021)
Get the party started with this fun music video from the girl group Thrii for their Halloween hit, Calling All the Monsters.
Can of Worms (1999)
A teen innocently sends a plea to aliens to take him away from Earth.
Except they actually show up and now he and his friends need to save the planet.
Celebrity Ghost Stories (2013-14)
Celebrities tell stories about personal paranormal experiences they've been through.
As of May 29, only seasons 5 and 6 are available to stream in the US. Guests throughout the show include Marlee Matlin, Jai Rodriguez, Wayne Newton, Diana Degarmo, and many more.
Coco (2017)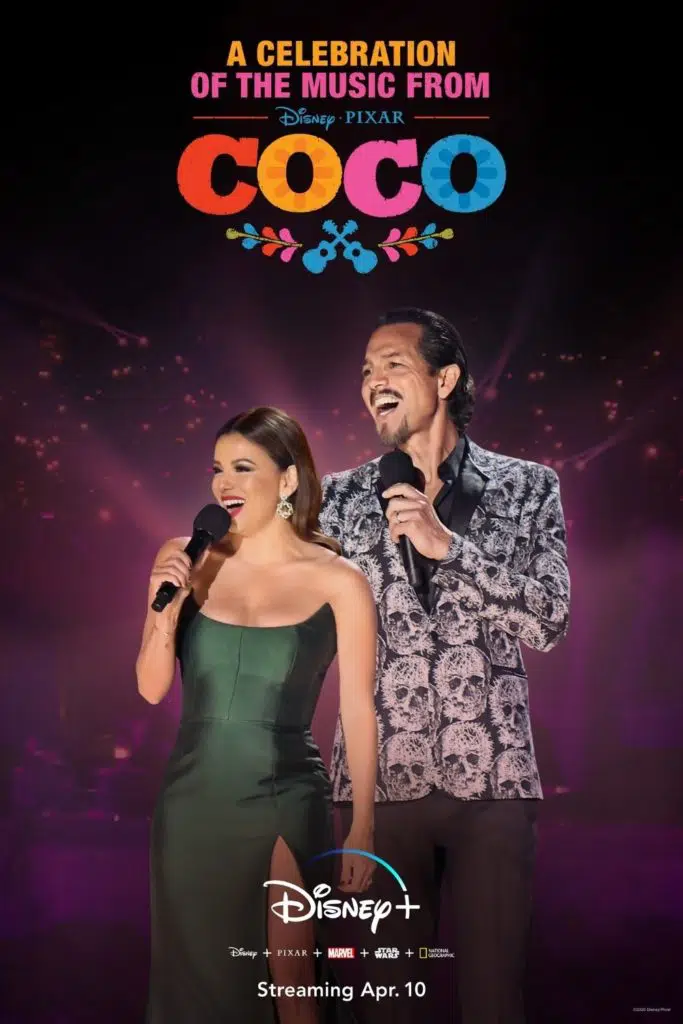 In this adorable Pixar film, young Miguel mistakenly ends up in underworld, where he meets his great-grandfather whose passing caused his family to ban music.
Miguel must find his way back home, reverse the ban, and restore the memory of his great-grandfather.
Also available to stream are Spanish and Sing-Along versions, as well as A Celebration of the Music from Coco (2020).
Cruella (2021)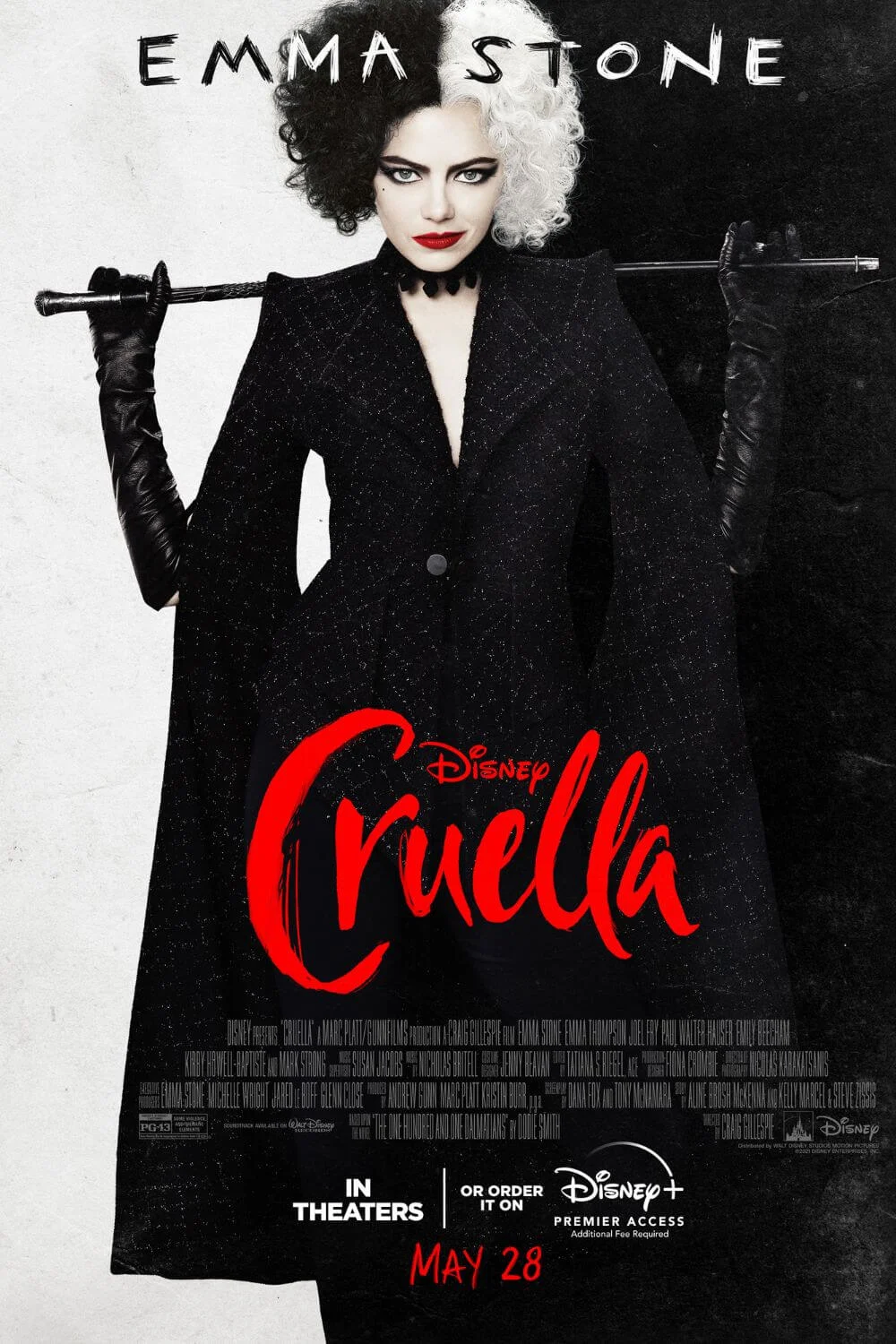 In this slick prequel set in the 1970s punk-era of London, we learn the origin story of everyone's favorite fashionable villain, Cruella.
Descendants (2015)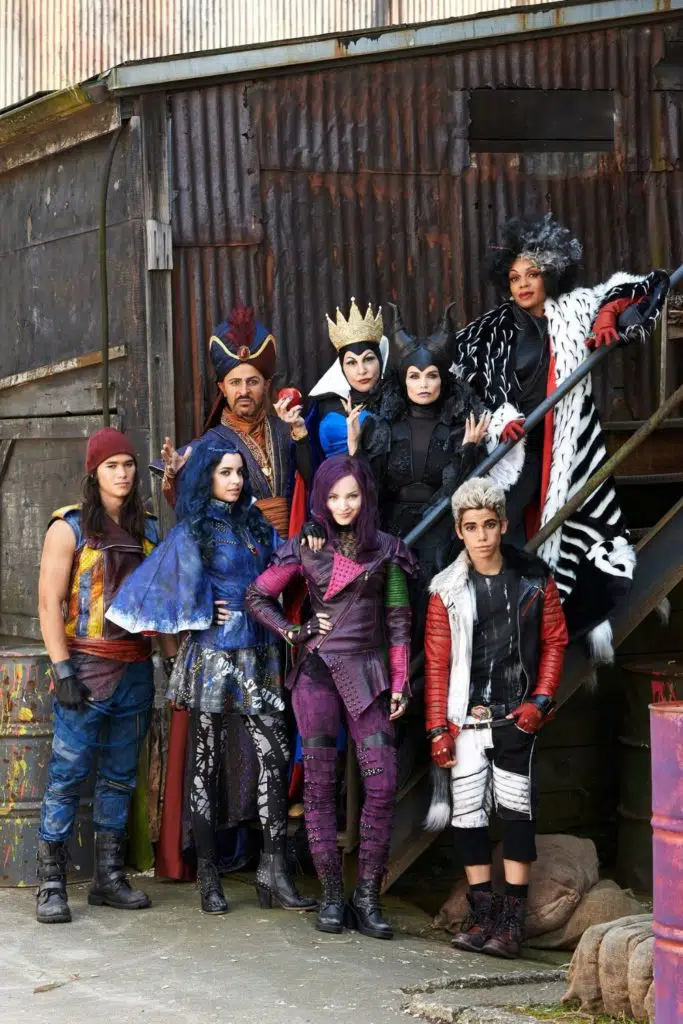 In this Disney Channel original movie, Disney villains and their children are banished to an island.
That is, until the son of Belle & the Beast, offers the villains' children a chance at integrating with the kingdom.
If you love this movie, there's more Descendants adventures available on Disney Plus:
Descendants 2 (2017)
Descendants Wicked World (2016)
Under the Sea: A Descendants Short Story (2018)
Descendants 3 (2019)
Descendants: The Royal Wedding (2021)
Disney Family Sundays (2019)
The Disney+ original series, Disney Family Sundays, has multiple episodes featuring DIY costumes and accessories that are perfect for crafting your own Halloween costumes.
Don't Look Under the Bed (1999)
A teen girl is framed by the Boogeyman for strange things happening in her town, so she enlists her brother's imaginary friend to help prove her innocence and stop the Boogeyman for good.
The Evermoor Chronicles (2015-2017)
In this British Disney Channel series, a teen girl moves to an unusual English village surrounded by magic and finds that she has magical powers, too.
The show was preceded by a 4-episode mini-series with a different cast called Evermoor (2014), which is also on Disney+.
Frankenweenie (1984)
Yes, the Burton classic, Frankenweenie, is on Disney Plus! In fact, both versions are!
This 80s classic Disney Halloween movie is directed by Tim Burton. It follows a young boy who resurrects his dog Sparky after he passed.
Burton remade Frankenweenie into an animated version in 2012, which is also on Disney+.
Gargoyles (1994-1996)
In this animated series from the 90s, a pack of gargoyles are awakened from a 1000-year-old curse when their castle is ambushed in the present day.
Ghost Hunters (2019-2020)
The first 2 seasons of the iconic reality show Ghost Hunters is now available on Disney+.
In this show, paranormal investigators travel around the US to help people who believe their properties are haunted.
The Ghost (2023)
The Ghost, written by Kevin Jihyek Park and directed by Erica Eng, tells the story of a tween girl who fights with her older sister, causing a ghost to awaken and take their parents.
The ever-at-odds sisters must work together to get their parents back.
This short film is part of Disney's Launchpad, Season 2, which hits the service on September 29, 2023.
The Ghost and Molly McGee (2021-2023)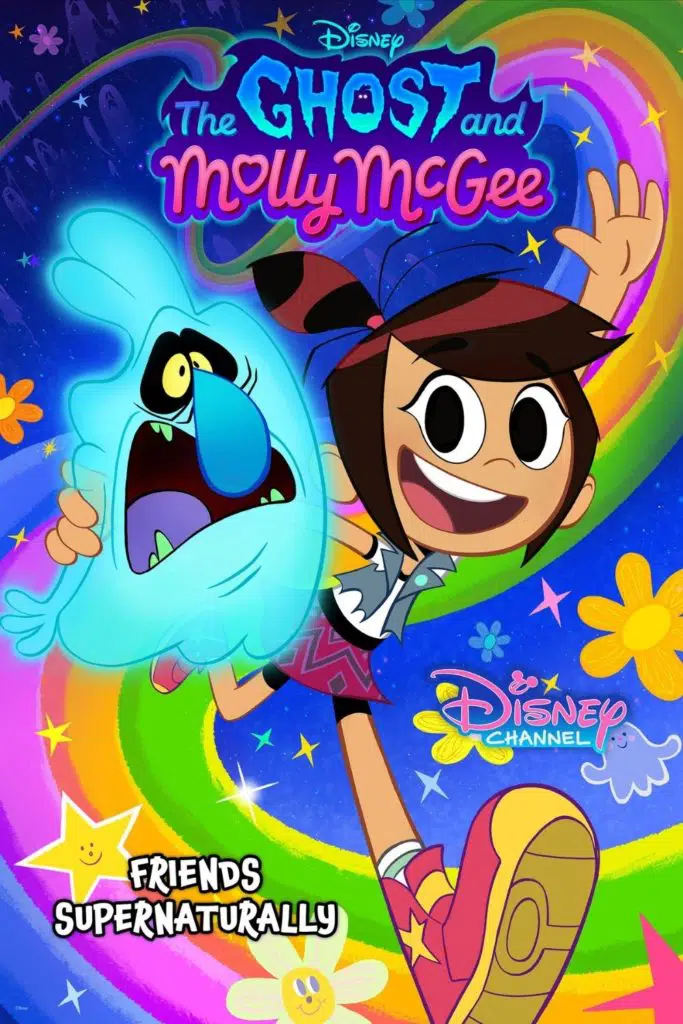 This new animated series follows Molly McGee, a sunny tween, and Scratch, a grumpy ghost cursed to stay at Molly's side.
The 2 become friends despite their opposing outlooks.
Also available is the Spring Shorts-tacular with the Ghost and Molly McGee, a special featuring several short films.
The Ghosts of Buxley Hall (1980)
In this 80s Disney movie, a military academy is forced to merge with an all-girls school due to financial difficulty.
This angers the academy's resident ghosts, who decide to wage war against the merger.
Girl vs. Monster (2012)
A young girl, Skylar, discovers her parents are monster hunters after accidentally releasing a monster from captivity.
Skylar and her friends set out to catch the monster and save Skylar's parents.
Goosebumps (2023)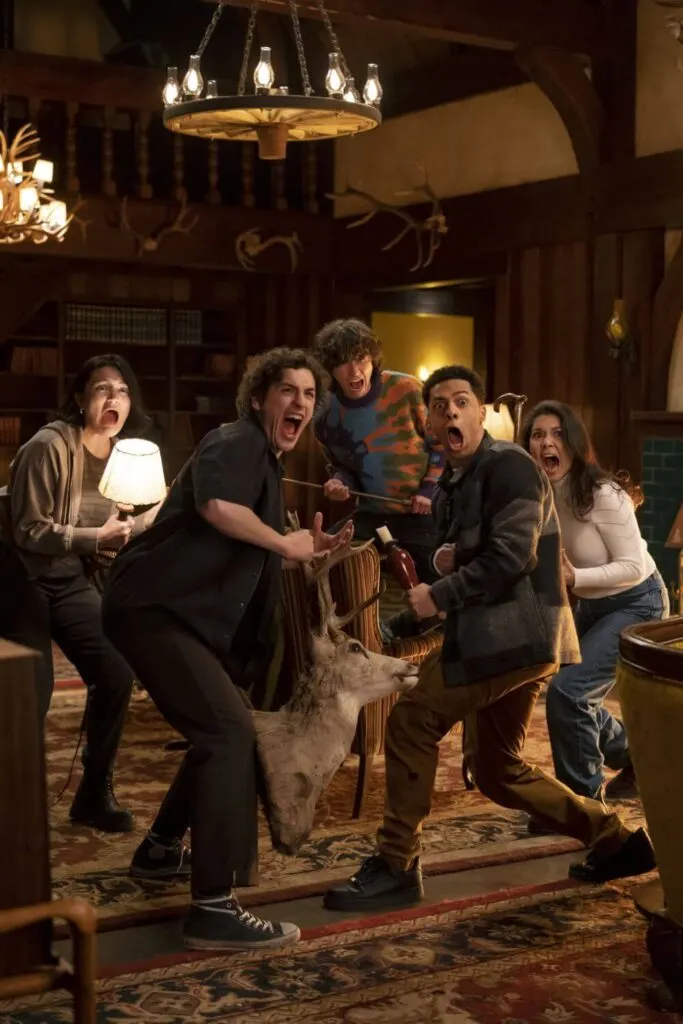 So this one isn't available to stream yet, but it's set to premiere on Disney+ on Friday, October 13.
This original series is based on R.L. Stine's chilling literary series, Goosebumps.
The show will reportedly follow 5 high schoolers who band together to solve the mystery of a teen's death 3 decades prior.
Gravity Falls (2012-2016)
This cheeky animated series follows twins Mabel and Dipper as they visit their mysterious uncle in Gravity Falls, Oregon.
Gravity Falls is full of mystery and magic, and the twins haphazardly try to uncover it all.
Also available is Gravity Falls Shorts, a series of 17 4-minute short films featuring your favorite characters from the show!
Growing Fangs (2021)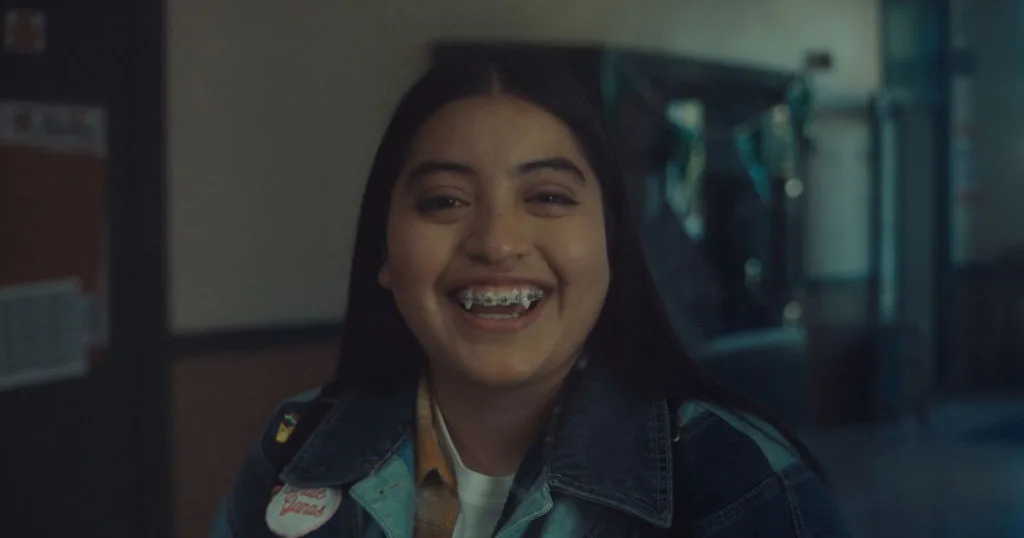 In this short film, Val, a Mexican-American teen, struggles to hide her identity as a half-vampire.
That is, until her BFF comes to visit her at her school, which is riddled with spooky characters!
Hall of Villains (2019)
From the Evil Queen to Hades himself, all of your favorite baddies are in attendance in this 2019 Disney special.
And let's not forget about Meg Donnelly, star of the ZOMBIES series, who is the hostess with the mostest.
If you love Disney villains, this special is a must-watch!
Halloween House Party (2020)
If you'll be hosting a Halloween party or sleepover for kids, be sure to pop on this Halloween special with spooky stories, games, and celeb appearances.
Halloweentown (1998)
With a milestone anniversary coming up, you may be wondering: Is Halloweentown on Disney Plus?
And the answer is – Yes, Halloweentown is on Disney+, as are all its sequels!
This spooktacular movie follows Marnie, who visits Halloweentown with her siblings and grandmother, who is a witch.
On her 13th birthday, Marnie learns that she, too, is a witch and must learn to use her magic to save Halloweentown.
The adventures continue, following Marnie to high school and university, all on Disney Plus:
Halloweentown 2: Kalabar's Revenge (2001)
Halloweentown High (2004)
Return to Halloweentown (2006)
Haunted Mansion (2023)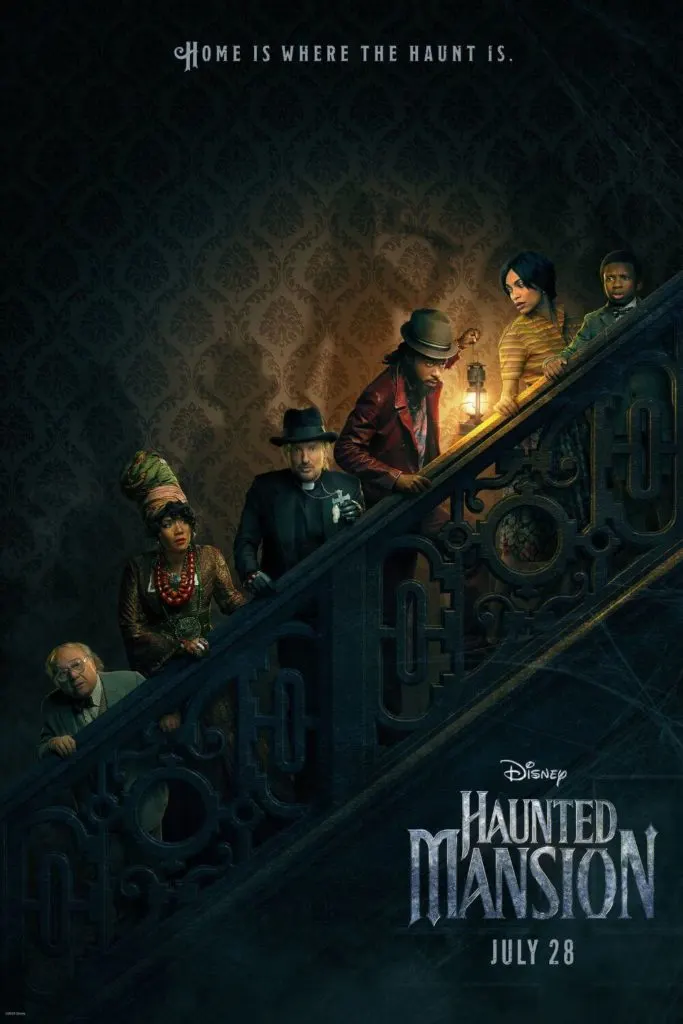 Disney's latest incarnation of this classic film was released on July 28, 2023. It stars Tiffany Haddish, LaKieth Stanfield, Owen Wilson, and Rosario Dawson.
It is set to launch on the streaming service on October 4, 2023 – just in time for a Halloween movies marathon during the weekend of Indigenous Peoples Day.
Also available to stream is the original 2003 movie, Haunted Mansion, starring Eddie Murphy, and Muppets Haunted Mansion (2021).
In the Muppets' version of this movie, Gonzo, accompanied by Pepe, must spend a night in the haunted mansion.
If you love this movie, as well as its other versions, check out my collection of the best quotes from Haunted Mansion.
Hocus Pocus (1993)
This is perhaps my favorite of all the wonderful Disney Halloween movies available on Disney+ and definitely the best of the witch movies on Disney Plus!
Hocus Pocus tells the story of a teen boy in 1990s Salem, who accidentally brings back 3 witches, the Sanderson Sisters, from the dead and then must figure out how to save the town from their havoc.
Also available is Hocus Pocus: 25th Anniversary Halloween Bash, with interviews and performances.
Hocus Pocus 2 (2022)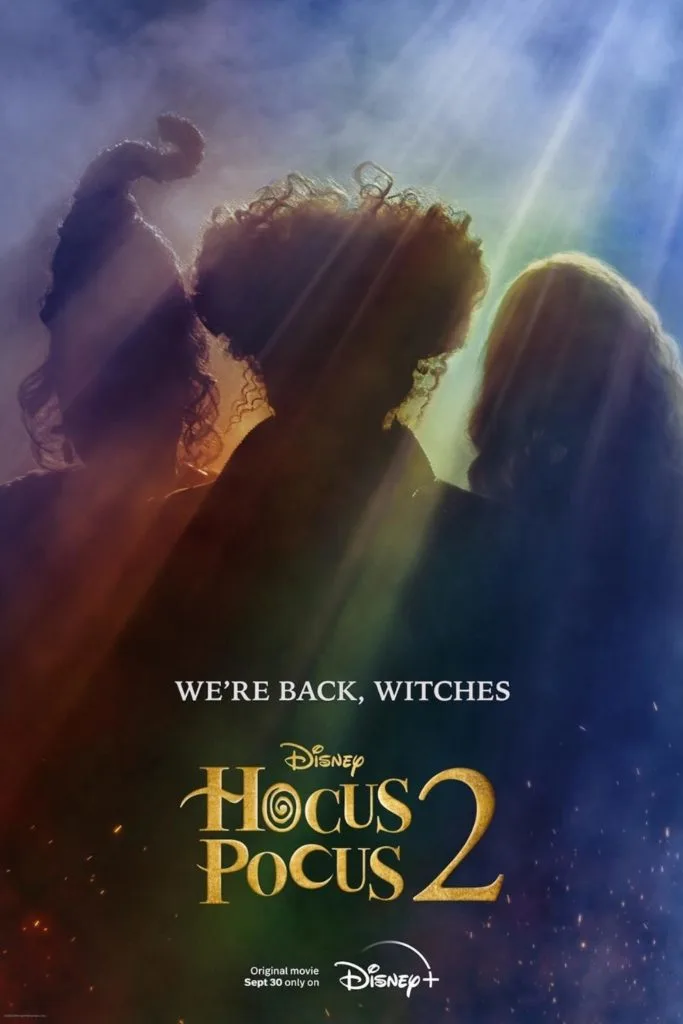 The long-awaited sequel to the cult-favorite, Hocus Pocus, debuted on September 30, 2022.
This time, the Sanderson sisters return to modern day Salem 17 years after their original awakening to a very different town.
The Disney+ original film did so well with subscribers that Disney was already starting to film a 3rd film before the SAG and WGA strikes shut down production.
Here's to hoping both strikes end soon so we can see the Sanderson sisters grace the screens once again.
Want to share your love of the Sanderson sisters? Check out my post about the best Hocus Pocus quotes.
House of Darkness (2016)
There aren't many horror movies on Disney Plus, so if that's the type of Halloween movie you're after, it's slim pickings.
But this one right here fits the bill. It's based on a true story about a family that moves into a supposedly haunted farmhouse.
Every family that has ever lived in it has suffered something tragic. Will they make it through alive and unscathed?
Intertwined (2021-23)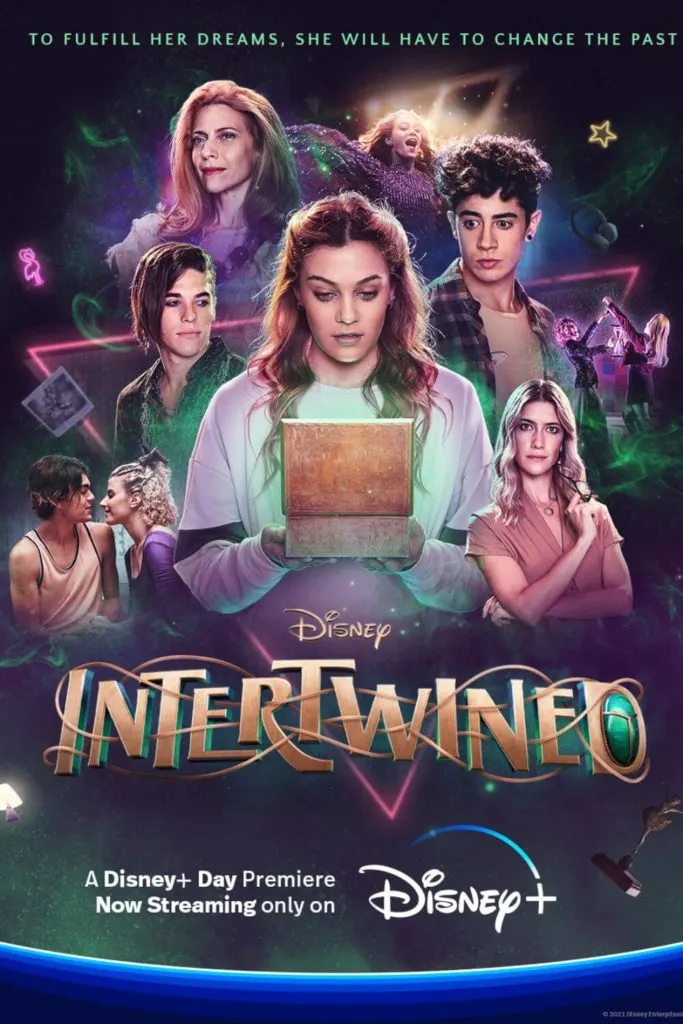 Brace yourself for the enchanting story of Allegra, a spunky teen who discovers a magical bracelet that can transport her through time.
Intertwined will have you on the edge of your seat, wondering what kind of mischief Allegra will get up to, as well as how she decides to use the bracelet to change the outcome of her and her family's lives.
Also available to stream is Intertwined LIVE!, featuring hit songs from the original show.
Invisible Sister (2015)
This Disney Channel original movie follows the misadventures of Cleo (Rowan Blanchard), a science-loving high schooler who accidentally turns her older sister, Molly (Paris Berelc), invisible. Talk about sibling rivalry gone wrong!
Along the way, Cleo and Molly have to navigate their way through high school drama, while also trying to reverse the accidental invisibility.
The Legend of Mor'du (2012)
In this 8-minute film, the witch from Pixar's Brave tells the story of a brother who tries to steal a kingdom from his brothers using magic.
LEGO Star Wars Terrifying Tales (2021)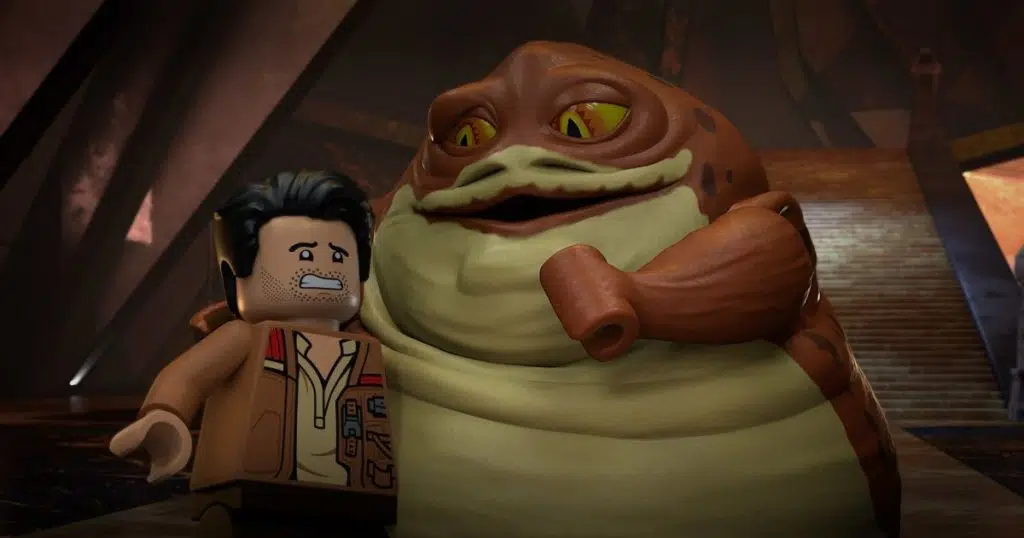 In this LEGO Star Wars special, BB-8 and Poe unintentionally land on Mustafar.
While searching for help, they encounter 3 mysterious characters, who tell them spooky tales about the dark side of Star Wars.
Maleficent: Mistress of Evil (2019)
Maleficent is put to the test as she clashes with Aurora's future in-laws and uncovers some dark secrets of her own.
Angelina Jolie returns as Maleficent and Elle Fanning as Aurora.
With breathtaking visuals and thrilling action, this film is a wickedly good time for fans of the original Maleficent.
In the past, the original 2014 film, Maleficent, has also been on Disney+ in the US. However, it is currently not available. Last checked September 19, 2023.
Mater and the Ghostlight (2006)
In this 7-minute film, Mater, the ultimate prankster, is spooked after Sheriff recounts the legend of the blue ghostlight. Is it true or is it a lesson?
Maxine (2023)
In Maxine, written and directed by Niki Ang, a young woman is nervous about introducing her new girlfriend to her family.
That is, until she gets some help from some spirits at the Hungry Ghost Festival.
This short film will debut on September 29, 2023, as part of Disney's Launchpad, Season 2.
Mickey and Friends: Trick or Treats (2023)
When Mickey and his friends are out trick or treating, Donald convinces them to visit a creepy old mansion – only to have a spell cast on them!
This new short film hits the streaming service on October 2, 2023.
Mickey Mouse: Lonesome Ghosts (1937)
In this silly 9-minute film, a group of ghosts decide to have some fun by calling some ghostbusters, aka Mickey, Donald, and Goofy, on themselves.
Mickey's Tale of Two Witches (2021)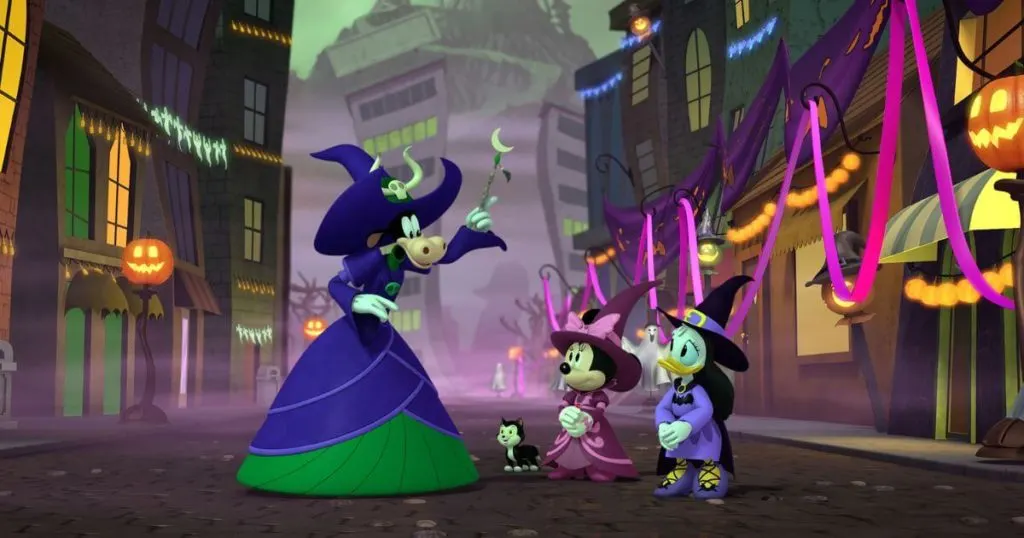 In this special from Disney Junior, Mickey tells a story about 2 witches, Minnie and Daisy.
The witches are training to graduate from Witch Academy, but must pass their tests first.
Miss Peregrine's Home for Peculiar Children (2016)
In this Tim Burton film, we learn about a world for kids with magical abilities who must fight to save it from danger.
Mom's Got a Date with a Vampire (2000)
Siblings Adam and Chelsea, who are grounded, conspire to set their single mom up on a date so they can sneak out of the house for the night.
However, Adam discovers that the man they set their mom up with might be a vampire.
Monsters Inc (2011)
In this cheeky Pixar film, new scarers Mike and Sulley accidentally let a human into their world and must hide her until they can get her back to the human world.
With monsters being the main focus of this classic Pixar film, I say Monsters Inc is a Halloween movie.
But rather than scaring us, it's meant to show us their world from their perspective – so it's more silly and fun than spooky.
The journey continues with:
Mike's New Car (2002)
Monsters University (2013)
Party Central (2014)
Monsters at Work (2021)
Mr. Boogedy (1986)
This short film (45 minutes) follows a family that has moved to a New England town that is haunted by ghosts from the Colonial time period.
Mr. Boogedy was followed up by a full-feature film called Bride of Boogedy (1987), which is also available on Disney+.
Muppets Haunted Mansion (2021)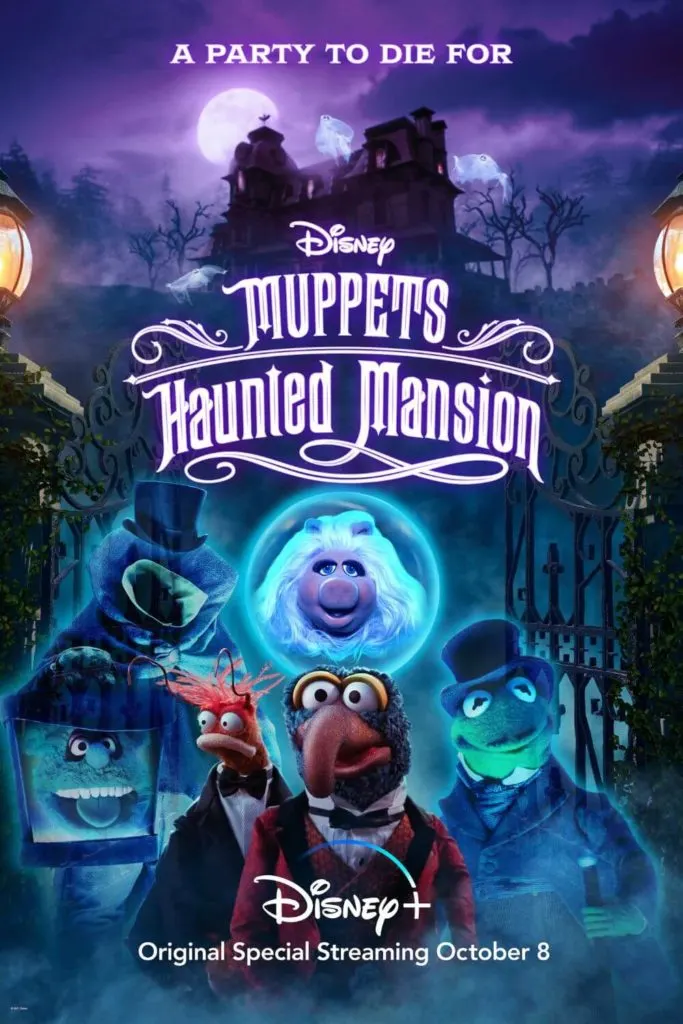 Surprisingly, this new Disney+ special is the first Halloween special featuring the Muppets!
In this movie, Gonzo, accompanied by Pepe, must spend a night in the haunted mansion – the same one featured in the original 2003 film.
My Ghost Story (2010)
In this docuseries, people whose homes have been haunted and lived to tell the tale…well, tell the tale!
The New Mutants (2020)
Marvel's The New Mutants follows a group of young mutants who are being held captive in a creepy secret facility to supposedly cure them of the dangerous side of their mutant powers.
Maisie Williams, Anya Taylor-Joy, and Charlie Heaton are just a few of the talented actors who bring these quirky characters to life.
With plenty of jump scares and supernatural action, The New Mutants is sure to satisfy your horror cravings…with a side of mutant powers, of course.
The Nightmare Before Christmas (1993)
Jack Skellington, the Pumpkin King of Halloween Town, is bored with the same ol' spooky Halloween-y schtick.
Jack conspires to bring Christmas to Halloween Town, but it doesn't exactly go according to plan, so Sally, who is in love with Jack, swoops in to fix it all.
A Sing-Along version is also available to stream.
Once Upon a Time (2011-2017)
In this creative television series, a woman and the boy she placed for adoption go on an adventure to Storybrooke, Maine, where fairy tale characters are trapped by a bad witch.
It's definitely one of the most unique witch shows on Disney Plus, and I highly recommend giving it a watch at any time of the year, not just during spooky season!
Also available to stream is the spin-off Once Upon a Time in Wonderland (2013).
The Owl House (2020)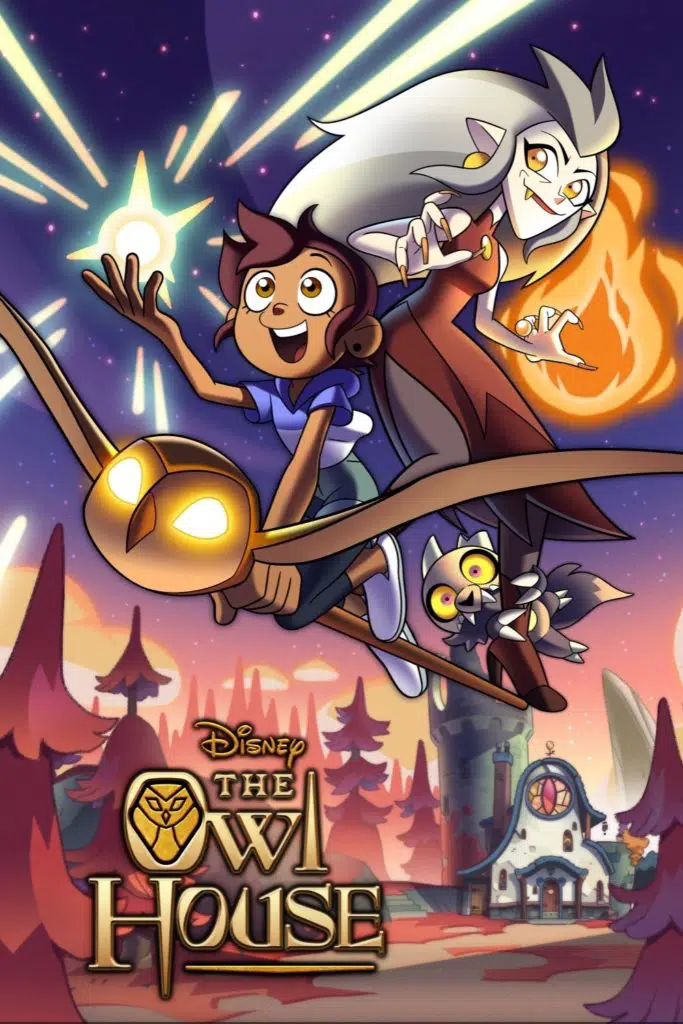 This animated series features 3 seasons of magic. It centers around a teen girl who lands in a magical realm and is inspired to become a witch – despite not having magical powers.
Parallels (2022-ongoing)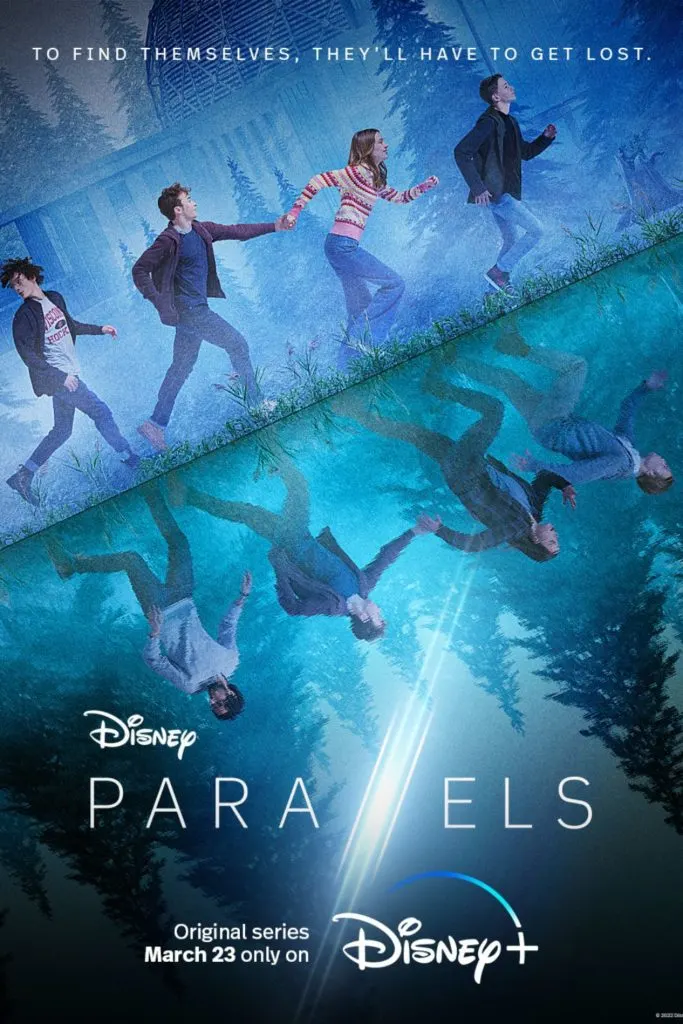 A group of 4 teenagers mysteriously find themselves in a parallel universe and must figure out how to get back.
Phantom of the Megaplex (2000)
While a movie theater prepares for a big event, strange things happen that can only be explained by a ghost that supposedly haunted the theater.
The assistant manager, a local teen, must solve the mystery!
Pretty Freekin' Scary (2023)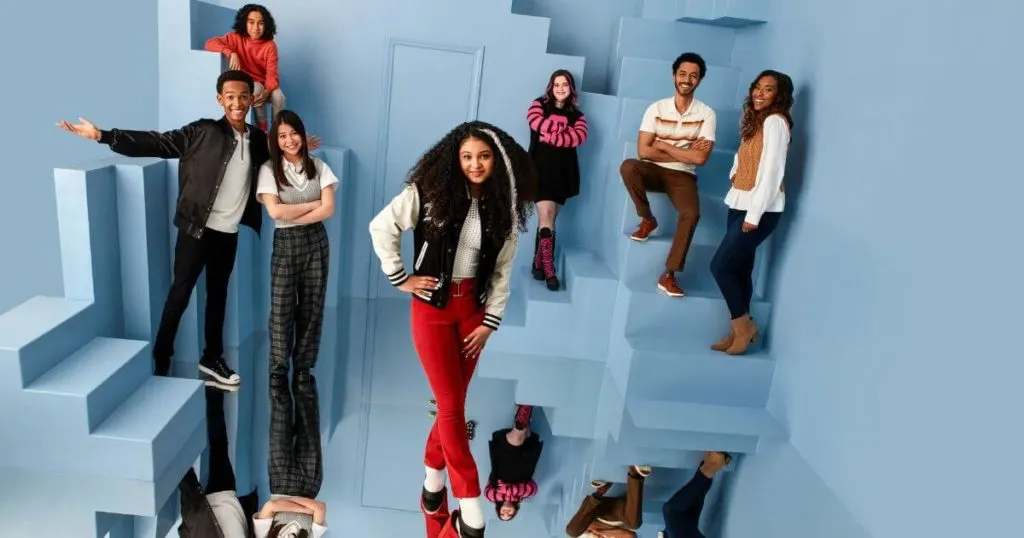 Frankie finds herself in the midst of supernatural occurrences after she travels to the Underworld and back. Now she has to go through middle school flanked by her ghastly guards, Pretty and Scary.
This hilarious and spooky show will have you on the edge of your seat, while also cracking you up with its humor.
The Scariest Story Ever: A Mickey Mouse Halloween Spooktacular (2017)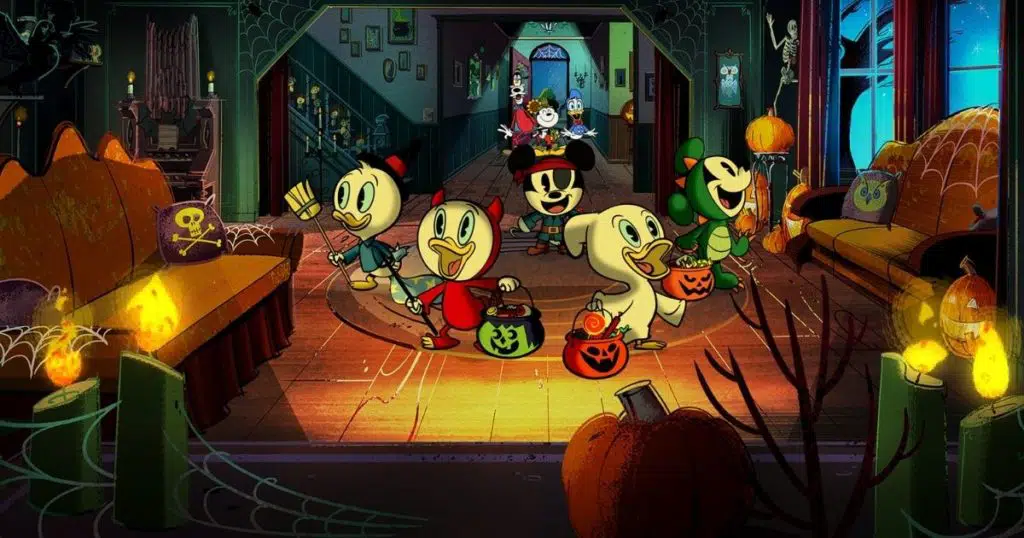 In this 22 minute short film, Mickey's nephews beg him to tell spooky stories.
The Scream Team (2002)
When Ian and Clare visit their dad's hometown for their grandpa's funeral, they encounter ghosts that won't let their grandpa's soul lay to rest.
Secrets of Sulphur Springs (2021-2023)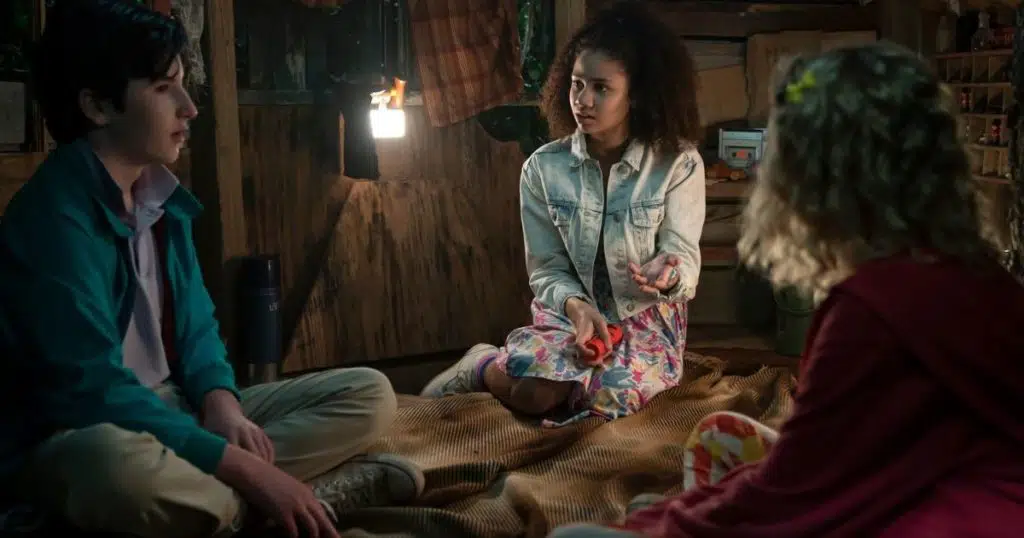 Griffin and his family move into an old hotel in Sulphur Springs, Louisiana that is said to be haunted by a girl that went missing 3 decades earlier.
Griffin and his new friend, Savannah, are determined to solve the mystery.
The first season was a hit and a second season is on the way!
The Simpsons' Treehouse of Horror (1990-ongoing)
Every year since season 2, The Simpsons has aired a Halloween special dubbed Treehouse of Horror.
Every Halloween episode from seasons 2-33 of this long-running special are available on Disney+. Plus, Season 34 will be added on October 11, including the iconic Halloween episode.
Just go to The Simpsons on Disney+ and scroll through the episodes to find the episode titled Treehouse of Horror. It's usually in the first few episodes, as new seasons usually start up on the Fall.
The Skelton Dance (1929)
In this newly restored 5-minute film, a group of skeletons frolic along to spooky music in a graveyart. It is equal parts silly and creepy!
So Weird (1999-2000)
In this fun series, a teen girl investigates the supernatural world and documents it on her blog, all while touring the country with her mom, who is a rock star!
Spooky Buddies (2011)
In this Halloween installment from the Buddies series, the pups must band together to save the town from a warlock.
Star vs. the Forces of Evil (2015-2019)
In this animated series, Star is sent to live on Earth as an exchange student and must fight off evil beings from stealing her magic wand with the help of her foreign exchange brother, Marco.
Stepsister from Planet Weird (2000)
Two teen girls, one human and one alien, plot to break up their parents. However, they become friends in the process!
That's So Raven (2003-2006)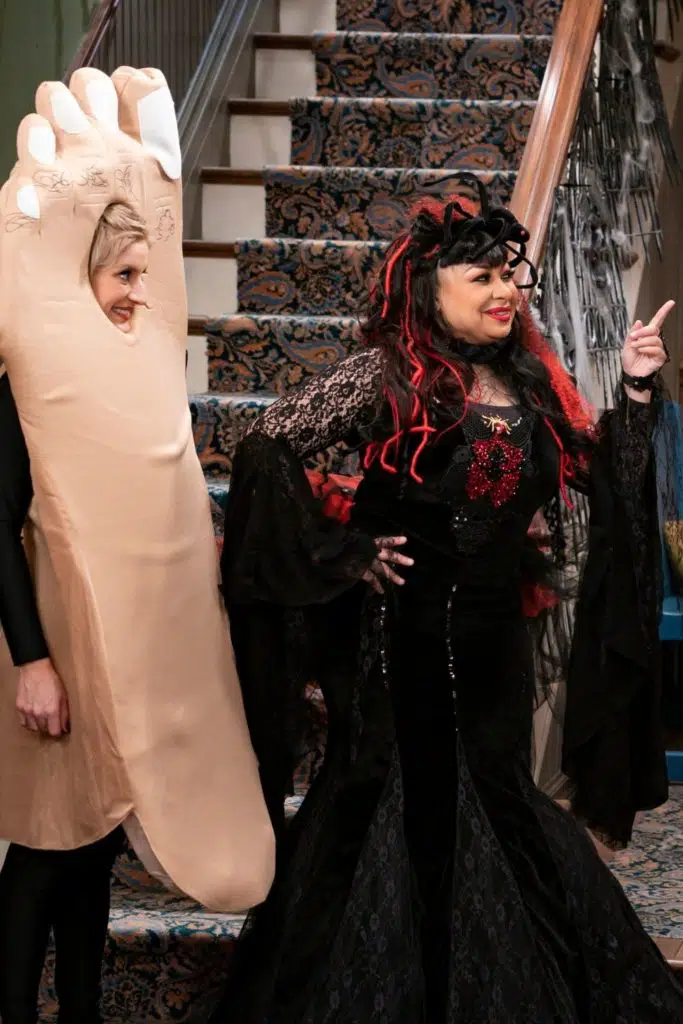 This fun Disney Channel series follows a teenager named Raven who is psychic.
The series has spawned a spin-off series and a special, both of which are on Disney+:
Raven's Home (2017-2020)
Far Away from Raven's Home (2021)
Tierra Incógnita (2022-ongoing)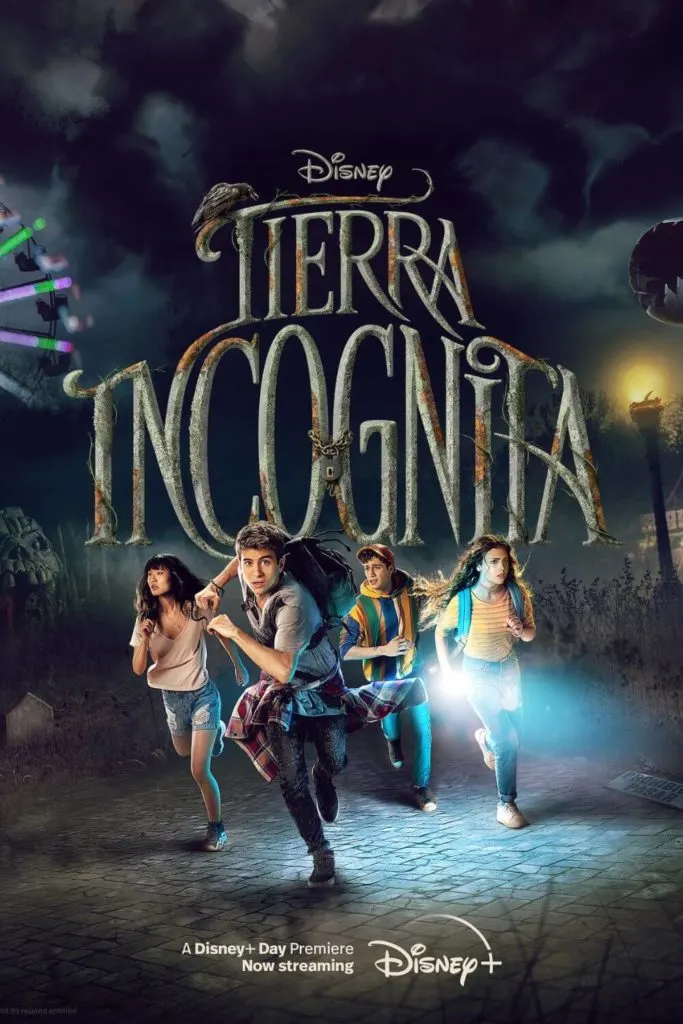 In this thrilling show from Argentina, Eric (Pedro Maurizi) returns to his hometown to solve the mystery of his parents' disappearance from eight years prior when he was still a young boy.
Oh and there's a horror-themed amusement park involved. So dark and creepy!
Toy Story of Terror (2013)
In this 21-minute Halloween special, our favorite Pixar toys must solve a mystery after Mr. Potato Head disappears – before the same thing happens to them.
Trick or Treat (1952)
In this 9-minute short film, Donald Duck learns a lesson after pranking his nephews on Halloween, thanks to a witch.
Twitches (2005)
This Disney Channel original movie stars Tia and Tamera Mowery as royal witch twins, Alex and Camryn.
They were separated at birth and sent to live on Earth. After finding each other after their 21st birthday, they learn they are the only ones who can save their former home, a magical realm called Coventry.
Twitches is super cute and fun and one of my favorite Disney Channel Halloween movies!
If you love this movie, the sequel, Twitches Too (2007), is also on Disney+.
Under Wraps (2021)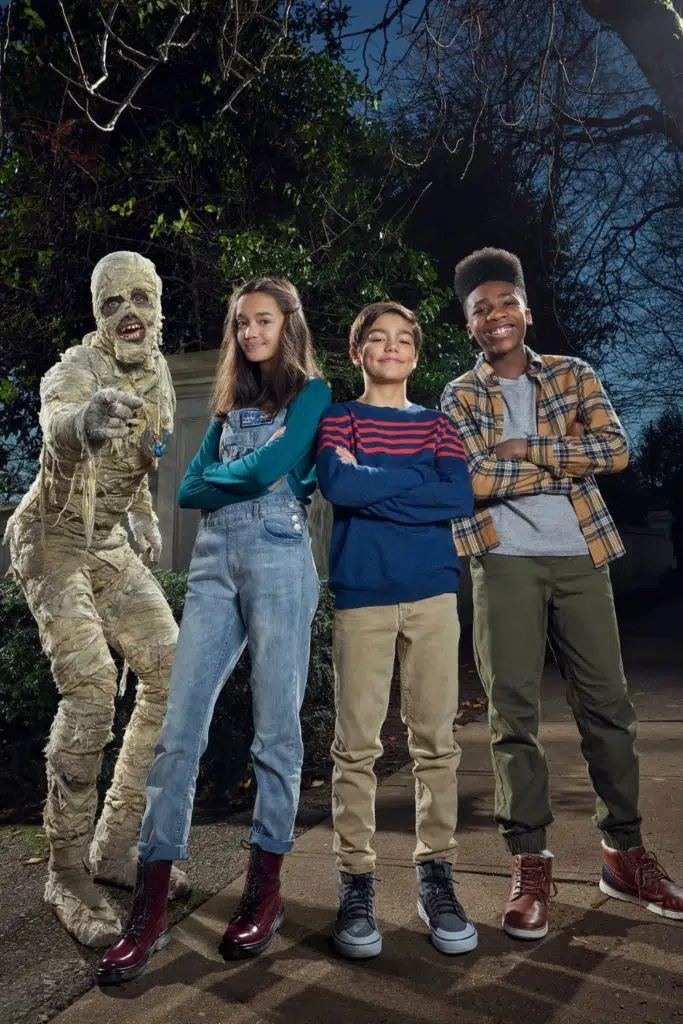 Under Wraps is a remake of a Disney Channel original movie of the same name.
In this movie, 3 kids accidentally wake a mummy and must get him back to his resting place before midnight on Halloween.
Also available to stream is the sequel, Under Wraps 2. However, the original Disney Channel movie is not available to stream.
Upside Down Magic (2020)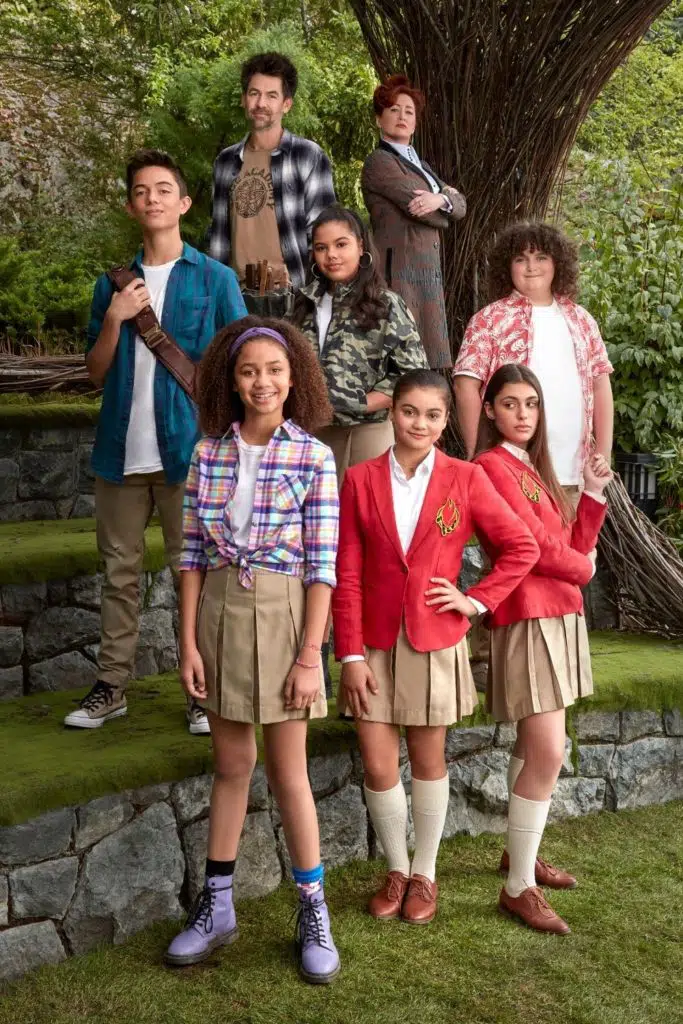 This movie follows teens Nory and Reina who start school at Sage Academy for Magical Studies, only to learn they have "upside down magic," which is thought to be dangerous.
Vampirina (2017-2020)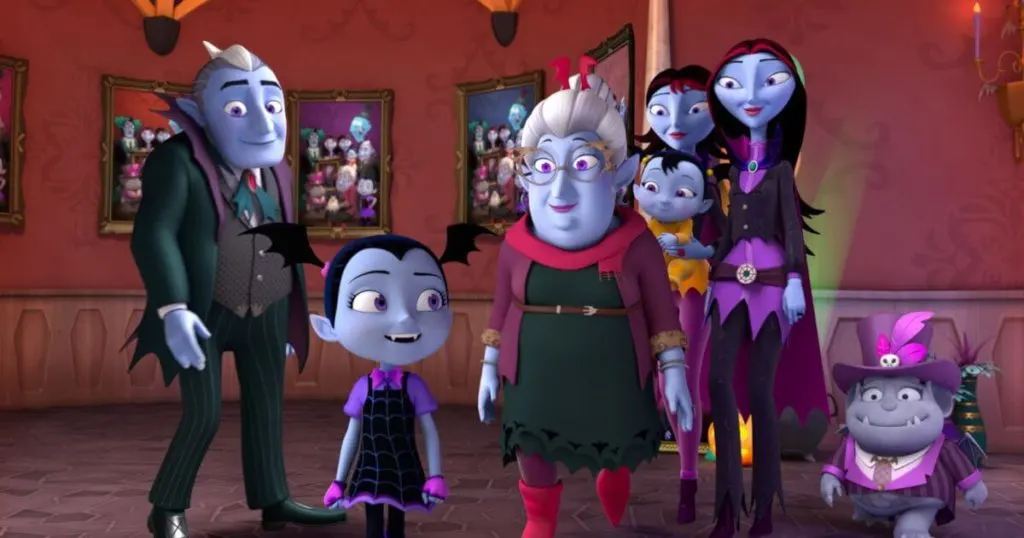 In this adorable Disney Jr. series, a young vampire named Vee moves from Transylvania to Pennsylvania where her parents run a bed-and-breakfast for other supernatural creatures.
A sister series is also available, Vampirina Ghoul Girls Rock (2018-2019), where Vee and friends create a band, The Ghoul Girls.
The Villains of Valley View (2023)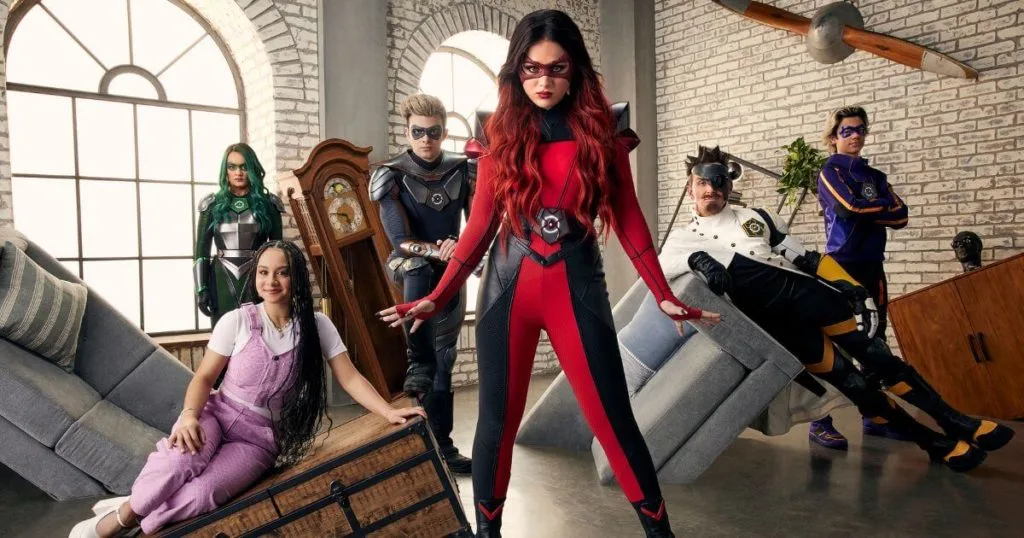 Once upon a time, there was a little town called Valley View full of regular families living their regular lives. That is, until a supervillain family moved in!
Now teens Amy and Jake and their family have to pretend to be good in order to avoid a villain that's after them!
WandaVision (2021)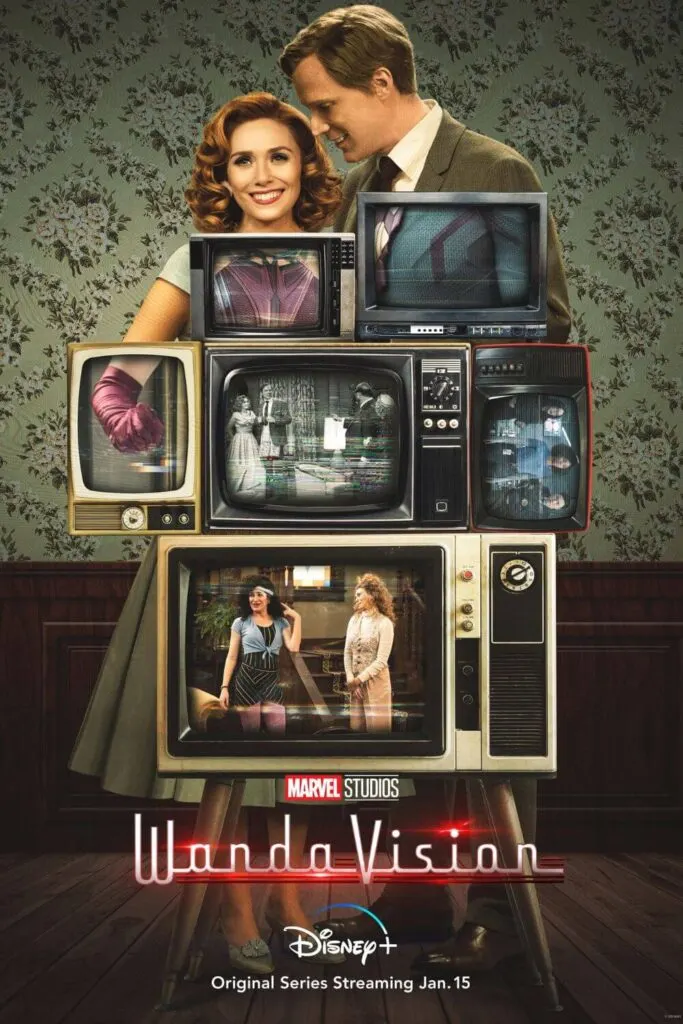 It's so hard to summarize this fun Marvel Studios show without giving away too much or spoiling it for first time viewers.
If the name didn't give it away, the show stars our favorite superhero witch, Wanda Maximoff, and her beau, Vision.
The show takes place after Avengers: Endgame (2019), with each episode occurring in a different decade from the 1950s through the 2000s.
There's even a fun Halloween episode that's been inspiring Halloween costumes ever since it aired!
Werewolf by Night (2022)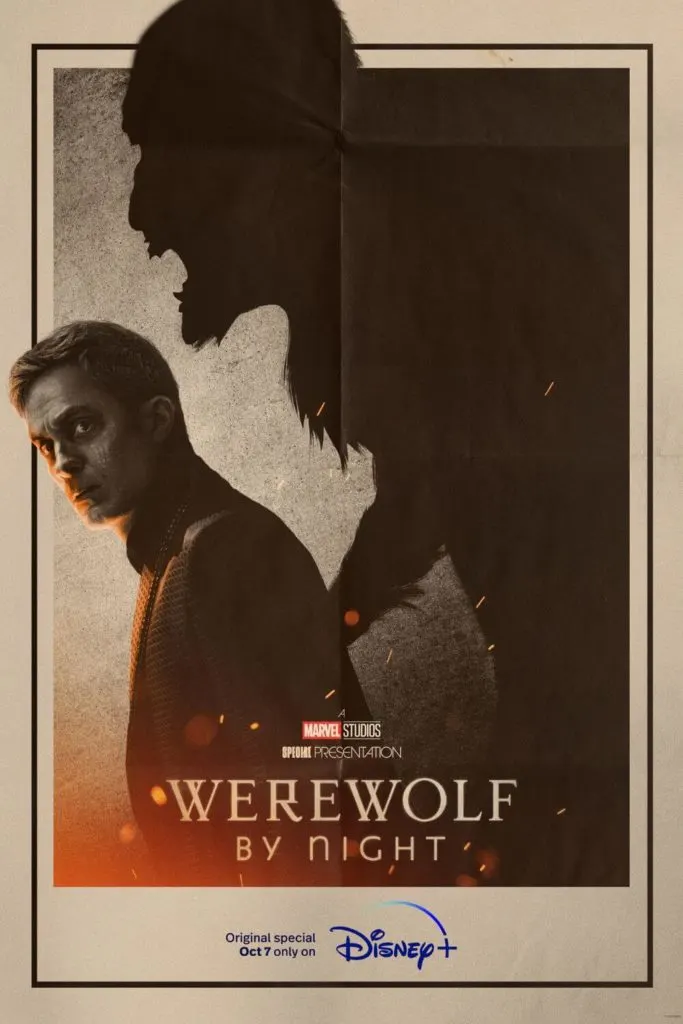 In this semi-short (54 minutes) black-and-white film, a group of secret monster hunters gather together after the passing of their leader, only to find themselves on a hunt with one of the deadliest monsters yet.
Also available to stream is Director by Night, a behind-the-scenes look at the making of this film.
Plus, on October 20, Disney+ will Werewolf by Night in Color!
The Wizards of Waverly Place (2007-2012)
This Disney Channel series stars Selena Gomez as Alex Russo, a teen witch who must balance her teen years with mastering her magical abilities or risk losing them.
Also available on Disney+ are:
Wizards of Waverly Place: The Movie (2009)
Wizards of Waverly Place: Alex vs. Alex (2013)
The Wonderful Autumn of Mickey Mouse (2022)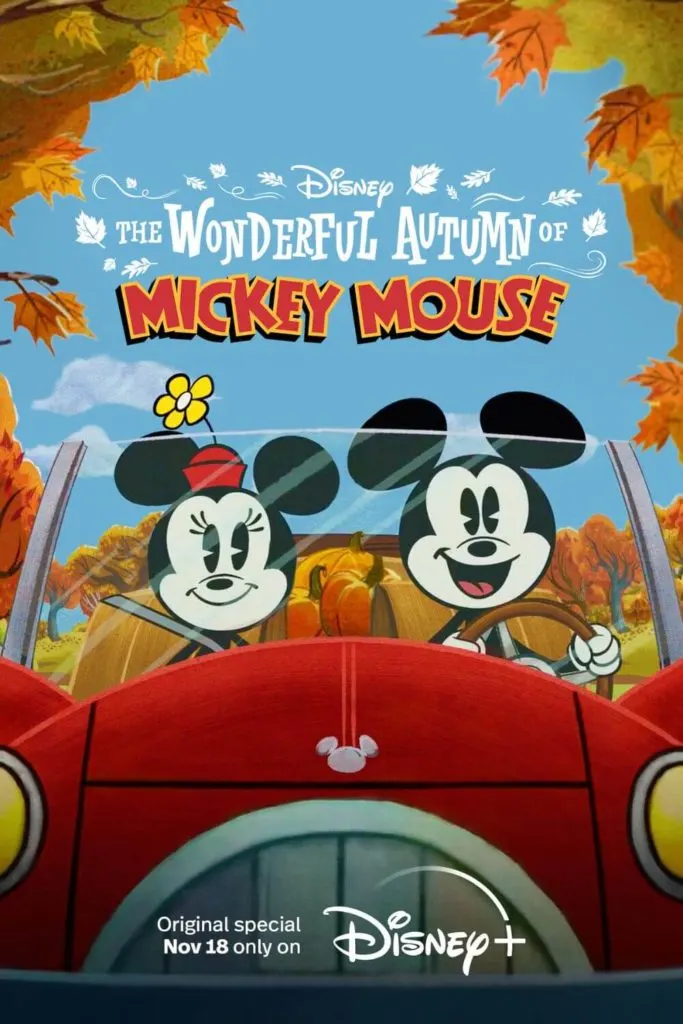 Oh boy, have we got a story for you! Disney's 2022 short film, The Wonderful Autumn of Mickey Mouse, has got everything you need for a spook-tacular adventure.
From pumpkin patches to scarecrows, Mickey and his pals get up to all sorts of mischief on a good old-fashioned pumpkin farm.
And let's just say, things don't always go according to plan. But hey, that's what makes it all the more fun!
ZOMBIES (2018)
In this cute Disney Channel movie, humans and zombies, who no longer crave brains, are learning to assimilate.
It's not going so well at Seabrook High School until a human cheerleader and zombie become friends.
Watch to see if their friendship will encourage their community to unite.
Also available:
ZOMBIES 2 (2020)
ZOMBIES 3 (2022)
ZOMBIES: Addison's Monster Mystery (2021)
ZOMBIES: Addison's Moonstone Mystery (2020)
Zombie-thon with Big City Greens (2022)
ZOMBIES: The Re-Animated Series (premieres 9/27/2023)
What are your favorite Disney Halloween movies?
What a list of spooktacular night time treats! Whether on a family movie night, or just for yourself, these films and shows are sure to give you the Halloween vibe.
From cult classic flicks like Hocus Pocus to thrilling series like The Owl House, there's something on Disney+ for everyone.
But if you're still unsure of what to watch, why not simply pick your favorite lead character or Halloween theme? Don't be afraid to get creative with it!
Then afterwards, be sure to share your thoughts in the comments section below. I'd love to hear what you all think are the best Halloween movies and shows on Disney Plus!
Want to track your progress? Get my FREE downloadable, printable bucket list after signing up for my email list.
And now for the big question… What are YOUR favorite Halloween movies and shows on Disney Plus? Share it with us so we can all enjoy them together!
---
About the author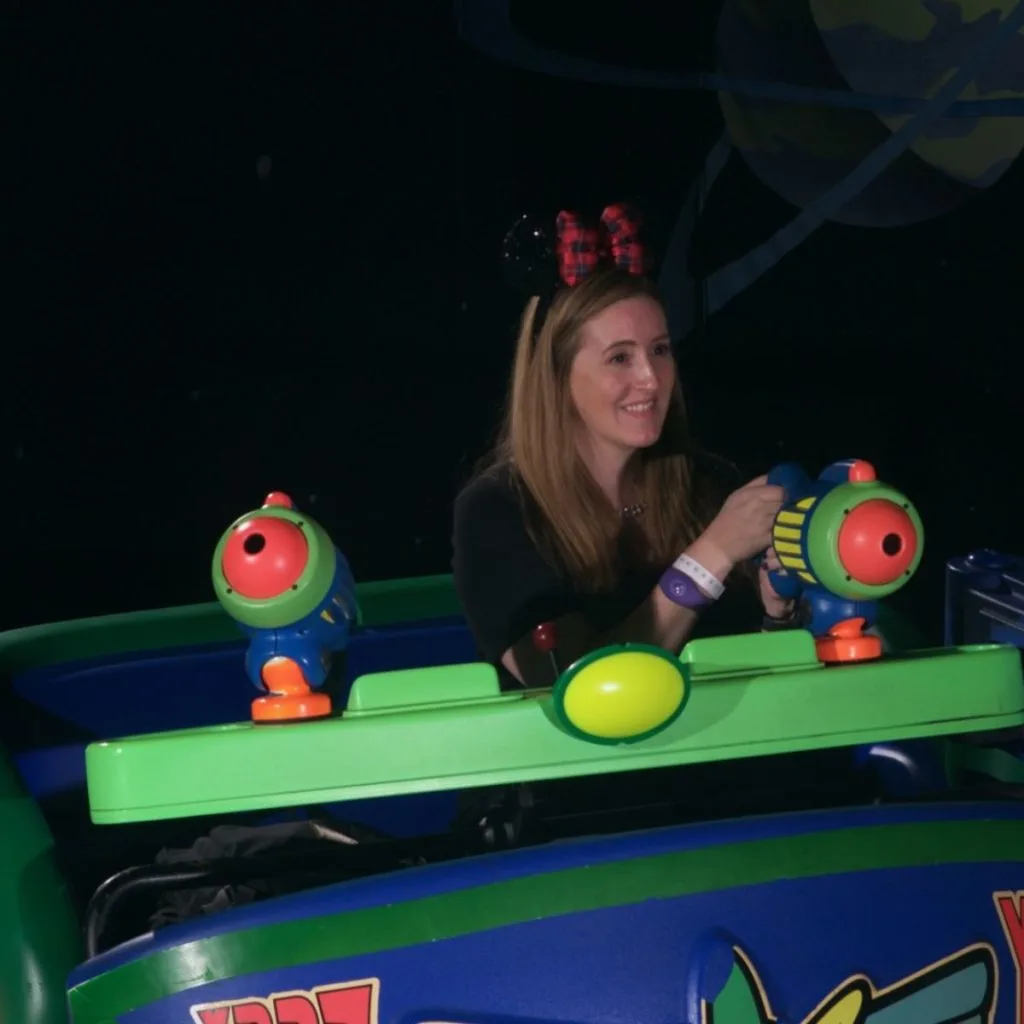 Meg Frost is the creator of The Park Pixie, where she covers Disney World, Disney+, and Disney fandom.
She holds an M.A. in Journalism from Northeastern University and B.S. in Communication & American Studies from University of Miami.
---
This post was originally published on October 10, 2021. It was last updated September 19, 2023.