Welcome, foolish mortals! Are you ready for a spooktacularly fun journey through the world of Disney's Haunted Mansion?
From its iconic ride to its movies, our favorite ghostly dwelling has supplied us with quotes that will have us laughing and clutching onto our arms in fear!
Keep reading to explore some of the best Haunted Mansion quotes that are sure to make your day as eerie as ever.
I'll include quotes from all three Haunted Mansion movies: The Haunted Mansion (2003), Muppets Haunted Mansion (2021), and Disney's Haunted Mansion (2023), plus some lines from the Haunted Mansion ride.
Haunted Mansion ride quotes
The Haunted Mansion ride debuted at Disneyland in 1969 and its been delighting guests ever since.
So naturally Disney has come out with three separate Haunted Mansion movies for us all to enjoy.
But the ride is where it all started, so let's dig in to the best Haunted Mansion ride quotes.
---
Welcome foolish mortals, to the Haunted Mansion. I am your host, your ghost host. – The Ghost Host
Actually, we have 999 happy haunts here. But there's room for 1,000. Any volunteers? If you should decide to join us, final arrangements may be made at the end of the tour. – The Ghost Host
Beware of hitchhiking ghosts! – The Ghost Host
Rest in peace, the haunting's free! – The Ghost Host
Grim grinning ghosts come out to socialize! – As sung by ghosts
Madam Leota quotes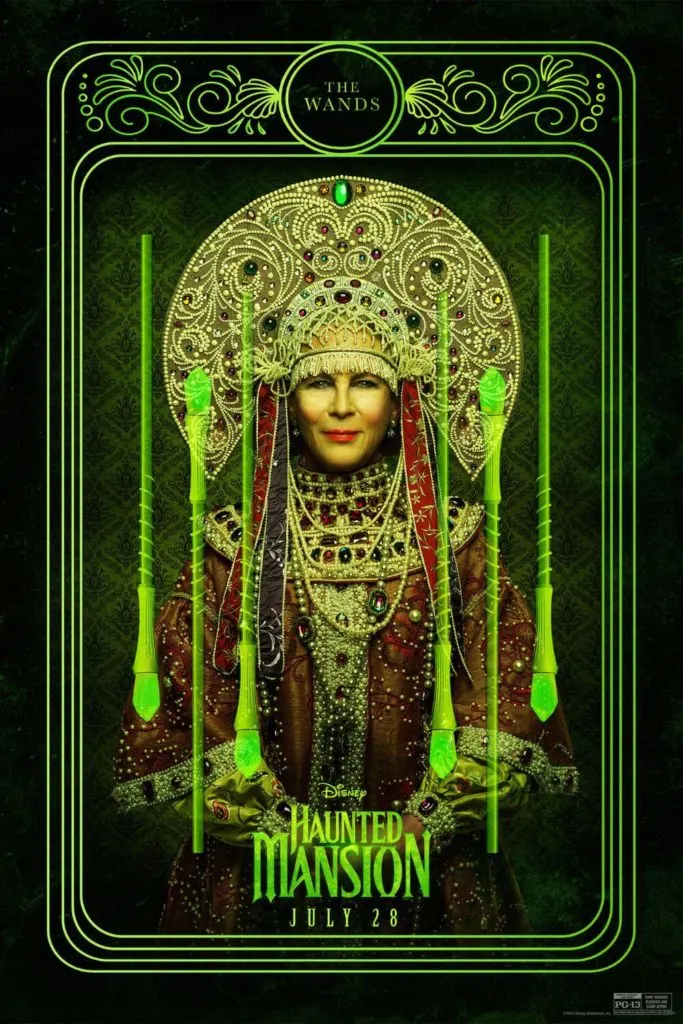 Ah, Madame Leota. The ethereal medium who's always ready to serve up some sass with her supernatural abilities.
And what better way to honor her sassy spirit than by collecting all her best quotes?
From her very first appearance in the Haunted Mansion movies to the latest revamps, Madame Leota has been serving up some serious one-liners.
And who better to introduce these gems than some fellow divas? Jamie Lee Curtis, Miss Piggy, and Jennifer Tilly have all voiced or portrayed Madame Leota at some point, adding their own flair to the character.
So grab your crystal ball (or whatever you use for divination) and get ready for some wickedly witty Madame Leota quotes.
---
Serpents and spiders, tail of a rat, call in the spirits, wherever they're at! – Madame Leota in the Haunted Mansion ride
Find the thing that must be read, let your heart be filled with dread. – The Haunted Mansion (2003)
Angels in heaven, together at last. The tale is well ended for those who have passed. Love endures all. No reason. No rhyme. It lasts forever and forever all time. – The Haunted Mansion (2003)
Madame Leota: Evil and darkness have fallen this night. But now, to survive, you must gain new sight.
Jim: I must first gain new underwear.

The Haunted Mansion (2003)
Madame Leota: Dark spirits from the grave come forth. Lift us from the black and show us, show us the way back.
Jim: Dark spirits? Hey, no dark spirits! Don't you make no dark spirits come out!

The Haunted Mansion (2003)
Quotes from The Haunted Mansion (2003)
Ladies and Gentleman, welcome to the eerie world of The Haunted Mansion. And before the chills run down your spine, let me give you a rundown of what this movie is all about.
It follows the story of a real estate agent, Jim Evers, played by none other than the hilarious Eddie Murphy, who is on a mission to sell an abandoned mansion.
However, things take a spooky turn when he and his family must spend a night in the mansion and are met with restless spirits.
But fear not, for we have compiled some of the wittiest and spookiest quotes from the film that will keep you entertained and absorbed in this gloomy tale.
---
Bob Vila would have a field day with this place. – Jim
The butler did it? You've got to be kidding me! – Jim
Where's that scary albino when you need him? – Jim
How wonderful. You're going to kill a ghost. – Ramsey
Tell me, Mr. Evers: Do you believe in ghosts? – Master Gracey
There are worse things that purgatory, Madame. I can assure you. – Ramsey
Don't think just because you pull out your sword I'm going to let you marry my wife! – Jim
You can't help the dead, honey. They're beyond help. That's the nature of being dead. – Who said this?
Michael: Dad?
Jim: Yeah, son…
Michael: I see dead people.
Master Gracey: You have very beautiful children, Ms. Evers.
Jim: I kicked in some chromosomes, too.
Jim: Hey, honey, you know they have dead people in the backyard.
Sara: Well, some people have swimming pools. Others have private cemeteries. It can happen.
Jim: Wait a minute. You're telling me this guy is dead and the only reason we were brought here is he wants to get jiggy with my wife?
Ezra: Pretty much. Are you upset?
Jim: The guy is dead and he's trying to get with my wife and the house isn't really for sale. Yes, I'm upset!
Quotes from Muppets Haunted Mansion (2021)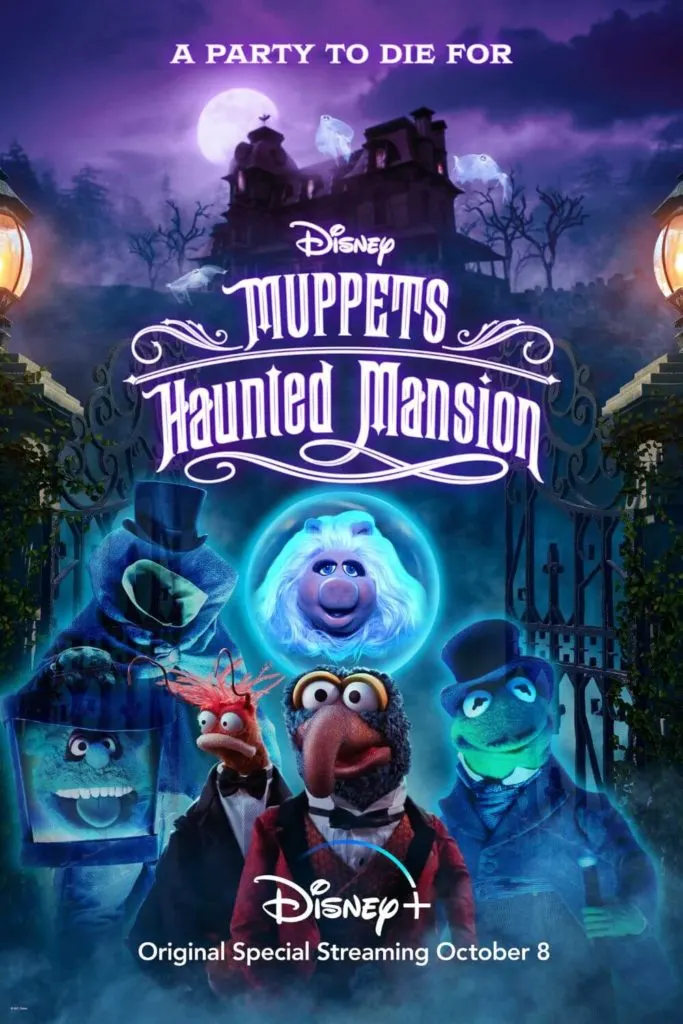 Get ready to be spooked and entertained because we're about to delve into the world of Muppets Haunted Mansion!
This frightfully hilarious film features all of your favorite Muppets, including Miss Piggy as the alluring Madame Pigota, who is not to be messed with.
Our fearless guide through this haunted adventure is none other than the zany Gonzo, who sets out to prove that he is the bravest of them all.
Along the way, he enlists the help of his trusty sidekick Pepe, who adds his own unique flavor of humor to the thrilling tale.
So grab your popcorn and get ready to be bewitched by the best quotes that I've curated just for you from this spooky masterpiece.
---
Happy Halloween! – Gonzo
Gonzo: Wow! I can't believe the invitation came with this free limo ride.
Pepé: Sí, sí. All the fancy Hollywood mansion parties have limos. Which is why all my girlfriends are texting.
Thank you. Thank you very much. – Scooter dressed as Elvis at a Halloween party
Dead prawn walking. – Limo driver
Grim grinning ghosts come out to socialize. 🎶 - as sung by Darren Criss and ghosts
Welcome, foolish Muppets! – The Host
I shall be your host this evening. Your ghost host. – The Host
Within these walls are your fears and your frights. Face them all bravely to survive through the night. For if by sunrise you fail this endeavor, then you y tu amigo must remain here forever. – The Host to Gonzo and Pepé
Gonzo: You know what? I just realized this room has no windows and no doors.
Green Jacket: Which offers this chilling challenge…to find a way out.
Gonzo: Wait, wait, wait, wait a minute! Wait a minute! A way out of the room or out of the house?
Green Jacket: What? You're kinda killing the moment here. I meant the room.
Don't worry, folks. We're not gonna be explaining all the jokes. – A Ghost
Hola, celebrities! I'm here! – Pepé, as he enters the "famous peoples room."
Serpents and spiders. Tail of a rat. Calling the spirits wherever they're at. Pumpkins and ghoulies from last Halloween, awaken the spirits with your tambourine. Creepies and crawlies, toads in a pond. Let there be music from regions beyond. – Madame Pigota
Gonzo: Great! Hey, since you're on a break, can you contact somebody from the great beyond?
Madame Pigota: I wish! But the Wi-Fi in here's lousy. It's like a total dead zone.
Pumpkin spice lattes and a vampire bat, you must find a door with a glowing exat. – Madame Pigota
Gonzo: Well, you finally got the party you wanted.
Pepé: What? Are you crazy? I said famous peoples, not scary peoples.
We now invite you to sit back and relax, as our 999 residents proudly present…your funeral. – The Host
The party is down here six feet under. 🎶 - as sung by several characters
Gonzo: Yes! Yes. A thousand times, yes.
Pepé: Sí, and one time no way, José.
We're here all week and all year, and also through all eternity. – Haunted Mansion show host (Kermit)
Bring me some tacos! – A Ghost
Gonzo, you performed the greatest feat a soul could ever achieve: you faced your fear. And that is the greatest act of all. – The Host
Quotes from Disney's Haunted Mansion (2023)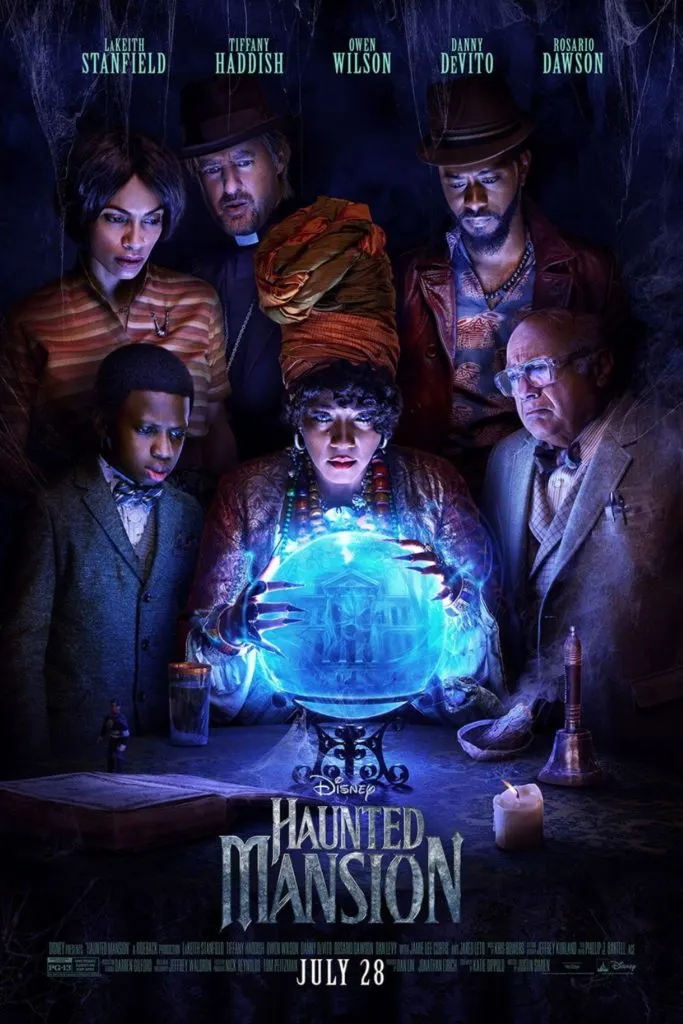 Let's get spooky, folks! The Haunted Mansion is back and it's giving me goosebumps already!
Jamie Lee Curtis, Jared Leto, Tiffany Haddish, Owen Wilson, Danny DeVito, Rosario Dawson, Dan Levy, Winona Ryder, and LaKeith Stanfield round out the star-studded cast in this upcoming supernatural flick.
But don't be fooled by their star power, this film isn't just a celebrity parade.
In this version of The Haunted Mansion, a single mom (Dawson) moves into a spooky estate and realizes it's haunted by the ghosts of its previous residents.
She hires a rag-tag group made up of a psychic (Haddish), a paranormal investigator (Stanfield), a local college professor (Wilson), and a priest (DeVito) to help rid the home of its ghostly inhabitants.
Eerie creaks, freaky shadows, and bone-chilling screams are just a few things this movie has in store for us.
So, let's dive in and take a look at some of the spine-tingling quotes that sent shivers down our spines.
Since the movie doesn't come out until July 28, 2023, let's start with some quotes from the trailers and clips that have come out thus far.
As soon as the movie comes out, I'll be sure to update this post!
---
Welcome foolish mortals… to the Haunted Mansion. We have 999 happy haunts, but there's room for more. Which offers you this chilling challenge to find a way out! – Appears in the trailer and the ride!
This mansion is unhinged. – Kent
Ready to have your mind blown? – Kent
Death lurks around every corner. – Professor
We're in a fight. Whether we like it or not. – Kent
I'm not afraid of a couple ghosts. – Ben Matthias
We could be trapped here forever. – Ben Matthias
These ghosts DEFINITELY don't wanna leave. – Harriet
I do like surprises. I hope you do, too. – The Hat-Box Ghost
If this comes down to an exorcism, we're in big trouble. – Kent
God, give us a break. There's so many bad people in the world. Haunt them. – Kent
This house is dripping with souls. There's always room for one more. – The Hat-Box Ghost
Wait! I should warn you before you step inside the house this could change the course of your entire life. – Gabbie
Madame Leota: I can show you, but it will cost you three dollars.
Bruce: What? That's highway robbery.
Madame Leota: Who said that?
What are your favorite Haunted Mansion Quotes?
Conclusion goes here.
Be sure to check out Haunted Mansion in your movie theaters this summer. Check out the trailer below for a sneak peek!
---
About the author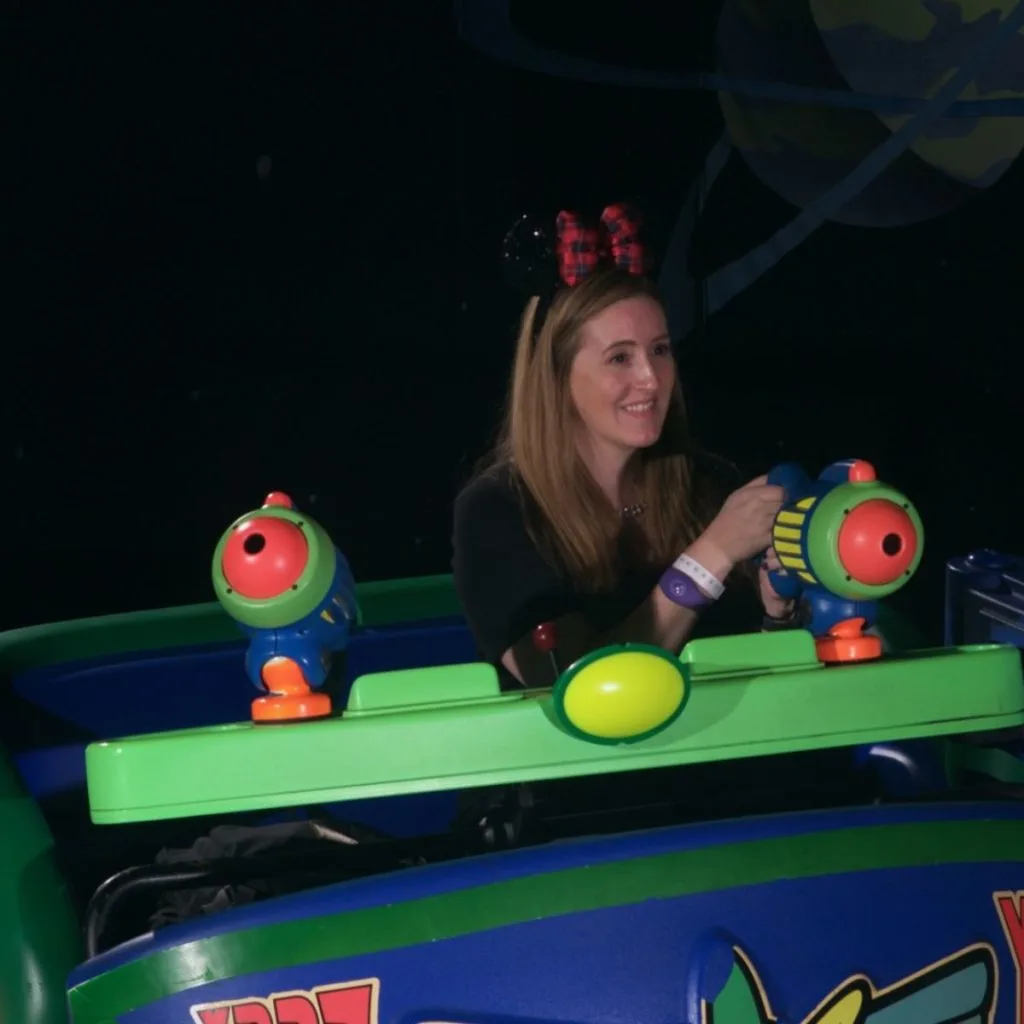 Meg Frost is the creator of The Park Pixie, where she covers Disney World, Disney+, and Disney fandom.
She holds an M.A. in Journalism from Northeastern University and B.S. in Communication & American Studies from University of Miami.
---