If you're planning a magical vacation to Disney World, the first decision you'll want to make is where to stay.
With so many incredible deluxe resorts and villas available at Walt Disney World, how can you decide which one is best for your needs?
In this guide, I'll go over everything to know about Disney's most luxurious lodging options – the deluxe resorts and villas!
By the end of this post, you'll know what these resorts do and don't offer and you'll be able to decide which one is best for you.
Join me as I discuss these wonderful hotels, villas, and unique stays and guide you on your path toward Mickey Mouse bliss.
An overview of Disney World's deluxe resorts and villas
Not many places can make your dreams come true, but the Disney World deluxe resorts and villas certainly can!
These accommodations offer the ultimate in luxury – but not just any kind of luxury. Guests can select from a variety of themed delights inspired from beautiful destinations around the world.
From cozy treehouse cabins with private balconies overlooking nature to high-end suites within walking distance to the parks, deluxe Disney resorts and villas have something for every guest.
For those looking to make a long-term commitment to the magic, you could even join Disney Vacation Club and become part of the DVC family!
Lastly, deluxe resorts often come with perks not available to other guests, such as extra evening hours where they can stay in the parks later than other guests – free of charge. Can't beat that!
There are 11 deluxe properties at the moment, with plans to build more, so let's jump in and go over each one so you can decide where to stay.
Disney's Animal Kingdom Lodge and Villas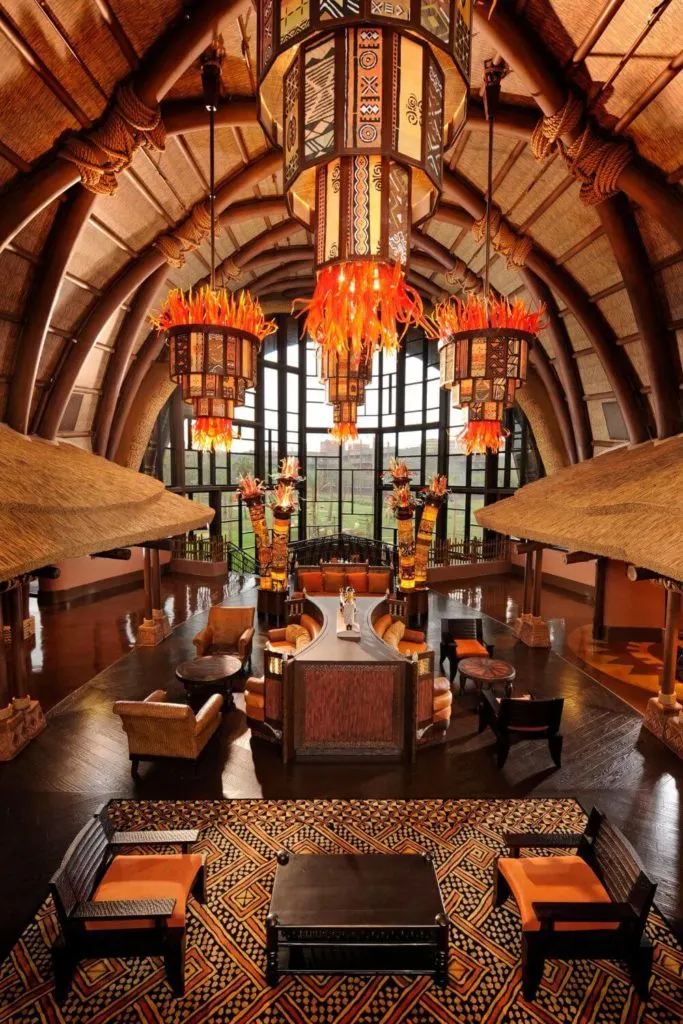 At Disney's Animal Kingdom Lodge and Villas, guests can immerse themselves in African culture and wildlife.
Relax in Jambo House or explore the African savannah from Kidani Village, both offering amazing views of the animals located near the resort.
There are also several restaurants on property, such as Boma, that specialize in a variety of cuisines from around Africa.
From African fine dining to the best savannah view, these lavish rooms and villas provide experiences beyond your imagination.
My favorite time to stay here is toward the end of the year when the Christmas decorations go up. And if I'm visiting during that time but not staying here, I usually still make a point to stop by to see the decor!
Disney's Beach Club Resort and Villas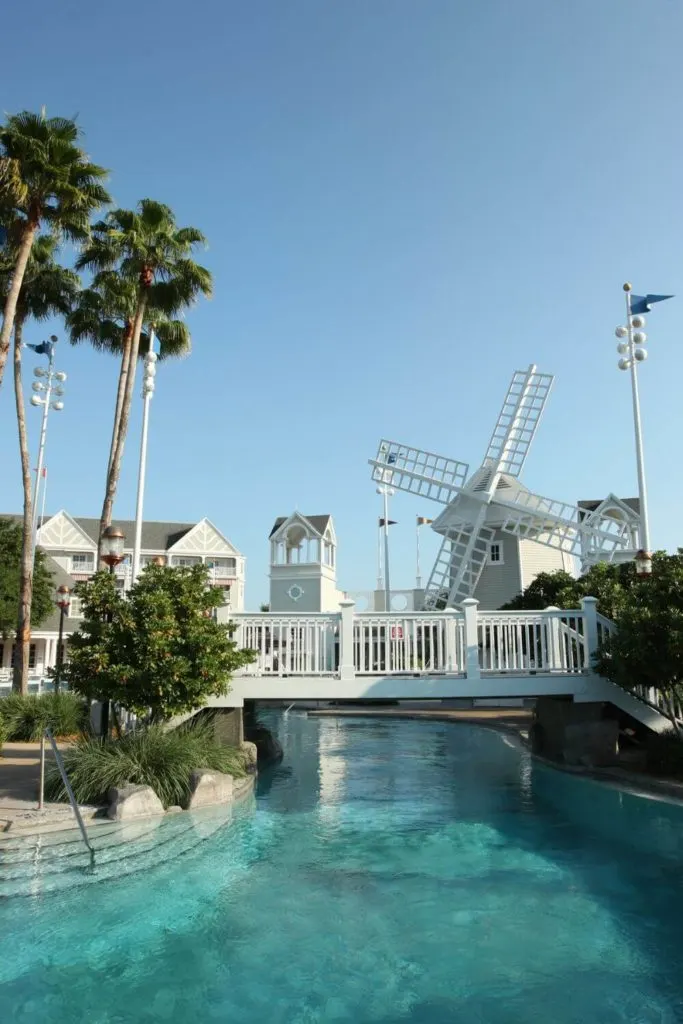 Disney's Beach Club Resort and Villas is an idyllic destination for your next family getaway.
With its own crystal clear sand-bottom pool, a lazy river that everyone loves, and direct walking-distance to Epcot, there's something for everyone at this deluxe resort.
Whether you're into thrilling rides or relaxing days by Stormalong Bay, Disney World is sure to be an unforgettable experience!
This is my favorite spot to stay when you know you'll have at least 1 full resort day thanks to its stellar pool and lazy river. Plus it's within walking distance to Epcot's International Gateway and Disney's BoardWalk!
Disney BoardWalk Inn and Villas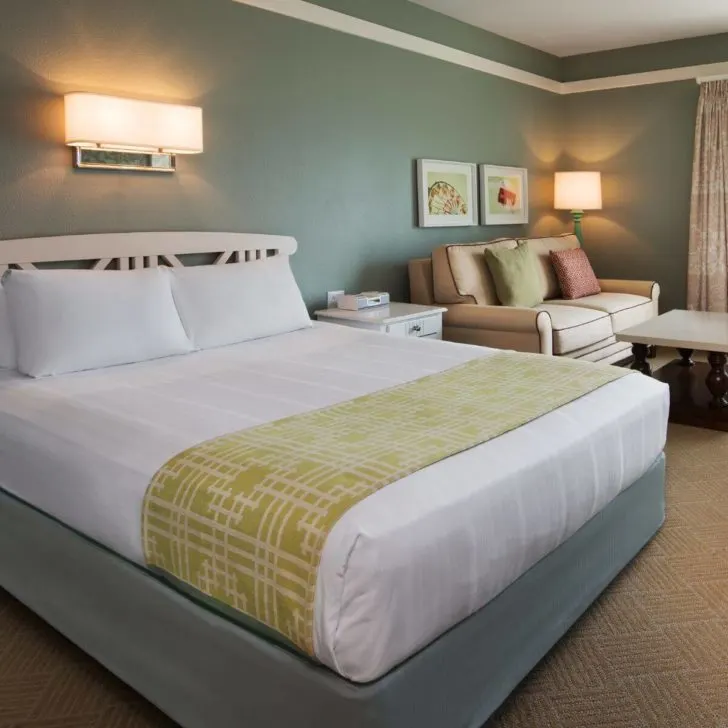 The Disney BoardWalk Inn and Villas offers the perfect mix of fun and luxury.
It's situated within walking distance to the magic of Epcot, as well as a Skyliner stop. Plus it's right in the heart of Disney's BoardWalk entertainment area, where there are multiple restaurants and bars – and even a dance club!
You can also rent 2 and 4 person surrey bikes, hit the tennis and pickleball courts, as well as go catch-and-release fishing.
BONUS: It's currently in the midst of a refurbishment, so the rooms will feel like new when you go!
Disney's Contemporary Resort and Bay Lake Tower
Why settle for the monotony of regular family vacations when you can experience the ultimate in luxury with Disney's Contemporary Resort and Bay Lake Tower.
Stay at this deluxe resort with Incredibles-themed rooms for a vacation that the entire family will never forget!
The best part? It's located on the monorail, which actually rides right through the resort, so transportation is a breeze.
Plus it's located right next door to the Magic Kingdom and it has a character dining restaurant, Chef Mickey's.
Disney's Grand Floridian Resort and Villas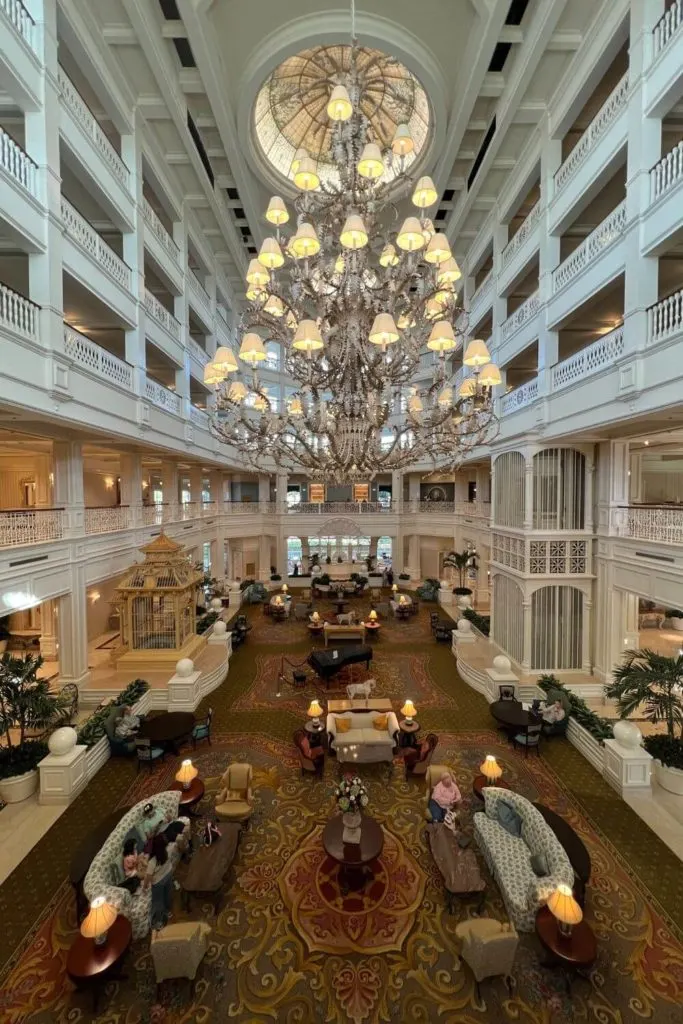 At Disney's flagship resort, The Grand Floridian Resort and Villas, you can find your inner Mary Poppins amidst a stunning Victorian era themed space.
Take a stroll through their boutiques for souvenirs and unique finds or make a magical memory of your own in their gorgeous wedding pavilion.
Discover a special kind of escape, fit for any family member with the finer touches at Disney's Grand Floridan Resort and Villas.
Be sure to check out its magnificent restaurants, Cítricos, Narcoossee's, or Victoria & Albert's, as well as its character dining options at 1900 Park Fare.
Lastly, in addition to being on the monorail, it also has ferry access to the Magic Kingdom, which makes for a lovely, breezy commute to the park and back.
Disney's Old Key West Resort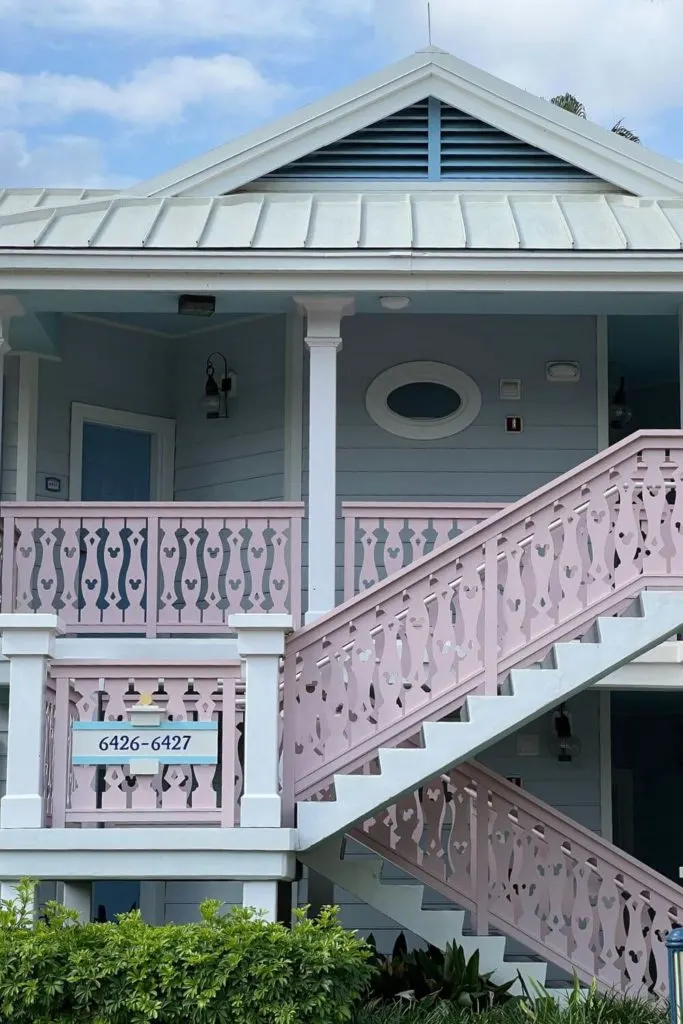 If you ever find yourself longing for a nod to the Key West lifestyle in the midst of your Disney World vacation, check out Disney's Old Key West Resort!
This premiere resort offers charming, cottage-style villas for those looking for extra space, perfect for families and groups.
With plenty of amenities and recreational activities, you'll never be without something to do or someplace to explore.
Located just minutes away from Disney Springs area, you can peruse the array of shopping and dining options available.
It's also one of the most affordable deluxe properties, often renting for moderate-level prices on DVC rental sites.
Disney's Polynesian Village Resort, Villas, and Bungalows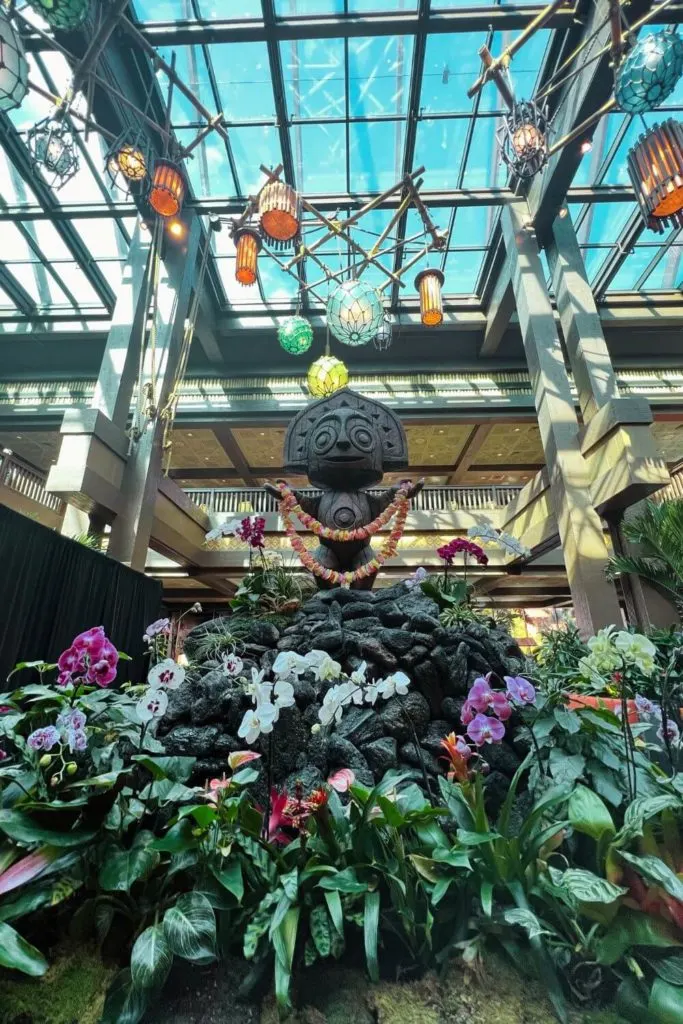 Get away to paradise without leaving Disney World at the Polynesian Village Resort, Villas, and Bungalows!
This beautiful Polynesian themed resort is impeccably themed, especially with its overwater bungalows that sleep up to 8 guests.
How perfect would a bungalow be for a celebratory family vacation, such as a graduation, milestone anniversary, or retirement?
It used to have a luau-style dinner show, but sadly it was demolished to make more room for a new villa tower.
I'm hoping the new tower will have a suitable replacement or bring the Hawaiian and Polynesian culture to the resort in some other way.
But at least it still has the ever popular Trader Sam's Grog Grotto, Trader Sam's Tiki Terrace, and 'Ohana, which has a character meal at breakfast.
On top of all this, you can ride the monorail directly from the Polynesian Village Resort for easy access to both the Magic Kingdom and Epcot – talk about living life like a VIP!
Disney's Riviera Resort
Relax and enjoy the small slice of Europe just moments away from Epcot and Hollywood Studios on the Skyliner.
Disney's Riviera Resort is the newest resort at Walt Disney World and home to sun-kissed architecture inspired by the Italian and French Riviera coasts.
There's even a sandy beach area on the lagoon that makes for a lovely spot for an afternoon siesta, a quick phone call, or some reading time.
It also has some of the best restaurants of all the deluxe resorts: Topolino's Terrace, Primo Piatto, La Petit Café, and Bar Riva.
Topolino's Terrace has stunning views and a fun character breakfast.
Primo Piatto is my favorite spot for breakfast – especially for the lemon blueberry pancakes.
Bar Riva is the pool bar, but it still serves up some fabulous European-inspired cocktails.
Lastly, La Petit Café has delicious flavored coffee drinks and pastries that are perfect for an afternoon pick-me-up.
Disney's Saratoga Springs Resort & Spa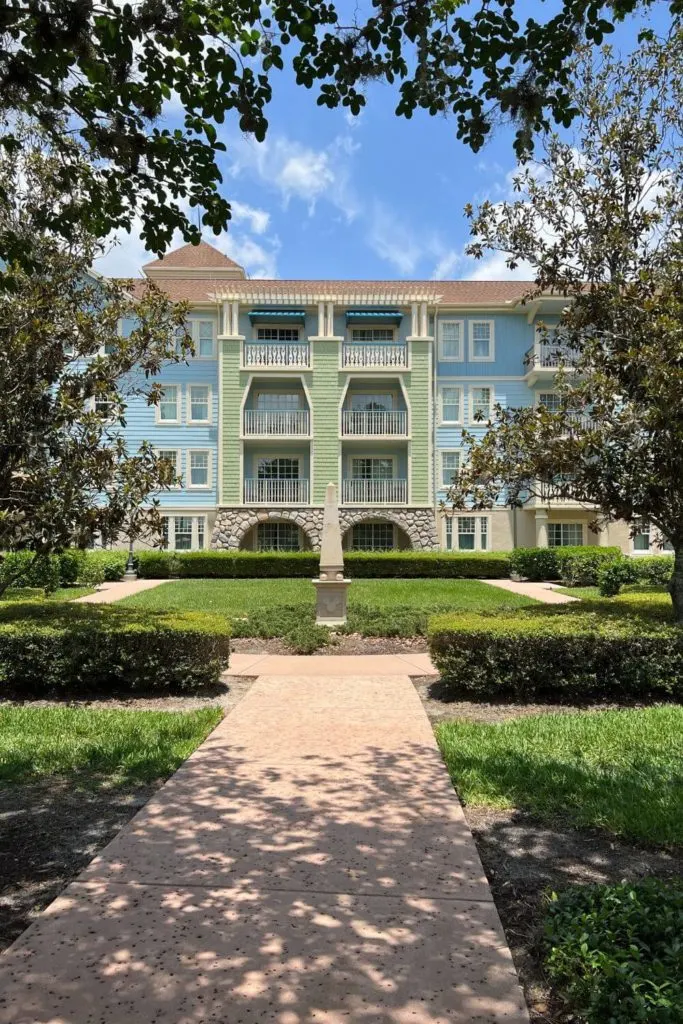 Disney's Saratoga Springs Resort & Spa is a luxurious Disney Vacation Club located in the Disney Springs area.
With upstate New York-style charm, it's the perfect place to escape and enjoy some Disney magic.
Here you can relax in one of their deluxe resorts or villas, all with convenient access to great dining and shops at both the resort and Disney Springs.
They even have treehouses available to rent that sleep up to 8, making it perfect for a group or family vacation. Imagine having a bachelor or bachelorette here?? So fun!
Saratoga Springs also boasts ferry access to Disney Springs, Port Orleans – Riverside, Port Orleans French Quarter, and Old Key West.
It's also a short walking distance from Disney Springs, if you don't want to wait for the ferry, too.
Lastly, like Old Key West, it is one of the more affordable deluxe properties and can often be found for moderate-level prices.
Disney's Wilderness Lodge and Villas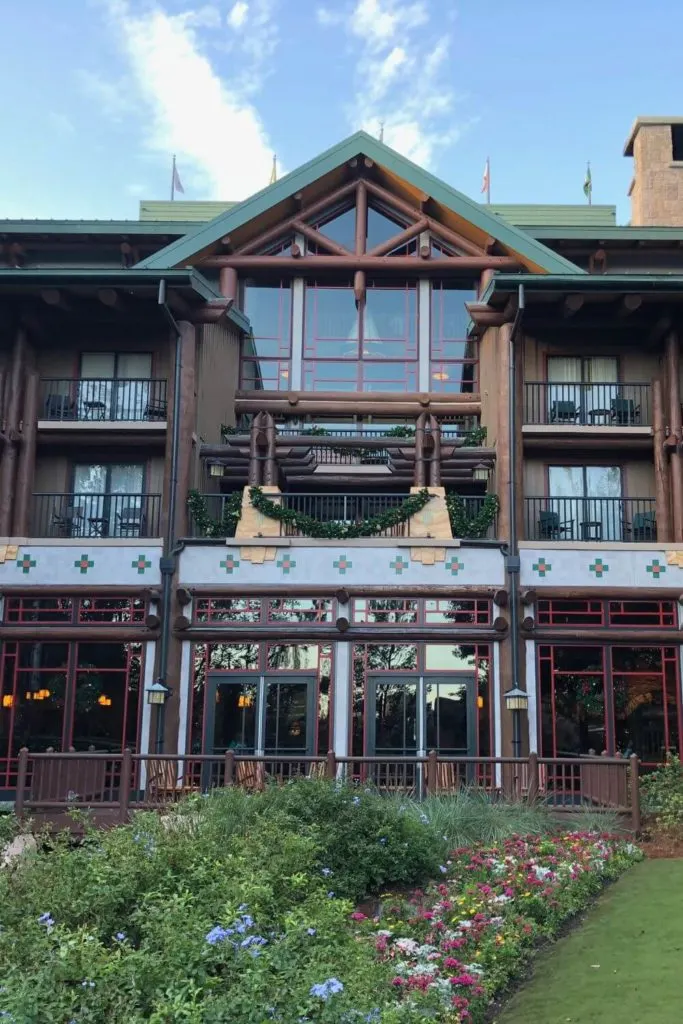 Step back in time and enjoy the rustic charm of Disney's Wilderness Lodge and Villas, with its National Park lodging feel.
This majestic hotel was inspired by the great American craftsmanship of turn-of-the century lodging from adventurous hotspots like Grand Canyon National Park and Yellowstone National Park.
Take your time exploring its unique features including the majestic lobby with a 72-foot tall stone fireplace, hand-crafted totem poles, ferry transportation to Magic Kingdom park, and of course modern amenities for your enjoyment.
Snow White fans will be delighted with a Snow White themed character dining at Artist Point, which is only open for dinner, unlike other character dining spots.
In addition to the main resort, it also has 2 additional Disney Vacation Club properties, Copper Creek and Boulder Ridge, both of which include wooded cabins that sleep up to 8.
Disney's Yacht Club Resort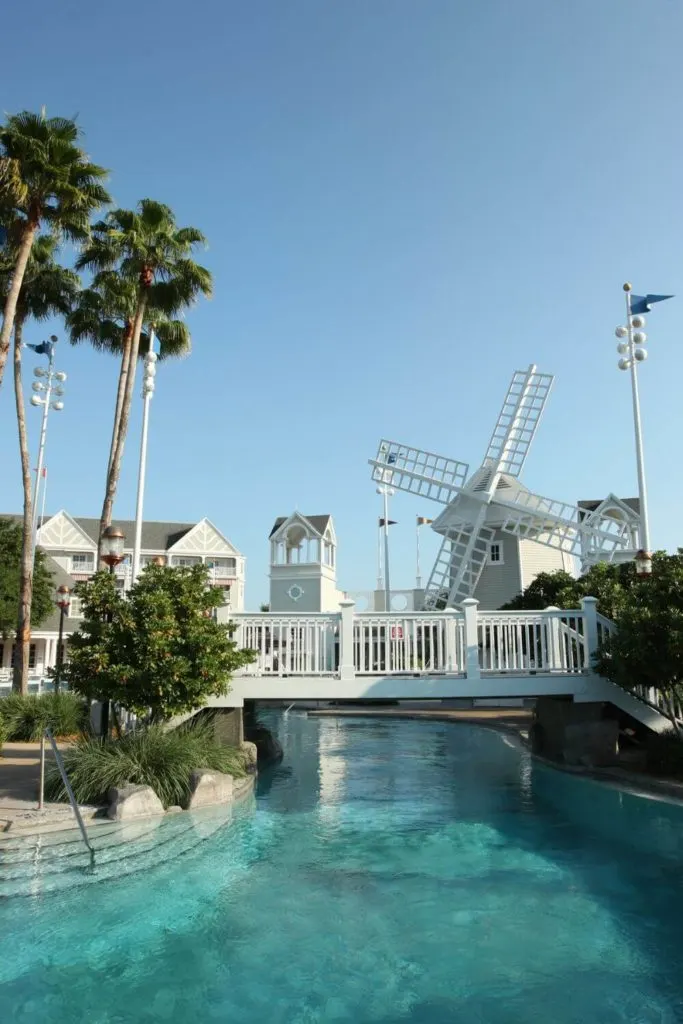 Experience the nautical-themed Disney's Yacht Club Resort, next to its sister property the Beach Club Resort, giving you even more to explore and enjoy!
The Yacht Club offers luxury amenities such as a sophisticated lobby and inviting pools and the rooms are equally impressive, offering traditional yet modern design touches.
It also shares the sand-bottom Stormalong Bay pool and lazy river with Disney's Beach Club Resort.
But what puts this resort over the top is that it is within walking distance of Disney's BoardWalk, Epcot, and a Skyliner stop, so you can spend days enjoying the fun attractions and international cuisines offered throughout Disney World.
What's your favorite Disney World deluxe resort or villa?
Whether you're a first time visitor or a frequent guest at Disney World's Deluxe Resorts and Villas, you've probably realized there's an endless array of options to choose from while planning your stay.
From Disney's Animal Kingdom Lodge and Villas to Disney's Yacht Club Resort, it can be hard to decide which deluxe accommodations best suits your travel needs and pocketbook.
But I hope this guide has helped point you in the right direction to help you decide where to stay next.
Have you stayed at Disney World deluxe resorts? Which one is your favorite? Let's chat in the comments below!
For more tips on where to stay at Disney World, check out these posts:
---
About the author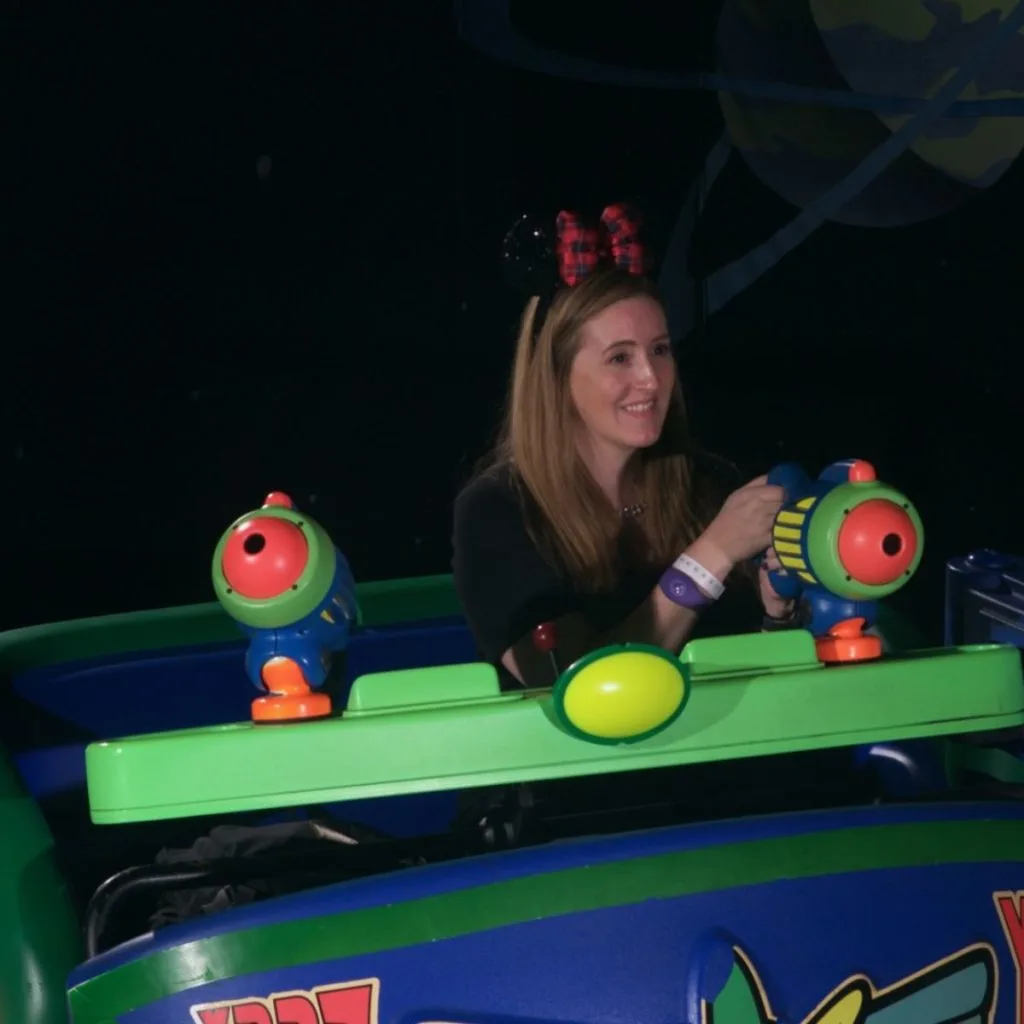 Meg Frost is the creator of The Park Pixie, where she covers Disney World, Disney+, and Disney fandom.
She holds an M.A. in Journalism from Northeastern University and B.S. in Communication & American Studies from University of Miami.
---