One part of any successful Disney World vacation is choosing a resort hotel that suits your needs and budget.
Fortunately, there are plenty of resorts to choose from at Walt Disney World, including value, moderate, and deluxe level options!
To help guide you through all the possibilities, this post covers everything you need to know about the Disney World moderate resorts.
By the end of the post, you'll be able to decide if one of these hotels are the best choice for your next Disney World vacation.
So get ready for some fun facts and expert advice as you embark on your journey. No matter which one ends up being right for your crew, it'll be an easy choice once you explore everything these resorts have to offer.
An overview of Disney World moderate resorts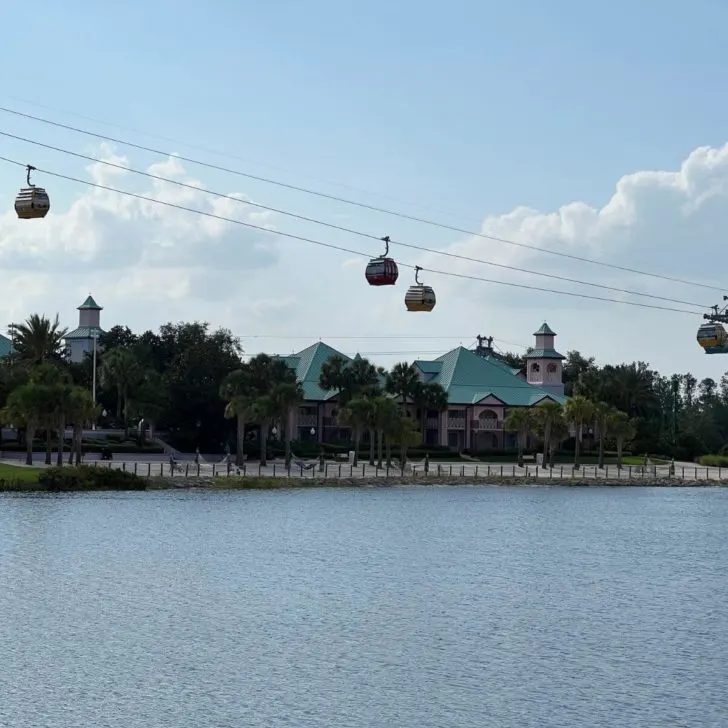 In a previous post, I covered everything you need to know about value resorts at Disney World. Now it's time to go over all of the moderate resorts!
So what makes a moderate resort…well, moderate?
Moderate resorts are the next step up from value resorts offered at Walt Disney World Resort.
They provide a comfortable and affordable experience with a bit more to offer compared to value resorts. After all, you are paying more!
Disney World has 5 moderate resorts:
Cabins at Fort Wilderness Resort
Caribbean Beach
Coronado Springs
Port Orleans – French Quarter
Port Orleans – Riverside
Moderate resorts tend to be a bit larger in size compared to the value resorts, with many having multiple bus stops or transportation options.
They are also very car-friendly, with parking spaces often nearby each building so you don't have to walk as far if you've brought or rented a car.
These resorts are great if you've driven to Disney World or are staying longer than a few days, hence the need for a car.
While Disney excels at theming throughout all of their resorts, the rooms in most of the value resorts are pretty generic.
In moderate resorts, the resort theme extends into guest rooms, so you're constantly immersed into whatever magical world you've chosen, whether it be Mardi Gras, the great outdoors, and so on.
Moderate resorts also have more dining options and activities compared to value resorts. So if you're planning on rest days at the resort, they could be a great option for you!
Lastly, moderate resorts tend to have shorter commutes to most of the parks, so you'll spend less time getting to and from.
Plus, most of the resorts have more than one transportation option, such as water taxis and the Skyliner.
All in all, the moderate resorts at Disney offer a great place to not only rest your head (and feet!) without sacrificing comfort or stifling your budget, but also a place you'll want to hang out as much as the parks!
Disney's Caribbean Beach Resort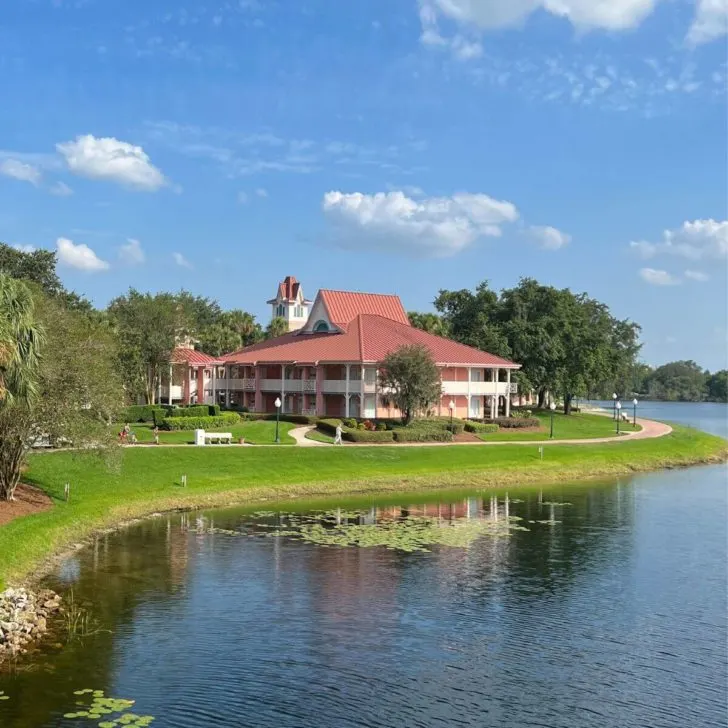 Get ready for an island-style escape at Walt Disney World's Caribbean Beach Resort!
This massive resort is home to all kinds of fun, from beachside hammocks and Calypso music to Skyliner transportation.
The resort consists of four areas (Aruba, Jamaica, and North & South Trinidad) with 18 guest room buildings in total.
It previously had two more areas (Barbados and Martinique), but they were removed to make room for the Riviera Resort.
Each of the four areas have its own pool, plus there is a main pool next to the Old Port Royale main hall. The main pool has two waterslides and a pirate-themed splash pad!
Speaking of the main pool, the pool bar, Banana Cabana is more of a lounge with seating and a decent-sized food menu.
It's perfect for spending the day at the pool, since you don't have to go far for a good drink or food!
In addition, there are 3 other restaurants at this resort: Centertown Market, Sebastian's Bistro, and Spyglass Grill.
Centertown Market is a quick-service food court, while Sebastian's Bistro and Spyglass Grill are table service restaurants.
Port Orleans Resort – French Quarter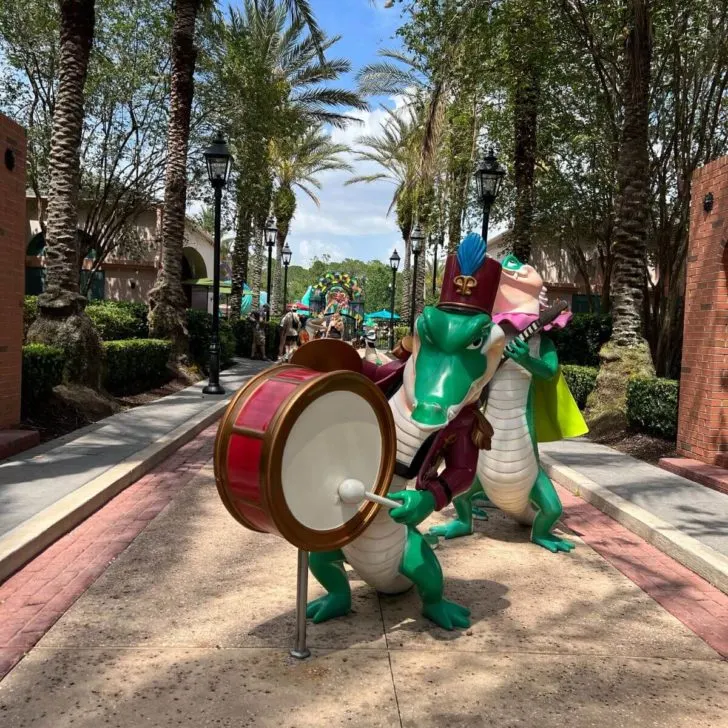 Step into New Orleans and feel the magic as you enter Port Orleans Resort – French Quarter.
A gorgeous fountain and inviting Jazz soundtrack welcomes you as you enter the resort's main hall, adding to the hustle and bustle of this New Orleans themed resort.
There are 3 sections with 16 guest room buildings in total, all with colorful paint jobs and wrought-iron railings, just like the real French Quarter.
Each section has its own pool, plus there's a larger pool with a waterslide by the main hall, Riverside Lobby, which is shared with the neighboring Port Orleans – Riverside.
Dining-wise, there's Sassagoula Floatworks and Food Factory food court, the Mardi Grogs pool bar, and Scat Cat's Club – Café & Lounge.
Scat Cat's Club Lounge has live jazz music Friday through Sunday starting at 7:30 PM. At the café you can get sugary Mickey-shaped beignets with a cafe au lait – yum!
While that might not sound like much, you can easily hop over to its sister resort for more options!
Port Orleans Resort – Riverside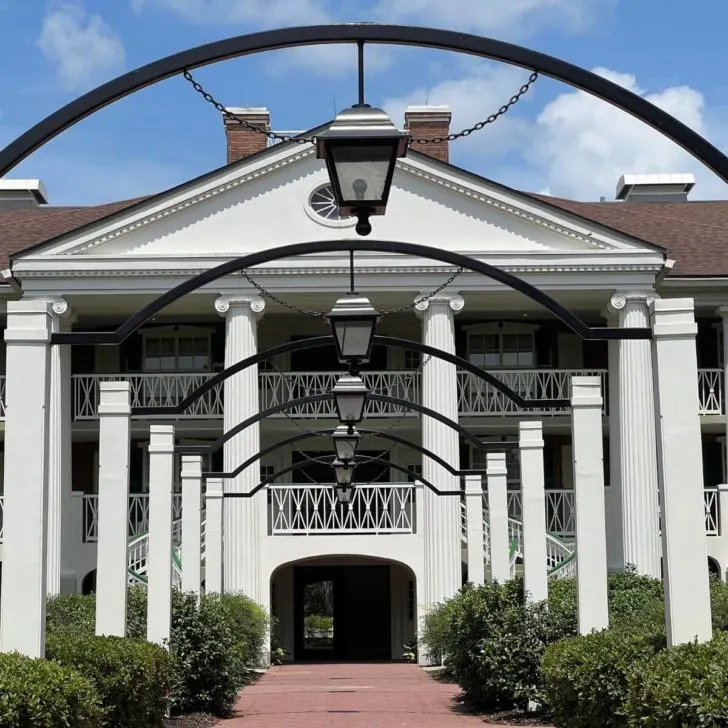 At the Port Orleans Resort – Riverside, you can step into the land of Louisiana right within Walt Disney World.
As soon as you pull up to the grand entrance, you'll feel as if you've been transported to a peaceful landscape surrounded by Louisiana-style architecture, rustic waterwheels, and lush gardens.
The resort has lots of Princess Tiana theming throughout, but in a non-kitschy way. It's all very elegant and befitting of a princess!
There are 4 main areas with two pools, with each guest room building designed to look like a Southern mansion. Each pool area has its own pool bar, Muddy Rivers and River Roost.
Plus there's easy access to the main pool area that is shared with its sister resort, Port Orleans – French Quarter.
Dining options include the Riverside Mill Food Court and the table service restaurant, Boatwright's Dining Hall. And of course, you can easily walk over to the French Quarter side for more options.
In addition to the usual recreation amenities, like campfires, movies under the stars, and arcade, a playground, and a jogging trail, this resort offers horse-drawn carriage rides, bike rentals, and fishing.
Last, but not least, Port Orleans – Riverside is the only moderate resort at Disney World that is dog-friendly!
The Cabins at Disney's Fort Wilderness Resort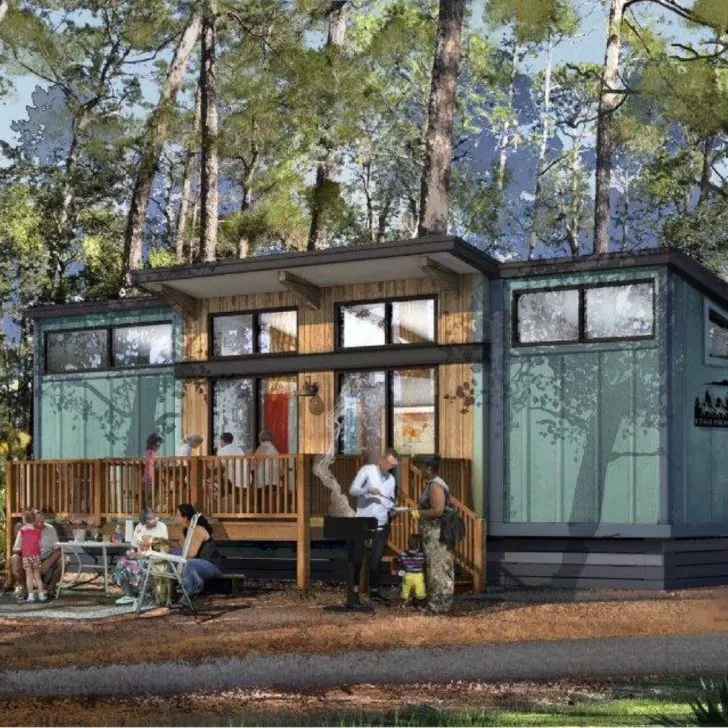 Experience glamping at its finest at Disney's Fort Wilderness Resort, where a stay in the cabins promises something truly magical.
When you step inside these rustic, yet luxurious cabins, you'll be treated to all of the modern amenities like a flat screen TV and Wi-Fi alongside old-school charm like log cabin accents and quilts.
Each cabin sleeps up to 6 guests, with a queen bed, sleeper sofa, and twin bunk beds in each.
I love this option for larger groups and families who want to stick together, rather than spreading across multiple rooms. It's cozy and if you're after lots of quality time, it's perfect!
In April 2023, Disney announced that these cabins will be getting a huge, modern makeover – with the entire cabins being replaced.
So if you're after the current experience offered, now's the time to get it before it's gone!
Recreation & amenities
There two pools on property, the Wilderness Swimmin' Pool and the main Meadow Swimmin' Pool, which has a corkscrew waterslide.
Also at the Meadow Swimmin' Pool area is a splash pad, basketball court, volleyball court, two tennis courts, a playground, and an arcade.
Nearby, you can also rent canoes, kayaks, and bikes, as well as go fishing.
In addition to the usual recreation available at Disney resorts, the Fort Wilderness Resort has quite a few unique options.
First, there's the Fort Wilderness Archery Experience, where you can live out your Princess Merida or Robin Hood dreams.
Then there's the Wilderness Back Trail Adventure, which is a Segway nature tour – never thought I'd see that!
Next is the Chip and Dale Campfire Sing-Along, which is a bigger and badder version of the usual campfires hosted at the other Disney resorts; it has its own theater!
Last up is Tri-Circle-D Ranch, where there are horse-drawn carriage rides, wagon rides, and pony rides.
You can also stop by to say hello to all the horses here, as well as at their second recreation area near the main entrance of the resort grounds.
Dining
For quick meals, there's P & J's Southern Takeout, the Meadow Snack Bar, and The Chuck Wagon food truck.
Crockett's Tavern and Trail's End Restaurant are the two table service options available.
Lastly, there's Hoop-Dee-Doo Musical Review, which is a 2-hour family-style dinner show that includes beer and wine for guests 21+.
Disney's Coronado Springs Resort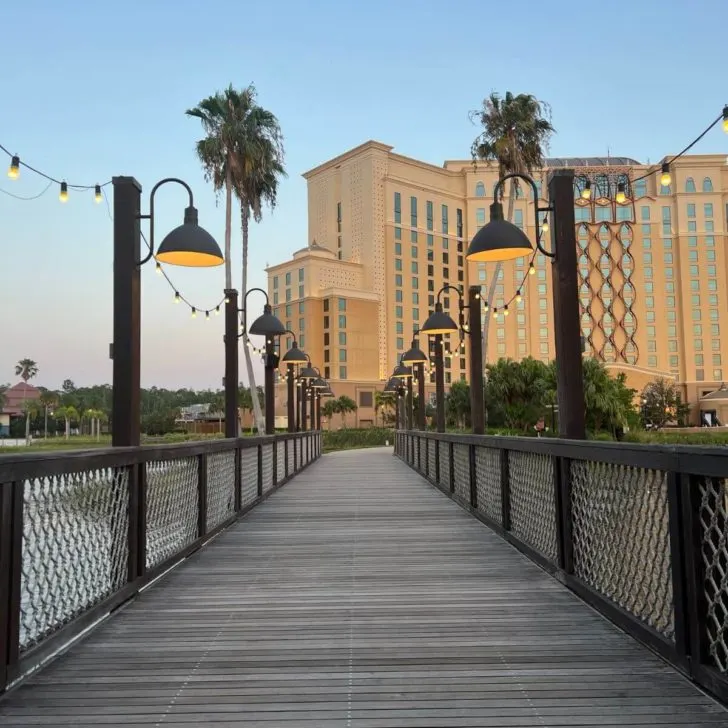 The Coronado Springs Resort captures the magic of the American Southwest with many Mexican, Spanish, and Southwestern elements incorporated throughout the resort.
This property consists of 3 villages, plus a Disney Vacation Club resort called the Gran Destino Tower.
Each village (Cabanas, Casitas, and Ranchos) has its own pool, plus there is a main pool with a waterslide shared by all 4 called the Lost City of Cibola.
It's more of a park, really, with a sand volleyball court, arcade, playground, and cantina lounge.
The Cabanas village overlooks a beach on Lago Dorado, where you can sunbathe and play in the sand, although no swimming is allowed.
In addition to the usual resort amenities and recreational activities, Coronado Springs has a gym and spa.
Plus they offer the Spanish Mosaic Art and Colors of Coronado Painting activities. And if you're 21 or over, they have a sangria tasting and making experience called Sangria University!
Not just a scenic beauty, this resort is equipped with world-class conference facilities and a convention center as well. So if you're looking to host an event for a large group, this could be a great resort to look into.
With a plethora of amenities and tons of delicious dining options, Coronado Springs Resort is definitely a great choice to treat yourself. Truthfully, this moderate resort feels very much like a deluxe resort, in my opinion!
Guest rooms
When it comes to guest rooms, Coronado Springs offers a chance to upgrade from this already upgraded resort thanks to its club level rooms and suites.
Suite options include 1 and 2-bedroom casitas, which are perfect for larger groups or families that want to stick together in a single space.
The club level rooms include access to a lounge with free snacks and drinks, as well as Disney Signature Services, which is like on-staff vacation planners.
Dining options
As far as dining goes, there are tons of options here!
For a quick and casual meal, there's El Mercado de Coronado food court and Cafe Rix (until 12:30 PM). There's also the Barcelona Lounge, which is like a coffee shop during the day and gin bar at night.
Grab a drink (and in some cases, food!) at Dahlia Lounge, Laguna Bar, Rix Sports Bar & Grill, Siestas Cantina, and Three Bridges Bar & Grill.
For additional table service meal options, there's also Maya Grill and Toledo.
What's your favorite Disney World moderate resort?
From the Caribbean Beach Resort to The Cabins at Disney's Fort Wilderness Resort, there is a lovely mix of options to choose from when it comes to the moderate resorts at Walt Disney World.
With the variety of activities and attractions, you're sure to create everlasting memories from your vacation.
So, why wait any longer? Book your stay today and explore what the Walt Disney World's moderate resorts have in store for you.
What's your favorite Disney World moderate resort? Let me know in the comment section below!
---
About the author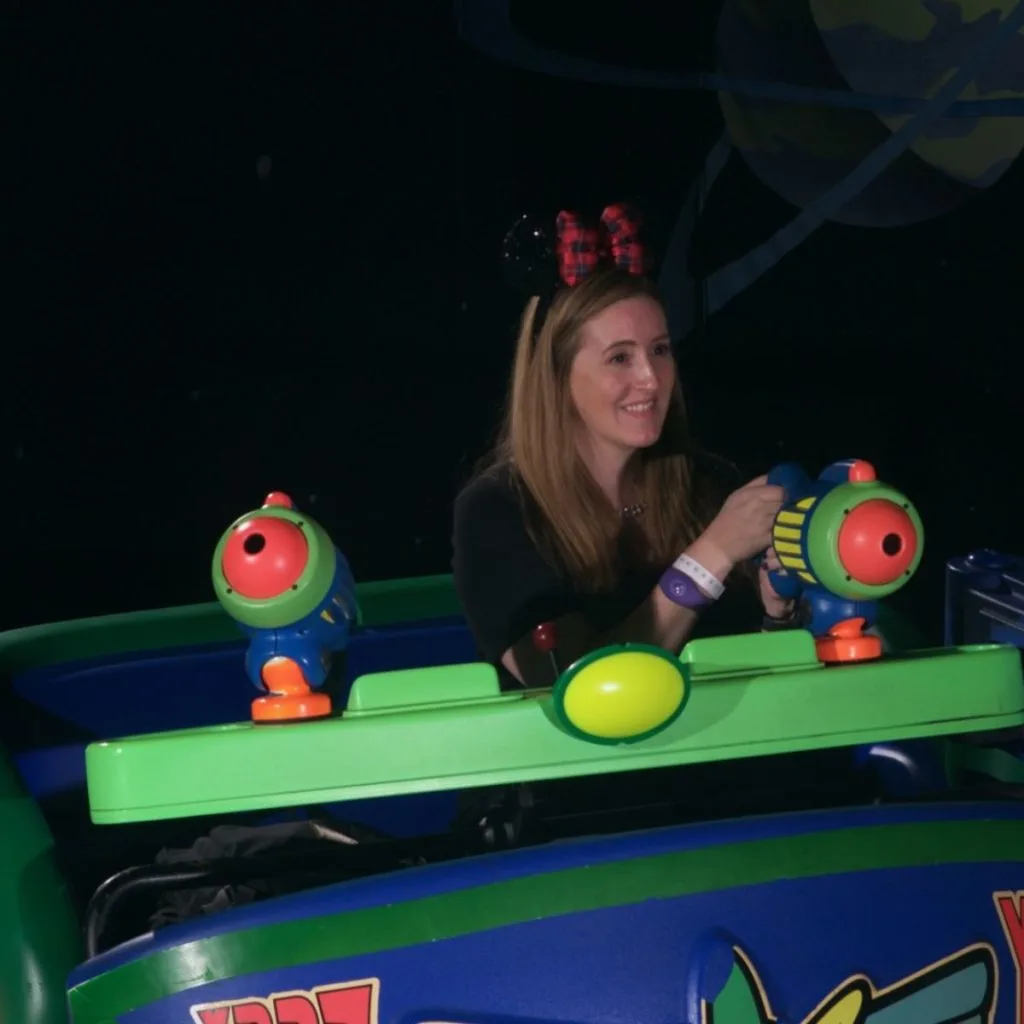 Meg Frost is the creator of The Park Pixie, where she covers Disney World, Disney+, and Disney fandom.
She holds an M.A. in Journalism from Northeastern University and B.S. in Communication & American Studies from University of Miami.
---