If you're looking for a Hawaiian vacation that's all about the magic of Hawaii with a touch of Disney, Aulani is the place to be.
This family-friendly Disney resort is located on Oahu's sunny leeward coast and offers an unforgettable experience for kids and adults alike.
So what exactly makes it so great? In this honest Disney Aulani review, I'll discuss my experience and share everything you need to know about planning your stay.
A brief overview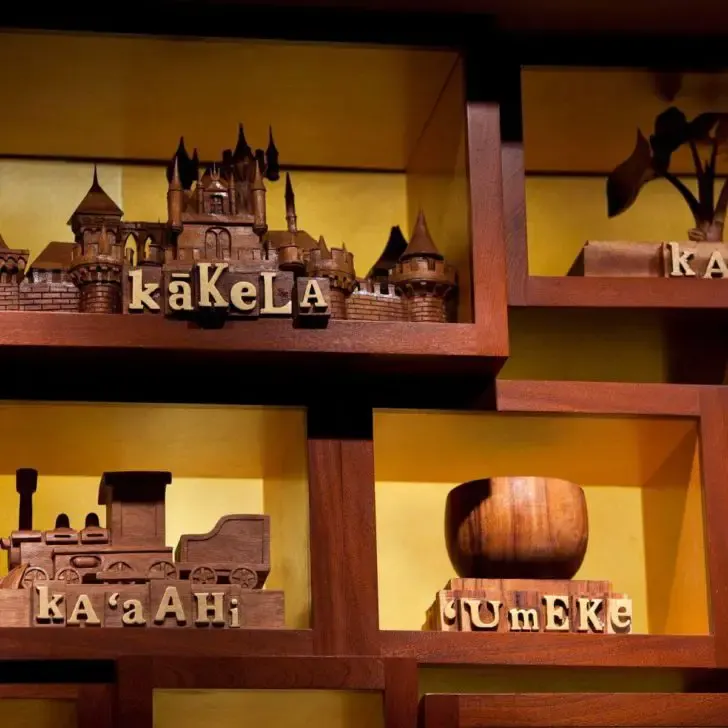 Aulani, a Disney Resort & Spa, is located in the Ko Olina resort area in a town called Kapolei on the island of Oahu, Hawaii. It opened its doors on August 29, 2011.
In addition to being a Disney resort, it also includes Disney Vacation Club villas that you can buy into or rent.
The resort design was led by famed-Imagineer Joe Rohde who, along with a local architecture firm, put together an advisory board of native Hawaiians who helped ensure the inclusion and authenticity of Hawaiian culture infused throughout the resort.
For example, at The 'Ōlelo Room, you will see images with its corresponding Hawaiian word scattered all around the lounge.
Plus, staff at The 'Ōlelo Room are required to know how to speak Hawaiian to help immerse guests in the culture. How cool is that?
In addition, there is a Hawaiian cultural advisor on staff to help keep up the commitment to honoring and respecting the native people of Hawaii.
In short, Aulani has all of the Disney magic you know and love from Disney Cruise Line, Walt Disney World, and Disneyland, with the added immersion into the Hawaiian culture.
Location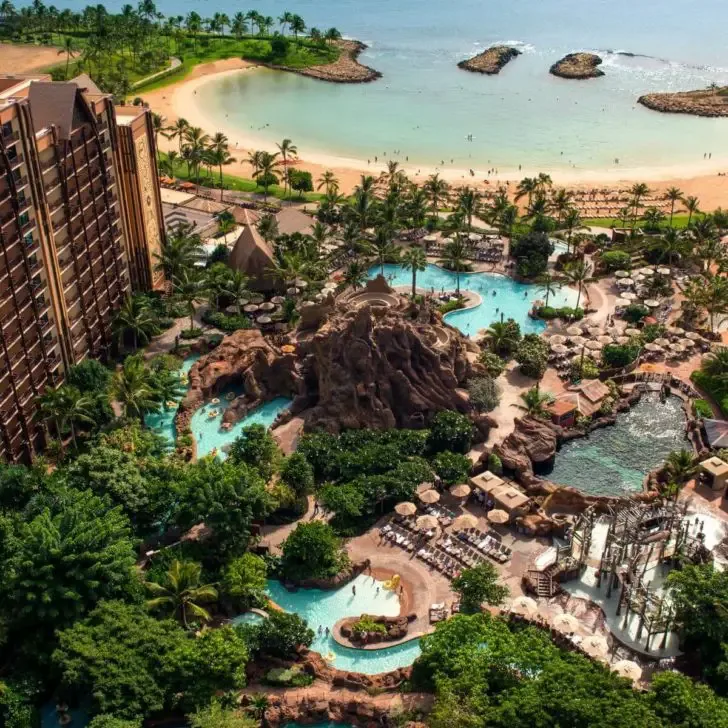 Aulani is located in the Ko Olina resort area, just off Interstate H-1, about 20 minutes from the Honolulu International Airport (HNL).
It is nestled between several other luxurious resorts in Ko Olina: the Four Seasons Resort Oahu at Ko Olina, AOAO Beach Villas at Ko Olina, and Marriott's Ko Olina Beach Club.
Shared shuttle service to and from the airport is available through a third-party company, Hele Hele Shuttle.
Or if you prefer a private transfer, you can book with Platinum Limousine Services.
It's also easy to get to if you want to drive yourself there, as well. Just take Interstate H-1 to HI 93 and get off at the designated Ko Olina exit. Then follow the road (Aliinui Drive) until you get to the resort, which will be on your right.
On my most recent visit, my family and I wanted to explore the island during our visit, so we got a rental car and drove to the resort.
The drive from the airport felt far longer than it actually is due to a super long travel day, but overall it wasn't too bad.
The resort was easy to find and we loved that the Ko Olina resort area had an entrance gate with staff that waved every time you drove in. It sounds a little corny, but it really sets the tone for a welcoming visit in my opinion!
There were also lots of speed bumps to help keep traffic speed at a minimum to prevent accidents, especially with lots of folks walking to local restaurants, beaches, and other things to do.
Accommodations at Aulani, a Disney Resort and Spa
The accommodations at Aulani, a Disney Resort and Spa are divided into two categories: standard rooms and villas.
All rooms have a balcony, although views wildly vary from ugly parking structures to the gorgeous Atlantic ocean.
But considering this Ko Olina resort complex is located in one of the most beautiful parts of Oahu, even the ugliest view still has some beauty.
And of course, the more you're willing to pay, the better the view or location you can secure, including an ocean view, partial ocean view, poolside garden view, and more.
Standard rooms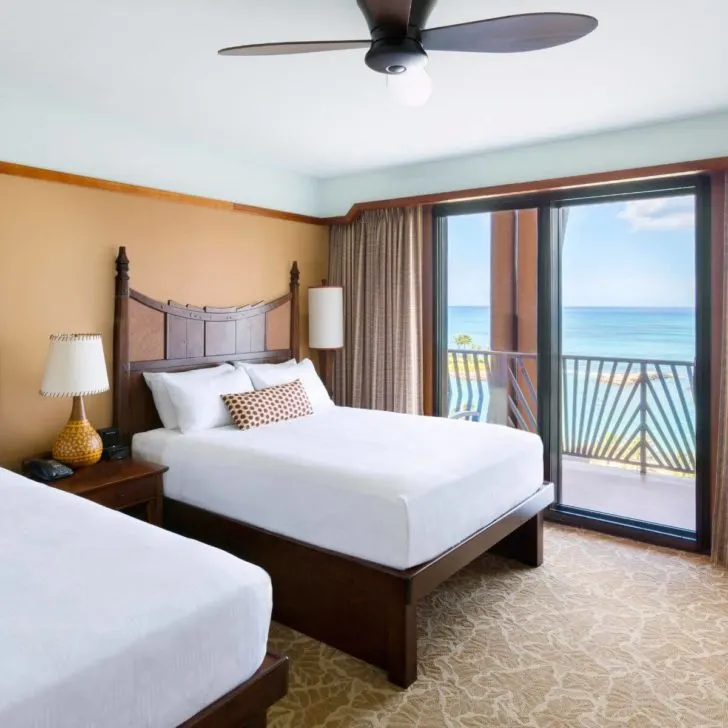 All standard rooms feature flat screen tvs, a bathroom with a full tub and rainfall shower head, and other regular amenities.
The standard guest rooms fit up to 4 guests and include two queen beds or one king bed and one sofa with a queen-size pullout bed.
A standard 1-bedroom suite sleeps up to 5 guests, with one king bed, one sofa with a queen pullout bed, and one chair with a twin pullout bed.
The standard 2-bedroom suites sleep up to 6 with two king beds (each in separate rooms) and one sofa with a queen pullout bed.
Villas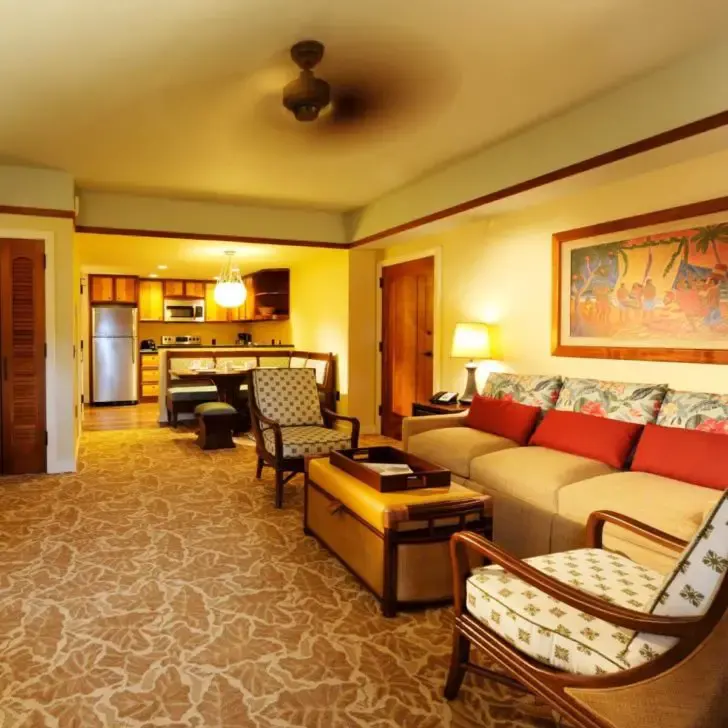 The deluxe studio villas fit up to 4 guests and typically include one queen bed and a queen-size sofa bed.
It also includes one full bathroom and a kitchenette that includes a small bar sink, microwave, toaster, and a few other amenities for making meals or snacks in your room.
A 1-bedroom villa sleeps 5 with one king bed, one queen-size sofa bed, and one twin pulldown bed.
It also includes 1 full bathroom, a full kitchen, and a washer and dryer.
The 2-bedroom villas sleep 9 with one king bed in the master bedroom, two queen beds in the other bedroom, one queen-size sofa bed, and one twin sleeper bed.
It also includes two full bathrooms, one half bathroom, a full kitchen, and a washer and dryer.
A 3-bedroom villa sleeps 12 with one king bed in the master bedroom, four queen beds (two in each of the other bedrooms), one queen-size sofa bed, and one twin sleeper bed.
It also includes three full bathrooms, a full kitchen, a full dining table, and a washer and dryer.
My stay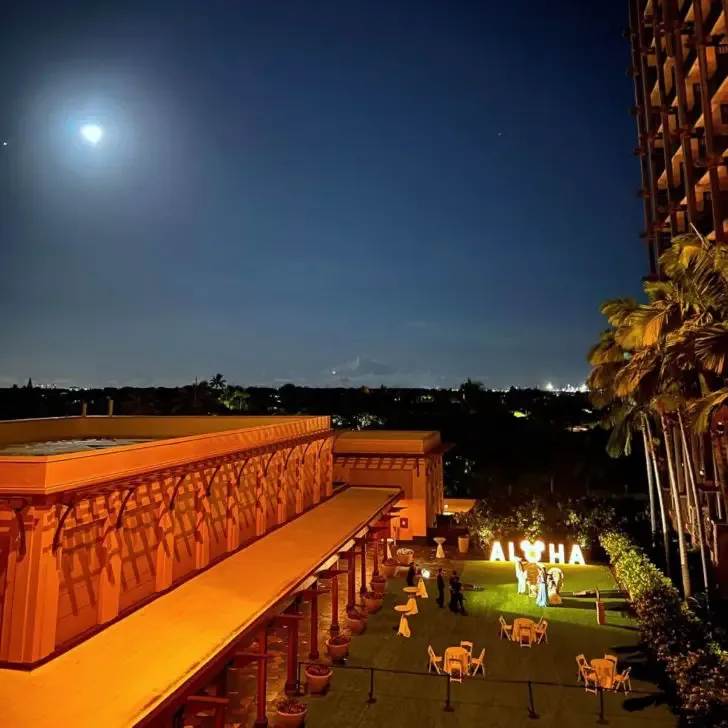 My mom, brother, and I stayed in a deluxe studio villa that we rented through David's Vacation Club Rentals (ADD LINK).
Aww, who knew you'd still go on a family vacation with your parents as adults with no kids? I guess if you're all Disney fans, you do!
Although we booked a standard view room, which is the cheapest option, our view was actually still quite nice!
We could see out into hills filled with coconut and palm trees and there was an event venue directly below our balcony.
On the day we got there, there was a wedding and they had a giant LOVE sign set up on the lawn with a Mickey Head in place of the "O." It was so cute!
The bathroom was quite large, with the toilet separated by its own door. This made getting ready a breeze between 3 adults!
We only had 2 complaints: the sofa bed and the size of the kitchenette.
My brother has some back troubles and said the sofa bed was not comfortable. He ended up sleeping on it as a couch after the first night!
I'm not sure if this applies to all of the sofa beds or maybe it was just my brother's preference, so make of that what you will!
As for the kitchenette, we found that it was too small for our needs. We made at least 1 meal a day in the room and had a few spills because the counter space was just too small. It'll probably be just fine for most guests' needs, though!
Check In & Check Out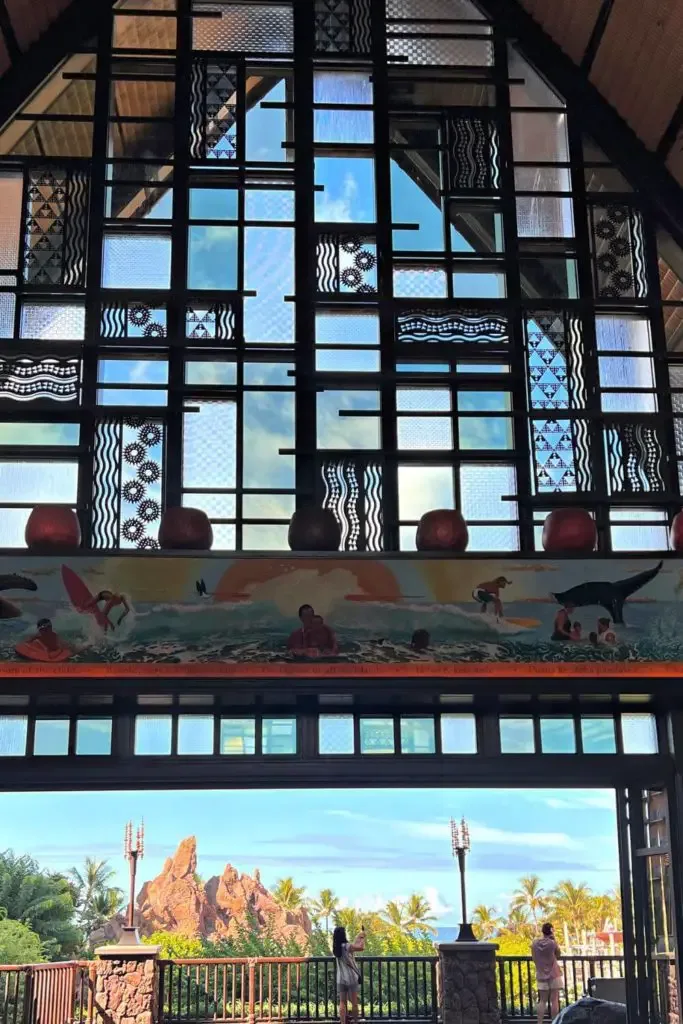 The check-in time and check-out time are pretty standard compared to other resorts and hotels.
Check-in is at 4PM, although you can arrive before and store your luggage if you'd like.
Check-out time is at 11AM. You are allowed to continue using the resort amenities, such as the pool area, for the remainder of the day after you check out.
We definitely took advantage of this and loafed around for a bit before heading out for lunch at Kono's Northshore and one last malasada from Leonard's Bakery ahead of our flight!
Ko Olina Lounge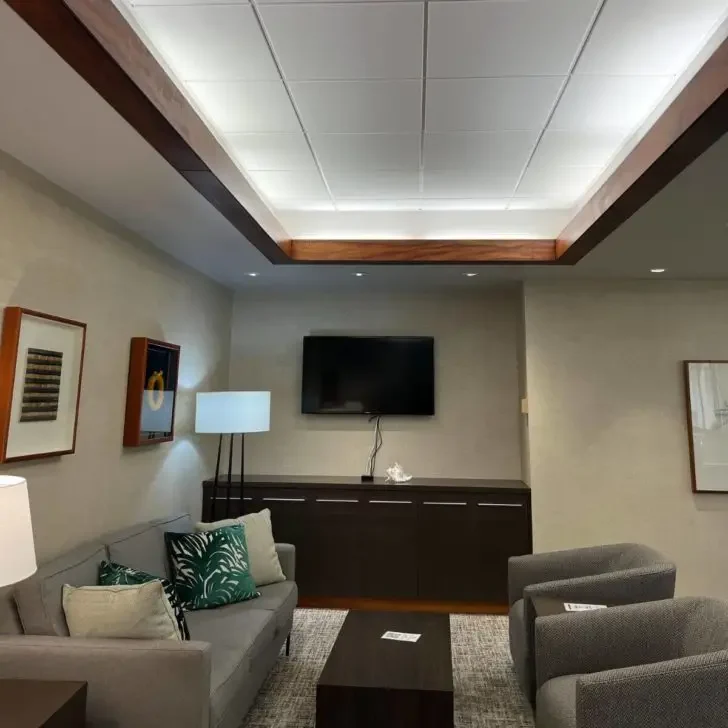 One of the best perks of staying at Aulani is that it includes access to the Ko Olina lounge at Honolulu International Airport.
TIP: You only get access on the day you check out, so make Aulani your last stop on Oahu if you're staying at multiple areas during your trip.
In the lounge, you can sit on plush couches or chairs in a quiet, relaxing environment before boarding your flight. It makes the wait after the hectic security line so much better!
We ended up arriving at the airport about 3 hours ahead, which is very much unlike us. But I'm glad we did because we snagged a couch area at the lounge and relaxed before boarding our super-long flight.
The bathrooms are a bit small and nothing fancy, but we also didn't have to wait in line and they were cleaner than the ones in the airport terminal.
The only thing this lounge didn't have was free food. Given that most airport lounges are known for free food and drink, I was surprised that they didn't at least have a snack basket or something of the sort.
In addition, you can't take outside food in the lounge. But, they do have snacks and drinks for purchase. Plus, there is filtered water for free.
Parking
Parking at Aulani is $37 per night, which, while steep, is on par with many resorts on Oahu. That said, it does sting a little considering parking is free for resort guests at Disney World!
However, if you're staying in one of their DVC rooms or even if you are renting a DVC room through a third-party company like David's Vacation Club Rentals, then parking is completely free!
There's also valet parking available for an additional fee. If you're staying at Aulani Resort & Spa Villas and want to use their valet service instead of self-parking your vehicle, there's an additional cost associated with this service as well.
Just remember when exiting or entering the garage you'll need your room key to open the gate.
It took us a few minutes to figure out how to exit the first time. We had to push the assistance button to learn how to exit since the sign was out of our sightline. Doh!
Dining
There are several dining options at Aulani, from grab-and-go to full service restaurants and room service.
All of the menus feature Hawaiian staples, as well as typical American fare, as well as a few Asian-inspired dishes.
Breakfast
For breakfast, your options are:
Makahiki (character breakfast)

The 'Ōlelo Room

Wailana Pool Bar (coffee and pastries only)

Ulu Cafe
Makahiki is a great way to get in some character meet-and-greets while enjoying a delicious Hawaiian-inspired meal to start your day!
We also loved the specialty iced lattes at Island Vintage Coffee, which is located across the street from the resort in a shopping and dining complex.
Lunch
For lunch, your options are:
Mama's Snack Stop

Off the Hook

Ulu Cafe

Wailana Pool Bar
The Kalua Pork flatbread and Mickey-shaped spam musubi are the standout options here at Ulu Cafe. The coconut shrimp at Mama's Snack Stop is pretty tasty, as well.
TIP: The spam musubi is placed out around 11 AM and go quick, so set an alarm if you have your heart set on them!
Dinner
For dinner, your options are:
Ama Ama (sometimes closed 1-2 days per week)

Makahiki

Off the Hook

The 'Ōlelo Room

Ulu Cafe
As delicious as all of these restaurants are, we found ourselves at Monkeypod Kitchen in the shopping and restaurant complex across the street from the resort. I'll be writing a review soon because it was seriously out of this world good!
On select nights, there's also the Ka Wa'a lu'au, which often sells out in advance – so book ahead!
The food at the luau was not as good as I thought it'd be, but it wasn't bad either. Just ok in my opinion. The drinks, service, and entertainment were phenomenal, so I still recommend going. More on that in a future post!
Snacks
Aside from what's open for meals, there's Papalua Shave Ice and Little Opihi's, where you can get cool treats like Mickey shaped shave ice, pineapple Dole whip soft-serve ice cream, fresh fruit, and cold beverages.
You can't go wrong with Dole whip, but if you can only choose 1 thing, get the shave ice. I got mine with Mickey ears and wish I had gotten it with condensed milk topping. Next time!
Refillable Mugs
Just like the resorts at Disney World, Aulani has refillable mugs where you pay $22.95 plus tax for unlimited refills throughout your stay.*
Refills are limited to soda, tea, hot coffee, and hot chocolate. Sometimes you can get drinks like Power Ade, Minute Maid "juice," and HI-C.
The only downside to the refillable mugs at Aulani is that the refill machines can only be accessed between 6 AM and 8:30 PM.
*Price subject to change. Last verified February 23, 2022.
Shopping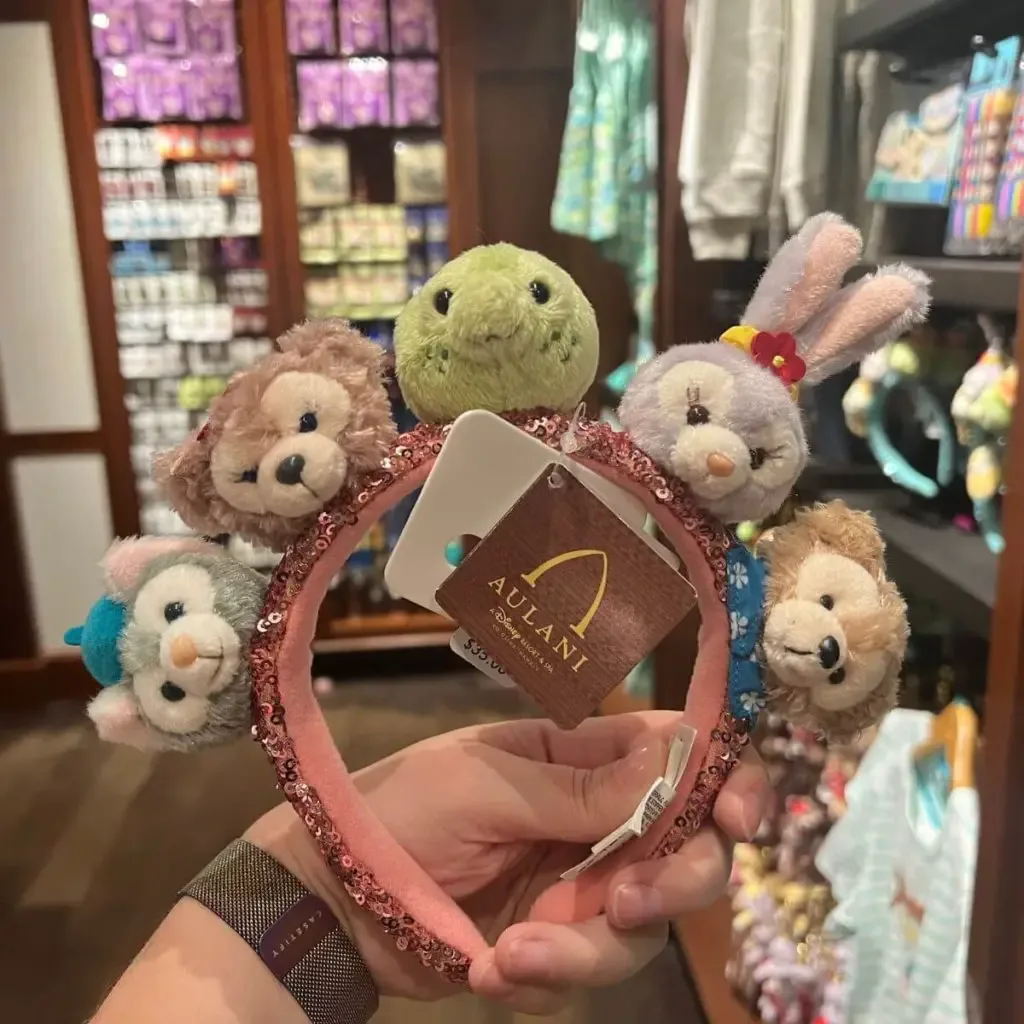 There are 3 gift shops at Aulani, each selling a variety of items.
The Lava Shack is located across from Papalua Shave Ice and Mama's Snack Stop near the main lazy river entrance. It's pretty small but never crowded, so that's a plus.
It sells drinks, snacks, and souvenirs such as rashguards with the Aulani logo on them.
Next up is Kalepa's Store, located on the main floor of the resort to the right of the main entrance if you're looking out of the front door from inside.
They have all of your favorite souvenirs: spirit jerseys, Loungefly backpacks, Minnie ears, Dooney & Bourke bags, Christmas ornaments, stuffed animals, and other fun Disnified merch with a Hawaiian twist.
I ended up getting a Christmas ornament and a few Aulani-themed Wishables for my nieces. OK, I also got one for myself!
The third shop is Hale Manu, which specializes in high-end merchandise and locally made goods, like upcycled sailcloth totes, aloha shirts, and seashell jewelry.
It's located diagonally to the left across from Kalepa's Store when you're exiting the store.
Lastly, for non-Disney souvenirs, head across the street to the shopping and restaurant complex. There's a liquor store, several boutiques, an art gallery, and a convenience store (that also sells cheap souvenirs)!
Pool Areas & Lazy River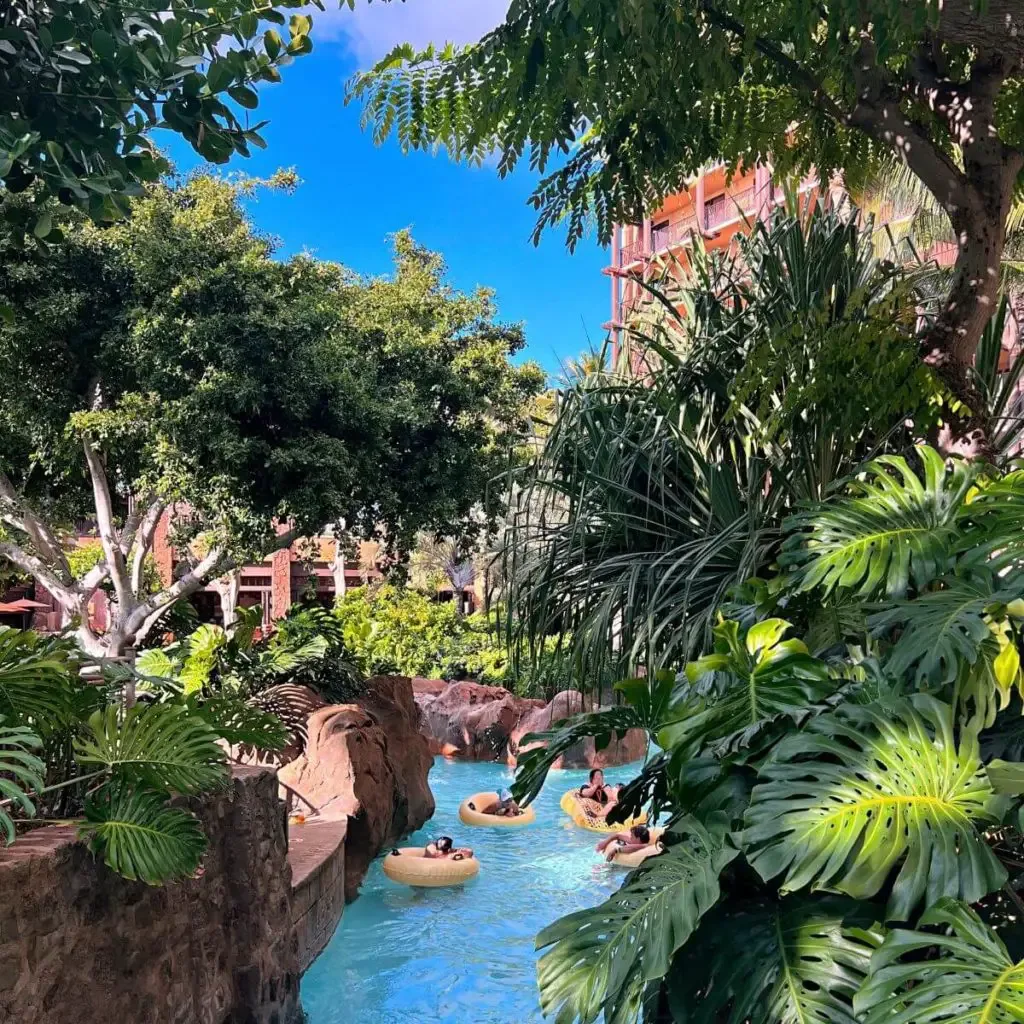 There are three pool areas at Aulani Resort: Waikolohe Pool, Wailana Pool, and Ka Maka Grotto.
The main pool, Waikolohe Pool, is the largest at 8,200 square feet and has a zero entry side.
However, I enjoyed Ka Maka Grotto far better. This infinity pool overlooking the beach lagoon is a great way to relax and people watch on the beach. There's also a whirlpool for relaxing your muscles after a long day of exploring, too.
Between the Waikolohe Pool and Ka Maka Grotto is an adults-only infinity whirlpool with 2 levels overlooking the beach. This was our go-to spot after exploring all day with a cocktail in hand during sunset!
There's also a lazy river called Waikolohe Stream and 2 water slides, Tubestone Curl and the Volcanic Vertical.
The Volcanic Vertical dumps you right into Waikolohe Pool, while Tubestone Curl drops you into the lazy river.
I lost count of how many times we went down the slides and floated around the lazy river. So fun!
Next is Wailana Pool a few steps away from the toddler splash pad. It is a bit secluded and very quiet. It used to be an adults-only pool, but changed to all ages in 2020.
Lastly, there are 2 splash pads for kids: Keiki Cove Splash Zone for kids 5 and under and Menehune Bridge for kids of any age up to 48 inches.
Since we were a group of all adults, I can't say how good these are, but they sure looked fun!
Rainbow Reef – a private snorkeling lagoon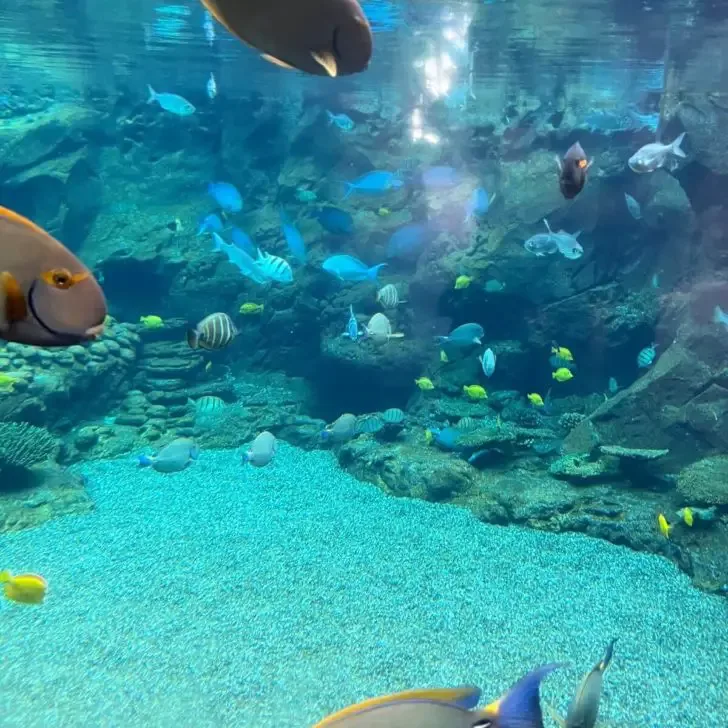 If you've never been snorkeling and want to give it a try in calm, controlled waters, Rainbow Reef at Aulani is perfect for that.
It's basically snorkeling in a giant 3,800-square-foot aquarium, rather than in choppy ocean waters. It is the only private snorkeling lagoon on the island of Oahu.
At Rainbow Reef, you can see over 1,000 fish, such as angelfish, butterflyfish, and many other types of local fish. They also have tang fish, which is the same type as Dory in Finding Nemo.
A one-day pass is $25 for ages 10 and up and $20 for ages 9 and under.
Alternatively, you can purchase access for the entire length of your stay for $45 for ages 10 and up and $35 for ages 9 and under.
Snorkeling gear is included with both options.
Character experiences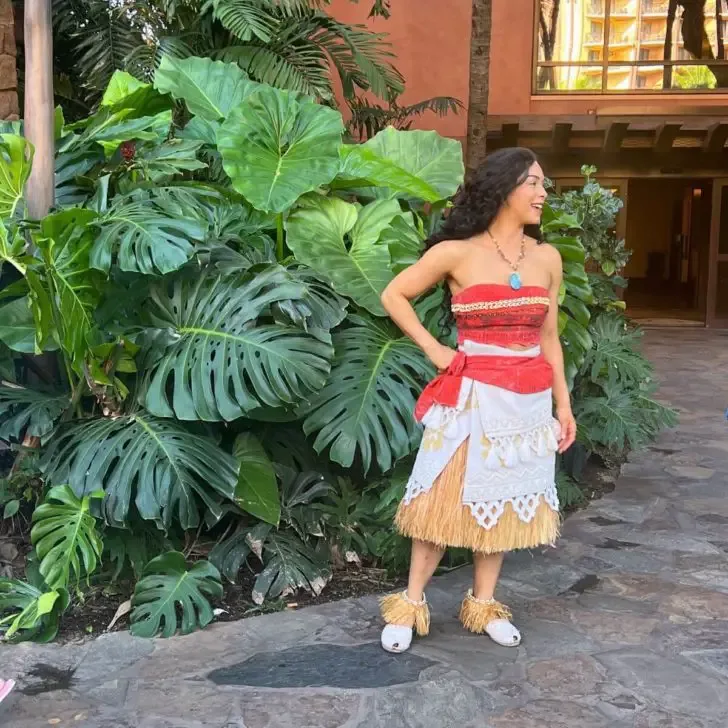 Throughout your stay, you will be able to meet many several famous Disney characters, like Mickey Mouse, Minnie Mouse, Moana, Stitch, and Angel.
You can also meet Olu Mel and Duffy, who are super popular in Japan and thus also popular in Hawaii.
One of the best ways to meet characters is to book the character breakfast at Makahiki. However, the characters also do meet-and-greets around the resort grounds throughout the day.
Days and times vary, so be sure to download the Aulani app so you can find out when your favorite character is scheduled to pop up.
The beach lagoon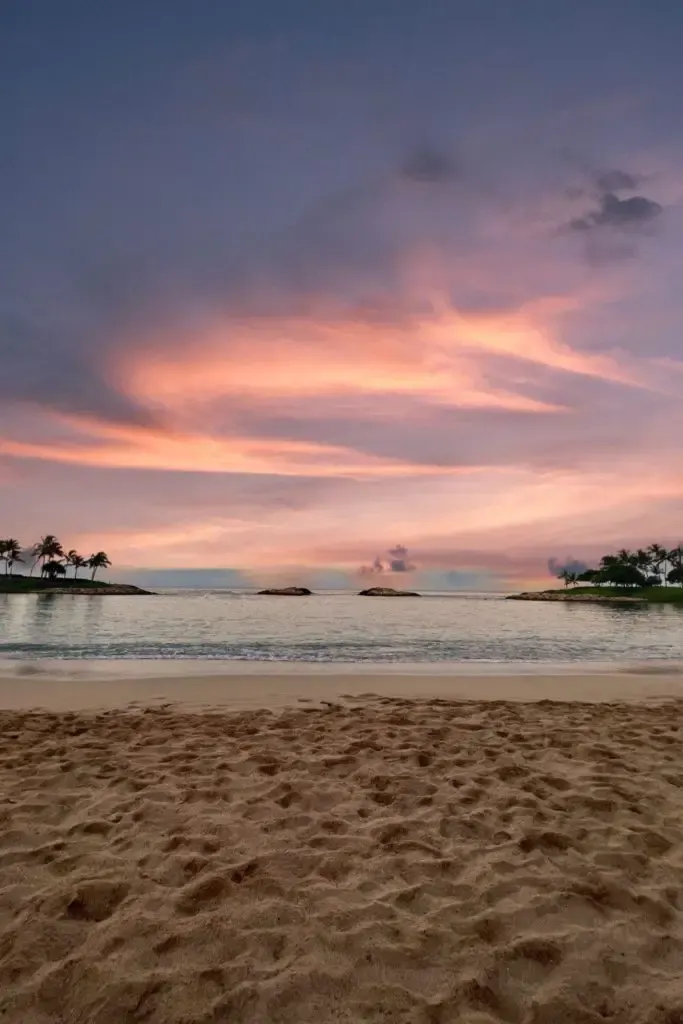 If you're looking to spend some time in the sun and sand, Aulani's beach is one of the best in the Ko Olina area.
There are plenty of beach chairs and umbrellas set up to accommodate guests. My family and I never had a problem getting chairs together!
At Makahiki Joe's, complimentary boogie boards, sand toys, and life vests are available for resort guests, although you do have to sign a waiver.
In addition, you can rent snorkel equipment ($25/day), standup paddleboards ($45/hour), and beachside casabellas ($80/day).
The snorkel rental includes a snorkel mask and vest, as well as a one-day pass to Rainbow Reef.
The beach itself is also unique in that it features a lagoon with calm, warm waters perfect for swimming or simply relaxing on a boogie board or float.
By the way, we saw so many people with tube floats that we assumed they were for rent the first time we went to the beach.
But, we quickly learned on our second visit that wasn't the case; they actually get them at the ABC Store across the street from the resort.
Activities for kids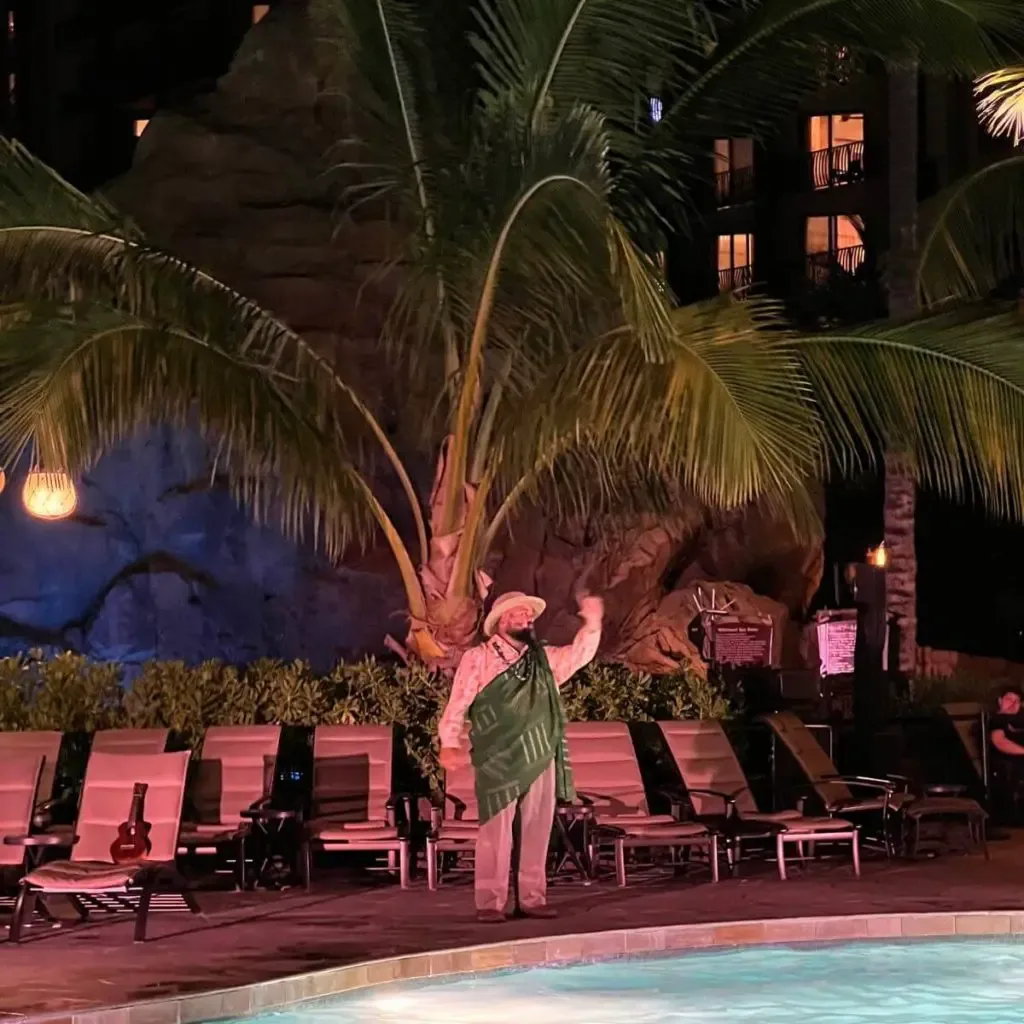 There are tons of FREE activities available for kids of all ages, from tikes to teens.
First up is every parent's dream: Aunty's Beach House, a supervised kids club that is open from 8 AM to 2 PM.
Next, several nights a week, you can watch a movie under the stars on the Hālāwai Lawn.
Another fun offering is the nighttime fireside storytelling of classic Hawaiian folk tales next to the Waikalohe Pool. It's such a fun way to learn about the native culture!
During the day at the Waikalohe Pool there is usually a pool party featuring dancing, games, and characters.
If you're feeling waterlogged, give the Menehune Adventure Trail a try. This fun activity includes following a scavenger hunt for menehune, mischievous Hawaiian spirits, around the resort using a tablet.
Lastly, another fun way to immerse yourself in the Hawaiian culture is through Aulani's free hula dancing and ukulele lessons!
If you're interested in any of these complimentary activities, hop on the Aulani app for dates and times during your visit.
Aside from the free stuff, there are lots of premium activities that kids will adore, like making your own Minnie ears, a stargazing and wayfinding lesson, t-shirt stamping, and more.
Spa and fitness center
Disney's Aulani Resort includes a gym, as well as several premium fitness classes, such as sunrise yoga.
Also on site is a salon, where you can get your hair and nails done.
They even have a Bibbidi Bobbidi Boutique-style service called Painted Sky: HI Style Studio where kids between the ages of 3-12, can get a Hawaiian or beach-inspired makeover, including an option to dress like Moana!
Last up is the Lanawai Spa and it is absolutely phenomenal. It's pricey, but well worth the cost if you're looking for a way to splurge.
They offer all of your typical spa treatments like massages and facials, but the real standout is the hydrotherapy garden.
The hydrotherapy garden includes a reflexology path for your feet and legs, plus a variety of plunge pools, whirlpools, vitality baths, and rain-style showers.
There's also a lounge area with healthy snacks and drinks.
The best part: access to the hydrotherapy garden is included with any spa service booking!
Day Trips & Excursions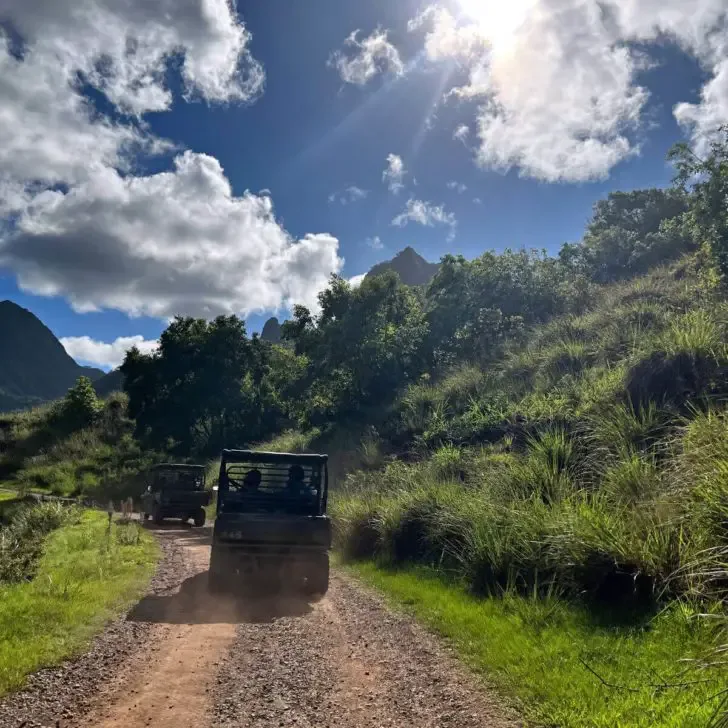 Aulani makes an excellent base for exploring all that the island of Oahu has to offer.
The resort is located halfway up the leeward side of the island, with easy access to the North Shore and Waikiki.
Consider renting a car to check out the surf town of Haleiwa, watch turtles at Laniakea Beach or surfers at Bonzai Pipeline.
Or maybe spend the day at Kualoa Ranch where you can go horseback riding, learn about Hawaii agriculture, or take a dusty UTV ride through the property while learning about the significance of the land and its people.
My mom, brother, and I did the UTV tour and had an absolute blast! I'm normally not into activities that get you super dirty, but this was well worth it; I highly recommend checking it out!
TIP: If you don't want to rent a car, the front desk can help you book an excursion with a tour company that includes transportation. This includes visiting Kualoa Ranch.
For more ideas on what to do outside of the resort, check out my post about the best excursion ideas from Aulani.
Booking
There are many different ways to book a stay at Aulani, all of which are super easy to manage.
You can book directly through Aulani online or by calling (866) 443-4763.
You can also use a travel agent or one of the many third-party booking sites, like Expedia or Orbitz.
Lastly, you can rent a villa through a Disney Vacation Club (DVC) reseller, such as David's Vacation Club Rentals, which is what my family and I did.
Even though the DVC villas are a premium level of rooms, they are often less expensive than the standard rooms!
We booked about 7 or 8 months in advance and had no problem reserving our room for a stay in early September.
This is just slightly outside peak Summer vacation season, hence why it was probably a breeze to book!
Learn more in my guide to renting DVC resorts.
Is Aulani Disney Resort worth it?
If you've made it all the way to the very end of my Aulani Disney Resort review – THANK YOU!
This amazing resort is packed with so many amenities and situated in a perfect spot on the island.
While Aulani can be expensive, it is on par with many of the resorts in Oahu that offer tons of complimentary activities.
Overall, I highly recommend booking a stay at Aulani, a Disney Resort & Spa.
Next up, check out these posts:
---
About the author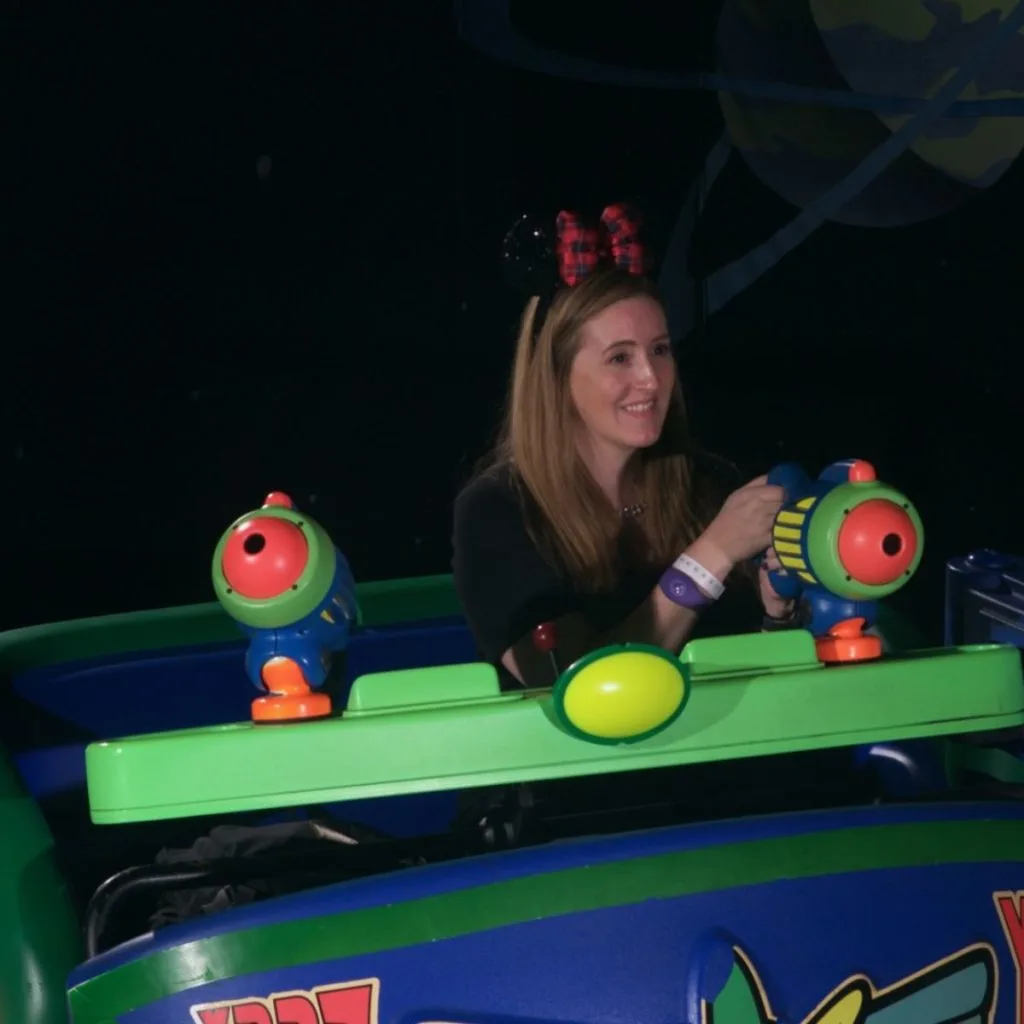 Meg Frost is the creator of The Park Pixie, where she covers Disney World, Disney+, and Disney fandom.
She holds an M.A. in Journalism from Northeastern University and B.S. in Communication & American Studies from University of Miami.
---