Ah, Luke Skywalker – one of the most iconic and beloved characters from the Star Wars galaxy.
His journey has been an inspiration for generations of fans, with his courage, selflessness and determination even in times of adversity.
In this post, I'm sharing the 50 best Luke Skywalker quotes, sorted by movie and series chronologically in which this much-admired character has appeared.
Get ready to feel inspired once again by this epic Jedi and don't forget to stream your favorites on Disney+!
Star Wars: Episode IV – A New Hope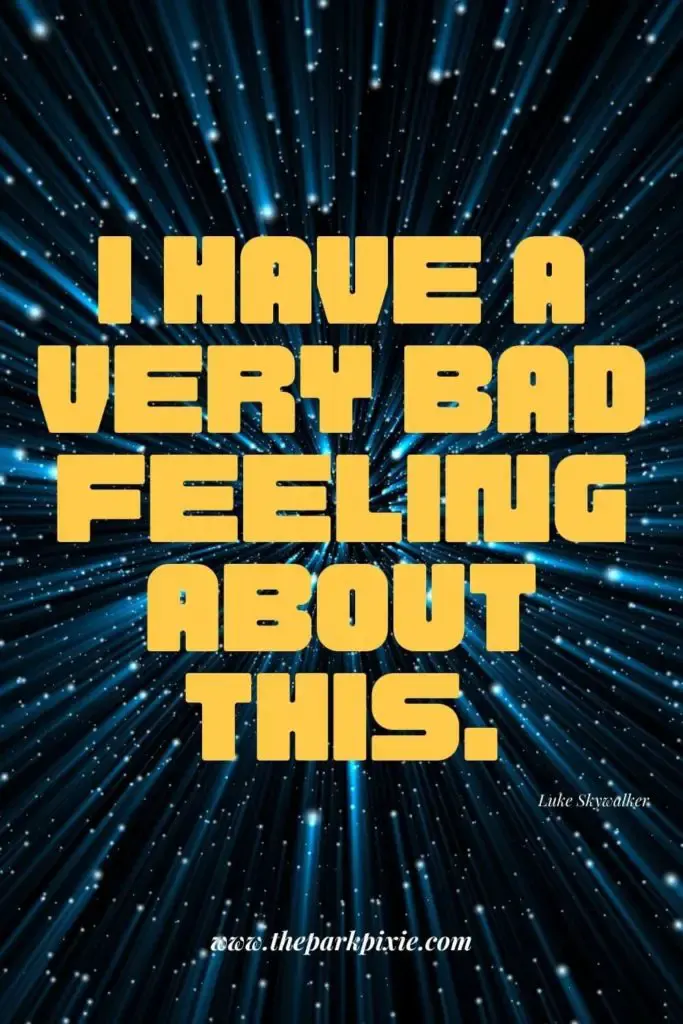 Star Wars: Episode IV – A New Hope is an unforgettable film that follows Luke Skywalker (Mark Hamill), Han Solo (Harrison Ford), and friends as they embark on an epic and thrilling adventure as they try to save the galaxy from the evil Empire and rescue his sister, Princess Leia Organa (Carrie Fisher), from Darth Vader (James Earl Jones).
Here are some of the best quotes from Luke Skywalker in this film.
---
I have a very bad feeling about this.
You don't believe in the Force, do you?
You bet I could. I'm not such a bad pilot myself.
But I was going into Tosche Station to pick up some power converters!
No, my father didn't fight in the Clone Wars. He was a navigator on a spice freighter.
Well, if there's a bright center to the universe, you're on the planet that it's furthest from.
C3-PO: Is there anything I can do? Luke: Not unless you can alter time, speed up the harvest or teleport me off this rock.
Look, I can't get involved. I've got work to do. It's not that I like the Empire – I hate it. But there's nothing I can do about it right now. It's all such a long way from here.
Leia: Your friend is quite the mercenary. I wonder if he really cares about anything. Or anybody.
Luke: I care.
Star Wars: Episode V – The Empire Strikes Back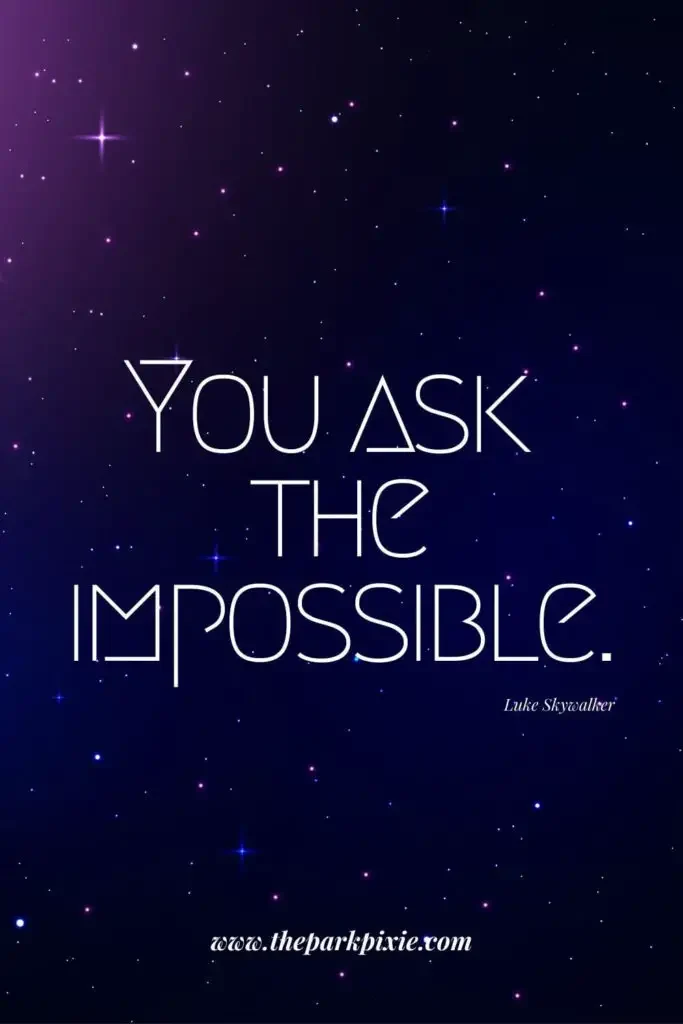 Luke Skywalker and friends are back in action in the classic sequel, Star Wars: Episode V – The Empire Strikes Back.
In this film, Luke is on a mission to gain better knowledge of the Force while also honing his Jedi abilities with training from Master Yoda – all while being chased by Darth Vader AND the bounty hunter, Boba Fett (Jeremy Bulloch).
Here are some of the most famous Luke Skywalker quotes from The Empire Strikes Back.
---
This is it.
I'll never join you!
You ask the impossible.
Luke: Alright, I'll give it a try.
Yoda: No. Try not. Do or do not. There is no try.
Chewie, I'll be waiting for your signal. Take care, you two. May the Force be with you.
Luke: I'm looking for a great warrior.
Yoda: Oh. Great warrior! Wars not make one great.
Star Wars: Episode VI – Return of the Jedi
Luke Skywalker and his rebel friends are in for another adventure in Star Wars: Episode VI – Return of the Jedi. The Rebels team up to destroy Death Star II and take on Darth Vader once again – with surprising results.
Check out some of Luke Skywalker's best lines in this film, below.
---
I must be allowed to speak.
Master Yoda, you can't die.
Your overconfidence is your weakness.
It's your choice. But I warn you not to underestimate my powers.
Your thoughts betray you, Father. I feel the good in you, the conflict.
Search your feelings, Father. You can't do this. I feel the conflict with you. Let go of your hate.
Because, there is good in him. I've felt it. He won't turn me over to the Emperor. I can save him. I can turn him back to the good side. I have to try.
I feel his presence. But he can also feel mine. He's come for me. He can feel it when I'm near. That's why I have to go. As long as I stay, I'm endangering the group and our mission. I have to face him.
The Mandalorian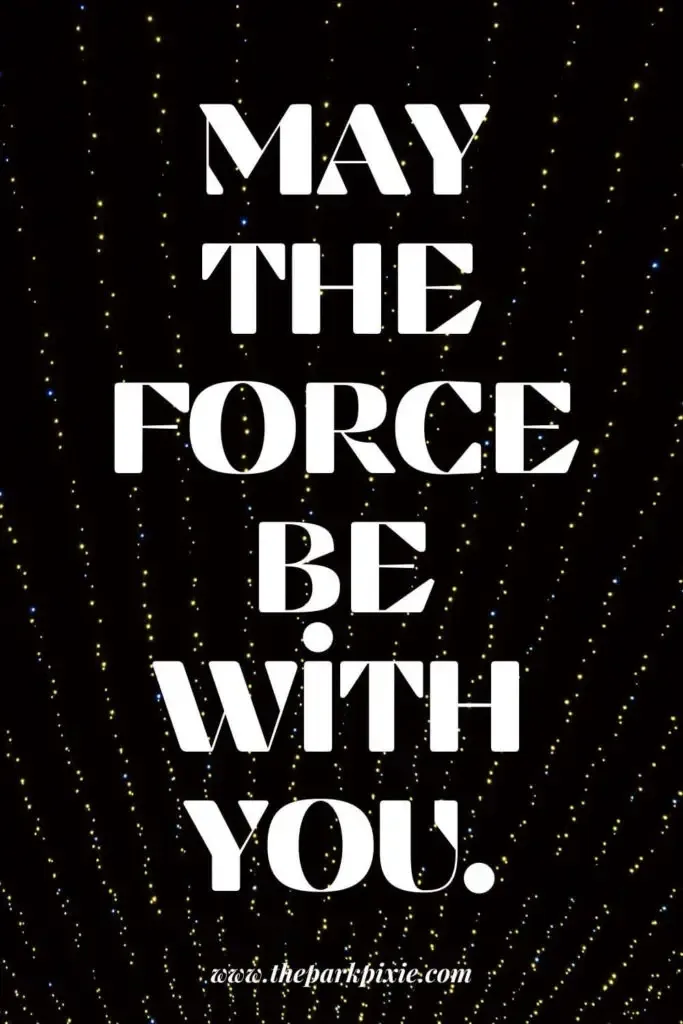 In the Disney+ series The Mandalorian we follow the titular character (Pedro Pascal), who is a lone bounty hunter on a journey of discovery across the far reaches of the galaxy while protecting a tiny creature, Grogu.
In season 2, Luke Skywalker makes an appearance, as he agrees to protect and train Grogu as a Jedi.
Stay tuned as season 3 of The Mandalorian unwinds starting March 1, 2023, for more great Luke Skywalker quotes from this show.
---
May the Force be with you.
He wants your permission. He is strong with the Force, but talent without training is nothing. I will give my life to protect the Child, but he will not be safe until he masters his abilities.
The Book of Boba Fett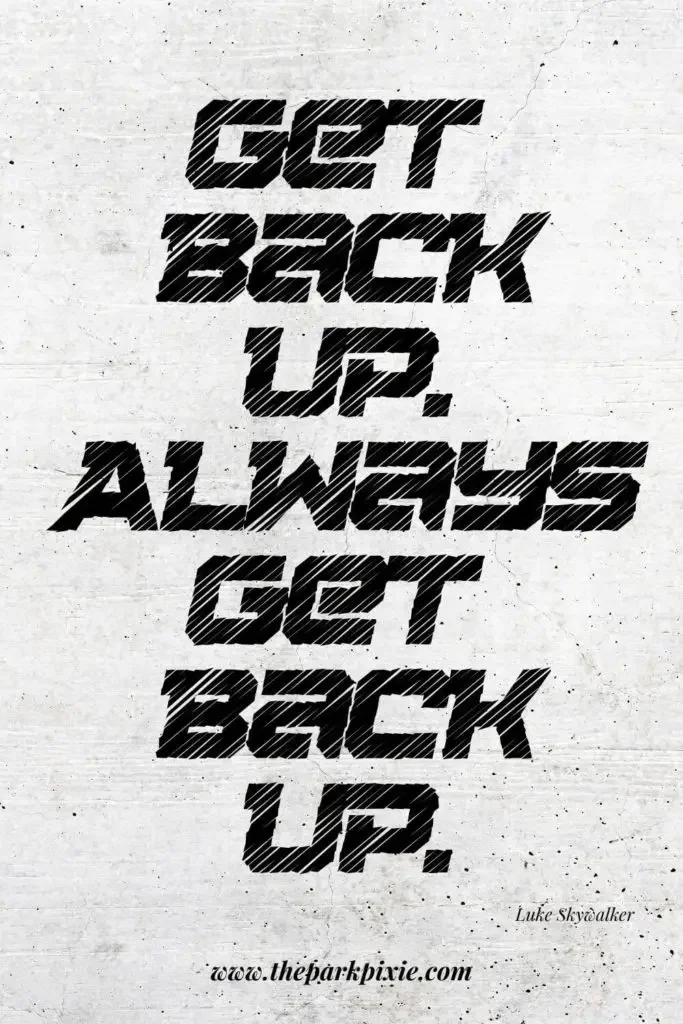 The Book of Boba Fett is the newest series from Disney+, and it's already garnering a ton of attention.
The show follows Boba Fett, once an enemy of our favorite hero, Luke Skywalker, as he tries to make a name for himself in Tatooine's underworld.
As you may have guessed, Luke Skywalker makes an appearance, alongside our tiny friend, Grogu. Here are some of his best lines from the mini-series.
---
Size matters not.
Let me help you remember.
Get back up. Always get back up.
You're trying too hard. Don't try. Do.
Jump. And as you do, fell the Force flow through you.
The galaxy is a dangerous place, Grogu. I will teach you to protect yourself.
It's more like he's remembering more than I'm actually teaching him anything.
Look, the wild world exists in balance. Feel the Force all around you. Through the Force, you'll find balance as well.
I want to tell you about someone you remind me of a great deal. His name was Yoda. He was small like you, but his heart was huge and the force was strong in him.
If you choose the armor, you'll return to your friend, The Mandalorian. However, you'll be giving into attachment to those that you love and forsaking the way of the Jedi. But if you choose the lightsaber, you will be my first student at my academy and I will train you to be a great Jedi.
Star Wars: Episode VII – The Force Awakens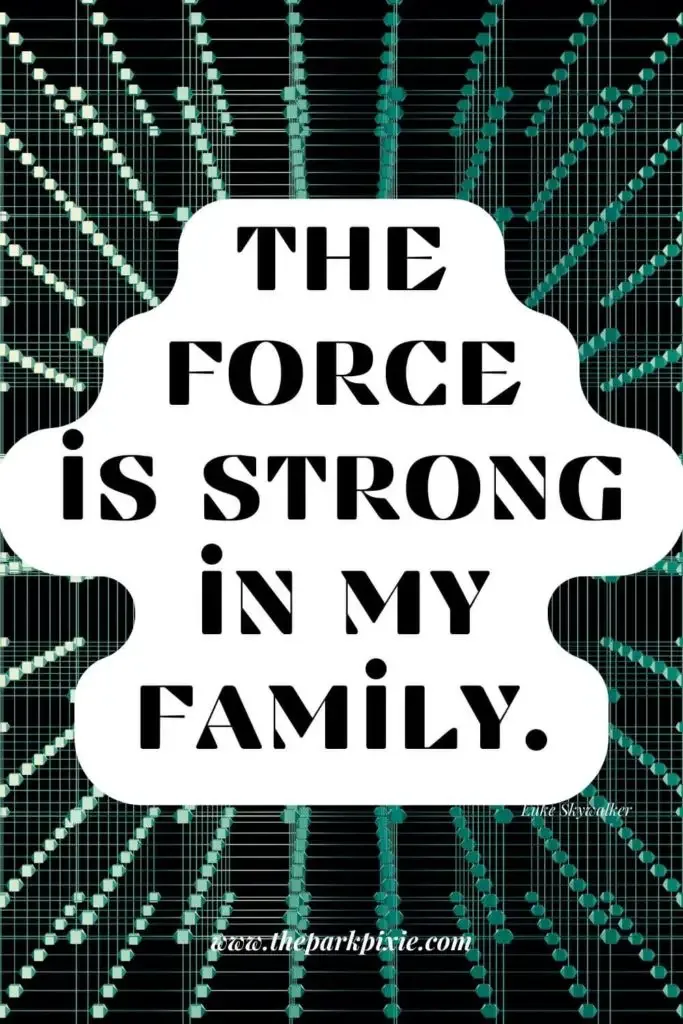 In Star Wars: Episode VII – The Force Awakens, we follow Han Solo, Rey (Daisy Ridley), Poe Dameron (Oscar Isaac), and Finn (John Boyega) as they search for Luke Skywalker.
Although the film centers around his character, Luke Skywalker isn't really in the film – but he does have one iconic line, from the trailer: "The Force is strong in my family. My father has it. I have it. My sister has it. You have that power, too."
Star Wars: Episode VIII – The Last Jedi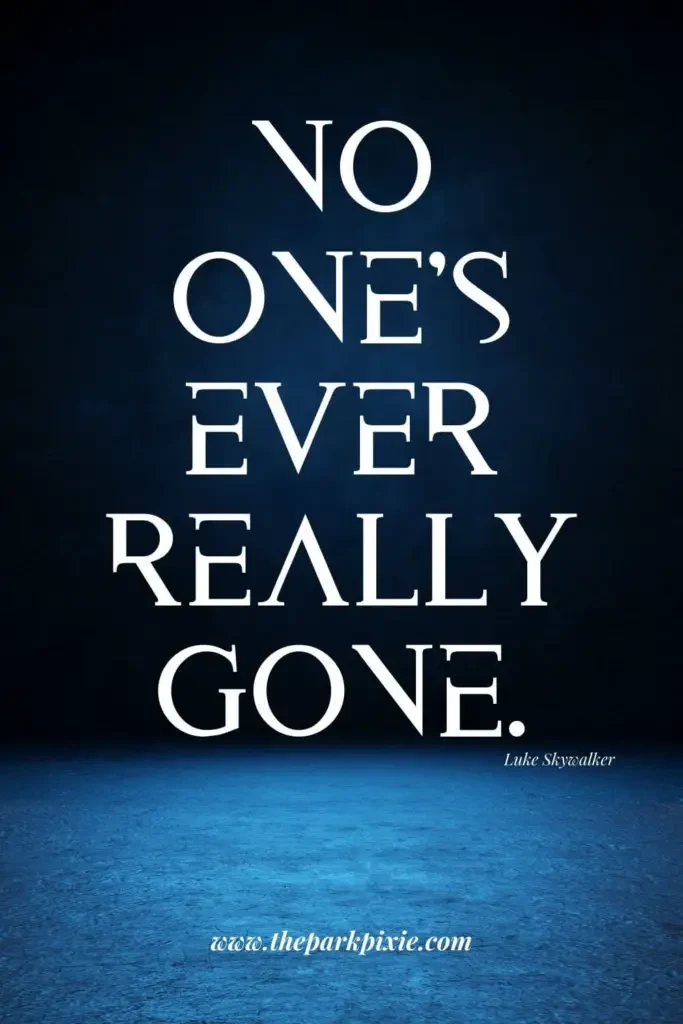 Luke Skywalker takes center stage once again in Star Wars: Episode VIII – The Last Jedi.
Luke has been exiled and is struggling to reconcile his hopes for the future of the Jedi Order with his past failures. Meanwhile, Rey continues her training to unlock the power of the Force under Luke's tutelage.
And it wouldn't be a Star Wars film without an epic battle or two, right?
Keep reading for some of the best Luke Skywalker quotes from The Last Jedi.
---
No one's ever really gone.
No one's from nowhere.
The rebellion is reborn today.
Chewie, what are you doing here?
Hey! Sacred Planet! Watch the language!
This is not going to go the way you think!
Impressive. Every word in that sentence was wrong.
I will never train another generation of Jedi. I came to this island to die. It's time for the Jedi to end.
Never. I'll never turn to the dark side. You've failed, your Highness. I am a Jedi, like my father before me.
The Force is not a power you have. It's not about lifting rocks. It's the energy between all things, a tension, a balance, that binds the universe together.
Star Wars: Episode IX – The Rise of Skywalker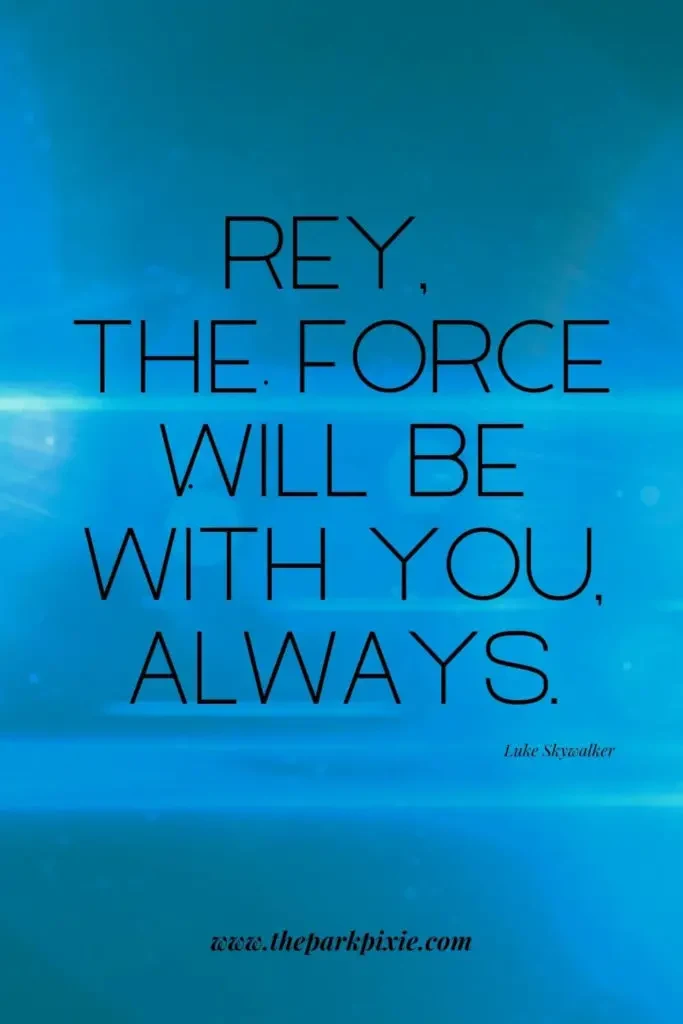 In the last installment of our favorite space-opera, Star Wars: Episode IX – The Rise of Skywalker, we continue to follow Rey's journey with Luke Skywalker as her mentor.
Ultimately, The Rise of Skywalker provides a heartwarming conclusion to Luke's journey and leaves us with renewed hope for a better tomorrow.
Here are some of the best Luke Skywalker quotes from this iconic character's final appearance in the Skywalker saga.
---
Rey, the Force will be with you, always.
A Jedi's weapon deserves more respect.
We've passed on all we know. A thousand generations live in you now. But this is your fight.
Rey, some things are stronger than blood. Confronting fear is the destiny of a Jedi. Your destiny. If you don't face Palpatine, it will mean the end of the Jedi, and the war will be lost.
What are your favorite Luke Skywalker quotes?
It's true that Luke Skywalker had some of the most memorable lines of dialogue and scenes in the Star Wars universe.
He'll always be remembered as one of the most beloved characters in cinematic history, that's for sure!
Even though this post was only able to showcase some of his best moments, I think it serves as a reminder of why he has been such an important part of our lives and why he has earned iconic status in the world of pop culture.
So let us know what your favorite Luke Skywalker moments and quotes were! I'd love to hear what stood out to you and made Luke feel like such an amazing character in the comments below.
May the Force be with you!
Next up, check out these posts:
---
About the author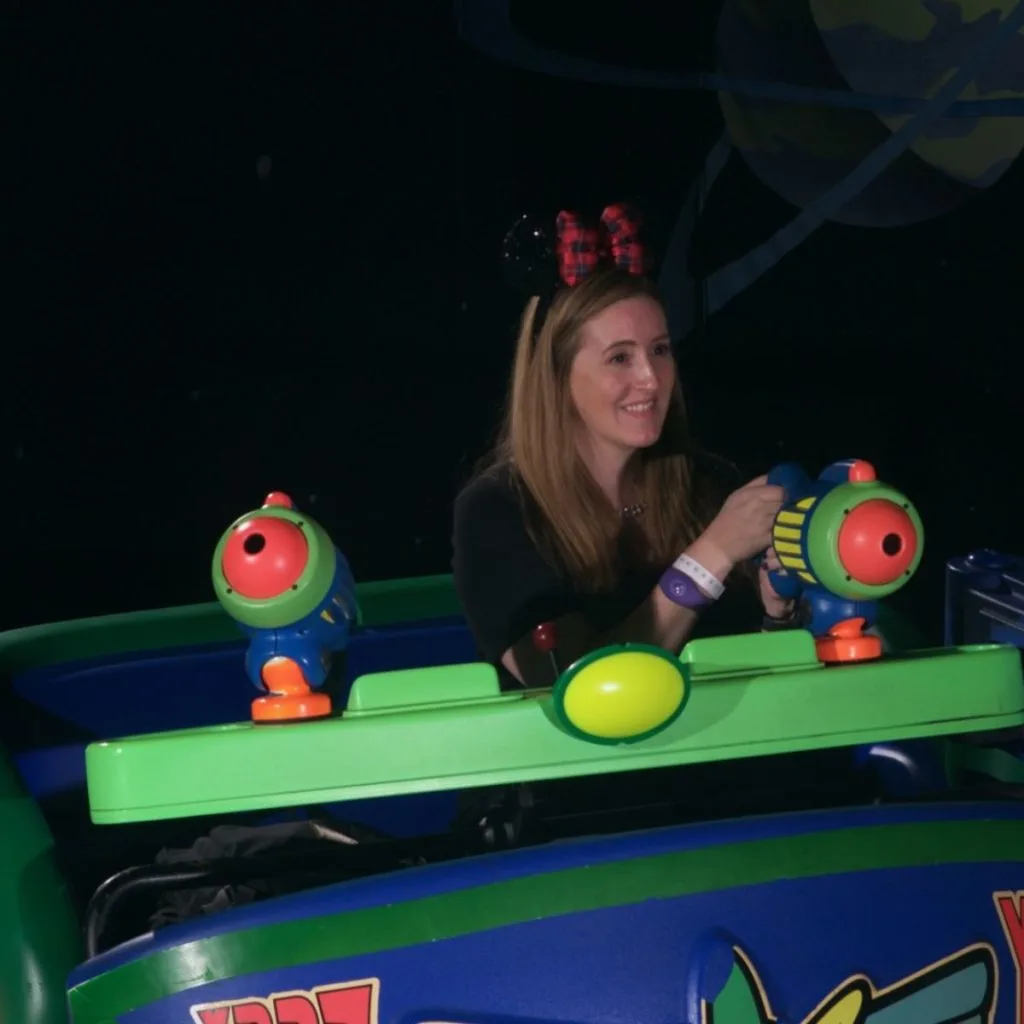 Meg Frost is the creator of The Park Pixie, where she covers Disney World, Disney+, and Disney fandom.
She holds an M.A. in Journalism from Northeastern University and B.S. in Communication & American Studies from University of Miami.
---
This post was originally published February 26, 2023. It was last updated June 30, 2023.