Are you ready to take on some of the finest Hawaii has to offer? If so, we've got great news!
Aulani Resort is your ticket to all the most exciting activities, from exploring beautiful lagoons and beaches to hiking incredible terrains; it truly has something for every traveler.
Join me as I dive into my favorite excursions from Aulani, including the best things to do in Ko Olina, so you can plan an unforgettable Hawaiian vacation!
While this post is updated regularly, availability, dates, hours, and prices are subject to change at any time.
Play golf at Ko Olina Golf Club
With its top-notch courses and stunning views, the Ko Olina Golf Club the perfect place to perfect your swing and get a little exercise while you're at it.
Whether you're a seasoned pro or just looking to hit a few balls, this course has something for every golfer.
A standard 18-hole round is $225 for Ko Olina resort guests (including Aulani), $250 for non-resort guests, and $95 for kama'āina. Additional packages are available, as are discounts.
Classes and private lessons are also available, whether you're just beginning or looking to improve your skills. Private lessons start at $70 for kids and $80 for adults for 30 minutes.
Lastly, if you didn't bring your clubs with you, they have men's, women's, and kid's clubs available to rent. Adult club rentals are $75 per set, while kid's club rentals are $30 per set.
See Oahu from above on a helicopter tour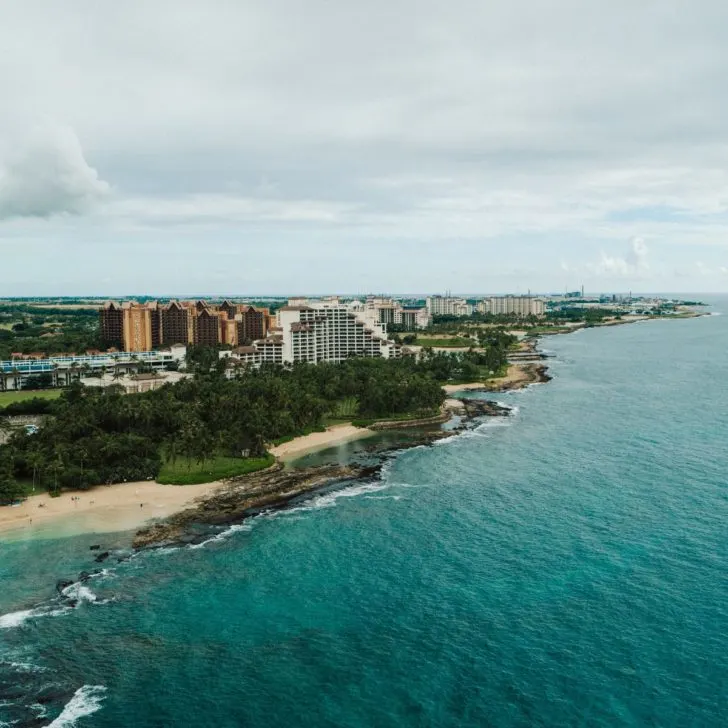 If you've visited Oahu before and done all the usual tours, aim for something new, like a helicopter tour.
Paradise Helicopters offers several tours from the Kalaeloa Airport in Kapolei, just a 15 minute drive from Aulani.
They even have those thrilling doors-off tours! With the wind in your hair and the sun on your face, you'll soar above the stunning scenery of Hawaii's coastline and catch a glimpse of hidden gems that can only be seen from above, like Ali'i Sacred Falls.
Shop for unique souvenirs at Ko Olina Center
Just across the street from Aulani is Ko Olina Center, a complex filled with lots of cute shops and restaurants.
For low-cost souvenirs, check out the Island Country Market, which is basically an ABC Store in disguise.
BikiniBird, Crazy Shirts, Hemptuary Hawaii, Honolua Surf Co., Mahina, Pineapples Boutique, and Tommy Bahama are perfect for those looking for local fashion and accessories to bring home.
Check out the custom-made signs from Things Unique, as well as art from CocoNene and The Plantation, for souvenirs you can display at home to remind you of your island vacation.
Whether you're browsing for yourself or hunting for gifts, shopping at these boutiques is a a blast. Plus, supporting local businesses never looked so good!
Test your bravery at Coral Crater Adventure Park
If you're looking for some adrenaline-pumping activities, check out Coral Crater Adventure Park in Kapolei.
Whether you want to conquer ziplines, challenge yourself on the aerial adventure course, or zoom around on ATVs, there's something for every adrenaline junkie at Coral Crater.
And with Hawaii's beautiful weather and picturesque scenery, you'll be hard-pressed to find a more breathtaking setting for your next adventure.
Also looking into booking a luau while you're visiting Aulani, then book their Mele Luau, too!
Lastly, it's only a 15 minute drive from Aulani, but if you don't want to drive, they can help arrange for transportation.
Hang loose at Wet n Wild Hawaii Water Park
If the water slides at Aulani aren't thrilling enough, check out Wet 'n' Wild Hawaii Water Park, just a 12 minute drive away.
This water park boasts 7 adventurous water slides, a gigantic wave pool, a flowrider (surfing simulator), and 2 splash parks for kids – one of which is ADA-compliant!
On select dates, they show football games or family-friendly movies in the pool, too.
Plus, you can cap of your day of fun at Chief's Luau, right on site!
Tickets start at $49.99, not including tax. Daily prices for the Flowrider range from $6-15, not including tax.
Hit Oahu's beautiful hiking trails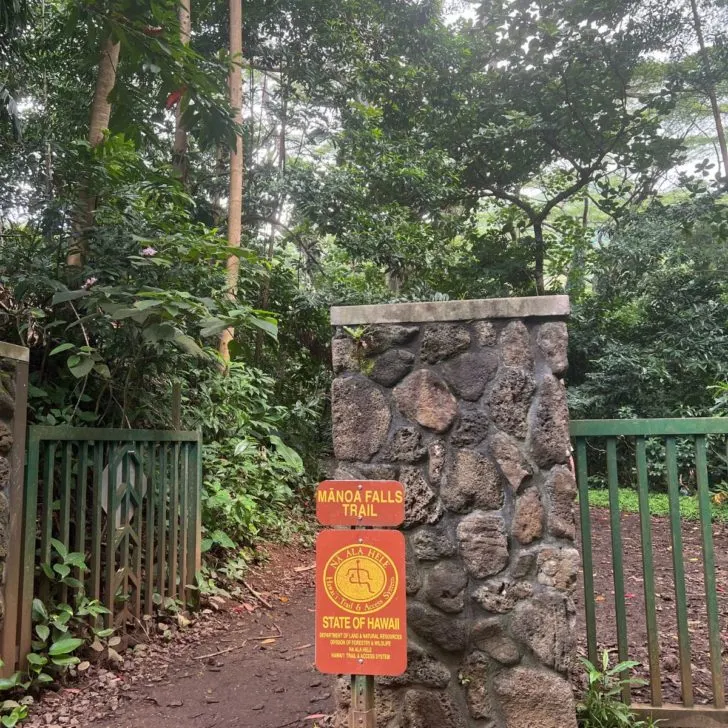 There are tons of fabulous hikes for all skill levels across the island of Oahu.
For this option, you'll need to either rent a car or find an outside tour company with pickup at Aulani, as the resort currently does not contract with any tour companies for guided hikes.
No matter which hiking trail you choose, you'll be treated to beautiful scenery and views.
Don't forget to bring plenty of water and sunscreen, and prepare to feel like you've conquered the world once you reach the top or complete the end of the trail.
Here are a few suggestions for hikes to consider:
Maili Pillbox Hike
Location: Kaukama Road in Waianae
Length: 1.6 miles total
Not far from the resort is the Maili Pillbox Hike, aka the Pink Pillbox Hike, which is roughly 25-30 minute drive from the resort.
It is 1.6 miles out and back and can be a bit challenging due to elevation gain, uneven terrain, and frequently muddy conditions. It's definitely not for beginners or those looking for an easy nature walk.
However, if you're up for the challenge, this hike is great if you're looking for gorgeous aerial sunrise views over the ocean and a heart-pumping workout.
Diamond Head Summit Trail
Location: 4204 Diamond Head Rd, Honolulu
Length: 1.6 miles total
Another good option is Diamond Head Summit Trail in the Waikiki area. Once called Lē'ahi, Diamond Head is an extinct volcano and the summit offers stunning views of Oahu.
Diamond Head is roughly 45 min to 1 hour from Aulani, just past the Waikiki Beach area. I recommend planning for a pit stop in Waikiki before the hike for food and perhaps afterward for a dip in the ocean to cool off.
Entry to Diamond Head is $5 per person. Children 3 and under are free.
The entrance gates open at 6 AM with last entry at 4 PM. Gates close at 6 PM, so you have to be out by then. Parking is $10 per vehicle (source).
Lastly and most importantly, reservations are required to access this trail for non-residents, even if with a Hawaiian resident.
Mānoa Falls Hike
Location: Kaukama Rd, Waianae
Length: 1.6 miles total
Another popular option is the Mānoa Falls Hike in Honolulu. This hike is very popular, especially with tourists, as it takes you to a waterfall.
Be warned though – it is very crowded and also much harder than many blog posts claim it is! That said, it's totally worth it!!
My family and I did this hike on our stay at Aulani and loved the different rainforest plants and trees along the way.
This hike is roughly 45 min to 1 hour from Aulani, depending on traffic, so you may want to plan other activities in the Waikiki area to make the drive worth it.
Go on a boat tour with Ko Olina Ocean Adventures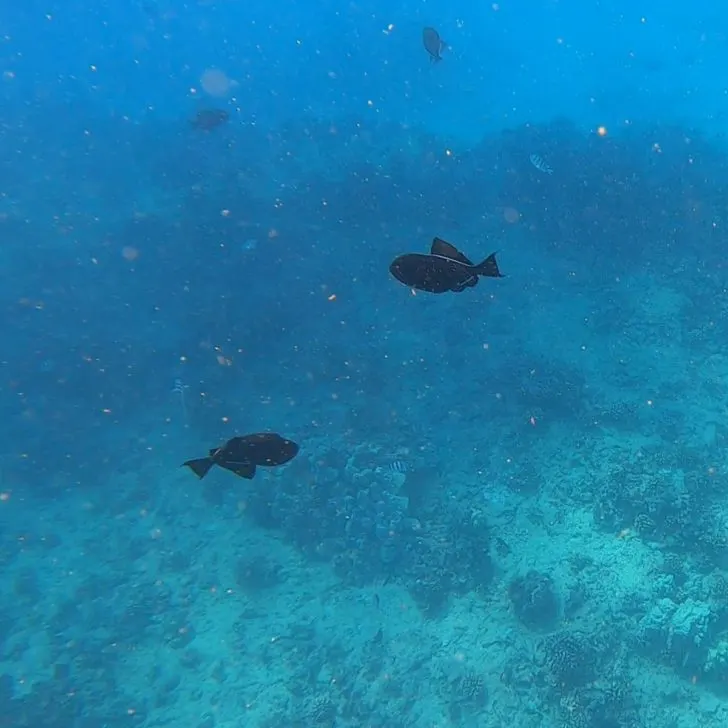 If you're looking for adventure in Hawaii, look no further than Ko Olina Ocean Adventures' tours.
There are 2 tours available: Sail & Snorkel and Sunset Cruise.
The Sail & Snorkel Tour is 3 hours long and has departs in the morning and afternoon.
This tour takes you out to a reef for snorkeling amongst the marine life, such as sea turtles. Plus, from December through March, you'll likely see whales, as well!
Use of snorkeling gear, including life jackets, is included with your ticket.
The Sunset Cruise is 2 hours long and includes light appetizers and 3 alcoholic drinks. A cash bar is also available.
Prices for tours can change, as there are multiple discounts available, so please check their website for an accurate estimate.
Tours leave from the Ko Olina Marina, which is roughly a 1.5 mile walk from the resort. If you prefer to drive, parking is $15. In the past there was a free shuttle, but it has not been in operation since the pandemic. It is unclear on whether it will return.
Check out the local beaches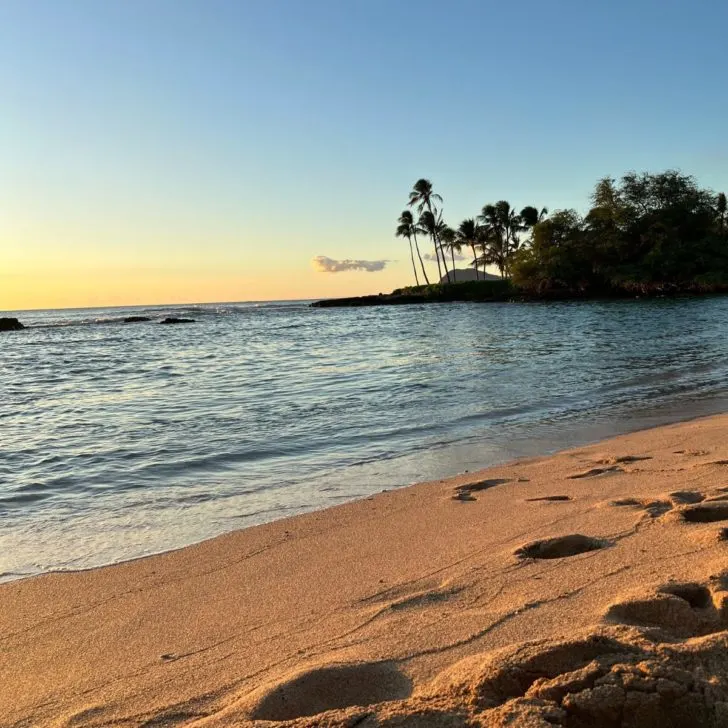 Yes, Aulani is located right on the beach – but Oahu is surrounded by some of the most beautiful beaches in the world – so why not visit a few more while you're there?
It's hard to say which ones are the best, but here are a few to get you started.
Paradise Cove Beach is just a stone's throw away from the resort (10 minute walk) and offers crystal-clear waters and soft white sand.
Two other location options are Kahe Point Beach Park and Electric Beach, both of which are popular snorkeling spots. They aren't walkable from the resort, but are only about a 7-10 minute drive away.
Waikiki Beach is perhaps the best known beach on Oahu and is considered the main tourist area on Oahu.
It is super packed, but you'll find everything you'll need or want here, like restaurants, shops, surfing lessons, beach equipment rentals, and so on.
Over on the North Shore of Oahu, Waimea Bay Beach was my favorite of the beaches my family visited in that area.
Parking here is not easy, but it's worth it! There's a massive rock that you can jump off of, if you dare.
Take a day trip to Kualoa Ranch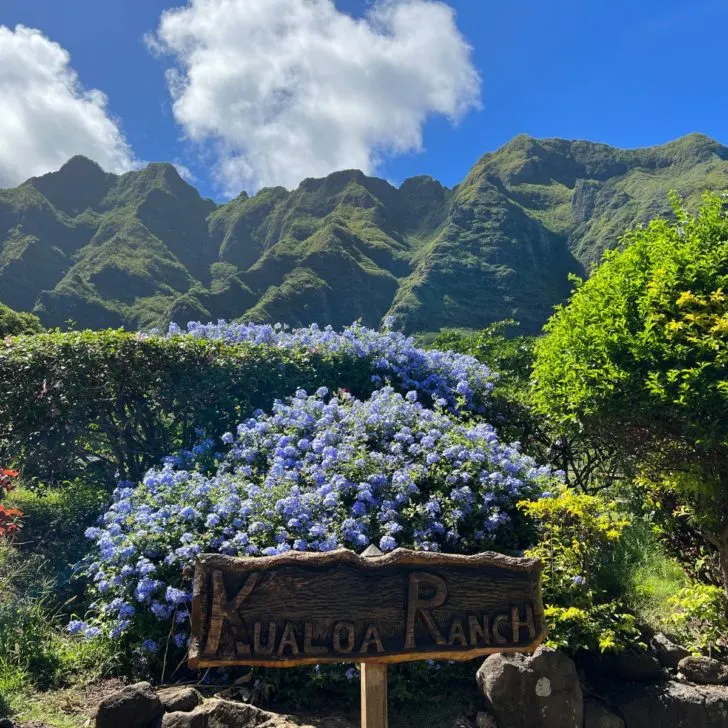 Another fun-filled day trip from Aulani is Kualoa Ranch on the windward coast of Oahu.
This picturesque ranch covers over 4,000 acres and offers a range of outdoor activities and tours that you won't find anywhere else in Hawaii.
Feeling adventurous? Try the UTV tour and explore the rugged terrain and lush valleys. This is the tour my mom, brother, and I chose and we had an absolute blast!
The tour guides were super engaging, told us some really interesting Hawaiian legends, and even took some fun pictures for us.
Make sure you wear an outfit you don't mind getting dirty. They'll provide goggles and a cloth mask to help keep the dust and dirt out of your eyes, nose, and mouth.
Other tours available include ziplining, e-bike tours, horseback riding, food tour, boat tour, and surprisingly – more!
This ranch is so stunning that many blockbuster movies and hit shows have filmed here, such as Jurassic Park, Godzilla, Jumanji, Kong: Skull Island, and Hawaii 5-0. So if UTVs aren't your jam, I still recommend booking a tour (or several) here!
If you have a rental car, the drive is about 45 min to 1 hour, depending on traffic. However, you can arrange for transportation through their ticketing office.
Check out the website linked below for more details, such as tour availability, pricing, etc.
Tour a local rum distillery and farm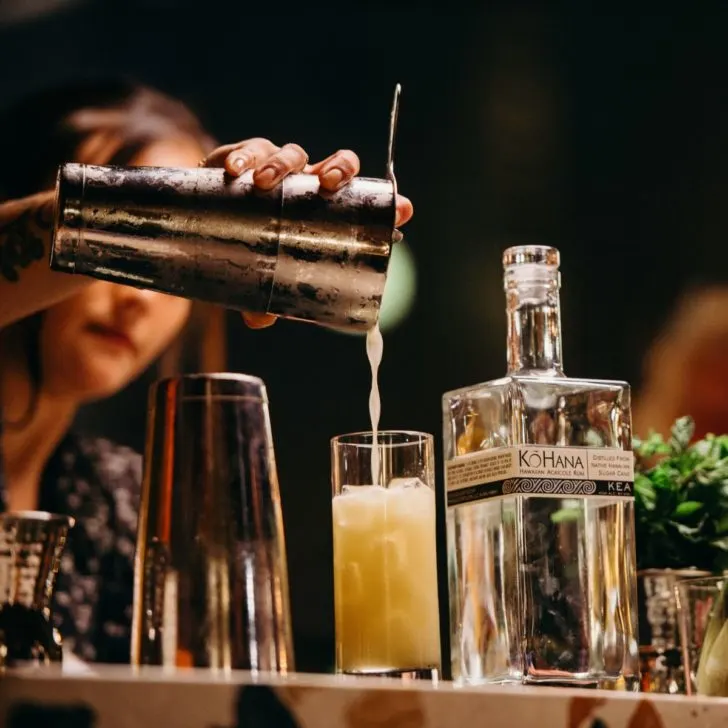 Are you tired of the same old boring tours? Look no further than Ko Hana Rum Distillery tours!
This local distillery offers 2 tours: Kō Hana Rum Tour and Estate Sugarcane Farm Tour.
The Kō Hana Rum Tour focuses on how their rum is made, with stops in a sugarcane garden, distillery, and warehouse. The tour is capped off with a tasting of 4 rums.
Tours run every hour at the hour between 10 AM and 4 PM. However, some days there are fewer tours, so be sure to check ahead if you want a specific time. They also have a few tours each day that are conducted in Japanese.
Tickets for the Rum Tour are $25 for adults 21+ and $10 for those under 21.
The Estate Sugarcane Farm Tour is held on Thursdays at 10 AM. This tour takes guests out into the sugarcane fields to see how the plant is grown and harvested. Like the other tour, it is capped off with a tasting of 4 rums.
Tickets for the Farm Tour are $35 for adults 21+ and $25 for those under 21.
Lastly, if you don't want to do a tour, but want to purchase rum, you can do that as well! Plus you can just do a tasting for $10.
Tastings are held at 15 and 45 past the hour, every hour, from 11 AM to 5 PM, on a walk-in basis.
The Kō Hana Rum Distillery is about a 20-25 minute drive from Aulani.
Let loose at the Paradise Cove Luau
If you've already been to the Ka'Waa Luau and want to try something new or can't get tickets, check out the Paradise Cove Luau.
This fun luau is just a 10 minute walk or 6 minute drive from Aulani.
With its stunning beachfront location and lively Polynesian entertainment, this luau is like no other. You'll be transported to another world as you sip on tropical drinks and devour a delicious buffet dinner.
And the entertainment? It's simply unforgettable. From fire dancers to hula dancers to live music, the performers at Paradise Cove know how to put on a show.
There are multiple packages available, starting at $100 for kids 3-12, $115 for age 13-20, and $140 for 21 and up. For more information on packages and prices, check out their luau package page.
Kids under 3 are free but must stay in a stroller or on a parent's lap. If a seat is desired, you'll need to buy a ticket.
Tour the Dole Plantation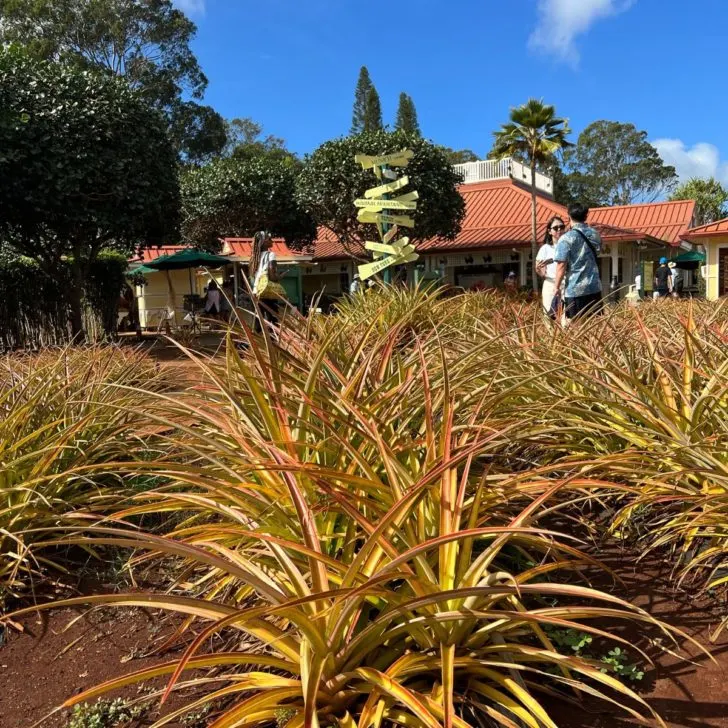 Looking for a fun, family-friendly outing during your stay at Aulani Resort? Look no further than the Dole Plantation!
This iconic Hawaiian attraction has something for every age group, from the informative Pineapple Express train tour to the colorful garden maze.
But perhaps the most delicious reason to visit is the famous pineapple soft serve, made from freshly harvested fruit grown right on the plantation.
The Dole Plantation is about a 30 to 40 minute drive from Aulani, depending on traffic. It is open daily from 9:30 AM to 4:30 PM, except Christmas Day.
Ticket prices vary depending on which activities you want to do, so check their website listed below for additional details.
Visit the Pearl Harbor National Memorial & Museums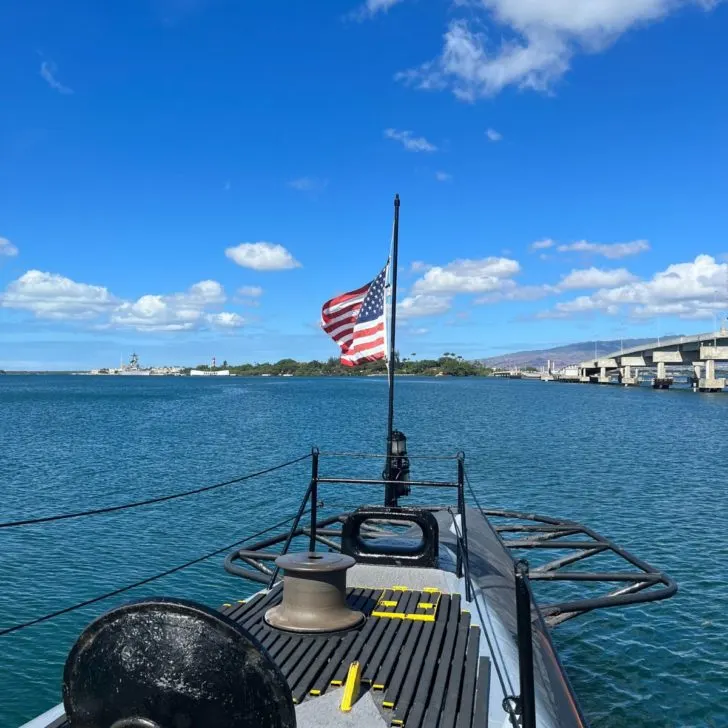 The Pearl Harbor National Memorial is a group of memorials overseen by the National Park Service in Oahu's infamous Pearl Harbor.
It includes the Pearl Harbor Visitor Center, the Pearl Harbor Memorial Theater, USS Arizona Memorial, the Pearl Harbor Visitor Center, a bookstore, and several exhibits.
There are also several additional memorials and museums on site that are managed by separate organizations. This includes the Battleship Missouri Memorial, the Pacific Fleet Submarine Museum (USS Bowfin), and the Pacific Aviation Museum.
Everything is ticketed separately, although you can sometimes package them together for a small discount. Military discounts are also available.
Visitors can go independently or via a tour group. My family and I chose to go the independent route, as we had a rental car. However, we missed out on visiting the USS Arizona Memorial because getting tickets for it is next to impossible!
We tried getting USS Arizona Memorial tickets starting months ahead up to the day we went and still lucked out. So if you have your heart set on going, I recommend going with a tour company.
Not many tour companies will provide transportation from Aulani, but if you need it, the folks at the Holoholo Tours desk in the main lobby of the resort can help arrange a tour with transportation included.
If you prefer to book ahead of arrival, you can contact them at (808) 674-6320.
Learn about Hawaiian history and culture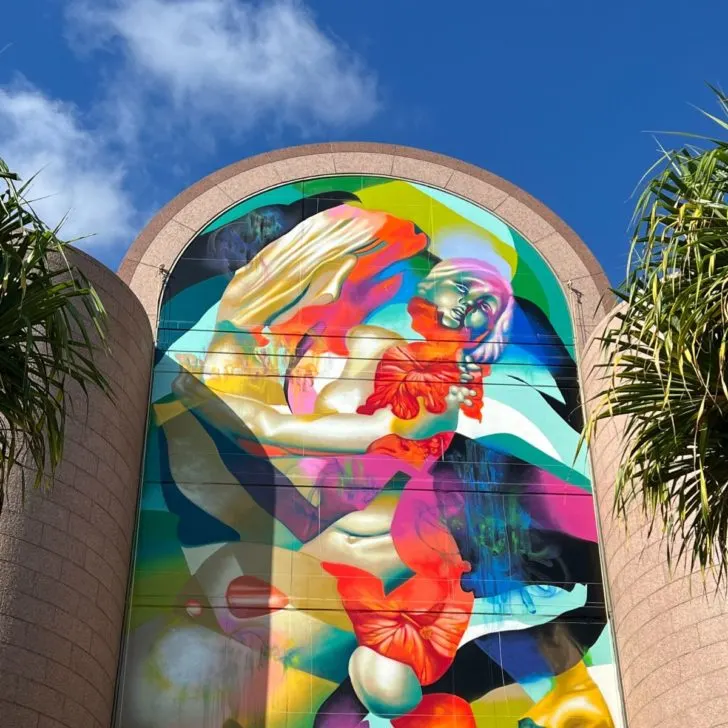 For a fun and educational excursion during your stay at Aulani Resort, I recommend the Bishop Museum, located just a short 30 minute drive away.
This museum is not your average stuffy exhibit hall. It's home to some of the most fascinating artifacts and exhibits on Polynesia and its people.
And if that wasn't enough, they even have a planetarium where you can learn more about wayfinding via the stars.
So go ahead and rent that car, hit the road, and prepare to have your mind blown by the Bishop Museum. Who knows, you may even come back a bit smarter.
Go snorkeling at the Hanauma Bay Nature Preserve
Who says you have to stay put at Aulani all day, every day? Take a break from the resort life and head out to one of Oahu's most breathtaking snorkeling spots, Hanauma Bay.
At Hanauma Bay, you'll feel like you've been transported to an underwater wonderland as you snorkel amidst vibrant coral and a rainbow of tropical fish.
Don't forget to keep an eye out for sea turtles and manta rays gliding silently by. Who knows what other treasures you'll uncover on this day trip adventure to Hanauma Bay?
In order to help preserve and protect the bay, it is only open Wednesday through Sunday, from 6:45 AM to 4 PM. However the last entry is at 1:30 PM and they start clearing out at 3:30 PM.
Reservations for Hanauma Bay are required and can be made starting 2 days ahead of your desired date, starting at 7 AM Hawaii Standard Time.
There are a few exceptions. A small number of "walk-in" tickets are available each day until sold out. In addition, residents of Hawaii can access the bay without a reservation from 6:45 AM to 9 AM, Wednesday through Sunday.
Tickets are $25 for non-Hawaii residents 13 and older, plus a 2.35% service fee. Children 12 and under, residents of Hawaii, and active duty military members and their dependents are free.
If you don't have your own snorkel gear, you can rent gear on site or reserve ahead of time.
Hanauma Bay is 50-60 minute drive from Aulani. Parking is $3 for non-Hawaii residents and $1 for Hawaii residents. Parking is payable by cash only.
Take surfing lessons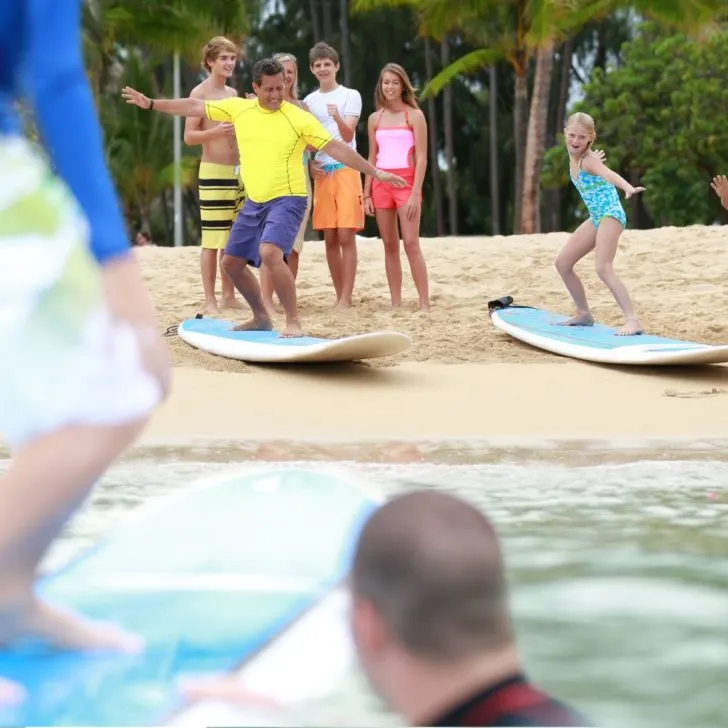 Visiting Oahu without catching a wave is like going to Paris and not seeing the Eiffel Tower, it's just not a complete experience! That's where surfing lessons come in.
Not only will you get to ride the waves like a pro, but the experience of learning to surf in Hawaii is something you won't forget.
Surf HNL runs lessons at Kalaeloa Beach Park, about 20 minutes from Aulani in the town of Ewa Beach. They also host lessons at Ala Moana Beach Park in Waikiki if you'll be down that way.
For lessons in North Shore Oahu, consider North Shore Surf Girls, Jamie O'Brien Surf Experience, or Uncle Bryan's Sunset Suratt Surf Academy.
If you don't have access to transportation, see the Holoholo tour desk in Aulani's main lobby and they can set you up with lessons with a company that includes transportation.
Take a North Shore Road Trip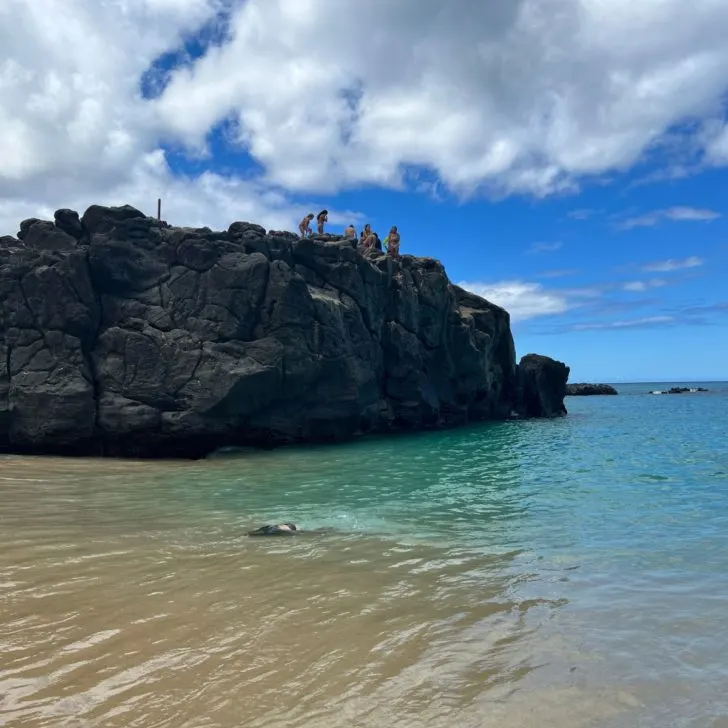 Oahu's North Shore is hands-down my favorite spot on the island. It's super laid-back and not as touristy as Waikiki and not as closed off as Ko Olina.
For this one, you'll need a rental car, which you can arrange for nearby the conference center at the hotel if you didn't get one at the airport.
Here are a few top spots on the North Shore that my family and I visited on our North Shore road trip.
First, we hit up Ehukai Beach to see if we could catch some surfers at Banzai Pipeline. It was a quiet day, so we didn't catch much – but this beach is absolutely stunning and worth a stop for the views.
For slightly calmer surf (at least that day!), we went over to Waimea Bay Beach for a typical beach day filled with swimming, sunbathing, and cliff jumping off a giant rock.
Nearby is Waimea Valley, where you can see a beautiful botanical garden, cultural artifacts, and even a waterfall (Waimea Falls) that you can swim in.
After we got our fill of sun, sand, and sea, we made our wait to the charming town of Haleiwa, where we picked up souvenirs from surf shops and grabbed a snack.
And before we made our way home, we stopped at Laniakea Beach, also known as Turtle Beach, to catch a glimpse of the adorable sea turtles relaxing on the sand.
If you stop here, please make sure you keep at least 10 feet away from the sea turtles at all times.
It is unsafe for both them and us, not to mention illegal. Plus, we're on their land, not the other way around!
Do a Grand Circle Tour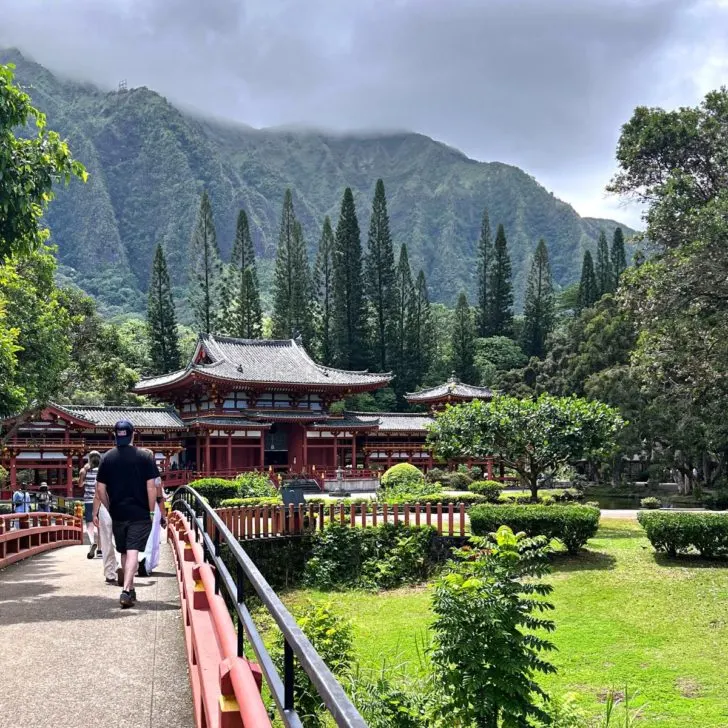 If you only do one tour while on Oahu, make it a Grand Circle Tour! This tour gets its name from its route: a circle around the island to see all its most popular spots.
There are many tour companies that offer this type of tour, sometimes using slightly different names, but most only pick up from resorts in the Waikiki area.
The Holoholo Tours desk in the main lobby can help arrange a tour for you that includes transportation, but it requires a minimum of 8 guests to run.
Aside from that option, there is one tour company I recommend: Oahu Photography Tours.
In addition to being fun tour guides, they will show you how to take great photos, as well as take photos of you!
They have two full-day tours that take you around the island, one that includes sunrise at a local beach and one that includes a nature walk to a waterfall.
I was lucky enough to get a sneak peek to both of these tours before they officially launched – and I highly recommend both!
Side Note: I paid for both tours and am not sponsored by OPT – I truly enjoyed and recommend them!
The only con is that Oahu Photography Tours doesn't do pickup in Ko Olina, unless you arrange for a private tour.
But, if you do the max number of guests for a private tour, you end up actually paying less than if you joined a group – so it might be a better deal in the end if you have a big group.
Which excursions from Aulani are on your must-do list?
From relaxing beach spots to adrenaline-pumping adventures, there is plenty of fun to be had on the island of Oahu!
Whether you want to explore the nearby hiking spots and tropical coastline or take a dive into the world beneath the waves, there's an excursion for everyone.
Let me know in the comments below which excursions from Aulani you'll be booking. Enjoy your stay!
---
About the author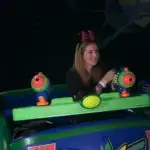 Meg Frost is the creator of The Park Pixie, where she covers Disney World, Disney+, and Disney fandom.
She holds an M.A. in Journalism from Northeastern University and B.S. in Communication & American Studies from University of Miami in Florida.
---