Are you an adrenaline junkie looking for a thrill? If so, Disney World might be the theme park for you!
From classic roller coasters to elaborate amusements that take adventure-seeking to the next level, there are plenty of thrills just waiting to be explored at Disney World.
Get ready as I explore some of their scariest rides at Disney World that will surely get your heart racing and keep your eyes wide open!
Introducing the scariest rides at Disney World
Hold onto your hats, friends! In today's post, I'm counting down the 15 most petrifying rides at Disney World and I'm ranking them from 1 😱 to 5 😱😱😱😱😱.
Now, not every defines scary the same when it comes to rides, so this list is subjective to my personal opinion – but I'm confident in my choices!
From stomach-churning drops to twists and turns that will leave you feeling upside-down and disoriented, these rides in this list are not for the faint-hearted.
And let's not forget the spooky, dark sections and jump-scares that are sure to make you clutch the person next to you.
But, hey, what could possibly go wrong? It's all in good, terrifying fun at the "Most Magical Place on Earth."
Now onto the 13 scariest rides at Disney World, in order of least to most scary (in my opinion, anyway).
15. The Haunted Mansion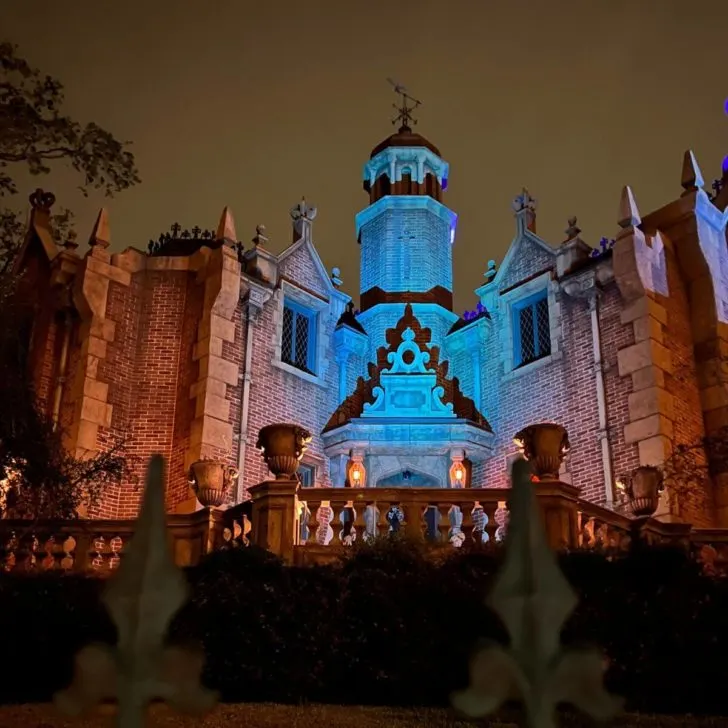 Scare rating: 😱
Welcome foolish mortals, to the Haunted Mansion at Disney World's Magic Kingdom. Dare to experience the dark and mysterious ambiance of this ghastly estate.
From the portraits that seem to follow your every move to chandeliers that sway on their own, this is not your typical slow ride.
But fear not, as the grim grinning ghosts are here to entertain you with their haunting melodies.
Just be sure to keep your hands and feet inside the doom buggy at all times, ok?
While this ride isn't super scary, at least not for adults and older children, it certainly does set a spooky mood.
Plus, it comes with a very fun ride photo – but be warned, you may see more than just your own ghastly reflection in it!
That must be why it has such a big fan base from both Disney World and Disneyland – and has two movies based on it!
14. It's Tough to Be a Bug!
Scare rating: 😱
Are you ready to put your senses to the test? Then buckle up for "It's Tough to Be a Bug!"
This dark and thrilling show takes you deep into the world of creepy crawly bugs, with realistic sensations of bugs crawling under your seat.
Don't worry, though, you won't need a hazmat suit – this is a safe and exciting way to get up close and personal with some of nature's most fascinating creatures.
So if you're feeling brave and ready for adventure, check out "It's Tough to Be a Bug!" at Disney's Animal Kingdom.
13. Soarin' Around the World
Scare rating: 😱
Get ready for a wild ride on Soarin' Around the World at Epcot's Land Pavilion!
This immersive experience has it all – breathtaking views, heart-pumping thrills, and a few jump scares to keep you on your toes.
It's so realistic, you might find yourself wondering: is this real life?
As you glide through the air, soaring over lush landscapes and cascading waterfalls, you'll feel like you're flying without a care in the world.
But don't get too comfortable, because just when you least expect it, a twist or turn will send your heart racing and adrenaline pumping.
12. Big Thunder Mountain Railroad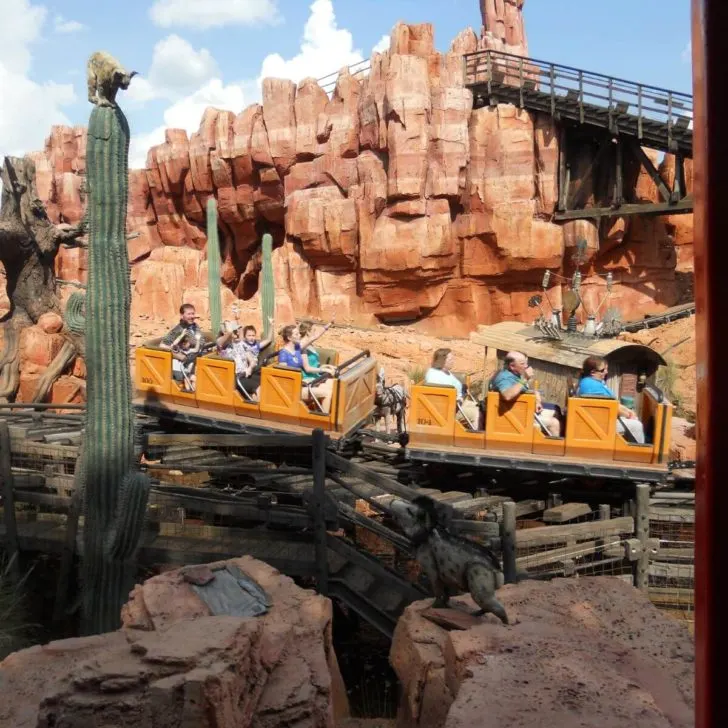 Scare rating: 😱
Looking for a roller coaster that will leave you screaming with both terror and joy? Look no further than Big Thunder Mountain Railroad!
With its rickety tracks and steep drops, this ride is sure to send your adrenaline racing.
And while it's not as scary as other roller coasters at Disney World, it's not as smooth and therefore not as easy to anticipate what comes next.
But if you're up for the challenge, you'll be rewarded with some of the most exhilarating thrills and chills at Magic Kingdom.
11. Seven Dwarfs Mine Train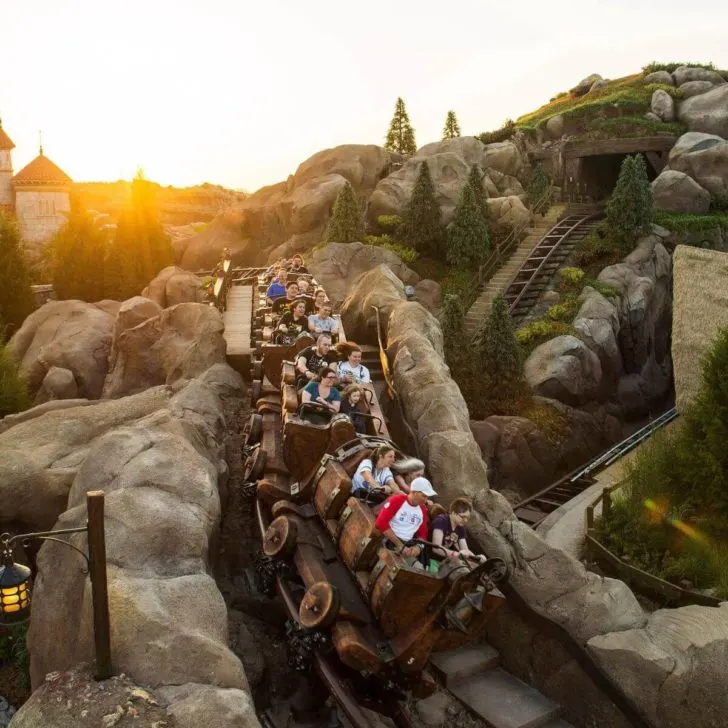 Scare rating: 😱
If you're looking for another thrilling ride at Disney World, you've got to check out the Seven Dwarfs Mine Train in Fantasyland at Magic Kingdom.
This ride may look cute and cuddly on the outside, but don't be fooled – it packs a punch!
Brace yourself for hairpin turns, sudden drops, and unexpected surprises, all while whizzing through the twisted mine shafts. I will say though, it rides pretty smoothly for a roller coaster!
And if you're worried about long waits (which is scary in itself!), purchase a Lightning Lane pass that allows you to skip ahead on the My Disney Experience app.
10. DINOSAUR
Scare rating: 😱😱
Get ready for a wild ride through a land of prehistoric creatures at Disney's Animal Kingdom theme park.
In this adventure, you will encounter some dark and mysterious corners, where life-like dinosaurs lurk just around the (river) bend.
My humor might be the scariest ride of all, but nevermind that – back to the ride!
Don't be fooled by their realistic appearance – these beasts are not to be underestimated. And as you navigate a bumpy terrain in near complete darkness, you'll need to hold on tight as you barrel through the landscape in a Jeep-esque ride vehicle.
But fear not for the journey will be truly unforgettable, so buckle up and prepare to meet the dinosaurs of your dreams – or is it nightmares?
9. Expedition Everest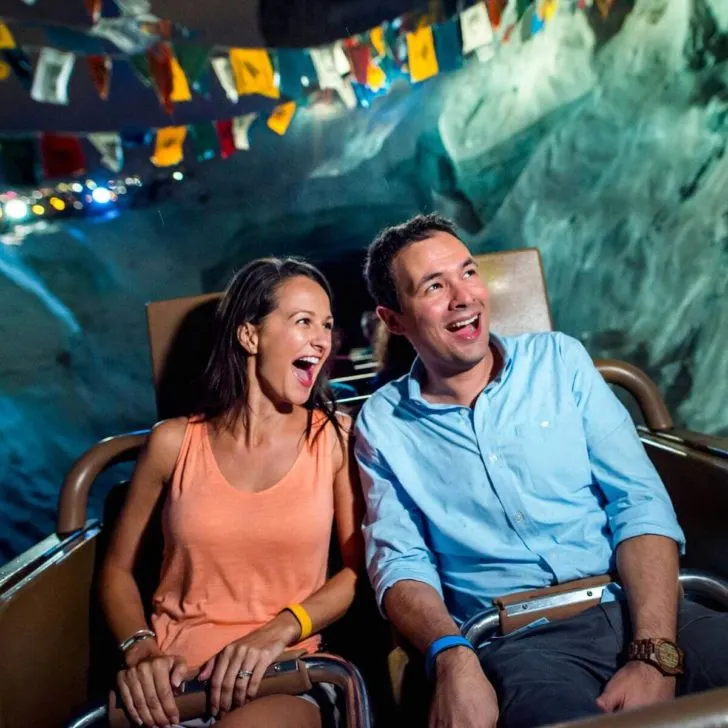 Scare rating: 😱😱
Looking for a thrill? Look no further than Expedition Everest in the Asia section of Animal Kingdom – the ride that will have you screaming for more!
But be warned, the Yeti wants a piece of you, so make sure you hold on tight as you plummet backwards down the mountain. Yes, you read that right, backwards!
This ride will have you experiencing the excitement of climbing to the peak of the world's tallest mountain, only to be taken on a wild journey down the other side.
And you won't be able to use your vision sense since you'll be doing it all backwards!
So, get ready for a hair-raising adventure that will leave you wanting to ride again and again. Just don't forget to watch out for the Yeti!
8. Space Mountain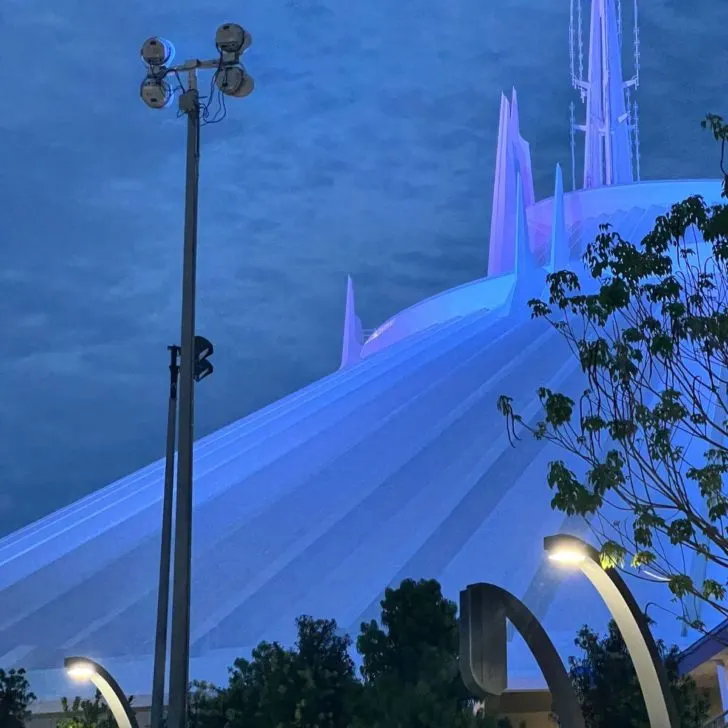 Scare rating: 😱😱😱
Prepare for a heart-pumping adventure as you embark on an intergalactic voyage aboard Space Mountain in Tomorrowland at Magic Kingdom!
This thrilling ride takes you through a pitch-black universe, where the only light comes from the stars and the anticipation builds with each twist and turn.
Your mission? To survive the thrilling journey and return to Earth in one piece.
With speeds of up to 28 miles per hour, you'll feel the rush of acceleration as you travel through space.
I always come off this ride with tears (of joy, I swear) streaming down my face!
7. Star Wars: Rise of the Resistance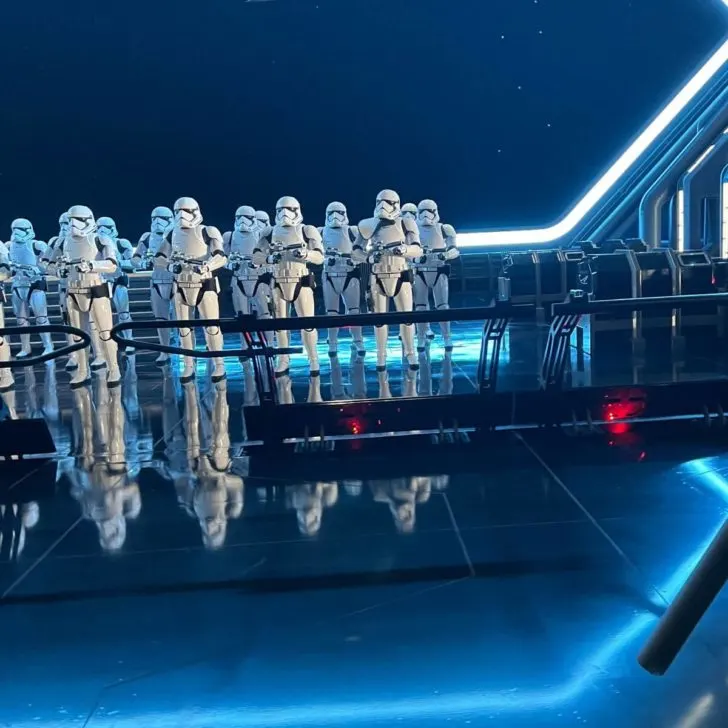 Scare rating: 😱😱😱
Are you ready to join the fight against the First Order?
Rise of the Resistance at Star Wars: Galaxy's Edge in Hollywood Studios will take you on a thrilling adventure as a member of the Resistance, battling against the darkness of the First Order.
But before you can join the fight, you'll have to endure an intimidating pre-show that will have even the bravest Jedi quivering in their boots. So many stormtroopers!
Once you make it through the dark and eerie corridors, prepare for heart-stopping drops and mind-blowing special effects as you race through the galaxy on a mission to save the day.
It's time to choose your side and buckle up for one unforgettable ride.
6. Guardians of the Galaxy: Cosmic Rewind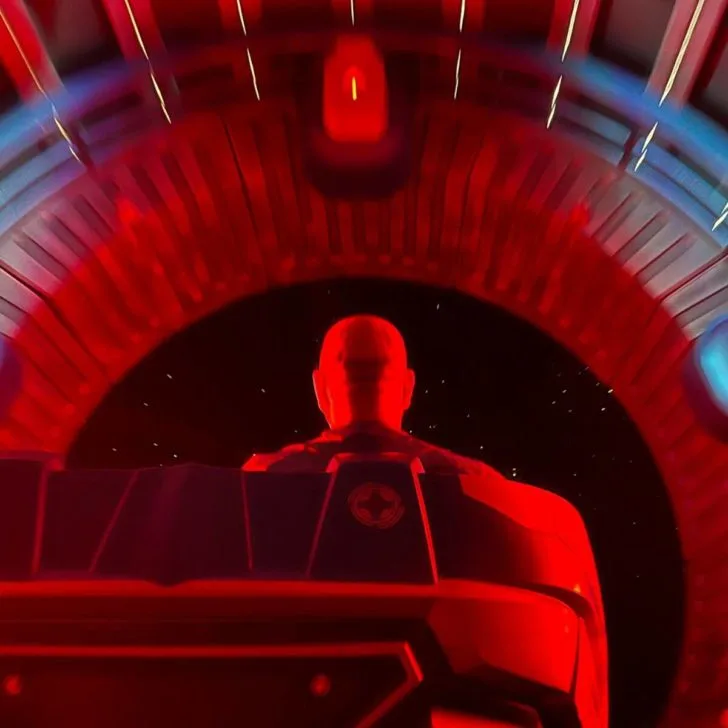 Scare rating: 😱😱😱
It's time to face the music and hang on tight, because the Guardians of the Galaxy: Cosmic Rewind roller coaster at Epcot is a wild ride that will leave you breathless!
Located in the World Discovery section of the park, this coaster is not for the squeamish.
What sets it apart from other Disney World attractions is its virtual queue, which allows you to explore other areas of the park as you wait for your turn to board.
But don't let that distract you, because once you're strapped in, the real fun begins.
As the coaster races through space, you'll be surrounded by intense sound effects and a killer soundtrack – just like the Guardians movies.
Whether you're a fan of the Guardians of the Galaxy franchise or just looking for a thrill, this ride is a must-try. Just be sure to hold on tight!
5. Avatar Flight of Passage
Scare rating: 😱😱😱😱
Have you experienced the Avatar ride, Flight of Passage, at Disney's Pandora in Animal Kingdom?
This ride is so realistic that you'll truly feel like you are flying on the back of a banshee through Pandora.
But beware of a few jump scares and drops that will leave you gripping the handlebars.
It's worth it though, especially when you soar through the bioluminescent forest and glide over the Na'vi River.
Overall, be prepared to have your breath taken away – both from the excitement and from the breathtaking views.
Avatar Flight of Passage is not for those who get motion sickness easily, but if you're looking for a thrilling adventure, then this is the ride for you.
4. Summit Plummet
Scare rating: 😱😱😱😱
We're gonna take a detour for this ride, as it's at one of Disney World's water parks, Blizzard Beach.
And while you'll need a separate park ticket to ride it (ie, no park hopping), if you're into water rides and thrill rides, this one's right up your alley and well worth the added cost.
Summit Plummet is not for the faint of heart. In fact, it's not for anyone who values their stomach remaining in one piece.
As you climb the stairs to the top, your anticipation builds, and your palms begin to sweat. But nothing can prepare you for the stomach-dropping sensation you experience as you hurtle down the slide at breakneck speeds.
This 120-foot near vertical free fall waterslide is the ultimate thrill ride with riders reaching up to 60 miles per hour on the way down.
If you're brave enough to take on Summit Plummet, just remember to hold on tight and enjoy the ride!
3. The Twilight Zone Tower of Terror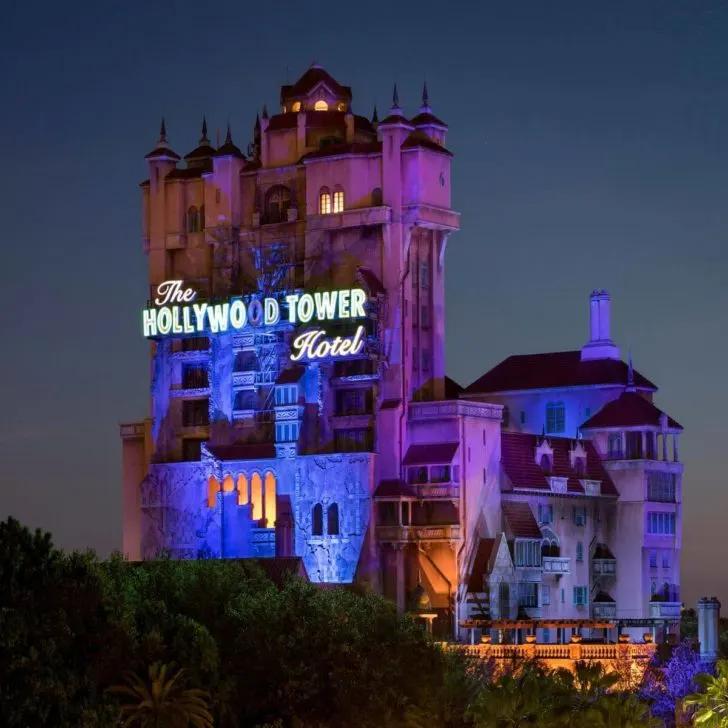 Scare rating: 😱😱😱😱
Are you brave enough to face The Twilight Zone Tower of Terror at Hollywood Studios? This ominous ride will put even the most daring thrill-seekers to the test.
The question is, will you make it out alive or plummet into oblivion?
With heart-stopping drops and spine-tingling twists, the Tower of Terror is not for the easily queasy.
But for those who dare to take on the challenge, the reward is a rush of adrenaline unlike any other.
So, gather your courage, strap in tight, and hold on for dear life as you take on the Tower of Terror. Good luck!
2. Rock 'n' Roller Coaster Starring Aerosmith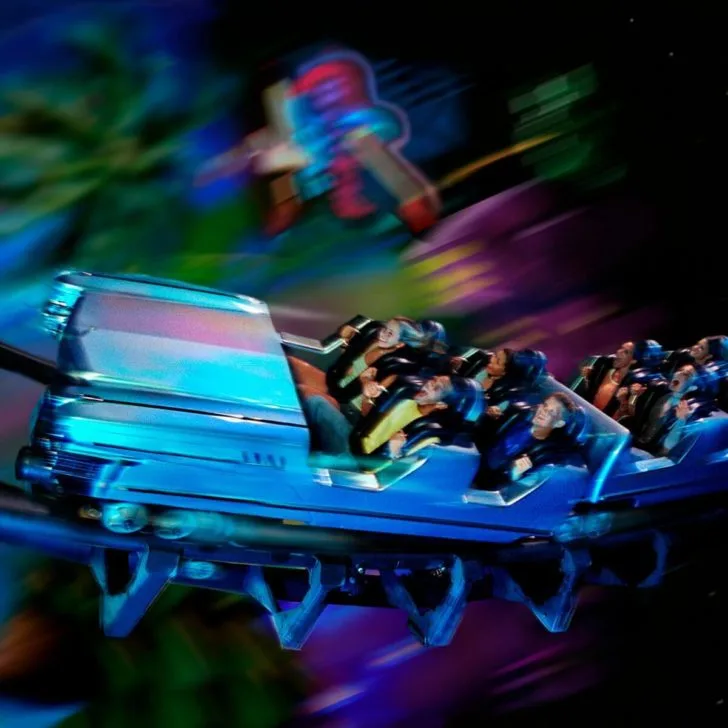 Scare rating: 😱😱😱😱
Are you ready to rock the ride of your life? Look no further than Rock 'n' Roller Coaster starring Aerosmith at Hollywood Studios.
With not one, not two, but three heart-pumping inversions, be prepared to experience the thrill of going upside-down like a true rockstar.
Hang on tight as forces up to 5G propel you through a darkened soundtrack of Aerosmith's greatest hits.
This coaster is for those who crave adrenaline and the ultimate thrill ride – plus a rockin' soundtrack.
Get ready to rev up your engines and scream "I love rock 'n roll!" as you blast off into the rockstar stratosphere.
1. Mission: SPACE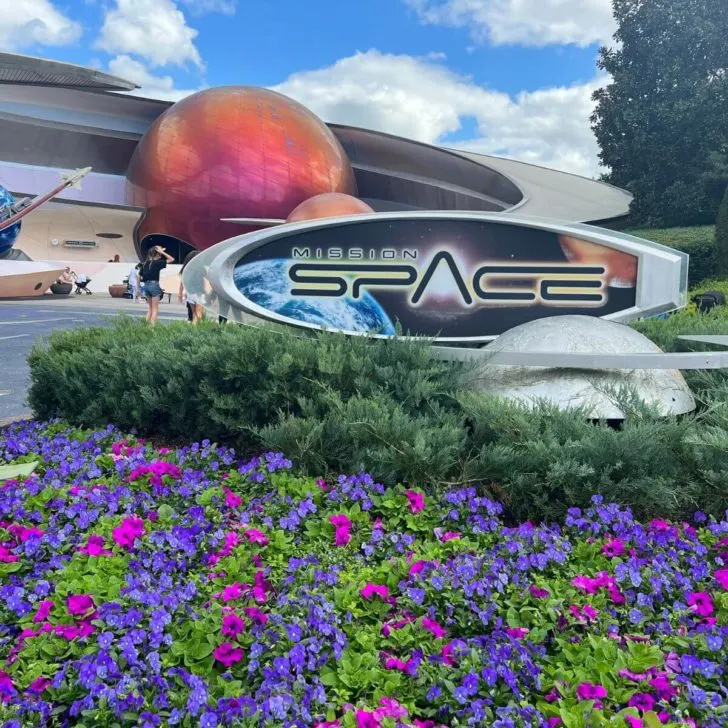 Scare rating: 😱😱😱😱😱 (Orange) & 😱😱😱 (Green)
Blast off into space with Mission SPACE, the ultimate astronaut training experience at Epcot!
Strap in and prepare for takeoff as you get to choose between two heart-pumping options: the Orange Mission or the Green Mission.
Feeling daring? Opt for the Orange Mission and feel the intense forces of up to 2.5G as you simulate a launch into deep space.
Prefer a more gentle ride? The Green Mission will take you on a tour around Earth's orbit without the intense G-forces.
Whichever option you choose, Mission SPACE is the perfect adventure for any space enthusiast looking to train like a real astronaut.
Are you ready for liftoff? 3…2…1…
Which rides at Disney World are the scariest for you?
One thing I've learned over my many visits to Disney World is that what one thinks is scary is very personal and your reaction could come as a surprise – especially the first time you go on a ride.
If you're looking for nervous laughter, screams, and chills down your spine, then these attractions might just be for you! After all, what better way to make memories than thrills like this?
So seek out your own version of terror, enjoy it, and revel in the fact that you made it through unscathed. Whether someone enjoys a gentle jolt or an adrenaline rush, we can all find our type of scary at Disney World.
And before you read the next post, I just wanted to give a special shoutout to the now-closed Great Movie Ride at Hollywood Studios, which terrorized me for years thanks to its scene from Alien.
And also to the now-closed Stitch's Great Escape at Magic Kingdom, which made me feel claustrophobic even though I'm not usually. I also don't miss Stitch's burps.
Now the only question remains: which rides at Disney World are the scariest for you?
---
About the author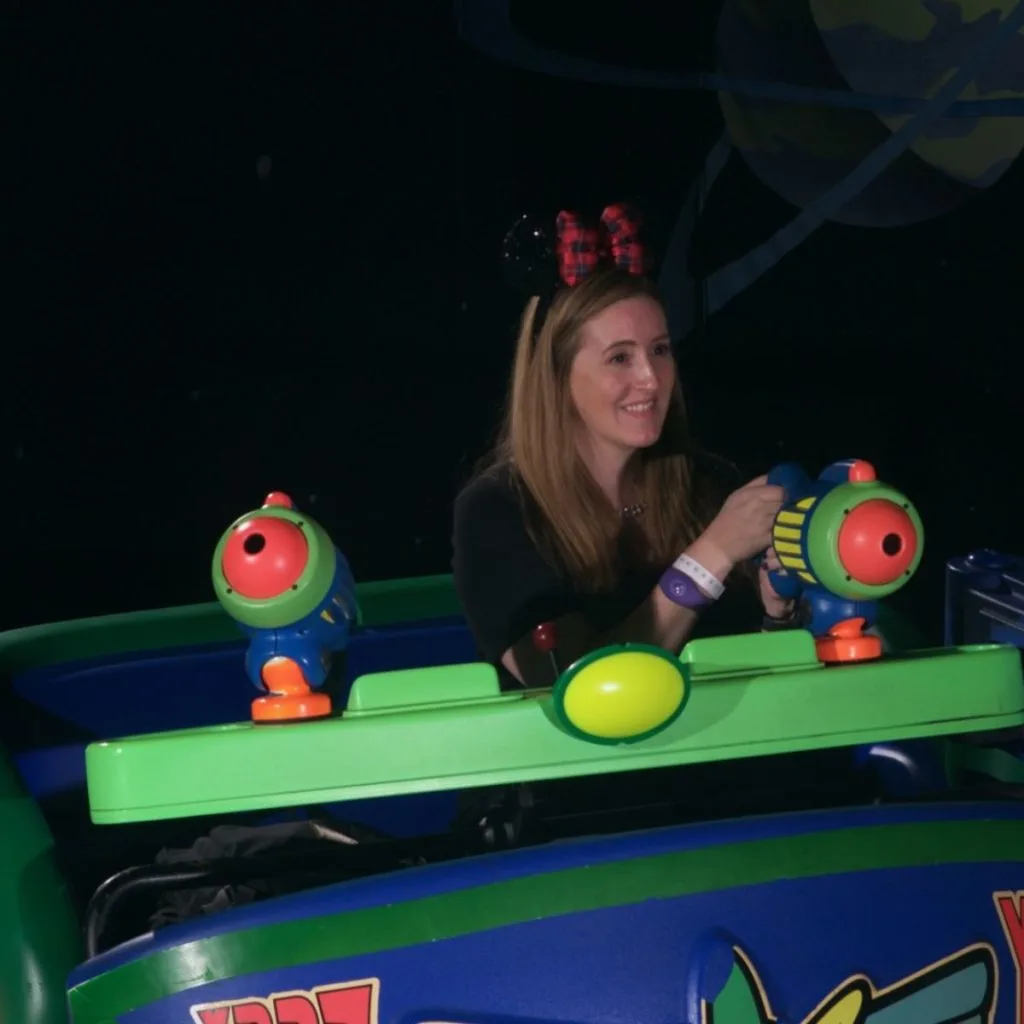 Meg Frost is the creator of The Park Pixie, where she covers Disney World, Disney+, and Disney fandom.
She holds an M.A. in Journalism from Northeastern University and B.S. in Communication & American Studies from University of Miami.
---