Hey thrill-seekers, are you ready to rock and roll? Well, it's time to hop on board Rock 'n' Roller Coaster Featuring Aerosmith!
This ride isn't for everyone, but it's definitely worth a spin if you're looking for a heart-pounding adventure.
If you've been wondering things like Is Rock 'n' Roller Coaster scary? and other common questions, this post is for you!
Keep on reading to find out everything you need to know before taking the plunge!
What is Rock 'n' Roller Coaster?
Rock 'n' Roller Coaster is an indoor roller coaster located at Disney's Hollywood Studios in Disney World.
It's one of the most thrilling attractions in the park, featuring a unique theming concept that allows you to rock out to Aerosmith tunes while experiencing high-speed drops and loops.
It was built by Vekoma Ride Manufacturing alongside Walt Disney Imagineers. Vekoma also assisted with many other roller coasters at Disney World, such as Seven Dwarfs Mine Train and TRON Lightcycle Power Run.
Which park is Rock 'n' Roller Coaster in?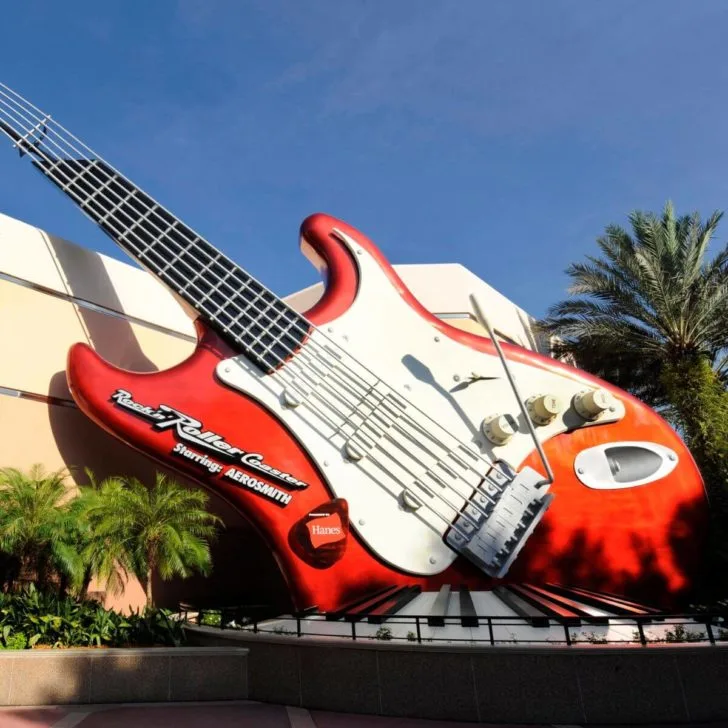 Rock 'n' Roller Coaster is located in Disney's Hollywood Studios. You can find at the end of the Sunset Boulevard area of the park, across from the Hollywood Tower Hotel.
There's a giant red guitar on the outside of the building, so it's pretty easy to find!
Lastly, there used to be a second version of this coaster at Walt Disney Studios Park at Disneyland Paris, but it closed in 2019 and was replaced in 2021 by Avengers Assemble: Flight Force.
When did Rock 'n' Roller Coaster open?
Rock 'n' Roller Coaster opened on July 29, 1999. It's been entertaining thrill-seekers for over two decades now!
How long is Rock 'n' Roller Coaster?
The ride itself is one minute and 22 seconds long, but the queue line can take up to an hour or more, especially during peak seasons.
But don't worry, there are plenty of props and decorations to keep you entertained while you wait.
Does Rock n Roller Coaster go upside down?
Yes, Rock 'n' Roller Coaster goes upside down three times via one corkscrew and two loops. It's super intense!
How fast does Rock n Roller Coaster go?
Rock 'n' Roller Coaster goes up to almost 60 mph. In fact, when it launches, it gets up to 57 mph in less than 3 seconds! That's pretty fast!!
Can I use Genie+ or Lightning Lane?
Yes, you can use Genie+ to reserve a spot on Rock 'n' Roller Coaster and I definitely recommend it.
However, keep in mind that this ride is one of the most popular in the park, so you may want to book your reservation early in the day.
Is rider switch available?
Yes, Rider Switch is available for this ride. If you have a little one who doesn't meet the height requirement, you can still ride.
Simply ask a Cast Member about the Rider Switch program, and they'll explain how it works and have your second party stand to the side while the first party rides.
Are there any accessibility features?
Guests in ECVs must transfer to a wheelchair before riding. In addition, guests in a wheelchair must transfer into the ride on their own or with assistance of their party. Cast members are not allowed to assist with this.
As always, if you have any concerns about accessibility, don't hesitate to speak with a cast member. They are always super helpful and knowledgable on making sure guests needs are met.
Are there any health or safety restrictions?
Yes, there are a few health and safety restrictions to keep in mind.
This ride is not recommended for those who are pregnant, have heart or back problems, or suffer from motion sickness.
Additionally, guests must be at least 48 inches tall to ride.
Lastly, due to the restraints on this ride, some passengers of size might be unable to ride. There aren't any test seats outside of the building, so if you are unsure, you'll need to wait in line and give it a try first.
Is there a ride photo?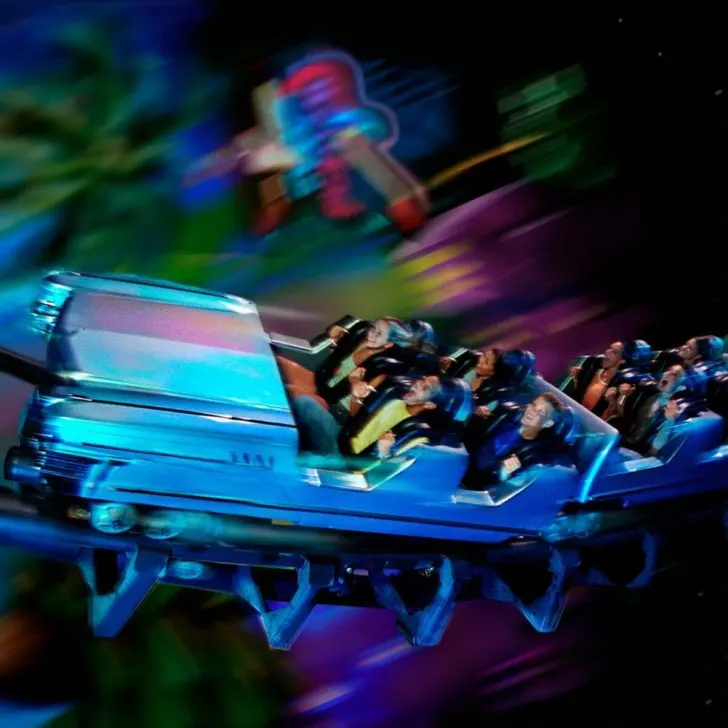 Yes, there is a ride photo available for purchase. It's taken toward the beginning of the ride when it goes from 0 to 57 mph in under 3 seconds. So as you can imagine, it captures quite the variety of silly faces!
If you use Genie+, your ride photo will be included for free and will be automatically added to your My Disney Experience account automatically, as long as you are wearing a MagicBand for it to detect your presence.
What are the Rock n Roller Coaster songs?
Each ride car has its own Aerosmith song or a remix of several hits. The songs that play are:
Back in the Saddle and Dude (Looks Like a Lady) remix
Love in an Elevator and Walk This Way remix
Nine Lives
Sweet Emotion
What Kind of Love Are You On?
Young Lust, F.I.N.E., and Love in an Elevator remix
Is the Rock 'n' Roller Coaster getting a new theme?
Rumors about a re-theme have plagued this ride for years, particularly in early 2023 when this ride had an extended refurbishment.
Allegedly Aerosmith was going to be removed and a new band was going to sponsor the ride. However, that did not happen.
As of right now, Disney has not announced that this ride will be re-themed with a new band. But if I'm being honest, I wouldn't mind it if they did!
I like Aerosmith, but a new band, or a mix of songs from different bands like on Cosmic Rewind, would be welcome, in my opinion.
When is the best time to ride Rock 'n' Roller Coaster?
The best time to ride Rock 'n' Roller Coaster is early in the morning or during Fantasmic!, when crowd levels are low or preoccupied with other popular attractions.
Lines can get pretty long during peak seasons, so try to ride it as soon as the park opens or during the last few hours of the day when crowds start to die down.
Alternatively, I've always found Hollywood Studios to have low crowds during rainy days.
One time my sister and I rode this ride about 5 times in a row with barely any wait all because it had started raining toward the end of the day!
Is Rock 'n' Roller Coaster scary?
Well, that's a subjective question. Compared to other Disney World attractions, it's definitely one of the most intense rides and may be too much for some guests, even those who are fans of other roller coasters, like Space Mountain or Big Thunder Mountain Railroad.
You'll be launched from 0 to 57 miles per hour in just a few seconds while experiencing several loops, a corkscrew, and plenty of drops.
Overall, if you're not a fan of roller coasters, this ride might not be for you. But if you're looking for a thrilling adventure, buckle up and get ready to rock!
Are you ready to ride Rock 'n' Roller Coaster?
Rock 'n' Roller Coaster is definitely not for the faint of heart, but it's a must-ride attraction for thrill-seekers visiting Disney's Hollywood Studios.
Whether you're a fan of Aerosmith or just looking for an adrenaline rush, this ride will deliver.
Don't forget to check out the ride photo and use the Rider Switch program if needed. And most importantly, have fun and don't forget to scream!
Up next, check out these posts:
---
About the author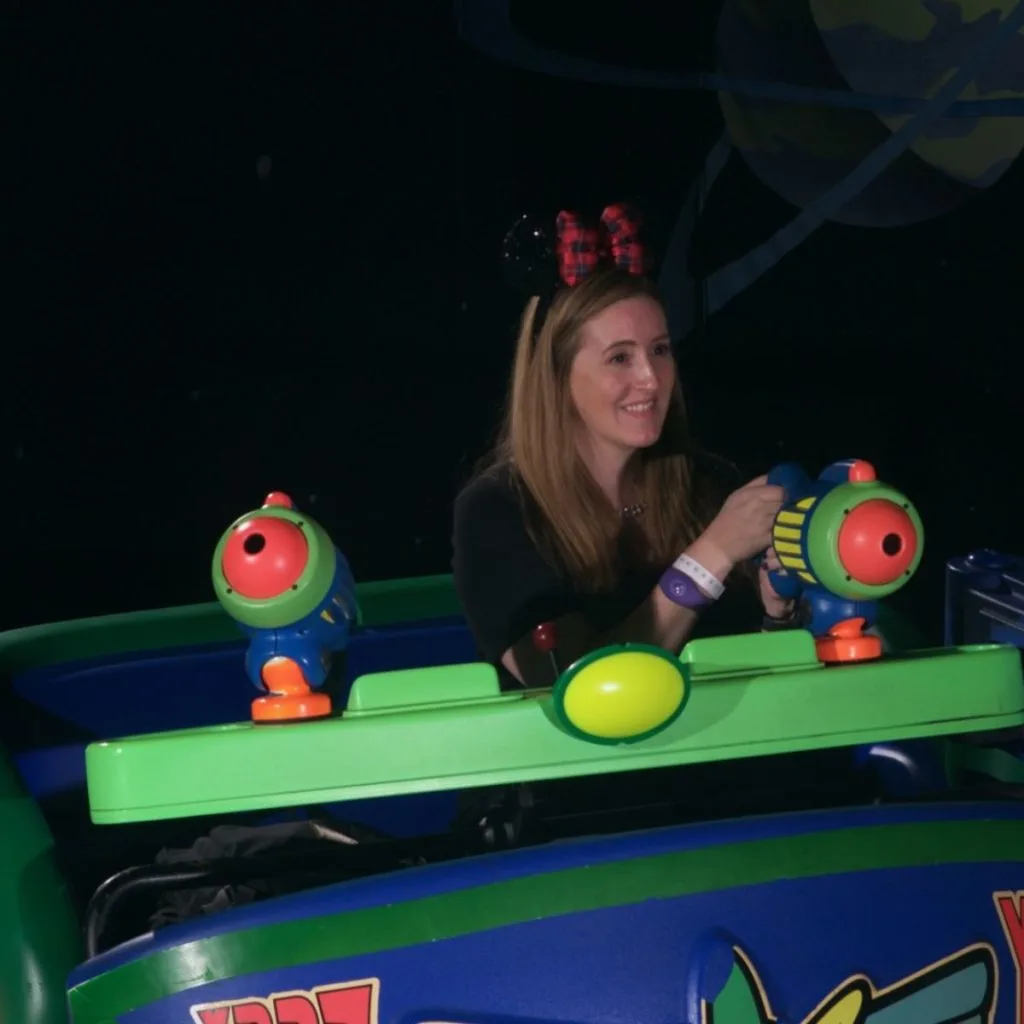 Meg Frost is the creator of The Park Pixie, where she covers Disney World, Disney+, and Disney fandom.
She holds an M.A. in Journalism from Northeastern University and B.S. in Communication & American Studies from University of Miami.
---