The Disney MagicBand Plus is the newest generation of Disney's wearable tech that is packed with features to make your experience extra easy and fun at Walt Disney World and Disneyland Resorts.
Let's jump right into what the MagicBand+ is so you can decide if it's right for you.
This post includes affiliate links. If you click on or make a purchase from an affiliate link, I might earn a commission at no extra cost to you.
What is a Disney MagicBand Plus?
Like its predecessor, MagicBand 2, the Disney MagicBand+ is a wrist strap or bracelet that can be used in a variety of ways at the park.
So what does MagicBand+ do?
Both the MagicBand 2 and Disney MagicBand+ can be used to:
Open your Disney hotel room door
Enter one of the Disney parks (with valid admission linked)
Tap to pay for purchases throughout the parks and resorts*
Check into Lightning Lanes and virtual queues
Connect Disney PhotoPass images to your Disney account
*As of September 2023, this is only available at Walt Disney World Resort.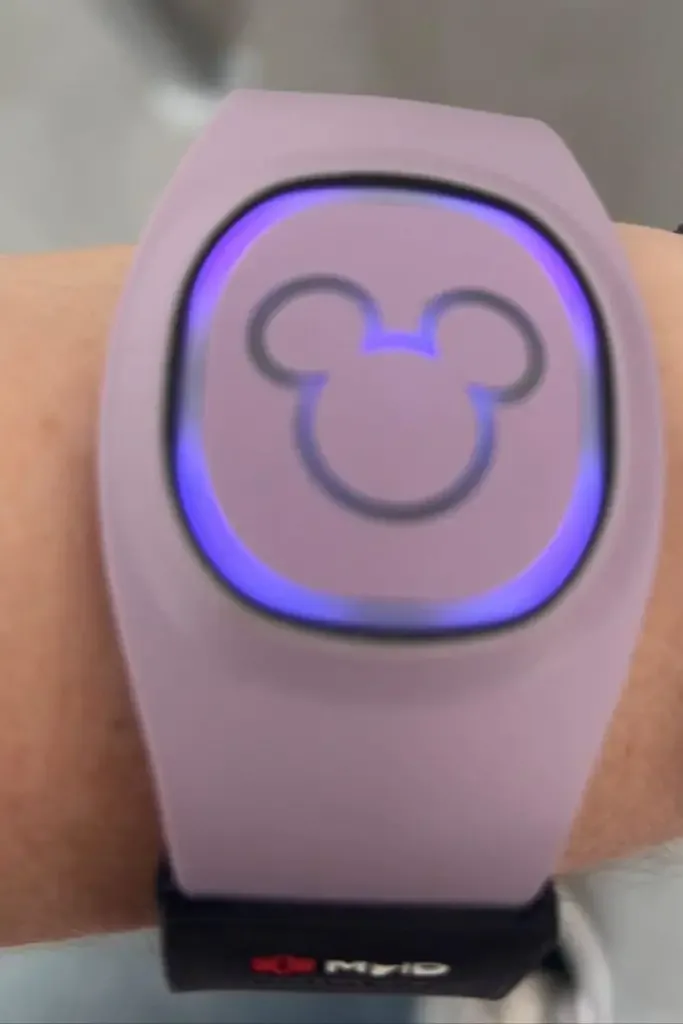 On top of all of these great features, there are a few new ones specific to the MagicBand+.
First, the Disney MagicBand+ is rechargeable, so no more paying for a band that will die when the battery runs out.
Disney states that it lasts approximately 3 days, but reports are already rolling in from fans on social media that some of the activities easily drain the battery.
The MagicBand+ bands also have color changing lights that interact with lightning lanes, park entry, and so on.
For example, when I checked into TRON Lightcycle Power Run, I noticed my band would glow and pulse at certain points along the way in.
Plus, you can change the color that lights up on your band via the My Disney Experience app or website.
Yet another new feature, and perhaps my favorite thing about MagicBand+, is that you can turn on interactive experiences around the parks! More on that in the next section.
Disney MagicBand Plus interactive experiences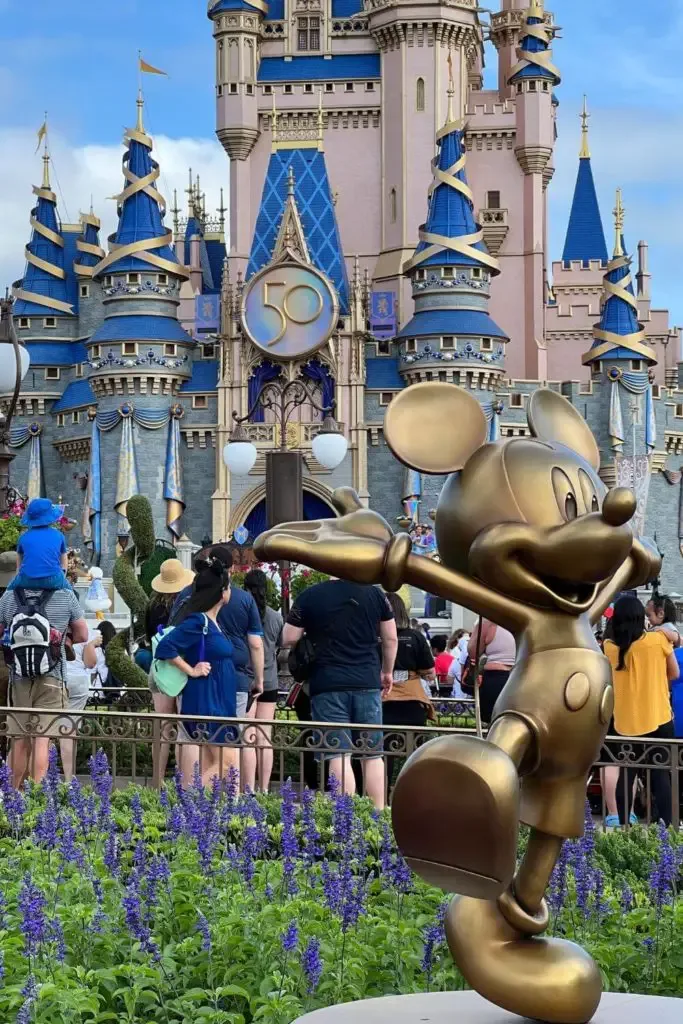 So far there are two interactive experiences that can be "turned on" with the MagicBand Plus, with more likely to be added.
First up are the interactive statues. As part of Disney World's 50th anniversary, 50 golden statues were placed throughout the 4 theme parks, each of which interact with MagicBand+.
For example, if you wave your band by some statues, they will say a catchphrase or play a quick tune.
Although the 50th celebration is over, the Walt Disney company officially stated that the statues will stay in place.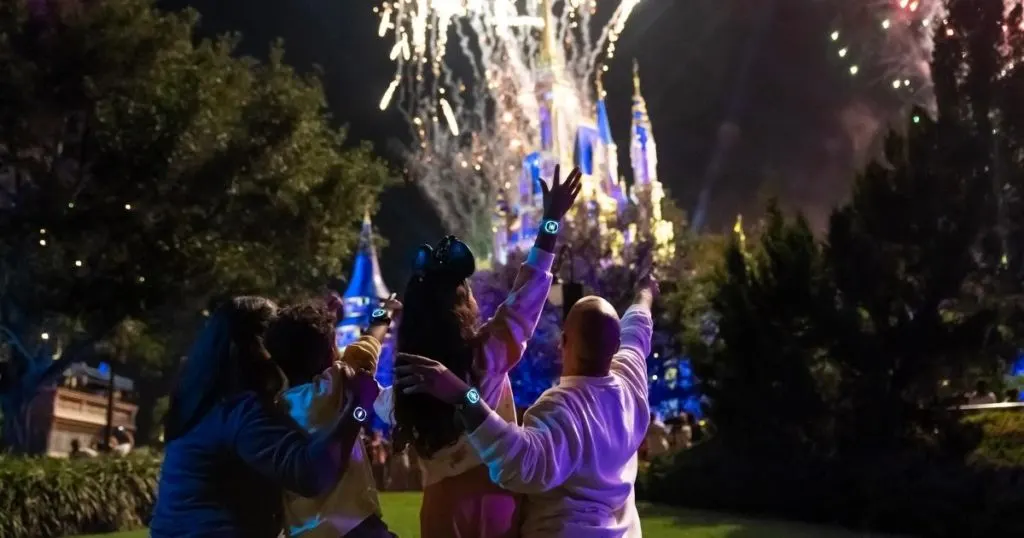 The bands will also light up along with some of the parks' nighttime shows and fireworks, as well as each of the 4 "Beacons of Magic":
Cinderella Castle at Magic Kingdom
Hollywood Tower Hotel at Disney's Hollywood Studios
Spaceship Earth at Epcot
Tree of Life at Disney's Animal Kingdom
At Disney California Adventure and Disneyland, the band interacts with the nighttime shows and at Avengers Campus.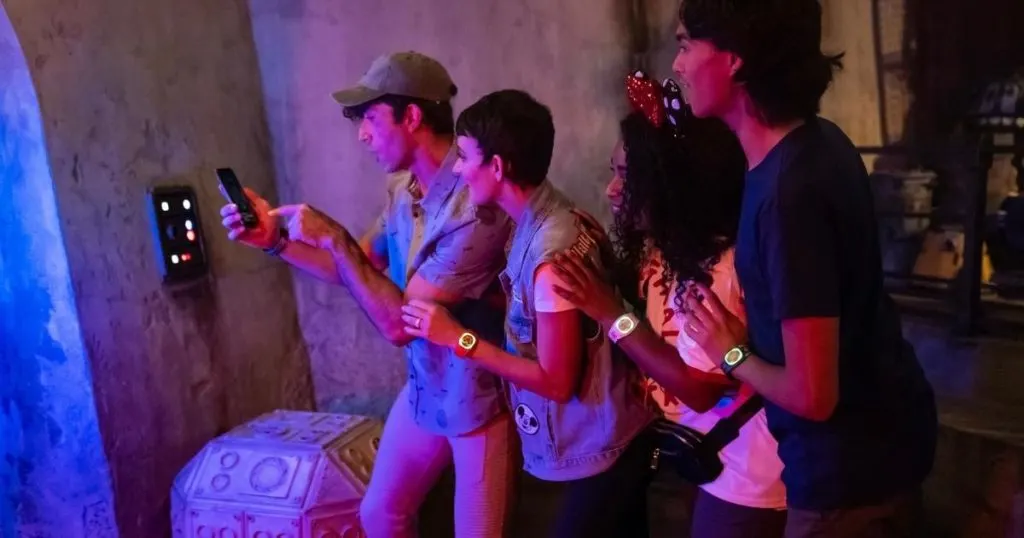 The second experience is the add-on to the popular Star Wars: Batuu Bounty Hunters game on the Play Disney Parks app.
While you play the bounty hunter game, the band adds vibrations and light patterns to help guide throughout Star Wars: Galaxy's Edge at Disney's Hollywood Studios.
Are regular MagicBands or MagicMobile going away?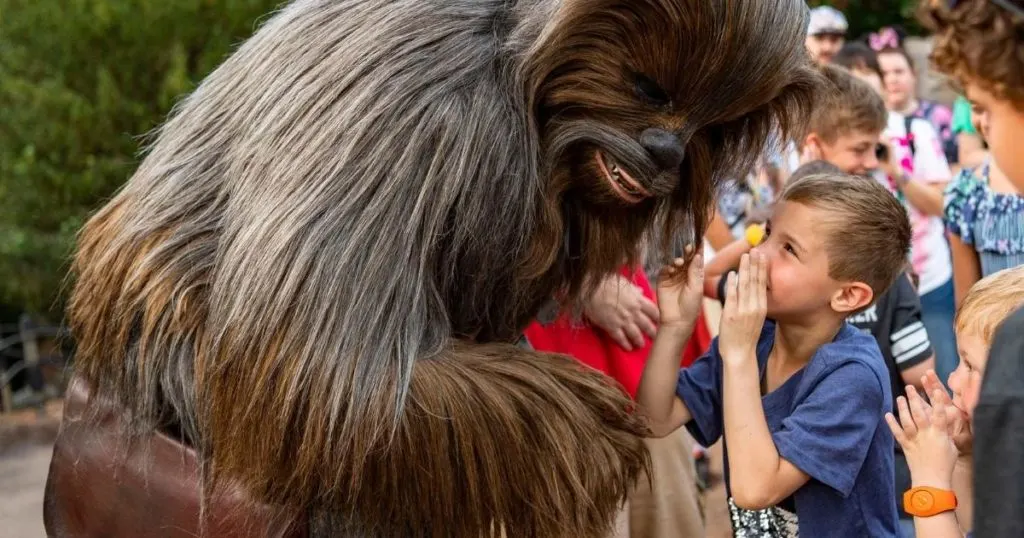 No! The regular MagicBands aren't going away and will be available online and in select shops throughout Disney World.
In addition, you can still use MagicMobile on your smartphone.
The Disney MagicBand+ is simply another option to help make your visit extra easy and fun!
Are Magic Bands waterproof?
Yes, Magic Bands are waterproof. Therefore, they can be worn on water rides, in a pool, or even the shower! This applies to all models of the MagicBand, including the MagicBand+.
Are there any accessories?
You bet! Charms and decals for the regular MagicBand will work with Disney MagicBand Plus. The same goes for MagicBand keepers to ensure it doesn't snap off your wrist, such as BitBelt.
BitBelt is a tiny silicone ring that slides over the band while on your wrist to prevent it from popping off. It's kind of like the loop on a belt that holds the long end of the belt down.
This genius MagicBand accessories is available on Amazon and Etsy.
And yes – they definitely are worth it. The one time I forgot to bring some with me, my niece lost her MagicBand when it popped off her wrist in a crowd! Plus, they are only about $10 for a pack of 12!
Another great accessory for MagicBand+ is an Apple Watch adapter so that you can attach the puck from the MagicBand to your watch.
When will it be available?
Although the band has been on sale for a bit, the Disney MagicBand Plus capabilities were officially launched on July 27, 2022.
Where can I get Disney MagicBand Plus?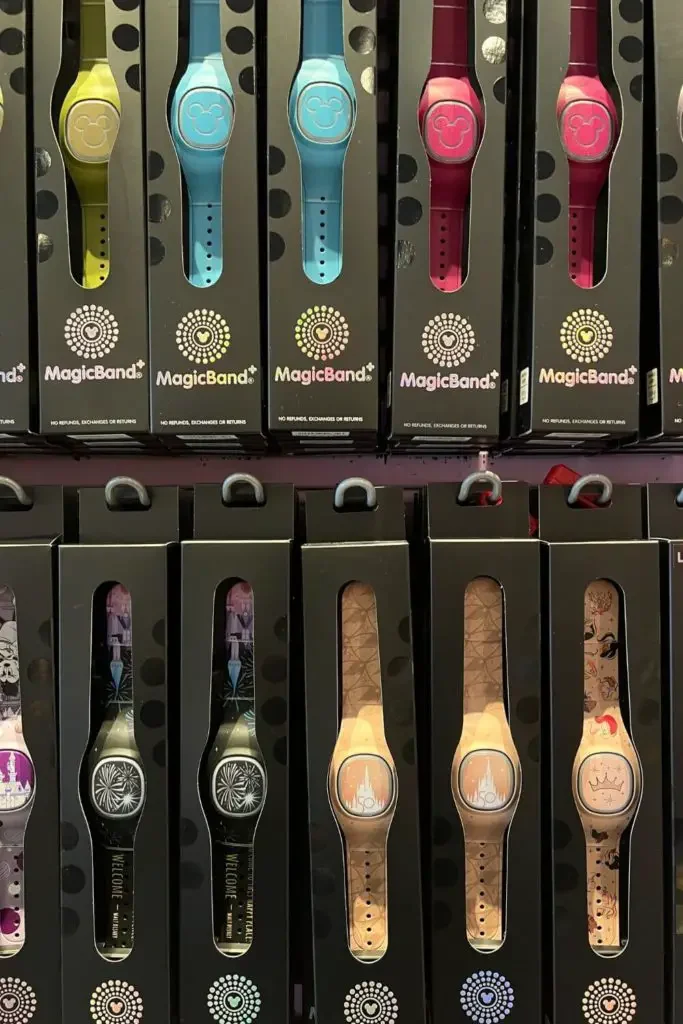 The Disney MagicBand Plus is available on shopDisney.com, as well as at select shops at Disney World resort shops, theme parks, and Disney Springs. The price starts at $34.99, but you can sometimes get them for less (I've seen 'em for $19.99!).
Annual passholders can order a MagicBand+ at a discount, but not while at the park.
Walt Disney World guests can get a discount up to 6 days before a scheduled stay through their resort reservation.
How to link a MagicBand+ to a theme park ticket
To link a MagicBand+ to park tickets, follow the steps below:
Turn on your MagicBand+ and tap it to the back of your smartphone.
If you don't have the Disneyland or Disney World app yet, you'll be prompted to download the Disney World or Disneyland app, depending on which park you're scheduled to visit next.
Follow the on screen instructions for linking your MagicBand+ to your account.
Will you be getting a Disney MagicBand plus for your next trip?
For more Disney vacation planning tips, check out these posts:
---
About the author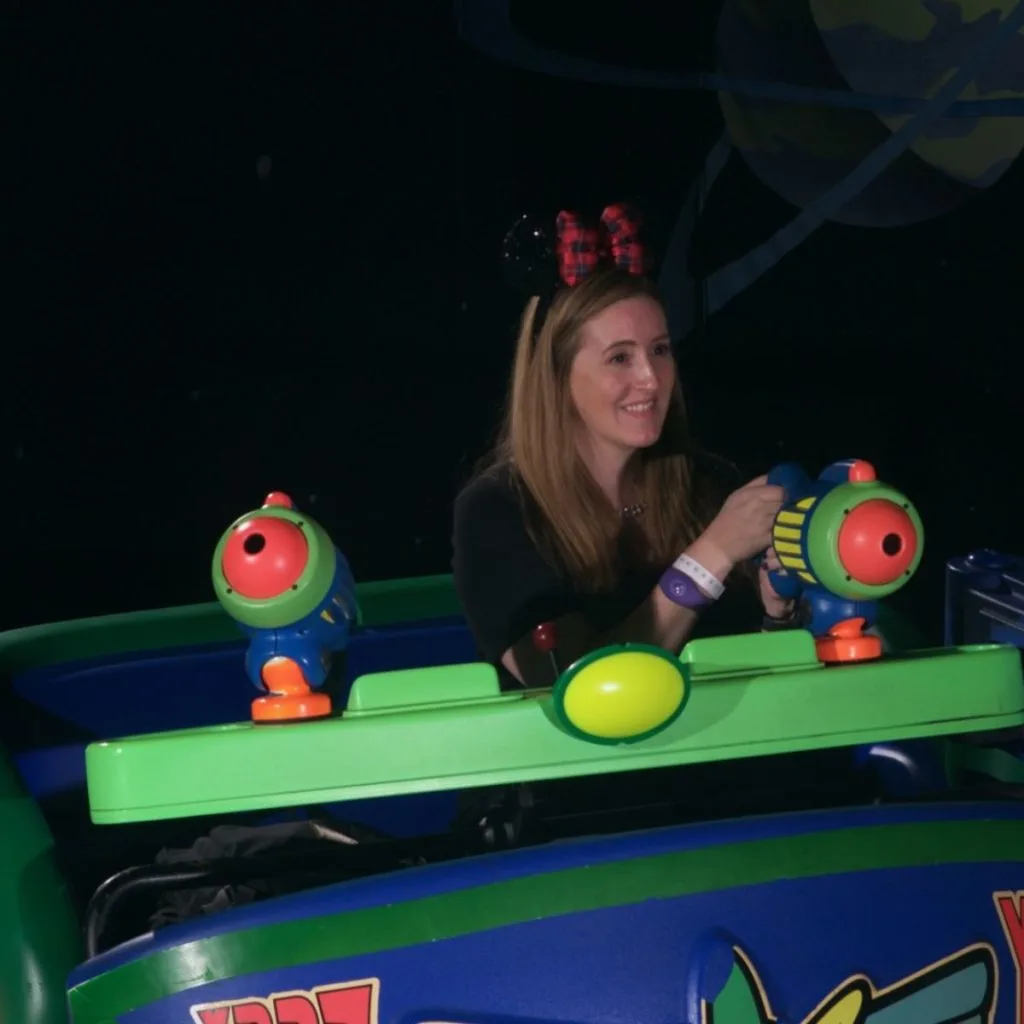 Meg Frost is the creator of The Park Pixie, where she covers Disney World, Disney+, and Disney fandom.
She holds an M.A. in Journalism from Northeastern University and B.S. in Communication & American Studies from University of Miami.
---
This post was originally published on July 28, 2022. It was last updated September 26, 2023.