So you've booked a Disney World vacation, secured your dining reservations, and snagged some FastPasses. Now it's time to decide what to pack for Disney World!
Don't just throw some clothes in a suitcase and call it a day. That can definitely lead to regret or misery (not to be negative, but it's kind of true).
You don't want to get stuck at Disney Springs wasting your souvenir money on something you forgot at home or buying a new pair of shoes because the ones you packed are leaving blisters all over your feet.
Keep reading for my tips on what to pack for Disney World, as well as what to wear to Disney World. To top it all off, you can download a free printable packing list for Disney World if you sign up for my email list later in the post. Happy packing!
This post includes affiliate links. If you click on or make a purchase from an affiliate link, I might earn a commission at no extra cost to you.
What to put on your packing list for Disney World
I've been to Disney World at all times of the year, so I've got a good idea on what to pack – especially when it comes to your park bag.
Keep reading for the top 12 items to add to your packing list for Disney World.
Face mask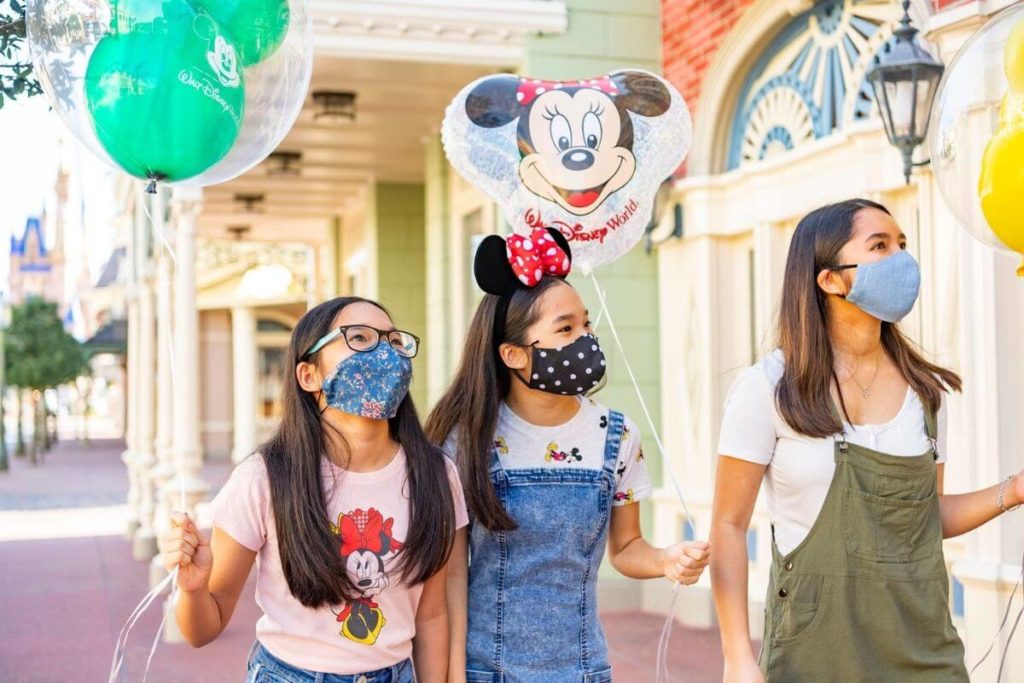 Masks are still required when traveling by mass transport, such as by plane, so if you'll be traveling by train or some other means of mass transport, be sure to pack a mask so you don't get denied boarding.
In addition, if you plan to use Disney's buses, monorail, or Skyliner transportation systems, you'll need a mask there, too.
Hair accessories
What you pack for your hair is totally up to personal preference.
If you have long hair, I recommend stashing a hair tie or 2 in your park bag. Sometimes it gets so hot that you'll want to get your hair off your neck or it might get in the way on rides. Trust me on this one!
A hat might be a good idea too. It's great for sun coverage, protecting your scalp from sunburn, and covering messy hair from sweating.
Last up – this wouldn't be a blog post about what to pack for Disney World if I didn't mention the iconic Minnie ears! This accessory is not only a ton of fun, they're a great way to keep your hair out of your eyes, too.
You can find Minnie ears on ShopDisney, Etsy, or licensed Disney-focused small businesses (like BBBrooke.com). If you don't have a pair and don't get around to purchasing them ahead of your trip, pretty much every gift shop at the Disney resorts and parks sells them, so they're easy to find at Disney World too.
Hand sanitizer
Even before the pandemic, I always brought hand sanitizer with me to the parks. It's easier to find free sanitizer throughout the parks now, but I prefer to have some with me at all times.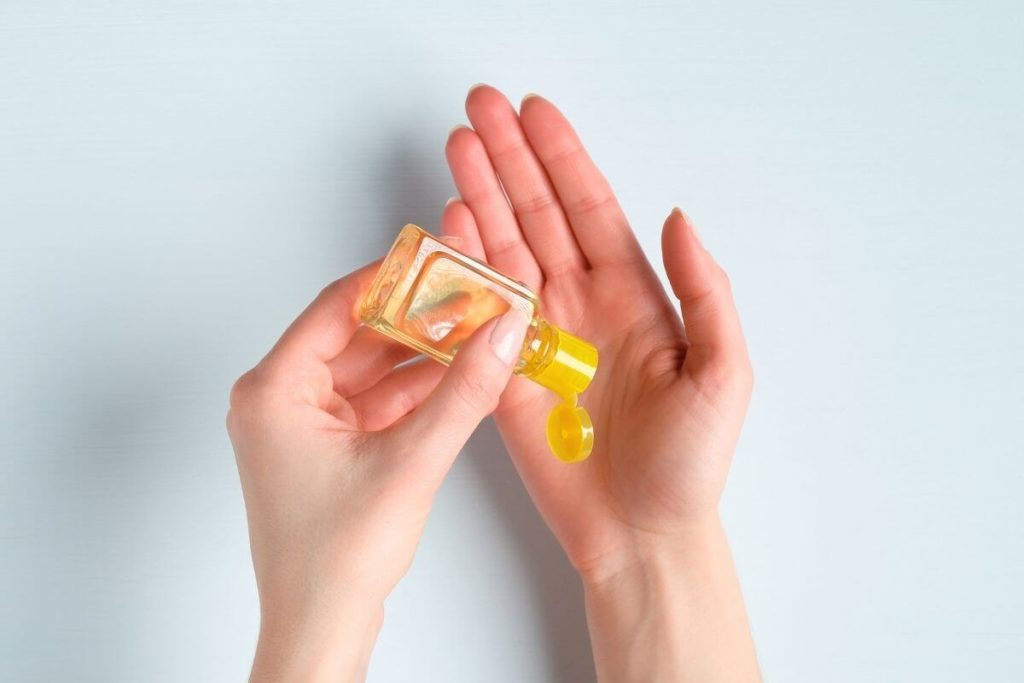 I like 365 by Whole Foods orange blossom hand sanitizer spray. Many hand sanitizers are too harsh on my skin and create a lot of redness and irritation. This sanitizer doesn't do any of that!
Magic band
Disney World has an RFID-enabled bracelet that can be used as your park ticket, resort room key, FastPass, and payment card.
They used to provide these to resort guests for free, but they now cost $14.99 and up. Eventually they will be phased out in favor of guests using their smartphones or Apple watch.
But if you'd rather not rely on your phone for these things, or don't have an Apple watch, Magic Bands are your next best option. You can buy them at most resort and park gift shops, as well as on ShopDisney.
Magic Bands pop off quite easily, so they are easy to lose. I recommend getting a BitBelt, a small band that can be slid over the strap to help keep in on your wrist. Etsy is the easiest place to get this tiny gadget.
Portable fan
While air conditioning is easy to find at the parks, you'll probably want to carry something with you to help you keep cool when you can't get to AC.
Some folks prefer the FrogTog Chilly Pad towels that can wrap around your head or neck. I prefer a portable fan.
This fan from Amazon comes with 2 rechargeable batters that double as power banks. They work so well that I've given them as a gift to a few of my favorite park-goers.
Power bank
With the phasing out of Magic Bands, packing a good power bank is more important than ever for your Disney World trip.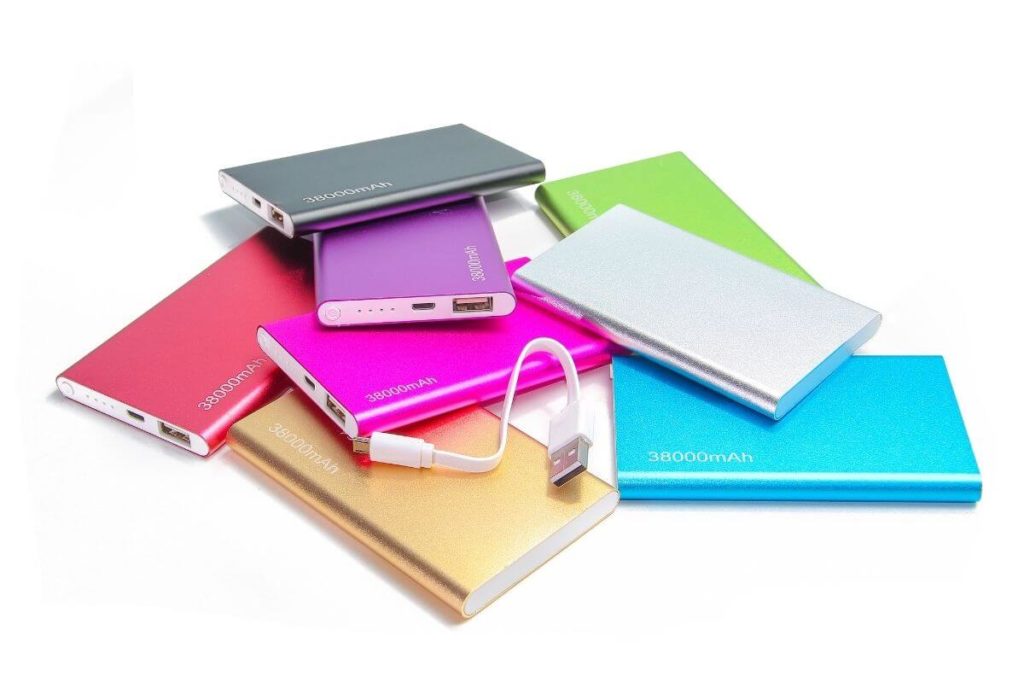 Disney World recently introduced 3 new ways to enter the park: face-recognition, Apple Watch, or the My Disney Experience mobile app.
The app is expected to also work for FastPasses, so expect to constantly be using your phone throughout your day at the park – aside from taking photos, that is!
Don't forget to pack the appropriate charging cords for your phone and camera in your park bag, too. I'm definitely guilty of forgetting mine in the past!
Rain poncho
If you've never been to Florida, you might think it's constantly sunny year round – until you visit for the first time. Florida is pretty humid and it rains a lot.
Orlando is prone to quick afternoon showers nearly every day, particularly in the Summer and early Fall months (aka "Hurricane Season").
Don't let these sun showers ruin your day – bring a handful of disposable rain ponchos.
You can buy a multi-pack of these at places like Amazon, Dick's Sporting Goods, or REI.
They fold down into a tiny bundle and weigh next to nothing, so they won't take up much space in your park bag. They'll keep you dry – at least from head to shin – so you can keep having fun at the parks despite the rain.
Sanitizing wipes
A travel pack of sanitizing wipes is another important item to bring with you. They can be used to wipe down your seat arms and tray tables on the plane, as well as wipe down tables at the park before you eat.
Smartphone
Ordinarily I'd keep my smartphone tucked away at all times when on vacation, but at Disney World, a smartphone can come in quite handy.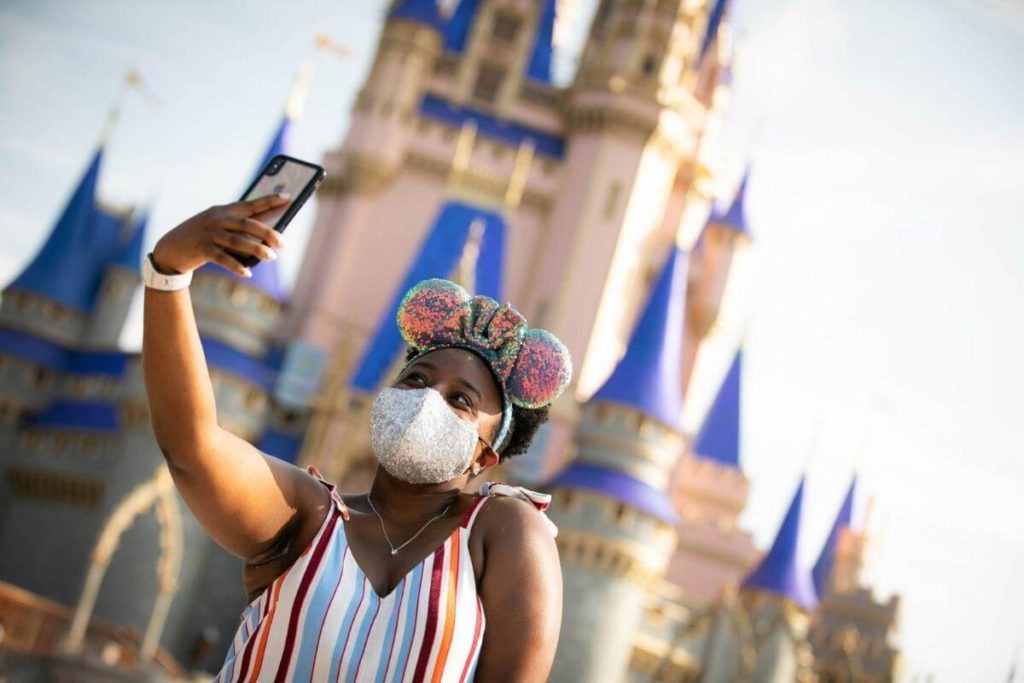 Use it to get into the park or events, check ride wait times, and take photos throughout the day.
TIP: If you don't have unlimited internet access on your phone, there is free WiFi in the parks and at Disney resorts.
Sunglasses
Protect your peepers with a good pair of sunglasses. I can't go anywhere without my sunglasses – and I always pack a backup pair too.
If you wear your hair tied up, avoid metal styles like Ray Ban so they don't get caught in your hair when you push them up on your head. No one wants to deal with hair mishaps in the middle of the park!
Sunscreen
Don't let a sunburn ruin your vacation! Pack plenty of your favorite sunscreen and carry some with you in your park bag.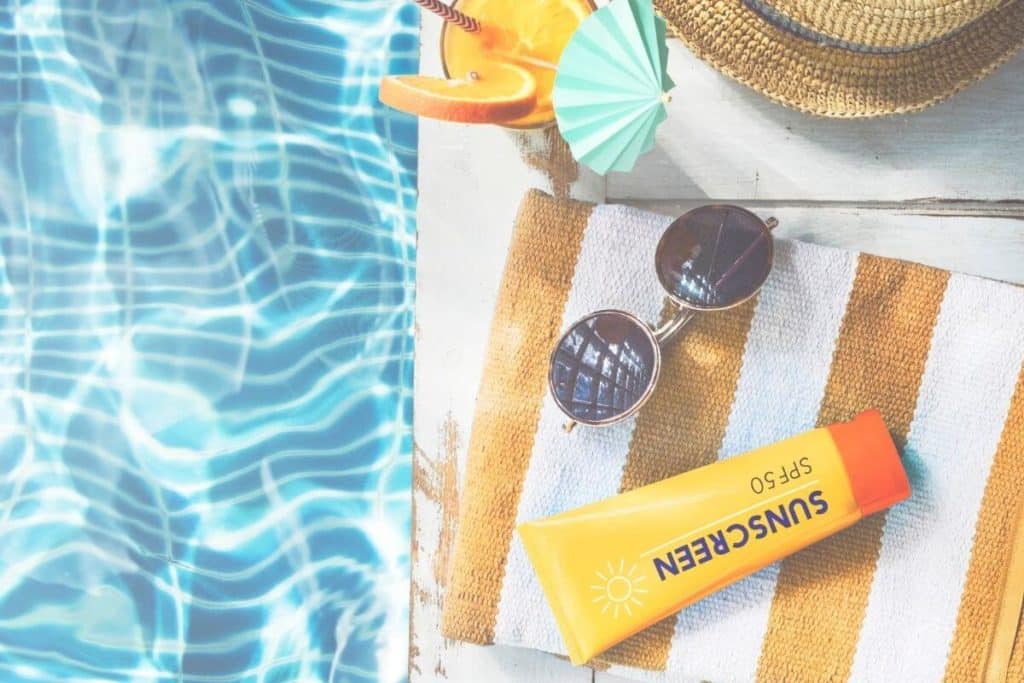 My favorite sunscreen is SunBum. It smells great and is easy to buy pretty much anywhere, like Amazon or Target.
For my face, I really like SuperGoop Unseen sunscreen. It's completely clear, so it won't leave a chalky white cast on your skin.
TIP: Coola Scalp & Hair Mist works great for protecting your scalp from the sun so you don't get sunburnt on your hair part or experience peeling sunburn in your hair (ew).
Water bottle with filter
Keep hydrated in the hot Florida sun by taking a refillable water bottle in your park bag. I recommend bringing a bottle with a filter, such as Brita.
While tap water in the Orlando area is safe to drink, the filter will help remove chlorine and other contaminants that you aren't used to and make it more palatable.
Bottled water is available in the parks, as well, but it's both expensive and terrible for the environment. So if you have room in your park bag, add this to your Disney World packing list.
What NOT to put on your packing list for Disney World
What not to pack for a day at Disney World is just as important as what you do pack. Here are a few tips on what to leave at home and why.
A big, bulky, sweaty backpack
Keep your park bag light and breathable. A heavy bag will weigh you down and make you sweat even more than the scorching Florida sun. No one wants that.
A small backpack, nylon bag, or small purse will work just fine as a park bag. Check out the section above on what to pack for Disney World for a few good park bag options.
If you're at the parks with children and need things like diapers, a change of clothes, etc, try to pair down your park bag as much as possible.
And if you can get away with a stroller, stash it underneath or ensure it's light enough to tie onto the handles so you don't have to carry it on your shoulder or back.
High heels
Another guaranteed way to make yourself miserable at the parks is wearing heels or heeled sandals.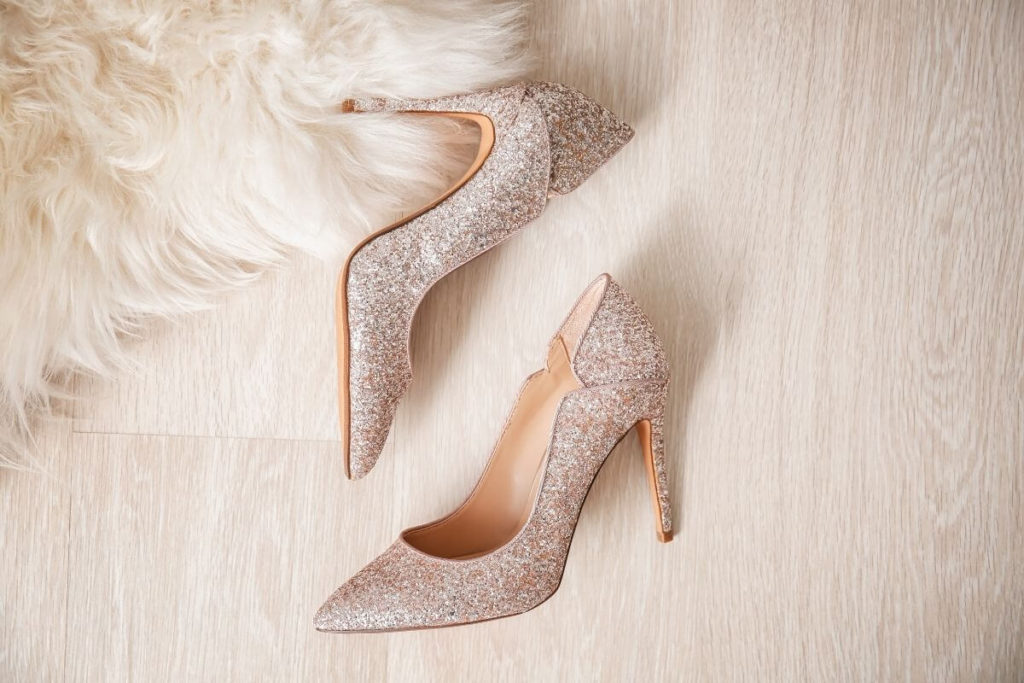 If you have a fancy event or dinner planned, feel free to stash them in your luggage. But leave 'em at the hotel for days at the park. Your feet will thank you.
Swimsuit & towel
The only parks you'll need a swimsuit for are Blizzard Beach and Typhoon Lagoon. Even though there are water rides at the theme parks, there aren't enough to warrant walking around in a tight swimsuit all day.
So pack your swimsuit in your luggage for time at the resort pool – but leave it out of your park bag.
As far as a towel goes, I wouldn't even bother packing one for the trip. All of the Disney resorts and water parks provide towels, so you won't need your own.
Plus, no one wants to pack a damp, musty towel in their luggage for the trip home. Ew, mold.
Camera equipment
Be picky about the camera equipment you bring with you on your trip, as well as to the parks.
99.9% of you will be just fine with a smartphone as a camera, especially with the amazing photography features built into phones these days.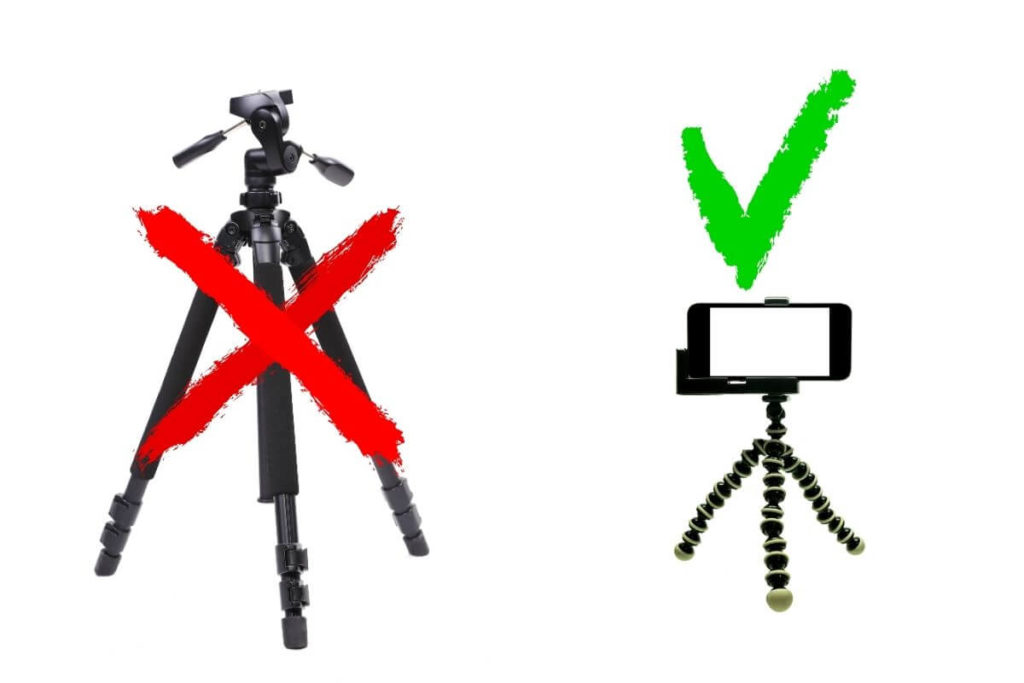 If you want to bring something more into the park, leave the professional equipment out of your park bag. Tripods are not allowed in the parks and you might not be allowed in with extensive professional lenses, either.
Small, handheld stabilizers, like GorillaPods, are allowed. I've had no problem bringing mine into the park.
GoPro, mirrorless, and dSLR cameras are also allowed in, but I only recommend taking them into the parks if you truly intend to use them. Otherwise you'll be stuck lugging around expensive equipment that could easily get damaged.
What to wear to Disney World
Now for the clothes. Keep reading for my tips on what to wear to Disney World in different seasons, how to keep cool, and how to avoid wrecking your feet!
Always check the weather
The absolute top tip to remember when it comes to deciding what to wear to Disney World is to be aware of the weather and pack accordingly.
Florida isn't warm and sunny every single day. There are definitely cold snaps and rainy days to prepare for.
When you're packing, check the weather as close to your trip as possible and adjust what's in your suitcase accordingly.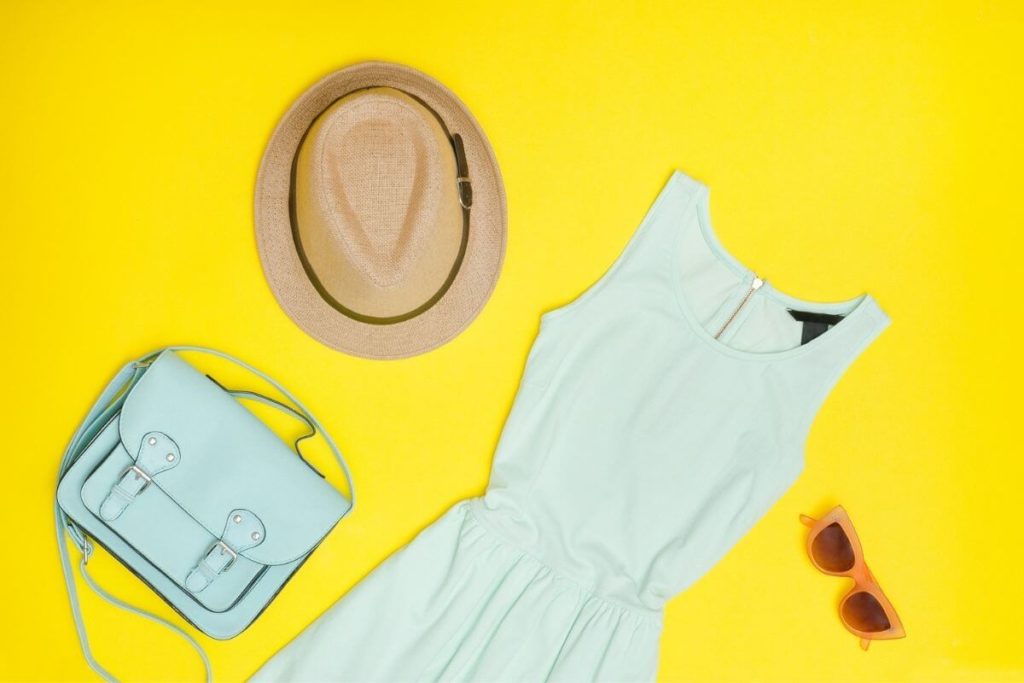 In general, aim for loose layers and light colors in the Summer and Fall months. Think shorts, casual dresses, and loose pants.
Avoid tight pants as they can lead to the dreaded "Disney Rash," aka golfer's rash, as it'll be harder for your blood to circulate – especially if the hot and humid weather causes you to swell up a bit.
As for tops, aim for a loose layer, too. Of course, if a basic form-fitting layer is usually your thing, you'll probably do just fine with a form-fitting top layer.
In the Winter and Spring, the weather can be a bit more erratic. You might have "shorts and t-shirt" weather one day and "jeans and jacket" the next day.
Layering will be key to dressing comfortably for the parks. For example, you might want to pack a pair of pants and 1-2 jackets or sweatshirts in case there's an unexpected cold snap.
Some places have a dress code
Aside from the weather, check your dining and show reservations to see if there is a dress code to follow. Some places won't allow jeans, for example, so you'll want to make sure you have appropriate clothing for these activities.
Don't forget comfy shoes
Lastly, pack shoes that you can walk miles and miles in.
No, seriously. If you haven't been to Disney World before, you might not realize ahead of time how much you'll end up walking in a day.
By packing the right shoes, you'll ensure your day isn't ruined by blisters or sore, sweaty, hot feet.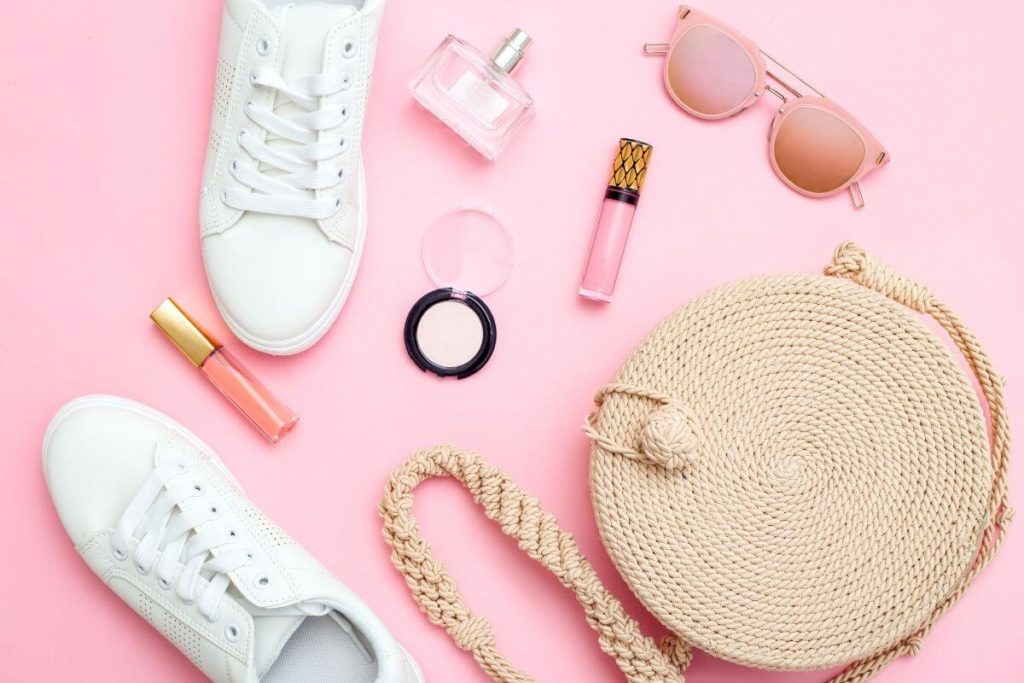 Most people swear by wearing athletic sneakers for the parks. They provide great support for your entire body and will ensure you aren't limping at the end of the day.
For me, that's not the case, unless the temps are cooler. My feet sweat way too much in the hot weather, so I prefer to wear sandals to the parks.
Birkenstock sandals are my go-to, as the cork bed sole forms a custom fit that best supports my feet. If it's a cooler day, I like Vans ComfyCush sneakers or slip-ons.
What else is on your packing list for Disney World?
Before you go, be sure to sign up for my e-mail newsletter and get my free printable Disney World packing list to help keep you organized while packing for your vacation to the most magical place on Earth.
Next up, check out more of our Disney World vacation planning guides:
This post was originally published on May 4, 2021. It was last updated March 14, 2022.