As much as I'm craving a Mickey Mouse-shaped rice krispy treat right now, I'm drooling over all the NEW food and drink options at Disney's Epcot International Food and Wine Festival this year.
Fall is my favorite time to visit Disney World, mostly because of this delicious global-themed celebration. You too?
If you're looking to roll in the Fall season with a trip to Disney World for the Epcot Food and Wine Fest like me, check out my top tips for a successful, mouth-watering trip to the Epcot Food and Wine Festival this year.
When is the Epcot Food and Wine Festival?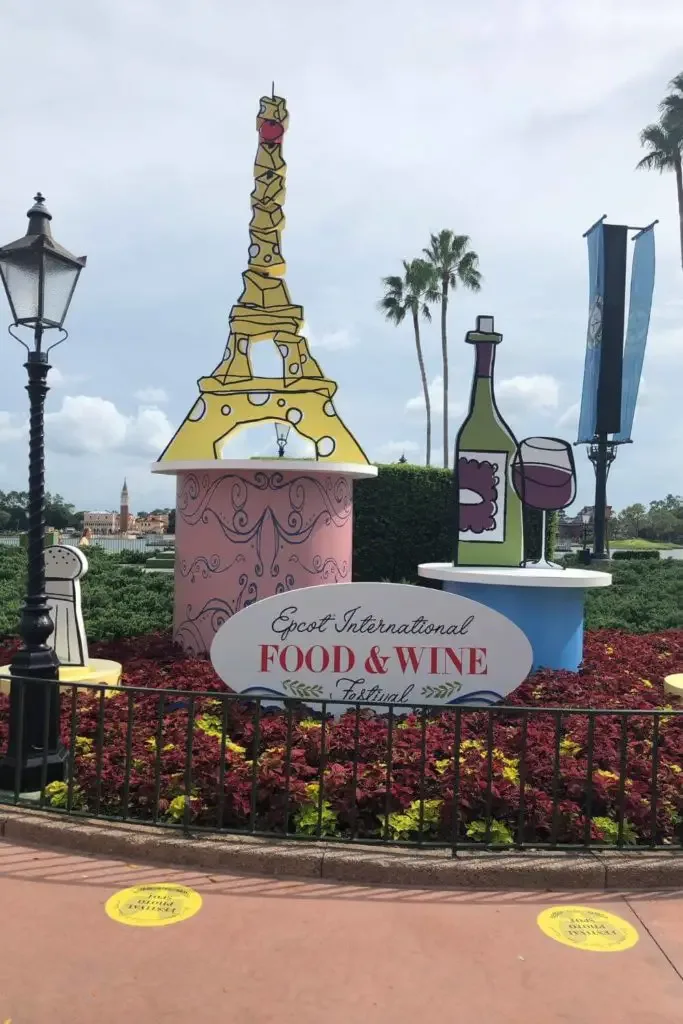 This year, the Epcot International Food and Wine Festival will run from July 27 through November 18, 2023.
Check out these monthly Disney vacation planning guides for more tips for the month you'll be visiting:
Book your Food and Wine Festival vacation package in advance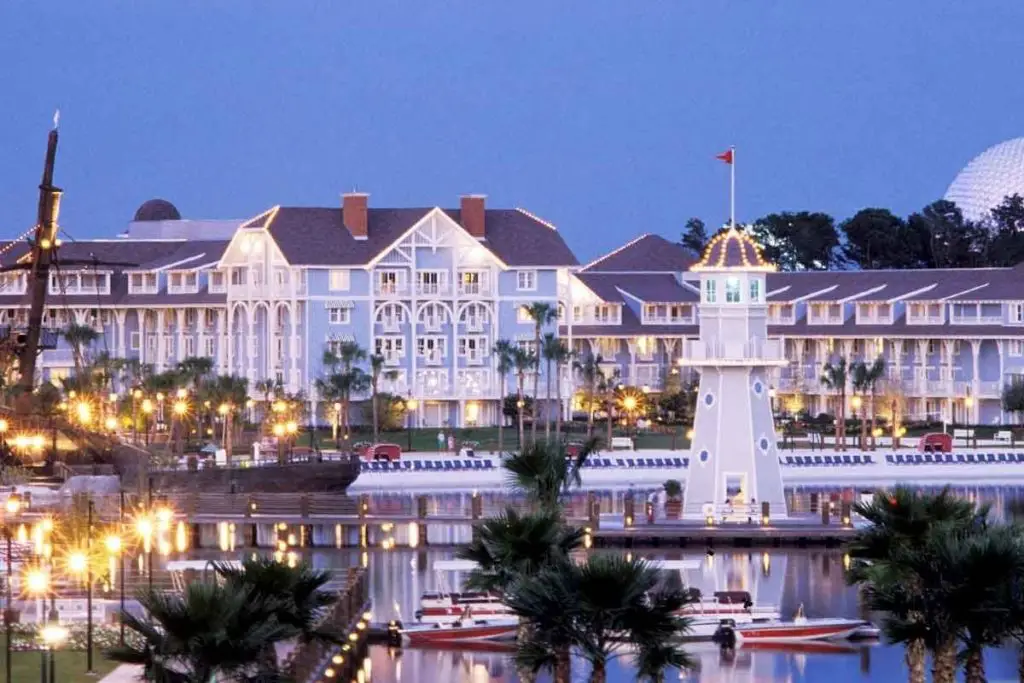 Book your Walt Disney World vacation package as far in advance as you can. If possible, 6 months or more ahead of when you want to go is optimal.
Not only is the Epcot Food and Wine Festival super popular, booking early will get you the best deal and resort of choice.
That said, it's not impossible to still get a good room and dining reservations if you book less than 6 months ahead. Just harder to pull off!
I highly recommend staying at Disney's Yacht Club Resort, Beach Club Resort, or BoardWalk Inn, as they are the closest resorts to Epcot.
You can literally walk to Epcot from all 3 of these resorts, which will be great after a day of stuffing yourself silly with delicious food.
And let's be honest, probably an adult beverage or 2.
Disney's Riviera Resort and Caribbean Beach Resort are also nearby. While they are not walkable, you can take the Skyliner to Epcot and enjoy aerial views along the way.
You might also like: How to Do Disney World for Adults
Select your dining reservations up to 60 days before your trip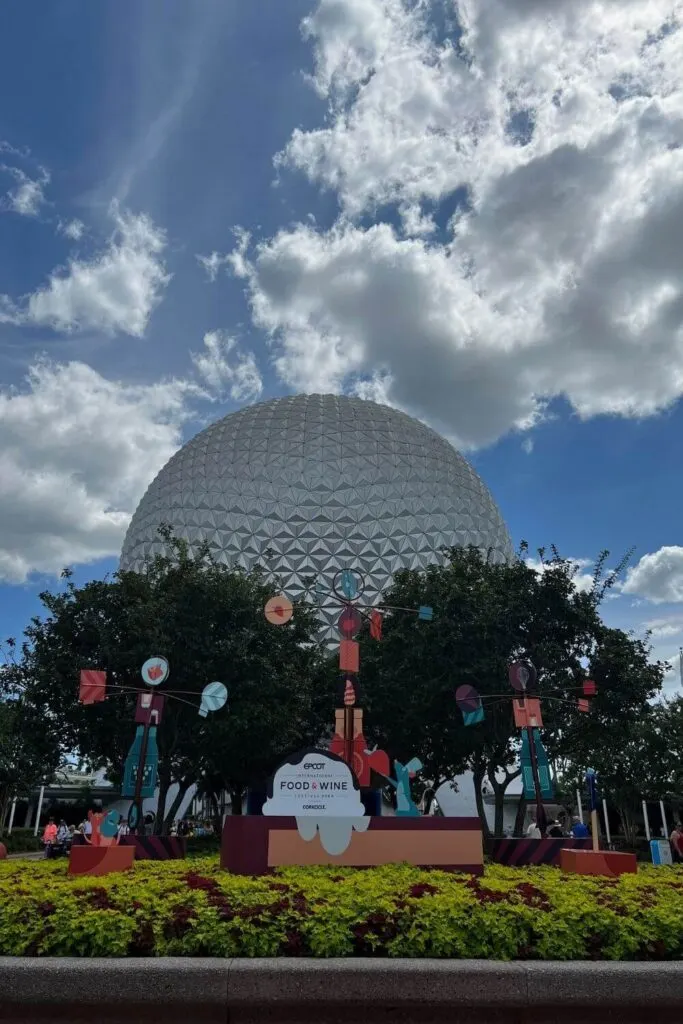 If you plan to do a few sit-down meals, you'll want to select your dining reservations ahead of time, too.
While this won't guarantee you'll get a seat at the restaurant or dates of your choosing, it does up the odds.
While most of the festival food and wine is sold through food booths, some of Epcot's restaurants have special dishes or dining events, like a tequila lunch at La Hacienda de San Angel.
In addition, you can book a special package that gives you reserved seating at the Eat to the Beat concert along by booking at select Epcot restaurants.
Dining reservations can be made up to 60 days ahead of your trip start date if you're staying at a Disney resort. If not, you can reserve 60 days ahead of your desired date for the reservation.
Decide if you want Genie+ or Lightning Lane passes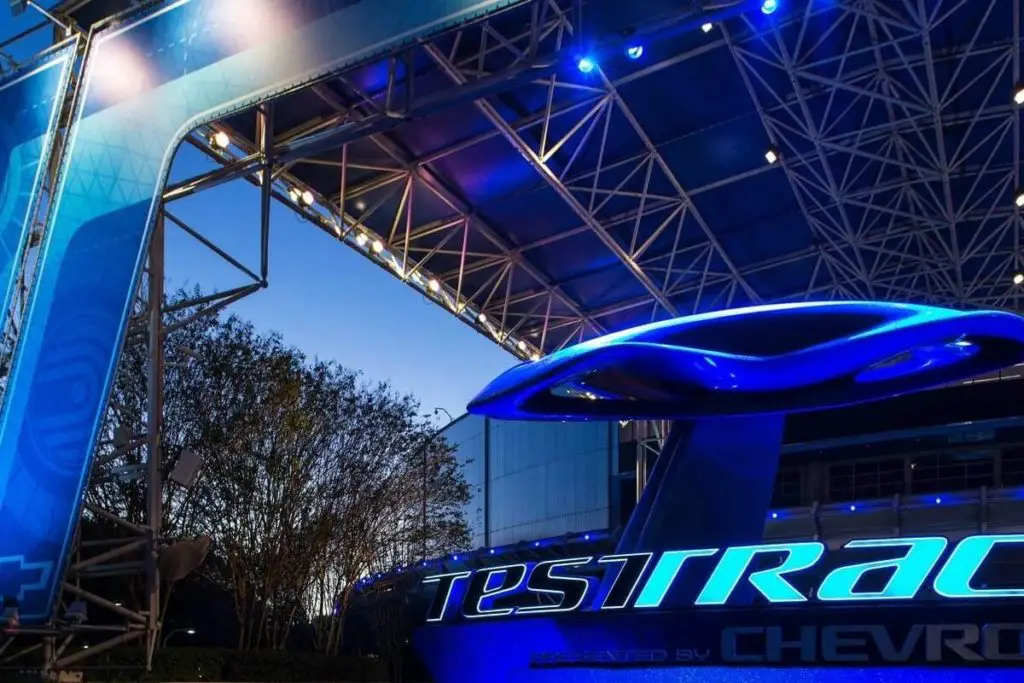 The days of 60 day Fastpass picks are long gone!
If you want to avoid a long wait for popular rides, you'll want to pony up the cash for Genie+ or purchase individual Lightning Lane passes (if the ride you love offers 'em!).
Pop over to my Genie+ & Lightning Lane guide for more tips on what's available so you can decide if either option is worth it for you!
Epcot Food and Wine Festival tickets are included in general admission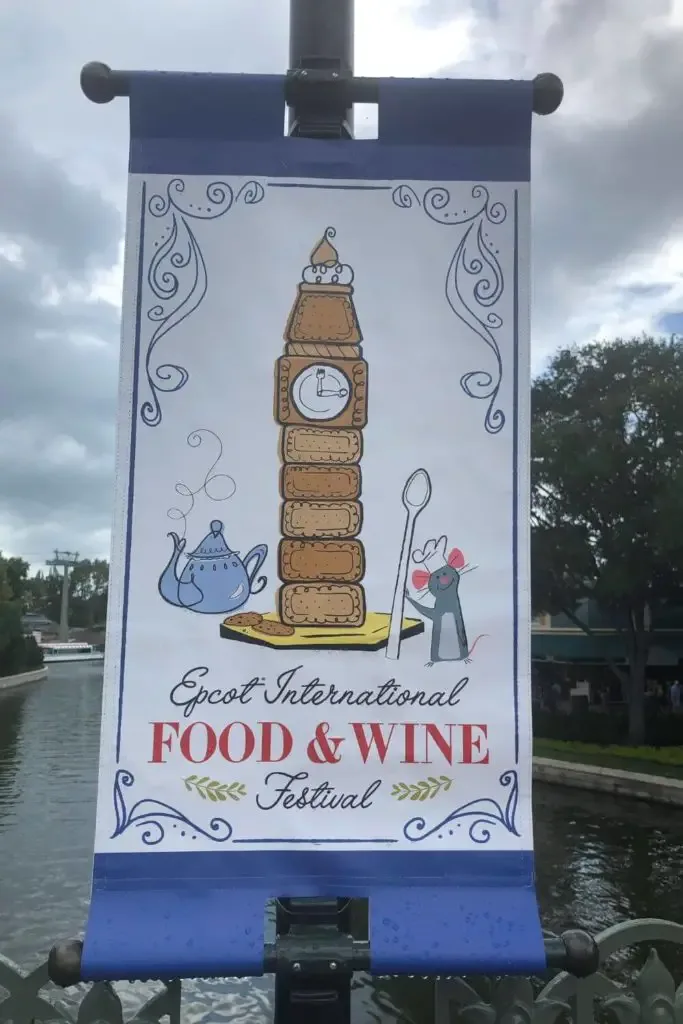 Unlike other special events at Disney World, such as Mickey's Not-so-Scary Halloween Party, admission to the Epcot International Food and Wine Festival is included in general admission to Epcot, including Disney World annual passholders.
If you've already booked your Disney World vacation package, including tickets, then you're all set! No need to buy another ticket, pass, or wristband.
If you aren't planning to stay at a Disney World resort, which makes you eligible for a cost-saving vacation package, you can still purchase tickets individually.
A single day admission to Epcot starts at $109 for age 10+ in 2023.
The final ticket price can vary depending on whether you add the park hopper option, purchase multi-day tickets (which can lower the price a little), or visit on premium days (which can raise the price a bit).
Get the Epcot Food and Wine Festival menu and passport for free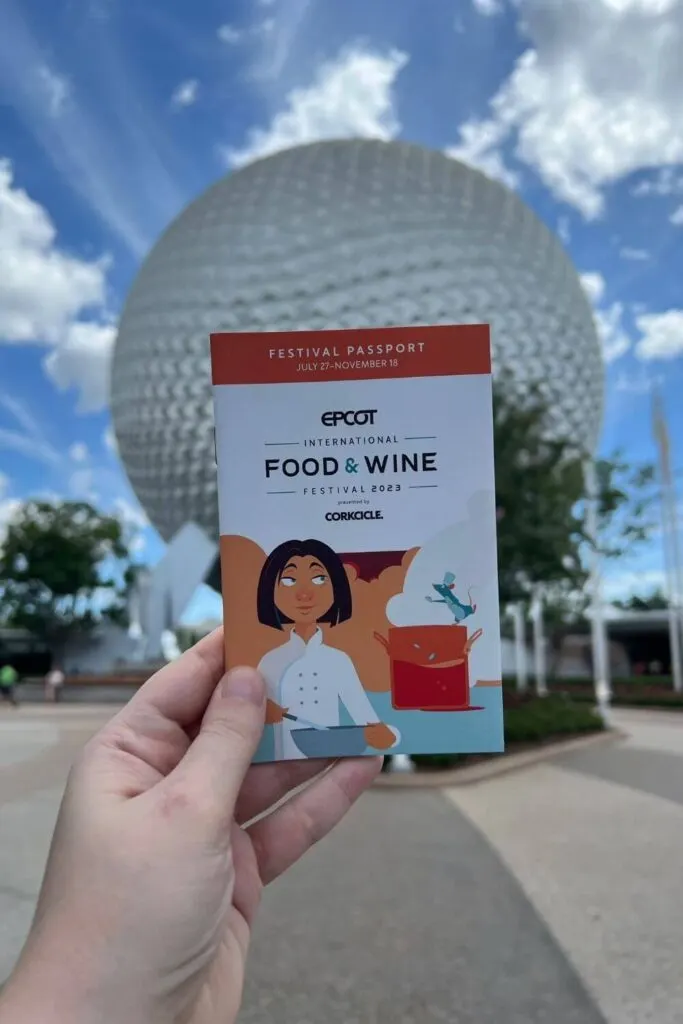 Make a game out of attending the festival by collecting stickers from each food booth.
You can get a free copy of the official Epcot Food and Wine passport at various locations around the park.
The passport also acts as a menu for the festival, which will make it easier to plan your day at Epcot.
Use the Disney Dining Plan…with exceptions
NOTE: The Disney Dining Plan is currently on hold, but is scheduled to return in January, so save this tip for your 2024 visit!
Yes, the Disney Dining Plan can be used at the Epcot Food and Wine Festival.
Typically most dishes and some drinks can be purchased using snack credits. So if you aren't visiting Disney solely to focus on the festival, but want to try a dish or 2, you won't have to plunk down extra money to do so!
You can also use your meal credits per usual, though special meal events, like the Parisian Brunch at Chefs de France, or culinary demonstrations, are not eligible for dining plan redemptions.
To learn more about this add-on and whether it's the right fit for you, check out my post about the pros and cons of the Disney Dining Plan.
Get a Disney gift card loaded with your max budget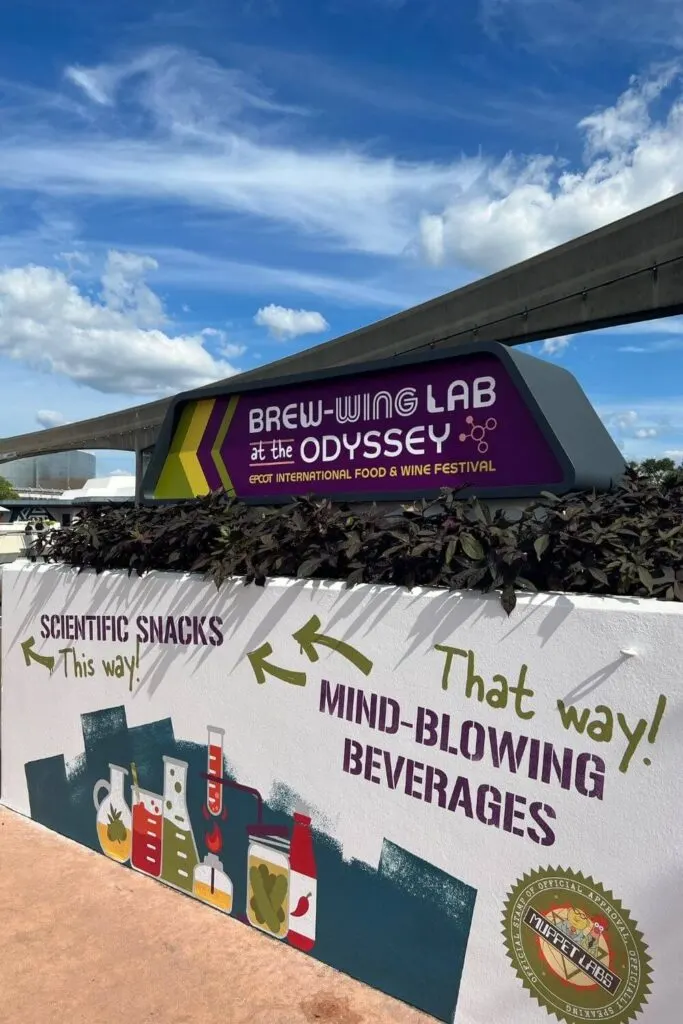 To help you stay on budget, get a Disney gift card and load it with whatever your budget is.
Cards are reloadable, so you can reload it daily, too. Gift cards can be purchased ahead of time via ShopDisney or you can purchase one when you get to Disney World.
If you're really feeling in the spirit, Disney World has Food & Wine Festival gift cards available for purchase at Epcot and some Disney World resorts.
You can purchase mini gift cards at select stores within Epcot during the festival. The mini size is perfect for wearing around a wristband or lanyard without getting in the way!
You might also like: The Ultimate Guide to the Epcot Flower and Garden Festival
Avoid crowds by going to the festival during the week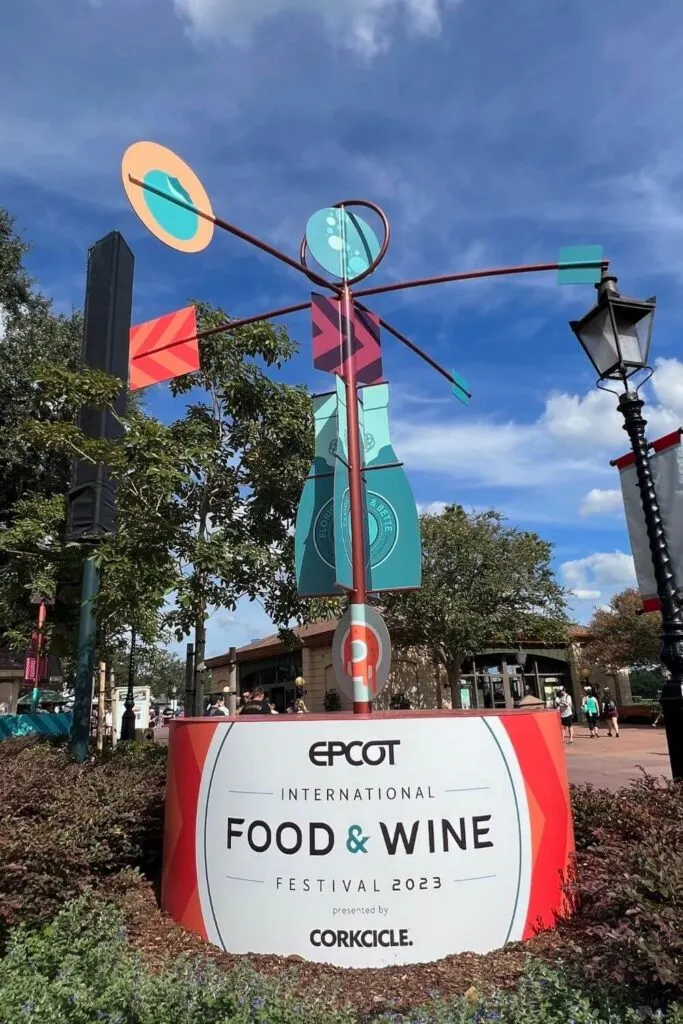 While Disney World generally has lower crowds throughout most of the Fall season, weekends at Epcot are super busy compared to the weekdays.
Why? Local residents and passholders that work during the week are more likely to hit up the festival during the weekend, adding to crowds.
If you have your hopes set for attending one of the Epcot Food and Wine demonstrations or classes, many of which only run on the weekends, you could reserve rides and taste testing for the week, then focus solely on learning on the weekends.
While you wouldn't be avoiding the crowds, you'll have to deal with it a bit less since you only have 1 thing to focus on that day.
Check out the FREE Epcot Food and Wine concerts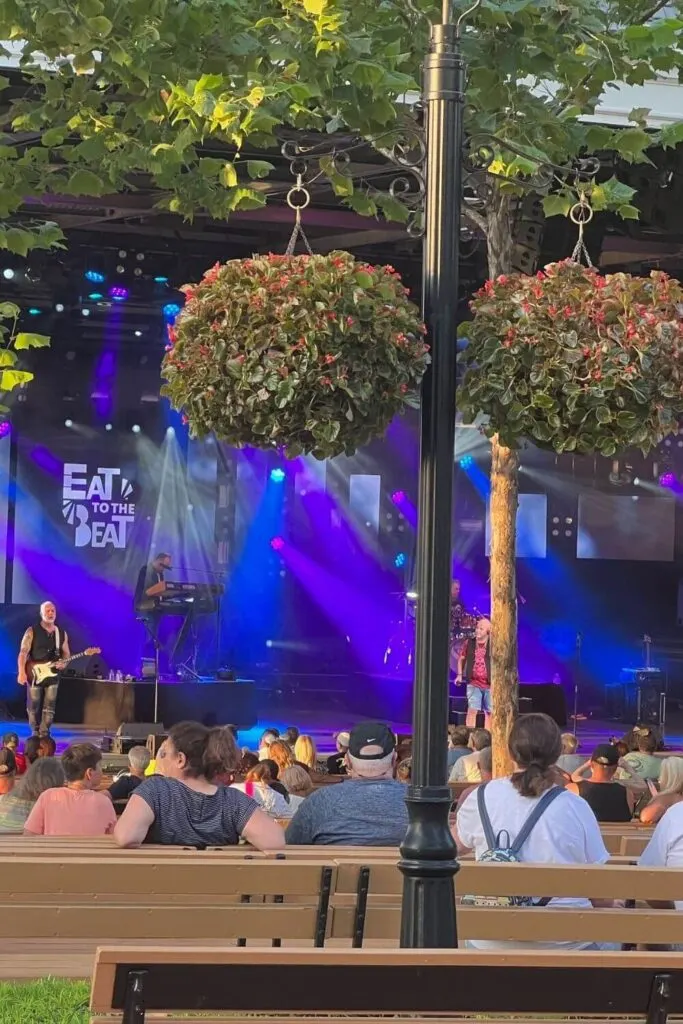 A big draw for the Epcot Food and Wine fest are the free concerts, featuring popular musical acts from years past, up-and-coming artists, and occasionally tribute bands from the Orlando area.
These concerts are a ton of fun and a great way to see artists from your childhood or new ones that are just starting to make waves in the music world.
Past acts include 98 Degrees (as seen above), Boyz II Men, Big Bad Voodoo Daddy, Plain White Ts, and Southern Avenue.
Concerts are held almost every night at that American Gardens Theatre at 5:30 PM, 6:45 PM, and 8:00 PM.
Check out the schedule below to see who's playing in 2023.
| Date | Musical Act |
| --- | --- |
| July 27 | Funkafied |
| July 28-29 | Orianthi |
| July 30-31 | FOR KING + COUNTRY |
| August 1-3 | Funkafied |
| August 4-5 | Southern Avenue |
| August 6-7 | Tiffany |
| August 8-10 | The Champagne Orchestra |
| August 11-12 | Ruben Studdard & Hailey Reinhart |
| August 13-14 | The Fray |
| August 15-17 | M-80s |
| August 18-21 | Joey Fatone & Friends |
| August 22-24 | The Female Collective |
| August 25-26 | Ayron Jones |
| August 27-28 | Phillip Phillips |
| August 29-31 | Element |
| September 1-2 | Baha Men |
| September 3-4 | MercyMe |
| September 5-7 | Foreigners Journey |
| September 8-9 | Ray Parker Jr. |
| September 10-11 | Toby Mac |
| September 12-14 | Hooligans |
| September 15 | Monsieur Periné |
| September 16-17 | Raul Acosta & Oro Solido |
| September 18 | Bacilos |
| September 19-21 | Audio Exchange |
| September 22-24 | Los Amigos Invisibles |
| September 25-26 | 98° |
| September 27-28 | Latin Ambition |
| September 29-30 & October 1-2 | Boyz II Men |
| October 3-5 | Wish Radio |
| October 6-7 | Mark Wills |
| October 8-9 | Sugar Ray |
| October 10-12 | Icon Party Band |
| October 13-14 | Hoobastank |
| October 15-16 | Air Supply |
| October 17-19 | Evolution Motown |
| October 20-21 | Taylor Dane |
| October 22-23 | Billy Ocean |
| October 24-26 | Sound Up |
| October 27-30 | Hanson |
| October 31 & November 1-2 | Rexine |
| November 3-4 | We the Kings |
| November 5-6 | Sheila E. |
| November 7-9 | Epic Live |
| November 10-11 | Big Bad Voodoo Daddy |
| November 12-13 | 38 Special |
2023 Eat to the Beat Concert Series Lineup
Sign up for runDisney's Epcot Food and Wine Half Marathon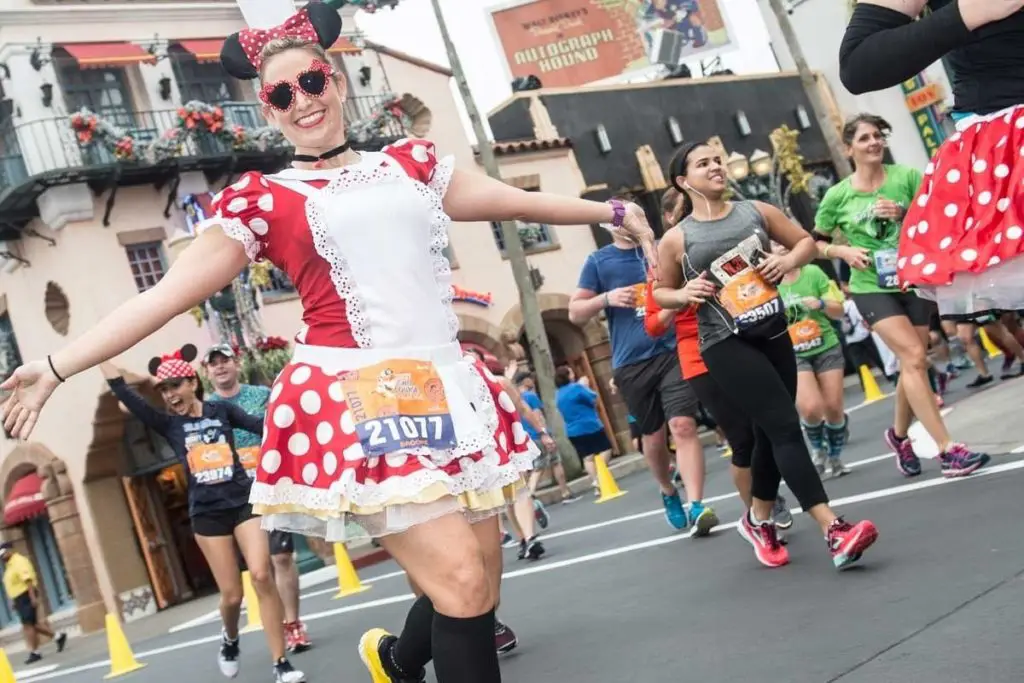 Officially dubbed the Disney Wine & Dine Half Marathon Weekend, this weekend-long event typically includes a 5K, 10K, and a half marathon.
Runners can also enroll in the Two Course Challenge, which includes the 10K race on Saturday and half marathon on Sunday.
This year, the Disney Wine & Dine Half Marathon weekend will take place November 2-5, 2023.
Registration costs for the races vary and can be found on the runDisney website.
Aside from the races, the Wine and Dine Half Marathon Weekend also includes a health and fitness expo and an exclusive post-race party.
Half marathon and Challenge runners get free entry to the post-race party. Other race runners, as well as friends and family can purchase tickets for $105 including tax.
If you make a purchase from the Amazon affiliate links below, I will earn a commission at no extra cost to you.
Eat your way around the world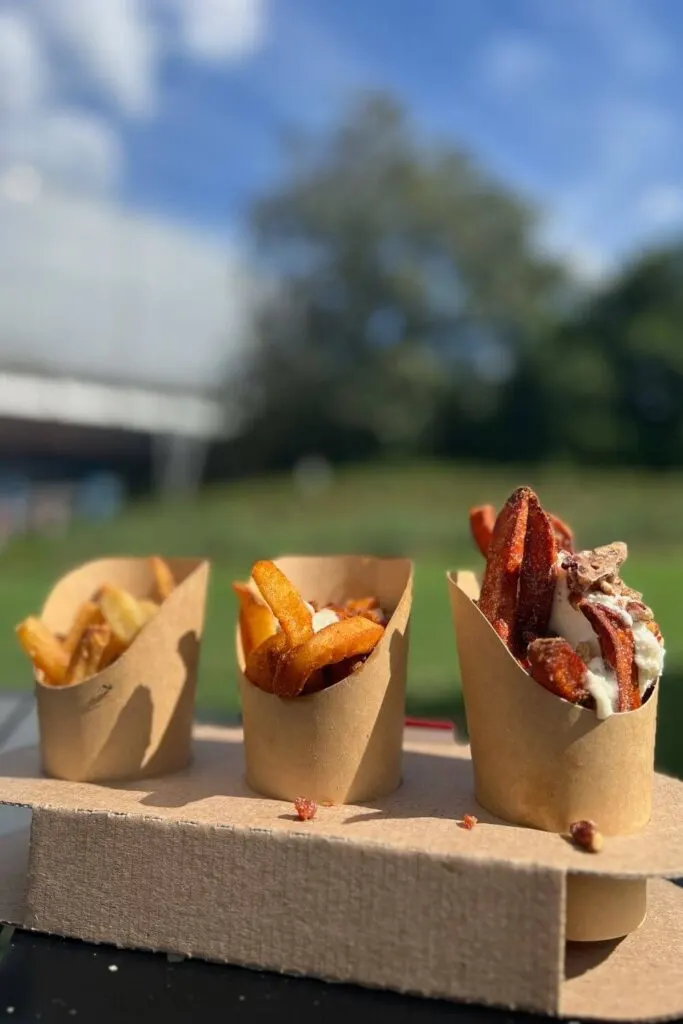 Perhaps the most popular aspect to any Epcot festival are the global marketplaces.
These food booths bring new, limited-time snacks to the park from a variety of cuisines from around the world. It is Epcot, after all!
Here's a quick list of the food booths that will be available this year:
The Alps
Australia
Belgium
Brazil
Brew-Wing Lab at the Odyssey
Canada
China
Coastal Eats
Flavors from Fire
Flavors of America
France
The Fry Basket
Germany
Greece
Hawaii (starts August 15)
India
Ireland
Italy
Japan
Kenya
Mexico
The Noodle Exchange (starts August 15)
Spain
In addition to the limited-time only food booths, some of your favorite restaurants at Epcot also add limited-time menu items. So be sure to check out all your favorite places' menus to see if there's something new to try there, too.
Join in on Emile's Fromage Montage food challenge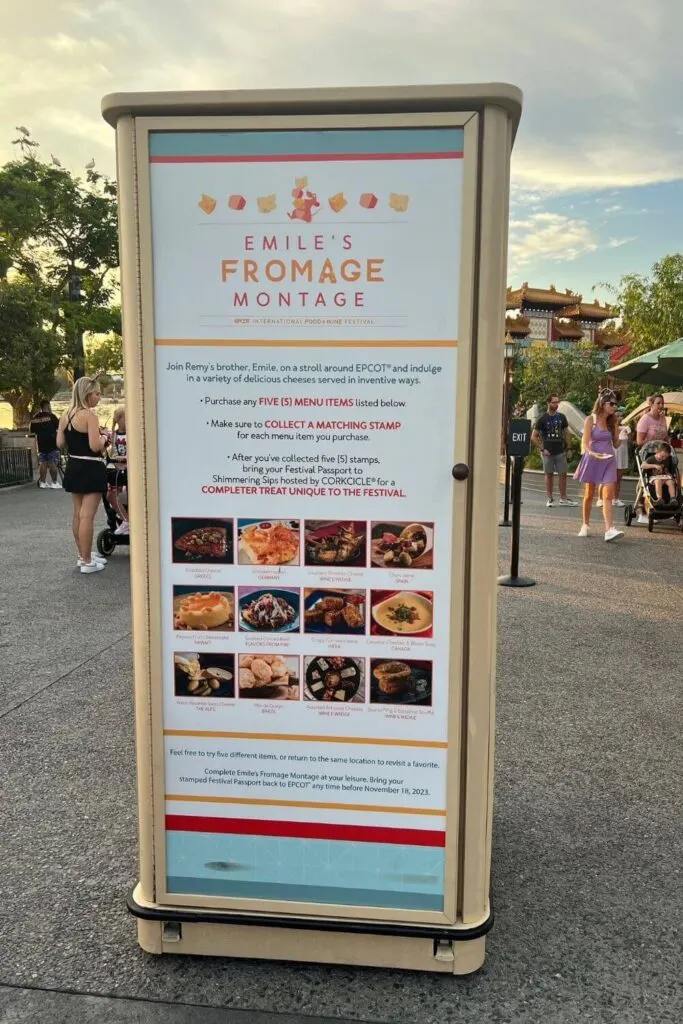 Are you ready to take on the big cheese? Emile's Fromage Montage food challenge will have you grappling with 13 scrumptious cheesy options.
Purchase 5 of your cheesy favorites and indulge in the ultimate cheese feast. Once you've purchased at least 5 of the 13 cheesy options, you can trade your card in for a prize.
Complete Remy's Ratatouille Hide & Squeak scavenger hunt
Want to experience the culinary adventure of a lifetime? Look no further than Remy's Ratatouille Hide & Squeak scavenger hunt at the Epcot Food & Wine Festival.
Follow Remy's lead as he takes you on a journey to uncover ingredients hidden throughout the park. Can you keep up with his rat-tastic scavenger skills?
If you're up for the challenge, grab a map and get ready for a wild culinary ride.
Don't forget to snap some stylistic pics for the 'gram, because everyone knows the ultimate recipe for a good time includes a dash of fun and a pinch of sass.
Plus, if you finish the scavenger hunt, you can trade it in for a fun prize.
So, come hungry, and leave satisfied, with a few more ingredients in your pantry and a great story to tell.
Have fun with Pluto's Pumpkin Pursuit scavenger hunt
From September 29 through October 31, the festival's scavenger hunt changes over to Pluto's Pumpkin Pursuit.
During this time, Pluto and his pals have hidden pumpkins all across the park. You'll need to put on your detective hat and go on a wild goose chase to find them all.
But don't worry, I'm positive that you'll love every minute of it! I love these seasonal scavenger hunts, don't you?
Following tradition, if you finish the scavenger hunt, you can trade your game card in for a prize!
Get your official Epcot Food and Wine Festival merchandise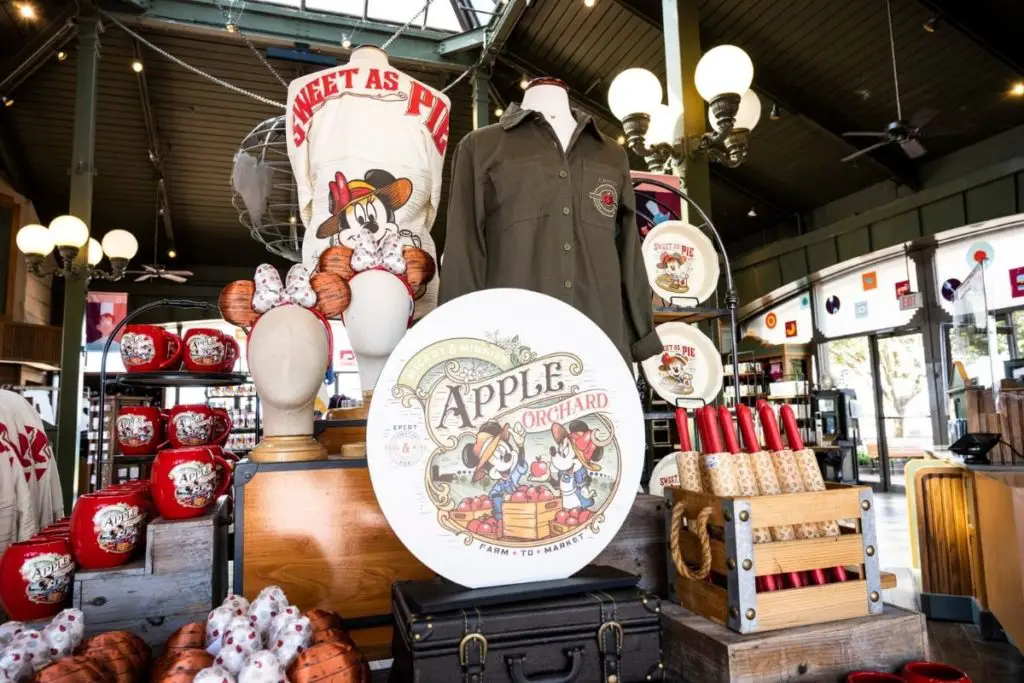 Whether you want the world to know pineapple dole whips are your bae or you collect Disney event memorabilia, be sure to pick up some lovely festival merchandise in the parks or on ShopDisney.
What are your top Epcot Food and Wine Festival tips?
Are you as excited as I am to taste food and adult beverages from around the world at Disney World's Epcot Food and Wine Festival?
Tell me your top Epcot Food and Wine Festival tips in the comments!
---
About the author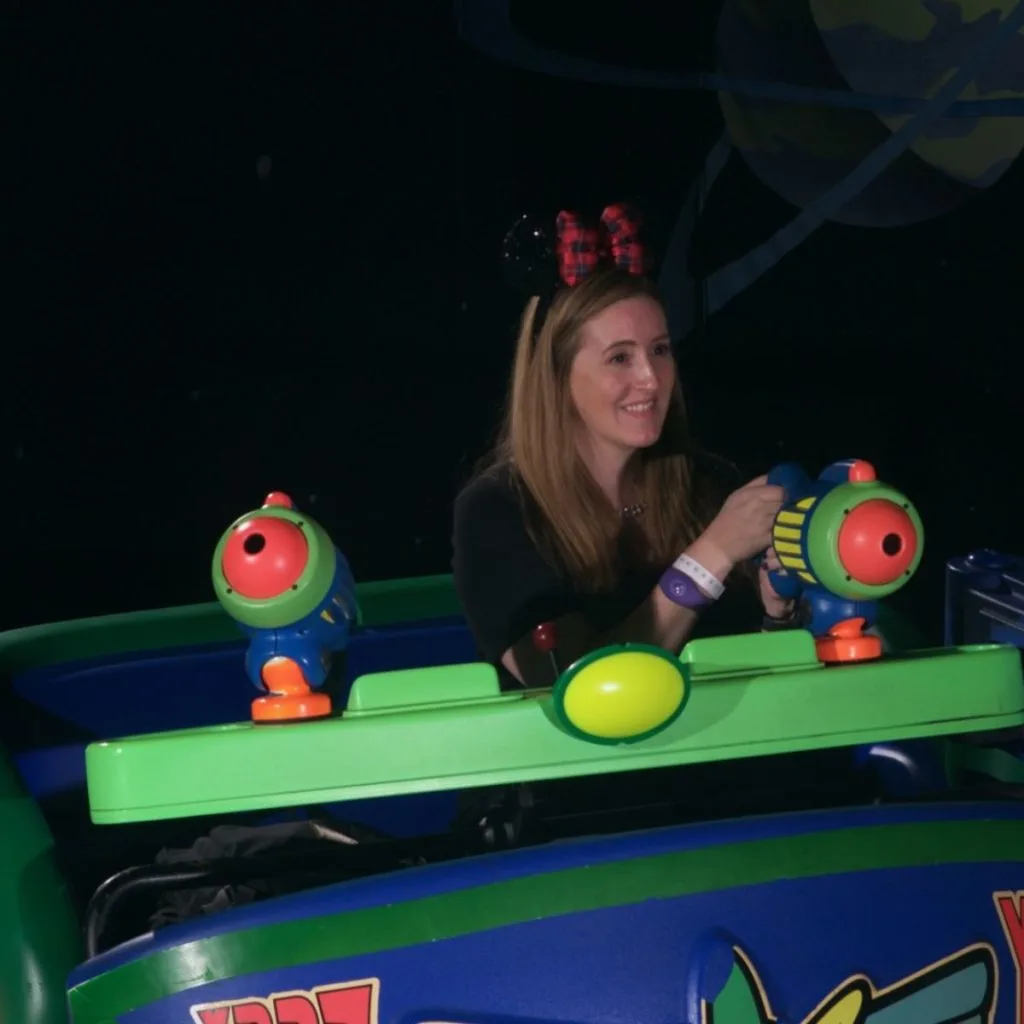 Meg Frost is the creator of The Park Pixie, where she covers Disney World, Disney+, and Disney fandom.
She holds an M.A. in Journalism from Northeastern University and B.S. in Communication & American Studies from University of Miami.
---
This post was originally published on September 16, 2016 on Frost + Sun. It was moved to The Park Pixie on May 4, 2021 and last updated September 13, 2023.