Adults-only vacations can be a lot of fun, but it's hard to know where to start when planning one.
Most adults-only vacations are planned around a specific activity, like a beach getaway or city break, but what if you want to do something different? What if you want to go on an adventure?
A Walt Disney World vacation is the perfect solution!
Not only is this theme park packed with thrilling rides and attractions, but there are also plenty of places to eat and stay.
Plus, with our guide you'll know exactly which rides to wait in line for and which ones to skip.
Sure, Walt Disney World resort is packed with families with kids, but trust me, it's still just as fun for adults, too!
Check out my massive guide to Disney World for adults, from when to go and where to stay to where to eat and what to do.
A Complete Guide to Disney World for Adults
Before I get into all the details you'll need to plan a trip to Disney World for adults, I'll quickly go over what this guide will include.
In this guide, I'll discuss the following:
Best time to go – specifically for adults-only trips
Where to stay – for all budgets
When to book dining reservations
Recommended dining reservations
A summary of each park with adults in mind
Things to do at Disney World for adults – in and outside of the parks
If there's a topic you'd like to see me include, leave a comment or send me an email.
Best time to go to Disney World for adults
First things first, let's talk about when the best time to go to Walt Disney World resort for an adults-only trip.
In my opinion, the best times to visit Disney World for an adults-only trip is when the crowds are lower – particularly when schools are in session.
Here's a rough idea of when to visit for an adults-only trip:
late August (last 2 weeks)
September
late October (after Columbus Day, Indigenous Peoples' Day, and Fall school breaks)
early November (before Thanksgiving)
May (until the week of Memorial Day Weekend)
January
February
On the flip side, January and February can be crowded due to runDisney events and school sports competitions that take place at Disney World.
Where to stay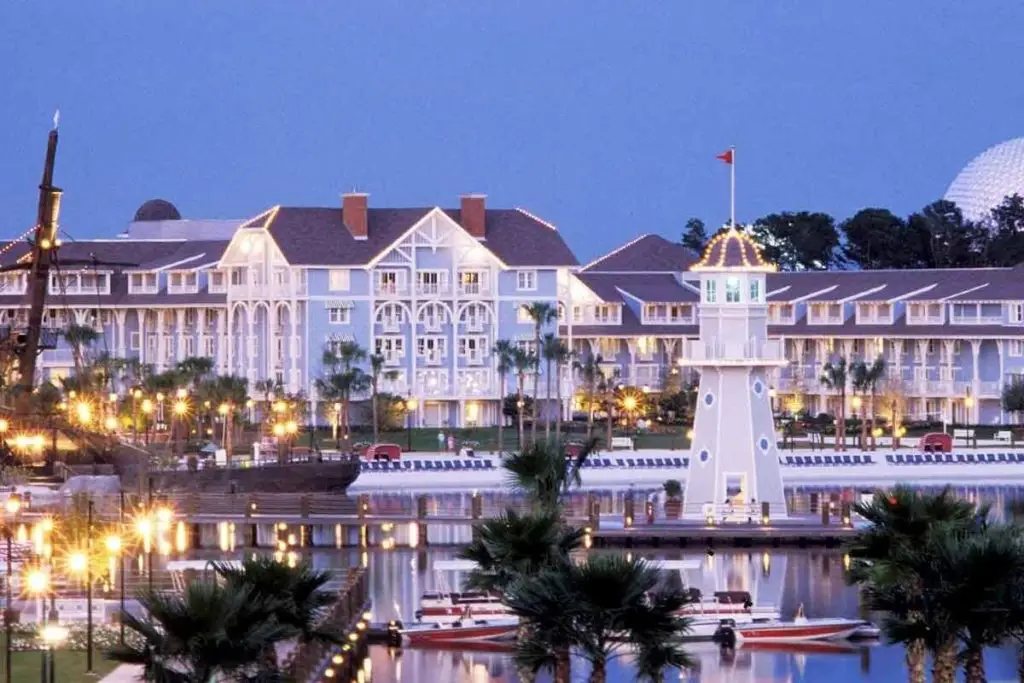 Now that you know when to go, let's discuss which Disney resort is best for adults.
Two of the best Disney resorts for adults are the Yacht & Beach Club Resorts.
The Yacht & Beach Club resorts are located next to each other and share Stormalong Bay, a giant sand-bottom pool, complete with a lazy river and pool slide. Swoon.
The Yacht Club also has a cocktail lounge, Crew's Cup Lounge. But the best part? The resorts are within walking distance from Epcot.
Disney's Polynesian Village Resort is another awesome Disney resort for adults.
At the Polynesian Village Resort, there are several over-the-water villas, Polynesian themed restaurants and lounges, and a lakeside beach.
For super quick access to Magic Kingdom, treat yourself to a stay at Disney's Contemporary Resort.
Or if the Skyliner is more your jam, the best luxury resort on the line is Disney's Riviera Resort.
If you're looking for a budget option, I recommend Pop Century Resort.
While the value resorts are more popular with families that have kids, this resort is a bit nicer than the other value resorts.
Plus, the retro theme is fun and nostalgic for adults and there's Skyliner access to Epcot, Disney's Hollywood Studios, and several other resorts.
Lastly, if you're traveling with a group, consider the cabins at Disney's Fort Wilderness Resort. How fun would a rustic birthday or bachelorette be? It'd be like Summer Camp but way better!
For a real treat, consider the Four Seasons Orlando resort, which is an official "good neighbor" hotel and in my opinion, more luxurious than most of Disney's resorts!
For more recommendations, check out my guide to the Best Resorts at Disney World for Adults.
Best restaurants for adults at Disney World
Now that you've settled a date and picked a resort, it's time to pick a few restaurants for a sit-down meal.
I highlight recommend making reservations ahead of your stay to get your preferred picks, even if you have the dining plan.
Dining reservations can be made 180 days ahead of the desired date.
If you're staying at a Disney World resort, you can book reservations for your entire trip, up to 10 days, starting at 180 days ahead of the first night of your trip.
A lot of people assume Disney World serves only fast food and sweets. Don't get me wrong – there's plenty of that to go around! But Disney World has a ton of world-class dining experiences, too.
Disney World resort restaurants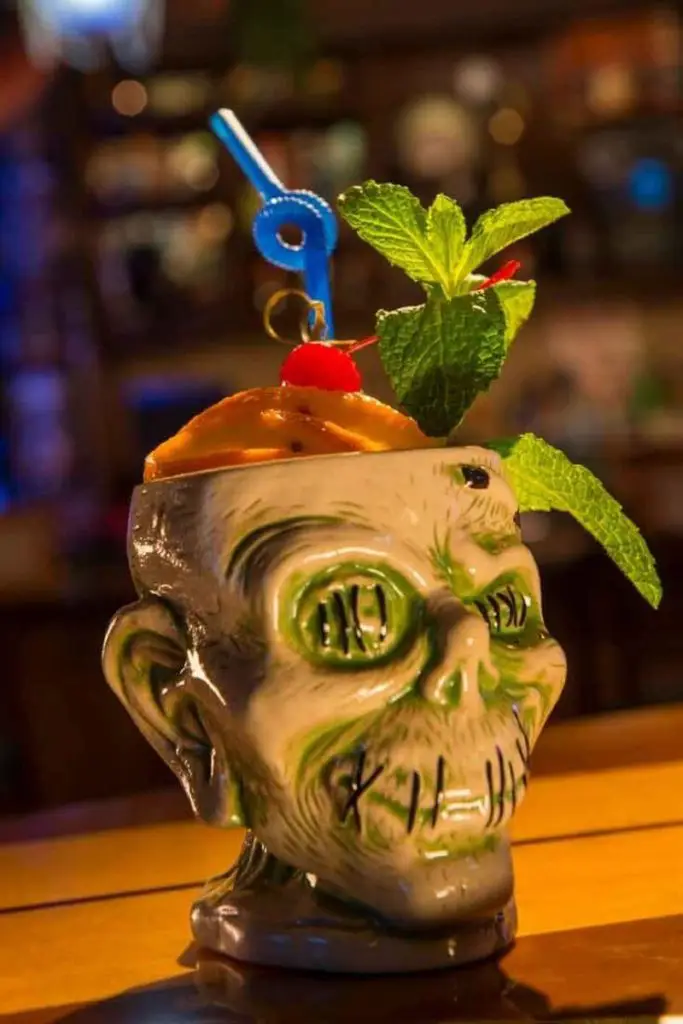 Among the deluxe resorts, there are a handful of top-notch restaurants, especially for adults.
After 8pm, Trader Sam's Grog Grotto at the Polynesian Village Resort is adults-only.
The menu is more appetizers and small bites, like Kalua pork tacos and banh mi sliders, but if you share a few plates it should be plenty for a light meal.
Cítricos at Disney's Grand Floridian Resort is a fantastic pick for a fancy night out. Start your meal with a cheese plate before indulging on delicious Mediterranean cuisine.
If you're really keen to splash out, they have a Shiraz wine from South Australia priced at $299 per glass. Yes, per glass!
Head to the ritzy Walt Disney World Swan Hotel for a mouth-watering Italian meal from Il Mulino.
If you're planning to dine with a group, consider the family style dishes or perhaps spring for the private dining room or outside terrace.
Another spectacular restaurant for adults is the California Grill at the Contemporary Resort.
This restaurant has amazing views of the Magic Kingdom park, making it a prime spot to head for a late dinner and fireworks viewing.
Last up is Yachtsman Steakhouse at Disney's Yacht Club Resort.
This New England-style steakhouse focuses on a variety of steak options, such as 100% Japanese Wagyu beef, as well as premium seafood, like fresh Maine lobster.
Epcot dining
Epcot has some of the best dining options of all the Disney World theme parks. Read on for my top 5 recommended Epcot restaurants for adults.
For a quick bite to eat, head to Tutto Gusto Wine Cellar for a charcuterie plate and glass of wine. Your taste buds will thank you!
If you're in the mood for a juicy steak, Le Cellier at the Canada pavilion is THE place to go.
Also on the menu are 2 type of poutine, a classic Canadian dish that typically features french fries, gravy, and cheese curds.
There are 4 Mexican food spots at Epcot, but the one I recommend best for an adults-only meal is La Hacienda de San Angel.
The menu at La Hacienda de San Angel is a bit more adventurous than the others, plus the atmosphere is more posh.
For a casual meal, head to the Germany pavilion for a buffet filled with bratwurst, pork schnitzel, apple strudel, and other classic German dishes at Biergarten Restaurant. And yes, there's plenty of beer on the menu.
Another spot for brew fans in need of grub is the Rose & Crown Pub at the United Kingdom pavilion.
Chow down on classic fish & chips, bacon butty sandwiches, Scotch eggs, or bangers and chips. Rose & Crown features plenty of British beer and whiskeys to choose from, as well.
Magic Kingdom dining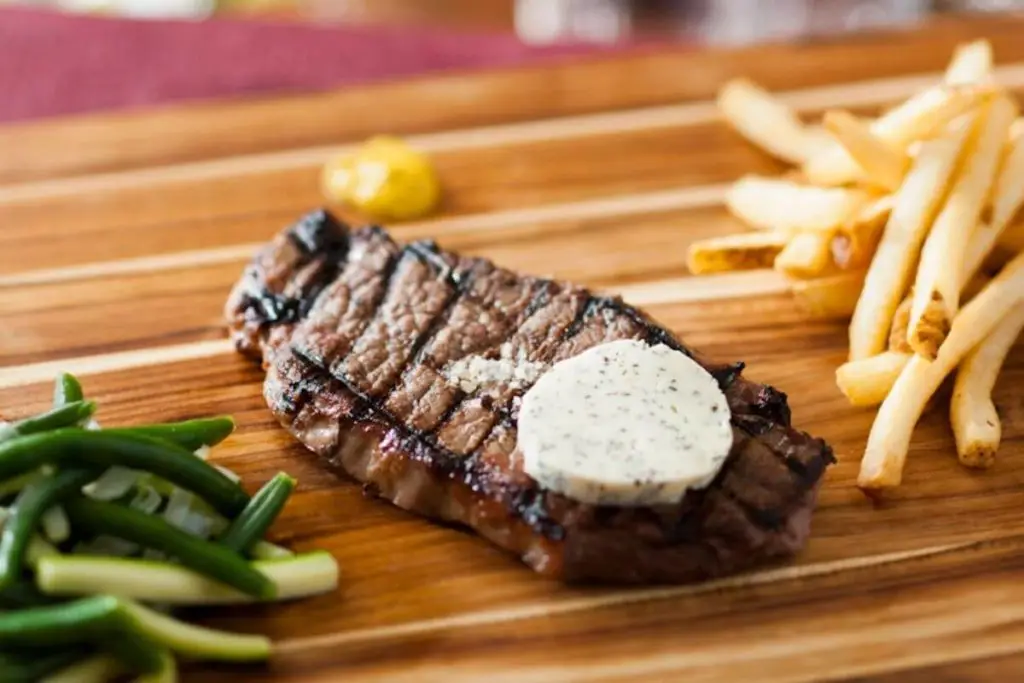 Be Our Guest is my top pick for the best restaurant in Magic Kingdom for adults.
This sit-down restaurant is set inside the Beast's castle, complete with a fancy menu reminiscent of the Be Our Guest musical scene in Beauty & the Beast.
And before you ask: Yes, you can order the Grey Stuff and it really is delicious.
A less formal but still delicious option is the Jungle Navigation Co. LTD Skipper Canteen in Adventureland, across the way from the Jungle Cruise ride.
The Skipper Canteen features a menu inspired by South American, Asian, and African cuisines.
Main Street Bakery on Main Street, not far from the Magic Kingdom entrance is another top pick for adults to grab a snack.
While not a full service restaurant, it's actually a Starbucks in disguise! No need to give up on a good cup of coffee just because you're at a theme park. Phew.
Hollywood Studios dining
If you're looking for an afternoon snack and an ice-cold beer, stop by BaseLine Tap House.
The menu is small (just 4 items), but it goes perfectly with the almost 20 beers on the menu.
The best sit-down restaurant for adults at Hollywood Studios is the Hollywood Brown Derby.
Modeled after The Derby, a Hollywood restaurant frequented by celebrities during its heyday, the Hollywood Brown Derby is one of 2 dozen fine dining restaurants at Disney World.
Adults will also enjoy the Hollywood Brown Derby Lounge, where you can grab appetizers and drinks.
The Lounge menu features appetizers, dessert, mocktails, cocktails, beer, as well as margarita and martini flights.
Animal Kingdom dining
Hands down, the best restaurant for adults at Animal Kingdom is Tiffins.
Tiffins features a global-inspired menu with dishes such as fried sustainable fish with Thai green papaya slaw and vanilla-poached South African lobster tail. YUM.
Beer, wine, and cocktails from around the world also grace the inventive menu.
For a more casual meal, head to Satuli Canteen. The food here is inspired by the hit film, Avatar.
For example, instead of the usual cheeseburger, the burger and fixings are stuffed inside a bao bun and several meals feature boba balls to deliver bursts of flavor. There's even beer and wine from Pandora on the menu!
Disney Springs dining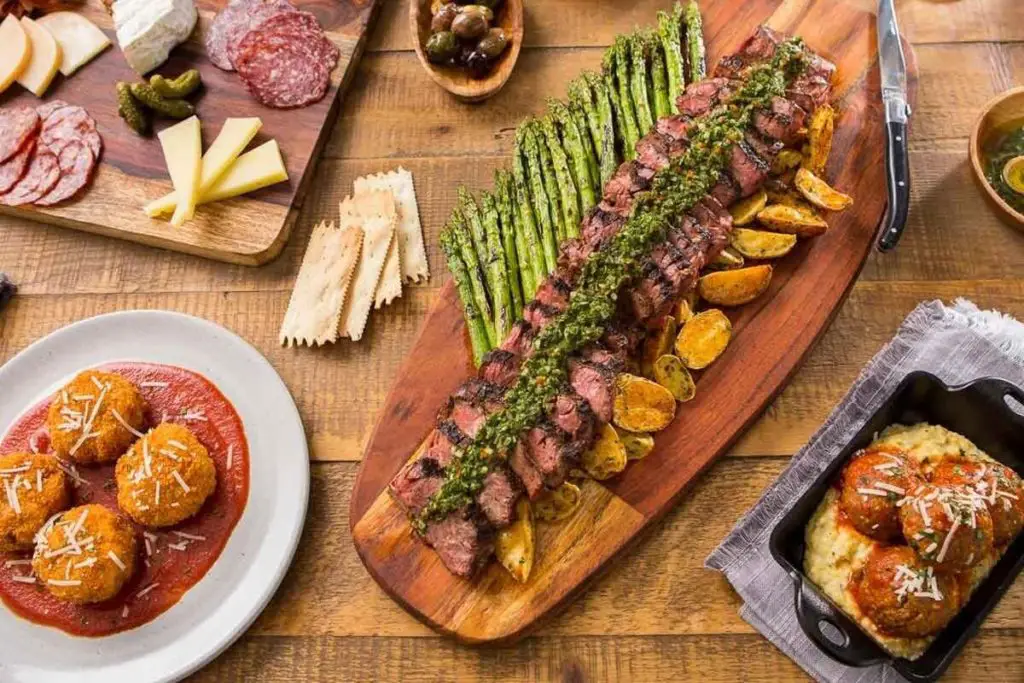 Owned by Chef Morimoto of Iron Chef fame, Morimoto Asia features Japanese, Chinese, Korean, and Malaysian cuisine.
Expect lots of sushi, ramen, dim sum, crispy Peking duck, noodle and rice dishes, mochi, and other delicious Pan-Asian food.
Wine Bar George is the perfect place to catch up with a friend. Order lots of small plates, like spiced olives, perhaps a charcuterie or cheese plate, and choose a bottle of wine from over 130 types available.
Larger meals, such as wine-braised chicken, are served family style, although during lunch there are a few sandwiches on the menu.
Seafood lovers should check out Paddlefish, set on an actual paddle boat! Dine on lobster guacamole, crab ceviche, blackened catfish, ahi poke, and other delicious seafood dishes.
Head up to the top deck for drinks and appetizers, like a classic seafood tower, curried mussels, and shrimp cocktail.
Best Disney park for adults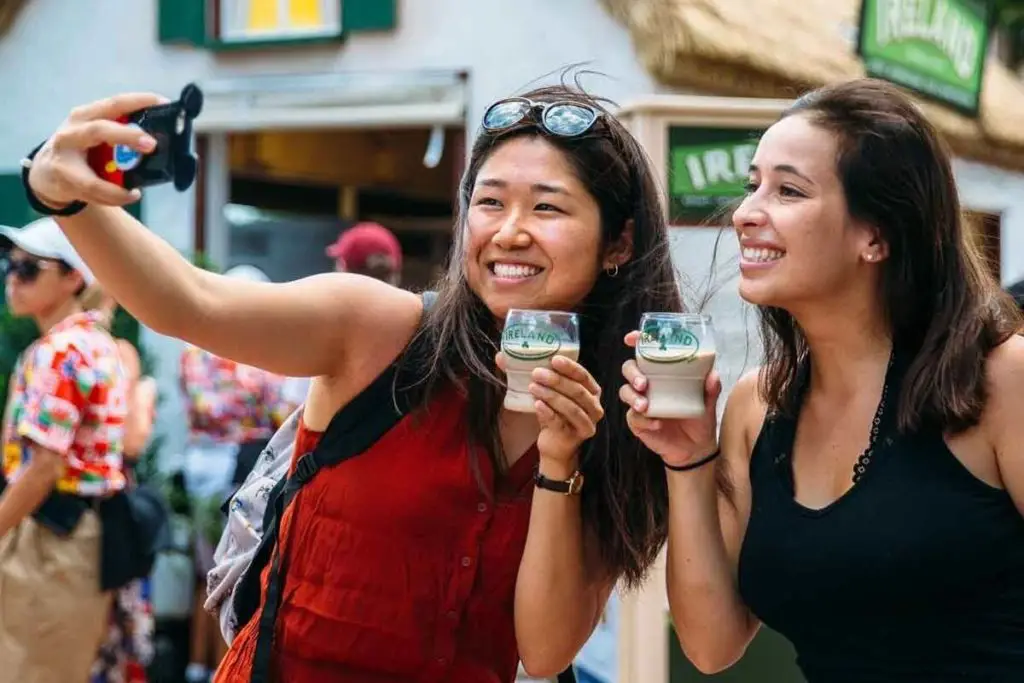 Truthfully, the best Disney park for adults really depends on your interests and why you're visiting Disney World in the first place. That said, my vote for the best Disney park for adults goes to Epcot.
Epcot has a great mix of activities that many adults like, such as cultural and art galleries, musical performances, short films, and educational demonstrations. Not to mention the wide variety of global food and drink to enjoy!
There are also a few rides that most adults will enjoy, such as my personal favorite, Soarin', a virtual hang gliding experience through popular spots around the world.
Lastly, Epcot is home to 4 seasonal festivals geared toward adults: Early winter's Festival of the Holidays, late Winter's Festival of the Arts, Spring's Flower & Garden Festival, and Fall's Food & Wine Festival.
Best rides at Disney World for adults
Once you book your vacation, take some time to think about which rides you want to do so you'll know which theme parks you want to get Genie+ for each day, or even purchase individual lightning lane passes.
Epcot rides and attractions
Soarin' Around the World is the best ride at Epcot, and not just for adults! This popular ride often has LONG lines, so I highly recommend getting a Genie+ pass.
Soarin simulates hang gliding through different landmarks around the world, such as the Great Wall of China, Sydney Harbor, the pyramids of Egypt, and of course, Disney World.
Another good ride for adults at Epcot is Mission: SPACE. This ride gives guests 2 space missions to choose from: Mars or an Earth orbit.
The Mars mission is too intense for me, but the Earth mission, introduced in 2017, is more family friendly.
Test Track is another fan favorite ride at Epcot. On this ride, guests can design their own car and then take it for a spin on the, well, test track!
Epcot's newest ride, Guardians of the Galaxy: Cosmic Rewind is sure to be a hit with the Gen Z and older millennial adults thanks to the 80s soundtrack. It's also the only roller coaster at Epcot!
Magic Kingdom rides and attractions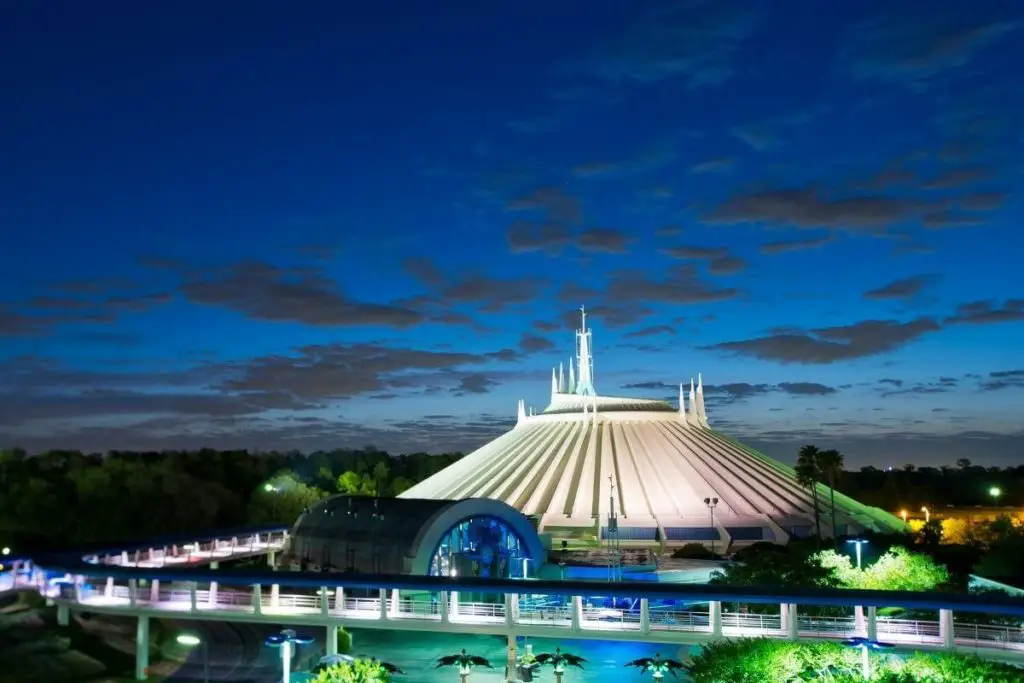 Magic Kingdom is home to several roller coasters and thrill rides, all of which are fun for adults!
Space Mountain takes place in pitch black – and I always end up cry-laughing by the time the ride is done.
Big Thunder Mountain Railroad is a themed after a train ride through a Southwestern US themed. It's definitely not as intense as Space Mountain, but not wimpy either.
Seven Dwarfs Mine Train is a mine train-themed roller coaster, but a step down on the intensity scale from Big Thunder Mountain Railroad.
Lastly, another roller coaster, TRON Lightcycle / Run opened on April 4, 2023 and it is so much fun – especially at night.
In late 2024, Splash Mountain will reopen with an all-new theme as Tiana's Bayou Adventure.
Animal Kingdom rides and attractions
My favorite ride at Animal Kingdom, actually in all of Disney World's theme parks, is Avatar Flight of Passage.
This virtual reality ride simulates riding on the back of a banshee (a flying dragon-bird like creature) through Pandora, the world of Avatar. It's definitely not for those that get motion sickness easily!
Another great ride for adults at Animal Kingdom is the Kilimanjaro Safari.
I recommend doing the Kilimanjaro Safari first thing in the morning, when many of the animals are roaming about (and not napping or hiding from the hot Florida sun).
Lastly, don't forget to check out Expedition Everest, a super fun roller coaster at the back of the park. At one point in the ride, you go BACKWARDS!
TIP: Don't worry if you're not able to get a Genie+ pass for this ride. They have a single rider line, which usually moves a LOT quicker than the standard line.
Hollywood Studios rides and attractions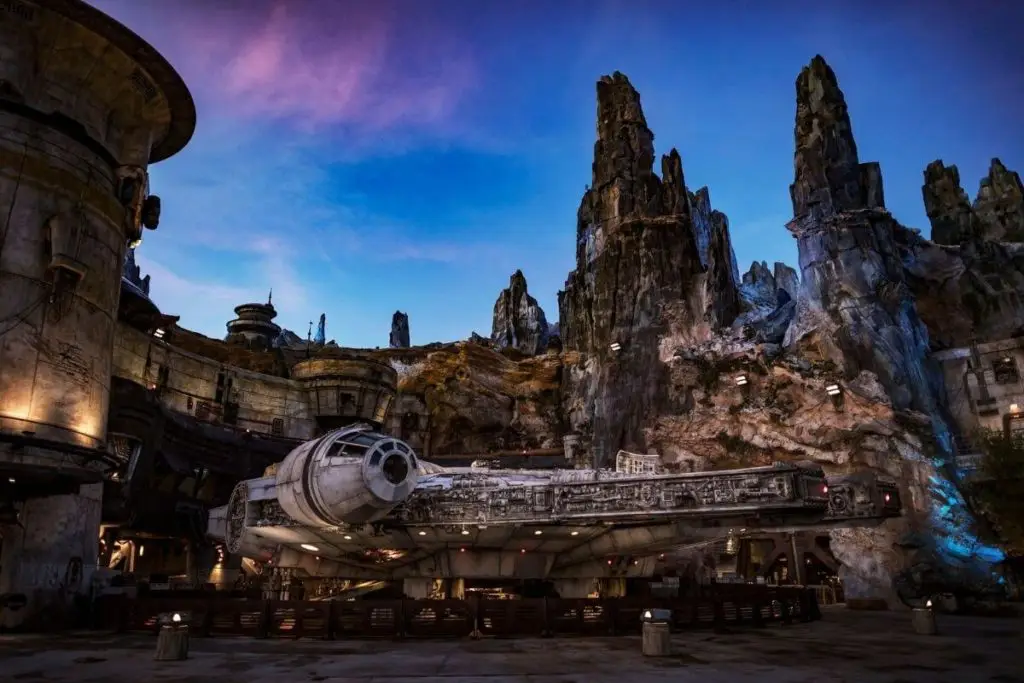 The top 3 rides at Hollywood Studios for adults are The Twilight Zone Tower of Terror, the Rock n Roller Coaster, Milennium Falcon: Smugglers Run.
The Twilight Zone Tower of Terror simulates an elevator ride in an old 1930s hotel. There are lots of sudden drops and spooky sounds. You'll leave the ride with your heart pounding (or is that just me?)!
The Rock n Roller Coaster twists and drops in the dark while Aerosmith music is blasting, There's also a cheesy pre-filmed intro featuring Aerosmith that is beloved by frequent park goers.
Lastly, if you grew up on Star Wars, Star Tours – The Adventure Continues, Millennium Falcon: Smugglers Run, and Star Wars: Rise of the Resistance are a must!
If you can only do one, my recommendation is Millenium Falcon for its interactive elements that will bring you back to your childhood.
Things to do at Disney World for adults
If the fabulous dining, rides, and resort exploring aren't enough, don't worry – there are PLENTY more things to do at Disney World for adults!
Take a Disney World tour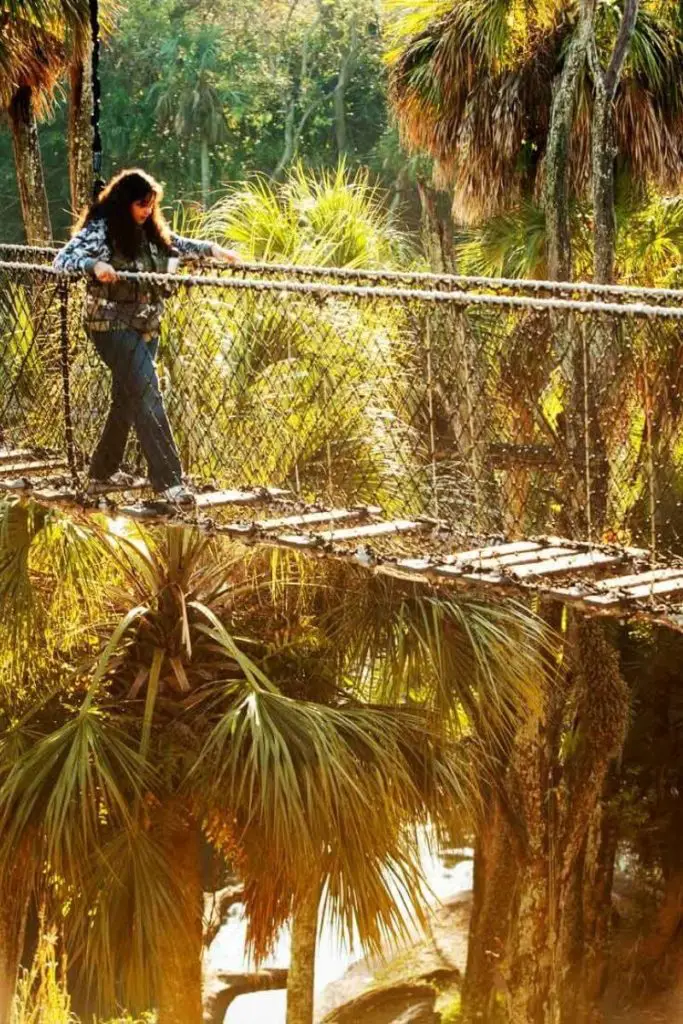 Disney World has several tours geared toward adult interests. Tours are not included with park ticket costs, but depending on your interests, might be worth the extra cost!
Disney's Keys to the Kingdom Tour is a 5-hour tour of Magic Kingdom.
In this tour, you learn the history of some of the park's attractions, check out tunnels beneath the park, and learn all kinds of secrets and trivia about the Magic Kingdom.
Gardens of the World is a 3-hour tour at Epcot that takes you behind the scenes of the gorgeous floral displays, gardens, and plants across the park.
This tour is perfect if you're visiting during the Epcot International Flower & Garden Festival!
During the Winter holiday season, Disney's 3.5-hour Yuletide Fantasy Tour includes a behind-the-scenes look at how the Magic Kingdom prepares to decorate for the holidays, from flowers and tree decorations to holiday treats.
At Animal Kingdom, go behind the scenes of one of my favorite AK rides, the Kilimanjaro Safari, on the Wild Africa Trek tour.
On this tour, you'll have a more personalized, up-close safari, including a rope bridge walk, trekking across some of the open Safari land, and of course, riding through in a safari Jeep.
Have a spa day
Some of Disney World's resorts include spas, where you can get the typical spa treatments like facials, massages, manicures, and pedicures.
Disney's Animal Kingdom Lodge, Coronado Springs, Grand Floridian, Saratoga Springs, and Yacht Club resorts all include on-site spas.
Here's a quick list of all the spas on Disney property:
| Resort | Spa |
| --- | --- |
| Animal Kingdom Lodge | Zahanati Massage & Fitness Center |
| Coronado Springs Resort | La Vida Health Club |
| Four Seasons Orlando | The Spa at Four Seasons Orlando |
| Grand Floridian Resort | The Grand Floridian Spa |
| Saratoga Springs Resort | Senses Spa |
| Shades of Green Resort | Magnolia Spa |
| Walt Disney World Dolphin Resort | Mandara Spa |
| Yacht Club Resort | Ship Shape Massage Salon Fitness |
Disney Spas
Play a round at a Disney golf course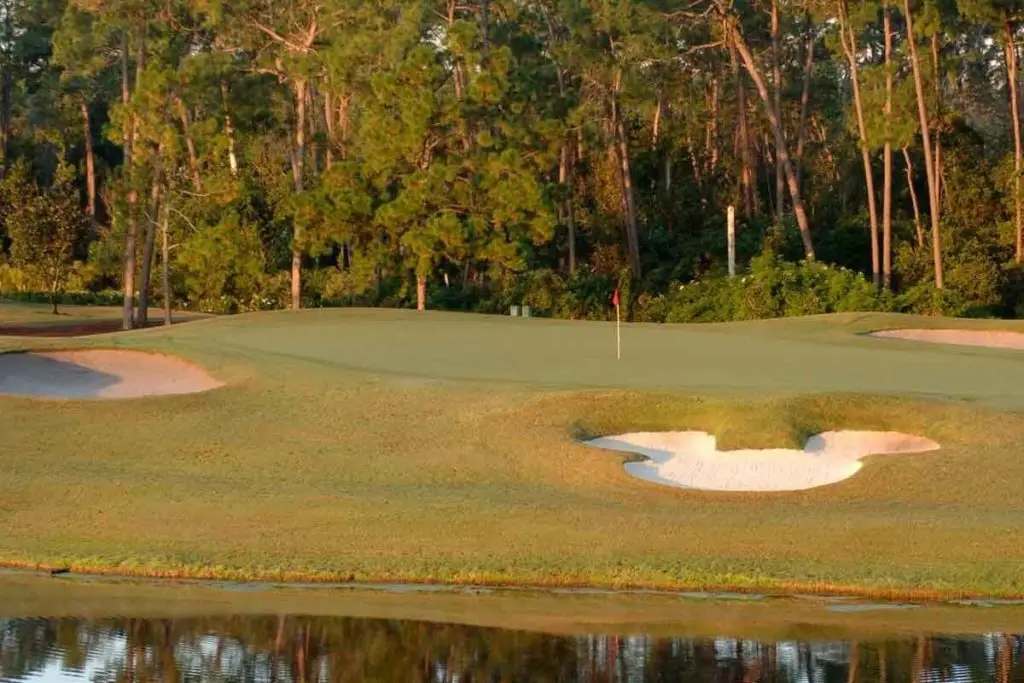 Disney World has 4 golf courses. Yes, you read that right – 4 whole golf courses!
The Lake Buena Vista, Palm and Magnolia golf courses feature 18-holes, while the Oak Trail golf course has 9 holes.
Golf lessons are also available, for those looking to up their golf game.
Hang out at Disney Springs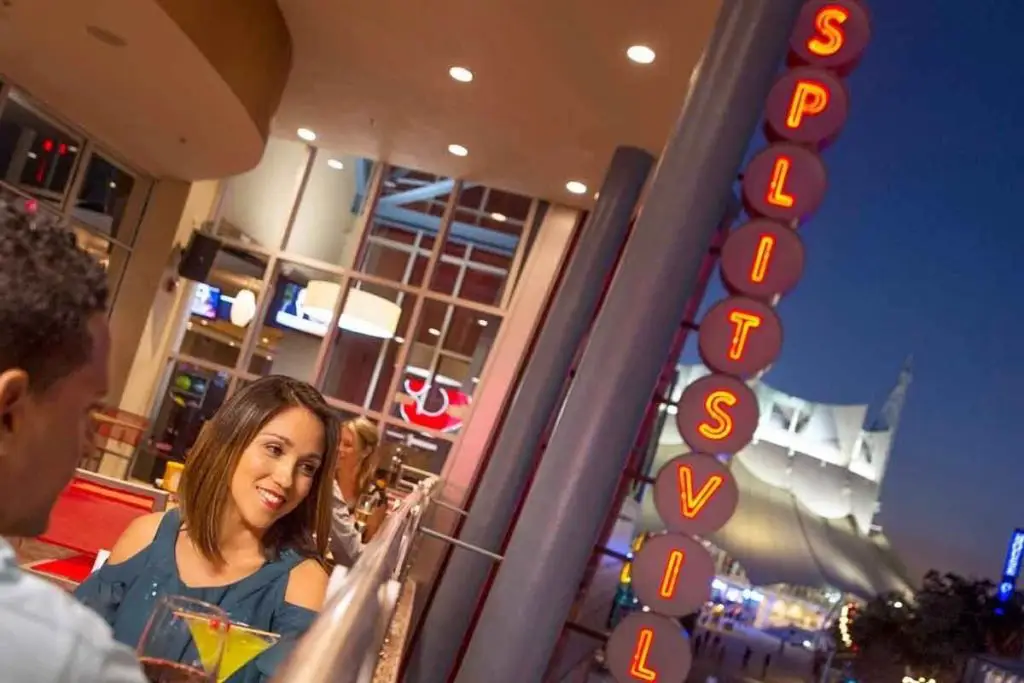 Spend a night at Splitsville Luxury Lanes for bowling, pool, and dinner or at AMC's Dine In Movie Theater to catch the latest movie from a cushy couch while you sip a beer and nosh on appetizers.
If you're looking for a more leisurely activity in Disney Springs, grab your wallet and hit the shops!
Aside from plenty of Disney-themed stores, Disney Springs has popular stores like Anthropologie, Free People, Francesca's, Kate Spade New York, Lilly Pulitzer, Uniqlo, and Zara.
For more tips, check out my guide on what to do at Disney Springs.
Participate in a runDisney race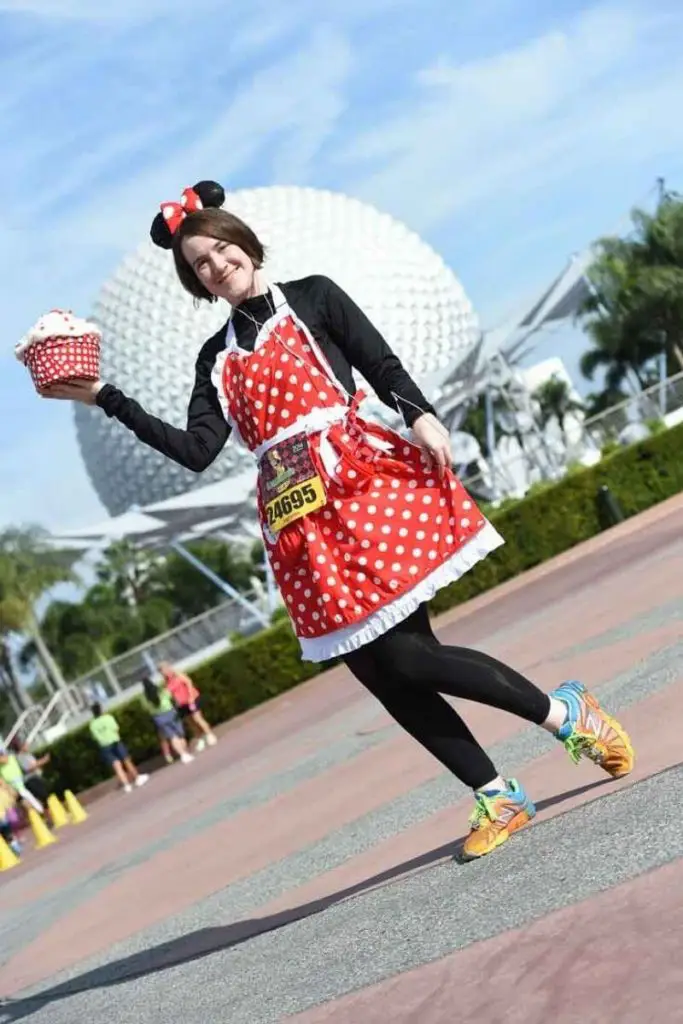 If you're a runner, check out Disney World's annual runDisney races.
There are several throughout the year, ranging from 5k fun runs to full on marathons, such as the Princess Half Marathon and Disney World Marathon.
Check out the nightlife
There are a number of nightlife options at Disney World.
For a casual night out, head over to Epcot to eat and drink your way around the world.
Epcot's World Showcase has food, beer, wine, and liquor from around the world, so it's a great place to try something new, with a Disney twist.
You can read more about this adults-only tradition in this post about Drink Around the World at Epcot.
In addition, check out La Cava del Tequila, a cozy tequila bar tucked away inside the Mexico pavilion.
Another great spot for a nightcap is Nomad Lounge at Animal Kingdom, where you can try inventive cocktails like Tempting Tigress or Snow Leopard Salvation.
Nomad Lounge also features beers from around the world like Tiger Lager from Singapore or Tusker Premium Lager from Kenya.
Visit the Disney BoardWalk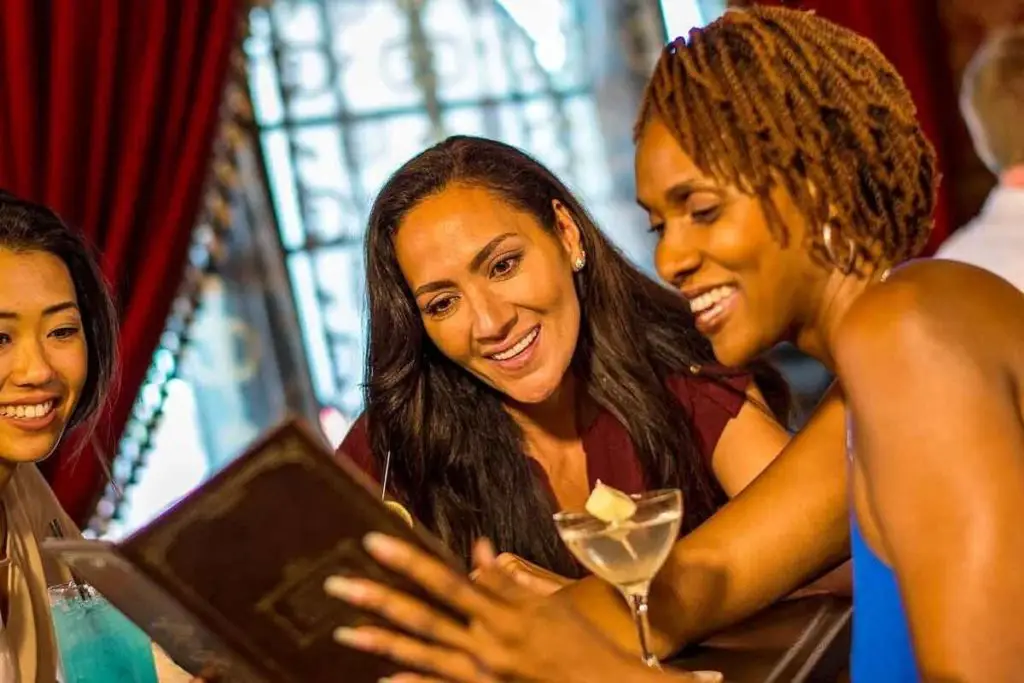 Another popular spots for adults to kick back at night is Disney's BoardWalk, located along Disney's Boardwalk Inn & Villas.
AbracadaBar's shining star are its handcrafted and inventive cocktails, with names like Parlor Trick and Magic Mirror. If wine or beer is more your thing, AbracadaBar's menu has something for you too!
Atlantic Dance Hall is perfect spot for dancing the night away to 80s, 90s, and current top 40 hits.
This club is only open on select dates, so be sure to check ahead to see if it's open while you're visiting before you head over.
Fans of craft beer should definitely head to Big River Grille & Brewing Works, where you can sample several local craft beers.
There is a microbrewery on site, so you can even get a peek at the brewing process of some of the brews available for sampling.
Jellyrolls is a classic dueling piano bar, where the audience tries to stump 2 dueling piano players with music requests. It's a fabulous time!
Take a stroll around Disney Springs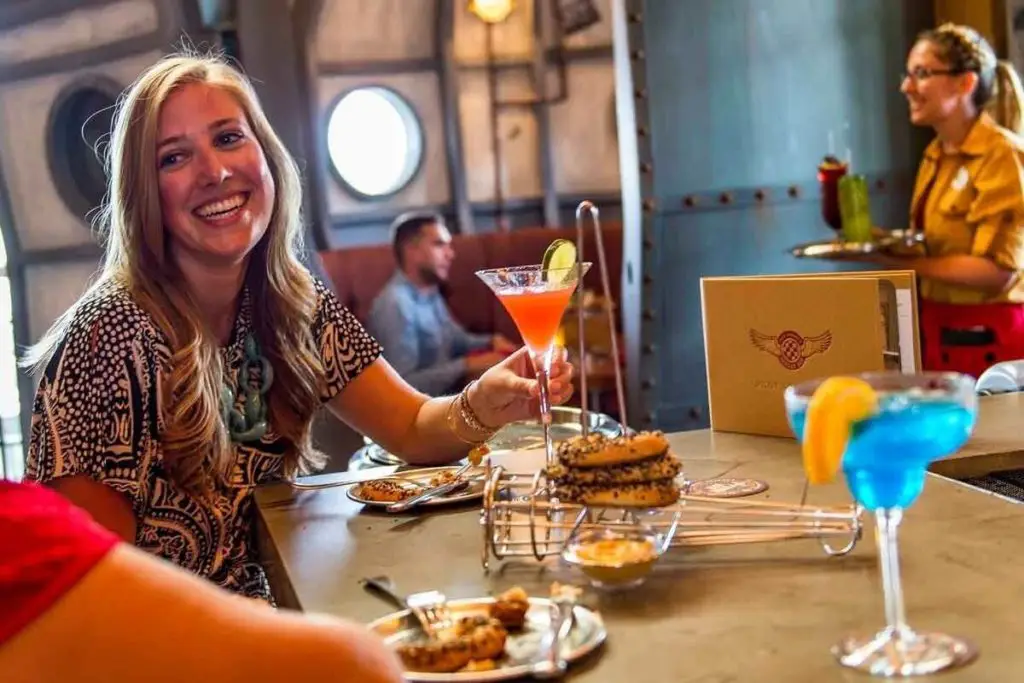 Another great spot to head to for nightlife at Disney World is Disney Springs, formerly known as Downtown Disney.
Jock Lindsey's Hangar Bar is modeled after a 1940s airplane hangar straight out of an Indiana Jones movie.
This fun hangout spot has a delicious bar bits menu and plenty of cocktails, wine, and beer. You can also get a whiskey or beer tasting flight if you can't decide what to imbibe.
Located at Planet Hollywood, Stargazers Bar has fun cocktails and craft beers from Florida-based breweries.
It's a great place to stop off for a drink or 2 after taking in a movie at the AMC Dine-In Theater across the walkway.
Take in a concert at the House of Blues Music Hall or stop by The Front Porch, the House of Blue's outdoor bar for a nightcap.
The Front Porch also hosts concerts by local musicians, so either venue is perfect for a night filled with good music.
The Edison is a fantastic pick for a Girls' Night Out, with its 1920s Great Gatsby inspired venue.
After 10pm, The Edison turns into a lounge with a variety of entertainment, including burlesque dancers, aerialists, and a DJ.
For a more casual night, stop by Paradiso 37, Raglan Road, or Dockside Margaritas for drinks.
Dockside Margaritas sits along the waterfront and hosts live music. The drink menu is small, but still tasty!
Paradiso 37 hosts outdoor concerts at night featuring Latin music. They also have over 75 types of tequila on their menu!
Raglan Road Irish Pub & Restaurant has nightly Irish music and dance performances.
What's on your itinerary for an adults-only Walt Disney World vacation?
Planning a Disney World trip for adults only can be so much fun, and with the tips we've shared in this post, you'll have an amazing time!
Whether you're hoping to relax or get wild, there's no doubt that the memories you make will stay with you forever.
So grab your friends or significant other and experience all the unique restaurants, bars, and attractions that Disney World has to offer.
Now it's time for you to take action – what will you do on your adults-only Disney World trip? Go ahead and show everyone how it feels to be a Disney adult. Or even better, a childless milennial!
If you've made it this far, THANK YOU! I hope you enjoy your adults-only vacation at Disney World.
Be sure to comment below to let me know how your trip was.
---
About the author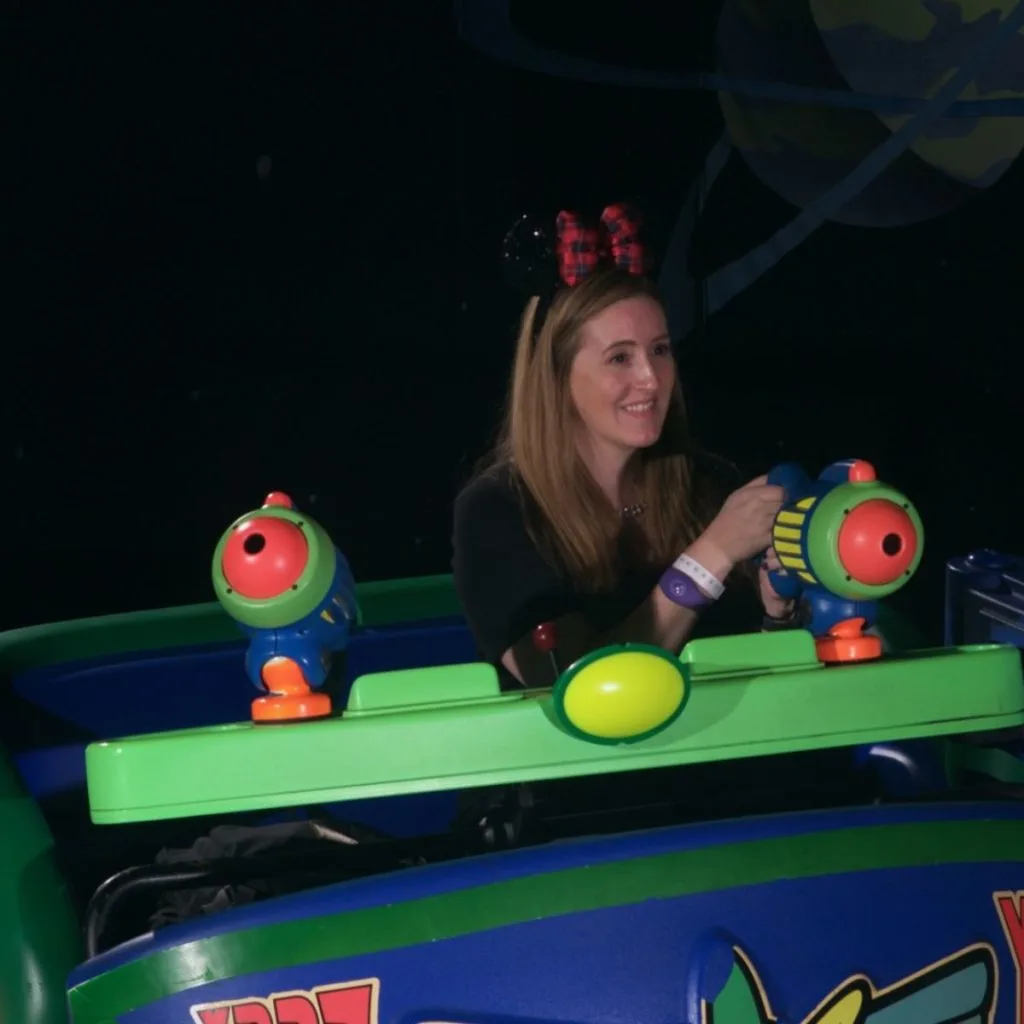 Meg Frost is the creator of The Park Pixie, where she covers Disney World, Disney+, and Disney fandom.
She holds an M.A. in Journalism from Northeastern University and B.S. in Communication & American Studies from University of Miami.
---
This post was originally published October 20, 2017 on Frost + Sun. It moved to Park Pixie on May 4, 2021 and was last updated September 24, 2023.