Walt Disney World Resort's theme parks are full of little kids and boring rides, right? WRONG!
Comprised of 4 ever-expanding theme parks, Disney World has a decent line up of roller coasters with more planned for the future.
I'll save the twists and turns for your trip to the park, here's my complete guide to the best roller coasters at Disney World.
How many Disney World roller coasters are there?
There are eight roller coasters at Disney World with another one set to debut in April 2023. Keep reading to learn more about them.
Disney's Animal Kingdom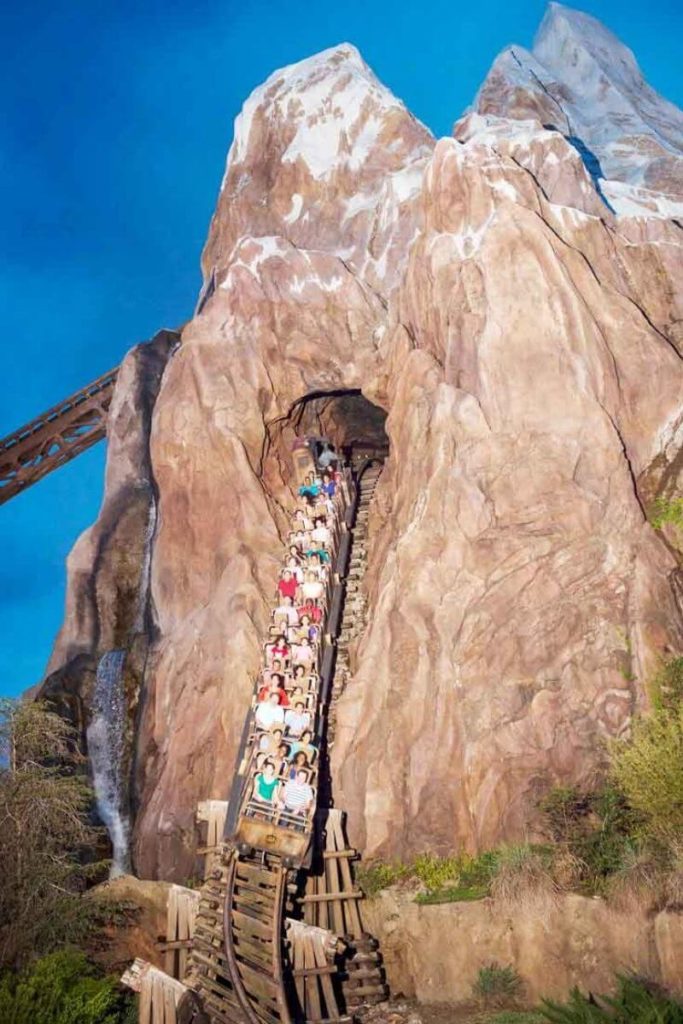 Animal Kingdom has one roller coaster, Expedition Everest.
This is one of my favorite Disney World roller coasters! The premise is a journey through Mount Everest with a Yeti monster lurking nearby.
Yes, a yeti. You're gonna have to ride it to see what I mean!
Expedition Everest often has long lines. But if you don't mind possibly riding with a stranger, there is a separate line for single riders that has a much shorter wait than the main line. Or you can snag a lightning lane via the Genie+ pass!
Animal Kingdom used to have a second roller coaster called Primeval Whirl. However, it closed in March 2020 and was demolished in 2021.
BONUS: Head over to Pandora to check out Avatar: Flight of Passage. It's not a traditional roller coaster. However, you'll definitely feel like you're on one!!
Flight of Passage is my absolute favorite thrill ride in all of Disney World. It's an exhilarating virtual reality ride that simulates flying through the land of Pandora on the back of a banshee.
This ride is so well done that you'll get the same adrenaline rush from this ride as you do from a typical roller coaster.
Epcot
On May 27, 2022, Epcot debuted its first ever roller coaster, the Marvel-themed Guardians of the Galaxy: Cosmic Rewind.
Although this ride doesn't have any massive drops or loops, it's definitely still filled with thrills! It is also the fastest roller coaster at Disney World, clocking in at 60 mph.
What I love about this ride is that each ride is set to a single song from a list of about 6 tracks. Kind of like one of Peter's mix tapes!
At this time, the songs you might get include:
Conga by Gloria Estefan and the Miami Sound Machine
Disco Inferno by The Trammps
Everybody Wants to Rule the World by Tears for Fears
I Ran by A Flock of Seagulls
One Way or Another by Blondie
September by Earth, Wind & Fire
During the holiday season, the ride got a Christmas themed overlay, including a series of holiday songs. How fun!
Guardians of the Galaxy: Cosmic Rewind is available via free virtual queue, as well as a paid individual lightning lane pass. It is not available as part of the overall Genie+ pass and there is no standby line.
For additional thrills at Epcot, hit up Mission: SPACE, Soarin' Around the World, and Test Track.
Disney's Hollywood Studios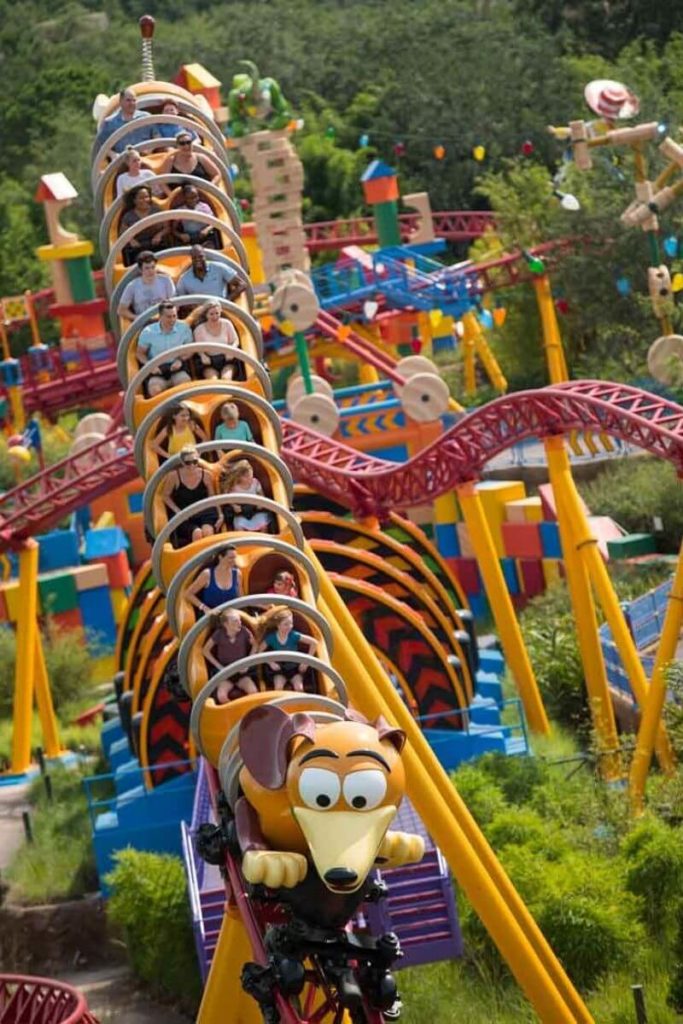 Disney's Hollywood Studios is home to 2 roller coasters at Disney World: Slinky Dog Dash and Rock 'n' Roller Coaster starring Aerosmith.
Located in Toy Story Land, Slinky Dog Dash is based on everyone favorite slinky dog from Toy Story. The ride cars literally look like him!
Slinky Dog Dash is a good intermediate coaster – not too wild and not exactly kiddie coaster. It's a nice meet in the middle.
Lastly, it is available as part of Genie+.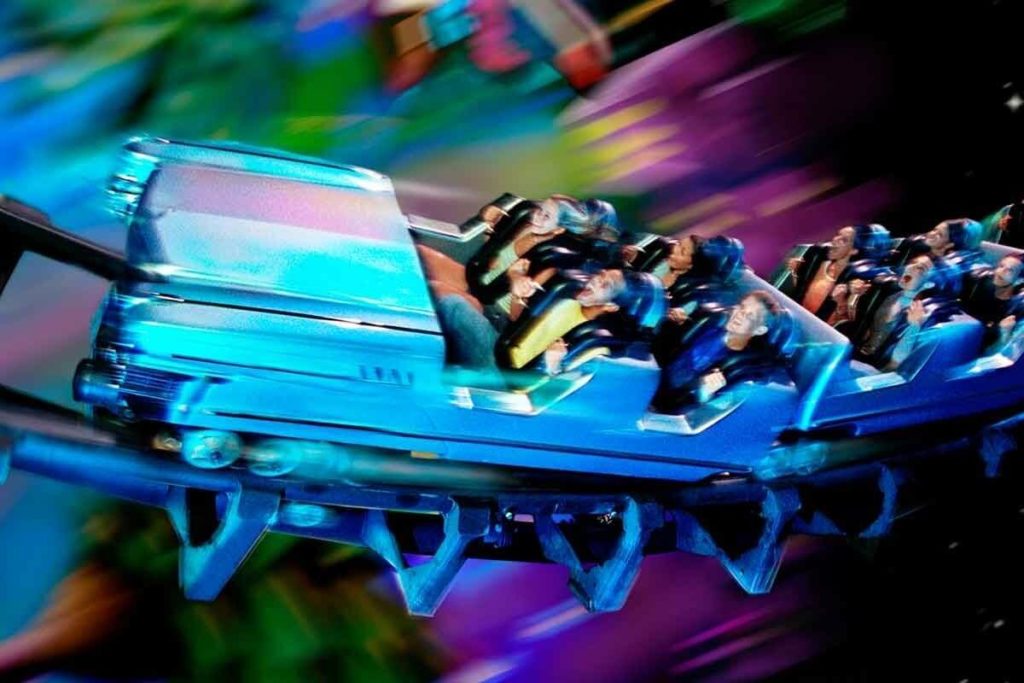 Rock 'n' Roller Coaster is a super intense indoor roller coaster featuring 2 loops and 1 corkscrew, all at 60 miles per hour set to Aerosmith tunes. It's definitely the opposite of Slinky Dog Dash, thrill-wise!
One time when I was visiting Disney World with my sister, we were able to get on this ride 3 times in a row (it was night time on a rainy day). I made her keep getting back in line with me because I was determined to get a good photo.
But no matter what I did, I always ended up pulling the most ridiculous face when the camera flashed. And she looked as cool as a cucumber in every single one.
Maybe one of these days I'll let you see the photos. Maybe.
Before we move on – yes, the Rock 'n' Roller Coaster is available via Genie+!
Magic Kingdom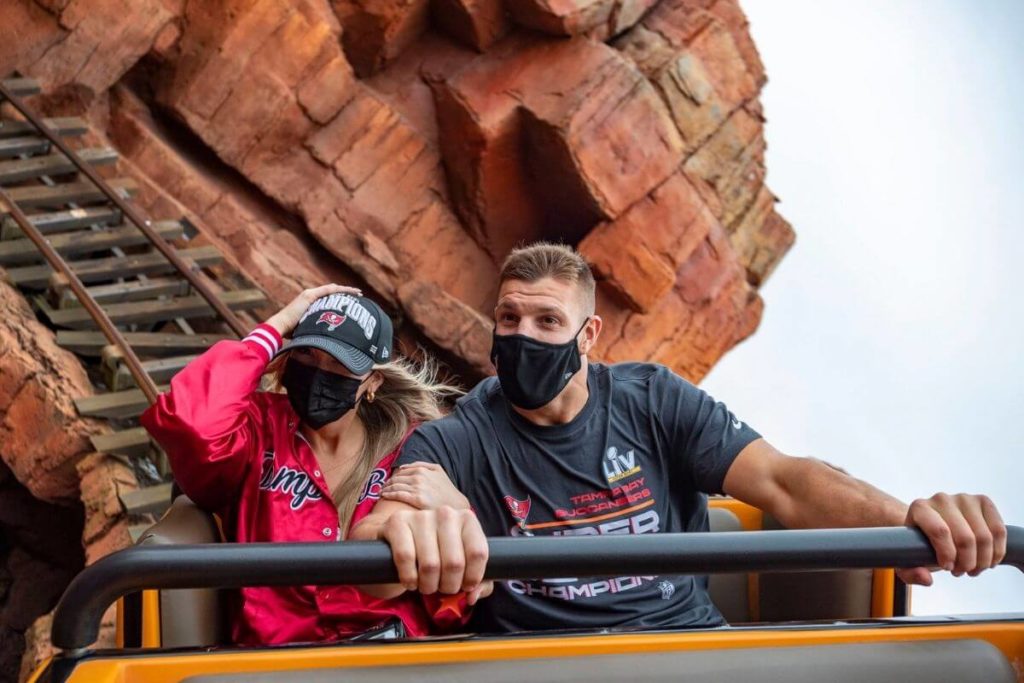 Magic Kingdom is home to 4 roller coasters with a fifth set to open in 2023.
Space Mountain in Tomorrowland is hilariously fun and slightly trippy. This dark ride takes place in pitch black, so you never know when there will be twists, turns, or drops.
I always walk off this popular ride slightly dizzy and laughing so hard that I have tears streaming down my face. I LOVE IT! Guests must be at least 3′ 8″ to ride Space Mountain.
Space Mountain is available as part of Genie+ pass for Magic Kingdom.
Head to Fantasyland for the Seven Dwarfs Mine Train.
This roller coaster is a tamer than other ones at Disney World, but still lots of fun with whips and turns. Guests must be at least 3′ 2″ to ride Seven Dwarfs Mine Train.
Seven Dwarfs Mine Train is not available as part of Genie+, but you can purchase an individual lightning lane pass.
Next up is Big Thunder Mountain Railroad in Frontierland, which is another thrill ride that is available as part of Genie+.
This Western-themed roller coaster is a classic Disney park ride that is also located at Disneyland, Disneyland Paris, and Tokyo Disneyland. Guests must be at least 3′ 4″ to ride Big Thunder Mountain Railroad.
Then there is The Barnstormer Featuring Goofy as the Great Goofini, a kiddie coaster in Fantasyland's Storybook Circus section.
Guests must be at least 35 inches to ride this coaster, which runs for 53 seconds at up to 25 miles per hour.
This ride is available as part of Genie+.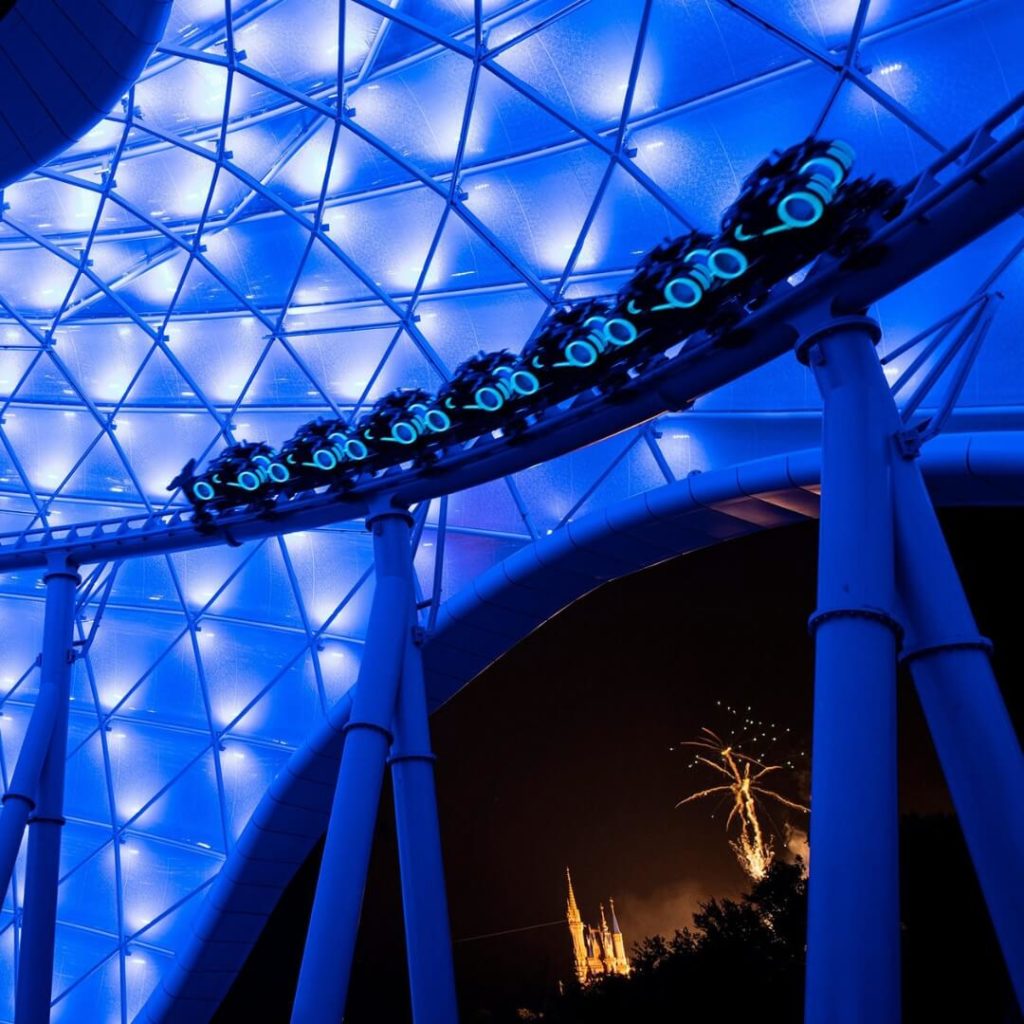 Coming April 4, 2023 is Disney World's newest ride, Tron Lightcycle / Run, which is modeled after Tron Lightcycle Power Run at Shanghai Disneyland.
The ride is located in Magic Kingdom's Tomorrowland and is themed after the 1982 film TRON and its 2010 sequel, TRON: Legacy.
It was originally set to open in 2021 for Disney World's 50th anniversary, but was delayed for unclear reasons.
This ride will only be made available via virtual queue and will also have an individual lightning lane.
If I had to guess, it'll likely have an individual lightning lane, making it the only Disney World theme park with more than 1 individual lightning lane offer.
NOTE: A soft opening of TRON will start on March 20 and run through April 2 and guests will be able to join via virtual queue if they have a Magic Kingdom reservation. The ride will close on April 3 to prep for the official opening date of April 4.
Which one is your favorite roller coasters at Disney World?
Before you go, let me know which roller coaster at Disney World is your favorite in the comments below.
For more Disney World travel tips, check out these posts:
This post was originally published on April 14, 2016 on Frost + Sun. It was moved to The Park Pixie on May 4, 2021 and last updated on March 10, 2023.