Whether you're dreaming of lounging by the pool, snorkeling in crystal-clear waters, or exploring nearby trails and shops, Aulani Resort in Hawaii has all kinds of activities to keep guests of all ages entertained.
But before you start packing your bags, read through this post to learn more about all the best things to do at Aulani, so you can plan the ultimate vacay.
Get ready for an unforgettable getaway full of relaxation and adventure! You won't want to miss out on these exciting adventures waiting in paradise.
Free things to do at Aulani Resort in Hawaii
Aulani is packed with tons of free activities ready for your enjoyment. Here's a list of the very best things to do at no cost.
Conquer the water slides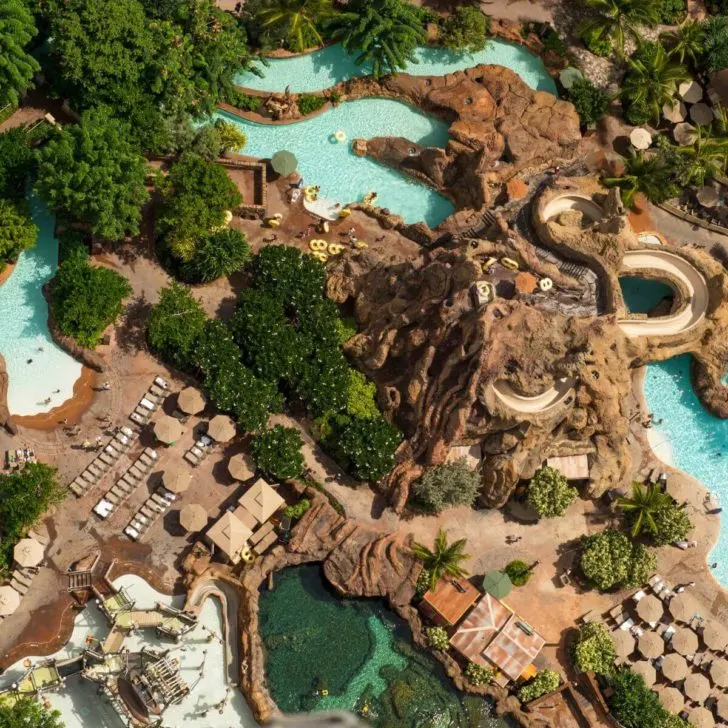 Looking for a fun way to cool off on your Hawaiian vacation? Look no further than the water slides at Aulani!
These bad boys will have you slipping and sliding your way to the bottom with a smile on your face. Plus, it's a great way to show off your hair flip skills as you make a splash.
There are 2 slides in total: Tubestone Curl and Volcanic Vertical.
Volcanic Vertical is a fast body slide that drops your right into the Waikolohe Pool, while Tubestone Curl is a tube slide that pushes you into the Waikolohe Stream lazy river.
Which brings me to the next activity…
Drift down the Waikolohe Stream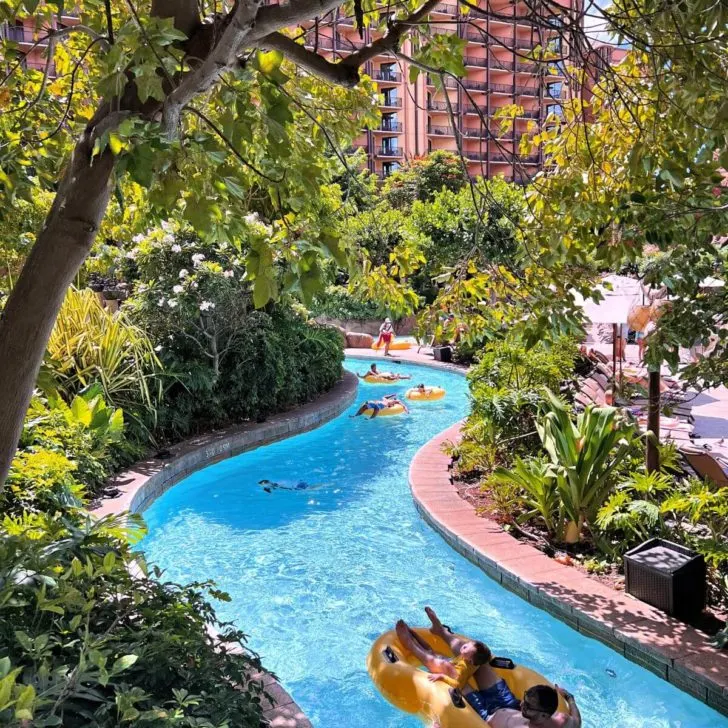 The Waikolohe Stream lazy river is a 900-foot long leisurely journey through lush gardens, rocky caves, and even a waterfall!
The best part? You don't even have to paddle. Just lean back on your single or double inner tube, take in the scenery, and let the current do all the work.
It's the perfect escape from the hustle and bustle of everyday life and a great way to unwind and relax on your Aulani vacation.
Cool off in the pools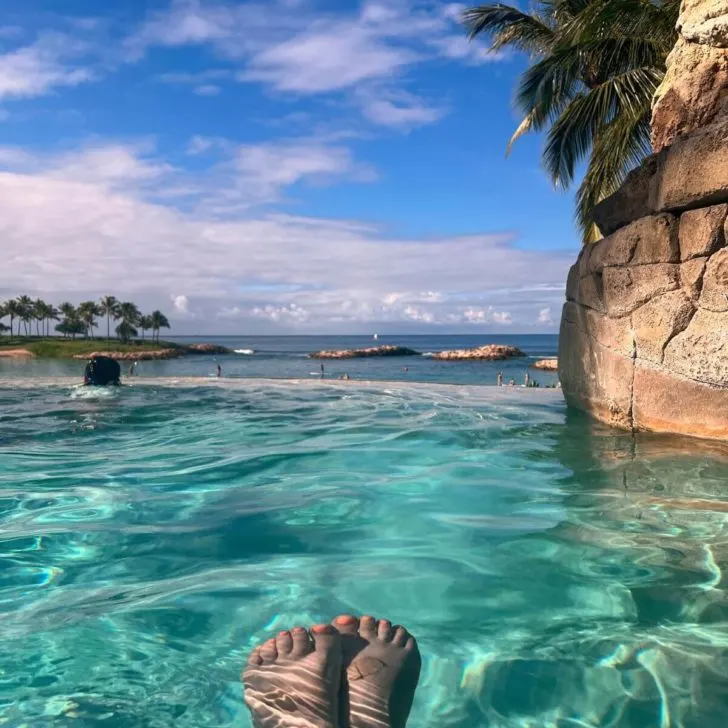 Aulani has 3 pools across its sprawling pool complex: Waikalohe Pool, Wailana Pool, and Ka Maka Grotto.
The Waikalohe Pool is the main pool with 8,200 square feet of space to splash or relax in, plus a zero entry area.
For a quieter experience, head to the secluded and shaded Wailana Pool, with 1,500 square feet.
Lastly is my favorite pool, the Ka Maka Grotto, with a beautiful caved grotto and infinity edge overlooking the lagoon.
Regardless of where you end up, one thing's for sure – nothing beats that feeling of jumping into a crystal clear pool on a hot day!
Splash around on the Menehune Bridge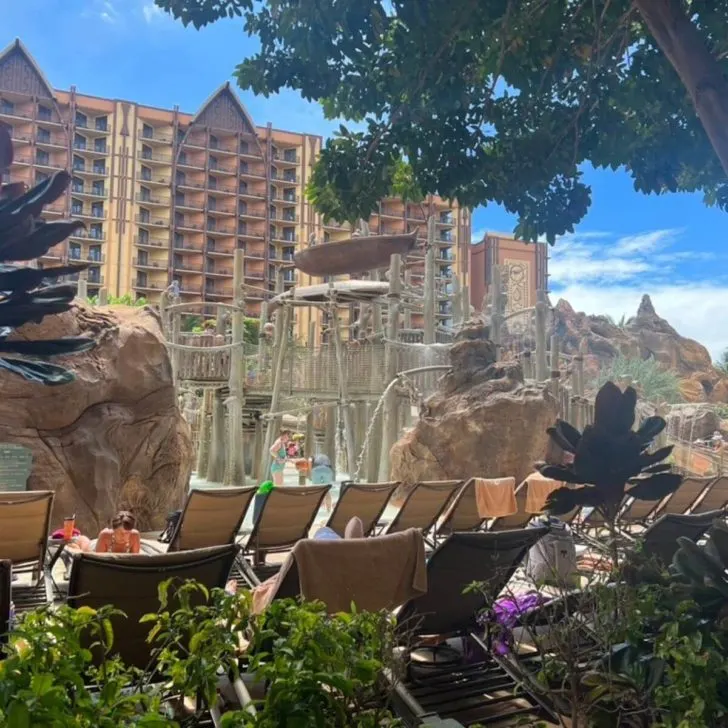 The Menehune Bridge is part splash pad and part playground.
It has bridges and climbing structures, as well as water slides and splashing buckets.
The only bad part? It's restricted to people 48″ and under. Bummer!
If your toddlers are interested but are intimidated by the Menehune Bridge, there's a simpler splash pad around the corner, just outside Ulu Café.
Live it up at the pool party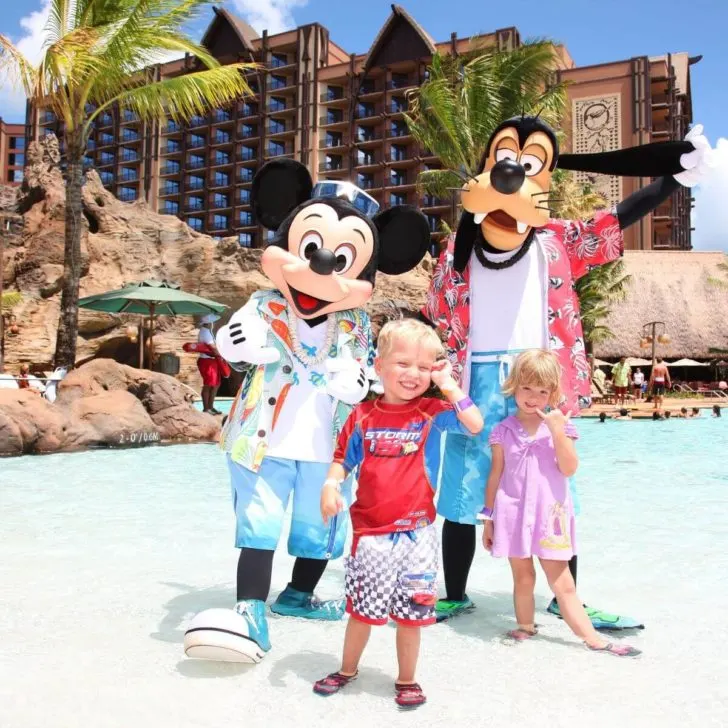 Grab your swimsuit and your shakas, because it's time to party Hawaiian-style.
The Shake-a-Shaka Pool Party includes music, dancing, games, and an appearance from a Disney character or a few!
The party takes place around the Waikalohe Pool. Check the Aulani app or Daily Iwa printout for times.
Watch the sunset from the infinity whirlpool spa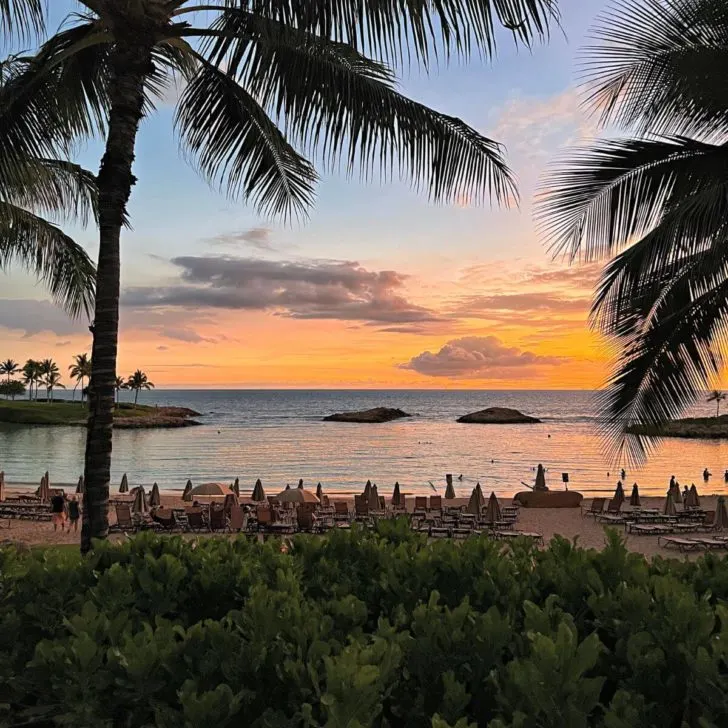 One of my favorite things to do at Aulani was relax in one of the whirlpool spas after a long day of activities around Oahu.
Aulani has four whirl pools, one of which has 2 levels with infinity edges and is for adults 18+ only.
If you're looking for the perfect sunset spa experience, I recommend the Ka Maka Grotto whirlpool or the adults-only 'Alohi Point whirlpool, which is in between both the Ka Maka Grotto and Waikalohe Pool.
The other 2 whirlpools are located near the Waikalohe Pool and Waikalohe Stream.
Relax on the beach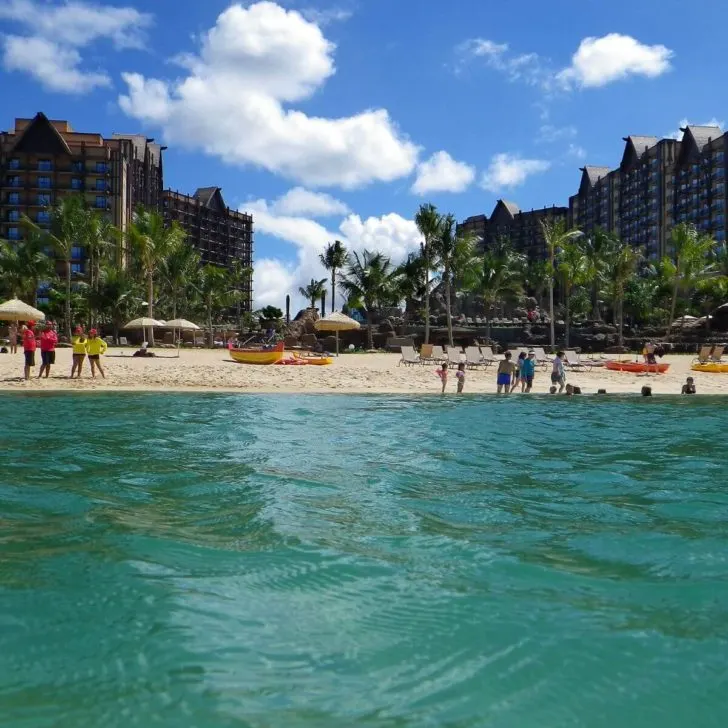 Aulani backs up to a lagoon in the Pacific Ocean and it is quite the treat! The waters are warm and calm due to the design of the lagoon, while the sand is super soft.
Lounge chairs with umbrellas are free and first-come, first serve, as are boogie boards and life jackets. If you prefer to guarantee a good spot, you can rent a two-person casita, as well.
In case you haven't heard of this fun activity, hidden mickeys are discrete Mickey heads hidden in inconspicuous places, like food, tiny carvings, flower beds, and rock formations.
It's like a game of Where's Waldo?, but with everyone's favorite cartoon rodent.
And as a Disney resort, Aulani has tons of them! So grab a friend or two and see who can find the most hidden Mickeys.
Have you ever heard of the elusive menehune? These small and mischievous creatures are said to inhabit the Hawaiian Islands, but spotting them is no easy feat.
Legends say they hide in the lush forests and only come out at night, building intricate structures and playing pranks on unsuspecting humans.
Some say their existence is a myth, but others swear they have seen them firsthand.
So, if you're up for a challenge, why not go on the hunt for these hidden beings? It's kind of like the Hawaiian version of looking for hidden Mickeys!
Menehune Adventure Trail at Aulani
For a more guided experience with the tricksters known as menehune, check out the Menehune Adventure Trail.
The adventure is guided via an interactive tablet, which you can check out at the Pau Hana Community Center.
Using the tablet, you must solve clues to reveal the next stop on the trail as you track the silly menehune throughout the resort.
This whimsical trail is full of surprises and magical moments that will make even the most skeptical children believe in the power of imagination.
Meet your favorite Disney Characters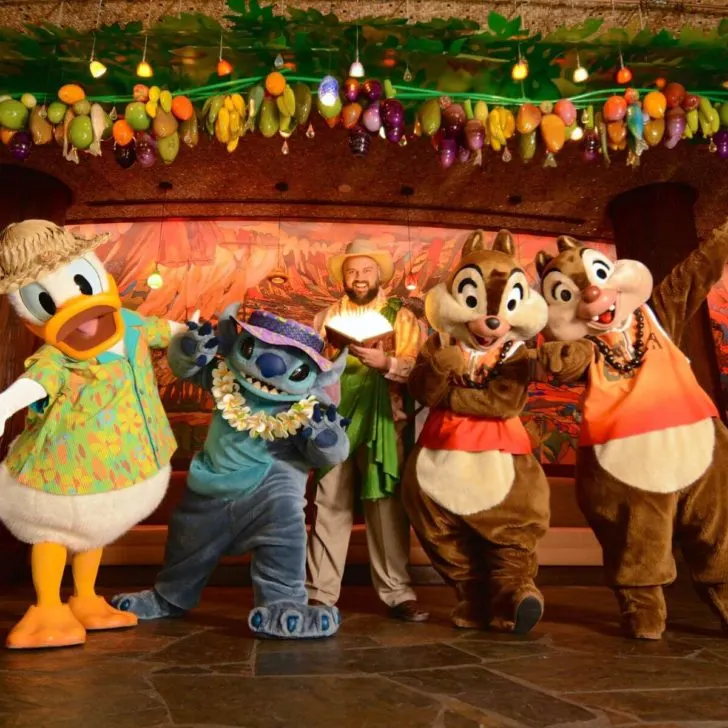 It wouldn't be a Disney resort without characters, right? And Aulani has some unique character meet-and-greet experiences!
Whether you want to snap a selfie with Mickey Mouse, give a high-five to Goofy or dance with Minnie, there's no shortage of opportunities to interact with your favorite characters.
First up, you can meet some of your favorite classic characters, like Mickey and Minnie – in Hawaiian garb, of course!
But they also have unique characters, like Moana, Stitch, Duffy the Bear, and 'Olu Mel the Turtle.
And aside from the typical line up to meet, you can also meet some of the characters at the Makahiki Character Breakfast.
Ohana Disney movie night
Looking for a way to add some magical entertainment to your family vacation in Hawaii? Look no further than Ohana Disney Movie Nights at Aulani!
This is the perfect opportunity to relax under the stars with your loved ones and enjoy some timeless family-friendly movies.
Not only do you get to watch classic Disney films surrounded by the stunning beauty of Oahu, but you can also indulge in delicious snacks and treats while you do it.
Ohana Disney Movie Nights take place on the Hālāwai Lawn on select nights, so be sure to check the Aulani app or Daily 'Iwa printout for dates and times.
Tour a DVC villa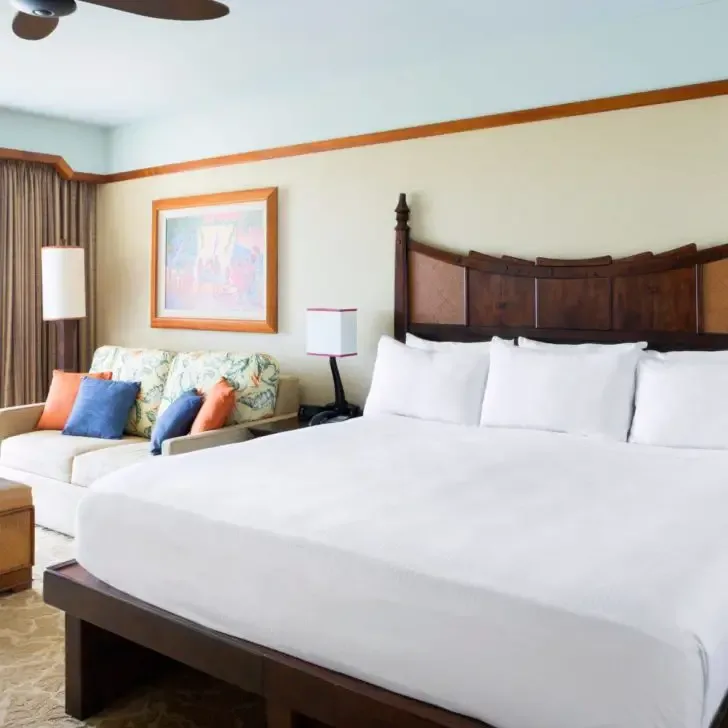 At least once a day, the Disney Vacation Club team at Aulani hosts a free tour of one of their DVC villas.
It's usually one of their 3-bedroom villas, so if you want to see one of these gorgeous villas, now's your chance!
Build a sand castle
With the sand between your toes and the salty ocean breeze in your hair, tap into your creative side and construct a masterpiece fit for royalty (or at least Instagram likes).
The best part? Aulani guests can borrow sand toys from Makiki Joe's Beach Rentals for free! No need to cram a bunch into your luggage, taking up precious space!
Hang out at Aunty's Beach House for kids at Aulani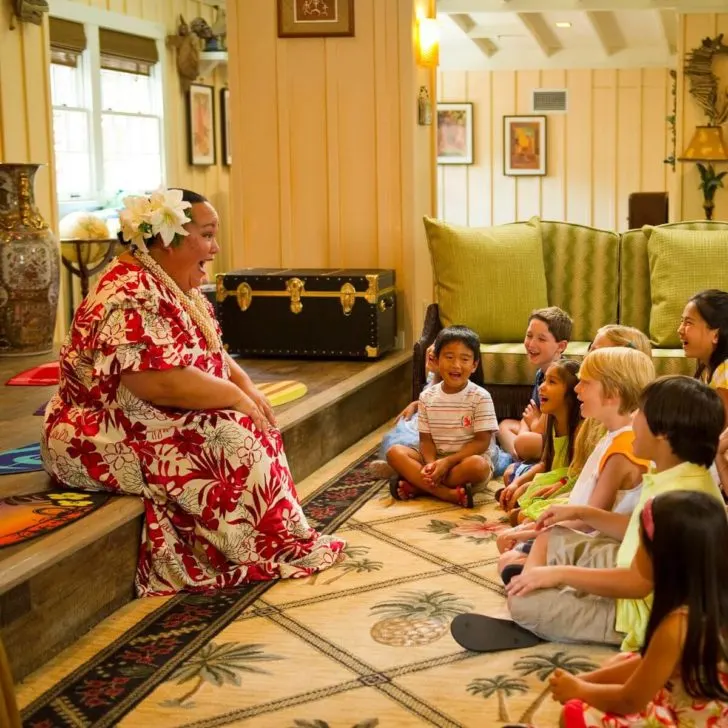 Looking for a place where your little ones can have a blast while you take some much-needed alone time? Enter Aunty's Beach House!
At Aunty's Beach House, kids will find supervised activities and a chance to make new friends. Parents can even add on premium activities, which change regularly.
It's also perfect for parents who want some kid-free time, kind of like built-in babysitters!
Teens only parties
I often find that when resorts have activities that cater to kids, the teens are left out – but not at Aulani!
Aulani regularly hosts teen-only parties and activities, such as the Sunset Mele beach party and Game Night.
Check the Daily 'Iwa or Aulani app to see which teen-only activities will be offered when you visit, as they change throughout the year.
Mo'olelo Fire Pit Storytelling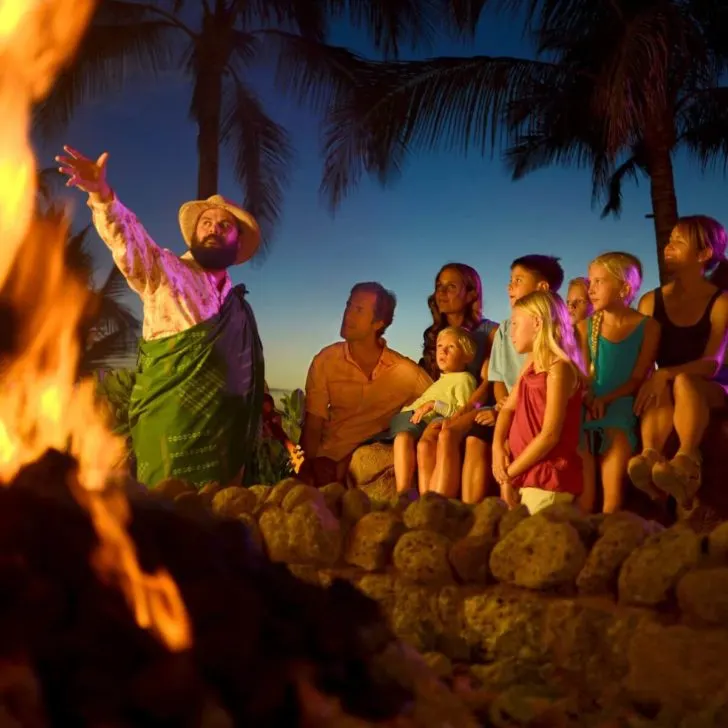 The Mo'olelo Fire Pit Storytelling experience combines the Disney tradition of evening campfires with Hawaiian storytelling about local legends and lore.
TIP: Grab a drink at nearby Off the Hook ahead of time and then head to 'Ama 'Ama or Off the Hook for dinner afterward.
Pin trading
A few times a day, you can partake in Disney pin trading at select locations around the resort.
You can trade with other guests or with cast members. Just don't bring janky fake pins, please!
Māka'ika'i Guided Nature & Wildlife Tour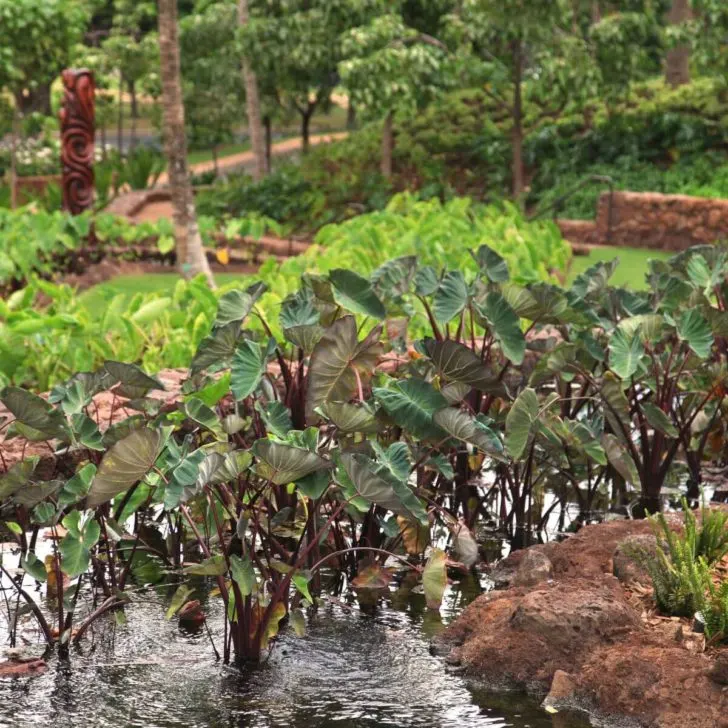 One of the things my mom and I marveled at most during our visit to Aulani were all of the unique plants, flowers, and trees on the property.
We're from New England, so it was so very different from what we are used to seeing every day!
If you're just as intrigued, I highly recommend doing the free Māka'ika'i Guided Nature & Wildlife Tour.
This guided tour takes you through the beautiful scenery of Hawai'i throughout the resort grounds and introduces you to some of the incredible creatures that call it home.
Māka'ika'i guided art & culture tour at Aulani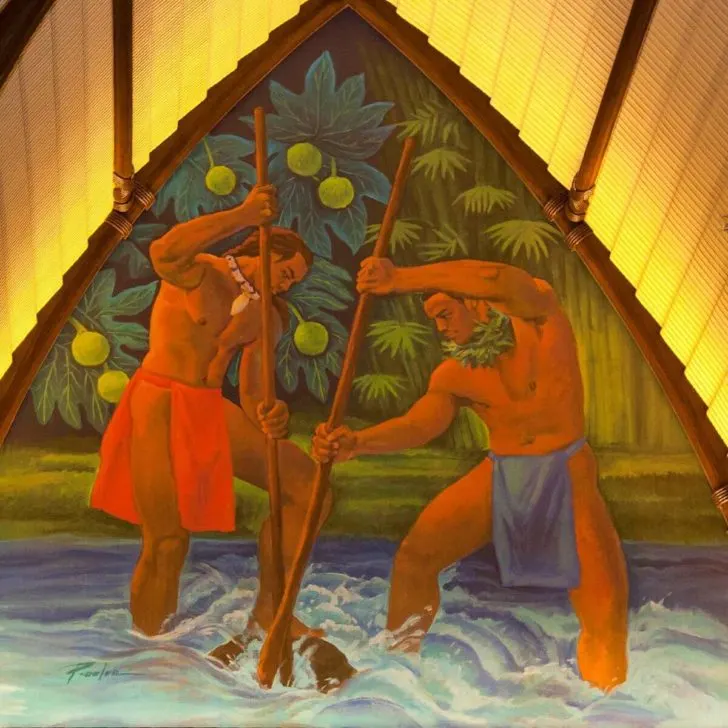 Aulani is home to one of the largest private collections of contemporary Hawaiian art in the world. Wow!
There are over 50 artworks throughout the resort and this tour will take you through to see them all and tell you more about them. You'll also learn more about the Hawaiian culture.
So grab your camera and your sense of adventure, because this tour is not one to be missed!
Learn to hula dance at Aulani
Looking to add a little bit of sway to your island vacation? At Aulani you can learn to hula, which is a native Hawaiian form of dance and storytelling.
Don't let your two left feet hold you back! The talented instructors at Aulani will have you swaying your hips in no time.
By the time you're done, you'll be ready to show off your new skills at the next luau!
Learn to play the ukulele at Aulani
Another fun cultural activity at Aulani are the free ukulele lessons.
With expert instructors and a stunning backdrop of clear aqua waters and swaying palm trees, you'll be channeling your inner Don Ho in no time.
And who knows, maybe you'll even be able to impress your friends back home with your new found musical talents!
Listen to live Hawaiian music at Aulani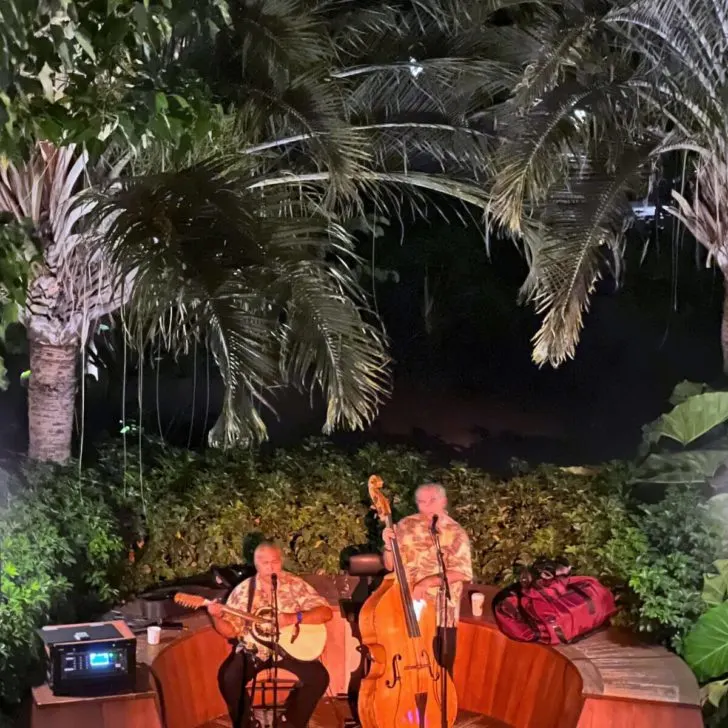 In the evenings, you'll often find musicians playing classic and contemporary Hawaiian music.
You'll usually find them at Makahiki, but if you go out to the lanai from the main hall, you can hear and see them from there, as well.
There's nothing better than listening to live Hawaiian music with a tropical drink or snack in hand while soaking up the warm tropical breeze and watching the stars in the sky!
Premium activities at Aulani, a Disney Resort & Spa
In addition to the free activities, there are also a handful of premium activities available to book. Let's take a look at how you can upgrade your vacay!
Shop for souvenirs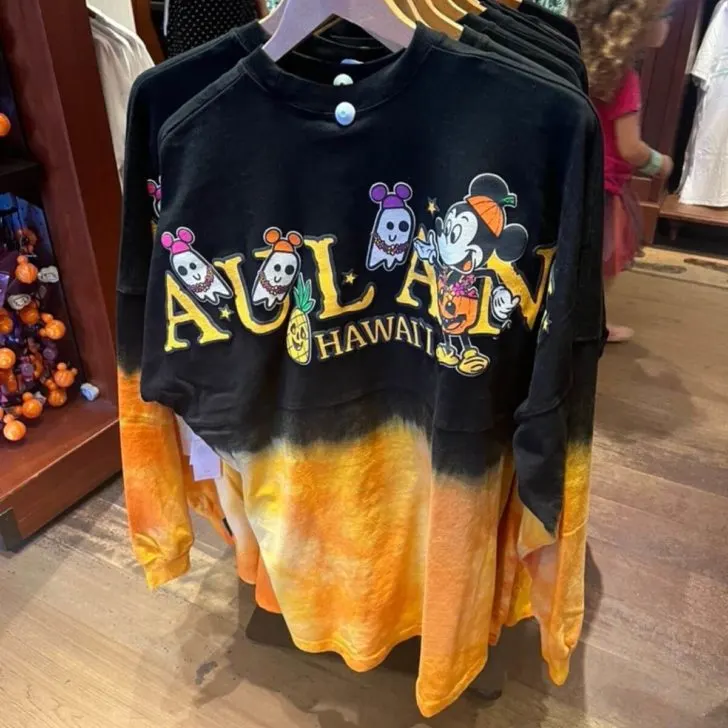 So technically, you could just window shop and it won't cost you a thing. But I have a feeling once you hit the shops at Aulani, you'll find something you just have to have!
There are 3 shops at Aulani: Kālepa's Store, Hale Manu, and The Lava Shack.
The Lava Shack is a small shop down in the pool area and sells snacks, sunscreen, rash guards, and other Aulani-branded souvenirs.
Kālepa's Store is the main souvenir shop, where you can find lots of classic Disney souvenirs, like spirit jerseys, Minnie ears, Christmas ornaments, Disney pins, and Loungefly bags.
Hale Manu specializes in more high-end options, as well as goods made by local companies.
Cool down with some shave ice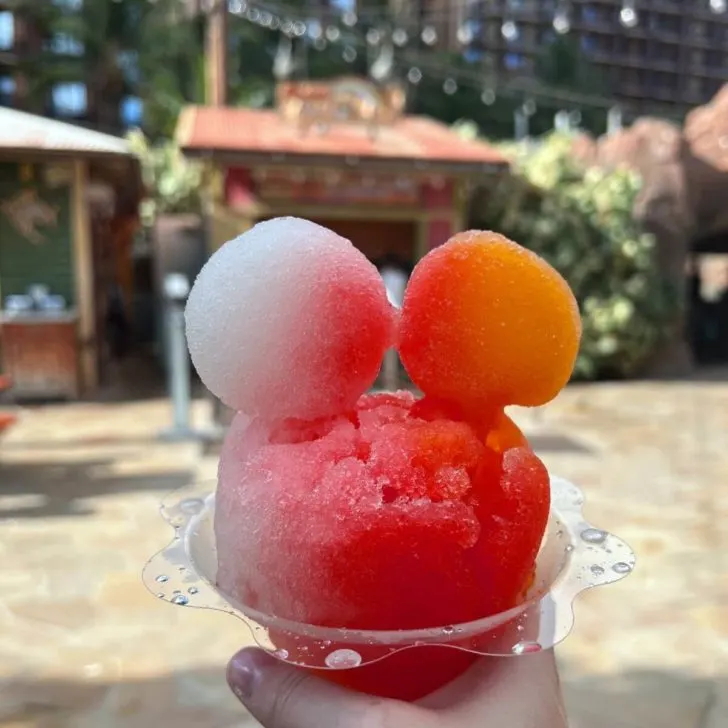 Looking to add some cool refreshment to your day? Head to Pāpālua Shave Ice to try some shave ice, a popular local treat!
This icy treat is completely customizable in that you can choose your own flavor combo (up to 3 tropical flavors). Plus you can add sweetened condensed milk, ice cream, and Mickey ears.
Wake up with sunrise yoga on the beach
Start your day off right with a sunrise yoga class on the beach at Aulani.
The serene sound of the ocean waves pounding against the shore will have you in a meditative state in no time.
Plus, there's something about saluting the sun as it rises above the horizon that just feels right. And don't worry if you're not a seasoned yogi – this class is perfect for all levels.
Rent a standup paddleboard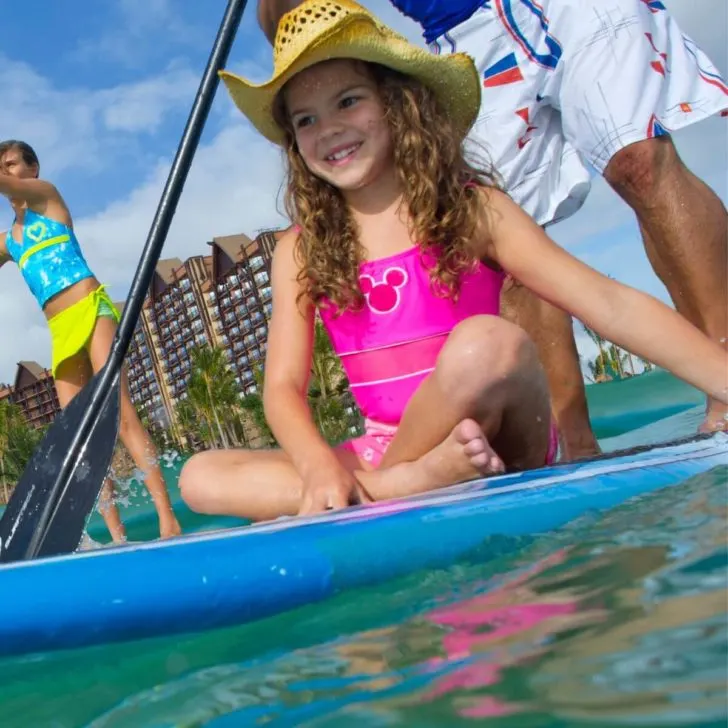 Looking for a unique way to spend a day on the water? Look no further than renting a standup paddleboard!
Standup paddleboards can be rented down on the beach at Makiki Joe's for $45 per hour.
Price subject to change; last updated May 3, 2023.
Get married or renew your vows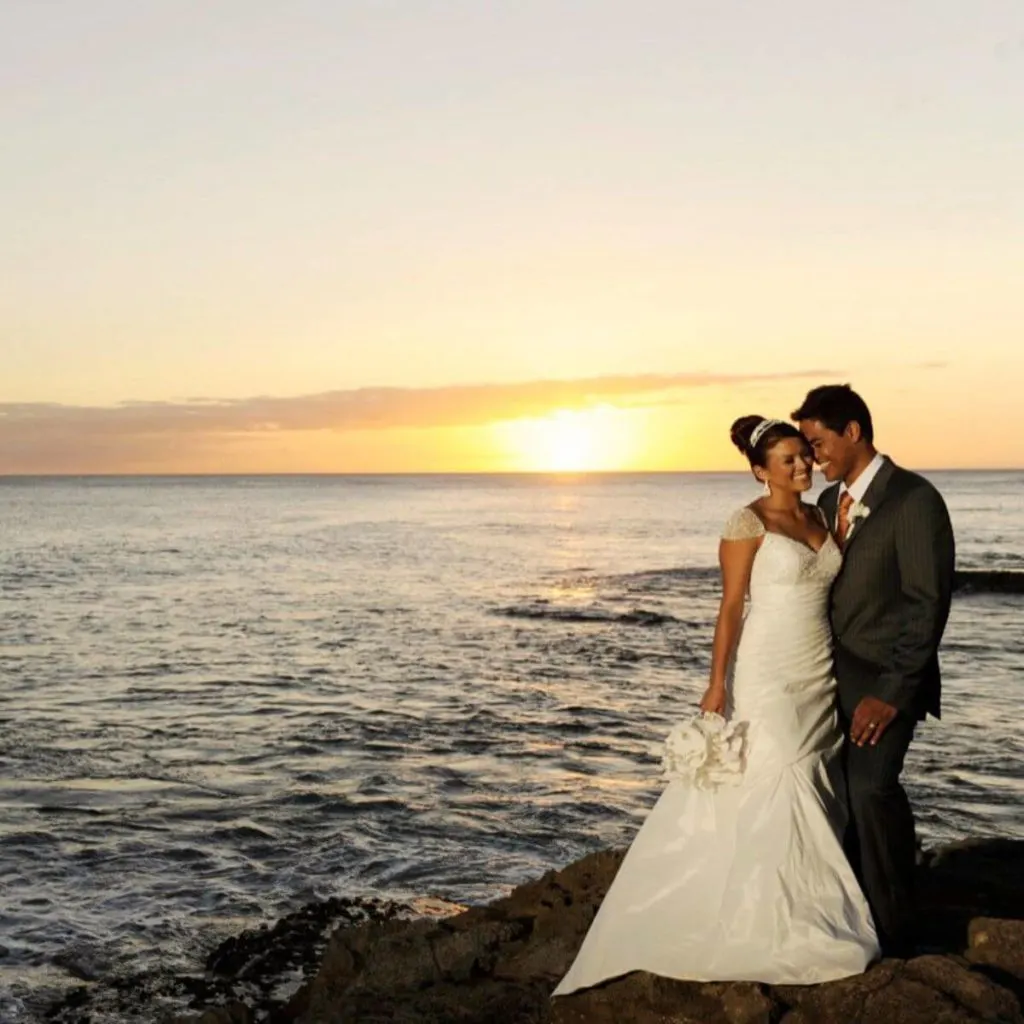 Say "I do" or renew your vows in paradise at Aulani.
Why settle for a boring wedding when you can have a luau-inspired celebration or exchange vows near the beach?
Plus, the stunning backdrop of Aulani's lush gardens and crystal-clear lagoon will make your photos super Instagram-worthy.
Aulani has wedding and event planners on staff who can help you plan the party of your dreams, so you won't even have to stress over the planning part!
Book a private photo shoot on the beach
Looking for a way to capture your radiance in the most stunning setting possible? Look no further than a private photo shoot on the beach!
While you can get your photo taken for free, you'll have to wait in line. Plus you have a shorter amount of time with the Aulani PhotoPass photographer and you still have to pay for copies of the photo(s) or Memory Maker.
If you're intent on getting formal photos taken at Aulani, your best bet is to reserve time with a PhotoPass photographer.
Blocks are available from 20 to 40 minutes and can be at a variety of locations at the resort, including sunset at the beach.
Relax at the Laniwai Spa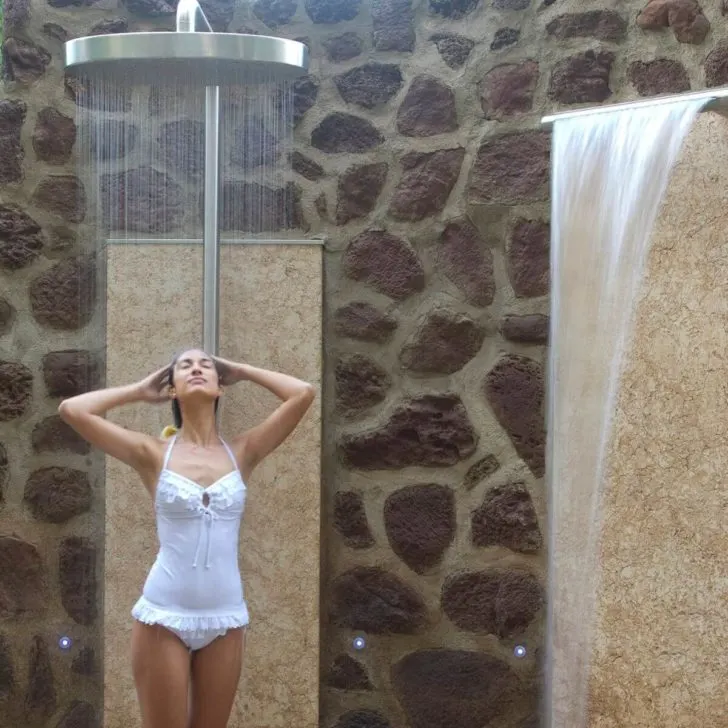 If you're looking for a spa experience that will leave you feeling refreshed and rejuvenated, look no further than the Laniwai Spa at Aulani.
With a variety of treatments to choose from, including massages, facials, and body scrubs, you'll find everything you need to escape the hustle and bustle of everyday life.
Plus, with its beautiful hydrotherapy garden and tranquil atmosphere, you might just forget where you are altogether.
For a uniquely Hawaiian experience, book the lomi lomi massage or kilikili experience (which includes a lomi lomi massage amongst other treatments).
Make your own Minnie ears
Looking to add a little Disney magic to your wardrobe? Don't bother heading to the gift shop – make your own Minnie ears at the Pau Hana Room.
In this premium craft activity, you can create Minnie ears with a Hawaiian twist, such as adding faux hibiscus flowers.
Not only will you have a unique, personalized souvenir from your trip, but you'll also have the bragging rights of saying "Oh, these? I made them myself."
Get a makeover at Painted Sky: HI Style Studio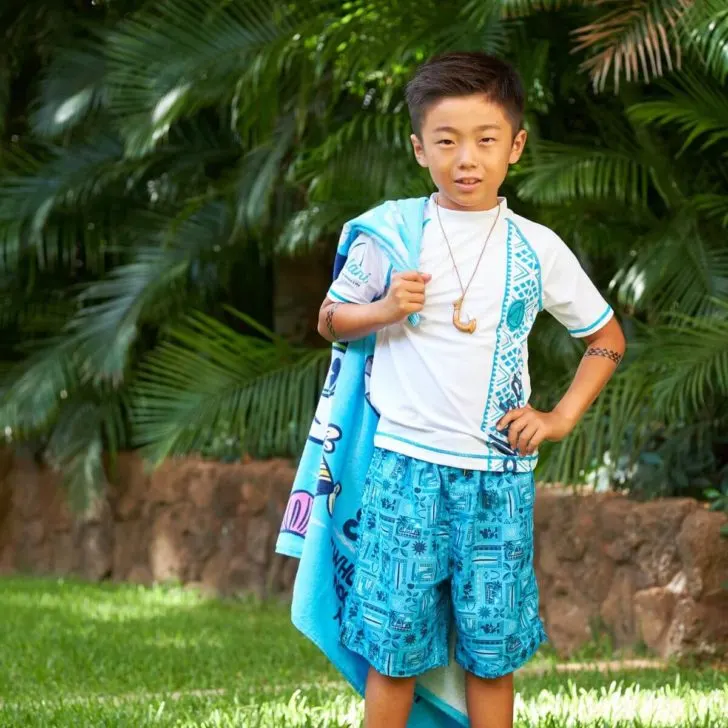 Painted Sky: HI Style Studio is a salon where you can get makeup, nail, and hair styling services
The real magic here, however, are the services for the kids!
Painted Sky has a variety of Bippidi Bobbidi Boutique style packages for kids where they can get Hawaiian-style makeovers or even character treatments, like Moana.
This is very popular for families attending the Ka'Waa Luau, so if that's your intent, be sure to book your time before you even arrive!
Celebrate at the Ka'Waa Luau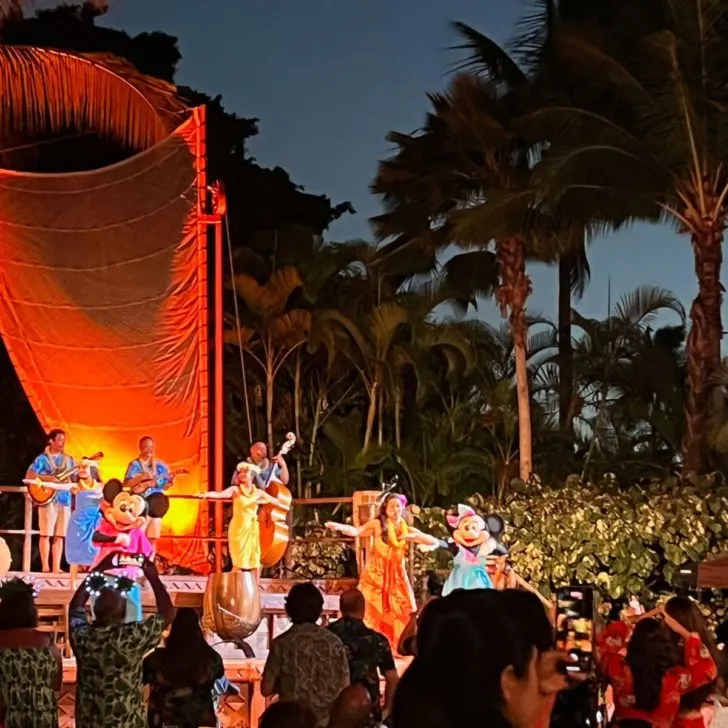 Did you even visit Hawaii if you didn't go to a luau? You don't have to travel far for one if you're staying at Aulani, as they have the Ka'Waa Luau on select nights.
This feast for the senses is sure to leave you feeling like royalty, with mouth-watering island cuisine, breathtaking hula performances, and traditional Polynesian activities, like taro pounding and handmade leis.
Don't forget to come in your best island attire – this is one party you won't want to miss!
You can read more about this experience in my Ka'Waa Luau review.
Create art at the Ohana Painting Party
Looking to spruce up your walls with something other than the typical generic wall art?
Book the Ohana Painting Party experience at the Pau Hana Room where you'll paint your own Hawaiian-inspired piece.
No need to worry about being a Picasso, as the talented instructors will guide you in creating an art piece that will make your friends envious. Plus, it's the perfect activity to bond with family and friends.
Go snorkeling at Rainbow Reef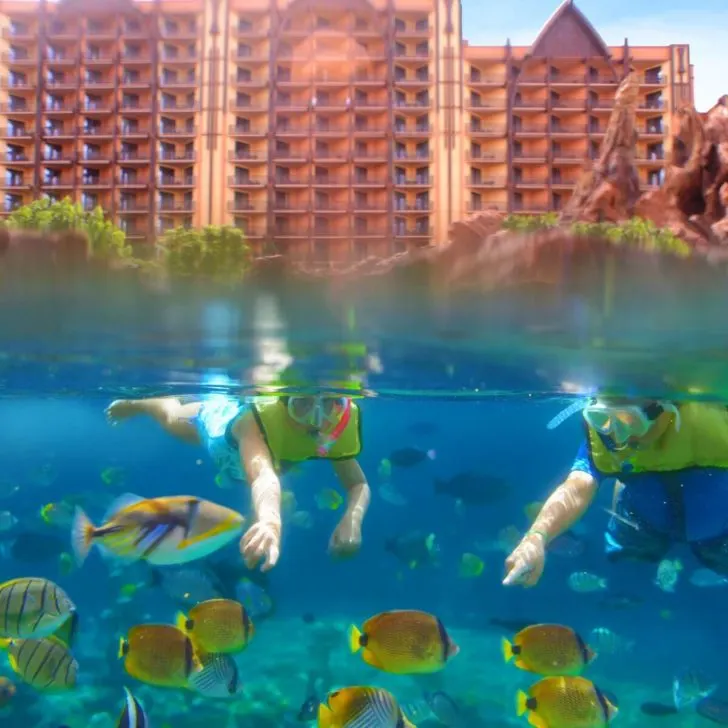 With its crystal clear waters and abundant marine life, Rainbow Reef is the perfect destination for any snorkeling enthusiast.
Swim alongside schools of tropical fish as you take in the stunning coral formations that make this artificial reef truly unique. There are even some hidden menehune to find!
The experience can be booked by the day or for your length of stay and comes with the necessary snorkeling gear. Don't forget to snap a few underwater selfies to document your adventure!
Feed the fish at Rainbow Reef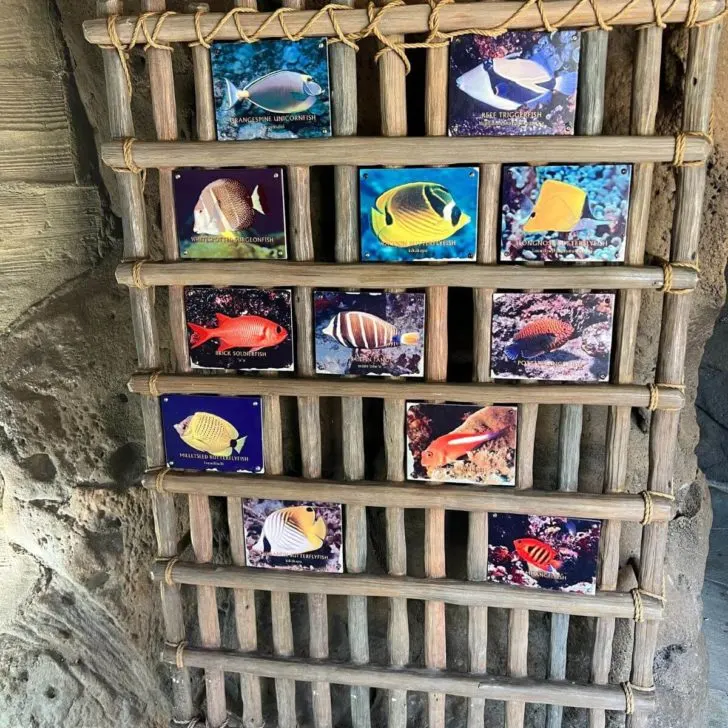 Help the Aulani cast members feed the fish in Rainbow Reef in this experience, which takes place several times throughout the day.
The cost is currently $7, but is subject to change. Head to the Rainbow Reef Rentals kiosk to reserve your time.
Painting the sky with light
Get ready to unleash your inner artist with the painting with light experience at Aulani!
This unique activity allows you to create stunning works of art using nothing but the power of light. Think "Picasso meets Peter Pan."
You'll be given a special flashlight to "paint" with. As you move the light around, beautiful colors and shapes will emerge. A photographer will be on hand to capture your work.
'Imi Loa Nāa Hōkū – Explore the Stars Experience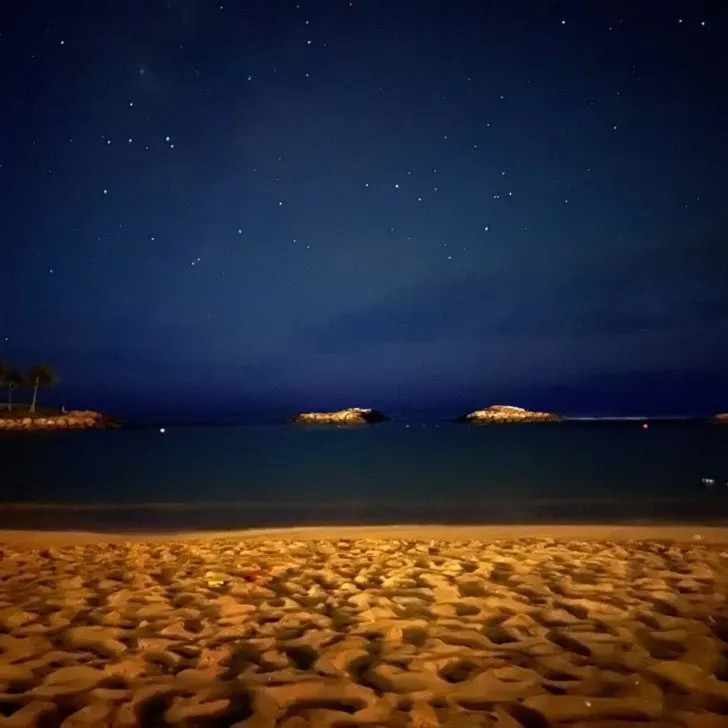 Ready to reach for the stars? 'Imi Loa Nāa Hōkū is the perfect opportunity to explore the infinite mysteries of the galaxy and learn the Hawaiian tradition of wayfinding by the stars.
This experience takes place down at the beach and is led by expert astronomers who will guided you through the constellations and how they are used for navigation.
This stargazing experience is usually held several times per evening and usually has at least 1 adults-only option.
Decorate a t-shirt with kapa printing
Looking for more ways to unleash your inner artist? Then look no further than the Kapala Ki'i T-Shirt Stamping activity!
This activity teaches guests the traditional Hawaii artform of kapa printing. It is the perfect blend of creativity, fun, and culture.
Hawaiian Sailing Canoe Adventure tour at Aulani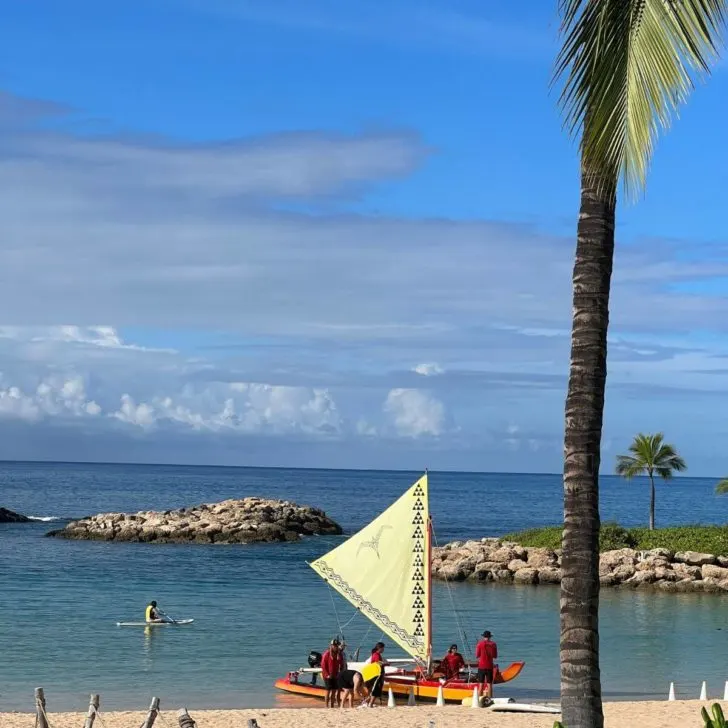 Set sail on a Hawaiian adventure like no other with the Hawaiian Sailing Canoe Adventure experience at Aulani.
In this acitivity, you'll step back in time and learn about ancient Hawaiian culture as you navigate the calm waters with your experienced guide.
Whether you're a seasoned sailor or a first-time paddler, this experience is an adventure not to be missed.
Do a day trip or excursion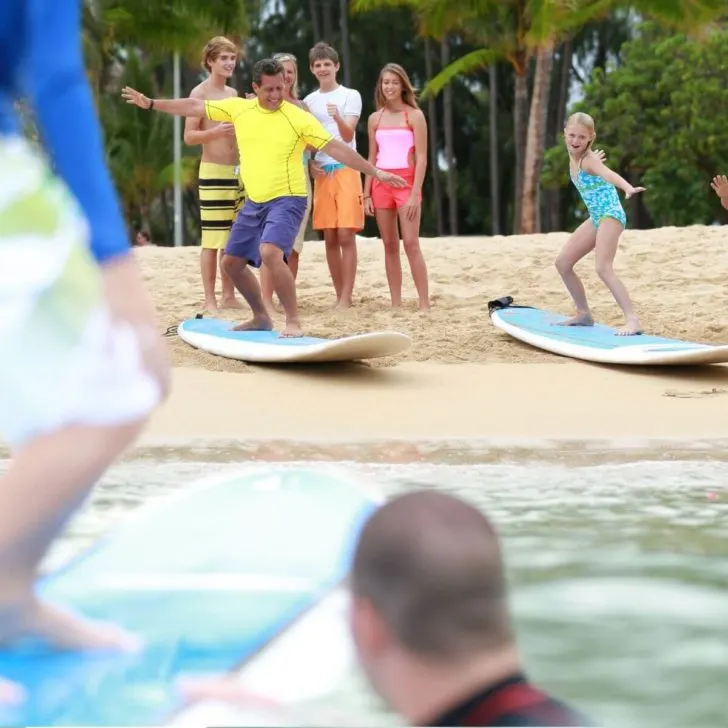 At some point, I highly encourage you to leave the resort and explore all that Oahu has to offer.
It is a gorgeous island with lots of fun day trips and excursions, such as watching turtles on Laniakea Beach in the North Shore, doing a snorkeling boat tour, visiting Pearl Harbor, and more.
What's on your must-do list of things to do at Aulani?
All in all, Aulani is one of the best places to visit if you want to escape everyday life and explore a unique tropical paradise with a little Disney magic sprinkled in.
From the amazing amenities onsite, there's no end to the opportunities for adventure and fun.
Don't forget, once you get to Aulani, be sure to download their app or check out the Daily 'Iwa schedule to see what's happening each day at the resort.
Lastly, before you go, let me know in the comments below what's on your Aulani bucket list!
Next up, check out all of my ideas for the best excursions from Aulani for days that you want to leave ther resort and explore the beautiful island of Oahu.
---
About the author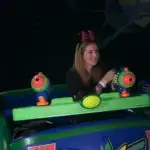 Meg Frost is the creator of The Park Pixie, where she covers Disney World, Disney+, and Disney fandom.
She holds an M.A. in Journalism from Northeastern University and B.S. in Communication & American Studies from University of Miami in Florida.
---