Are you looking for an incredible, culturally-rich experience during your stay at Disney Aulani Resort? Then the Ka Wa'a Luau at Disney's Aulani Resort is a must-see!
Not quite sure what to expect or how to book? Don't worry – I've got you covered.
In this Disney Aulani luau review, I'll go over everything the show includes and recount my experience so you can decide if it's for you.
What is a luau?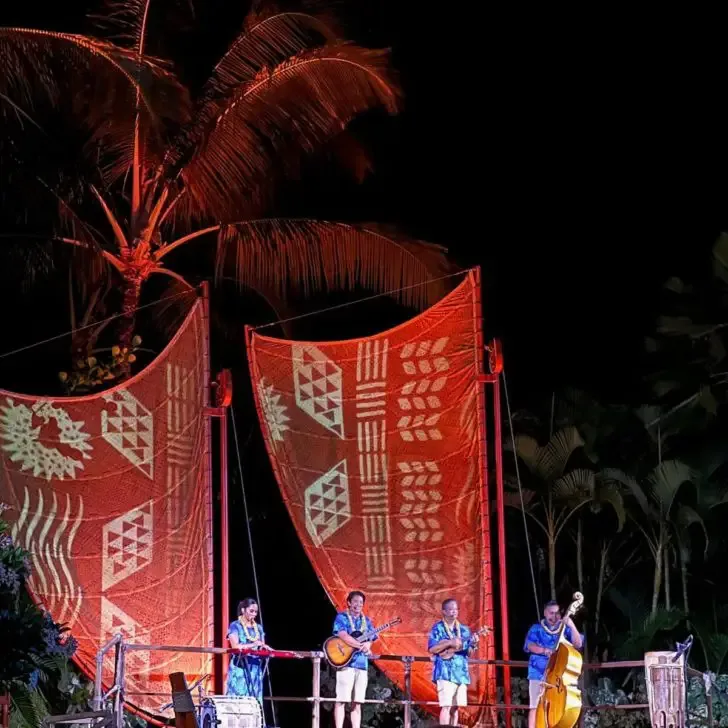 If you're looking for an explosive night of fun and entertainment when in Hawaii, then a luau should be on your bucket list.
Originating in Hawaii, luaus are a vibrant celebration of life and involve plenty of traditional music, hula dancing, singing, storytelling, and of course eating – all the best ingredients for a wicked fun night out!
But don't expect to just show up to one! Luaus involve preparing traditional dishes such as Kalua pork or laulau, decorating with flower leis, and even dressing in festive attire.
In short – a lot goes into these traditional Hawaiian celebrations.
Luckily, Disney has put together a luau at the Aulani resort that includes all of the cultural aspects of a luau, from the performances to the food and beyond.
What to wear to a luau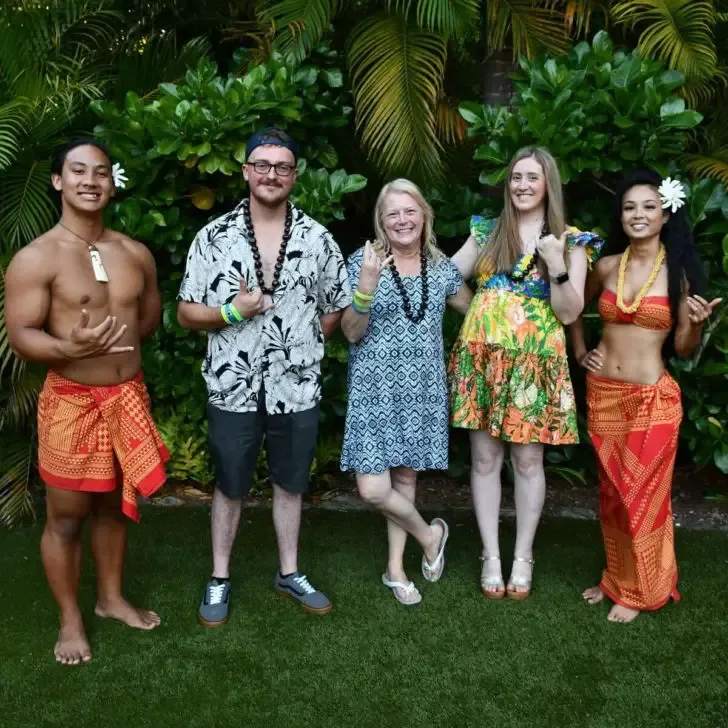 It goes without saying – if you want to fit in at a luau, you should wear casual island clothing that's at least a step up from what you'd wear out and about or to the beach.
Don't go rocking up in a suit and tie or your best formal dress, though. You'll stick out like a sore thumb and likely wilt in the heat from too many fussy layers.
For women and girls, think tropical prints and bright colors on flowy dresses, blouses, rompers, etc. Most of the ladies were wearing flip flops for shoes – I think I was one of very few wearing wedge sandals!
For men and boys, nearly everyone at the Ka Wa'a Luau was wearing an aloha shirt and dressy shorts with flip-flops.
Booking
Booking the luau is super easy. You can book online, over the phone, or through a travel agent.
We attempted to book online, but as soon as we determined the date we wanted to go, it appeared to be sold out!
It was the only day it was going to be running while we were there, so we were really bummed. But just in case, I gave the ticket office a call – and wouldn't you know, they had a few tickets left and were only selling them via phone!
So, if the day you want to go is sold out, definitely give them a call!
Regardless of how you book, you'll receive a confirmation email with times, directions, and your booking confirmation. Make sure you keep this email, as you'll need to show it when you check-in for the show!
In 2023, preferred seating for adults is $204 and $124 for kids. General seating for adults is $174 and $104 for kids.
Seating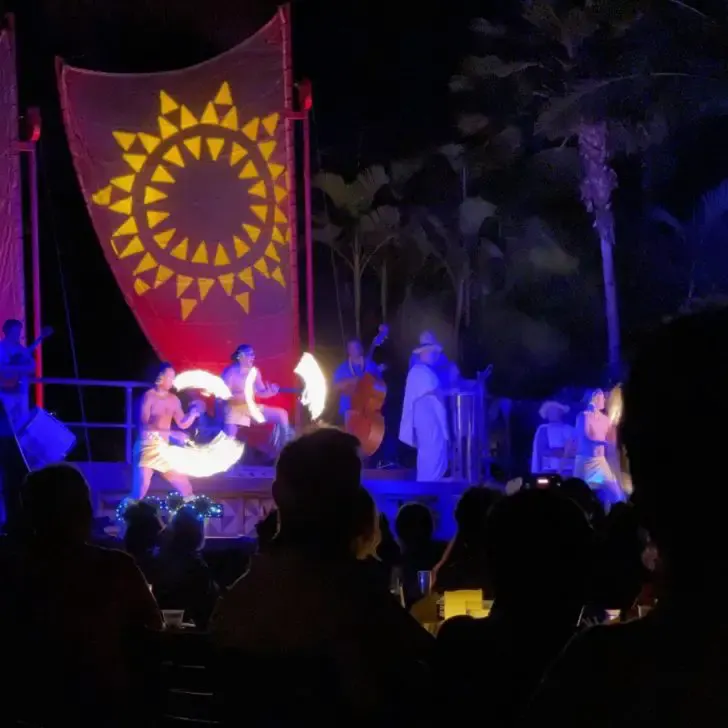 There are two seating sections at the Disney Aulani Luau: general and preferred.
Preferred seating is by the front of the stage and is assigned, while general seating is behind preferred seating and not assigned.
If you have general seating, arrive early and wait in line. These seats are located behind preferred seats, which means they're farther back from the stage.
Once you check-in, you'll be shown to your table by a host.
All of the tables are family-style, so unless you're with a super large group, you'll likely be sitting with others.
I recommend getting your table assignment right away so you can get the best seat possible, and then circle back for the pre-show demonstrations.
Showtimes & check-in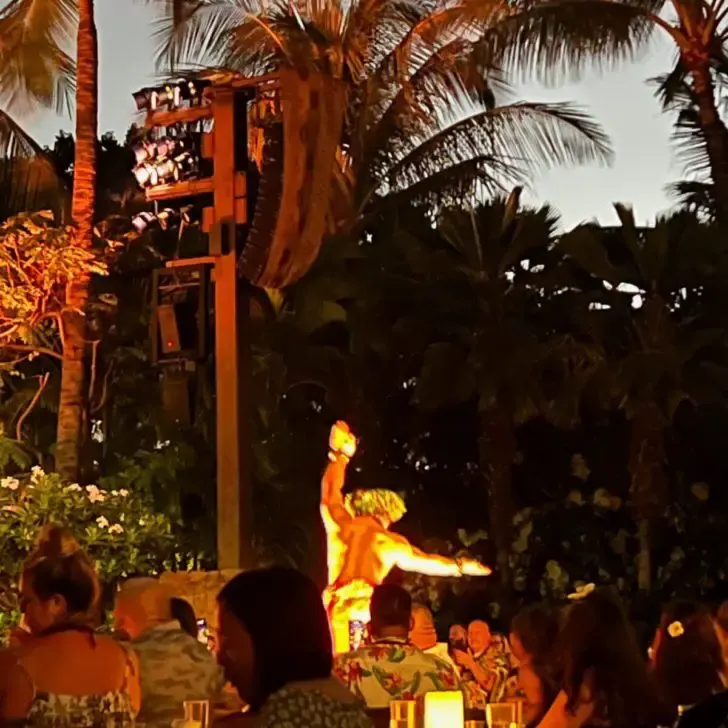 During the Summer months (June-August), preferred seating starts at 5:30 PM, with general seating starting 10 minutes later.
The rest of the year, preferred seating starts at 5 PM, with general seating starting 10 minutes later.
Check-in was a breeze. We arrived roughly 20-30 minutes before check-in and there was already a line forming for general seating.
Ka Wa'a is located on the Hālāwai Lawn at Aulani, which is a bit hard to find. If you walk out to the pool complex, go down the walkway on the left (looking toward the ocean) and veer left before you get to Off the Hook. You'll see signs directing you on where to go at that point.
While we were waiting in line, they gave us (faux) kukui nut lei and checked our tickets.
Once your tickets are scanned, you can take a photo with 2 performers before heading off for pre-show activities and getting your seats. Preferred seating also includes a free digital download of your group photo.
Pre-show activities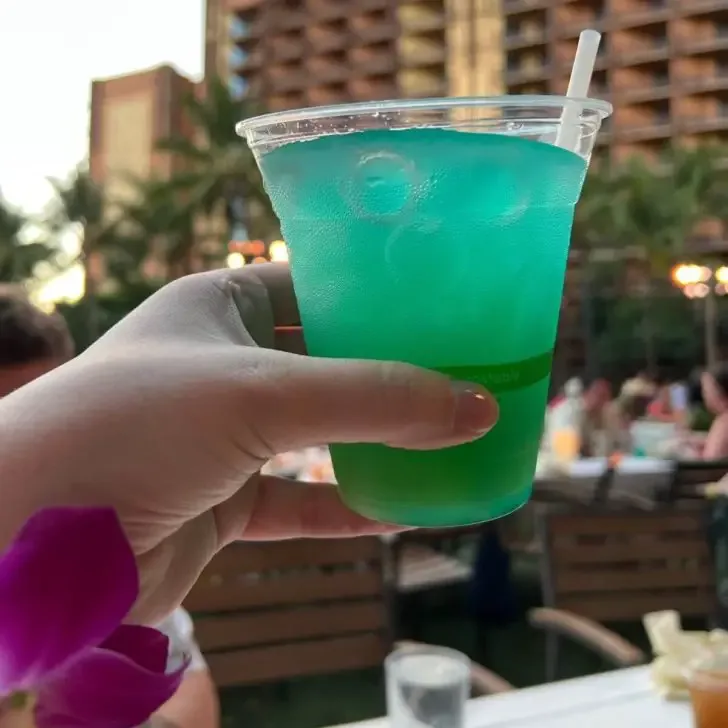 Pre-show demonstrations and activities include taro pounding, temporary Polynesian-style tattoos, lei making, and more!
My mom and I made lei bracelets, while my brother got a temporary tattoo. It was fun to learn more about different cultural practices from Hawaii and other Polynesian islands. How Disney, right?
Guests can also get a free welcome drink during this time, such as a cocktail, soda, or POG (passionfruit, orange, guava) juice.
Even if you have a preferred ticket with assigned seating, I still recommend showing up early so you can partake in the pre-show fun!
Food and drink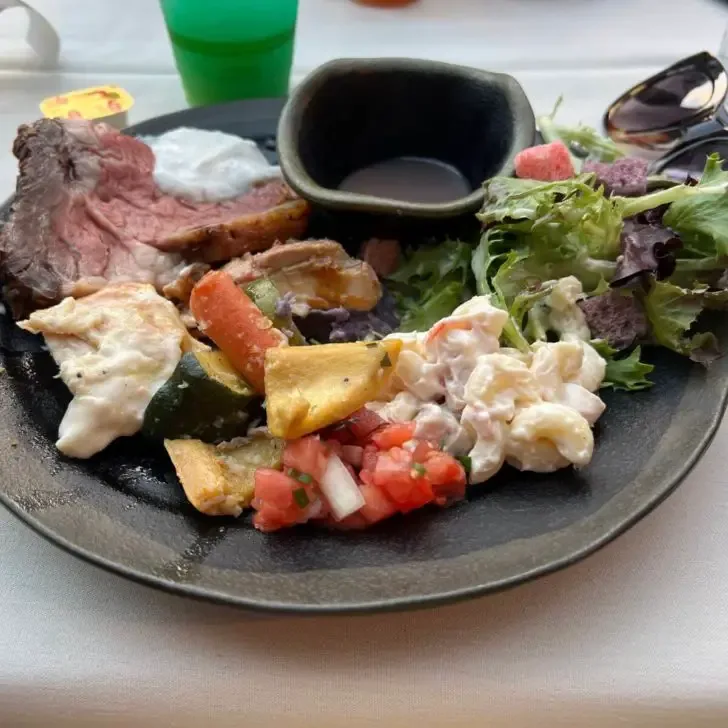 The show includes a buffet for adults, as well as drinks – even alcoholic ones!
Kids are served bento boxes that include fruit salad with a Mickey Mouse-shaped marshmallow, macaroni and cheese, chicken tenders with Hawaiian BBQ sauce, stir fry veggies, braised pork imu style, a chocolate cupcake, and a mini guava cupcake.
We didn't have any kids with us, so I can't speak for whether the food was truly good – but the one kid at our table seemed to enjoy it!
The buffet for adults has a ton of different local and traditional Hawaiian food to try. There was macaroni salad, 'ahi poke, lomi lomi salmon, teriyaki chicken, prime rib, and fish with a yuzu macadamia sauce.
I can't remember what kind of fish there was, but they use a local catch of the day, so rest assured that it's fresh!
As for dessert, the portions are small enough that you can try several without overloading yourself.
There was guava cake, passionfruit cake, haupia (coconut pudding), macadamia nut brownies, and fresh tropical fruit.
Overall the food was good but not great. I liked that you could sample a little bit of everything, so that gives it a boost.
Lastly, the drinks were delicious! We tried the Ka Wa'a Sunset, Blue Hawaii, and Mai Tai cocktails – and enjoyed them all.
My mom and I also had a coffee at the end of the show, but it wasn't all that good mainly because they only had powdered creamer which neither of us cares for.
The Show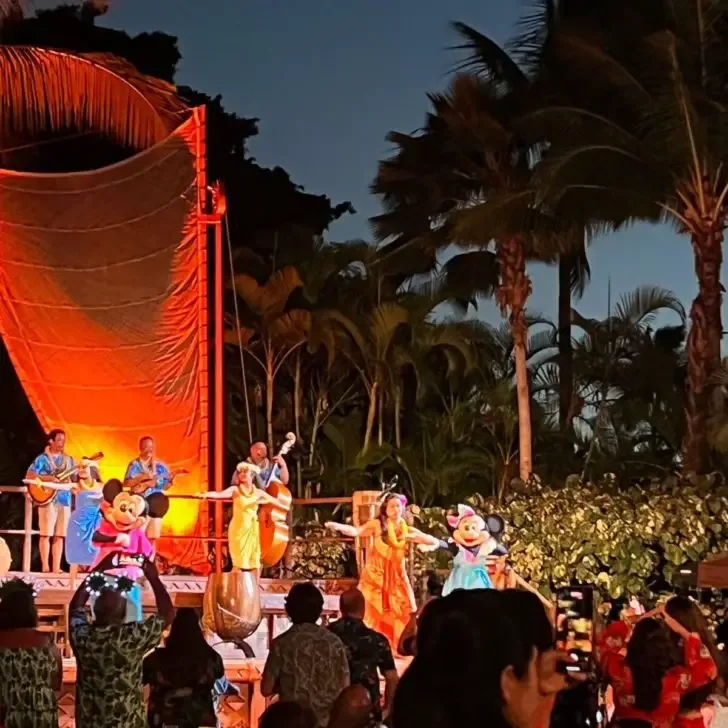 Last, but not least, the show was very entertaining. There was singing, different instruments, storytelling, and dancing.
I loved seeing how the performers used dancing and music to communicate and tell stories. It was so cool to see this part of the Polynesian and Hawaiian culture.
For example, the show included Siva Afi, a traditional Samoan fire knife act, as well as hula dancers that performed routines using techniques and moves from different Polynesian islands, not just Hawaii.
And it wouldn't be a Disney show without an appearance from Mickey and Minnie Mouse, too!
The entire experience, including the pre-show activities and dinner, lasts 3 hours – so you're definitely getting your money's worth with this experience!
FAQs about the Disney Aulani Luau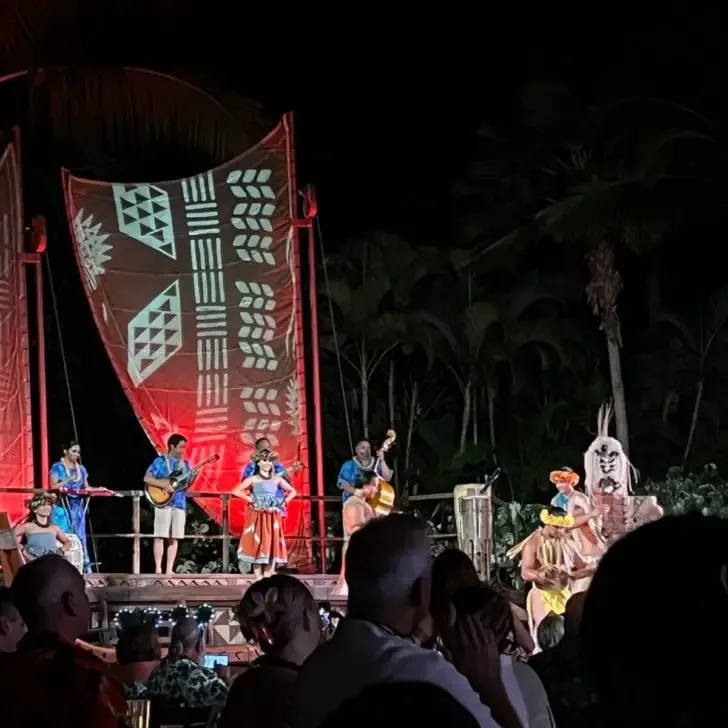 Still have a few questions? Check out this list of frequently asked questions. If you still have questions, let me know in the comments and I'll update the post.
Do you have to stay at the resort to attend the luau?
No – you do not have to be a resort guest to attend the Disney Aulani luau! You just need to book tickets for the luau.
Does it include unlimited drinks?
Yes, it include unlimited drinks and food. But please be a courteous guest and indulge responsibly!
Is the show accessible?
The show takes place on the Hālāwai Lawn, so it may be difficult for some people who use mobility aids to get around.
Part of the lawn has a paved sidewalk, so you can likely request to be sat at a table near the sidewalk if that is preferred.
In addition, Aulani can arrange for an American Sign Language (ASL) interpreter if needed – but you need to request this at least 2 weeks in advance.
It's not 100% guaranteed, but they will check and confirm for you before you purchase tickets, if needed.
Call (844) 284-7644 to arrange for sign language interpretation.
What if I have allergies or am on a special diet?
When you book, you'll be asked about allergies and special diets.
For example, I was diagnosed as a type 2 diabetic just a few months after we booked our trip.
I was still getting used to adjusting my diet, so I noted that I had T2D – and they confirmed with me when we checked-in!
They offered to bring me a menu to preview while we waited in line. However, I had already checked online earlier in the day so I could plan my meals accordingly throughout the day.
Aside from allergies, they can accommodate vegan and vegetarian diets. All of the food on the buffet tables are labeled, plus you can talk to your server if you have further questions or can't find what you need.
What if it rains? Will the show be canceled?
If the rain is just sprinkles or a quick shower, the show will go on! However, if it is steadily raining or storming, the show will be canceled.
Is the Disney Aulani luau worth it?
All in all, our experience at the Aulani Luau was truly extraordinary! From the traditional cuisine to the fun activities and performances, this event was a real treat for us.
We were glad we followed our insider tips and dressed up in some fun Hawaiian wear. I don't think we saw any guests who hadn't!
If you've never been to a luau before and you'll be staying at or near Aulani, I highly recommend starting with Ka Wa'a.
I hope this Disney Aulani luau review helped you decide whether to go or not – and perhaps I'll see you there in the future!
---
About the author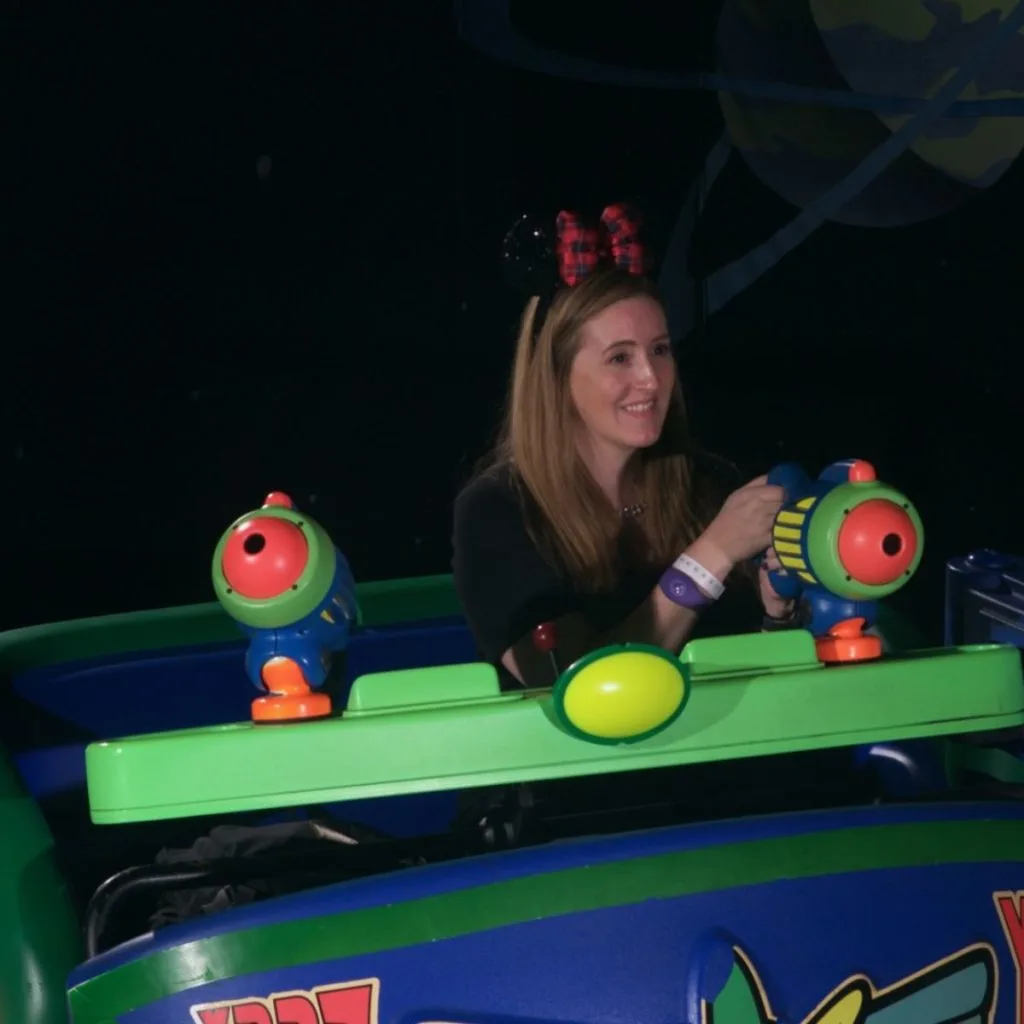 Meg Frost is the creator of The Park Pixie, where she covers Disney World, Disney+, and Disney fandom.
She holds an M.A. in Journalism from Northeastern University and B.S. in Communication & American Studies from University of Miami.
---
This post was original published March 6, 2023. It was last updated June 30, 2023.