Are you a Disney Plus subscriber with a passion for horsing around? If so, look no further than this list of the 10 best horse movies on Disney Plus.
Whether you're looking for something family-friendly or want some laughs with friends, these stories will warm your heart and fill you with laughs.
Get ready to race ahead into magical tales of friendship, love and adventure created by some of the most beloved filmmakers in Hollywood!
Disclaimer: These movies and shows are available to stream on Disney+ as of publication time. Availability can change at any time.
Hacksaw (1971)
Follow along with the adventures of tenacious rancher Tab Hunter in Hacksaw as he faces an unexpected challenge – to train a wild stallion named Hacksaw for the Calgary Stampede Chuckwagon Race.
As they slowly bond, they must navigate a rocky past and rediscover hope together. With its heartwarming story, this Disney classic is still worth watching again today.
Home on the Range (2004)
Home on the Range is an animated movie featuring the vocal talents of legendary entertainers, such as Jennifer Tilley, Judi Dench, and Steve Buscemi.
While not exclusively about horses, this fun film is a wild ride of adventure and fun amongst some farm animals.
With plenty of animated action and cheesy one-liners, Home on the Range is well worth watching if you're looking for a bit of nostalgic fun.
Justin Morgan Had a Horse (1972)
If it's classic Disney you're after, you won't get much better than Justin Morgan Had a Horse.
Released in 1972, the movie is based on the novel of the same name by Marguerite Henry and tells the story of young Justin Morgan and his remarkable horse, Figure.
It depicts a portrait of both friendship and relentless ambition as they attempt to win races against exasperated opponents.
Now available to watch on Disney Plus, this classic remains as timeless today as it did at its initial release more than half a century ago.
Wild Hearts Can't Be Broken (1991)
If you think cowboys have all the fun, check out Wild Hearts Can't Be Broken and find out what true adventure looks like.
This film, which is based on a true story, follows Sonora Webster Carver, whose delightful determination leads her to pursue a risky career as a horse diver.
I can't even count the number of times I watched this movie as a 90s teen, and many times since.
P.S. If you love this movie as much as I do, it's based on Sonora's book, A Girl and Her Five Brave Horses.
Horse Sense (1999)
Joey Lawrence stars as Michael Woods in Horse Sense, a Disney Channel Original Movie that will have you galloping with laughter.
A light-hearted comedy, the film follows Michael Woods, a spoiled and selfish young adult who is sent to spend a month on his aunt's ranch in Montana to straighten out.
While there, he learns the ranch is about to go into foreclosure. While trying to help save the ranch, he slowly realizes his selfishness, while at the same time bonding with his cousin, Tommy, as well as one of the horses. Can he help save the ranch?
Also on Disney+ is its sequel, Jumping Ship, which has nothing to do with ranches or horses, unfortunately!
Ready to Run (2000)
Ready to Run is a classic Disney Channel Original Movie that any horse lover will thoroughly enjoy.
Teen Corrie Ortiz (Krissy Perez) is determined to become a horse jockey like her father, who died racing.
She is tasked with helping Thunder Jam (aka TJ) become a winning horse. After TJ's jockey is injured before a big race, she steps in her coveted role.
Join them on this thrilling adventure and watch as they attempt to defy all expectations and achieve their dreams.
The Young Black Stallion (2003)
This prequel to the 1979 film, The Black Stallion, is a quick watch at just 50 minutes long.
It tells the story of Neera, a young girl who is separated from her father in the desert after they were robbed. She is rescued and led back to safety by a wild black stallion named Shetan.
Her family doesn't believe her, even after she learns that years ago, her grandfather had set one of his mares free when he had to dismantle his breeding business.
While Neera tries to convince her grandfather to start breeding again, Shetan returns and she enters into a prestigious endurance race with him. Will they succeed?
This beautiful tale of courage and family is a must-see for any horse lover!
Secretariat (2010)
Secretariat may well be the undisputed champion of horse movies on Disney Plus.
Based on the incredible true story of horse racing superstar Secretariat, it's sure to leave everyone in awe.
A cast of award-winning actors (Kate Winslet, John Malkovich) wonderfully portray the inspiring rise and triumph of this legendary horse who achieved an incredible feat that no horse had done for decades.
You'll have to watch to find out what it is!
Mickey Mouse in "Get a Horse" (2013)
Mickey Mouse fans rejoice – Disney+ has a new short film called "Get a Horse!" that stars our beloved mouse.
Also making an appearance are Minnie Mouse, Clarabelle Cow, Peg-Leg Pete, and Oswald the Lucky Rabbit.
I love that Disney has started to create fun short films with the classic characters again!
This short film combines classic black and white animation with modern animation techniques to create a charming throwback to the original Mickey Mouse shorts.
Although it is only 6 minutes, Mickey manages to leave quite an impression, showing that he still has what it takes to remain one of the most recognizable cartoon characters after all these years.
If you are looking for a fun way to celebrate Mickey this weekend, give this short film a try!
Black Beauty (2020)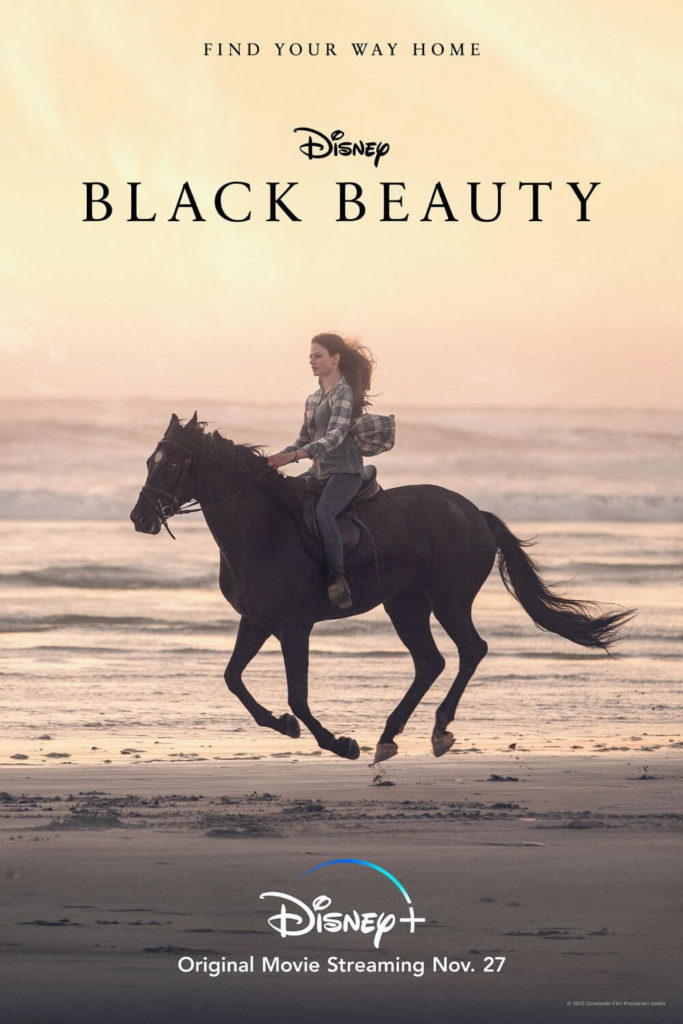 Based on Anna Sewell's beloved classic novel of the same name, Disney+'s 2020 adaptation of Black Beauty tells a timeless story about empathy, understanding, and love.
While Sewell's novel was published in 1877, this classic horse story continues to capture peoples' hearts to this day.
Full of heart and beautifully shot, this moving feature follows the journey of a wild horse named Beauty as she is taken in by a loving family.
This film is cleverly narrated by Beauty, while we follow her plight to find her rightful place in the world.
It is an exciting story with endearing characters sure to delight horse lovers of all ages.
What are your favorite horse movies on Disney Plus?
Horses have been a symbol of freedom and beauty for centuries, and Disney Plus' selection of horse movies do not disappoint!
With an impressive selection of both comedies and dramas, there is a horse movie for every taste.
So get comfortable in the saddle and enjoy one of these wonderful horse movies on Disney Plus today.
Next up, check out these posts for more Disney Plus tips: