Disney's Pop Century Resort is a value-priced resort at Walt Disney World that is wildly popular with guests. You'll definitely see why in this review!
This resort has the usual amenities you'd expect from Disney: fun theme, recreation options, delicious dining options, and more.
Overall, it's a great place to stay if you're looking for a fun, nostalgic atmosphere with multiple transportation options.
Plus, it's located near the ESPN Sports Center, and quick access to Epcot and Hollywood Studios via the Skyliner.
In this Disney Pop Century Resort review, I'll go over everything you can expect at this value resort at Walt Disney World Resort.
Check-in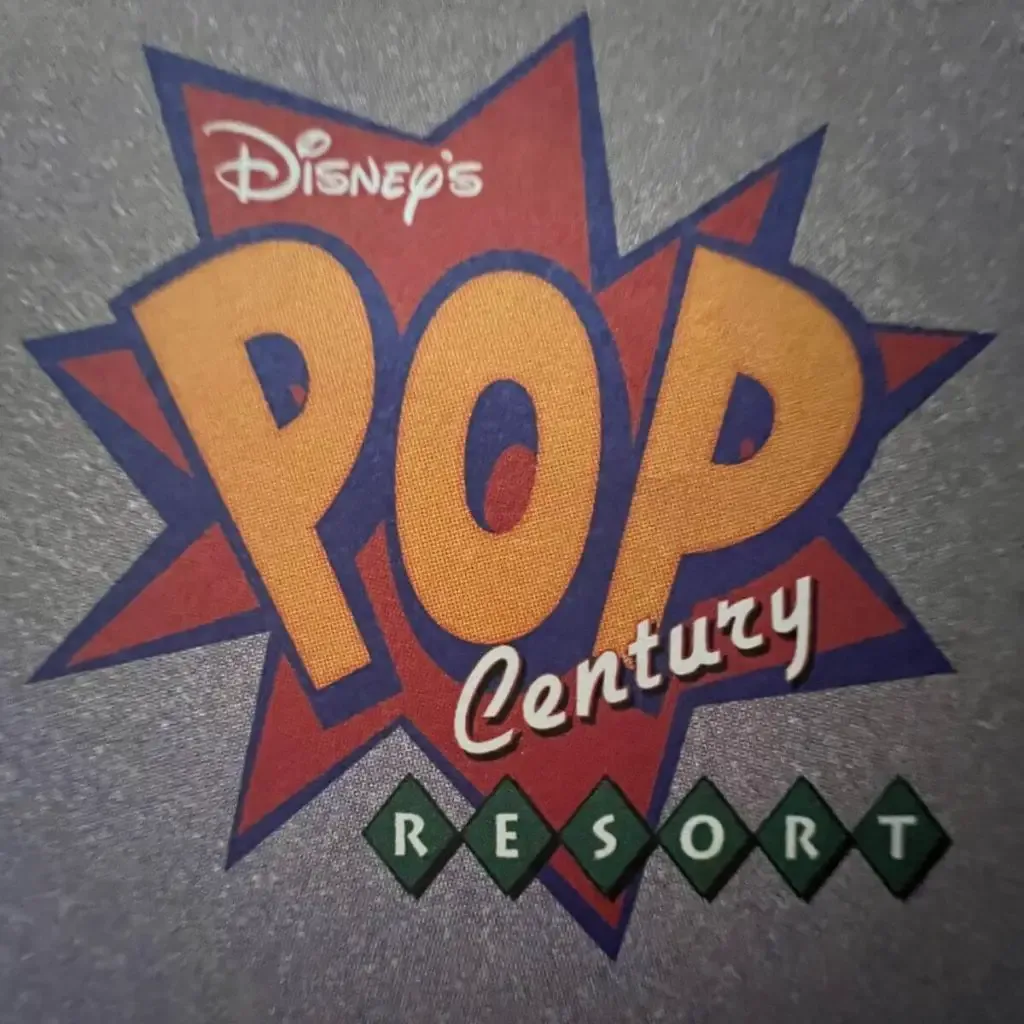 Disney's POP Century Resort offers mobile check-in, although it is not required.
On my most recent stay, I opted to do mobile check-in, but since my flight and Mears shuttle got me to the resort by 11:30 AM or so, my room was not yet ready.
I got in line at the check-in desk and let them know I was there and see if it might help expedite getting my room even though formal check-in time isn't until 3 PM.
Lo and behold, they were able to put me in a room right away.
Not only that, but they put me next to the Skyliner as I had mentioned that I'd be taking it the next day to check out the Epcot Festival of the Arts.
It also had a gorgeous view over Hourglass Lake and the Disney Skyliner to the Art of Animation Resort.
I was able to freshen up in my room right away and then made my way over to Disney Springs for some food, people watching, and shopping!
Resort theme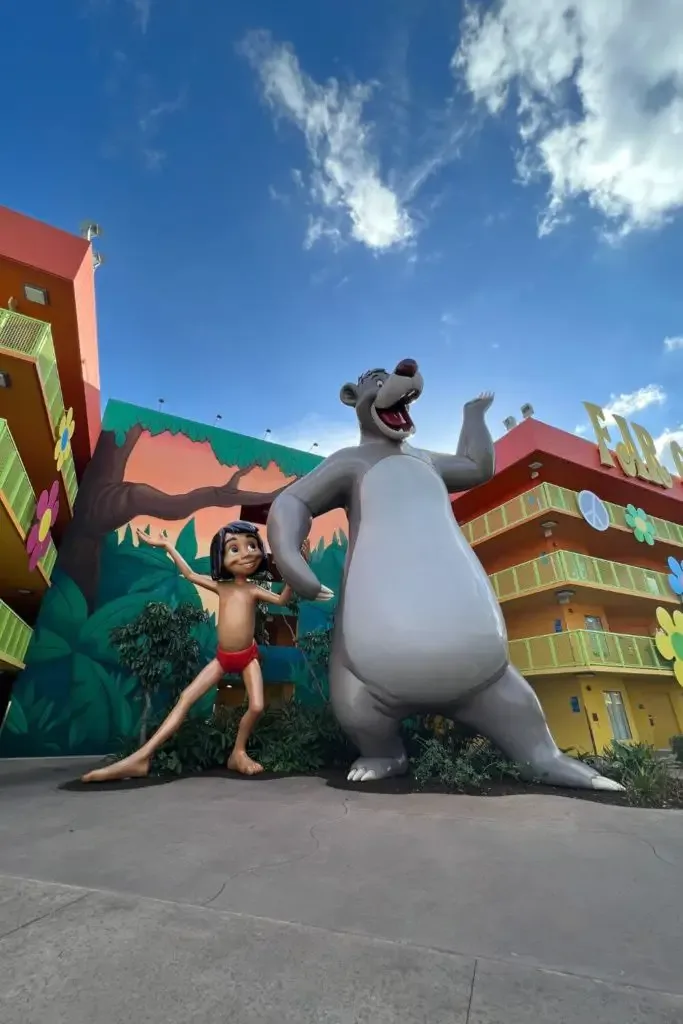 Disney's Pop Century Resort is themed to pop culture of the latter half of the 20th century.
The resort's buildings are divided into different decades from the 1950s through the 1990s.
Each decade has its own theme and decor on the exterior while the interior rooms are decorated all the same.
For example, you'll find a Lady & the Tramp statue, which debuted in 1955, in the 1950s section.
In the 1960s section, you'll find a huge Play-Doh can, as well as a Baloo and Mowgli from The Jungle Book, which debuted in 1967.
Next, in the 1970s section, you'll find a giant big wheel, mood ring, and larger-than-life Twister mat.
In the 1980s section, you'll find a giant Walkman, Mr. Potato Head, and Roger Rabbit.
Lastly, in the 1990s section, you'll find rollerblades and a laptop.
And that's just a sampling of what you'll find – there's actually a ton more!
What's included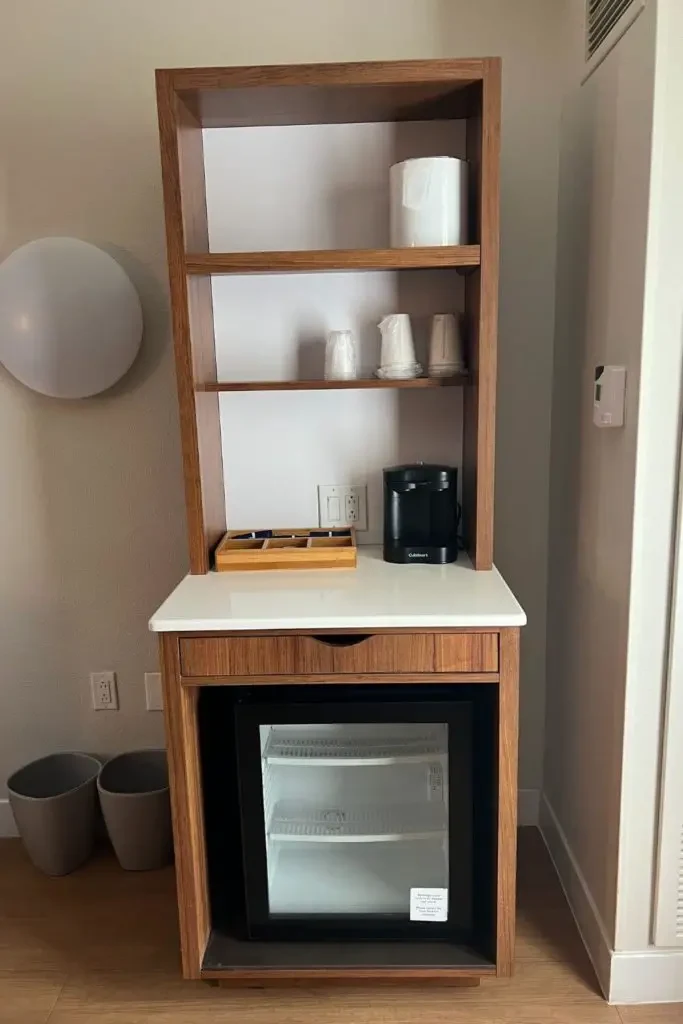 The rooms at Disney's Pop Century Resort are equipped with shampoo, conditioner, body wash, and hair dryers. They also have air conditioning, which is a blessing during the hot summer months.
In addition, each room includes a telephone (with voicemail), coffee maker, mini refrigerator, iron and ironing board, and safe for valuables.
Tea and coffee pods were included for the coffee maker, as well as creamer, sugar, and a few paper cups.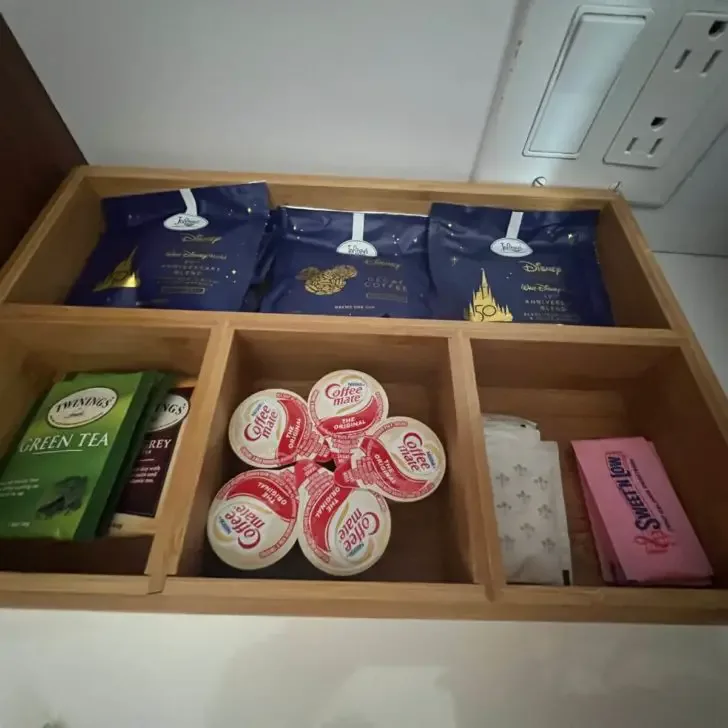 There were plenty of plugs to keep all your devices charged up for a day at the parks. On each side of the bed were 2 electrical plugs, plus 2 USB ports.
The same was available underneath the TV, plus there were plugs at the coffee station and bathroom sink area.
Parking and WiFi internet access are also free, as are use of the activities, such as the pool and playground.
Lastly, since Pop Century is a Disney resort, guests are eligible for select extra magic hours, typically an extra hour in the morning.
Guest rooms at Disney's Pop Century Resort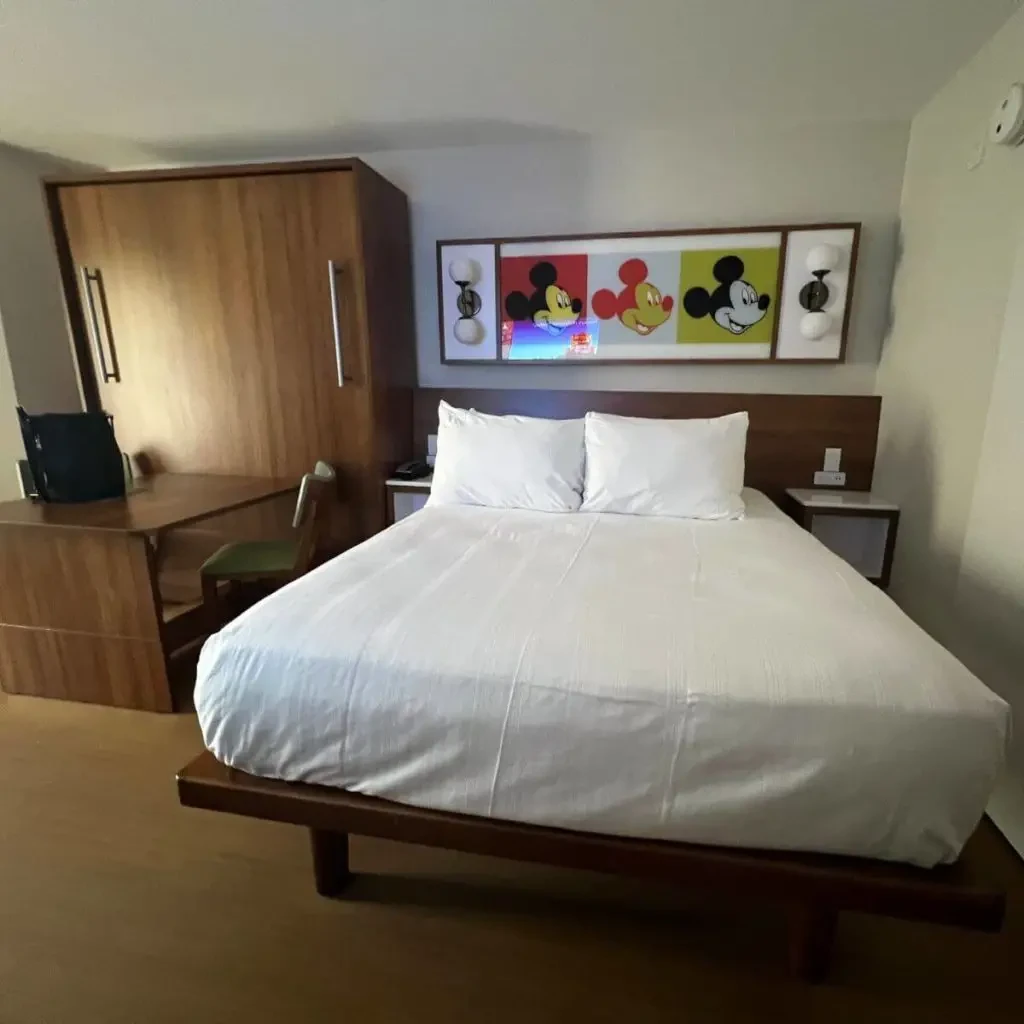 Check in time is at 3 PM, while check-out time is at 11 AM. That's fairly standard for most hotels, whether at Walt Disney World resort or elsewhere.
The resort offers four different room types:
Standard

Standard Pool View

Preferred

Preferred Pool View
All rooms accommodate up to four people and have one Queen bed and one Queen murphy bed or one King bed.
The Standard rooms are the cheapest and typically have views of the parking lot.
The Standard Pool View rooms offer views of the Bowling Pool or Computer Pool.
Preferred rooms have a nicer view of the courtyard or landscaping.
Last up are Preferred Pool View rooms, which face the Hippy Dippy Pool.
Overall the rooms are pretty much the same inside no matter which type you get, so you're paying (or saving!) based on location.
The bed was super comfortable with lots of pillows and a plush comforter. Personally I hate when hotels just have sheets or thin bed covers – even in hot locations like Disney World!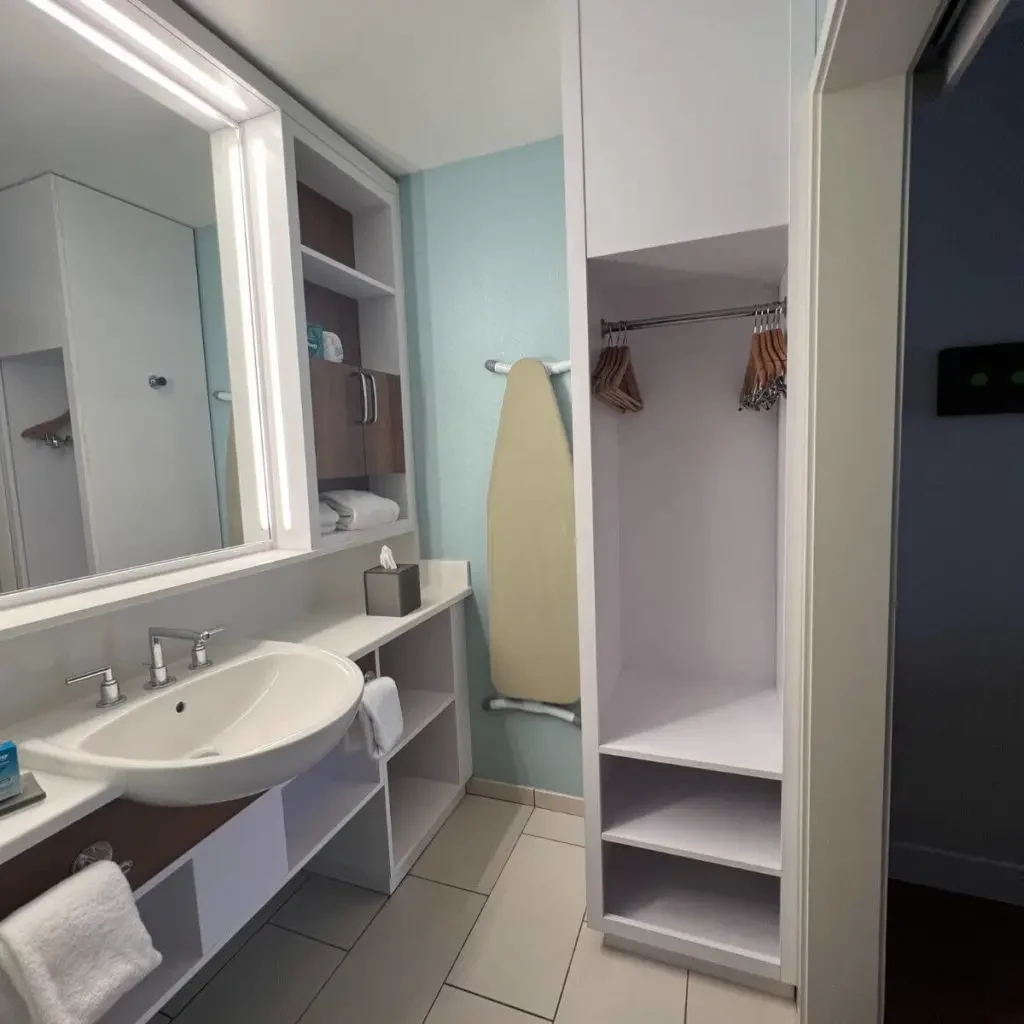 I loved that the shower and toilet was separate from the sink and closet area. It makes getting ready in the morning much easier when there's multiple people in a room!
I also liked the new set up of the bathroom sink area. It had a lot of vertical storage, which reminded me of what you usually see in a cruise ship stateroom bathroom. It really helps keep everything tidy; we all know how quickly a hotel room can descend into chaos!!
Dining options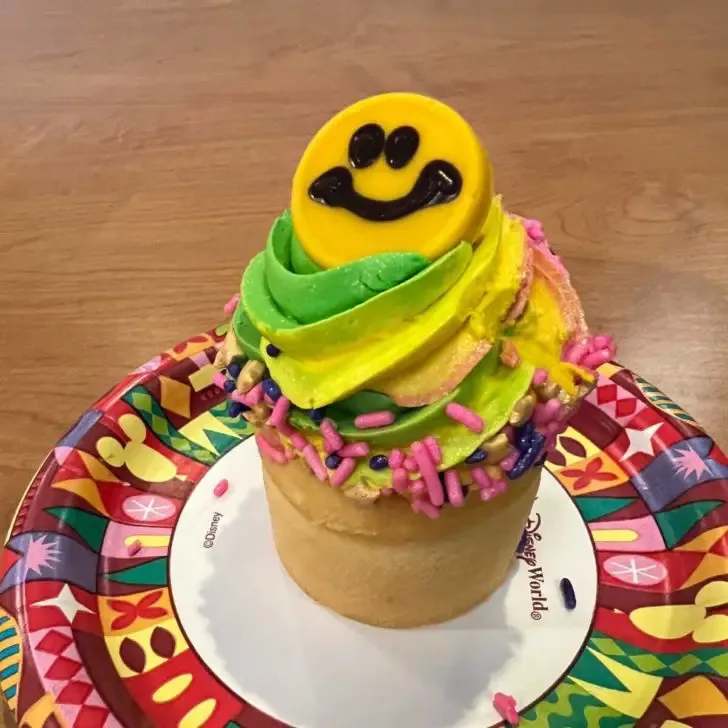 There are 2 dining options at Pop Century: Everything POP Shopping & Dining and Petals Pool Bar.
Petals Pool Bar is a small outpost near the Hippy Dippy Pool area. The food actually comes from the food court, so it is known more for its cocktails and mocktails.
Everything POP Shopping & Dining is a quick-service food court that serves breakfast, lunch, dinner, and snacks. It is typically open from TIME AM to TIME PM daily.
Popular food includes Mickey waffles, the POP'ing pimento burger, Walt Disney's Favorite chili in a bread boule, and pizza (including gluten-free options).
The tie-dye cheesecake has long been a fan favorite but personally I don't think it's that great.
The POP Goes Bananas cupcake with caramelized bananas and caramel latte buttercream frosting is to die for though!
The food was your run-of-the-mill fast food style dishes, although there are plenty of healthy options like salads and fresh fruit.
And yes, they have everyone's favorite Mickey Waffles in the morning, which are vanilla-y deliciousness and the perfect way to start your day at Disney World.
Resort gift shop
If the name of the food court didn't give it away, there's also a gift shop on site at Everything POP Shopping & Dining.
The shop carries tons of Disney merchandise, as well food, drinks, and everyday needs in case you forgot something, like toothpaste, shampoo, etc.
If you see something at the parks but can't find it in your size OR saw something online that you couldn't find in the parks, check here!
They usually have a small amount of the popular items, whether it be the latest spirit jersey or must-have Minnie ears.
I didn't get anything this time around, but I did notice that they had lots of the purple 100th celebration merchandise that was sold out in lots of other places!
Pools
Disney's Pop Century Resort has three pools: the Hippy Dippy Pool, the Bowling Pool, and the Computer Pool. There is also a children's pool next to the Hippy Dippy pool with water spouts for extra giggles.
The Hippy Dippy Pool serves as the resort's main pool. It is located behind Classic Hall, which is where the check-in, arcade, and food court are.
The pool is 60s themed with flower-shaped water jets all around the pool, which is flower shaped itself! I love all the fun colors and typically plan my stays here to be near this pool!
When I first stayed here, this pool was my nieces favorite part of the trip – even over the parks!
Next up, the Bowling Pool, which is located in the 1950s section, is literally a bowling pin shaped pool. How fun!
Lastly, the Computer pool is located in the 1990s section. At first it seems to be your usual rectangular shaped pool, but if you look at it from above, you'll realize it's actually a computer thanks to the larger-than-life keyboard parallel to it!
The Bowling Pool and Computer Pools tend to be less populated and therefore more quiet.
Recreation
There are plenty of recreational activities at Disney's Pop Century Resort.
So much so that if you had a day or two without a theme park ticket, you'd be able to keep yourself well-entertained the entire day (and night)!
A 1-mile jogging trail circles the resort and takes you through all four decade theme areas. This trail is also great for running with kids because it's flat and well-lit at night.
Don't forget to pick up a Disney themed runner's hat at the gift shop before heading out for a jog!
A playground is located in the 1970s section, complete with a jungle gym, slides, monkey bars, and more.
Across from the food court is the Fast Forward Arcade with games like air hockey, shuffleboard, basketball hoops, and video games.
Campfires are held nightly near the Surfing Goofy statue from 5:30 to 6:30 PM, weather pending. Sometimes there's a DJ and marshmallows for roasting, too!
Right after the campfire, family-friendly Disney movies are shown on a big screen under the stars at the Hippy Dippy Pool. What a great way to end a day at the parks!
Check with the front desk for a schedule when you visit.
Transportation & parking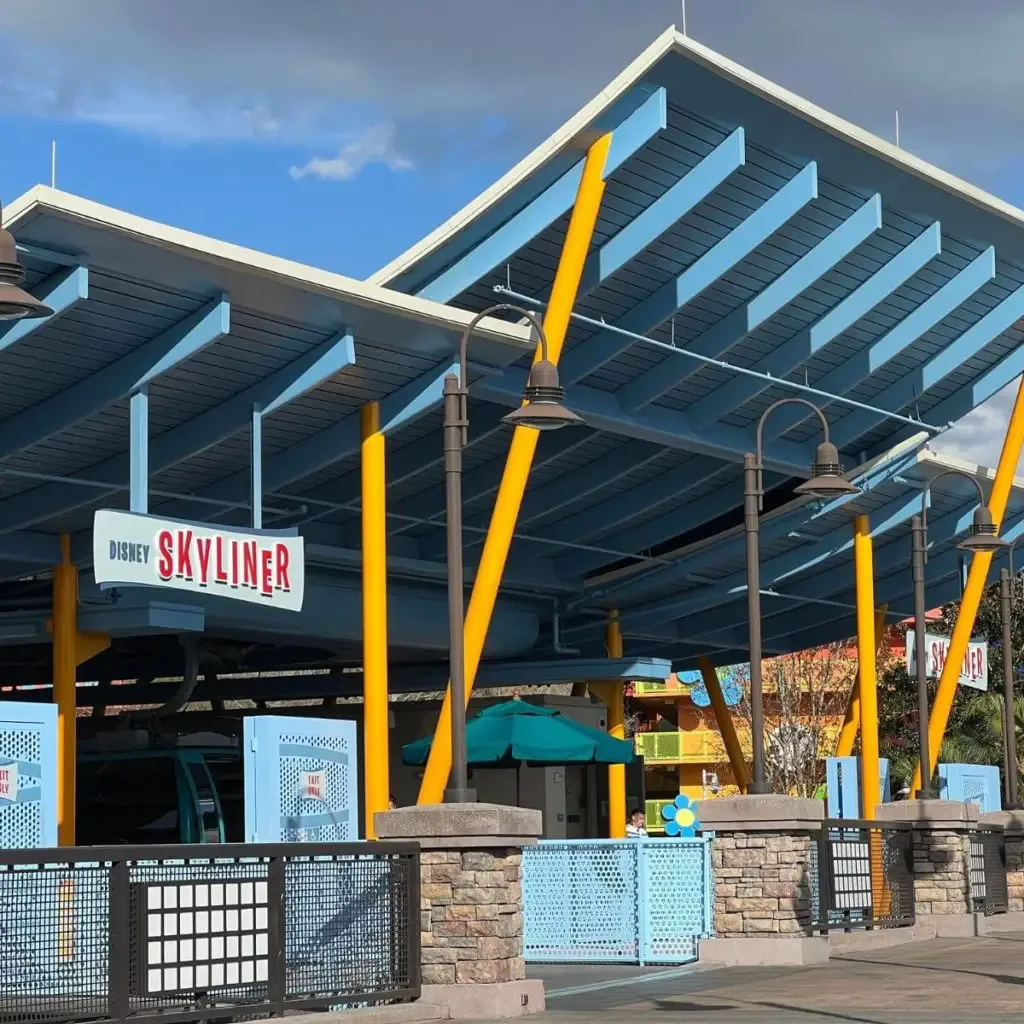 As mentioned earlier in this post, parking is free for resort guests at POP Century – and there is plenty of it throughout the resort grounds.
As for transportation, Disney provides free bus service to Animal Kingdom, Magic Kingdom, Blizzard Beach, Typhoon Lagoon, and Disney Springs.
They also offer free Disney Skyliner air gondola transportation to Epcot, Hollywood Studios, and several resorts.
The line for the Disney Skyliner gets very busy in the morning, but it goes pretty quickly. That said, if you have somewhere to be, either leave extra early or take a ride share to where you need to be.
Lastly, ride shares and taxis are allowed, plus you can access the premium Minnie Van service via the Lyft app (iOS / Android).
Laundry facilities
There are laundry facilities located near each of the pools. You'll need quarters and your own laundry soap and dryer sheets.
You can also arrange for "valet laundry" and dry cleaning by calling the Housekeeping line from the phone in your room.
Pros and Cons of Disney's Pop Century Resort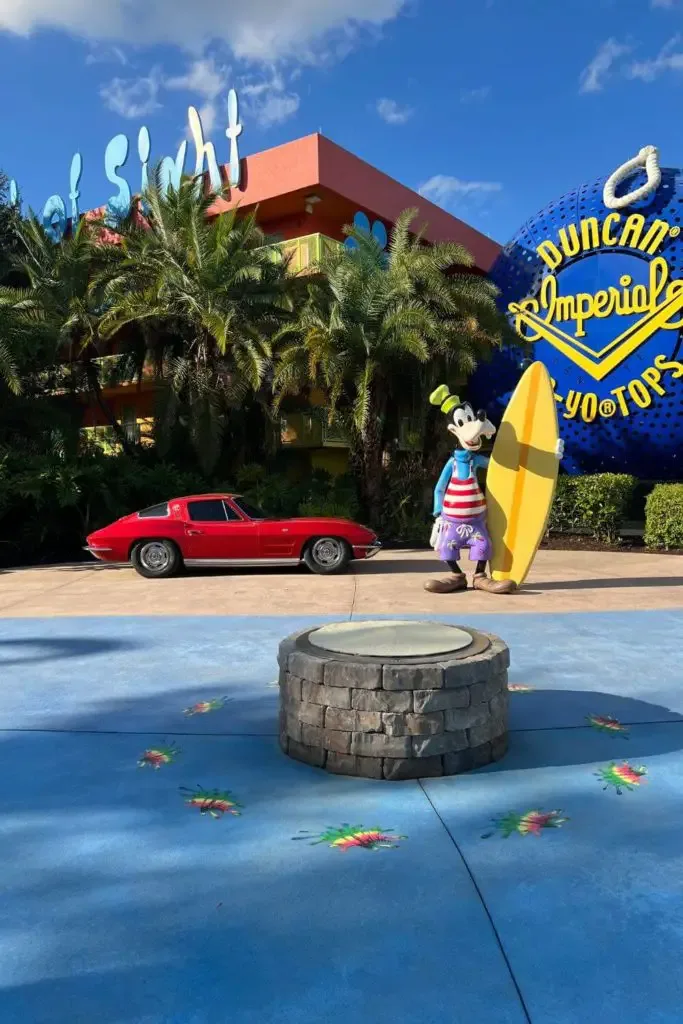 There are definitely more pros than cons for this resort, which is why I recommend it enthusiastically.
Let's start with the pros.
Disney's Pop Century resort is easily accessible to and from the parks, with several free transportation options. You can't beat free!
The rooms are spacious, well-organized, and recently updated, giving them a fresh, clean feeling. All of the shelving, drawers, and closet helped keep the room organized and uncluttered.
I also loved that the rooms had a small table. While most people probably use it for eating, I used it to get some blogging done before bedtime!
Lastly, I absolutely love the theming and all of the giant statues around the resort that make for some really fun photo opportunities!
As for the cons – I could only think of two and neither are really all that big of a deal.
There's only one restaurant available at the resort.
I don't think this is a huge deal, though, as you can walk across the Generation Gap bridge over Hourglass Lake to the Art of Animation resort.
While the AOA resort is also a value resort, they serve different food than at POP.
Additionally, with such easy access to the Skyliner, you can quickly hop over to the Caribbean Beach Resort or Riviera Resort for additional restaurant options.
Other than that, unless you are staying near the Hippy Dippy Pool in the 60s or 70s section, your room is more than likely going to be a bit of a walk from everything.
Is Disney's Pop Century Resort worth it?
Without a doubt, Disney's Pop Century Resort is worth it. It's my favorite of the value resorts at Walt Disney World.
I've stayed at this resort twice and definitely plan on staying there again. I honestly forget sometimes that it's a value resort due to all that it has to offer.
It's close enough to the parks that you can easily make it to them in no time, but far enough away where you don't have to deal with all the noise!
The most important thing though? It's got those old-school touches we all love so much about Disney World. Those are what makes this place so special!
---
About the author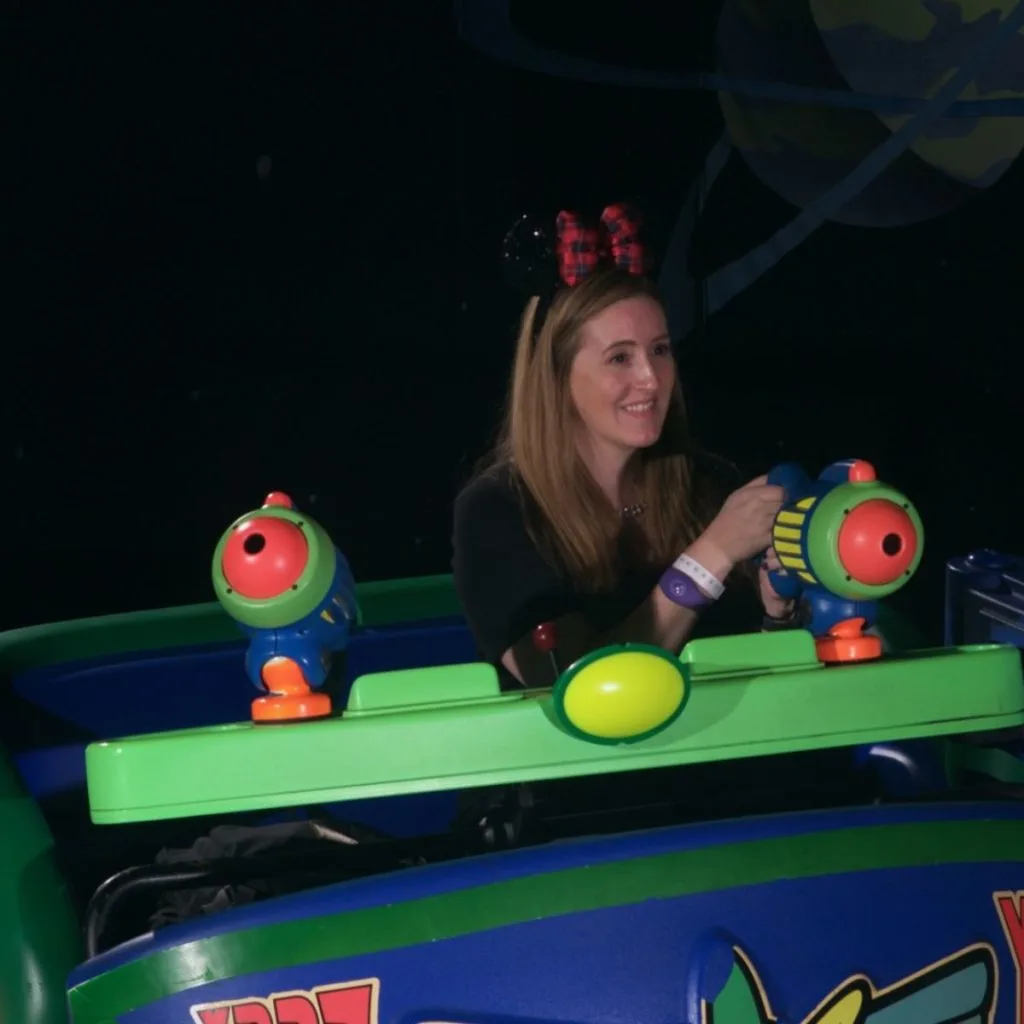 Meg Frost is the creator of The Park Pixie, where she covers Disney World, Disney+, and Disney fandom.
She holds an M.A. in Journalism from Northeastern University and B.S. in Communication & American Studies from University of Miami.
---