Are you planning a trip to Walt Disney World, but don't know where you should stay?
Stop searching – Disney's All Star Movies Resort is one of the most iconic spots on site and makes it easy for you to have the vacation of your dreams. Best of all, it's super affordable!
From its vibrant theming to fun-filled amenities, there's plenty that will make this place your new home away from home.
Come along as I outline all the awesome things about this resort in my All-Star Movies Resort review.
Check in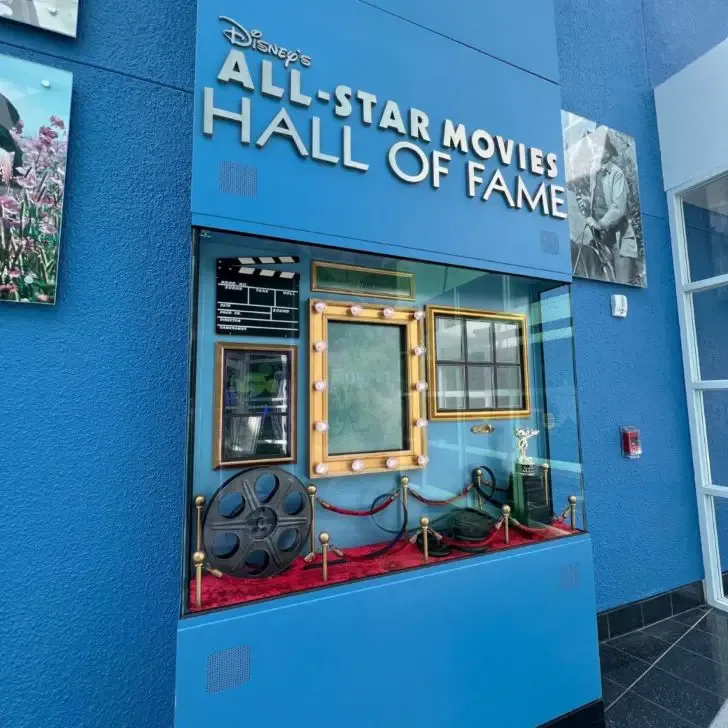 Check-in is at 4 PM, like all other resorts at Walt Disney World. However, if you'll be arriving early, they often have rooms available and will let you check in earlier than 4 PM.
You'll up your chances of being able to check in early if you complete the mobile check-in steps ahead of your trip.
On my most recent stay at Disney's All-Star Movies Resort, I completed mobile check in a few weeks ahead.
I estimated that I'd be there about 11:30 AM, which was about 1 hour after my flight landed.
Realistically, it probably takes a bit longer than that, but again, I wanted to be able to get into my room ASAP.
Sure enough, on my Mears Transportation ride from the airport to the resort around 11:15 AM, my room became available.
Once the bus pulled up to the drop-off area, I hopped off, tipped the driver, grabbed my luggage, and walked straight to my room to freshen up.
A lot of people advise guests not to do mobile-check in on the off chance that the front desk staff can offer an upgrade.
Personally, I'd rather take the chance of having my room ready early than possibly getting a room upgrade. But that's just me!
Resort theme
Disney movie lovers will be delighted to see some of their favorite films represented throughout the resort grounds.
There are five sections at this resort, all themed after classic Disney films: Fantasia, The Love Bug, Toy Story, 101 Dalmatians, and Mighty Ducks.
I have stayed in the Fantasia and Mighty Ducks sections and enjoyed both!
The Love Bug and Mighty Ducks rooms feel like the furthest from Cinema Hall, but it's not a massive resort, so it's still a short walk to all of the sections in my opinion.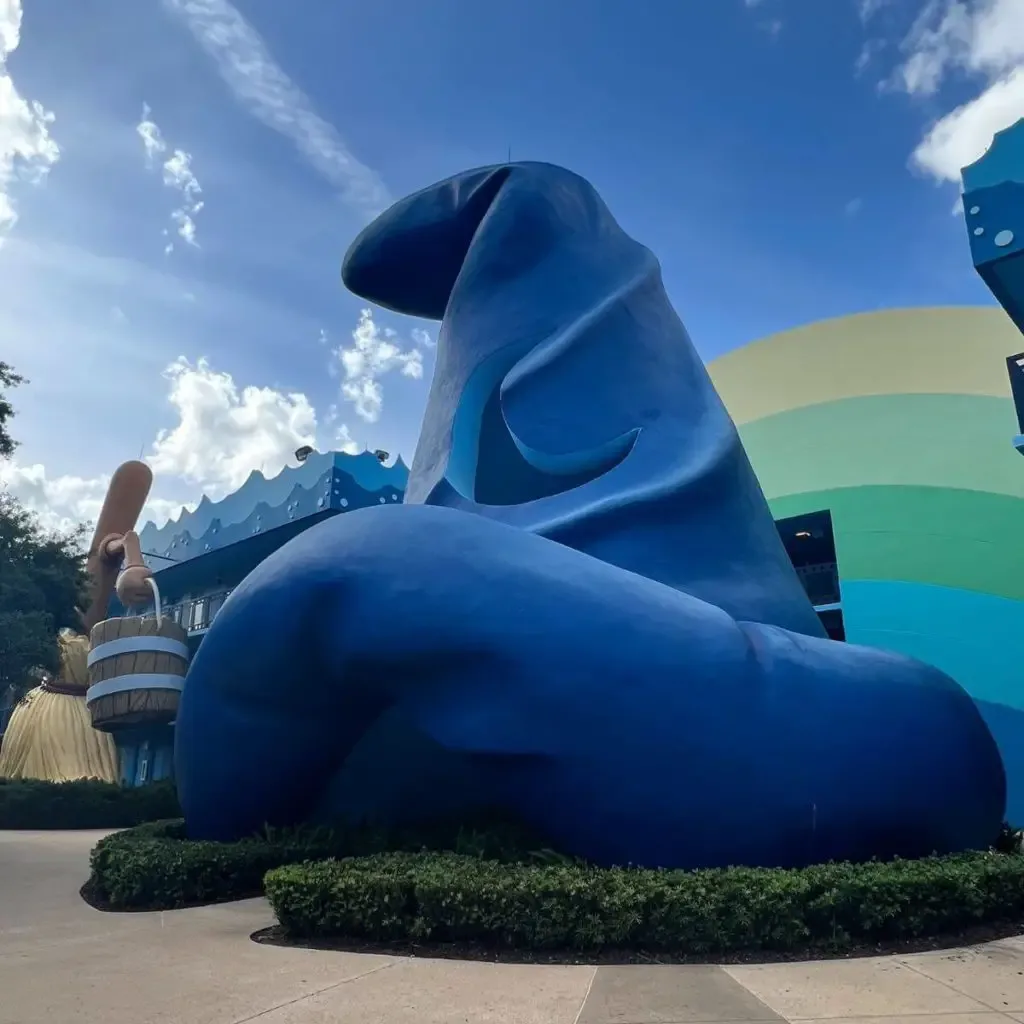 In the Fantasia section, you'll find the main pool, plus giant books, a huge sorcerer hat and ballerina statue, plus giant broomsticks and toy soldiers.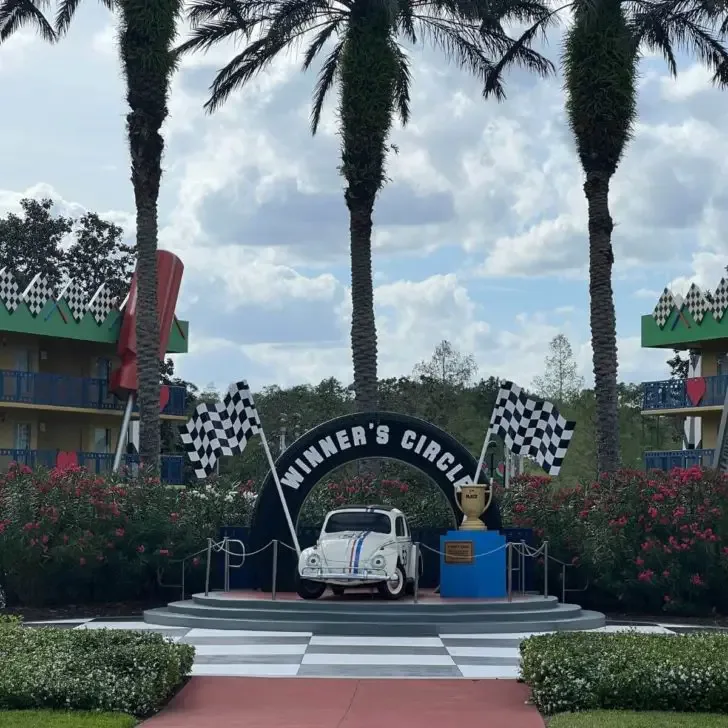 Behind that is the Love Bug section, with replicas of everyone's favorite Volkswagon beetle that you can pose with.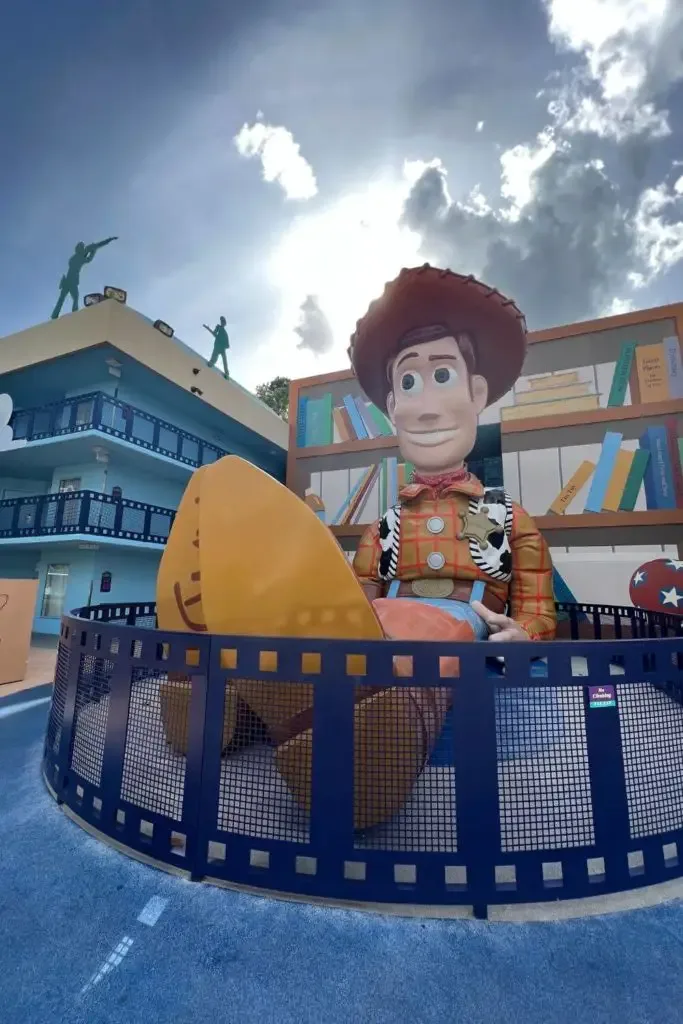 To the left of Cinema Hall is the Toy Story section. Since it doesn't have a pool, it's nice and quiet.
It also has, arguably, the best photo ops in the resort: a door to Andy's room, giant Checkers and Chess boards, a statues of Woody, Buzz, Bo Peep, Rex, and RC.
Plus, there are green army men all around each building's top perimeter.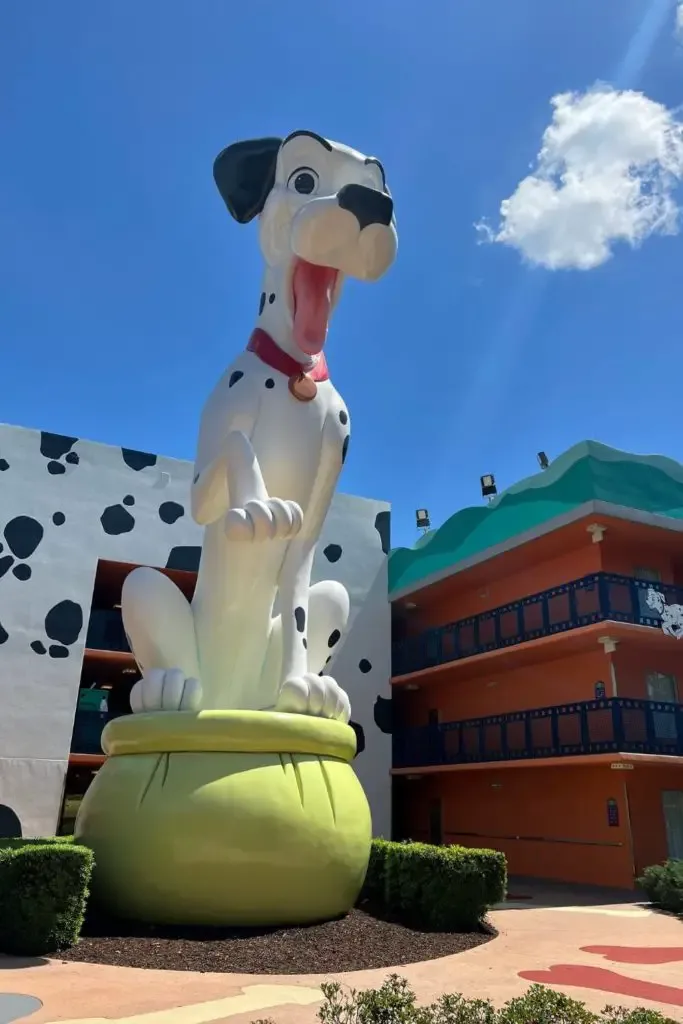 To the right of Cinema Hall is the 101 Dalmatian section, which has giant Perdy and Pongo statues, as well as a cute Dalmatian puppy photo op.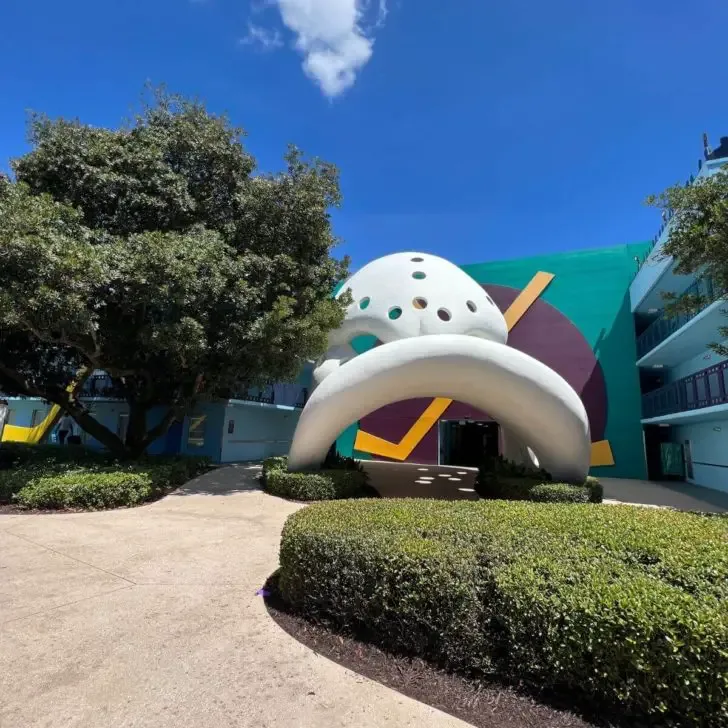 If you walk all the way through this section, you'll hit the final section: Mighty Ducks.
Here you'll find the Duck Pond pool, two massive Mighty Duck hockey mask statues, and giant hockey sticks and goal nets all around each building.
I really adore the theme at this resort; it definitely puts me in a nostalgic Disney mood!
Plus all the statues around the resort make for fun photo ops for the 'gram or video backgrounds for TikTok.
Just don't crawl all over the statues or get in other guests way while taking photos or video, please.
Guest rooms at Disney's All Star Movies Resort
Guests can choose to stay in one of several different room types at Disney's All-Star Movies Resort.
There are 2 types of rooms: standard and preferred.
Preferred rooms are closest to Cinema Hall, transportation, and Fantasia Pool. Standard rooms are further away from those central points.
Regardless of the room type, you might have a view of a pool, courtyard, or parking area.
If you don't do mobile check in, and don't mind possibly waiting longer, you might be able to finagle a preferred section or view at the front desk.
Anyway, onto the the hotel rooms themselves!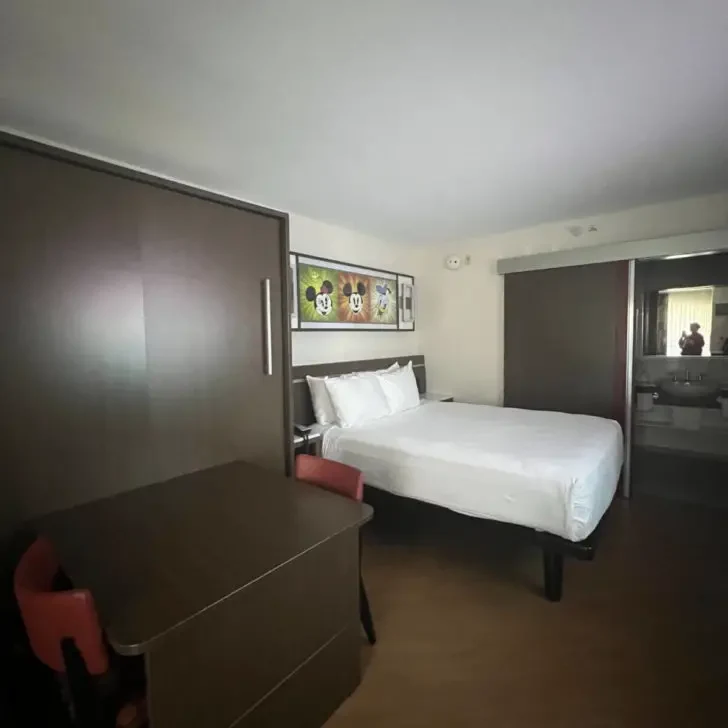 All rooms have 1 King bed or 1 Queen bed and a pull-down Queen Murphy bed.
The beds are comfortable and there are tons of pillows ready for you to face-plant into.
However, if there are four of you in the room and you like to double up on pillows, you may need to request extras.
By the way, I've stayed at the All-Star Movies resort before and after its most recent renovation.
The most recent renovation completed in 2019, which added the Murphy beds in place of a second Queen bed.
I love the Murphy bed concept because it makes the room feel more spacious.
Plus, I like having the table to do some blogging or to eat dinner with my feet up after a long day at the parks.
All rooms have a controllable thermostat with air conditioning, which is so necessary in my opinion.
Nothing's better than popping back to the resort for a mid-day nap with the AC cranked up after a sweaty morning running around the parks!
But also, when the rare cold snap hits, you'll be comforted to know you can turn the temp up a notch or two.
There are tons of outlets, including USB outlets, all throughout the room; both sides of both beds, two under the TV, at the drink station, and in the sink area.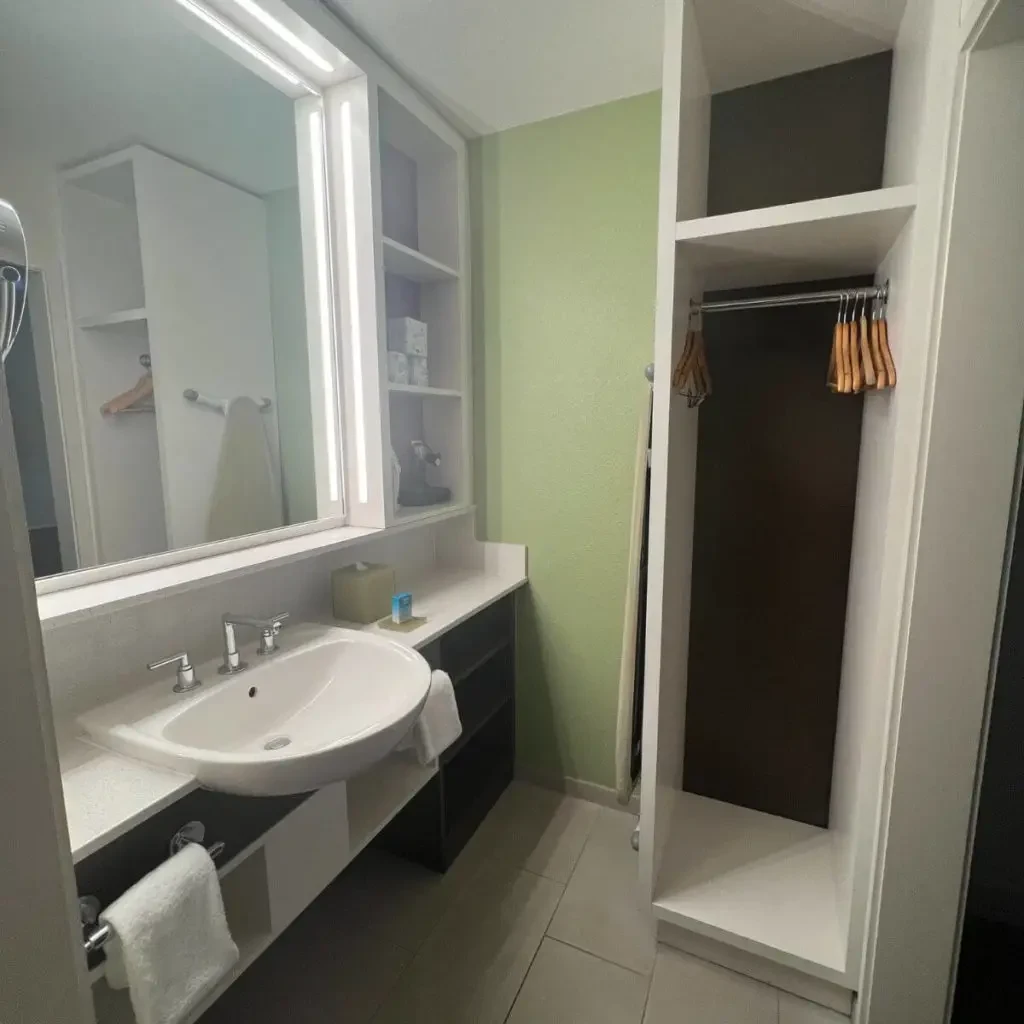 The showers have shampoo, conditioner, and body wash. Plus there's a hair dryer in the sink area, as well as an iron and ironing board.
My hair is extremely dry, so the conditioner wasn't quite enough for me. But a few spritz of leave-in conditioner did the trick, so I didn't even use the shampoo and conditioner I brought!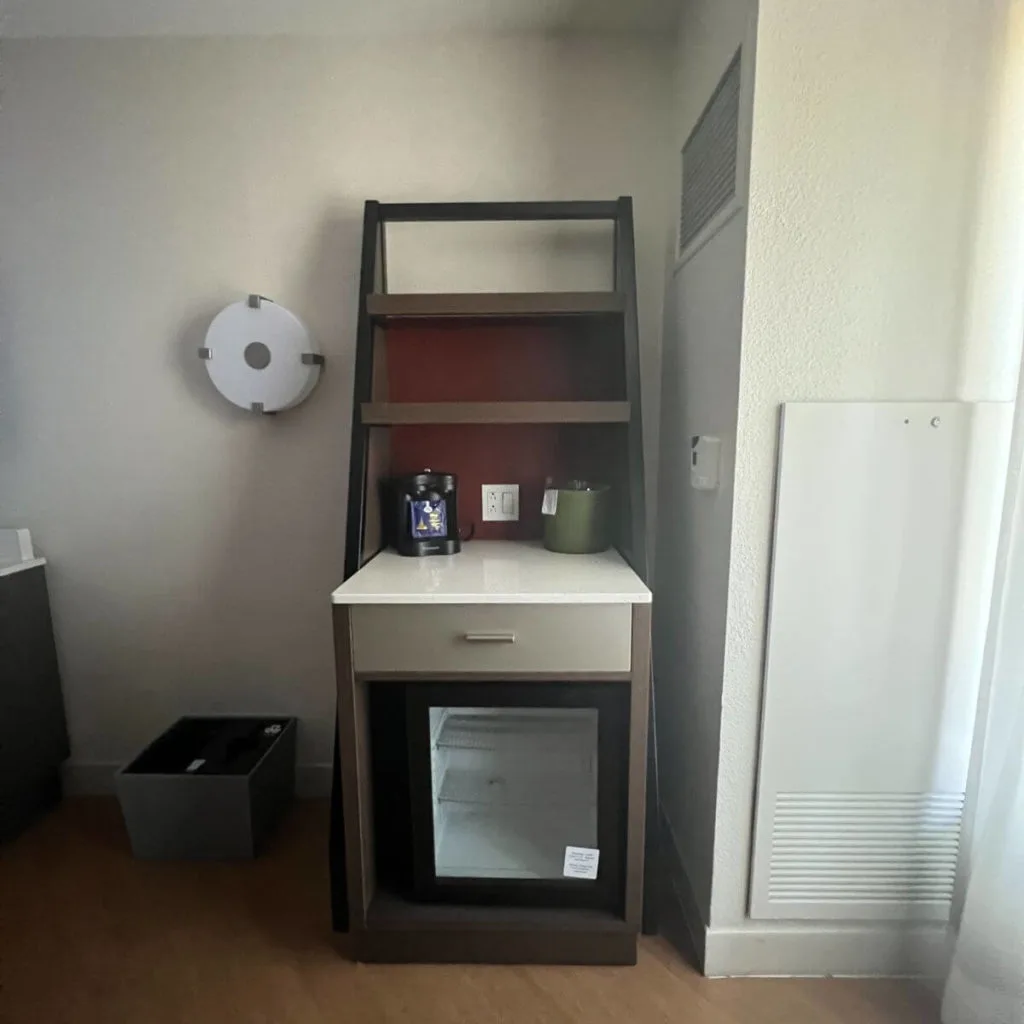 There's also a drink station tower (or bar, I guess you could call it?) with an ice bucket, coffee maker, paper cups, a mini refrigerator, free tea and coffee sachets, plus sweeteners and shelf-stable half-and-half.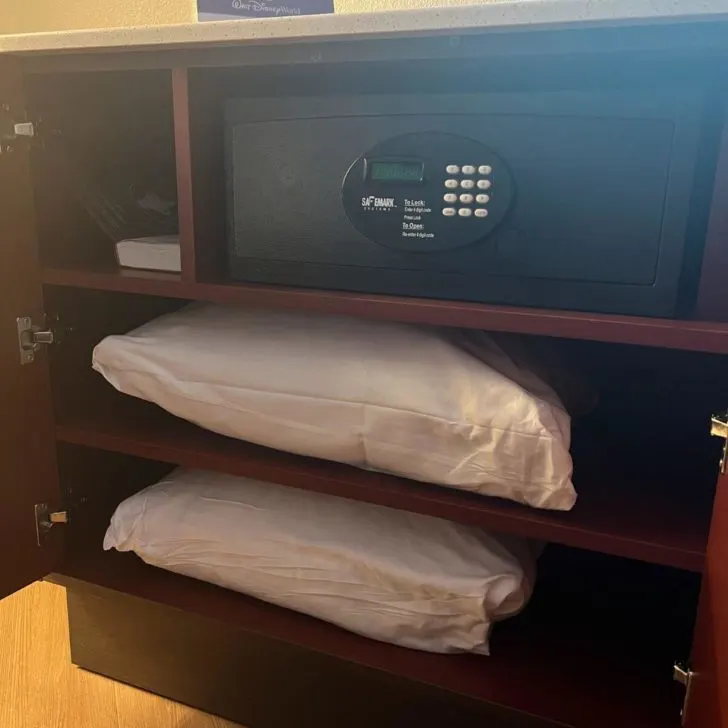 Also, there is a hidden safe in the console below the flat screen TV, which also doubles as a dresser if you're the type to unpack (like me).
Lastly, yes, the TV did have the new style resort TV menu. And you know what? I actually like it better than the old one!
It is very reminiscent of streaming service menus with the ability to browse a library-like menu and select items to play at-will.
What's included
As with other Disney resorts, the rooms come with a lot of complimentary amenities and perks.
First off, all guests get complimentary early entry to most parks on most days for this resort.
When I last visited, it was every park on every day – but of course, Disney reserves the right to change this at will!
Personally, I'm more of a night owl. But of course Disney only gives complimentary extra evening hours to deluxe resort guests these days.
Lastly, parking and wifi access is free for all hotel guests.
Dining options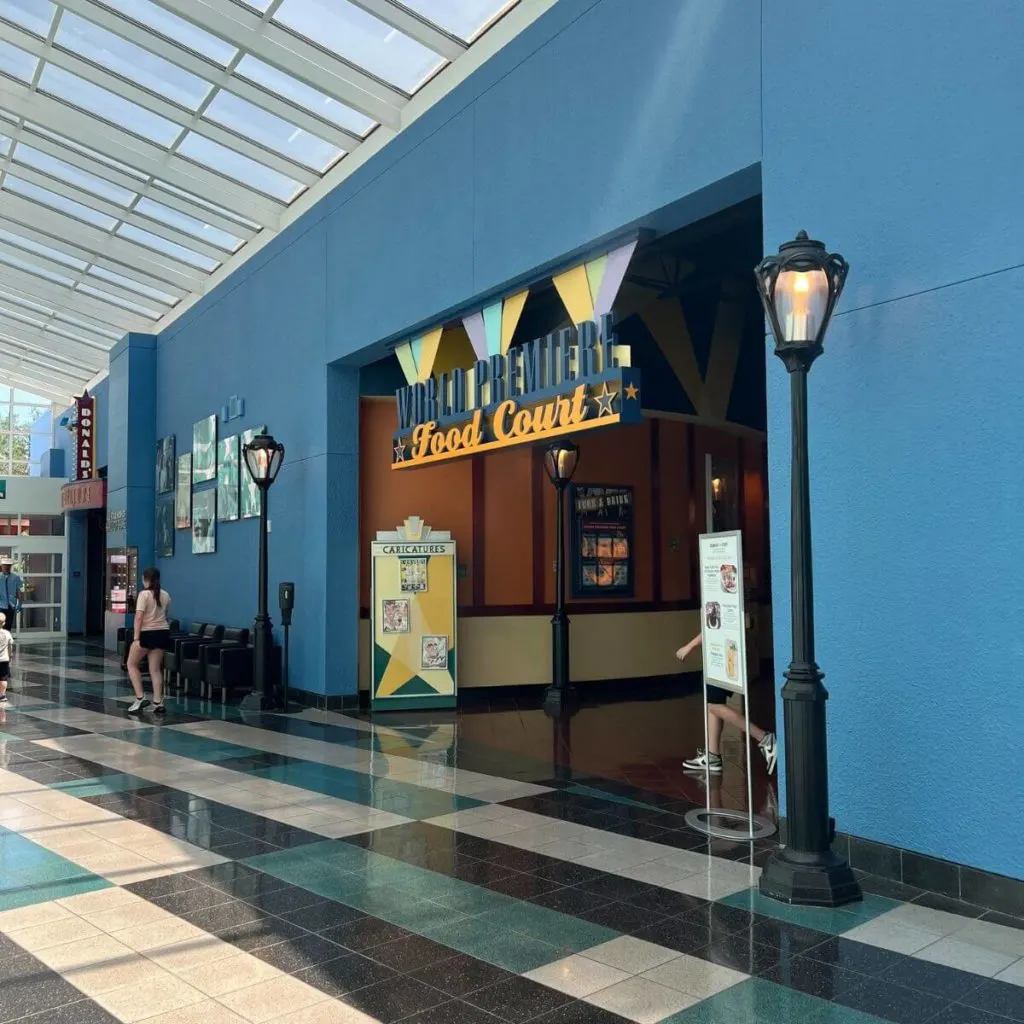 As a value resort, there is only one dining option at the resort: the World Premiere Food Court.
On my most recent trip, I got into the habit of mobile ordering dinner once I got onto the bus back to the resort.
Then I would track the bus on the Google Maps app and press "I'm here" when the bus was a few minutes away.
By the time I walked off the bus, I would get a notification that my order was ready to be picked up.
I love the convenience of mobile order! Plus it always reminded me to grab a big bottle of water or Power-Ade to help rehydrate since I had forgotten my refillable bottle at home.
The food was pretty decent too – I mean, I did order dinner there almost every night!
I tried the sesame chicken stir fry, baked gnocchi turkey bolognese, and a kids macaroni and cheese meal. Everything was delicious – especially the stir fry.
They have lots of individually wrapped food options, like sandwiches, as well as pizza, burgers, salads, and other entrees.
I also got a 50th celebration ginger-chocolate cake on night that was absolutely divine! Too bad it was a limited menu item, otherwise I would have recommended it.
Oh and yes, you can totally get the refillable resort mug here. In hindsight, I probably would have saved money if I had gotten one and refilled it with Power Ade each night instead of buying a bottle. Oh well!
Donald's Double Feature gift shop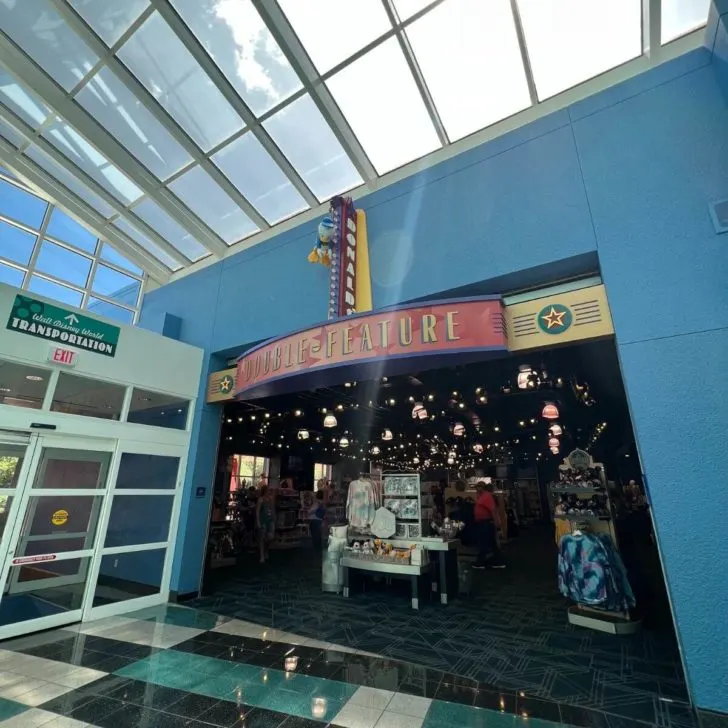 One of the best things about the All-Star Movies resort is Donald's Double Feature gift shop.
This expansive gift shop is full of fun and memorable souvenirs to commemorate a special stay.
Plus the cast members who worked here were all the nicest and genuinely looked like they were happy to be working there.
Aside from your usual Disney souvenirs, they had a section with personal items that you might have forgotten or need more of, like sunscreen, Tums, toothpaste, etc.
I will warn you though – most of it is severely marked up. I paid $2.50 for a pack of 2 Advil one day because of a headache that I couldn't seem to shake.
Yep. $1.25 plus tax for each pill.
I always have a small bottle of Tylenol or Advil with me, but forgot it when I changed my suitcase at the last minute. Argh!
Thankfully the cast members at the counter were super friendly and we talked about cats after they saw my iPhone screen saver with a picture of one of my family's cats. I couldn't be in a bad mood after that!
Pools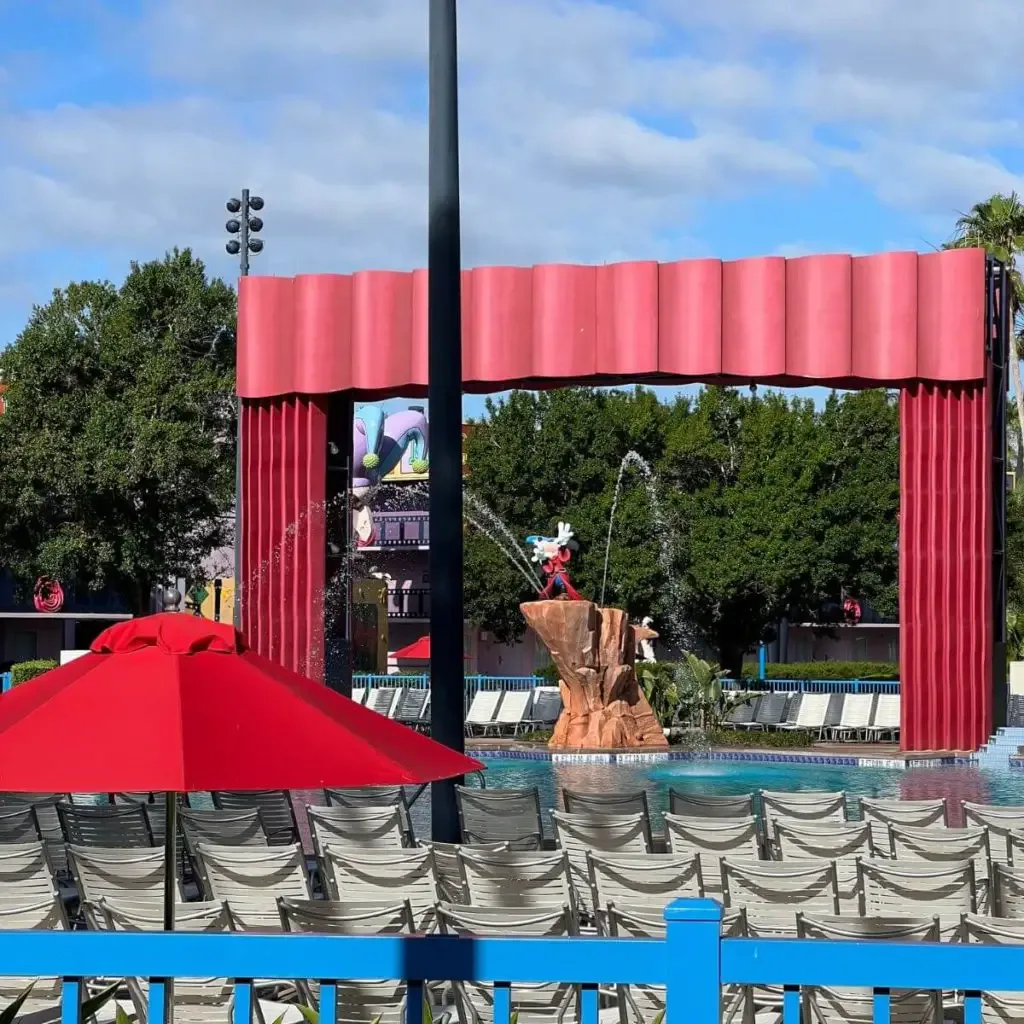 Disney's All-Star Movies Resort has 2 large pools, plus a kiddie pool with a splash pad.
The main pool, the Fantasia Pool, is perfect for swimming with an enhanting, oversized Sorcerer Mickey statue with water spouts. The kiddie pool and splash pad are right next door.
As the main pool, there are often extra activities happening, like dance parties and games, too.
The Duck Pond pool is over in the Mighty Ducks section. I'm not sure if they also have activities here, but it's possible.
They did have fun pop music playing, so it's not a quiet pool if that's what you're after.
Lastly, be sure to pop by Silver Screen Spirits, the poolside bar where you can get alcoholic and non-alcoholic drinks to help you cool off while you have some poolside fun.
Or of course, grab one on your way back to your room while you relax and watch some resort TV with your feet up.
You can also order a few simple food items, like sandwiches, which technically just come from the food court.
Other recreation options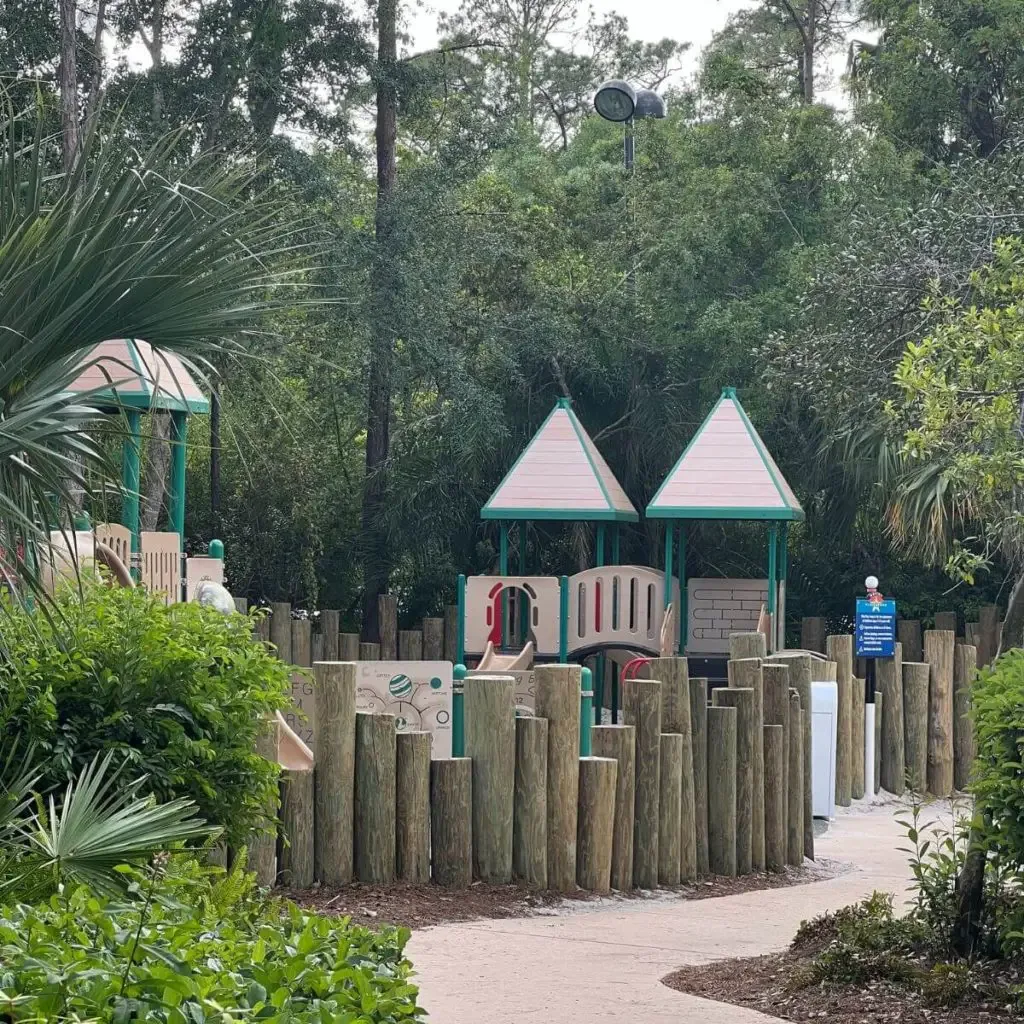 Aside from the pool, there are a variety of other recreation options at Disney's All-Star Movies Resort.
First up is the playground with swings, a slide, monkey bars, and the like. Kids will also enjoy the Reel Fun Arcade, which is across from the food court.
There's also a short jogging trail on the grounds, which is great for those that enjoy running, are in town for a runDisney race, or perhaps a leisurely walk.
Like many other Disney resorts, they also have frequent campfires and movies at night.
Although here, the movies are held at The Reel Spot, which is kind of like a tent or porch-like building not far from the Fantasia Pool.
You can get a movie schedule from the front desk in Cinema Hall.
Transportation & parking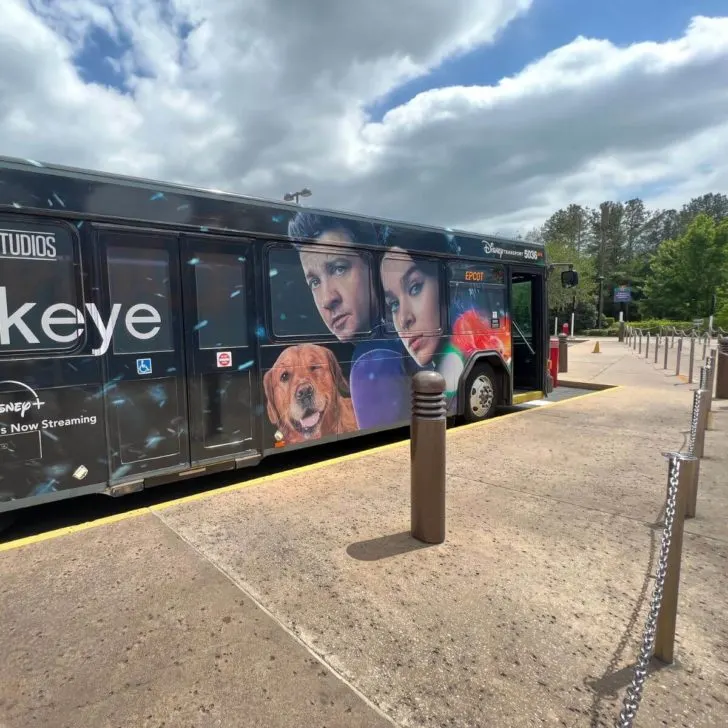 When it comes to transportation and parking, Disney always has you covered.
After a short period of time in recent years where guests had to pay, parking at resorts is now free again.
So whether you're road tripping it to Disney or you're renting a car from the airport, you no longer have to worry about budgeting for parking at the resort.
In addition, buses to all of the theme parks, water parks, and Disney Springs are completely free. Stops are right outside Cinema Hall with destinations clearly marked next to each line.
You can find bus times on the My Disney Experience app.
Although word to the wise – the buses almost always came a few minutes earlier than scheduled.
I made it a point to show up a minimum of 5 minutes early and still waited less than 5 minutes every time!
I can't guarantee that will be the case every time, but keep an eye on the time on the app and when the bus arrives.
Within a day or 2, I bet you'll notice a pattern and can time it so you don't have to wait in line too long.
Laundry facilities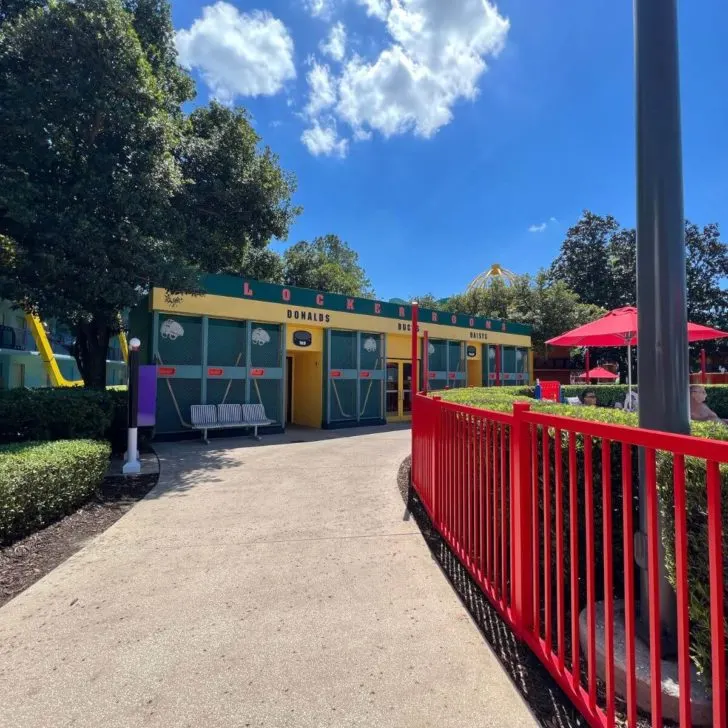 I'm definitely not a laundry on vacation kind of person. But I totally get that some people are – especially if you're visiting for more than a week.
Disney's All-Star Movies resort has 2 laundry rooms on property, one nearby each pool area.
You'll need to provide your own laundry soap and dryer sheets and there are vending machines with some available to purchase.
Pros and cons of Disney's All Star Movies Resort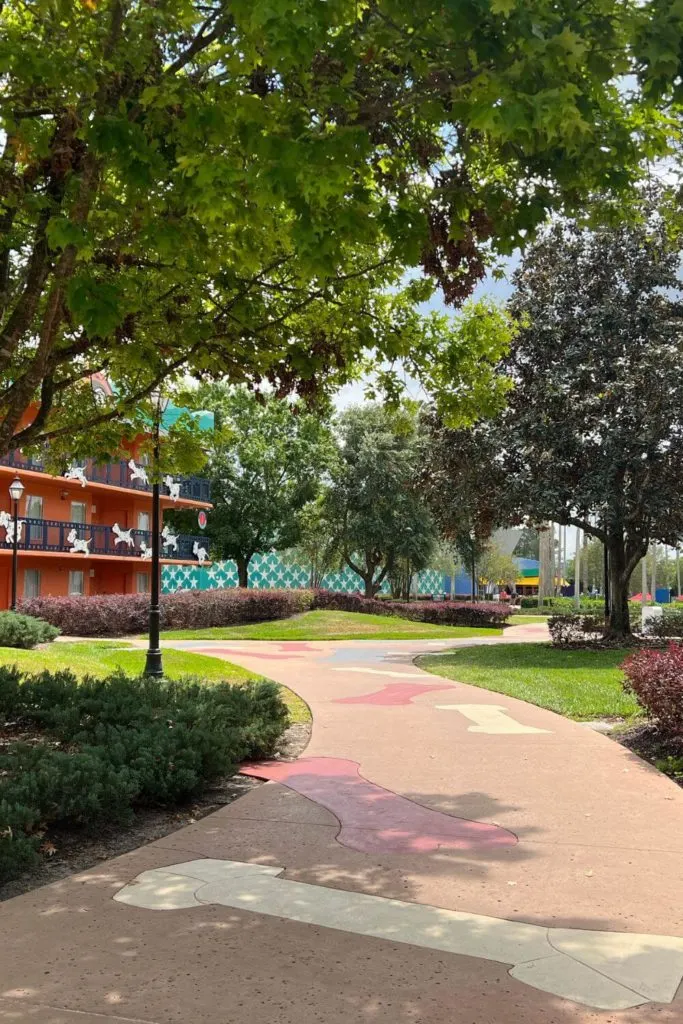 While Disney's All-Star Movies Resort isn't my favorite value resort, it comes in at a close second. Of the 3 All-Star resorts, it is also my favorite, thanks to the fun Disney theming.
That said, the All-Star resorts are amongst the cheapest resorts at Disney World, so if you're trying to make your budget stretch, this resort is a great option.
Of all three of Disney's All-Star resorts, the theming here is the best. It has a bit more Disney magic, in my opinion.
One of the cons of staying at an All-Star resort is that the bus stops at the parks and Disney Springs are always the furthest away.
After a long day of standing in line and criss-crossing the park to get to your lightning lanes on time, you'll be dragging your feet by the time you get in line.
The walls are also quite thin and you can sometimes hear the pipes when a nearby toilet is flushed or if guests are being disrespectfully loud.
I live in an apartment building, so these are ambient sounds to me. But I totally understand if you live in a house that these might stand out to you more and keep you up at night.
Another con is that they only have one restaurant. But honestly, it's not that terrible because there's such a wide-variety of options at the food court!
But, if that is important to you, you'll need to opt for moderate or deluxe resorts.
Is Disney's All Star Movies Resort worth it?
All in all, Disney's All-Star Movies Resort offers an unforgettable and magical experience on a budget.
With its fun-filled pool areas, modern guest rooms, convenient transportation, and exceptionally themed environment, it is a great option for families or even an adults-only trip.
Overall, I recommend Disney's All-Star Movies Resort as an excellent option for those looking to save money without compromising on theming or too many amenities and recreational options.
Next up, check out these posts to help plan your Disney vacation:
---
About the author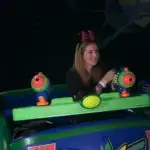 Meg Frost is the creator of The Park Pixie, where she covers Disney World, Disney+, and Disney fandom.
She holds an M.A. in Journalism from Northeastern University and B.S. in Communication & American Studies from University of Miami in Florida.
---
---
About the author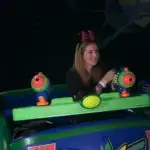 Meg Frost is the creator of The Park Pixie, where she covers Disney World, Disney+, and Disney fandom.
She holds an M.A. in Journalism from Northeastern University and B.S. in Communication & American Studies from University of Miami in Florida.
---
This post was originally published April 14, 2023. It was last updated October 16, 2023.