There are several options for getting to and from Orlando International Airport (MCO) and Walt Disney World Resort.
Options include rental cars, taking a taxi cab, taking a ride share like Lyft or Uber, or taking a shuttle service, such as Mears Connect.
In this post, I'll go over the most popular option: the Mears Connect bus.
What is Mears Connect?
Mears Connect is a shared ride shuttle service that provides door-to-door transportation to and from Walt Disney World Resort hotels.
Visitors can enjoy the convenience of being dropped off at their resort and then picked up without having to worry about driving or parking in busy areas that the aren't familiar with.
If you're familiar with Disney's previous service, Magical Express, Mears is the company that operated those buses.
How much does Mears Connect cost?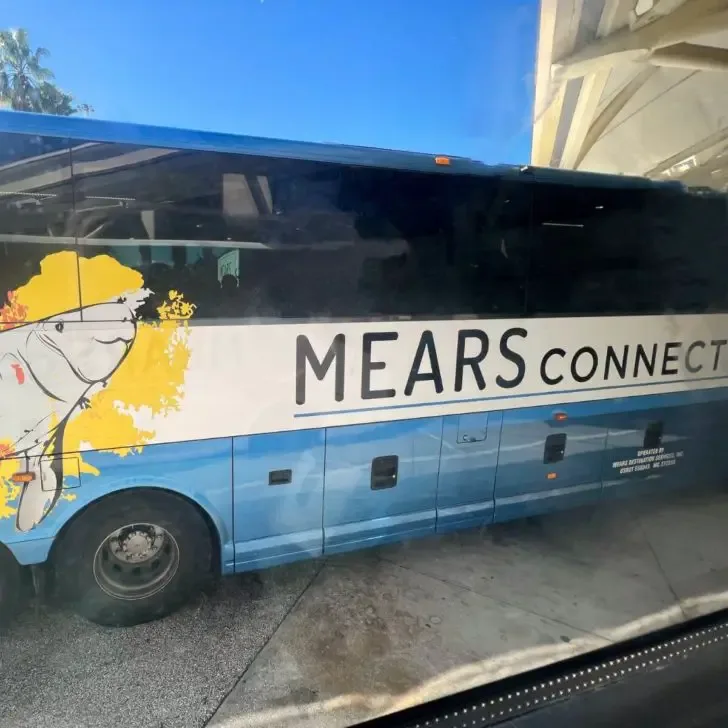 The cost of Mears Connect depends on what type of service you need.
Standard service is a shared ride on a motor coach bus with stops at multiple resorts. Express service is also shared, but goes direct to your desired resort.
Standard round-trip fares start at $32 per adult (age 10+) and $27 per child (age 3-9). Children under three years old ride free with an adult ticket holder when traveling on standard routes.
One-way tickets are available for half the round-trip price.
Express round-trip fares start at $250 for up to four people, plus $55 per person after 4, plus tax.
For example, if you were to book express service for a family of 5, the cost would be $305 plus tax.
There is no surge pricing when using Mears Transportation Services – even during major holidays and other busy seasons.
The price will always be the same throughout the year, no matter what time of year you visit – unless there's a sale. I love that!
Eligible hotels and resorts near Walt Disney World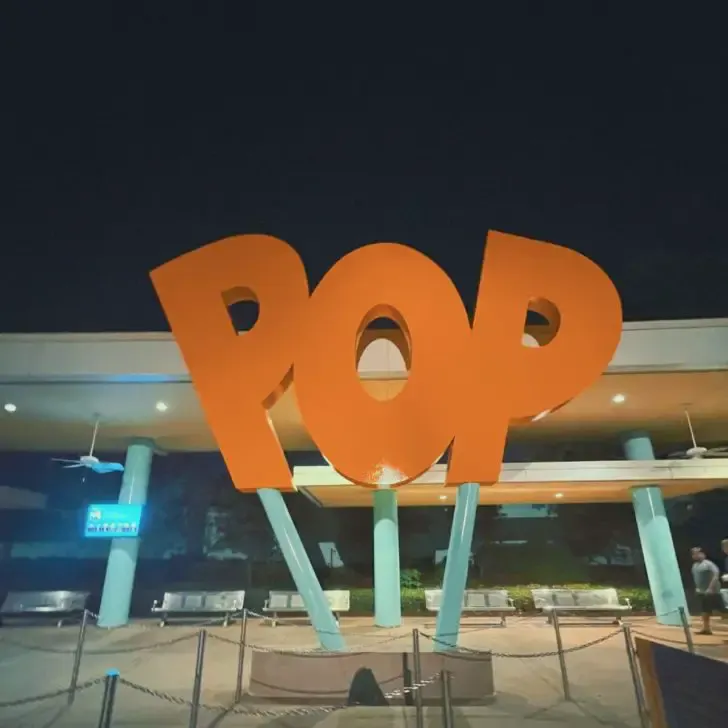 Mears Connect serves a vast number of Walt Disney World resorts and other hotels in the Disney area.
As of February 4, 2023, all Disney resorts are eligible:
Animal Kingdom Lodge, including the Villas at Jambo House and Kidani Village
Art of Animation
All-Star Movies
All-Star Music
All-Star Sports
Beach Club Resort
BoardWalk Inn & Villas
Boulder Ridge Villas
Disney's Caribbean Beach Resort
Contemporary Resort, including Bay Lake Tower
Copper Creek Villas & Cabins
Coronado Springs
Grand Floridian Resort & Spa, including the villas
Old Key West
Polynesian Village
Pop Century
Port Orleans – French Quarter
Port Orleans – Riverside
Riviera Resort
Saratoga Springs Resort & Spa
Star Wars Galactic Starcruiser
Wilderness Lodge
Yacht Club
In addition, guests staying at nearby area resorts listed below can use Mears Connect:
B Resort & Spa
Four Seasons Resort Orlando at Walt Disney World Resort
Gaylord Palms Resort
Hilton Orlando Buena Vista Palace
Hilton Orlando Lake Buena Vista
Holiday Inn Orlando – Disney Springs
JW Marriott Orlando Bonnet Creek Resort
Orlando World Center Marriott
Shades of Green
Signia by Hilton Orlando Bonnet Creek
Waldorf Astoria Orlando
Walt Disney World Dolphin
Walt Disney World Swan
Walt Disney World Swan Reserve
Wyndham Grand Orlando Resort Bonnet Creek
Wyndham Lake Buena Vista Disney Springs
DoubleTree Suites By Hilton Orlando Disney Springs
As if that wasn't enough, Mears is working on adding more hotels and resorts in the future!
How to book the Mears Connect bus
To book a ride, simply fill out the form on the Mears Connect website.
You can book up to 24 hours in advance and make changes up until then as well.
Be sure to check the terms and conditions for cancellations and refunds before making a reservation – some restrictions may apply if you change your plans!
Where to find the MEARS shuttle at Orlando Airport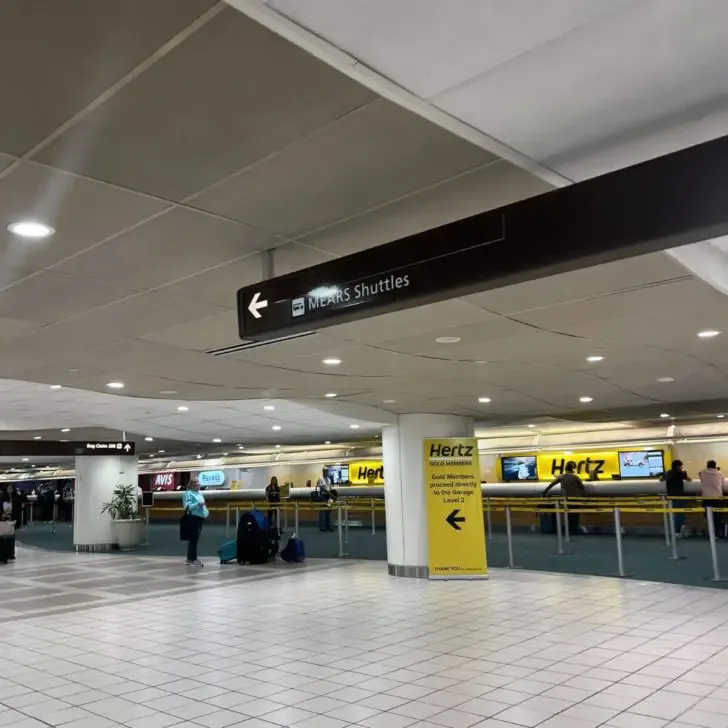 When you arrive at Orlando International Airport (MCO), collect your luggage at baggage claim if you checked any. Then head straight to the boarding area.
Although Disney's Magical Express bus service did not require you to collect your own luggage, Mears Connect does.
Thankfully, though, they are looking into bringing back the luggage collection service in the future. No word on when though, but I'll be sure to keep you updated via this post.
The Mears Connect shuttle is located in the same location as Disney World's former Magical Express shuttle waiting area.
To find it, go to Terminal B, Level 1, where the Ground Transportation level is located. Follow signs that guide you to "MEARS Shuttle."
Typically this will mean exiting the terminal after arriving at MCO airport, then going down 2 separate sets of escalators.
The escalators are not aligned, so it's not immediately obvious. Once you go down the first set, you'll need to walk diagonally to the right to get to the second escalator.
Check in and boarding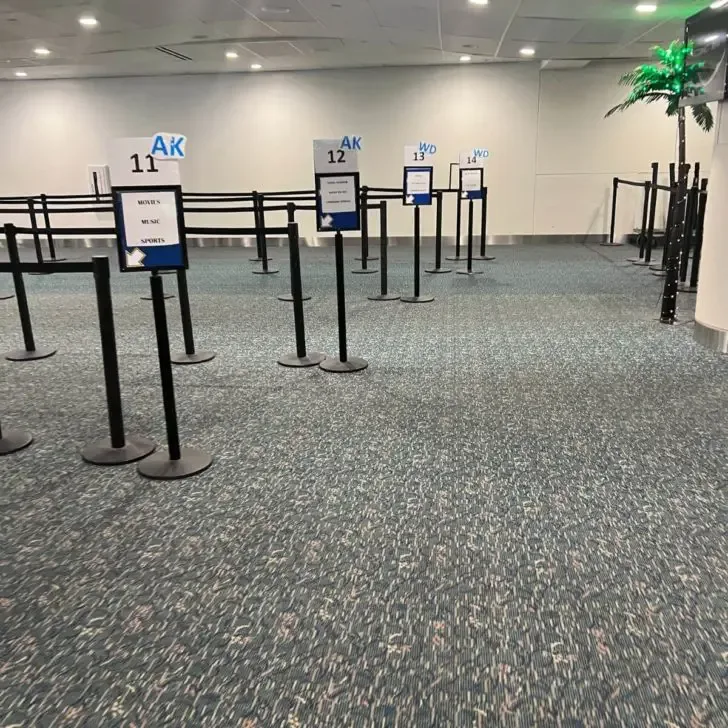 The day before service, you'll receive an email with a digital ticket that has a QR code on it.
You'll also receive a text message with a link to this ticket about 15 minutes before your flight is scheduled to land.
Follow the directions listed in the section above to get to the Mears Shuttle boarding area.
Scan the QR code on your ticket at the scanner machines next to the area where you enter the line for your resort.
There will be Mears employees stationed there so if you have any troubles, one of them can assist you.
For example, the first time I used the service, I couldn't get my ticket to scan. But with the help of one of the employees, we determined that I was holding my phone too close to the scanner, so it couldn't read the whole code.
From there, you'll be directed to a line to wait in, based on your resort.
Another host will direct you to a bus outside the waiting area once one becomes available.
Wait time to board the bus can be anywhere from 20 to 45 minutes on average.
But every time I've used the service, I've only waited 10-15 minutes max. It makes me wonder if certain time frames, such as late morning, might have shorter wait times to board a bus.
When they are ready for you to board the bus, the driver will assist you with storing your luggage under the bus, as well as retrieving it once you arrive.
If you don't have any luggage that needs to be stored, you can simply board the bus.
Each time I've used the service so far, it's taken 30 minutes or less to get from the airport to my resort. Not too shabby, in my opinion!
This includes stays at Pop Century, Coronado Springs, All-Star Movies, and All Star Music.
Getting to your preferred hotel might take longer or shorter, depending on where you're staying.
NOTE: For families with kiddos, car seats and booster seats are allowed, but not required, on the bus.
What are the buses like?
The Mears Connect motor coaches are similar to any other coach bus and very much like's Disney's previous Magical Express airport shuttle buses.
The only big difference is that instead of Disney characters on the side of the bus, you'll see a colorful mascot.
Each bus has its own mascot, modeled after an animal from Florida, such as sea turtles, dolphins and manatees.
Overall, the buses were very clean and comfortable.
Return ride to Orlando International Airport (MCO)
Pick up from your resort is scheduled roughly 3-4 hours before your return flight departure time; approximately 3 hours before domestic US flights and 4 hours before international flights.
If you booked standard service, your pick up time might be slightly more than 3-4 hours, depending on where your resort is on the bus' return route.
For example, I stayed at Pop Century the first time I used Mears Connect. My resort was first on the pick up list and thus my pickup time was 3.5 hours before my flight time.
Pick up locations for return service to MCO airport is the same as the drop off location at most resorts.
On a recent stay at All-Star Music, drop off was by the main door of the resort. However, the pick-up location was around the corner, near the park transportation buses.
I definitely recommend asking concierge or luggage services at your hotel, just in case your pick up spot is different than drop off.
If I hadn't asked when I stayed at All-Star Music, I would have probably missed my bus back to the airport (not that I would have minded, haha)!
Mears Connect vs Sunshine Flyer
On July 13, Mears Connect and Sunshine Flyer, both bus transportation options between MCO and Disney area hotels and resorts announced a merger.
The new combined service started August 1, 2023 and is now called Mears Connect Drive by Sunshine.
While the previously separate Sunshine Flyer service was a better option for families with kids, it was more expensive for adults and solo travelers.
Plus, Mears Connect services also include private transportation.
Mears Connect vs Uber or Lyft
Mears Connect is a shared bus service, which means it's cheaper than Uber or Lyft.
In fact, on average, an Uber or Lyft ride will cost about the same one-way as it does for a round-trip ride on Mears Connect or Sunshine Flyer!
That said, it will be a flat fee for the ride versus per person. So if you're traveling with more than 2 people, Uber or Lyft might work out better for you, cost-wise.
Mears Connect vs renting a car
Having a car at Disney World comes with its perks and hassles. However, larger groups might find it more cost effective – even if you only use it to get to and from the airport.
An obvious perk is that it opens up your ability to get to places the Disney resort buses can't get you to.
For example, Universal Studios Orlando, the Disney Character Warehouse outlet, restaurants in Orlando, and so on.
But that also increases your budget by adding the car rental, gas, and insurance to the mix.
However, depending on the number of people in your group and the length of your stay, you might be able to get a car rental for less.
Just because you have a rental car, doesn't mean you have to use it while you are there. Parking at Disney resorts is free, so you could just use it to get back and forth from the airport.
Overall, if you're traveling with a group of 4 or more, I recommend doing a bit of shopping for rental cars.
I just priced out a trip for myself and 4 family members. Renting a car was almost as cheap for 5 people compared to Mears.
Check the price for Mears and rideshare options, then compare it to the cost of a rental for the entirety of your stay (plus gas and insurance). You might be surprised to find it come out less!
Is Mears Connect worth it?
Mears Connect is a great option for those traveling on a budget and looking for a safe, reliable ride.
It's also perfect for anyone who doesn't want to deal with parking or driving themselves to or from Orlando International Airport.
Mears Connect is just one of the many transportation services available in Orlando, so be sure to look into other options as well before booking your trip!
For more Disney World travel tips, check out these posts:
---
About the author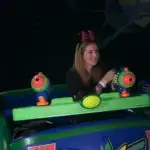 Meg Frost is the creator of The Park Pixie, where she covers Disney World, Disney+, and Disney fandom.
She holds an M.A. in Journalism from Northeastern University and B.S. in Communication & American Studies from University of Miami in Florida.
---
This post was originally published February 5, 2023. It was last updated September 24, 2023.