It goes without saying the Disney hotels on the monorail are super convenient and high up on lots of folks' Disney World bucket lists!
But which hotels are located off the monorail? The Disney World monorail connects several resorts and parks, but unfortunately not all of them.
Let's jump right into this list of Disney monorail resorts so you can decide where to stay on your next visit.
An introduction to Disney hotels on the monorail
There are three Disney monorail resorts available for your stay: Contemporary, Polynesian Village, and Grand Floridian.
This includes their DVC counterparts, such as Bay Lake Tower at the Contemporary and the villas at Grand Floridian and Polynesian Village.
All three are a deluxe resort and very expensive. But frankly, the amenities and convenience that come with staying at Disney deluxe resorts are totally worth it to some.
This includes stellar pools, super short commutes to Magic Kingdom and Epcot, extra magic hours at the parks, dog-friendly accommodations, and more.
All three resorts also have great viewing spots for the nightly Electrical Water Pageant that happens in the Seven Seas Lagoon.
Whether you're visiting Walt Disney World resort on a budget or have plenty of cash to spare, this guide will help you decide which resort to splurge on or save up for.
Disney's Contemporary Resort & Bay Lake Tower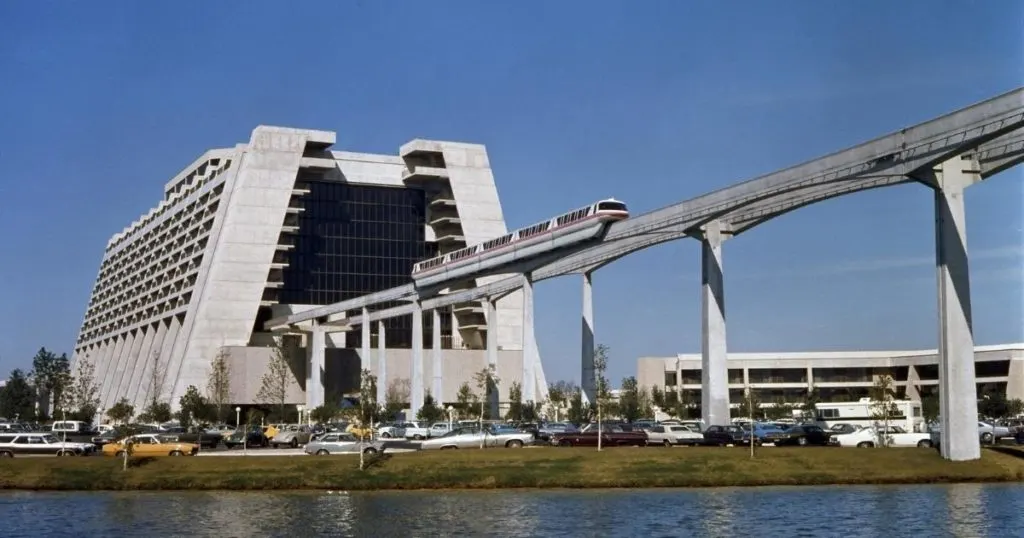 The first Disney hotel on the monorail after leaving Magic Kingdom is Disney's Contemporary Resort and Disney Vacation Club's Bay Lake Tower.
It takes 4 minutes to get from the Magic Kingdom to the Contemporary Resort and Bay Lake Tower via monorail.
The monorail pulls right through the resort with the station located inside. Whether you're a kid or an adult, you have to admit this is pretty cool!
The Contemporary Resort and Bay Lake Tower are undergoing a refresh at the moment.
The rooms in the main tower recently got an Incredibles themed makeover. Rooms in the Garden Wing are getting a Disney-less contemporary makeover.
Some folks aren't a fan of either room's redesign, but I think it's long overdue and both look lovely!
Either way, you have to admit the ability to stay in a room with a view of the Magic Kingdom fireworks is a bucket list worthy experience, right?
At the Contemporary Resort, a few top restaurants and lounges to check out are:
California Grill
Chef Mickey's
Contempo Café
Steakhouse 71
If you're in the market for souvenirs, stop by Bayview Gifts or Fantasia.
Disney's Polynesian Village Resort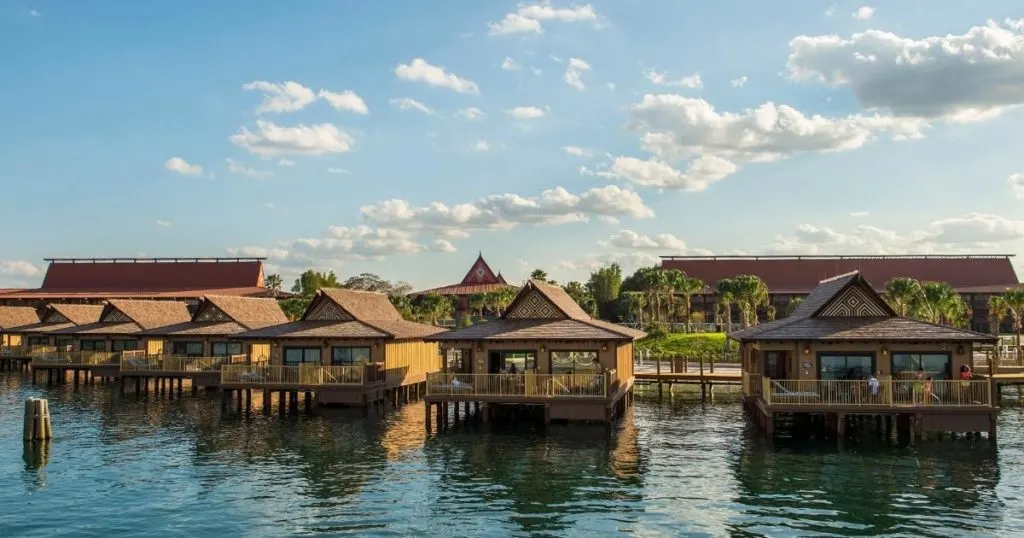 After a stop at the Disney World Transportation and Ticket Center (TTC), the next Disney monorail hotel is Disney's Polynesian Village Resort.
It takes 12 minutes to get to or from the Magic Kingdom to the Polynesian Village Resort or approximately 8 minutes after stopping at the Contemporary Resort.
The Polynesian Village Resort recently added Moana themed rooms, which I absolutely love. How gorgeous are those oranges and teals with the Polynesian prints?
Disney's Polynesian Resort is also home to the coolest place to stay in all of Disney World: overwater bungalows that sleep up to 8 guests!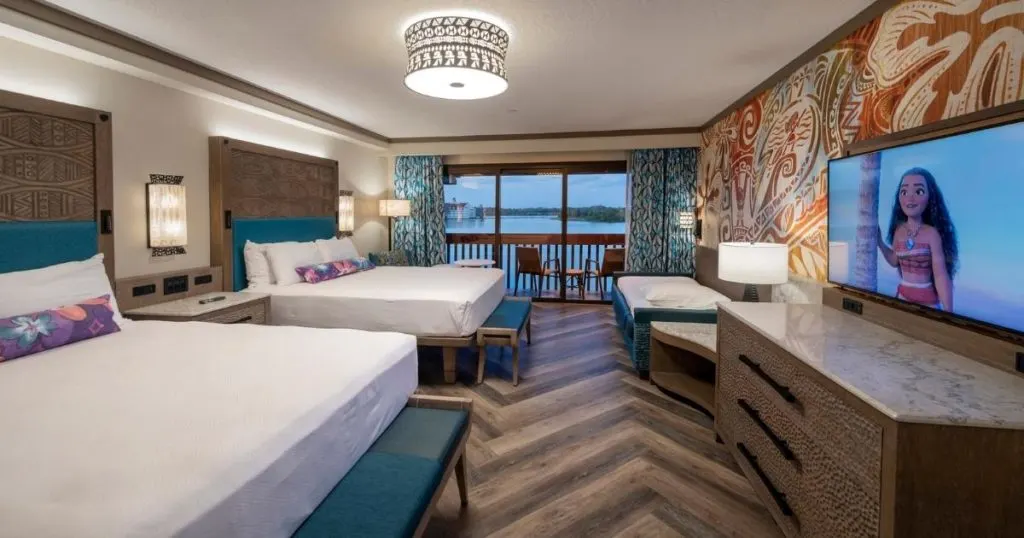 There used to be a Polynesian themed variety show called The Spirit of Aloha, but it closed to make way for additional Disney Vacation Club villas, as well as some new restaurants and potentially some activities.
In the meantime, you can still stop by the Polynesian Village Resort to check out these restaurants and lounges:
Capt. Cook's
Kona Café
Kona Island
'Ohana
Pineapple Lanai (dole whip!)
Tambu Lounge
Trader Sam's Grog Grotto
Trader Sam's Tiki Terrace
Gift shops here include Moana Mercantile and BouTiki. I love both of these souvenir shops because you can get cute island-y merchandise, including Aulani merch!
Disney's Grand Floridian Resort and Spa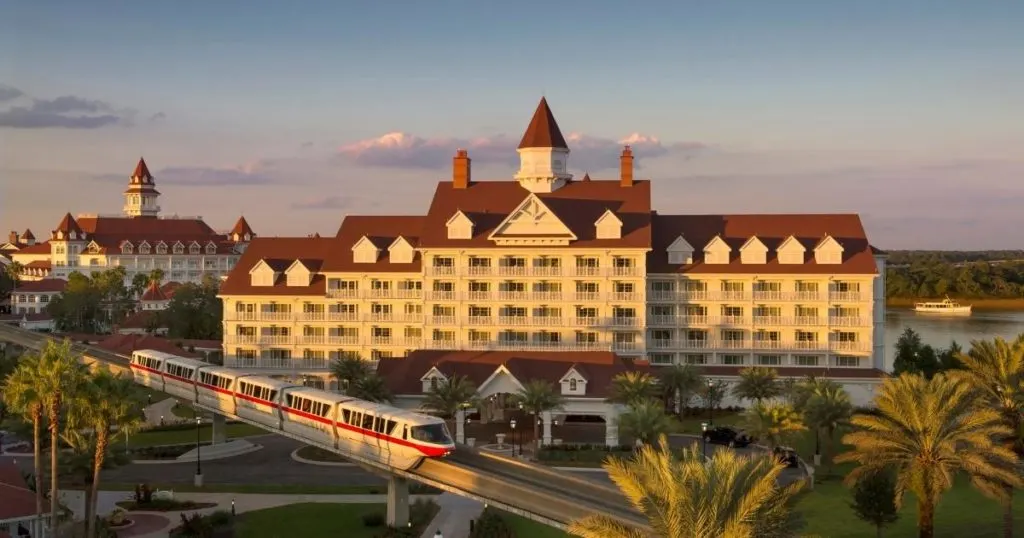 The last Disney hotel on the monorail before you make your way in a look back to the Magic Kingdom stop is the Grand Floridian Resort & Spa, which is Disney World's flagship resort.
It takes 16 minutes to get to or from the Magic Kingdom to the Grand Floridian Resort & Spa via monorail.
Disney is slowly making over this resort to modernize it, as well as to add more Disney Vacation Club villas. Lots of folks are upset about this plan, but frankly I agree that it is sorely needed.
As the flagship resort and one of the most expensive, some parts of this resort just don't live up to that standard.
That's not to say the Grand Floridian isn't nice, because it very much is, but there is definitely room for improvement in my opinion.
Anyway, if you're not staying here, you might still want to hop on the monorail to grab a drink or dine at one of these lovely establishments:
1900 Park Fare
Cítricos restaurant & lounge
Enchanted Rose lounge
Garden View Tea Room
Gasparilla Island Grill
Grand Floridian Café
Narcoossee's
Victoria & Albert's
The Grand Floridian Senses Spa is another enticing reason to hop over to the Grand Floridian, as is Bibbidi Bobbidi Boutique.
As for shopping, stop by to check out Basin White, Curiouser Clothiers, M. Mouse Mercantile, and Sandy Cove Gifts and Sundries.
What are your favorite Disney hotels on the Monorail?
Let me know which Disney monorail hotels you'll be visiting on your next stay at Disney World in the comments below.
Next up, check out more of our Disney World vacation planning guides:
---
About the author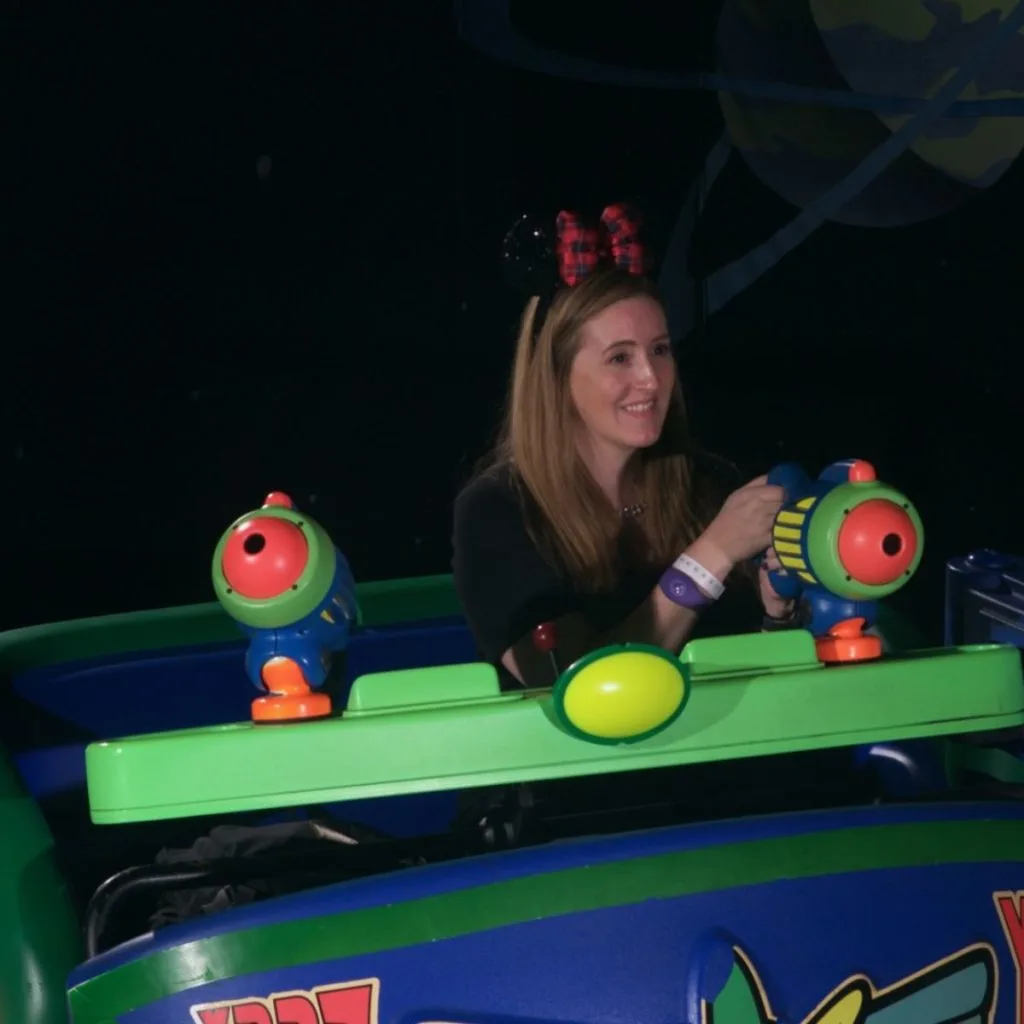 Meg Frost is the creator of The Park Pixie, where she covers Disney World, Disney+, and Disney fandom.
She holds an M.A. in Journalism from Northeastern University and B.S. in Communication & American Studies from University of Miami.
---
This post was originally published June 17, 2022. It was last updated July 1, 2023.