With many travelers coming flying in from outside the Orlando area, Walt Disney World Resort smartly includes multiple forms of transportation between its parks, resorts, and entertainment areas so guests don't have to rent a car.
Its newest form of transportation is the Disney Skyliner.
In this guide, I'll teach you everything you need to know about the Disney Skyliner transportation system, so you can navigate your way to and from like a pro before your vacation even comes around!
An introduction to the Disney Skyliner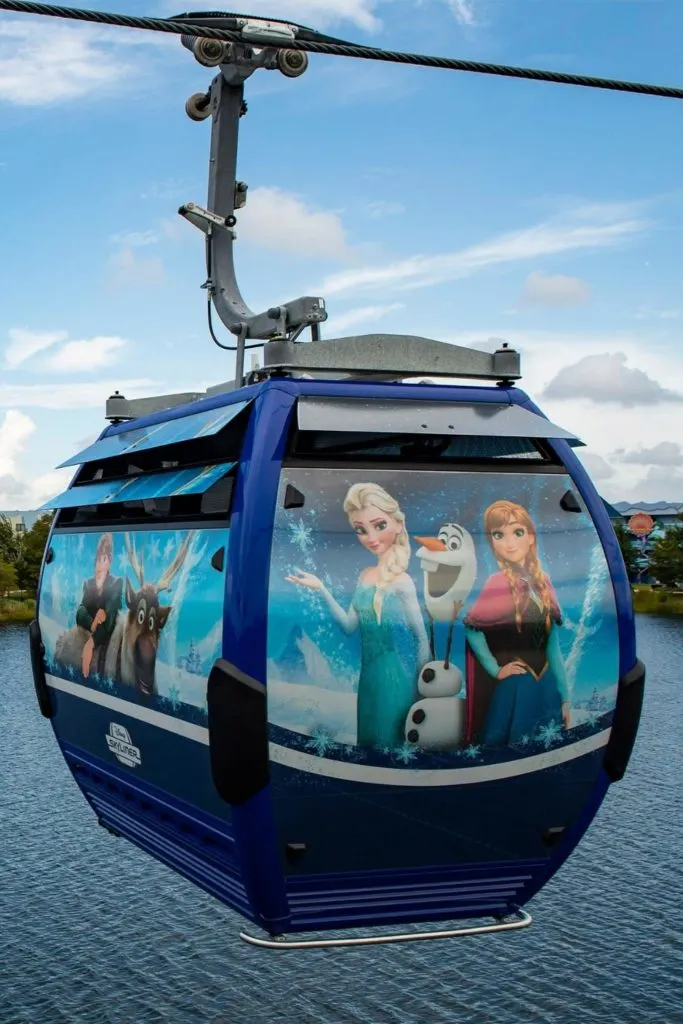 The Disney Skyliner is an aerial gondola transportation system that runs between several theme parks and resorts at Disney World. It started operations on September 29, 2019.
Each brightly colored gondola seats up to 10 people on wooden benches that face each other.
The outside of the cabins are themed after favorite Disney character or attractions, such as Frozen, Minnie Mouse, Haunted Mansion, Star Wars, Guardians of the Galaxy, Pirates of the Caribbean, and Wreck-it-Ralph Breaks the Internet.
Lastly, there is no air conditioning inside each cabin, but there are vents designed to create a breeze.
Where does to Skyliner go?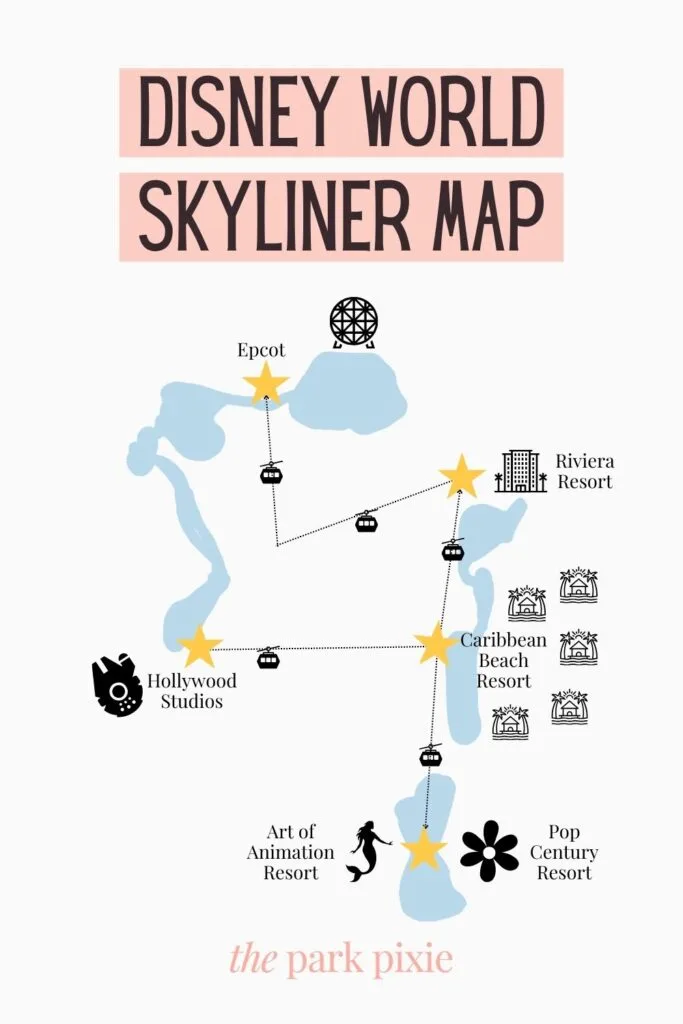 In the Disney Skyliner map above, you can see that it consists of 3 lines that connect 5 stations between 2 parks and 4 resorts.
These 3 routes connect Epcot, Disney's Riviera Resort, Disney's Caribbean Beach Resort, Disney's Pop Century Resort, Disney's Art of Animation Resort, and Disney's Hollywood Studios.
The routes run to and from, as follows:
Art of Animation & Pop Century Line: Art of Animation & Pop Century Resort ⇄ Caribbean Beach Resort
Epcot Line: Epcot ⇄ Riviera Resort ⇄ Caribbean Beach Resort
Hollywood Studios Line: Hollywood Studios ⇄ Caribbean Beach Resort
All 3 routes connect at the Caribbean Beach Skyliner station, so you can transfer there to board another line if it's not your ultimate destination.
While that might seem small, the Epcot stop is located within walking distance from Disney's BoardWalk, Disney's BoardWalk Inn & Villas, and the Yacht & Beach Club resorts.
It does NOT go to the following locations:
The All-Star resorts
Animal Kingdom
Contemporary Resort
Coronado Springs Resort
Disney Springs
Grand Floridian Resort & Spa
Fort Wilderness Resort
Magic Kingdom
Old Key West Resort
Port Orleans French Quarter
Port Orleans Riverside
Disney's Polynesian Village Resort
Saratoga Springs Resort
Wilderness Lodge Resort
Disney Skyliner resorts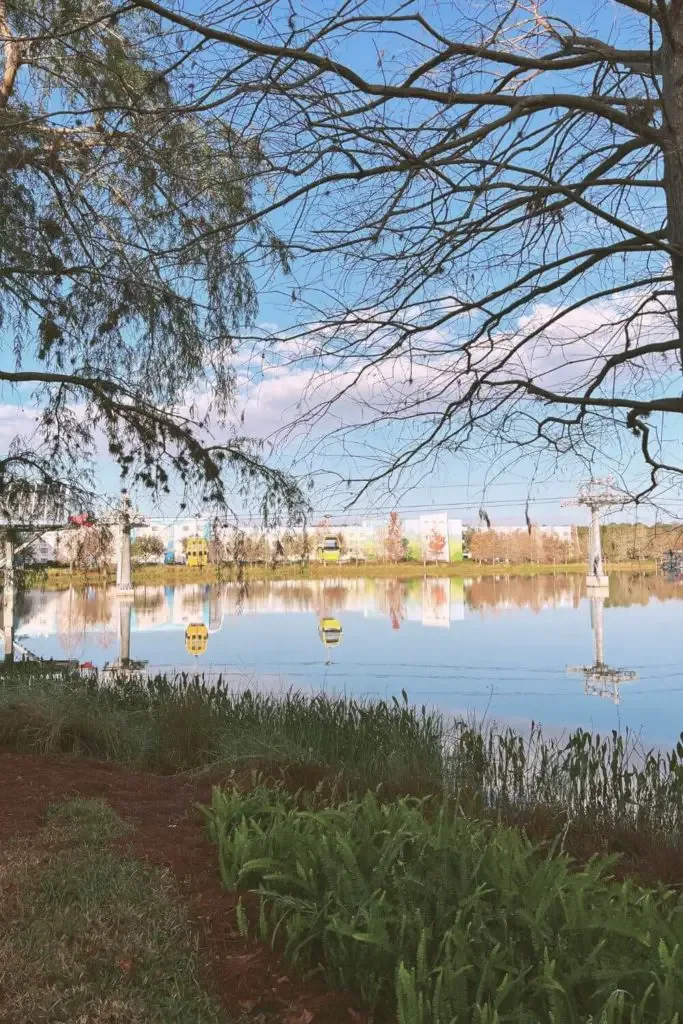 We went over a lot of information in the previous section, so let's go over which Disney hotels on Skyliner routes are available.
If you're looking to stay on a Skyliner route, here's where you want to stay:
Art of Animation
Caribbean Beach
Pop Century
Riviera Resort
In addition, the Epcot Skyliner stop is located within a reasonable walking distance from these Disney resort hotels:
Beach Club
Boardwalk Inn & Villas
Yacht Club
Where are the Disney Skyliner stations located?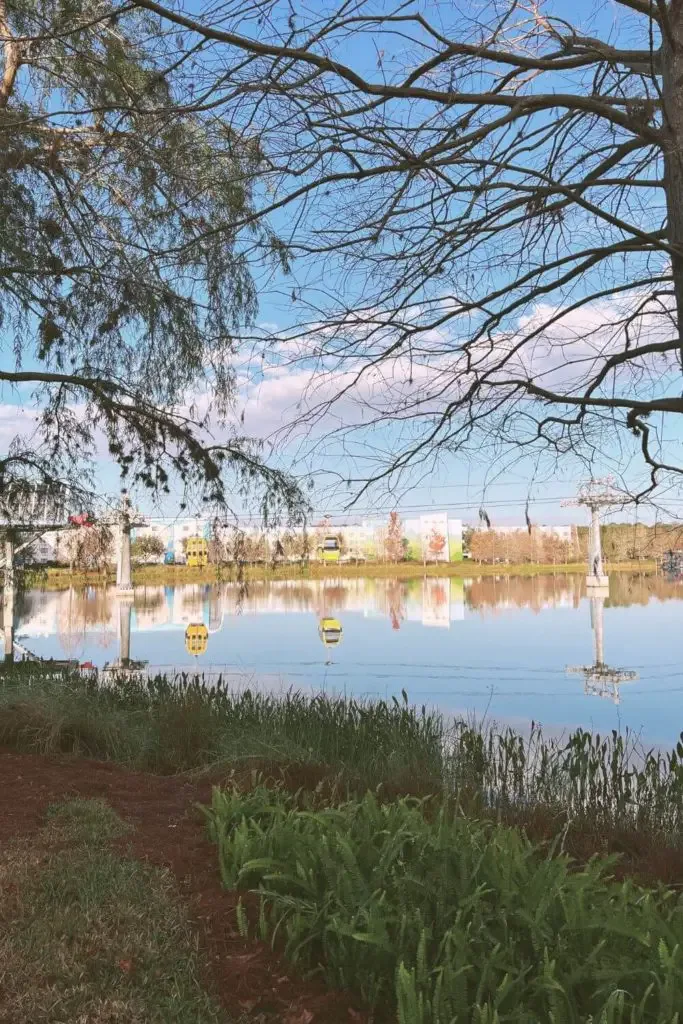 The stations are generally easy to locate since you can usually spot the gondolas floating through the sky and track them to a station.
Here's a quick guide on where each station is located:
Art of Animation & Pop Century Skyliner station is located off of the Generation Gap Bridge that spans between the 2 resorts over Hourglass Lake, making it equally as easy to access regardless of which resort you're staying at.
The Epcot Skyliner station is located at the International Gateway entrance of Epcot. This is opposite the main entrance, between the World Traveler gift shop and France pavilion.
The Hollywood Studios Skyliner station is located in front of the main entrance. You can't miss it!
Lastly, the Riviera Resort Skyliner station is located between Riviera Resort and the Aruba section of the Caribbean Beach Resort.
The Skyliner passess over the Aruba and Jamaica sections of the Caribbean Beach Resort, where the Caribbean Beach Resort station is located.
Will more stops or routes be added?
As of October 16 2023, Disney hasn't announced plans to expand the Skyliner.
Many fans and Disney experts love to speculate potential expansion plans. Keep in mind that they are all speculation and rumor!
Personally, I'd love to see Coronado Springs connected to the Skyliner and maybe even Disney Springs or some of the resorts nearby.
How to ride the Disney Skyliner system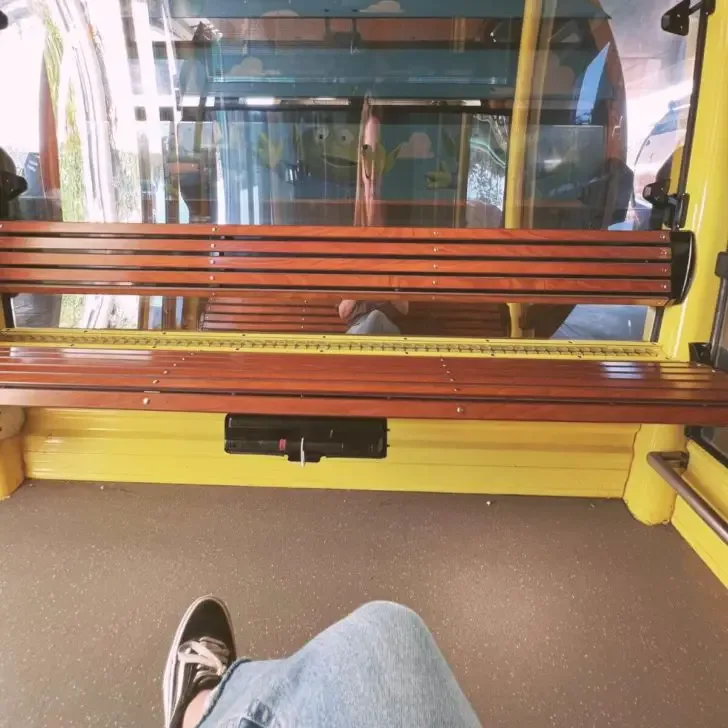 Riding the Disney Skyliner is super easy! It is completely free and does not require a theme park ticket.
Just head to the nearest station and get in line! A cast member will direct you onto a gondola cabin when it is your turn to board.
The gondolas move slowly while you're boarding, so if you need extra time or are using a mobility device, such as a wheelchair or scooter, there is a separate line where you can board a gondola that stops so you can safely board.
Disney Skyliner hours of operation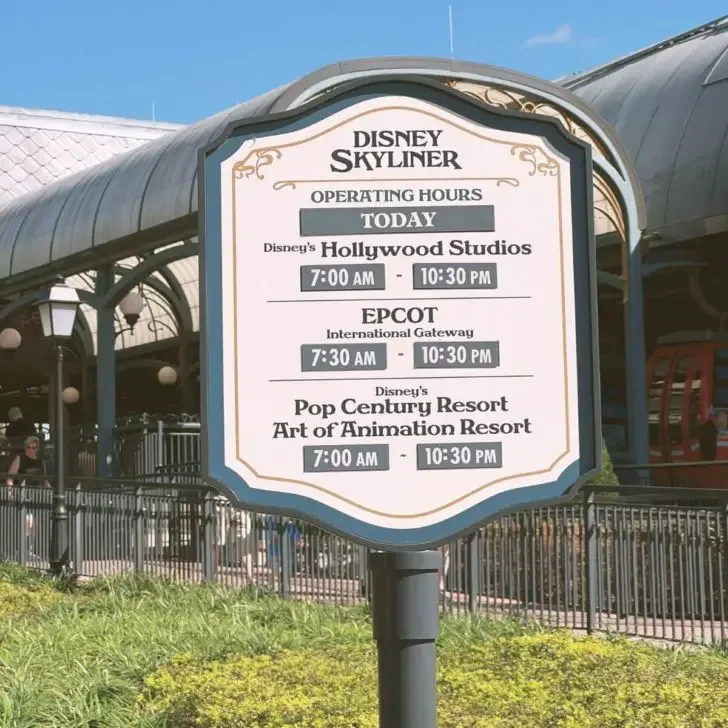 The Skyliner hours of operation vary. But generally they run an hour before Epcot and Hollywood Studios opens and around an hour after they close.
The hours change throughout the year, so it's always best to check with a cast member at one of the stations, connecting resorts, or connecting parks.
Skyliner vs bus vs monorail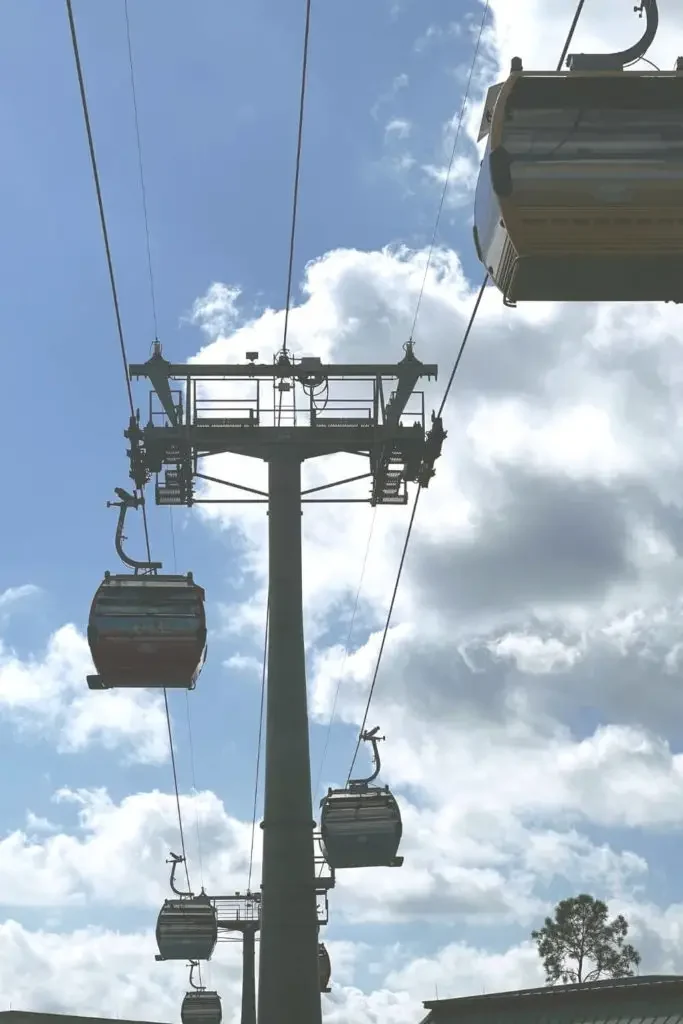 Most of the time, the Disney Skyliner is faster than the bus or monorail when connecting between the same resorts or theme parks.
A huge benefit is that the Skyliner doesn't have to deal with the terrible traffic on the roads in the surrounding Disney area.
That said, just like on the road, there can be traffic jams and breakdowns, too.
In general, here are the estimated times for each connecting station:
Art of Animation & Pop Century to Caribbean Beach: Approximately 6 minutes
Epcot to Riviera Resort: Approximately 8 minutes
Riviera Resort to Caribbeach Beach: Approximately 3 minutes
Caribbeach Beach to Hollywood Studios: Approximately 6 minutes
NOTE: Times are based on personal experience over multiple visits in which I timed each ride. Yay research!
Can you take a scooter on the Skyliner?
Yes, you can take a scooter on the Disney Skyliner, as long as it safely fits (and most do!).
There is a separate line to board since the gondolas don't stop, but the ones on the separate line stop to allow safe boarding.
Can you take a wheel chair on the Skyliner?
Yes, you can take a wheelchair on the Disney Skyliner.
Like scooters, you must board in a separate line so that you can board a gondola that stops. Safety first!
Can you take a stroller on the Skyliner?
Yes, you can take strollers on the Disney Skyliner.
In fact, you don't have to fold up the stroller and kiddos in the stroller can stay put, unless it is a double side-by-side stroller. Unfortunately, side-by-side strollers must be folded up as they will not fit into the gondola.
People with strollers must board using the same line as wheelchairs and scooters to ensure safe boarding.
What else do I need to know?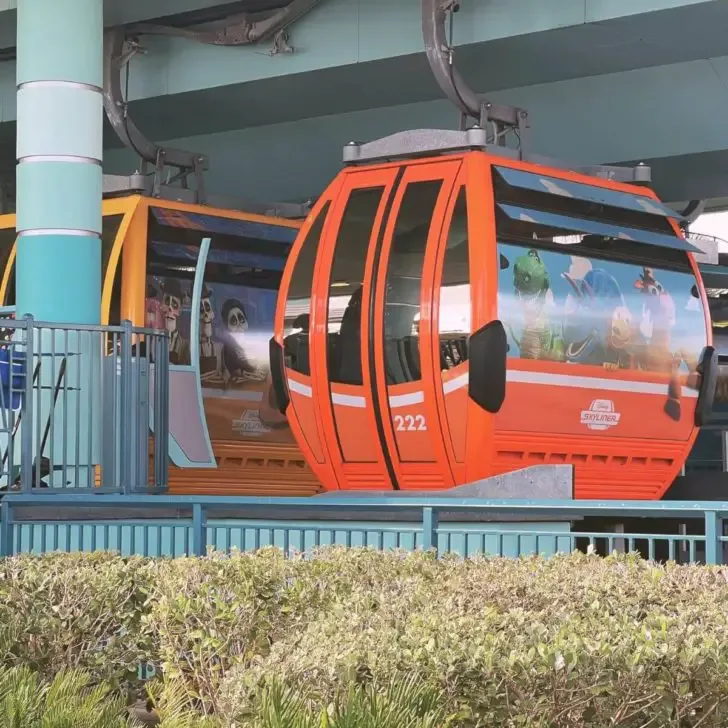 I think that covers it for everything you need to know about the Disney Skyliner!
If you have any questions, drop them in the comments below and I'll be sure to answer them.
Next up, check out more of my top Disney World transportation guides:
---
About the author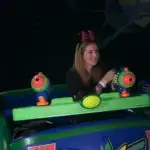 Meg Frost is the creator of The Park Pixie, where she covers Disney World, Disney+, and Disney fandom.
She holds an M.A. in Journalism from Northeastern University and B.S. in Communication & American Studies from University of Miami in Florida.
---
This post was originally published June 18, 2022. It was last updated October 16, 2023.