Are you looking to inject a bit of Disney magic into your next travel adventure? With so many options it can be hard to decide which Disney luggage and travel accessories are the best for your needs.
Look no further, I've done all the research and have rounded up the top-rated Disney bags, suitcases, backpacks, wallets, and other goodies you'll need on Amazon.
Now all you have to do is pick out which ones you like best!
Attention all Disney fanatics and avid travelers!
If you're heading to a Disney theme park or resort, you better do it in style. And by style, I mean adorning your luggage with fun tags.
Not only will it help you identify your luggage more easily on the luggage carousel at the airport, but it's a fun and cheap way to get pumped for your trip.
You can find everything from classic Mickey Mouse to Star Wars and beyond.
Here are a few of my top Disney, Star Wars & Marvel luggage tags:
The bonus to investing in Disney themed luggage that can be checked is that you'll never have a problem identifying your luggage when picking it up at the luggage carousel!
But for good measure, always make sure to pop a luggage tag onto your travel bags for identification purposes.
One of the most popular brands that makes check-in size suitcases and full sets is American Tourister.
American Tourister is a long-running, durable brand, so your investment will last you quite a while.
Lastly, if you're not into an obvious Disney style, a simple Minnie Mouse inspired polka dot print is a good balance between fun and sensible.
Let's talk about Disney carry on bags, shall we? These bags are the perfect addition to any Disney fanatic's travel gear.
Not only do they show off your love for all things magical, but they also hold all your essentials for the flight.
And let's be real, who doesn't want to carry on a bag that makes everyone around them jealous?
Plus, with many airlines' strict size restrictions for carry on luggage, these bags are the perfect size to fit all your necessities without having to check a bag.
So next time you're heading "home," make sure to bring along a Disney carry on bag to truly embody the spirit of the Mouse.
Alright parents, let's face it. Your kids wanna pack their bags and hit the road like the rest of us.
And what better way to start their wanderlust journey than with a flashy, fun suitcase? That's right, I'm talking about kids suitcases.
No more boring adult baggage, because these suitcases are designed to make a statement. From colorful prints to cute animal shapes, your little ones will want to show off their luggage to everyone at the airport.
And let's be honest, kids suitcases are also the perfect size for your little ones to carry on their own, giving you a much-needed break from hauling all their toys and snacks.
So, give them the thrill of their young lives and pick up a kids suitcase that will make them the coolest kid on the block.
Whether you're stashing makeup or just toiletries, a makeup or toiletry bag is a must have when traveling.
Plus, if you're not keen on plunking down money for a Disney suitcase, a makeup bag is a budget-friendly way to still get in the spirit.
Whether you want to show off your love for Mickey Mouse or channel your inner villain with a Maleficent bag, these cosmetic cases are the perfect way to inject some Disney magic into your daily routine.
And let's be real, who wouldn't want to feel like a princess or prince charming while touching up their lipstick or applying some moisturizer?
In addition to this adorable Alice in Wonderland cosmetic case from Wet n Wild, check out these other options:
Once you get your luggage sorted, you're going to want to get packing cubes.
Packing cubes will help keep your luggage organized, making getting ready day-to-day a breeze.
Plus, if you'll be visiting multiple locations, resort hopping, or doing a Disney World/Disney Cruise combo trip, it will also make packing and repacking super easy.
Lastly, packing cubes help compress items, making more room for souvenirs!
If you're traveling to a Disney park outside of your home country, you're going to want a good passport cover.
A fun Disney passport cover will make your passport easy to spot, so you won't spend all day looking for it when it's time to pack for your trip.
It will also protect your passport from scratches and other damage that could make it unusable by immigration officials.
Lastly, look for one with built in RFID blocking technology to protect your passport from identity theft.
The Pixar passport options pictured above meet all of these points!
Which Disney luggage and travel accessories do want?
Phew, can you imagine having all this amazing Disney luggage and travel accessories to choose from?
Now the big question is what will you pick for your next adventure?
Have fun deciding between a Marvel-themed carry on versus a plush Pixar duffle bag. Or maybe go the extra mile and buy Darth Vader and R2D2 suitcases to kick things off.
Whichever you decide, I'm sure that traveling with the right Disney luggage and travel accessory will make your trip one for the books.
So go ahead, pick out something that speaks to your style or captures your favorite character or movie.
Who knows, maybe it'll bring you luck while you seek out dusty treasures from family trips of yore!
Once you pick out your new luggage, be sure to pop over to my post about what to pack for Disney World, as well as my post about how to not lose your luggage!
---
About the author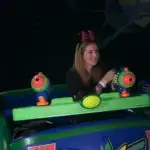 Meg Frost is the creator of The Park Pixie, where she covers Disney World, Disney+, and Disney fandom.
She holds an M.A. in Journalism from Northeastern University and B.S. in Communication & American Studies from University of Miami in Florida.
---
This post was originally published on December 6, 2016 on Frost + Sun. It was moved to The Park Pixie on March 13, 2022 and last updated September 20, 2023.