Are you planning a trip to Disney World but on a budget and not sure where to stay? I got you!
In this guide, I'll go over the Disney World value resorts, including what they do and don't include, plus a brief overview of each option available.
Despite these differences, the value resorts allow guests to experience Disney World at a budget-friendly price, which is a huge plus if you ask me!
So if you're ready for some insider knowledge about stretching your vacation dollar further at Disney World, keep reading for my guide to the value resorts at Disney World, with each resort ranked.
An introduction to the Disney World value resorts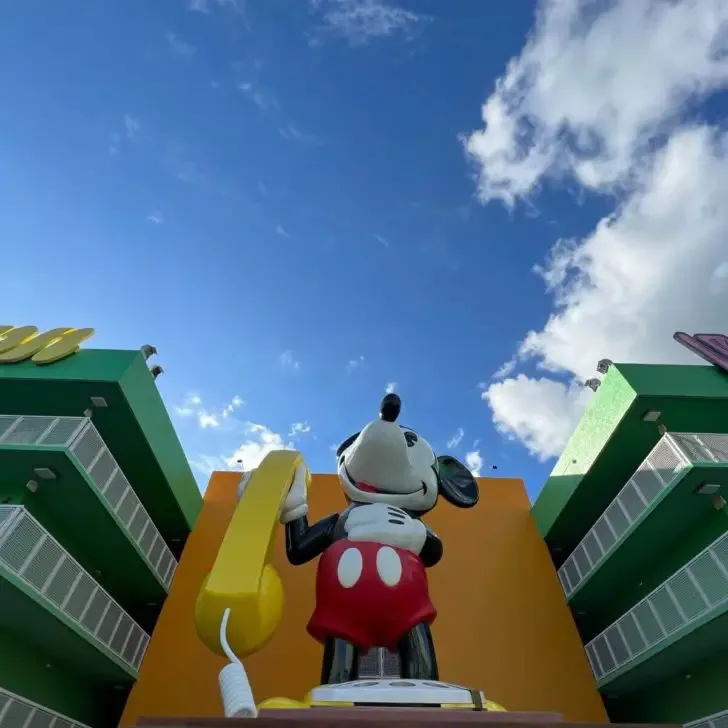 The value resorts at Disney World are the least-expensive resorts on property. That's not to say they are the least enjoyable or are of bad-quality, though!
A lot of people turn their nose up at them, assuming that cheap equals bad, but let's be real – Disney would never allow that!
I'll admit, to make these resorts more affordable, you'll get less than you would at a moderate or deluxe resort. But in the end, only you can decide if that will work for you or not.
There are six value resort options at Disney World:
All-Star Movies
All-Star Music
All-Star Sports
Art of Animation
Fort Wilderness Campground
Pop Century
Let's take a look at the differences that might make or break a value resort for you. Then, I'll rank each resort to help you decide if any of these options are right for you.
Dining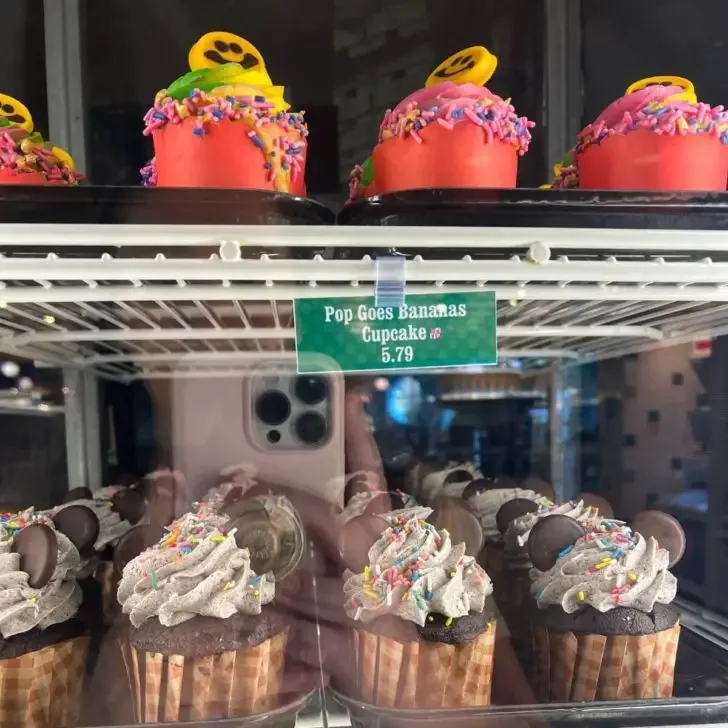 When it comes to dining, all of the value resorts only have a food court style restaurant – and that's it.
Unlike the more expensive resorts, there aren't any table service dining options, character meals, or signature dining experiences.
Additionally, while each value resort has a pool bar, moderate and deluxe resorts often have at least one more option, such as a lounge, but often have more than that.
Proximity & transportation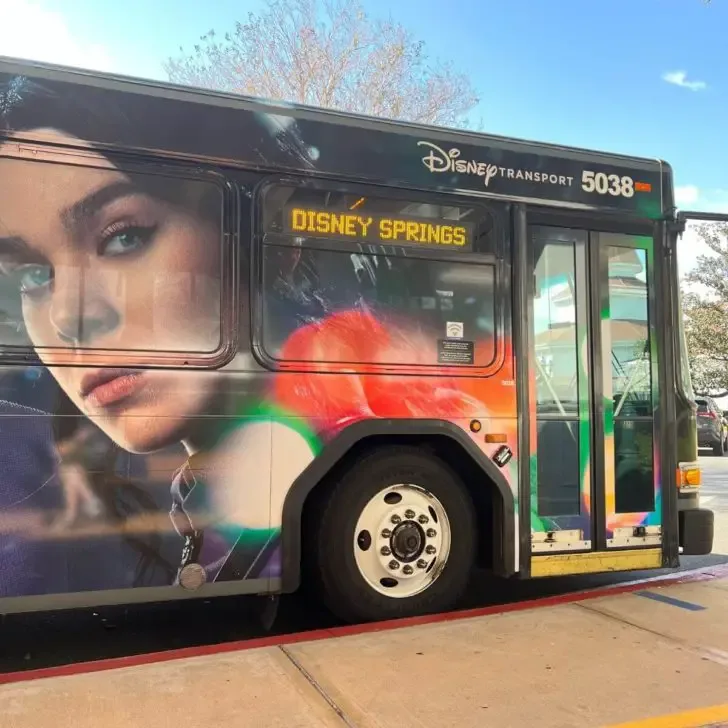 Another common feature is that the value resorts are further from most of the theme parks.
Therefore it takes longer to get to and from. This isn't so bad, unless you know you're not a morning person but still want to "rope drop" some of the parks and thus have to get up extra, extra early to get there in time.
Or, at the end of a long day, you'll have to wait longer to crawl into bed or walk further to get to your bus station.
For some of the value resorts, the only free way to get to the theme parks is the bus transportation.
Pop Century and Art of Animation also have the Skyliner. So if you've ever wondered why they are a bit more expensive compared to the three All-Star Resorts, this is a big reason why!
Pools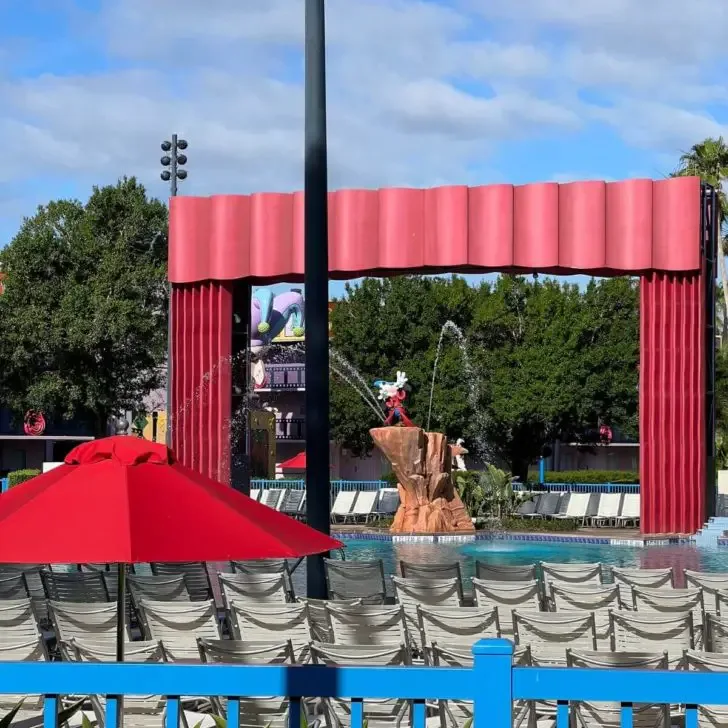 Value resorts usually have fewer pools or less impressive pools than other resorts.
But again, this is Disney, so the pools are still quite enjoyable! Don't expect any lazy rivers or water slides, though.
For me, this is not a big issue as I don't usually bake in a lot of resort days or pool time. Sometimes I don't even use the pool!
Usually if I have a day or two where I won't be going to the parks, I will plan to hit up Disney Springs or even do a character meal at different resort.
I might take a dip in the pool, but usually I'd rather take a nap with the air conditioning on blast!
But, if you're the opposite, you may want to look more into the pools at the value resorts to make sure they'll meet your needs or desires for your pool days!
Or of course, consider upgrading to a moderate or deluxe resort.
Rooms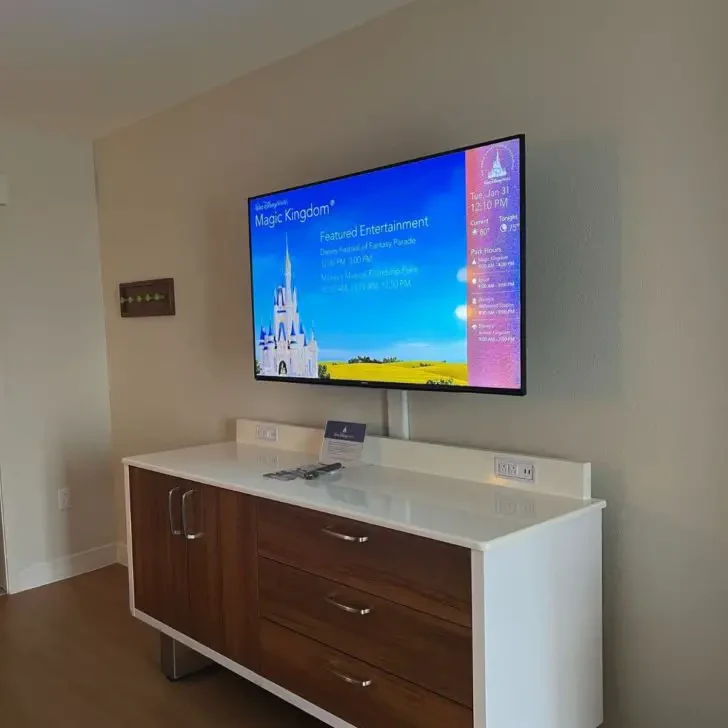 Lastly, when it comes to the rooms, the value resort rooms are smaller and more generic than the more expensive resorts.
In fact, all of the room interiors look the same across the value resorts, whereas in moderate or deluxe rooms, the resort theming follows into the rooms.
You'll also get less amenities, such as no microwave, toaster, or mini-kitchen like you get in the DVC resorts and some deluxe rooms.
That is, unless you book a family suite, which only a few of the value resorts have – at an extra cost.
Disney's All-Star Sports Resort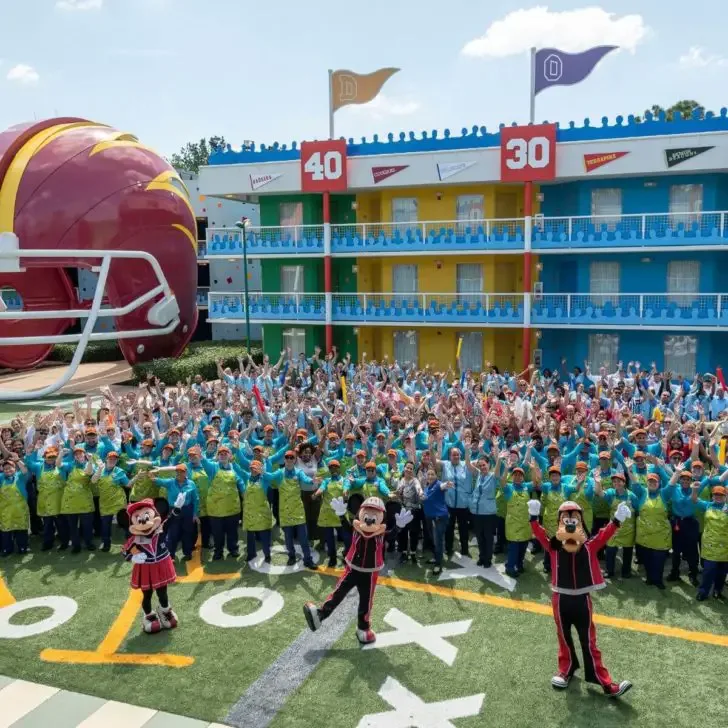 If you're looking to get your game on while at Disney World, a stay at the All-Star Sports Resort is definitely a winning move!
This value resort offers guests an energetic atmosphere that celebrates sports and competition.
It's a great choice for families, providing comfortable accommodations inspired by popular ballgames, racing and more.
It's also a hit with schools visiting Disney for a sports competition or some type of school program with Disney.
You may want to check around to see if your desired dates coincide with these types of programs if you're not keen on big groups.
The verdict
I list this value resort last for a few reasons.
It's still undergoing a refurb, so not all of the rooms are updated like they are at the other two All-Star resorts.
Plus, I'm just not a big sports person, so the theme isn't super appealing to me.
Lastly, as I mentioned earlier, it's a hit with school groups traveling to Disney for competitions nearby, which means poorly supervised kids who aren't the best with manners if you know what I mean.
Disney's All-Star Music Resort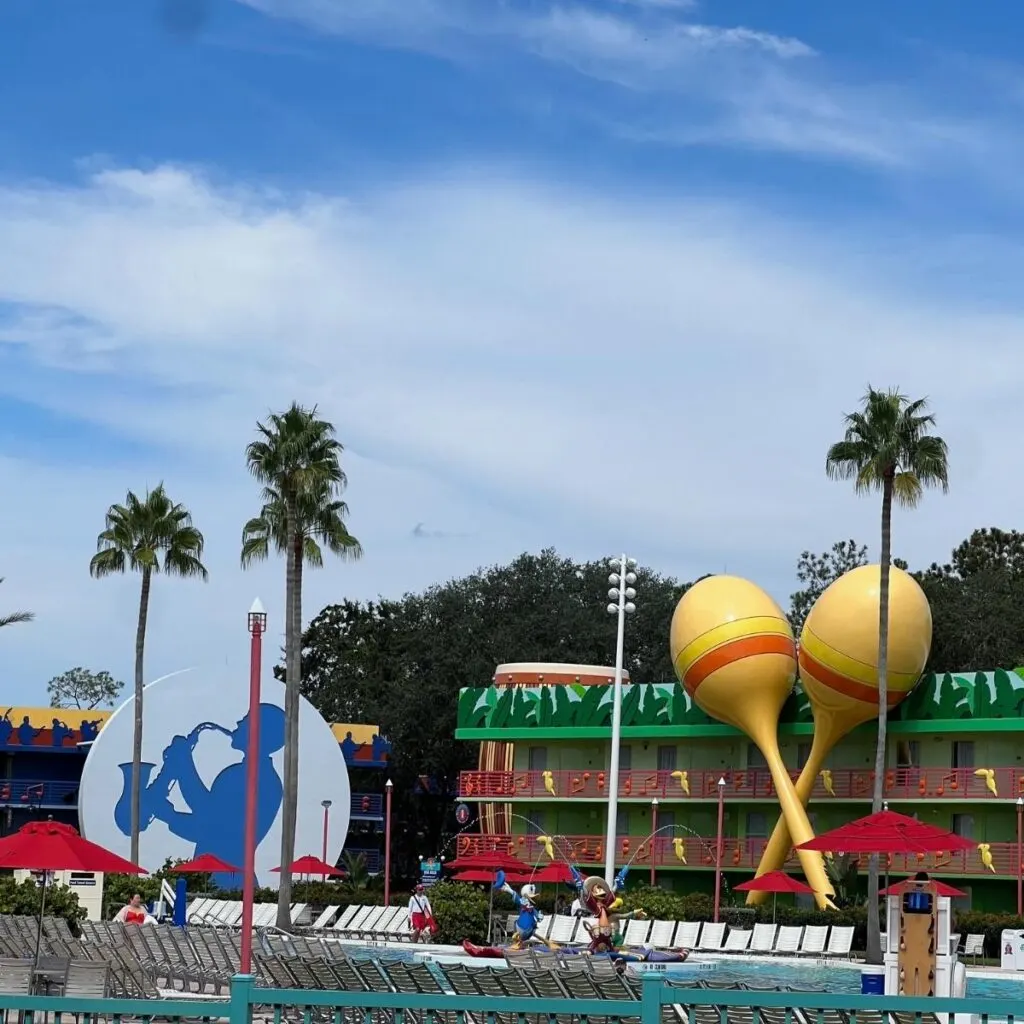 Disney's All-Star Music Resort is the perfect music-themed oasis on a budget.
Not only does this value resort offer music and lyrics adorning its walls, from 70s funk to country music and more, but it also features family suites.
Family suites provide plenty of space for up to six guests, plus a kitchenette with a refrigerator, microwave, and coffee maker.
The verdict
The theme here is very cute and I especially love the buildings in the Broadway section.
However, it's the largest of the All-Star resorts, so unless you pony up for a preferred room, you'll likely be placed far away from the lobby area.
That happened to me on my last stay and it was quite the trek back to my room after a long day of being on my feet.
Disney's All-Star Movies Resort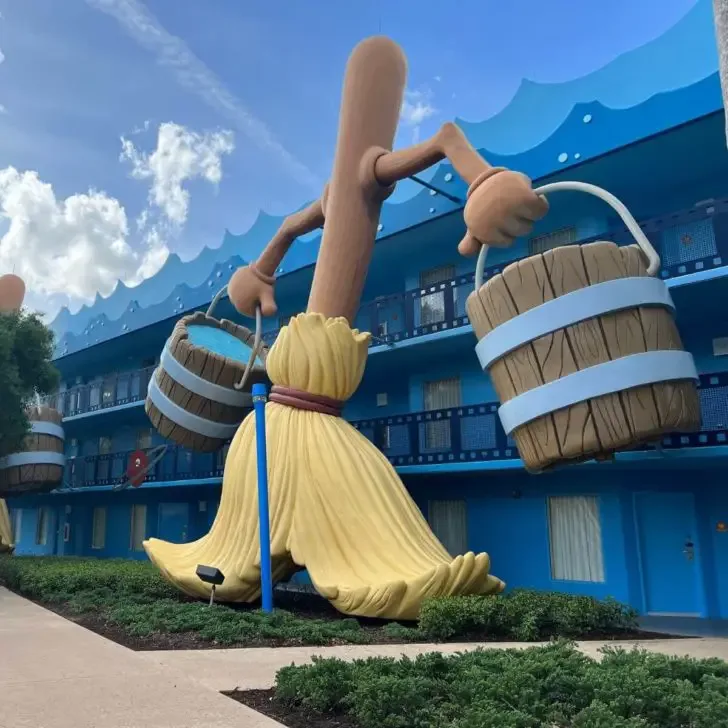 Personally of all the All-Star resorts, the All-Star Movies resort is my favorite since it has really good Disney theming throughout.
Each section at this resort is themed after a Disney movie, such as Toy Story, Fantasia, 101 Dalmatians, Mighty Ducks, and The Love Bug.
Learn more about this value resort in my All-Star Movies Resort Review.
The verdict
Of the All-Star resorts, this one is my favorite, mainly due to the theme.
There are tons of fun photo ops featuring Disney movies all throughout the resort. My family and I love to walk around the resort on our last day and take photos with all of the statues and props.
The con, though, is that it's far from everything and the only free transportation available are the buses.
Disney's Fort Wilderness Campground
Technically speaking, Disney doesn't include the Fort Wilderness Campground within its collection of value resorts.
It's a bit of an oddball in that price-wise, it is similar (and often less) to the value resorts, but amenities wise, it's closer to the moderate resorts.
Since a top reason why many guests choose a value resort is budget, I'm including it within this list of the cheapest hotels at Disney World.
On average, the sites go for less than $100 per night and can accommodate tents and most RVs.
Plus you can have up to 10 adults to a site. Now that's a great value!
The campground itself is massive. All the sites are very well-maintained, there are multiple pools throughout, a ranch (with horses!), and much more.
Yet another pro to this resort is that it's quite close to Magic Kingdom, which you can get to via ferry.
The ferry also stops at Disney's Contemporary Resort and Disney's Wilderness Lodge, both of which have character meals and other excellent dining options.
In my opinion, the only downside to the Fort Wilderness Campground is the fact that you have to bring your own room (ie, a tent, camper, or RV).
But for many, that might end up being no big deal or might even be a plus!
The verdict
The amenities at Fort Wilderness Campground are absolutely stellar for being so cheap.
I wish Disney had an option to rent an RV, kind of like a "good neighbor" type of deal; a third-party company they endorse.
The con here is that you have to figure out an RV rental (unless you own) or camp all week – which honestly I would not want to do at Disney World. Unless I was doing a resort-only stay.
Disney's Art of Animation Resort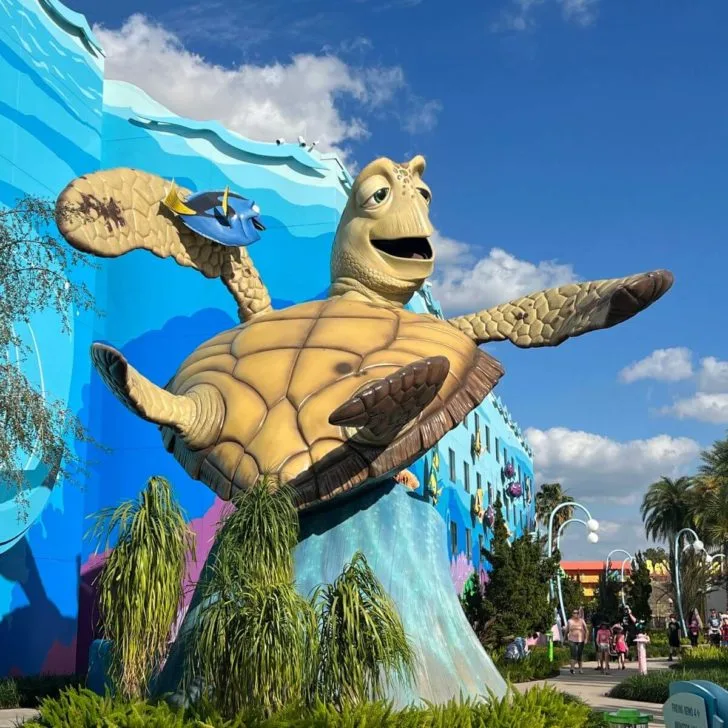 Disney's Art of Animation Resort is the perfect choice for families with children.
Like the All-Star Music Resort, Art of Animation also offers family suites at an extra cost.
The resort is also themed after kids' favorite animated movies, including Cars, The Little Mermaid, and The Lion King.
The main pool also leans toward the kiddos with its under the sea theme.
Lastly, whether you're a family with kids or adults looking for extra Disney magic, this resort also has Skyliner access.
The station is shared with Pop Century, so it does get very busy in the morning, but the rest of the day is quite manageable, line-wise.
The verdict
The Art of Animation Resort is another resort with fun theming and lots of cool photo ops. It also has Skyliner access and family suites, which makes it very convenient for families.
The only thing I don't like about Art of Animation is that the regular rooms, while beautifully themed to The Little Mermaid, are very dark. The Little Mermaid rooms feel small due to this, even though they are the same size as other regular rooms at similar resorts.
Disney's Pop Century Resort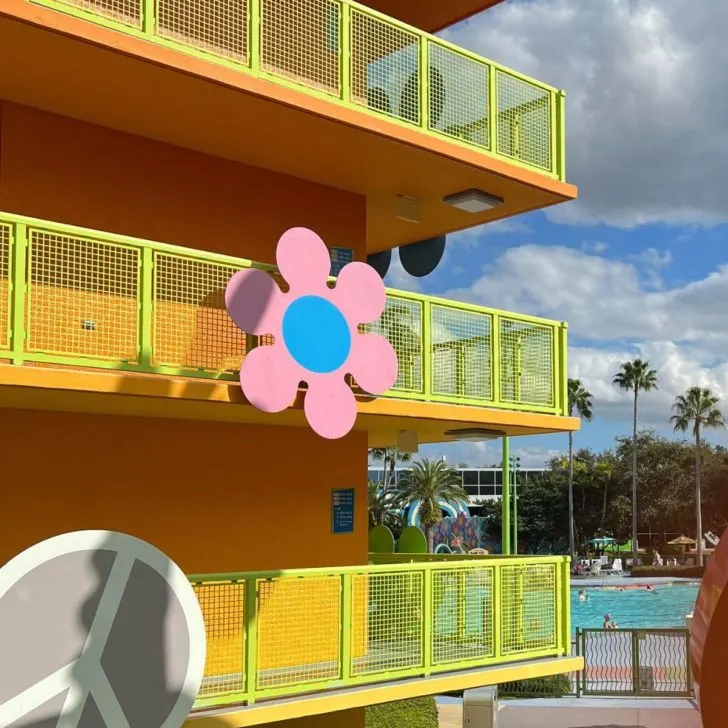 My favorite value resort is Disney's Pop Century Resort, which is right next door to Art of Animation.
I love that this resort focuses on pop culture from the 1950s to the 1990s, which is such a fun and unique concept!
The main pool here is also a lot of fun, with groovy flowers that have water spouts.
When I stayed here with my niece one time, this was her favorite thing all trip – even over meeting characters and going on her favorite rides.
Their other pools are also generally pretty quite, so if you prefer a more relaxing dip in the pool, this might be a good resort for you.
Lastly, staying at the Pop Century Resort has the added bonus of being able to ride on the Skyliner, which is my new favorite mode of transportation at Disney World.
Learn more about this value resort in my Pop Century Resort Review.
The verdict
Pop Century Resort is one of my favorite resorts at Disney World. The theming is super fun, especially the flower power pool, which has flower sprayers around the perimeter.
I also love its proximity to the Skyliner, making it super easy to get to Epcot, Hollywood Studios, and a few other resorts.
What are your favorite Disney World value resorts?
In conclusion, Disney World offers the perfect value resort for every guest and ensures that even at a lesser price point, these resorts are still a magical experience.
Whether you're looking for a sporty hangout or a movie-trademarked resort, Disney has an affordable option ready to book!
After reading this post and learning more about the value resorts at Disney World – will you stay at one on your next trip? Do you have a favorite? Let's chat in the comments below!
Next up, check out these posts:
---
About the author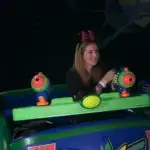 Meg Frost is the creator of The Park Pixie, where she covers Disney World, Disney+, and Disney fandom.
She holds an M.A. in Journalism from Northeastern University and B.S. in Communication & American Studies from University of Miami in Florida.
---
This post was originally published April 23, 2023. It was last updated October 15, 2023.