Disney Springs is a giant open-air shopping and entertainment complex at Walt Disney World Resort in Lake Buena Vista, Florida.
It is so large that it is broken down into 4 separate neighborhoods: The Landing, Marketplace, Town Center, and West Side.
Formerly called Downtown Disney, and several other names before that, Disney Springs is free to visit (no theme park ticket required!) and packed with tons of activities.
In this post, I'll share all of the best things to do at Disney Springs, both free and premium options.
How to visit Disney Springs
Visiting Disney Springs is quite easy, whether you're coming from one of the Disney resorts, theme parks, or somewhere in the surrounding Disney Springs area.
If you have a car, there is ample free parking available in both surface lots and parking garages.
There is also valet parking available at the covered entryway of Cirque du Soleil theater on the West Side of Disney Springs. However, it is only available Monday through Friday, 4:30 PM to midnight, and Saturday through Sunday, noon to midnight.
If you're coming from one of the resorts and don't have a car, you can hop on a bus
Unfortunately, if you're coming from Animal Kingdom, Epcot, Hollywood Studios, or Magic Kingdom, Blizzard Beach, or Typhoon Lagoon, bus service to Disney Springs is not available.
If you're in this situation, my recommendation is to get to the closest resort and then hop on a bus or take your favorite ride share, whether it be Lyft or Uber.
Do you need a ticket for Disney Springs?
No, you do not need a ticket for Disney Springs. You don't need a reservation either. Disney Springs is 100% free to visit.
OK, now onto the best stuff to do in Disney Springs!
Go shopping for souvenirs
Let's start off with the obvious option – shopping for souvenirs!
There are around 100 shops and kiosks at Disney Springs, so if you haven't found the perfect souvenir at one of the theme parks, you'll find something here!
Star Wars fans will love the Star Wars Trading Post and Star Wars Galactic Outpost, while Marvel fans will appreciate Super Hero Headquarters. Both will adore the LEGO store!
For all around Disney merchandise, check out Once Upon a Toy, Disney Style, Marketplace Co-op, Tren-D, and World of Disney – the largest Disney store in the world. Alex & Ani has cute jewelry with Disney charms, too.
Plus, there are lots of non-Disney stores, so if you forgot something at home or make last minute plans and don't have the right outfit, this is also the best place to go for some new duds.
A few options include Free People, Havaianas, Ron Jon Surf Shop, Tommy Bahama, UNIQLO, and Zara.
Lastly, one of my favorite shops to swing by is Crystal Arts by Arribas Brothers. Their crystal sculptures are absolutely stunning and mesmerizing to look at.
Also, you're planning a Disney wedding, they sell elaborate princess tiaras!
People watching
If you're looking for a more relaxing activity, how about some people watching? Find a shady spot to rest your feet and kick back while watching all of the visitors shop, eat, and play.
Grab a meal or snack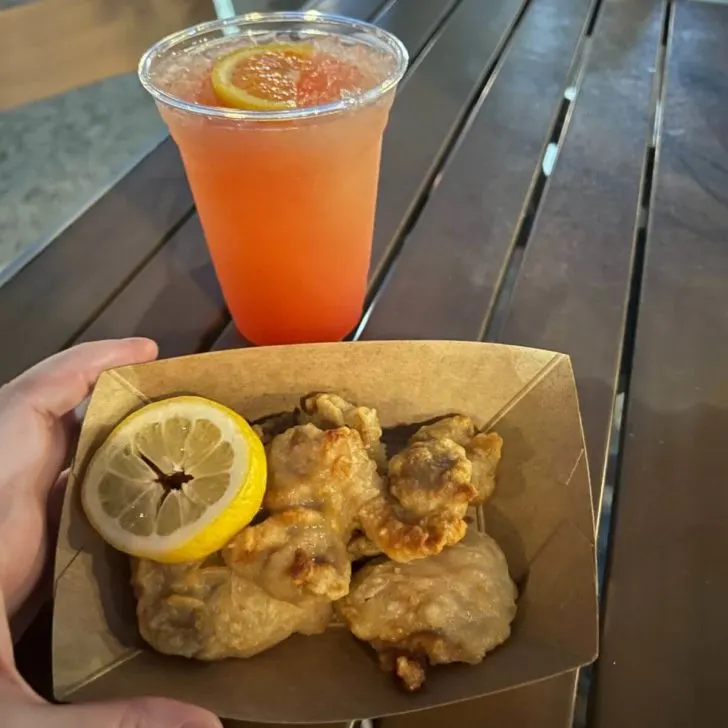 Another obvious option – food, food, and more food!
There are restaurants, cafes, and other food options everywhere you look in Disney Springs, so grabbing a snack or meal is definitely at the top of the list of things to do.
If you love themed restaurants, you'll find plenty, such as Raglan Road Irish Pub, Rainforest Cafe, and T-Rex Cafe, to add to your itinerary.
There are also some impressive signature and fine dining available, such as The BOATHOUSE restaurant and Paddlefish.
Or if you're a foodie, you'll be glad to hear that there are several spots from your favorite chefs, like Chef Art Smith's Homecomin', Guy Fieri's Chicken Guy, Jaleo by José Andrés, Morimoto Asia, and Wolfgang Puck Bar & Grill.
And of course, if you're just looking for something casual or quick, there's plenty to choose from, like the food trucks at Exposition Park on the West Side.
Tip: Use the My Disney Experience app to for dining reservations or mobile order.
Satisfy your cravings with sweet treats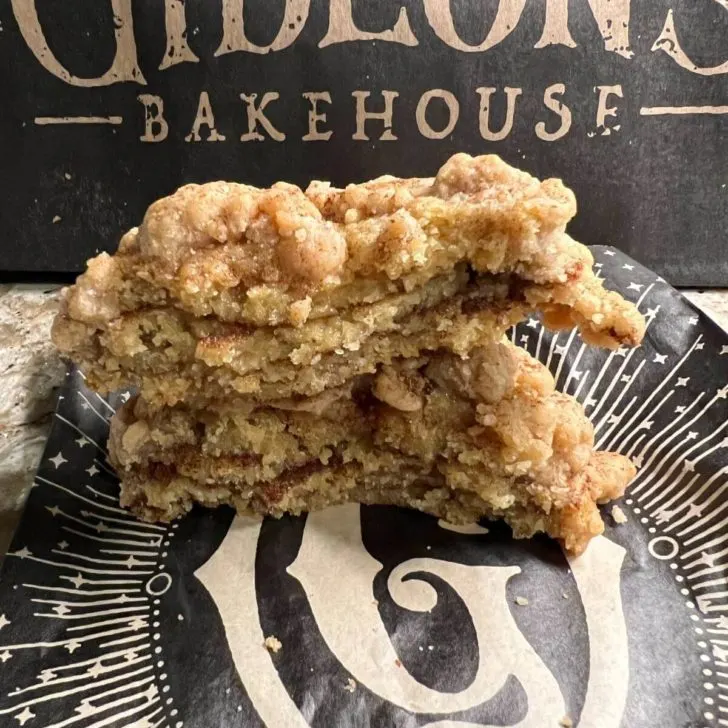 If you're just looking for a snack or are ready for dessert, there are plenty of yummy options for everyone.
If you're craving ice cream or frozen treats, try Ghirardelli Soda Fountain & Chocolate Shop, Haagen-Dazs Ice Cream, Marketplace Snacks, Salt & Straw, Swirls on the Water, or Vivoli il Gelato
For a baked treat, try Amorette's Patisserie, Everglazed Donuts & Cold Brew, Sprinkles Cupcakes, or Sunshine Churros.
My favorite, though, is Gideon's Bakehouse, where you can get giant, fresh-baked cookies. Gideon's Bakehouse is a local bakery that used to sell its monster cookies out of The Polite Pig at Disney Springs, but they were so popular, they ended up opening their own shop!
If you're vegan or gluten-free, have no fear – there's a perfect spot for you, too: Erin McKenna's Bakery NYC. Every single item is free of dairy, egg, gluten, soy, wheat, and refined sugar, plus they are kosher.
Lastly, if you want to bring home some Disney themed candy, head to Disney's Candy Cauldron, Goofy's Candy Co, The Ganachery, or Wondermade.
Tip: When I use the Disney Dining Plan and have extra credits, I alway's head to Goofy's Candy Co. for some plane snacks and treats, like Mickey-shaped krispy treats, that I can enjoy at home.
Go bar hopping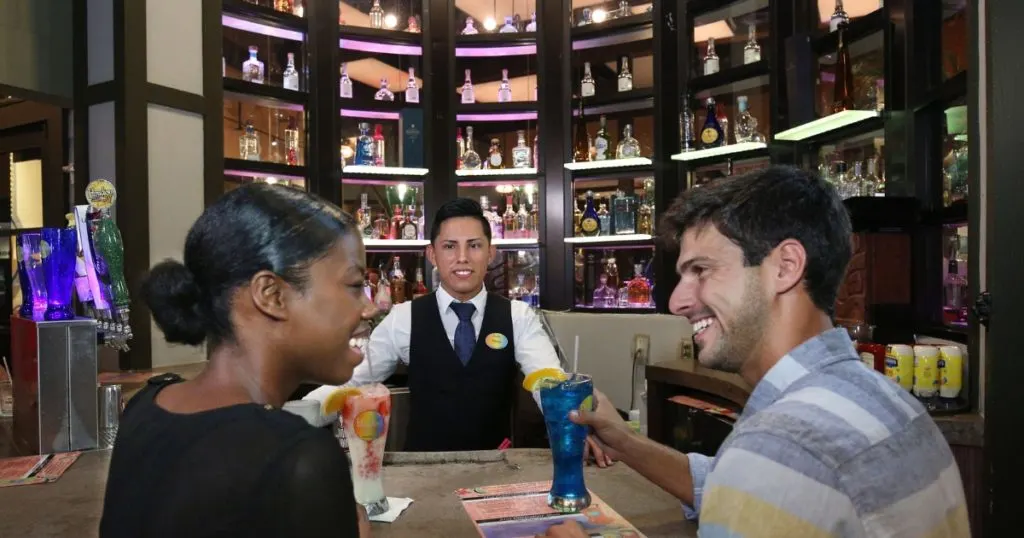 Relax with a drink after a long day at the parks or shopping at one of Disney Springs' fun bars or lounges.
Grab a beer at City Works Eatery & Pour House, Jock Lindsey's Hangar Bar, or Raglan Road Irish Pub.
Enjoy some wine and small bites at Wine Bar George or enjoy the breeze along the water at Dockside Margaritas.
Lastly, if you enjoy live music, head to The Edison or Stargazers Bar for live entertainment, a tasty beverage, and perhaps a bite or 2.
Catch a live performance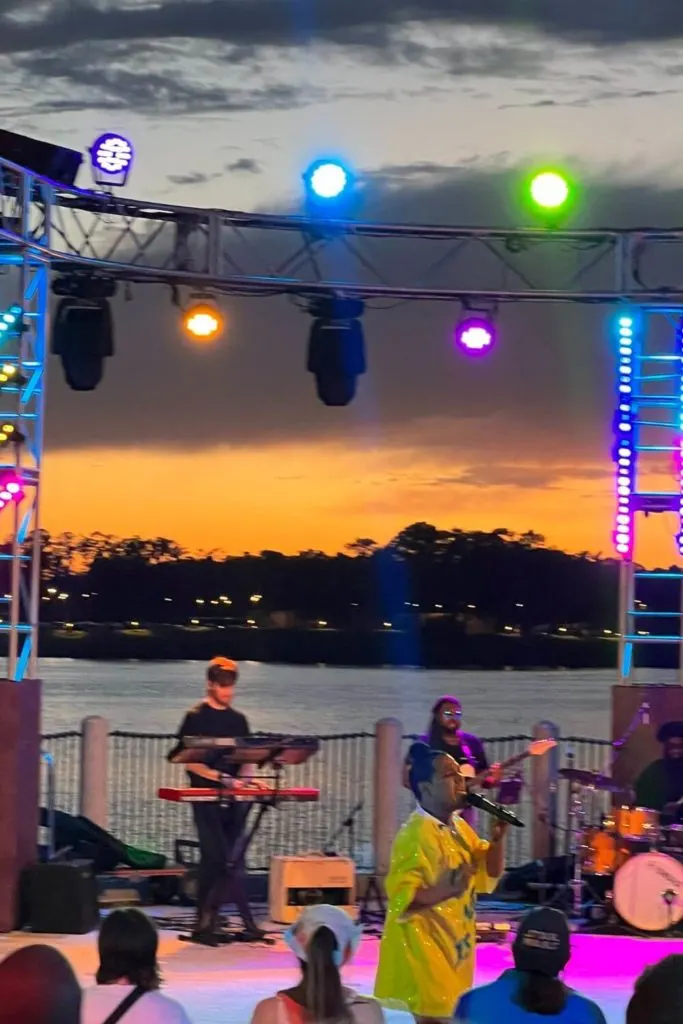 Speaking of live music – there are actually several spots where you can catch a live band or performance, too.
We've already covered The Edison and Stargazers Bar, but Raglan Road Irish Pub has live entertainment, too! In addition to live music, they have regular Irish dance performances, as well.
You can also catch local bands at the AdventHealth Waterside Stage in Marketplace or Sunshine Highline and Exposition Park on the West Side.
Over in The Landing, you can see performances at Paradiso 37 Entertainment, Riverboat Square, and Waterview Park.
Lastly, the House of Blues is famous for its ticketed concert events, as well as the Sunday Gospel Brunch event.
Cool off at the Coca-Cola Store Rooftop Bar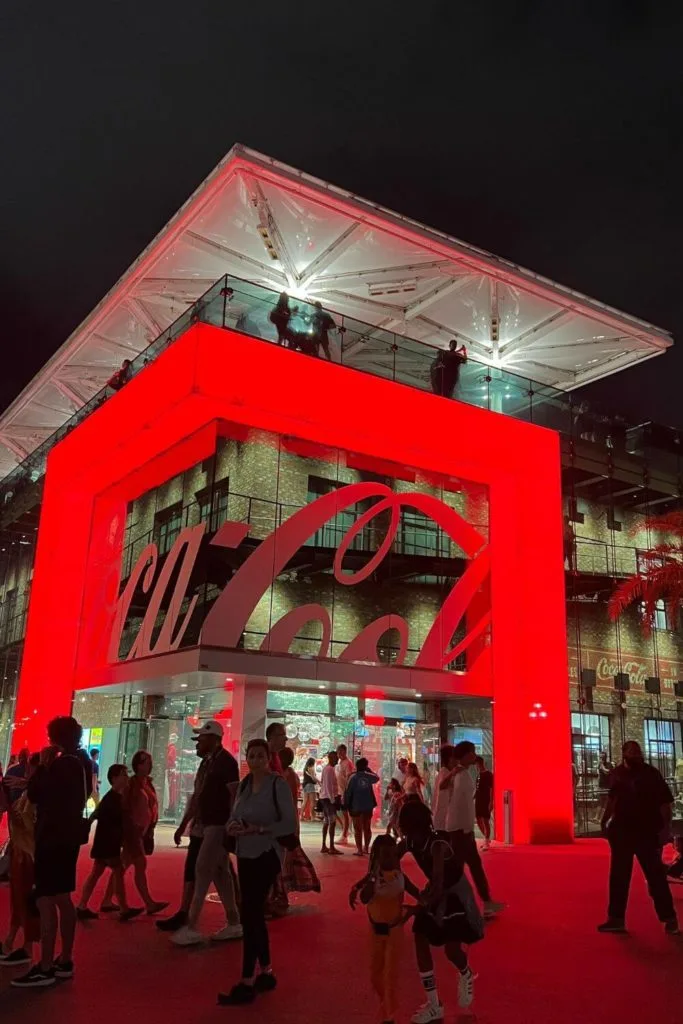 If alcohol isn't your thing, but you want to sit and enjoy a cold beverage, head to the Coca-Cola Store Rooftop Beverage Bar. Everything here is booze-free.
You'll be treated to beautiful aerial views of Disney Springs while sipping on a soda, coffee, ICEE slushie, or some other tasty Coca-Cola owned beverage. You can even order tasting flights!
Get ready for the holidays at Disney's Days of Christmas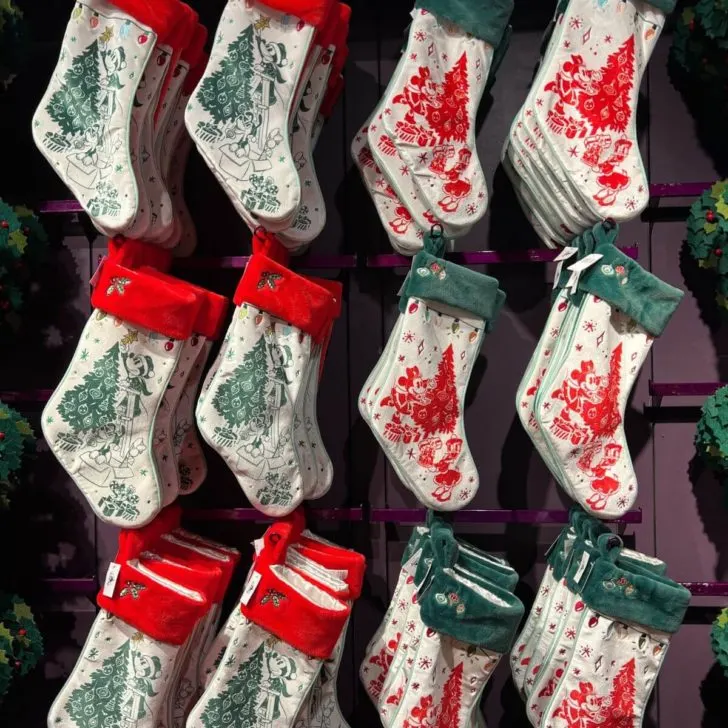 For a unique souvenir, skip on over to Disney's Days of Christmas store, where you can find Disney Christmas ornaments and decor.
You can also have items personalized! Wouldn't that be such a fun gift for newlyweds or someone who just bought a home?
Buy or trade pins at Disney's Pin Traders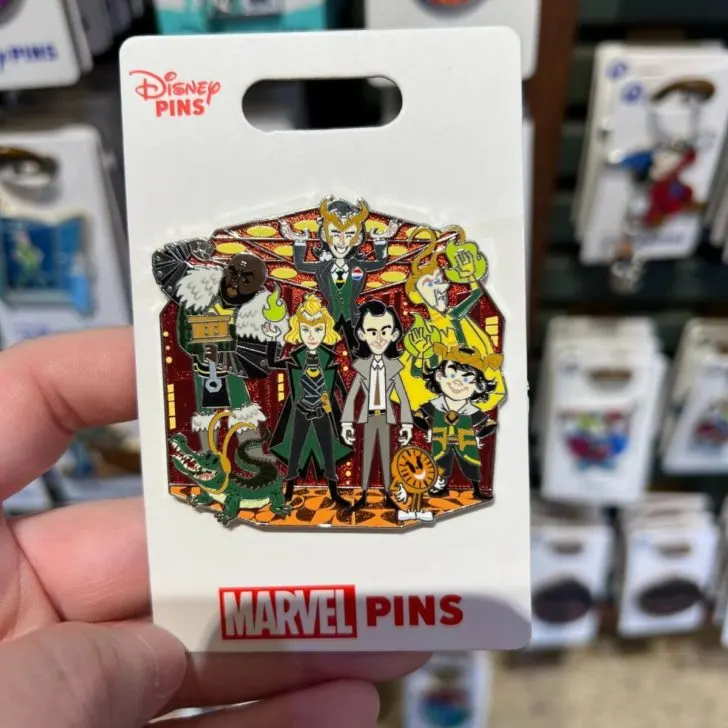 If you like pin trading or collecting Disney pins, you'll love Disney's Pin Traders.
There are rows upon rows of fun pins to purchase, plus you can trade with cast members or maybe even other shoppers!
See a movie at AMC Disney Springs Dine-in Theater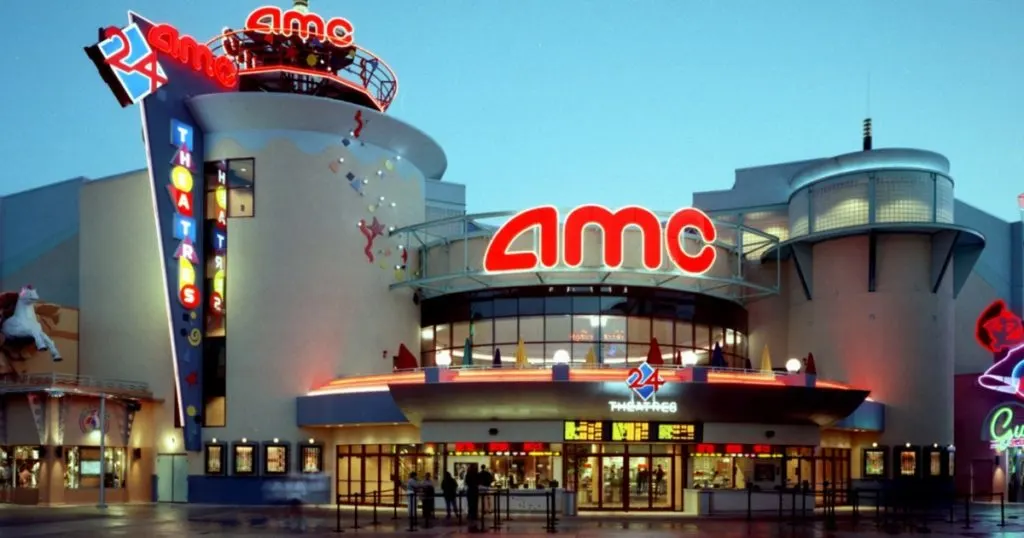 Catch the latest flicks, including Disney, Pixar, Marvel, and Star Wars, at the AMC movie theater at Disney Springs.
At this theater, there's an adults-only section where you can order food and drink to be delivered to your seat. Plus, you can grab a drink before or after the movie at MacGuffins Bar.
It's the perfect spot for date night or a friendly hangout!
Peep the volcano show at Rainforest Cafe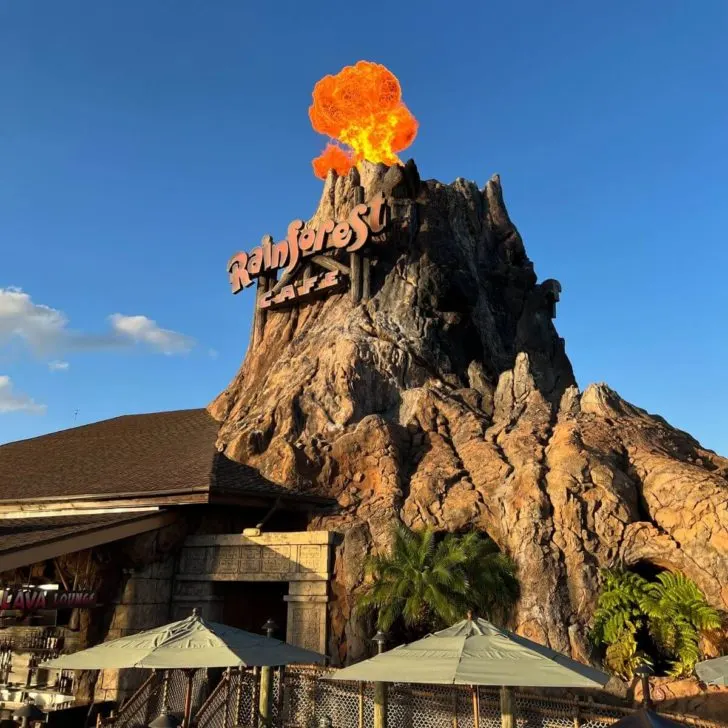 Head over to the Marketplace area to watch the ginormous volcano outside Rainforest Cafe erupt. The show happens every 30 minutes on the hour and half-hour, every day.
It's totally free and you don't even have to eat there to catch a glimpse, since it's outdoors!
Go bowling at Splitsville Luxury Lanes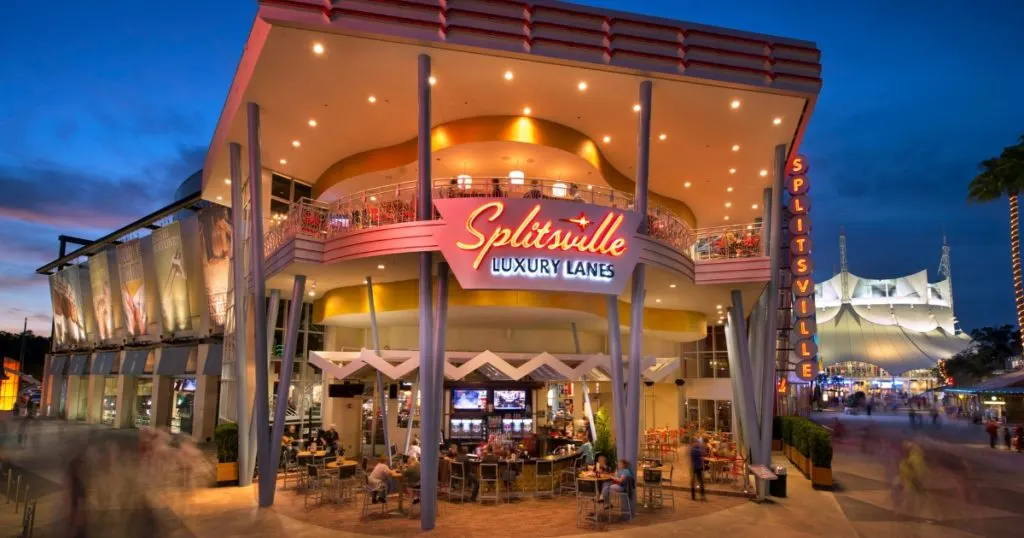 If you're looking for a fun activity outside of the parks, add Splitsville Luxury Lanes to your list.
Their primary activity is bowling, but they also have billiards tables, food, TVs, and live music.
Hang out at the House of Blues Orlando
Note: As of June 2023, Gospel Brunch is still on hold – but it is expected to return.
The House of Blues Orlando, located at Disney Springs, regularly hosts concerts and dance club nights featuring local bands, up-and-coming acts, and theme nights like Taylor Swift, 90s, 2000s, and Bad Bunny.
They are also home to the famous Gospel Brunch, which combines a brunch buffet with your favorite gospel tunes.
See Cirque du Soleil's Drawn to Life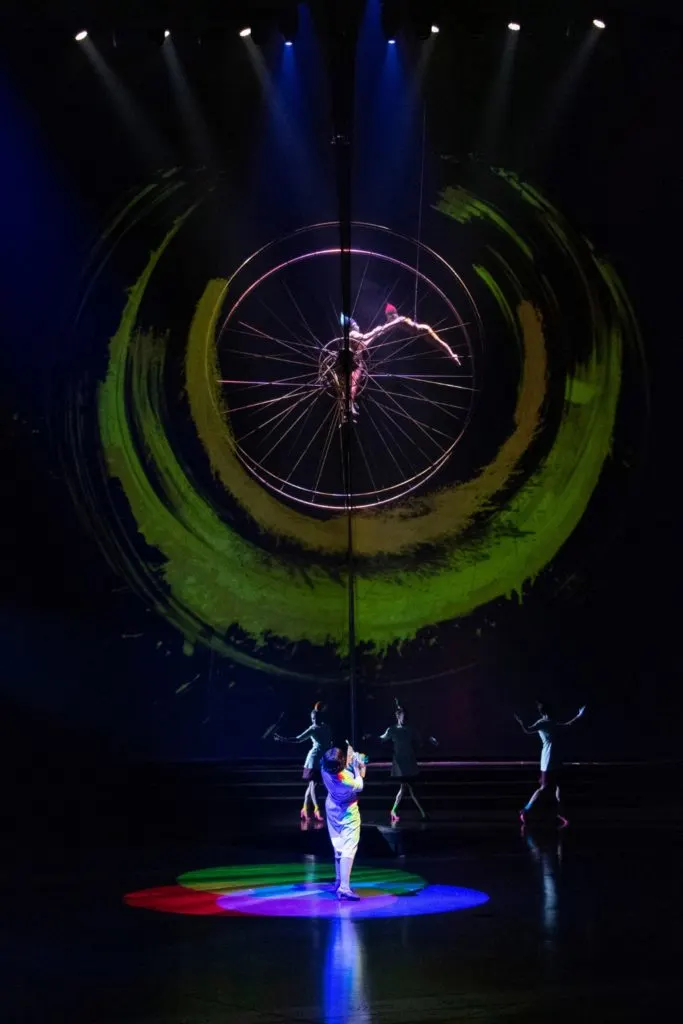 Drawn to Life presented by Cirque du Soleil and Disney replaces the previous Cirque show at Disney Springs, La Nouba.
The Cirque team paired up with Walt Disney Animation Studios and Walt Disney Imagineering to create a show that celebrates all things Disney animation.
The result is 90 minutes of acrobatics, aerial acts, cool costumes & props, and of course, the fun acting and Disney vibes!
Tickets start at $80, not including taxes and fees, and can be purchased on the Cirque du Soleil website.
Take a photo with your fave Disney characters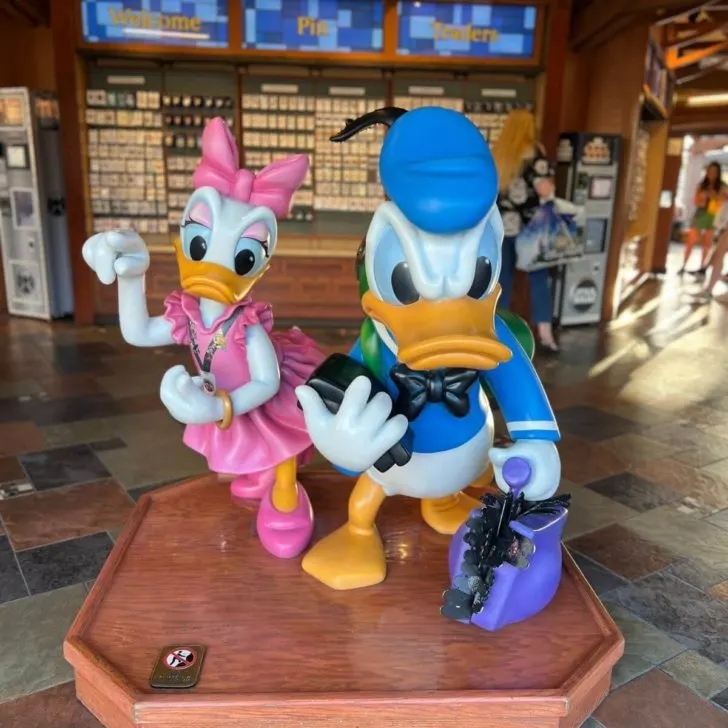 Oddly, you can't meet live Disney characters at Disney Springs, which feels like a big missed opportunity.
That said, there are a few fun statues at Disney Springs that you can pose with for some fun photos.
Outside Once Upon a Toy, you'll find a Buzz Lightyear and Mr. Potato Head from Toy Story. Plus, not to far from there, you'll find Aurora (aka Sleeping Beauty) and Cinderella at World of Disney.
Take a selfie with the Coca-Cola polar bear
For another fun photo opportunity, head to the Coca-Cola store to take a selfie with the Polar Bear. Afterwards, you can pop up to their rooftop bar for a refreshing non-alcoholic drink!
Call the store to find out when our fuzzy friend will make an appearance, as hours change each day and are not posted online. You can reach them at (407) 560-0107.
Take a photo on a Harley Davidson motorcycle
If you've had your fill of characters, but love taking fun photos, head to Orlando Harley Davidson at Town Center for a selfie on the 2 motorcycles they have out on display.
And yes, in case you're wondering, it's totally allowed and encouraged!
Aerophile balloon ride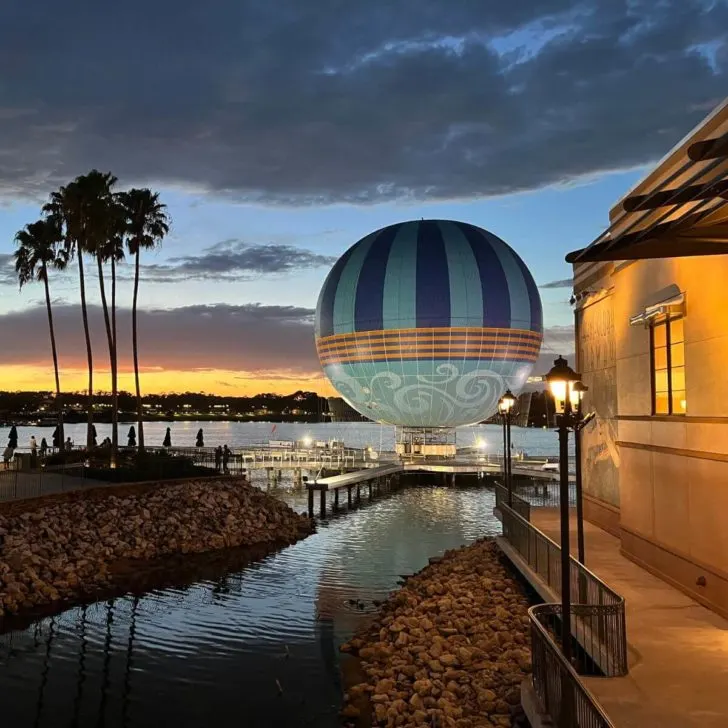 Another great spot for a birds-eye view of Disney Springs is on the Aerophile helium balloon ride.
That's right – helium! There aren't hot air balloon rides in Disney Springs, contrary to what most think!
So if you ever wanted to know what it was like to be pulled up in the air by a balloon, this is your chance.
Located in the West Side, Aerophile takes you 400 feet up in the air for 8-minutes of stunning panoramic views of Disney Springs and the surrounding area.
Aerophile costs $20 for ages 3-9 and $25 for ages 10+ (including adults). Kids under 3 are free.
Embark on a tour of Lake Buena Vista in a vintage amphicar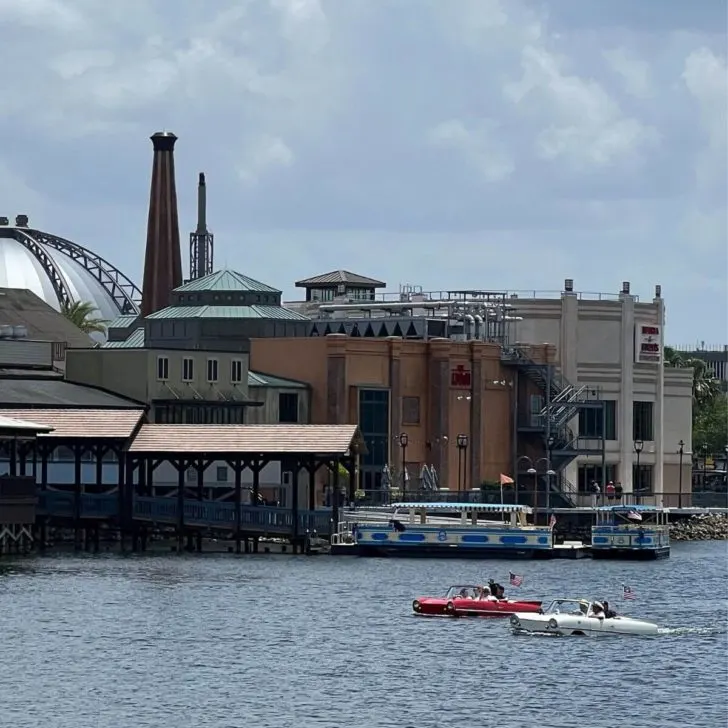 Take a leisurely 20-minute tour around Lake Buena Vista in a vintage amphicar, aka Italian water taxi. The boats are designed to look like classic cars – but that's because they can also be driven on land!
The tour costs $125 per car, which fits 3-4 people. However, if you spend at least $50 at The BOATHOUSE restaurant or their gift shop, you get $25 off the tour!
Take a free boat ride to your resort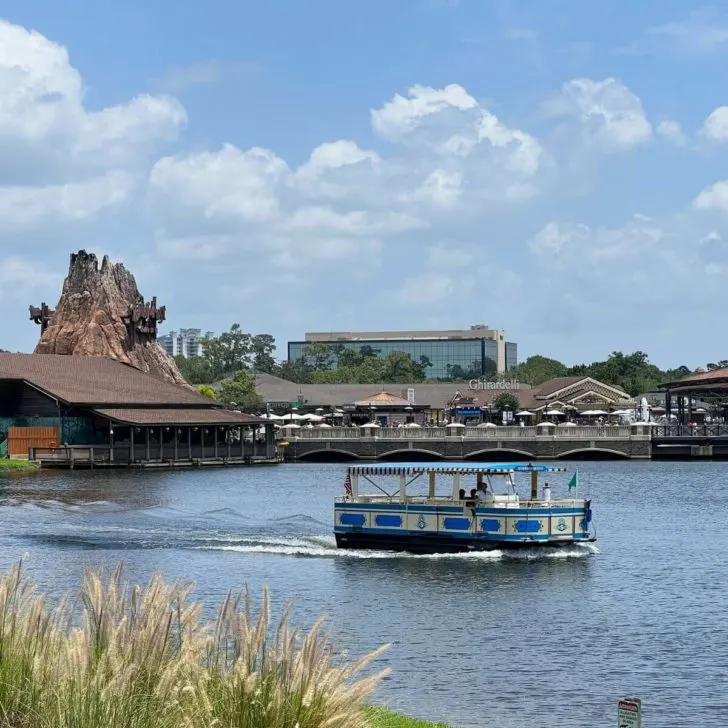 If you like the idea of a leisurely boat ride, but can't bear to cough up $125, check out the Sassagoula Boats, which are kind of like a mass transportation version of water taxis.
These boats run between the Disney Springs Marketplace and 4 resorts: Old Key West, Port Orleans French Quarter, Port Orleans Riverside, and Saratoga Springs.
While it's not really a ride, you have to admit, it is a fun way to get around!
Take the kiddos for a ride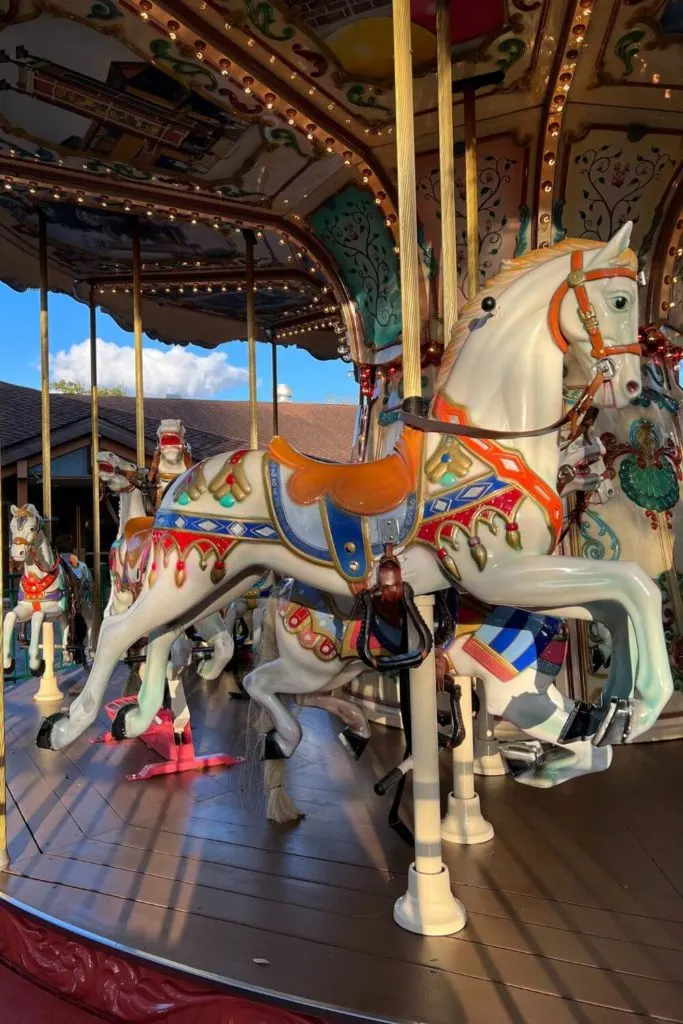 If your little ones are missing the parks, treat them to a ride on the Marketplace Train Express or Marketplace Carousel. Each one costs $3 for 1 ride, which lasts approximately 3 minutes.
Have a run through the splash pad
If you have little ones that need to expend some energy, head over to the Marketplace area for a run through the splash pad. It's totally free!
Get a temporary tattoo or face paint
Get your face painted or add a temporary tattoo, including henna designs, at Enjoy Your Face kiosk located in the Marketplace area.
Prices vary, so stop by for a peek at the price chart during your visit if you're thinking of doing this!
Get a royal makeover at Bibbidi Bobbidi Boutique
Kids between the ages of 3-12 can get a princess or knight makeover, from hair and makeup to props and full-on costumes.
Packages run anywhere from $19.95 to $450 or even higher, depending on your selection of services and purchases.
After your little one is done with their makeover, you can head over to the Disney Photopass Studio next door to capture it fresh!
Reservations are strongly recommended and can be made up to
While Bibbidi Bobbidi Boutique at Magic Kingdom reopened in August 2022, the Disney Springs location is still closed. It is expected to open some time in the future, but a date has not yet been announced as of June 30, 2023.
Get your photo taken at the Disney Photopass Studio
Whether your little one has just gotten a makeover at Bibbidi Bobbidi Boutique or you just want a couple fun photos, this is definitely something to add on your Disney World itinerary. It's also one of my favorite Disney souvenirs!
The studio has lots of fun props on hand, plus backgrounds – including green screen technology. Plus, if you have the Memory Maker package, you can download all the photos for free!
Stroll through the Disney Springs Art Walk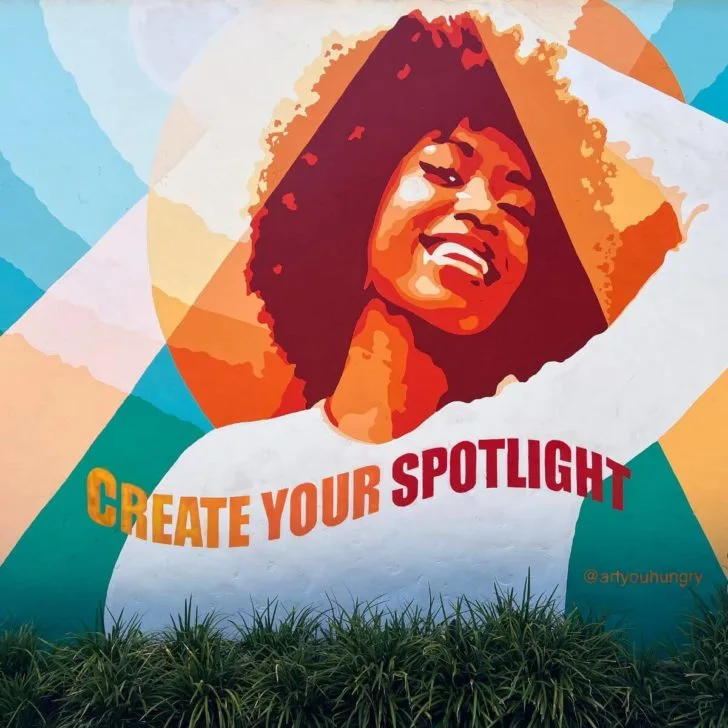 Throughout the Town Center area, you can see inspiring street art murals from local and worldwide artists. It's like an outdoor art gallery!
This is one of my favorite things to do at Disney Springs. I hope people take a few minutes to browse through the area and check out all the colorful murals.
Build a dinosaur at T-Rex Cafe
Build your own dinosaur at the T-Rex Cafe shop. The experience is modeled after Build-a-Bear, so you'll get a similar experience where you can pick the stuffed animal and add fun accessories and outfits. What a fun souvenir!
Create your own minifigure at the LEGO store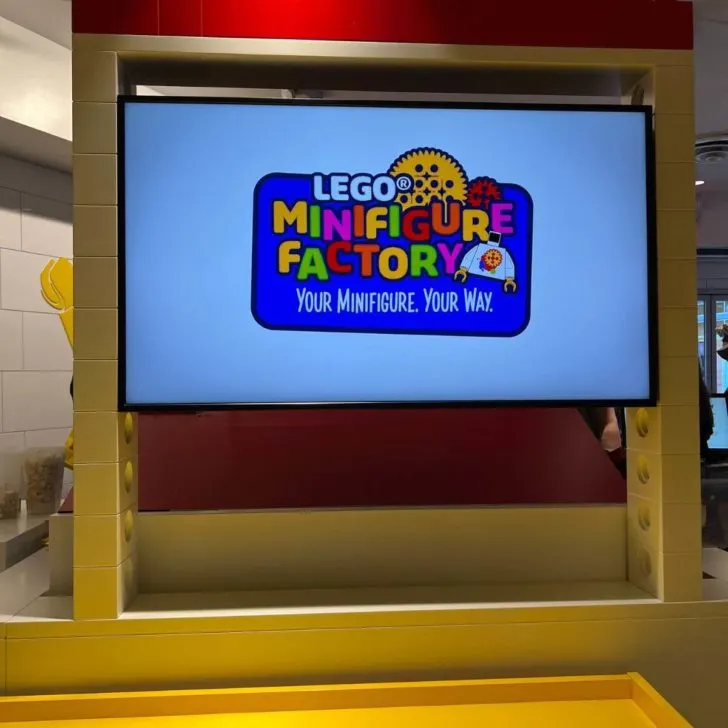 At the LEGO Store at Disney Springs, you can design your own minifigure from head to toe, front and back! You can choose different skin tones, hair, clothing, faces, accessories, and more.
The experience, dubbed, The Minifigure Factory, costs around $11.99 for 1 figure.
Create a customized LEGO mosaic from a photo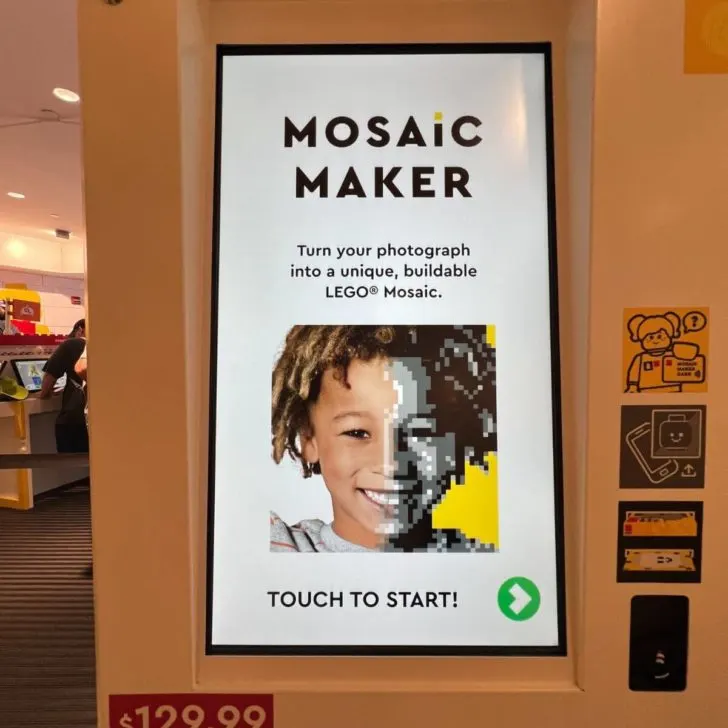 Also over at the LEGO store is the Mosaic Maker experience.
All you gotta do is upload a photo and it will transform it into a 15″ x 15″ mosaic that you can build at home. The experience is $129.99 and takes less than 10 minutes to create.
Buy a customized piece of art
Another unique and fun souvenir you can get at Disney World is a custom piece of art from The Art Corner.
Located in Marketplace, The Art Corner specializes in caricatures, pet toons (caricatures for pets), and name art.
You can also create your own spin art or marbling. Marbling requires reservations at least 2 weeks in advance.
Pick a pearl and make a piece of jewelry
At the Pearl Factory in the Marketplace area, you can pick an oyster and then turn its pearl into a piece of jewelry.
If you're set on a specific color or size pearl, you can also purchase ready-made necklaces, rings, bracelets, earrings, and more.
Check out the seasonal events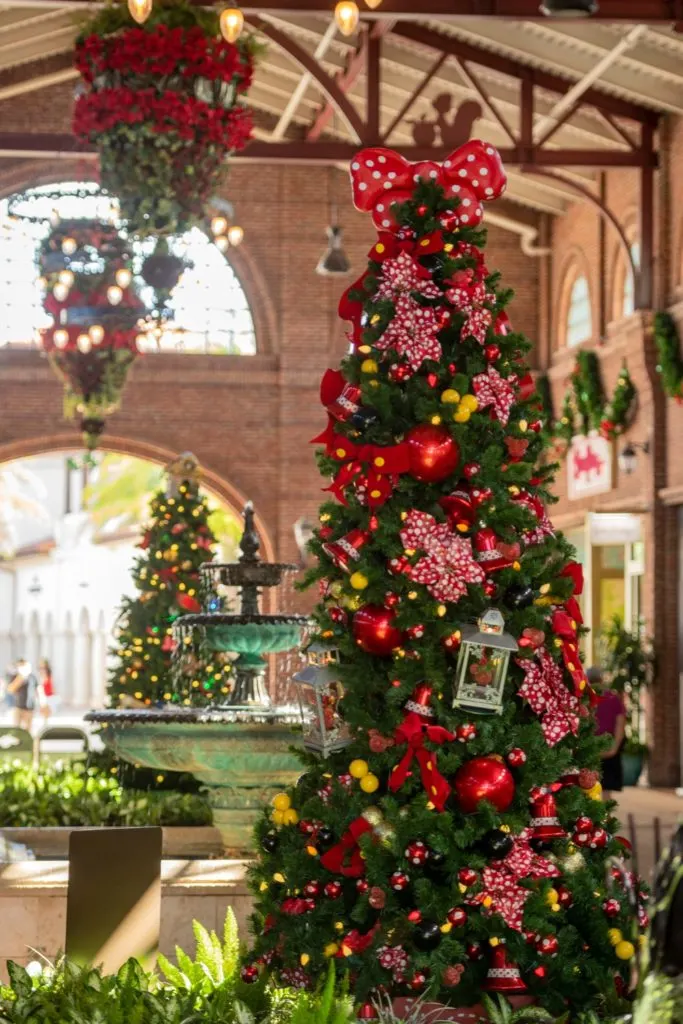 Throughout the year, Disney Springs has special events and activities, such as the Christmas Tree Stroll, featuring Disney themed Christmas trees.
Check the Disney Springs event calendar to find out what's happening while you're in town.
What are your favorite things to do at Disney Springs in Walt Disney World Resort?
So is Disney Springs worth it? Without a doubt, Disney Springs is absolutely worth visiting.
For me, a Walt Disney World vacation isn't complete without a visit to Disney Springs!
There are so many things to do at Disney Springs that it would be easy to spend an entire day (or 2!) there doing all of it.
Share your favorite Disney Springs activities in the comments below.
---
About the author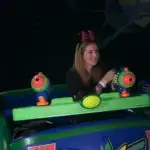 Meg Frost is the creator of The Park Pixie, where she covers Disney World, Disney+, and Disney fandom.
She holds an M.A. in Journalism from Northeastern University and B.S. in Communication & American Studies from University of Miami in Florida.
---
This post was originally published December 8, 2022. It was last updated October 14, 2023.