As blissful and exciting as it is to be engaged, planning a wedding can be super stressful and time consuming, not to mention expensive. 
Whether you're dreaming of a princess fairytale-inspired event or something more globally-inspired, chances are high that the event planners at Walt Disney World Resort can make your wedding dreams come true.
After all, it is called The Most Magical Place on Earth.
Intrigued? Check out the top 10 reasons you should have a Disney World wedding to see if it's the right spot for you and your boo to tie the knot.
The wedding theme options are endless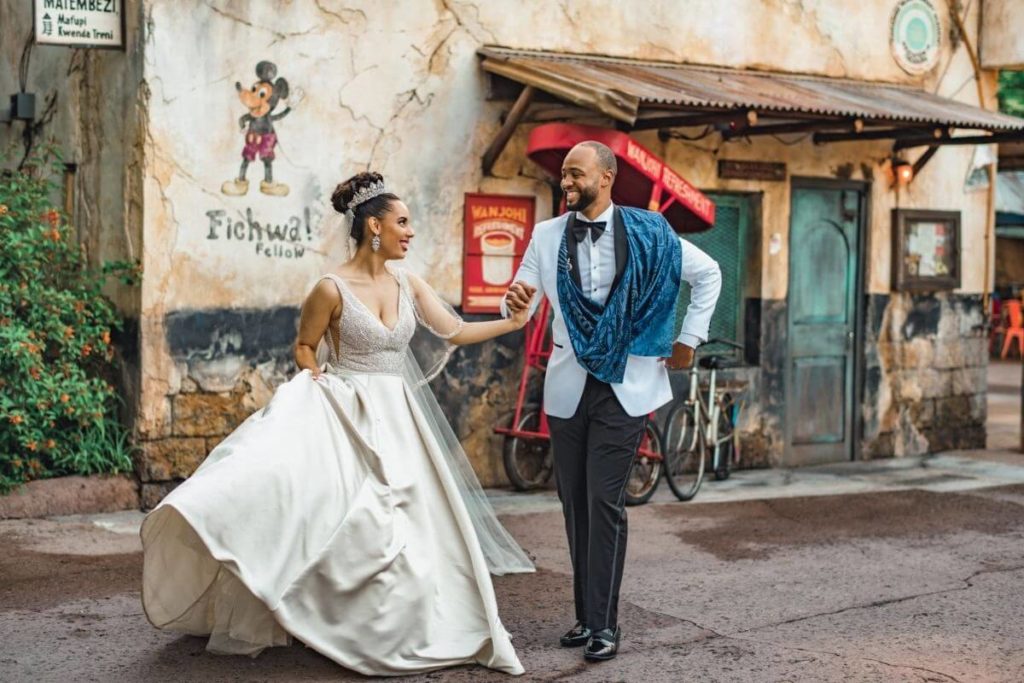 With an estimated 4,000 couples gleefully saying "I do," at Disney's parks and cruise ships each year, Disney's wedding consultants are highly experienced at putting together fairytale-level weddings.
They are, after all, referred to as Disney's Fairy Tale Weddings!
Whatever your desires are for your ceremony and reception, Disney's wedding consultants will knock it out of the park (no pun intended!) for you and your guests.
Are you torn between Disney World or a beach for your destination wedding? Disney World has several beaches on property, as well as ocean-inspired wedding venues. 
Have you always dreamed of a floral-filled Alice in Wonderland themed reception or ceremony. Disney World's event planners know exactly how to pull it off with you needing to stress over it.
Or perhaps you're just looking for a simple elopement or vow renewal ceremony at the most magical place on earth. 
Well you're in luck – no celebration is too small to consider when it comes to Disney weddings.
The cost isn't any different than other venues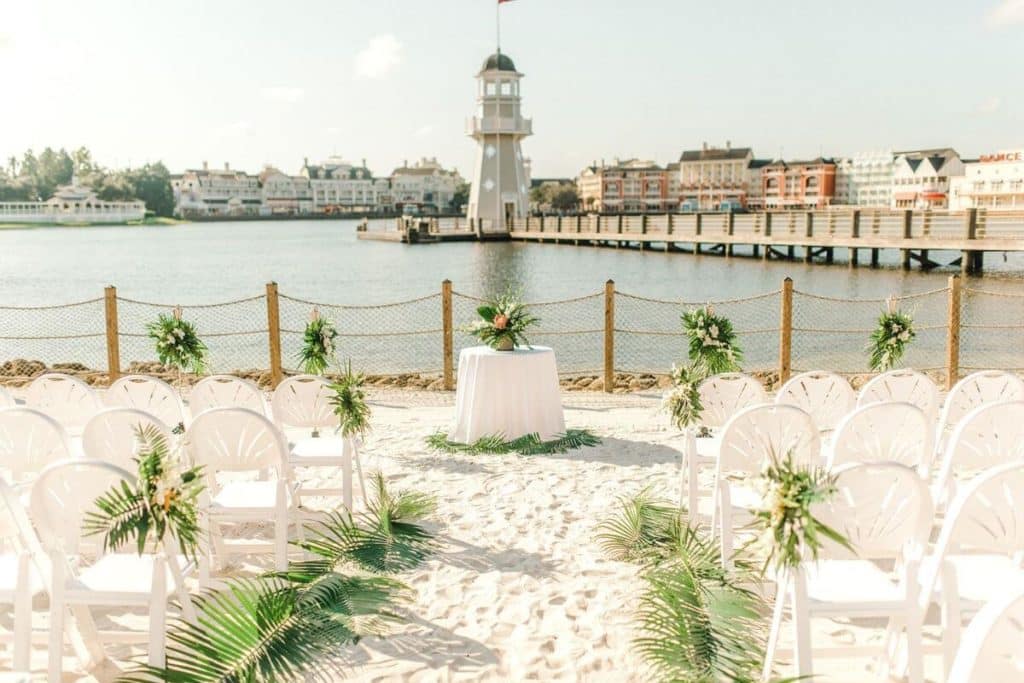 According to The Knot, the average cost of a wedding in the US is $33,931. And depending on which state it happens in, the average cost is sometimes higher!
One would think that a wedding at Disney World would be at least the same, if not a lot more. 
So how much does a Disney World wedding cost? Well, the numbers will surprise you.
A wedding at Disney World can be done for as little as $3,500. That'll get you a pre-packed deal that includes a ceremony and wedding photos for the couple and up to 4 guests.
A ceremony with a cake-and-champagne toast at Disney World starts at $7,000. While a customizable ceremony and reception for an event minimum of 18 guests ready to join the party starts at $21,000. 
By no means is a Disney wedding on the cheap side. But considering it can be done for far less than the average cost couples spend on their big day in the US, it's not completely outrageous.
So yeah, I'd say Disney World isn't all too bad when you consider weddings are already ridiculously expensive elsewhere in the US.
They are LGBTQ-inclusive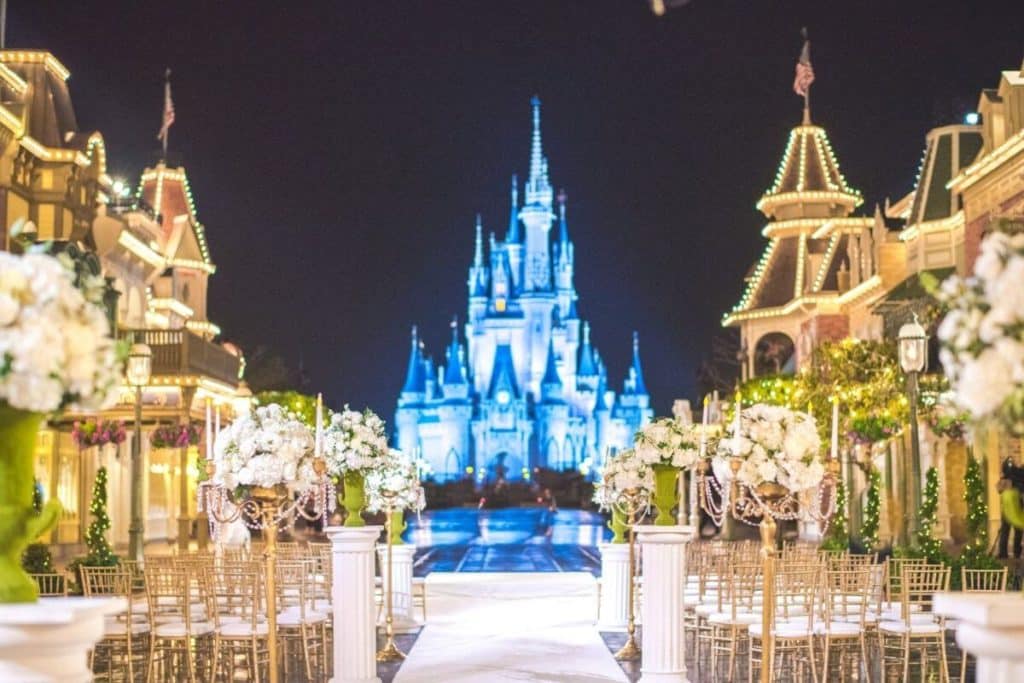 Sadly there are venues in popular places for destination weddings that won't host nuptials or receptions for LGBTQ couples. 
According to a study by The Knot and Q.Digital in 2017, 30% of female couples and 11% of male couples reported being rejected by a wedding venue due to their sexual orientation.
Apparently those venues aren't in it for the joy and celebration of LOVE. They're just money-grubbing jerks. Disney World is NOT one of those places!
Following up on its promise to be the most magical place on earth, Disney World hosts engagements, ceremonies, receptions, and vow renewals for all couples, no matter what their sexual orientation is.
They have wedding planners and vendors on staff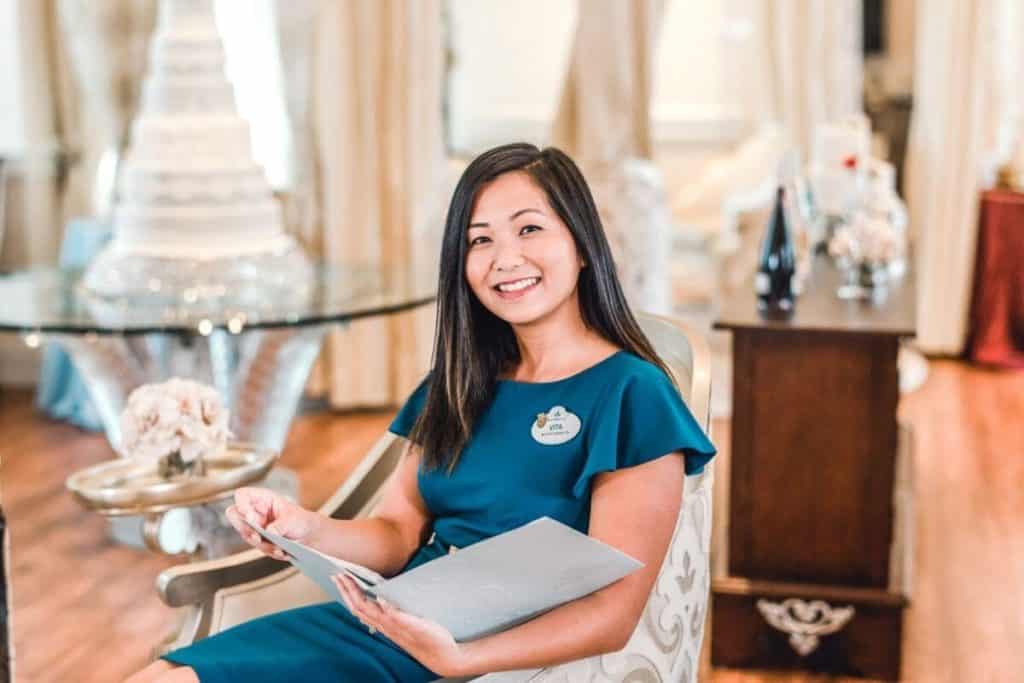 Planning a wedding can be time consuming and downright exhausting. You have to find a venue, caterer, bartender, baker, florist, DJ or band – and that's just the tip of it!
At Disney World, there's a massive behind-the-scenes team ready to go.
Photographers and videographers
As with the food, drink, and entertainment, photographers and videographers can be added.
All still photography packages include at least 2 photographers: 1 that focuses on traditional photographs and 1 that specializes in photojournalistic type shots.
You also have the option of scheduling a portrait session at almost any of the properties on site.
Flower bouquets and arrangements
Weddings and flowers go hand in hand, so naturally Disney World also has a team of florists that can design bouquets, boutonnieres, and other floral arrangements for your ceremony and reception.
It will be one less thing you'll have to worry about when planning to get married at Disney World.
Wedding cakes and catering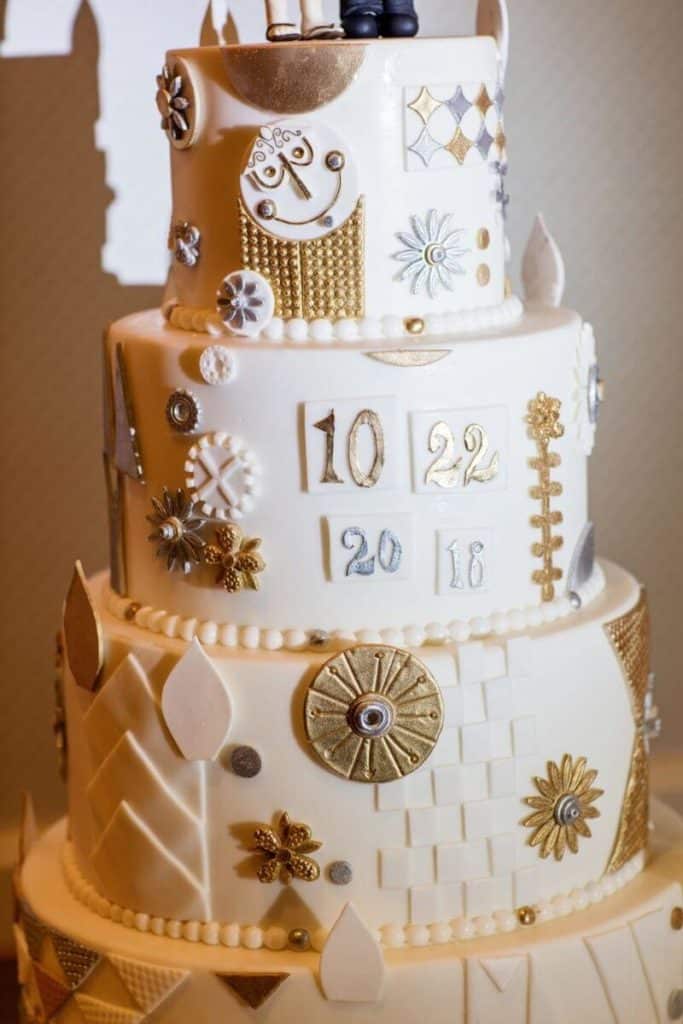 There's no need to worry about finding an Orlando-area caterer, as the talented bakers and chefs at Disney World take care of it for you.
And just like a local wedding, you can schedule a food and cake tasting before finalizing the menu.
Sounds like the perfect excuse for getaway before the big day, if you ask me!
There are dozens of venues available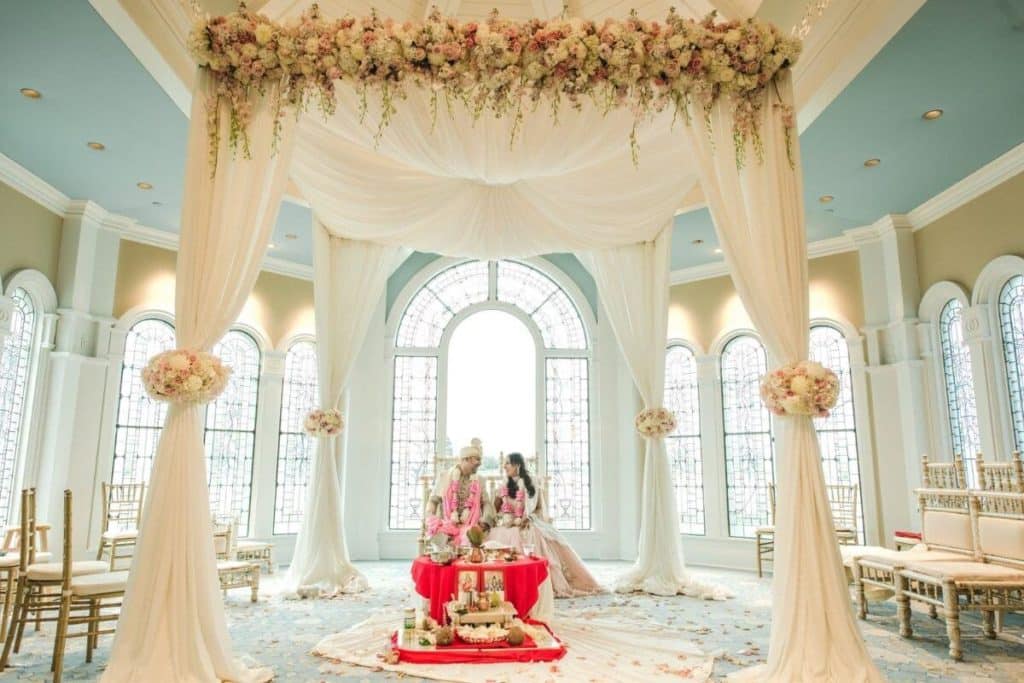 With four theme parks, countless restaurants, and over a dozen resorts, there is no shortage of locations for your wedding ceremony or reception at Disney World.
Depending on which package you choose, you might be limited to a select list of venues. But honestly, even then the venues available are pretty stunning.
The Memories package includes a ceremony at 1 of 4 locations:
Conch Key Marina or Sago Cay at Disney's Grand Floridian Resort
Luau Beach or Luau Pointe at the Polynesian Village Resort
The Escape package includes a ceremony and a cake-and-champage toast at 1 of 5 locations: 
Canada Terrace at Epcot World Showcase
Disney's Wedding Pavilion at Disney's Grand Floridian Resort (as seen above)
Luau Pointe at Disney's Polynesian Village Resort
Sea Breeze Point at the BoardWalk Inn & Villas
Wedding Gazebo at the Disney's Yacht Club Resort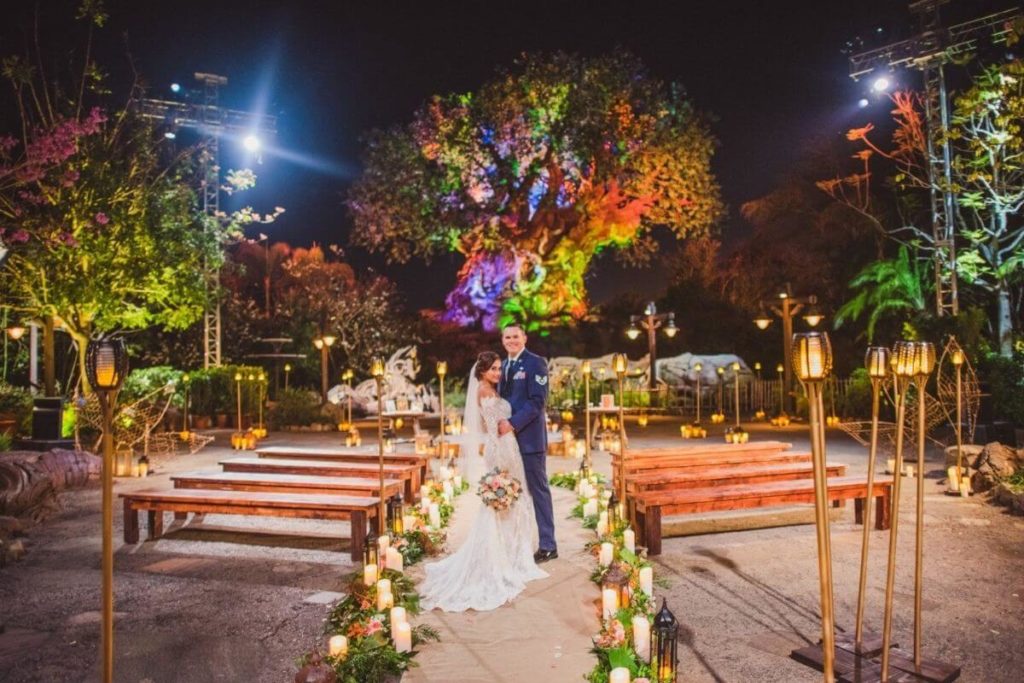 The Wishes package gives couples the option of 42 locations, of which they can select 1 for the ceremony venue and 1 for the wedding reception.
A few of the most impressive Disney wedding venues available in the Wishes package include:
East Plaza Garden, in front of Cinderella Castle at Magic Kingdom
Living Seas Salon at Epcot, next to a 5.7 million gallon saltwater aquarium
Shipwreck Beach at the Yacht & Beach Club Resort
Tower of Terror Courtyard at Disney's Hollywood Studios
Tree of Life at Disney's Animal Kingdom (as seen above)
You can ride a pumpkin coach like Cinderella!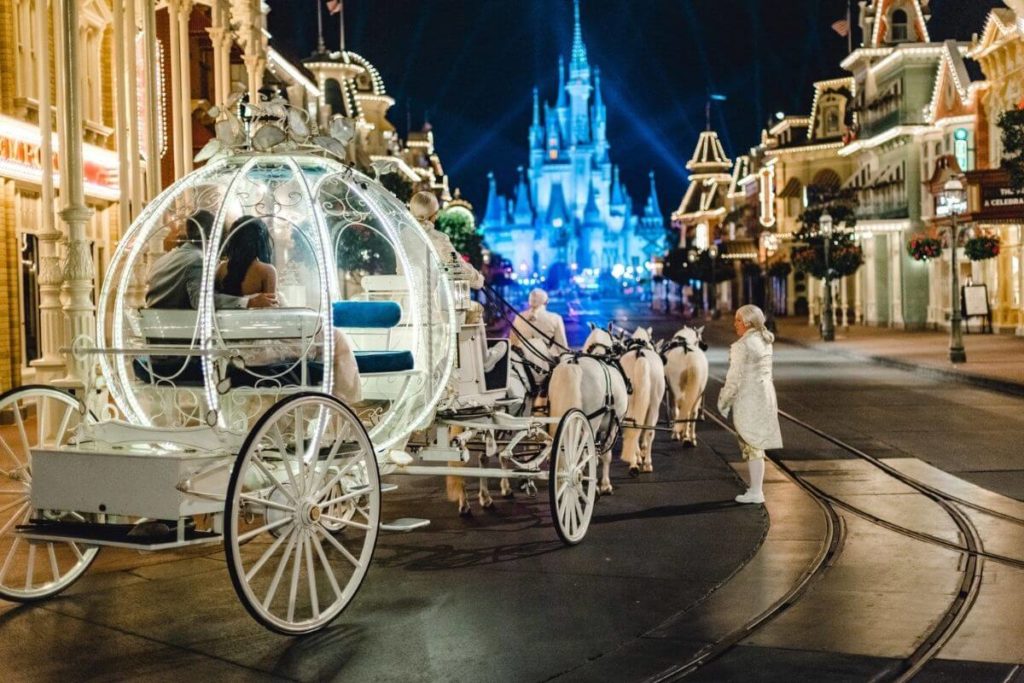 The most basic and inexpensive package, the Memories package, includes limousine service for the couple. From there, it gets even better!
The mid-range Escape package allows couples to choose from limousine, horse-drawn carriage, vintage luxury cars, or THE ride of all rides: Cinderella's sparkling pumpkin-shaped coach.
Couples opting for the Wishes package have the same transportation options as the Escape package, but can also add on coach bus service for their wedding guests.
Whichever package you go with, your entrance will surely be fit for royalty.
You can add character meet-n-greets
Secretly wishing THE It Couple, aka Mickey and Minnie, of the Mouse family, would join the party? Yep, it's an option!
Disney characters can be booked in 30-minute increments for couples opting for the Escape or Wishes packages. 
If you and your boo want a character to make an appearance at your event, then you're in luck. Up to 2 characters can be booked in 30-minute increments.
This would be an unforgettable gift for your flower girl and ring bearer. But let's be honest, adults will love it too!
There are lots of fun and special add-ons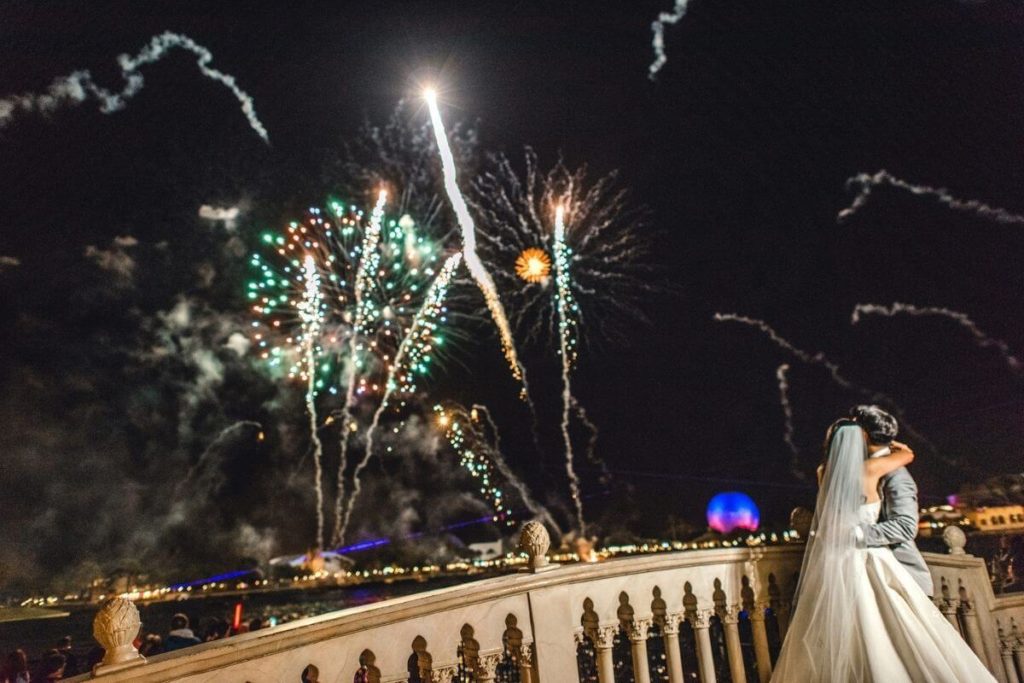 Another perk to the Escape and Wishes packages is the option to add extra entertainment aside from the usual band or DJ at the reception. 
Think cannons full of confetti, a private fireworks display, an English butler, and professional wedding crashers. I wonder if Owen Wilson is available?
Disney World is only the start of it
Last, but not least, Disney World isn't the only Disney property where you can exchange vows, hold your reception or elope.
Other Disney destinations that can host weddings include Disneyland, Aulani Disney Resort in Hawaii, and Disney Cruise Line cruises!
OK, so who's planning a Disney World wedding now!?
I don't know about you, but if you're going to spend money on a splashy wedding, you may as well do it up somewhere grand, right?
P.S. Once you book your wedding at Disney World, check out my guide to Disney World for couples to plan your honeymoon or anniversary trip!
Next up, check out more of our Disney World vacation planning guides:
This post was originally published on June 5, 2016 on Frost + Sun. It was moved to The Park Pixie on May 4, 2021 and last updated January 26, 2022.