Are you ready for a sweet adventure when you visit Walt Disney World? From soft-serve ice cream cones to creative doughnuts, the dessert options at Disney Springs are simply wonderful.
Whether you're looking for a light snack during your afternoon shopping spree or something special to end your magical night out on the town, I found 15 of the best Disney Springs dessert spots to try on your next trip.
Read on and prepare yourself for deliciousness!
Chef Art Smith's Homecomin'
Dining in Disney Springs is an experience all in itself, and Chef Art Smith's Homecomin' definitely delivers!
The restaurant offers a delicious selection of classic Southern desserts that are sure to please everyone from the hummingbird cake (pineapple-banana cake with cream cheese frosting) to chocolate pecan pie.
No matter your tastes, there's something on this menu sure to leave your mouth watering and sweet tooth satisfied at Chef Art Smith's Homecomin'.
Gideon's Bakeshop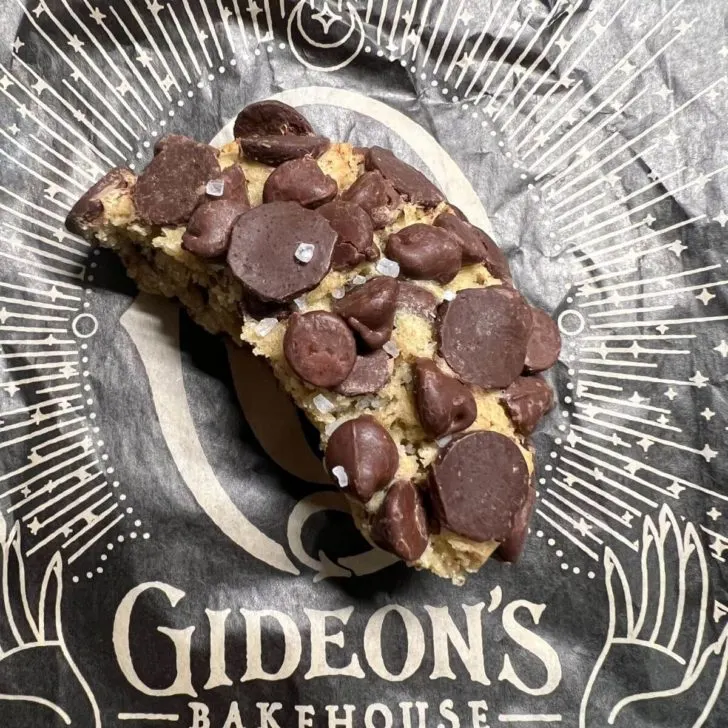 Gideon's Bakeshop has the sweetest desserts in Disney Springs!
From the original chocolate chip cookies to tasty cake slices, this delightful bakeshop truly knows how to satisify sweet cravings – especially chocolaty ones!
Its classic chocolate chip cookie is a fan favorite with its super crispy outside and ooey-gooey inside.
Gideon's also has incredible cake slices too, with rotating flavors like chocolate churro and Andes mint cookies and cream.
With sweet treats this tempting, it's no wonder that Gideon's is one of the most popular spots in Disney Springs!
Marketplace Snacks
If you're looking for something as equally cold as it is sweet while shopping in Disney Springs, check out Marketplace Snacks where they have a great selection of bubble waffle sundaes.
Bubble waffle sundaes are made with crunchy bubble waffles filled with soft serve ice cream and an assortment of toppings, from hot fudge and caramel sauce to milk chocolate pearls and whipped cream.
The Ganachery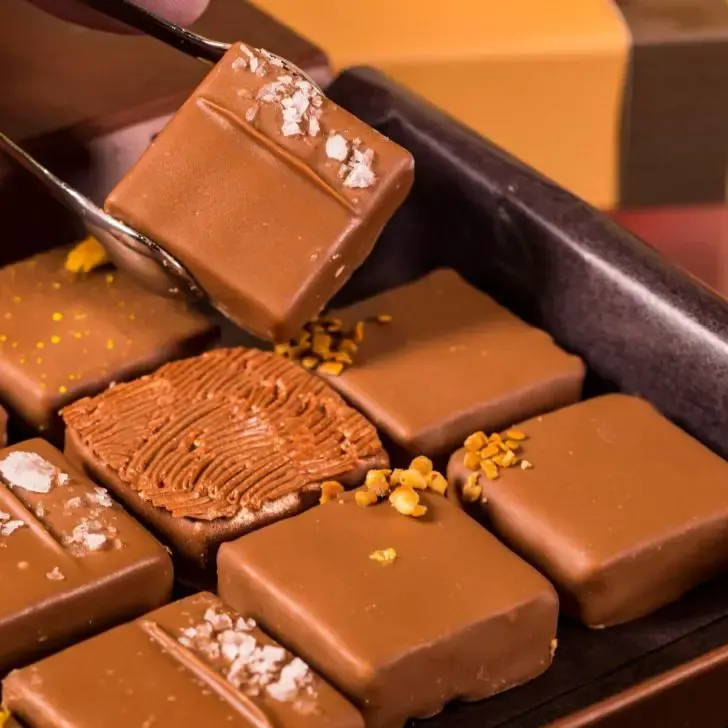 The Ganachery in Disney Springs serves up specialty items such as the Mickey Mouse chocolates, The Ganachery Chocolate Flight, salted caramel ganache cake pop, and housemade s'mores. It's basically a chocolate lovers' dream!
All creations are made with quality ingredients and rich in flavor, perfect for all of your dessert needs.
Not quite in the mood for dessert yet? Get your chocolates to go for a midnight snack or to indulge after you return home from Disney World.
Ghirardelli Soda Fountain and Chocolate Shop
If you're looking for an ice cream sundae experience like no other, head to the Ghirardelli Soda Fountain and Chocolate Shop in Disney Springs.
Not only is this ice cream parlor a great place to pick up delicious ice cream sundaes, but they also sell their delicious chocolates and truffles.
Whether you choose one of their classic ice cream combinations or go for something more adventurous like a caramel-filled banana split, you're sure to be satisfied with your experience at the Ghirardelli Soda Fountain and Chocolate Shop.
Erin McKenna's Bakery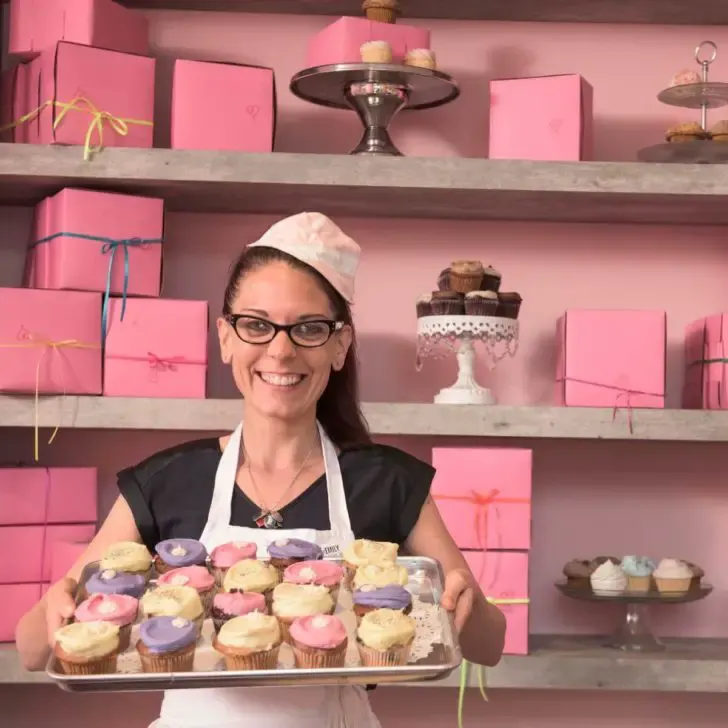 If you have food allergies but want to enjoy a treat while on vacation, Erin McKenna's Bakery NYC is your spot!
Everything in this bakery is dairy-free, egg-free, gluten-free, soy-free, wheat-free, kosher, vegan, and made without refined sugar.
Despite being made without the typical bakery ingredients, there is plenty to choose from: cakes, cupcakes, bagels, cookies, scones, donuts, biscuits, and brownies are just a few of the options.
So if your tastebuds are ready for a gluten-free adventure, it's time to head over to Erin McKenna's Bakery NYC and explore all of their incredible desserts!
Amorette's Patisserie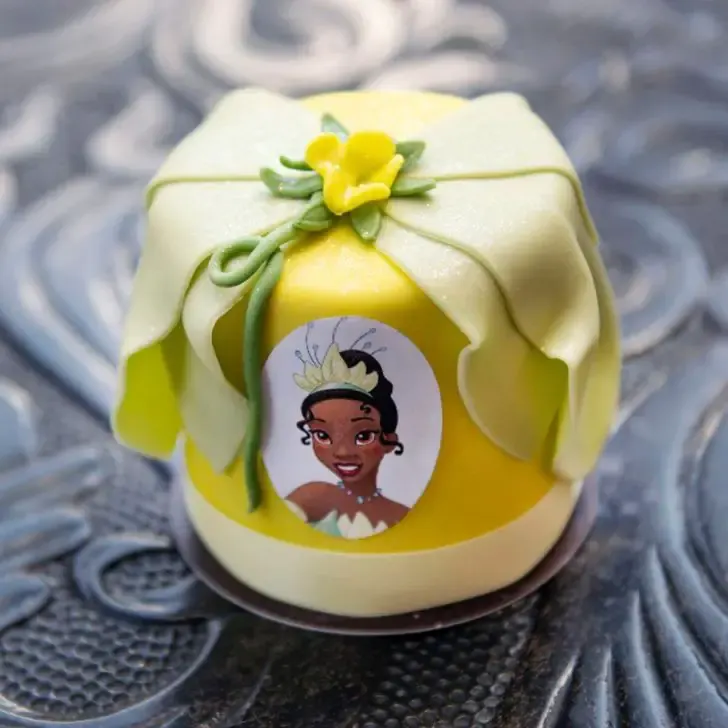 If you're celebrating something special and want something sweet, look no further than Amorette's Patisserie.
This french bakery offers some of the most indulgent desserts around, from their signature petit cake with its shimmering colorful glaze to their moist chocolate chiffon cake.
For those looking to add a bit of Disney magic to your dessert, try out the Mickey Mousse, a chocolate mousse filled petit cake that looks like Mickey Mouse. It's just as flavorful as it is adorable!
Häagen-Dazs Kiosk
From classic waffle cones to delectable milk shakes, Häagen-Dazs at Disney Springs is the perfect spot for a cool-down treat.
They have an assortment of classic flavors, like cookie dough and rocky road, so it won't be hard to find something everyone in your group will like!
Sprinkles Disney Springs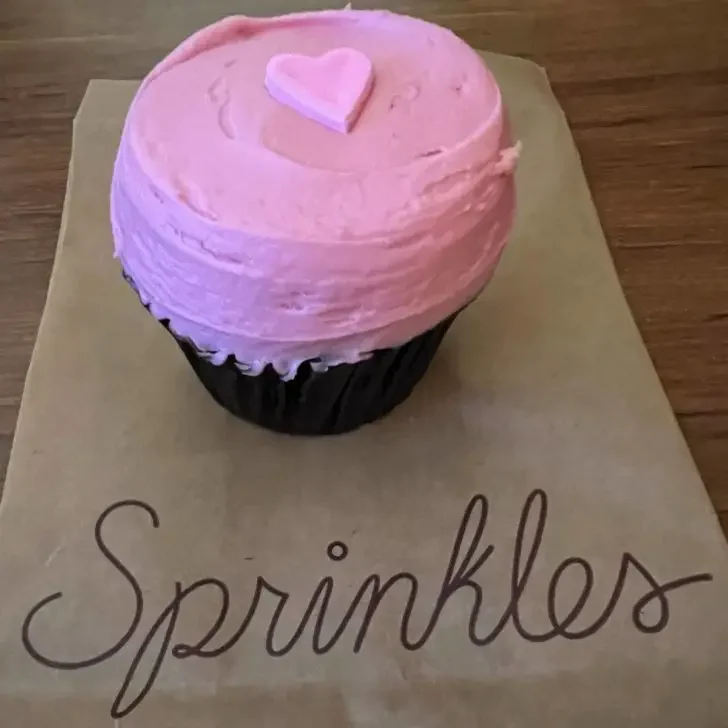 Sprinkles Cupcakes in Disney Springs is the perfect place to get a delicious bite-sized dessert.
The cupcake ATM is a must-try – it dispenses freshly baked cupcakes, cupcake mix, and even cupcake apparel! It's sure to be a hit with young and old alike.
You can also choose from a menu of classic cupcakes, like red velvet, as well as limited-time flavors, like chocolate raspberry with chocolate chips embedded in the cake (as seen above).
Goofy's Candy Company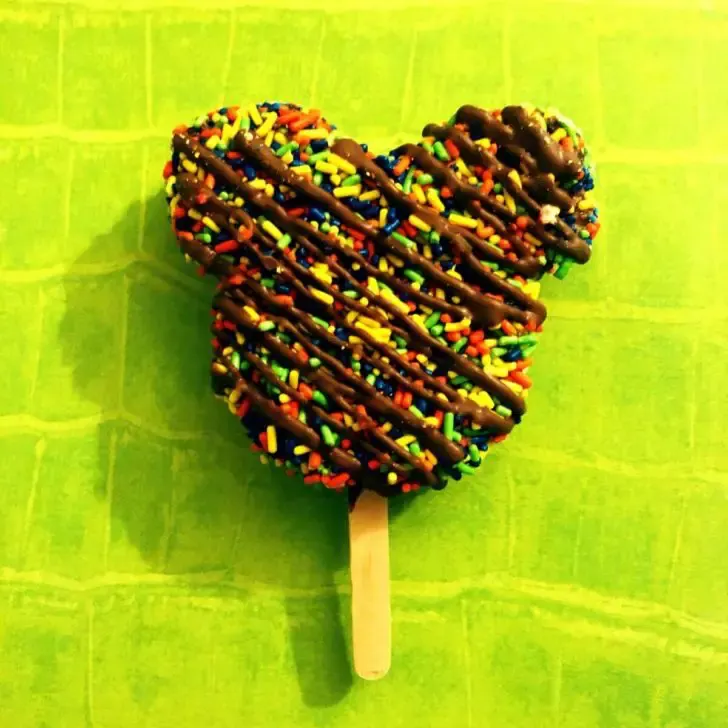 If you're in the mood for a sweet treat, look no further than Goofy's Candy Company at Disney Springs!
Not only is the space cheerful and inviting with Mickey Mouse drawings on the wall, but the selection of treats will have your mouth watering.
Whether you're looking for a Mickey Rice Krispie Treat or a warm Caramel Apple to enjoy while exploring Disney Springs, Goofy's is sure to have something that satisfies your sweet tooth.
Everglazed Donuts and Cold Brew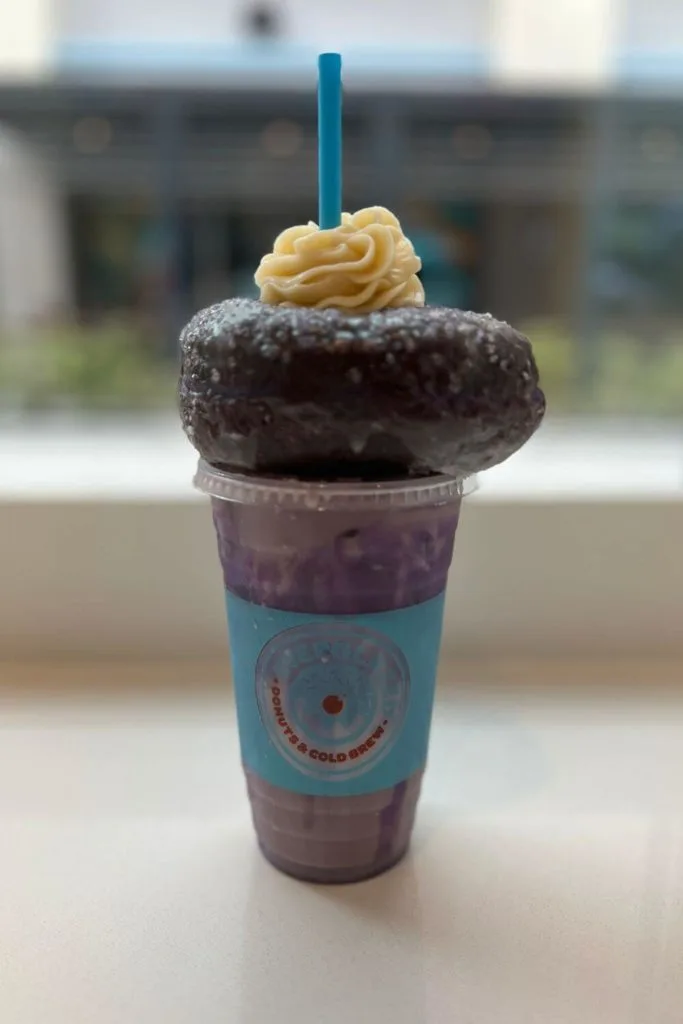 Everglazed Donuts and Cold Brew in Disney Springs is a great place to stop for dessert!
Not only does this donut shop offer an assortment of delicious donuts, but also a selection of premium-roasted specialty coffees.
The treats range from classic donuts, like chocolate iced with sprinkles, to inventive flavors, like maple double bacon and purple ube glazed.
On top of that, they specialize in cold brew and nitro coffee with an endless combination of flavors like caramel, peppermint, and vanilla.
Swirls on the Water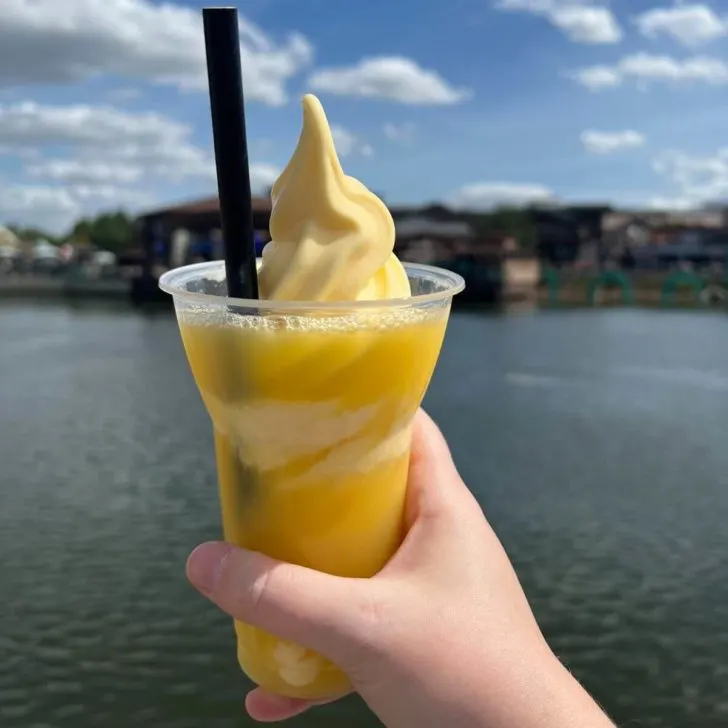 Swirls on the Water in Disney Springs is the perfect dessert destination.
Not only do they have amazing dole whip nachos made with pineapple Dole whip, waffle cone chips and mango boba pearls, but they also offer a Dole whip flight which lets you try three different flavors in one sitting!
Everything here is made with fresh ingredients and served with a smile, which makes for an all-around enjoyable experience.
Perfect for post-shopping relaxation or a snack after dinner, a visit to Swirls on the Water will leave you feeling happy and satisfied.
Sunshine Churros
If you're looking for an incredible dessert spot in Disney Springs, look no further than Sunshine Churros.
Not only do they offer two convenient locations to choose from, but their flavors are delightful and will transport your taste buds to paradise.
Whether you go for the classic cinnamon-sugar churro or go wild and sample a S'mores specialty creation, you'll be sure to leave with a smile on your face!
Vivoli il Gelato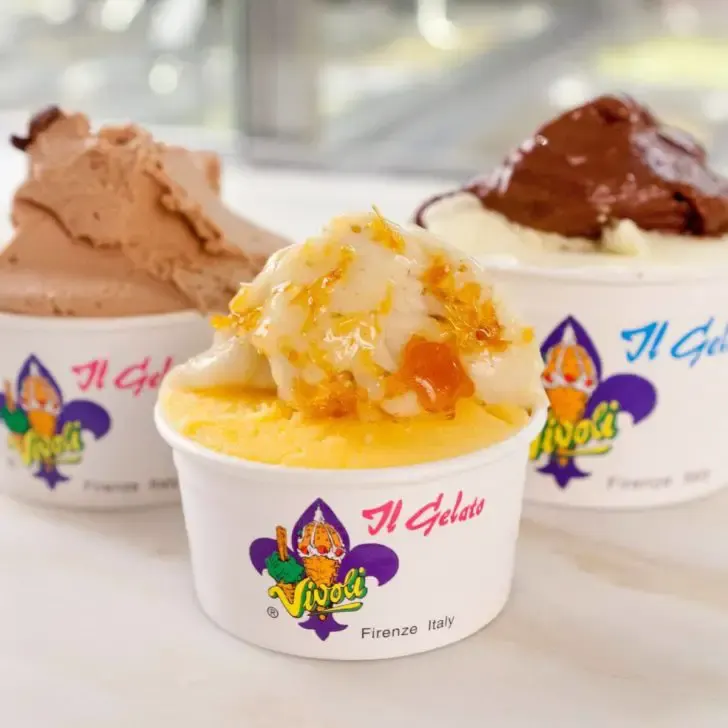 Vivoli il Gelato serves up delicious gelato made with traditional Italian recipes that have been passed down for generations.
This popular scoop shop is so popular, they recently added a second location: a gelato cart near the LEGO store and World of Disney.
You can choose from an ever-changing selection of creamy flavors, like strawberry, tiramisu, dolce de leche, cannoli, and vanilla bean.
Don't miss out on this delicious Disney Springs destination the next time you're around!
Salt & Straw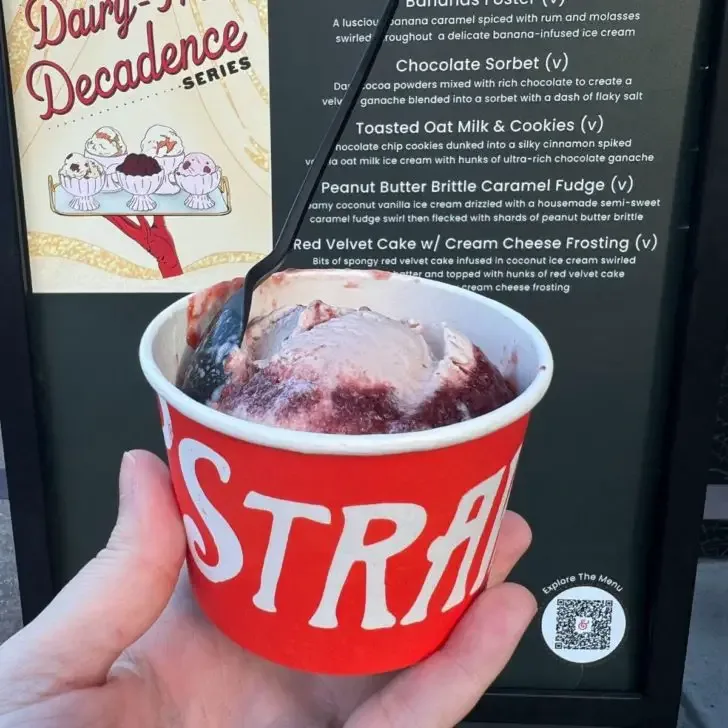 Visiting Disney Springs is already an incredible experience, and now it can be even better with a trip to the Salt & Straw ice cream shop.
With ice cream made from scratch every day and a rotating menu featuring unique flavors like Strawberry Honey Balsamic with Black Pepper (a personal favorite), your ice cream cravings will definitely be satisfied!
What are your favorite places for dessert in Disney Springs?
I hope this list made it easy for you to plan a dessert break (or two!) while on your next Walt Disney World vacation.
Before you go, be sure to share your favorite Disney Springs dessert places in the comments below.
Next up, check out the posts below:
---
About the author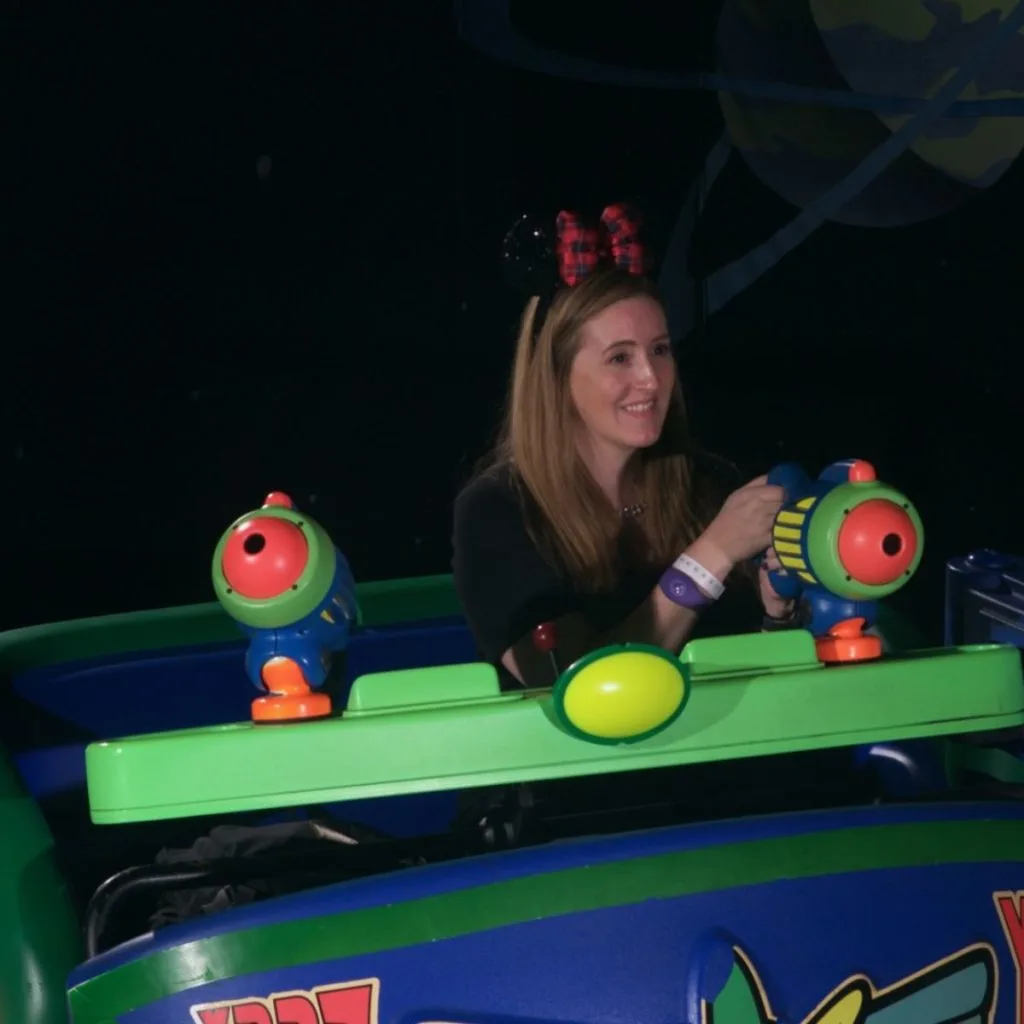 Meg Frost is the creator of The Park Pixie, where she covers Disney World, Disney+, and Disney fandom.
She holds an M.A. in Journalism from Northeastern University and B.S. in Communication & American Studies from University of Miami.
---
This post was originally published February 16, 2023. It was last updated July 1, 2023.