Disney World is a fabulous spot for a foodie vacation, especially with its food-centric festivals at Epcot, like the Flower & Garden Festival and Food & Wine Festival.
With so many delicious options, it can be hard to decide what to spend money or snack credits on.
Don't worry – I got you!
Across all my trips at Disney World, my family and I have snacked our little hearts out to tell you what's worth it and what's not.
In this post, I'll talk about the absolute best snacks at Disney World, across all of the parks, resorts, and entertainment districts.
This list has a little something for everyone – sweet, savory, salty, tart, and delightful combos of these flavor profiles.
Black caf cold brew from Kat Saka's Kettle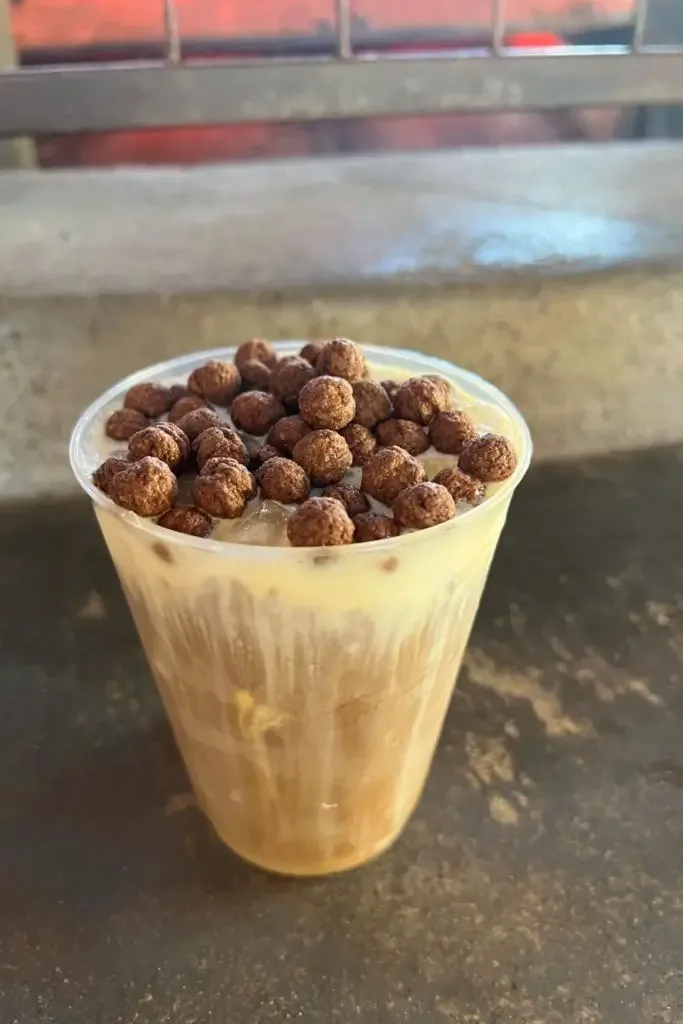 If you need a jolt of caffeine, whether it be during rope drop or after an afternoon nap, the black caf cold brew from Kat Saka's Kettle in Hollywood Studios' Galaxy's Edge will definitely hit the spot.
This delicious Joffrey's cold brew iced coffee is topped with cream cheese cold foam and Cocoa Puffs.
Yes, it sounds weird – but just trust me on this one! It was such a hit at Disneyland that they finally brought it over to Disney World.
Caramel & candy apples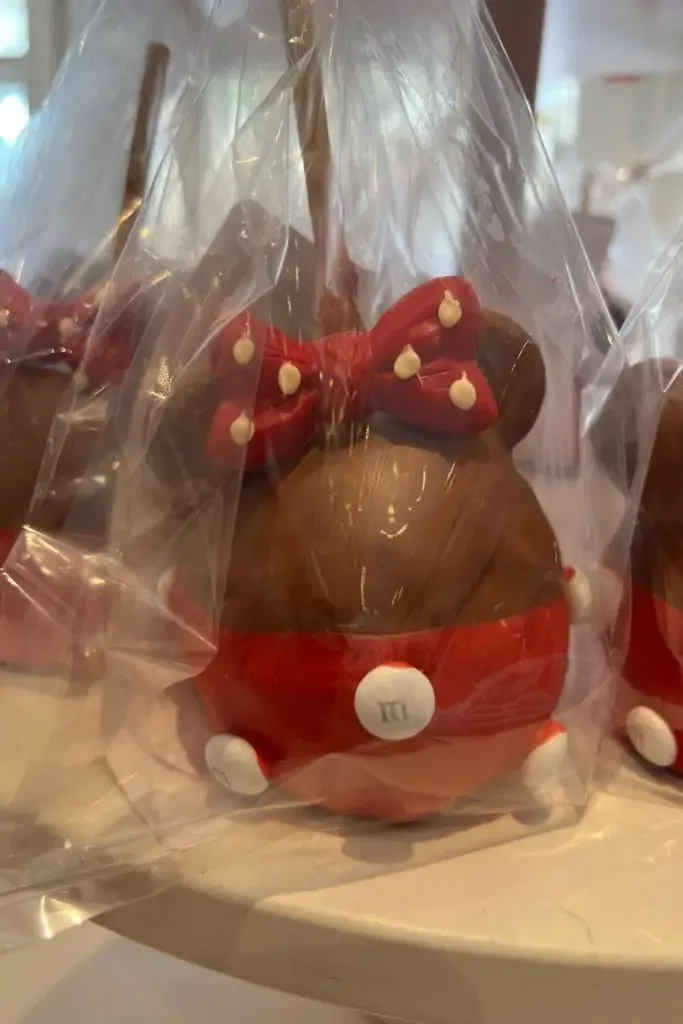 Personally I'm not a huge fan of candy apples or caramel apples, but my sister is!
Whether you get them covered in chocolate, wrapped in red hard candy, or smothered in caramel, you're bound to get something that is yummy AND super Instagram worthy.
One thing I do love about candy apples at Disney World is that they often change up the designs for the season and for special occasions.
For example, pumpkins with Mickey ears, Minnie with red and green polka dots, snowflakes, or even themed to the latest Disney movie release.
Churros
For a light, yet delicious snack, I recommend churros. Churros are a crunchy, lightly fried dough snack cut into sticks and covered with cinnamon and sugar.
You can often get them at Disney World with other topping options, like Nutella or rose gold sugar.
A few places you can get churros at Disney World are:
Animal Kingdom: Dino Diner
Animal Kingdom: Nomad Lounge
Blizzard Beach: Warming Hut
Coronado Springs Resort: Three Bridges Bar & Grill
Disney Springs: Disney Springs Marketplace
Disney Springs: Paradiso 37
Epcot: La Cantina de San Angel
Hollywood Studios: Anaheim Produce
Magic Kingdom: Cool Ship
Magic Kingdom: Pecos Bill Tall Tale Inn & Cafe
Cookies from Gideon's Bakehouse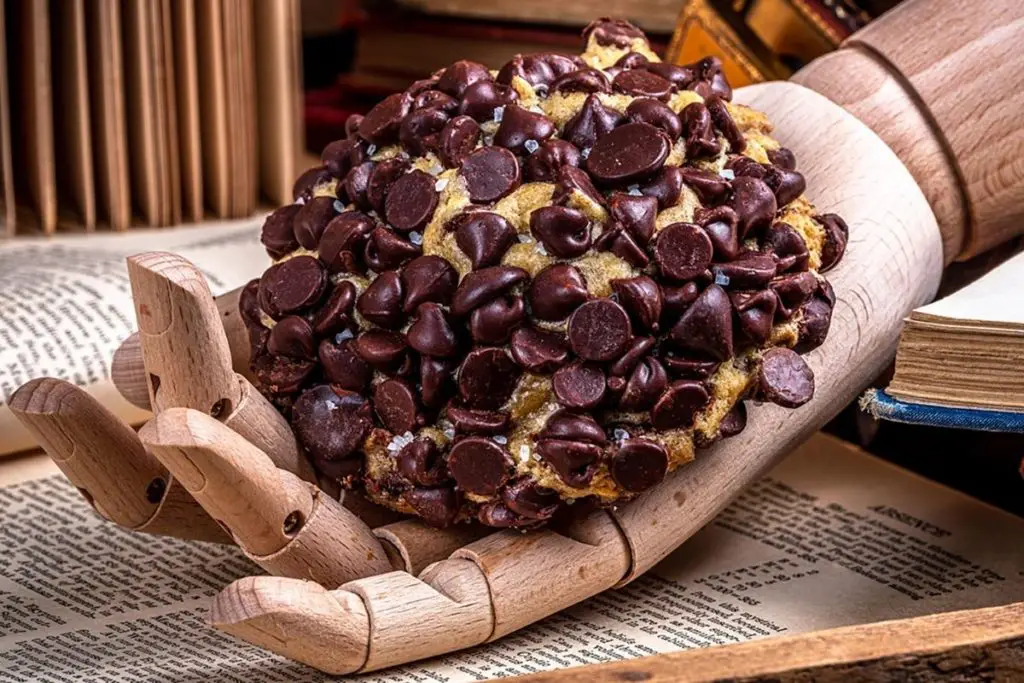 These giant chocolate chip cookies hail from Orlando bakery called Gideon's Bakehouse.
They are so massive that they explicitly state on their menu that the cookie should be split by at least 2 people.
While they used to be sold at The Polite Pig in Disney Springs, they are no longer available because Gideon's has opened a Disney Springs location!
Located in The Landing on the opposite side of Morimoto Asia, head to this bakery early on if you want to grab a specific flavor as they go FAST!
Also, most days they operate using a virtual queue.
You just go up to the attendant by the entrance and ask to be placed in the queue and they'll advise on how long the wait is.
Once a spot opens up, you'll get a text message advising that you can join the physical line.
The last time I went, the wait time was going to be at least 1 hour (not including waiting in the physical line), so unfortunately I had to skip it.
In other words, if you really, really want one, head straight there and add your name to the list so you don't miss out.
Corn dog nuggets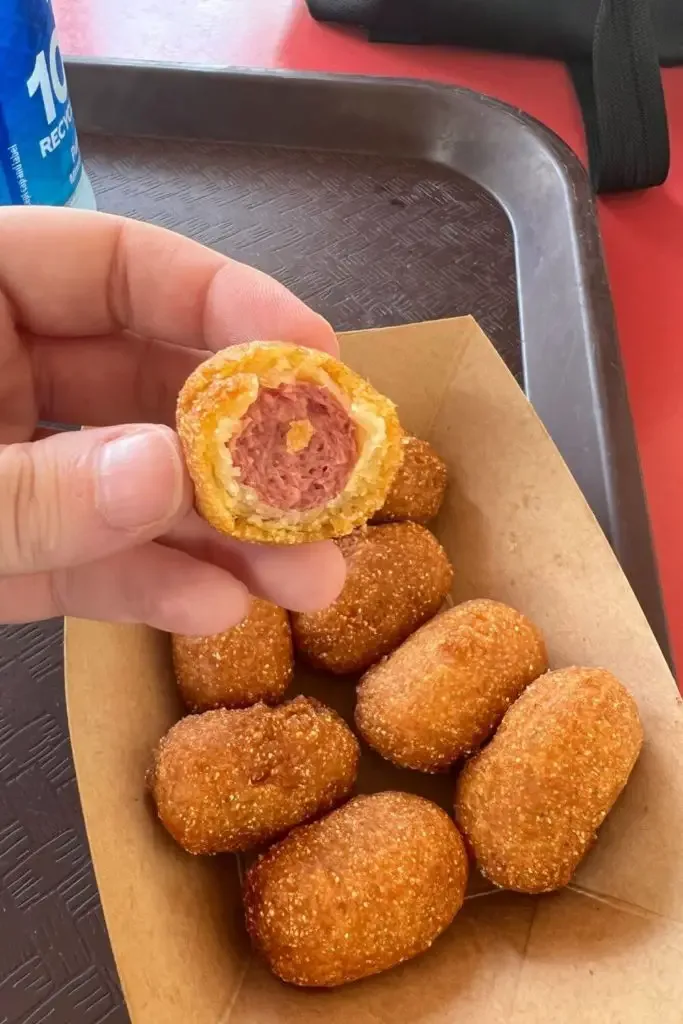 If you're a fan of corn dogs but hate the hassle of wielding a giant stick-covered hot dog, let me introduce you to corn dog nuggets.
These bite-sized wonders are essentially all the goodness of a corn dog compacted into a perfectly-sized morsel that can easily be popped into your mouth.
Plus, with the added convenience of being able to dip them into some cheese sauce (which costs extra, FYI), you won't have to worry about getting cheese sauce all over your shirt. Unless you're a particularly voracious dipper, in which case, all bets are off.
Oh and they come with a side of fries or a cutie mandarin orange.
You can get these delicious nuggets of joy from Casey's Corner or Westward Ho, both in Magic Kingdom.
Cupcakes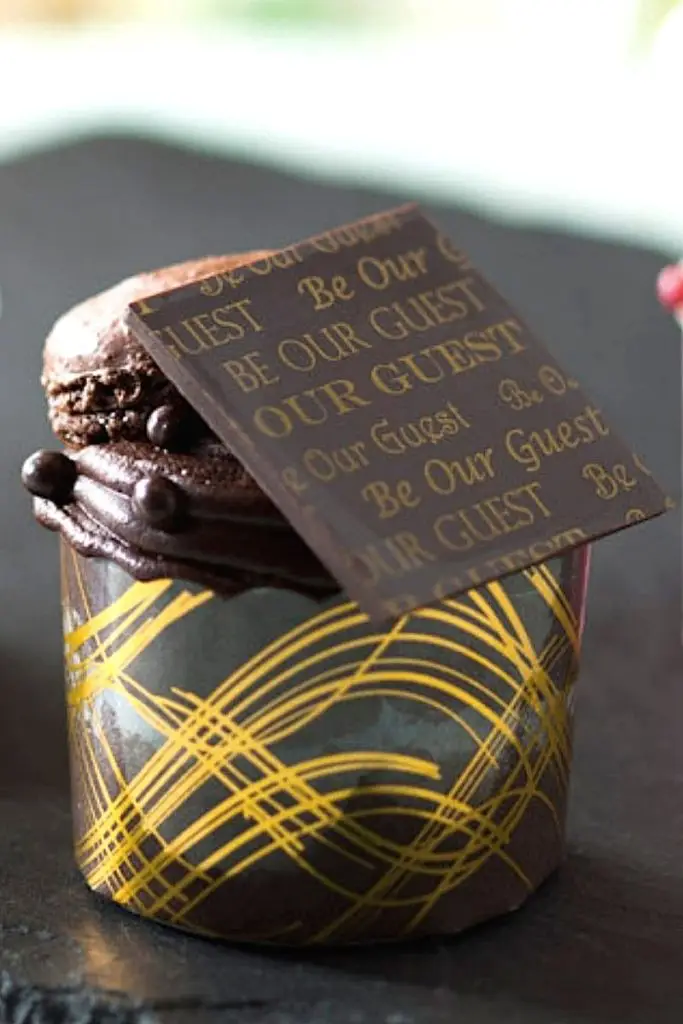 It's hard to call out an individual cupcake flavor, as there are so many delicious flavors available across all of the parks and resorts at Disney World.
But if you're looking for something sugary sweet, you can't go wrong with a classic cupcake!
Here are a few of my favorite spots to get cupcakes at Disney World:
Animal Kingdom: Creature Comforts, Harambe Market, Terra's Treats, and Zuri's Sweets Shop
Epcot: Fountain View Cafe, Karamell-Küche, and Sunshine Seasons
Hollywood Studios: Rosie's All American Cafe and Trolley Car Cafe
Magic Kingdom: Be Our Guest, Gaston's Tavern, and Main Street Bakery
Disney Springs: Erin McKenna's Bakery and Sprinkles
Disney's Boardwalk: BoardWalk Bakery
TIP: Many of the Disney resorts have a resort-themed cupcake at their food court!
Everglazed donuts & cold brew iced coffee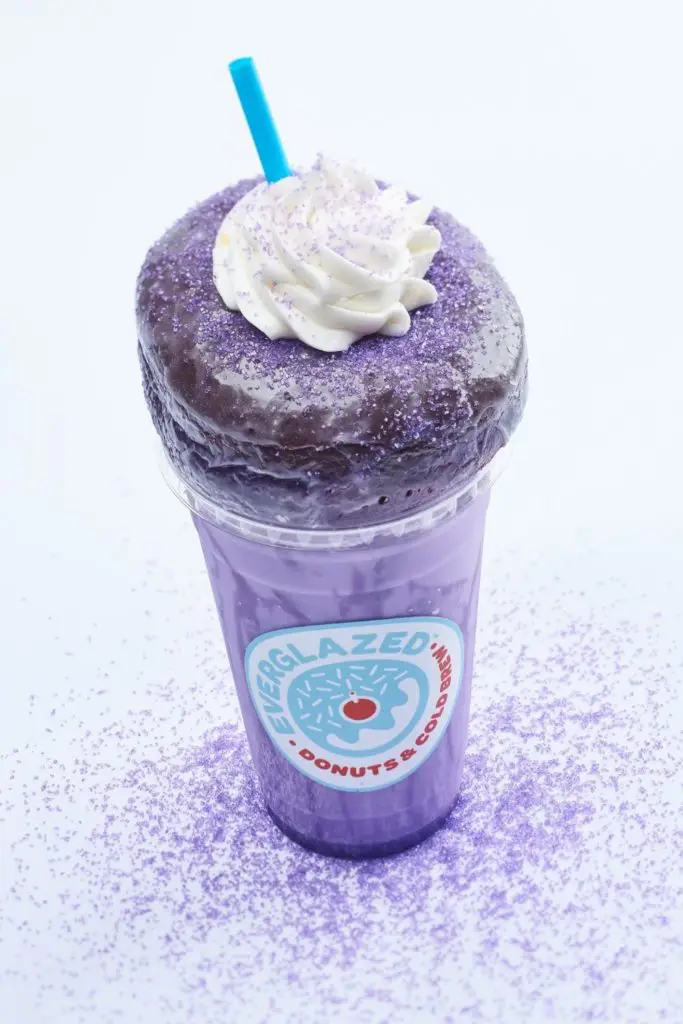 I love me a sweet and sugary donut paired with an iced cold brew coffee or latte!
While donuts can be found at many food kiosks throughout the parks and resorts, Everglazed Donuts & Cold Brew in Disney Springs is the top spot.
At Everglazed Donuts & Cold Brew you can get classic and fancy schmancy donuts, as well as a variety of coffees and lattes, like the Purple Reign iced chai and purple ube glazed donut pictured above.
Sandwiches, fries, spiked coffee, flavored milk, and soft drinks are also available at this new Disney Springs restaurant.
Ice cream from L'Artisan des Glaces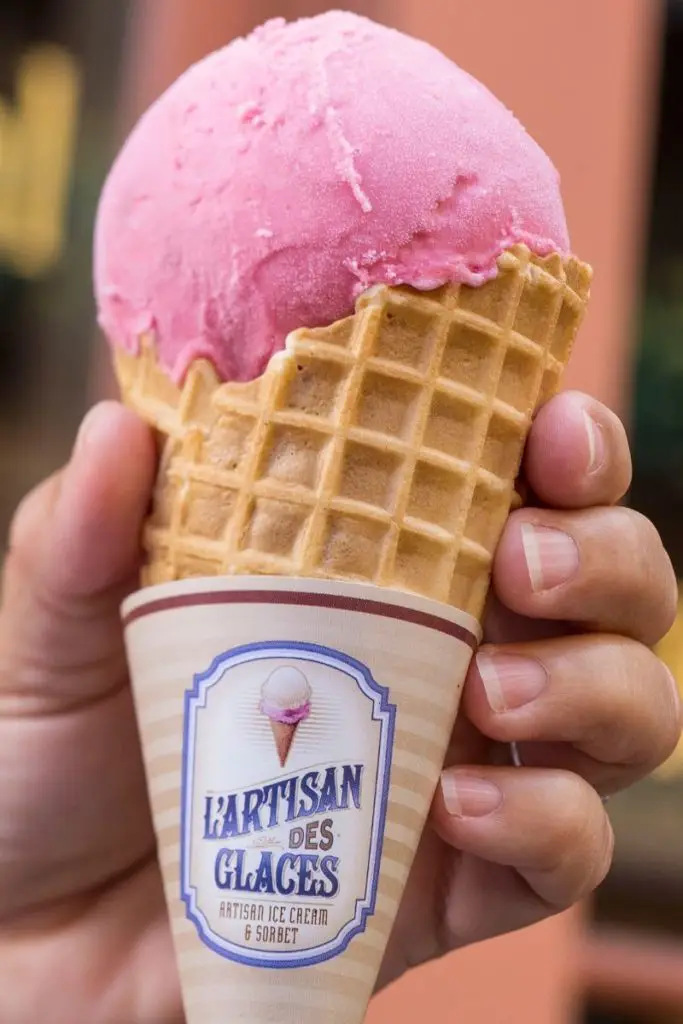 Sometimes you just want some ice cream!
While you can get ice cream or soft serve at many of the counter service restaurants at Disney World, nothing beats L'Artisan des Glaces at Epcot's France pavilion.
At this ice cream shop, you can choose from around a dozen different flavors of ice cream, and several flavors of sorbet.
But that's not all…
In addition to a classic cone or dish, you can get your favorite ice cream flavor…
In a brioche bun stuffed with your choice of flavor, then pressed warm (Croque Glacé)
Plopped in an iced latte (Café Glacé)
With Grand Marnier & whipped cream vodka or rum (Ice Cream Martini)
On top of all of those fun options, they also have French macarons with ice cream in the middle!
Jumbo Turkey Leg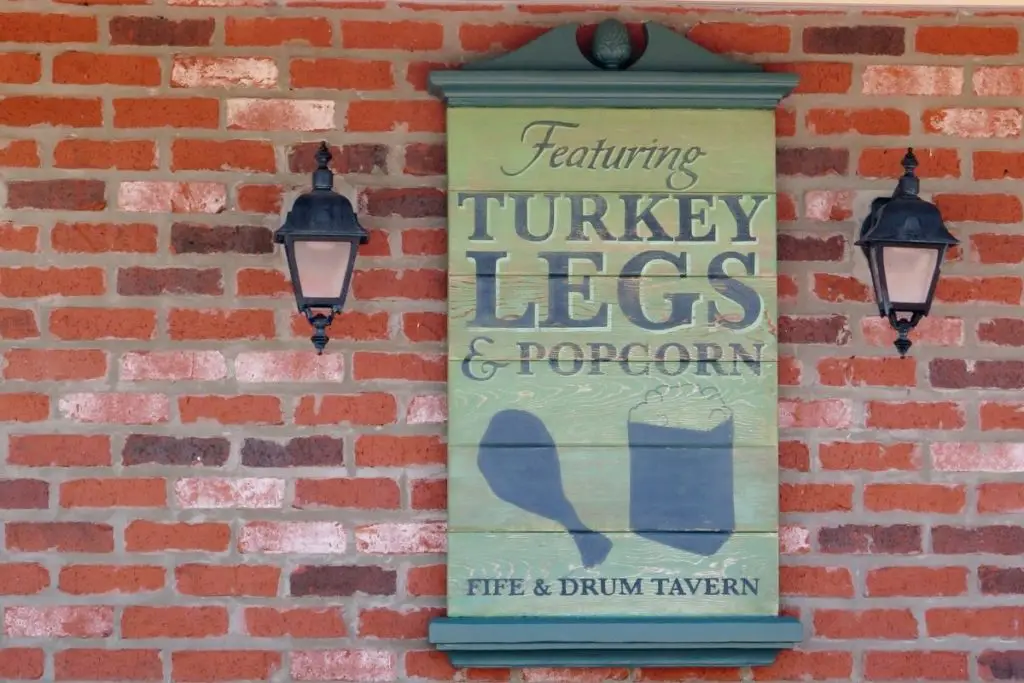 The giant turkey legs are one of those snacks that you either love or hate. There's nothing in between.
It's one of the most expensive snacks at Disney World, with prices ranging from $12.49 to $14.49.
And believe me – when they say jumbo, they really do mean jumbo!
This giant meat on a stick bone is big enough to be a meal, but can easily be shared as a snack.
The best places to get a jumbo turkey leg at Disney World are:
Epcot: Fife & Drum Tavern
Magic Kingdom: Liberty Square Market
Magic Kingdom: Sleepy Hollow Refreshments
Key Lime Pie on a Stick from Neighborhood Bakery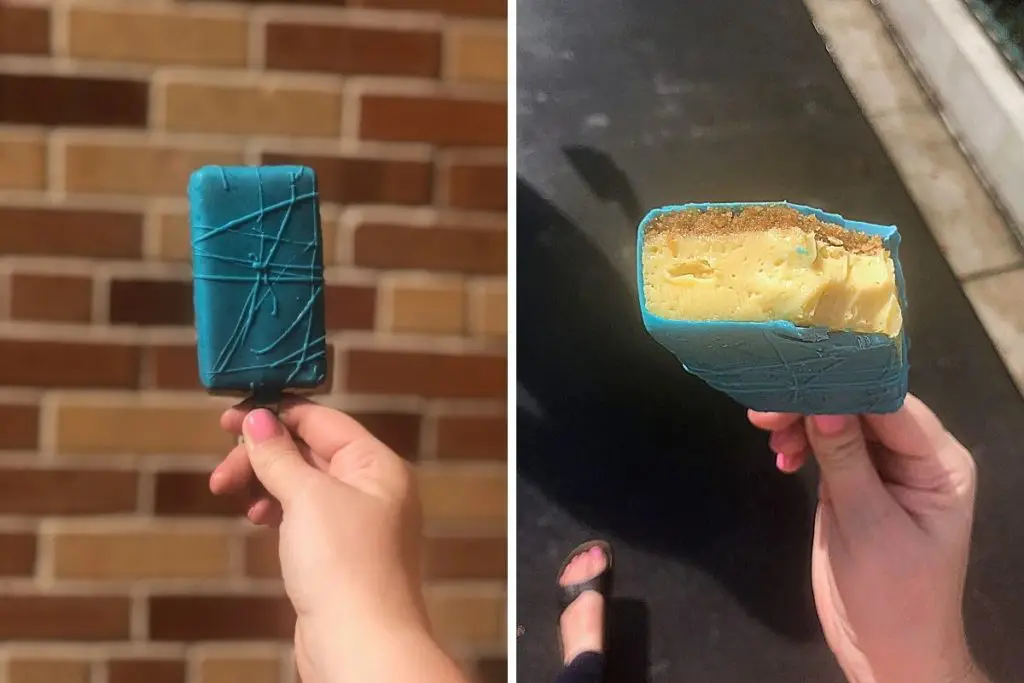 If you love tart and tangy snacks, you have to try the Key Lime Pie on a Stick at Hollywood Studios.
This popsicle-like treat includes key lime pie filling and graham cracker crust enveloped by blue-tinted white chocolate. The combination of tangy key lime and sweet white chocolate is utter perfection.
You can get this snack at Hollywood Studios at the Neighborhood Bakery at Pixar Place.
Lefou's Brew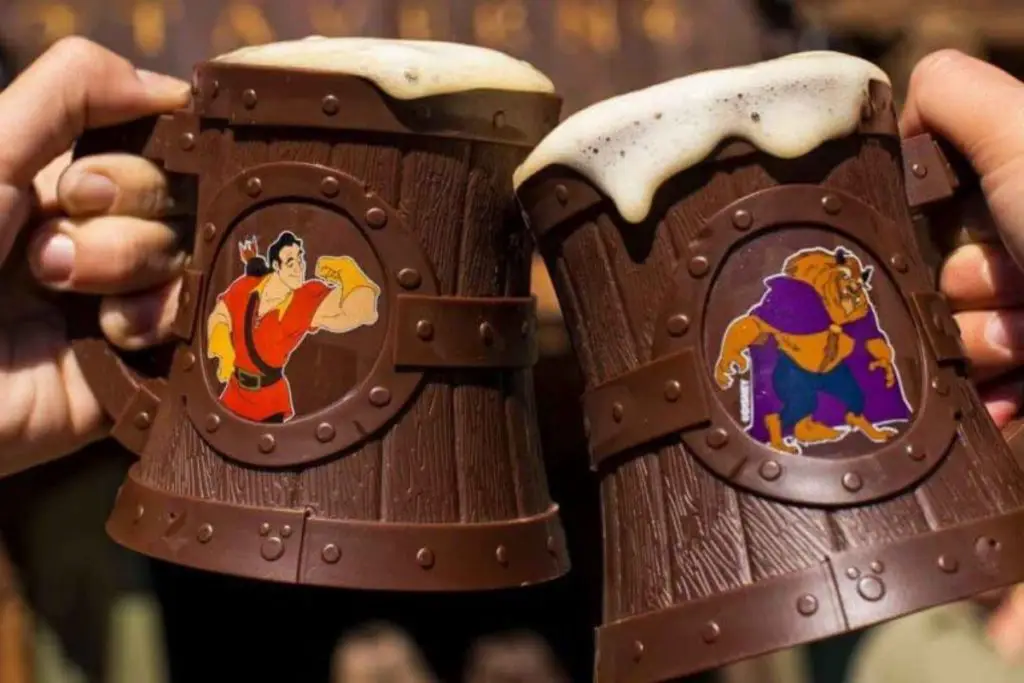 Head to Fantasyland in Magic Kingdom for this icy drink that's perfect on a hot day: Lefou's Brew.
This refreshing drink is apple juice with marshmallow flavor with passion fruit and mango foam on top – Starbucks, look out!
For an extra cost, you can get Lefou's Brew in a souvenir mug similar to the one seen in the animated classic, Beauty and the Beast, during the Gaston musical scene.
Mickey crisped rice treats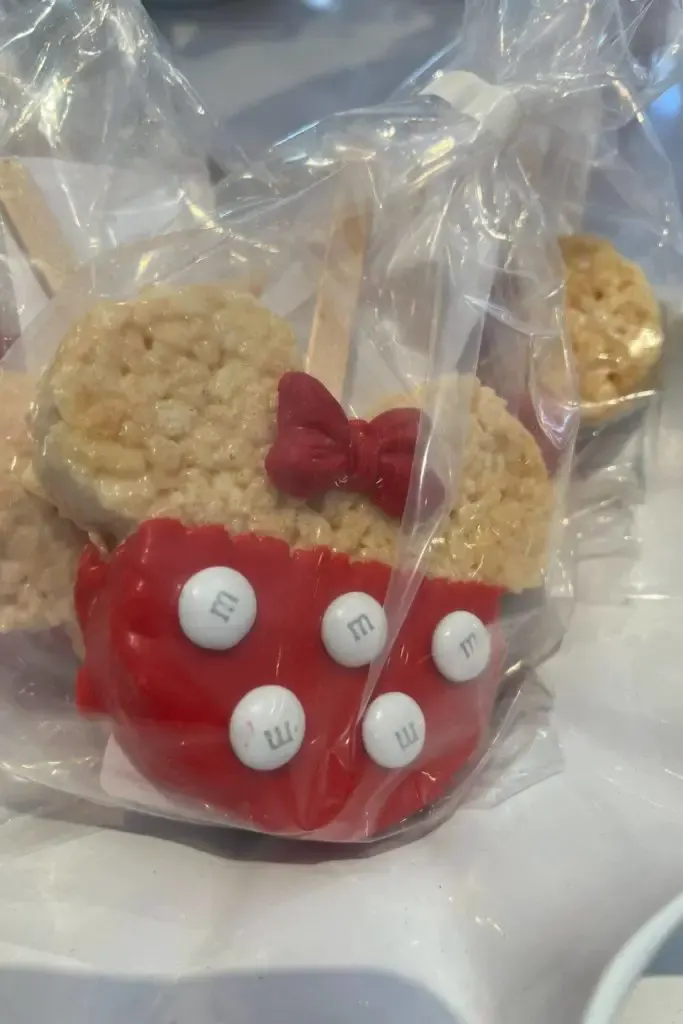 One of my all time favorite snacks at Disney World are Mickey crisped rice treats. Or as we all call them rice krispy treats, even if they aren't actually made with Rice Krispy cereal.
I always get a few at Goofy's Candy Co in Disney Springs on my last day there to take home with me.
It's a great way to use up snack credits if you have any left over from the Disney Dining Plan.
At Goofy's Candy Co in Disney Springs, you can get your Mickey Krispy Treats decorated with your favorite toppings, like M&Ms, sprinkles, chocolate, white chocolate, and more.
I love that I can customize them to include the candies or sweets I'm craving at the time!
Mickey ice cream sandwich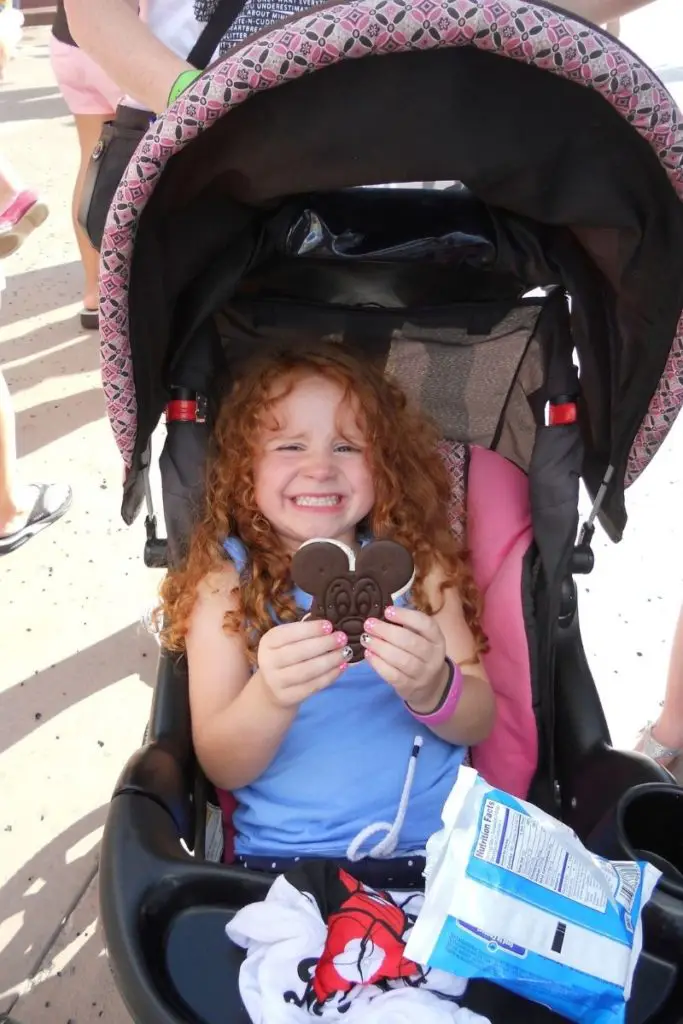 Another classic snack at Disney World is the Mickey-shaped ice cream sandwich.
My niece loves these (as you can tell from the photo above)!
This snack is pretty simple: vanilla ice cream sandwiched between two soft chocolate cookies, all in the shape of Mickey Mouse.
You can find Mickey ice cream sandwiches at nearly every snack stand that serves ice cream, so they aren't hard to find, either.
Mickey premium ice cream bar
One of my sisters' favorite snack at Disney World is the classic Mickey premium ice cream bar. It's simple, but refreshing, especially on a hot day, and not overly sweet.
The best part is that now you can buy them at your local grocery store, too!
They are a bit pricey compared to similar ice cream bars at the grocery store. But when you're craving something Disney or have a special occasion to celebrate, I think they are worth the price.
Mickey pretzels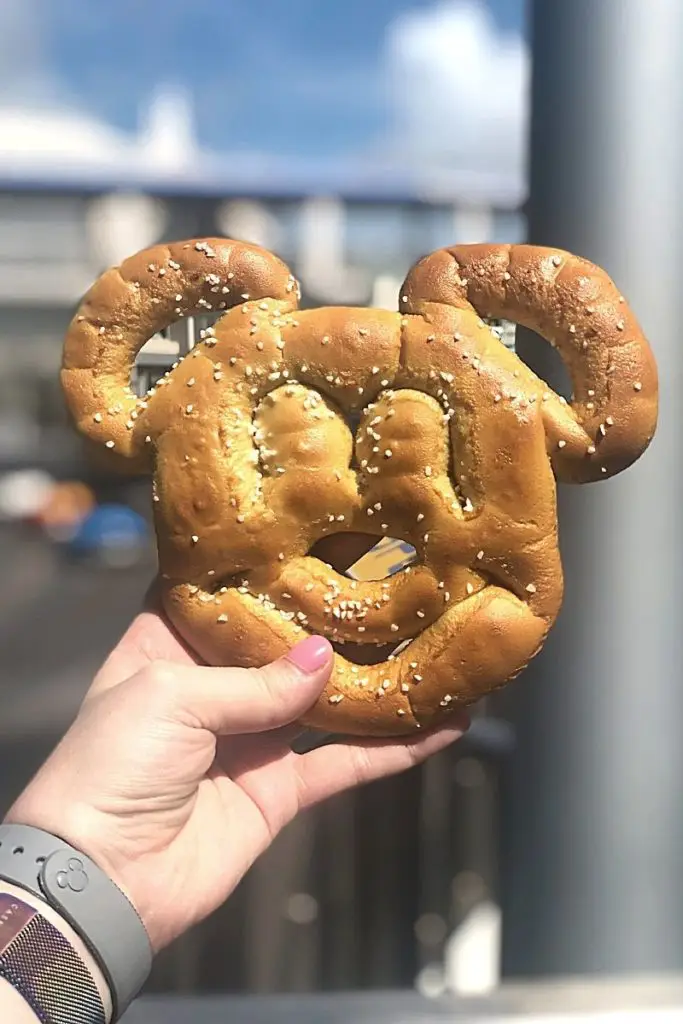 When I need something a little salty or savory, I go for the iconic Mickey Mouse shaped pretzel.
It's soft, it's carb-y, it's a little bit salty, which is exactly what you need sometimes.
The Mickey pretzel is even better with some cheese dip that I don't think is actually cheese (but it's still good, and that's all I care about).
Mickey-shaped beignets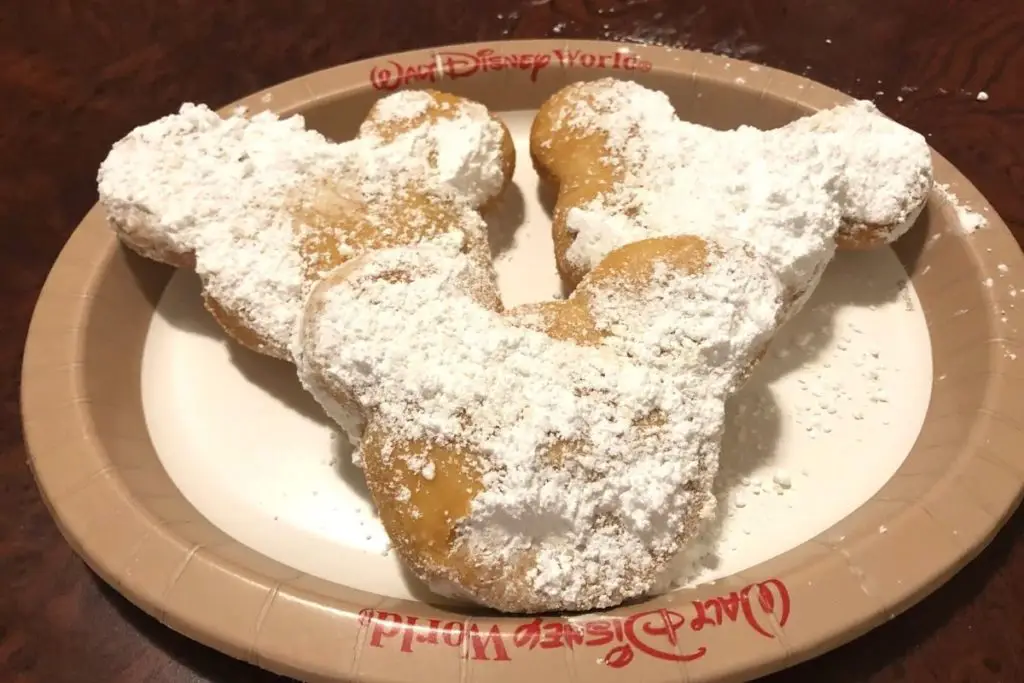 Tiana fans – this one's for you!
Did you know you can get Mickey Mouse shaped beignets, similar to the ones Tiana makes in Princess & the Frog, at Disney World? Yes, it's true!
These delicious bite-sized snacks are very similar to fried dough, but with more pockets of air in the middle, and are served warm with powdered sugar on top.
The bad side? You can't get these delicious beignets at the parks, so you'll have to stay at or make the trek to Port Orleans – French Quarter if you want a taste.
The beignets are available at Scat Cat's Club at the Port Orleans – French Quarter resort.
Here's to hoping they expand availability of this snack in the future!
Night Blossom & Rum Blossom from Pongu Pongu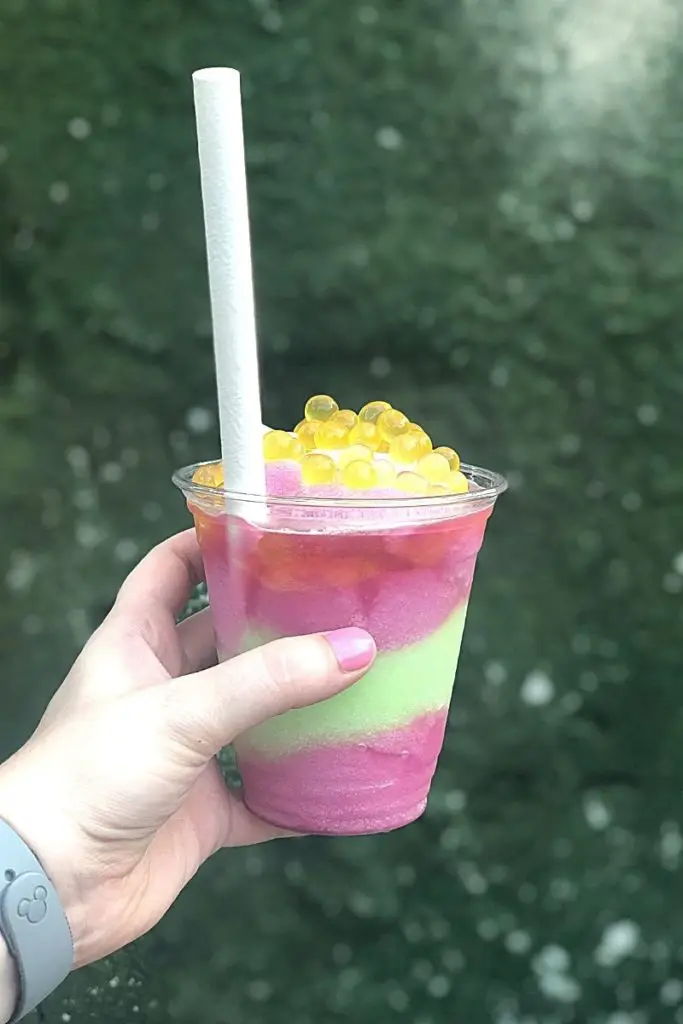 I love to grab one of these tart slushie's at Pongu Pongu before popping into line for Flights of Passage or the Na'vi River Journey.
The Night Blossom is super refreshing, especially with the boba that bursts in your mouth with a tart passion fruit liquid.
Plus, if you want a bit of a kick, you can get the Rum Blossom, which is just the Night Blossom with rum added to it!
Norwegian school bread from Kringla Bakeri Og Kafe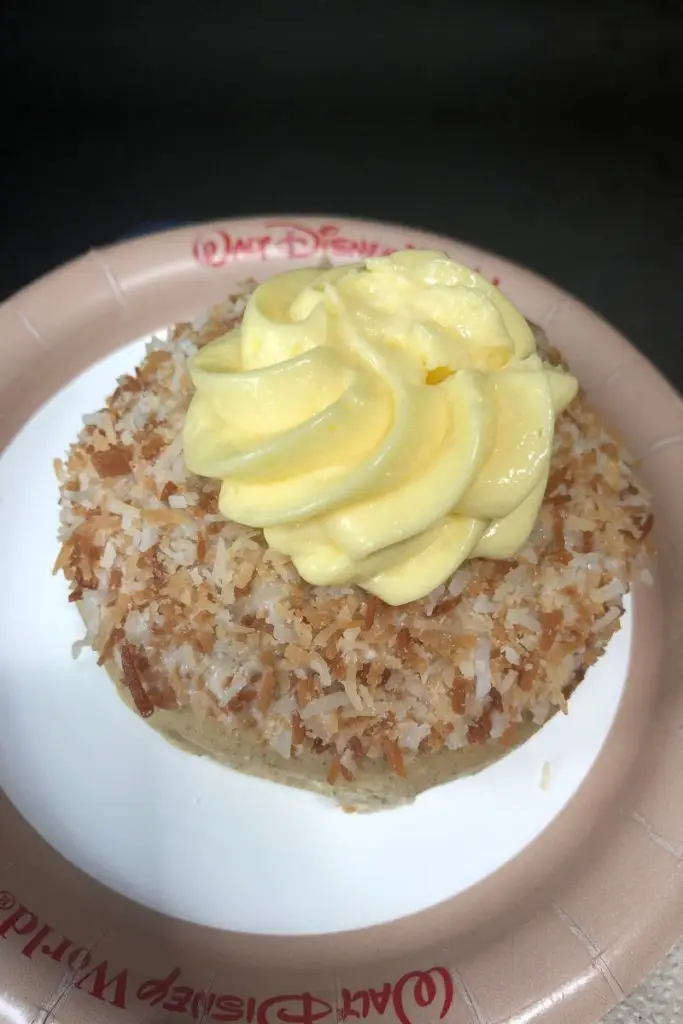 Norwegian school bread is another long time favorite snack for Disney World guests. It's a cardamom bun stuffed with custard and topped with coconut.
It is absolutely devine – very sweet, a teeny bit spicy from the cardamom, and a very light crunch from the coconut.
You can get School Bread from Kringla Bakeri Og Kafe at Epcot's Norway pavilion.
Petite cakes from Amorette's Patisserie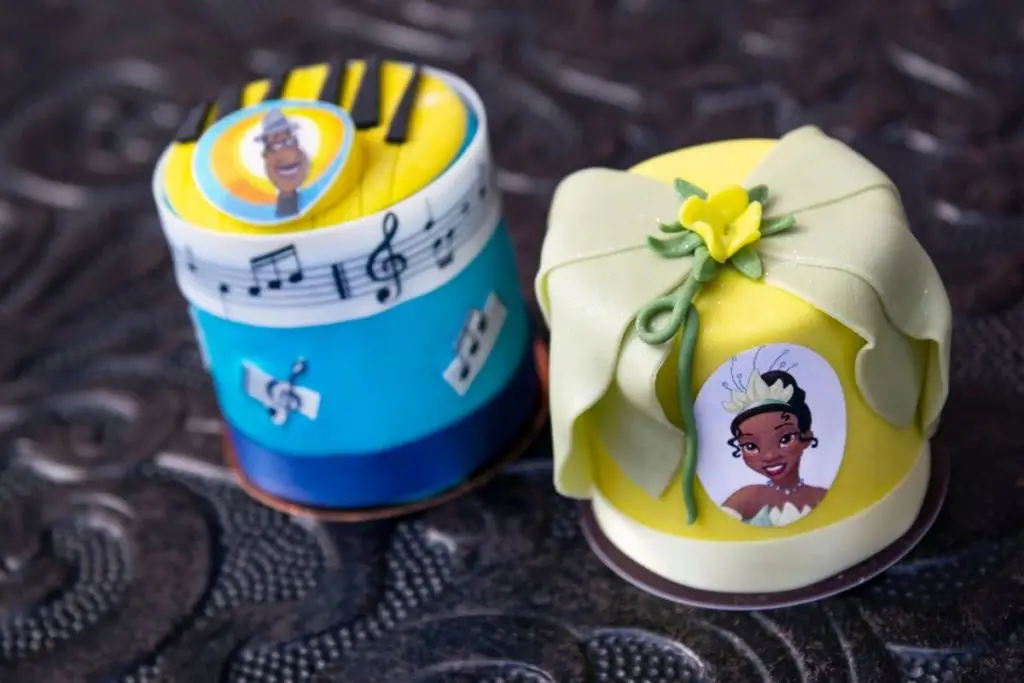 If you're celebrating something special while at Disney World, I highly recommend stopping by Amorette's Patisserie in Disney Springs for a petite cake.
These gorgeous cakes are elaborately decorated to an ever-changing list of Disney themes – princesses, Wandavision, Soul, and Princess & the Frog to name a few.
Check out their Instagram page to check out the themes they have available during your visit.
Pineapple Dole whip
The one, the only, the iconic pineapple Dole whip! This soft serve ice cream is a long time favorite of Disney fans.
Part of the allure of this loved-by-many snack at Disney World used to be that you could only get it at Disney World, Disneyland, and Hawaii.
But over the years, pineapple Dole whip has started to pop up all over the US, likely due to its popularity at the Disney parks.
For example, in my home city of Boston, Citrus & Salt has boozy pineapple Dole whip on its dessert menu.
Learn more about where you can get Dole Whip at Disney World in this post.
Popcorn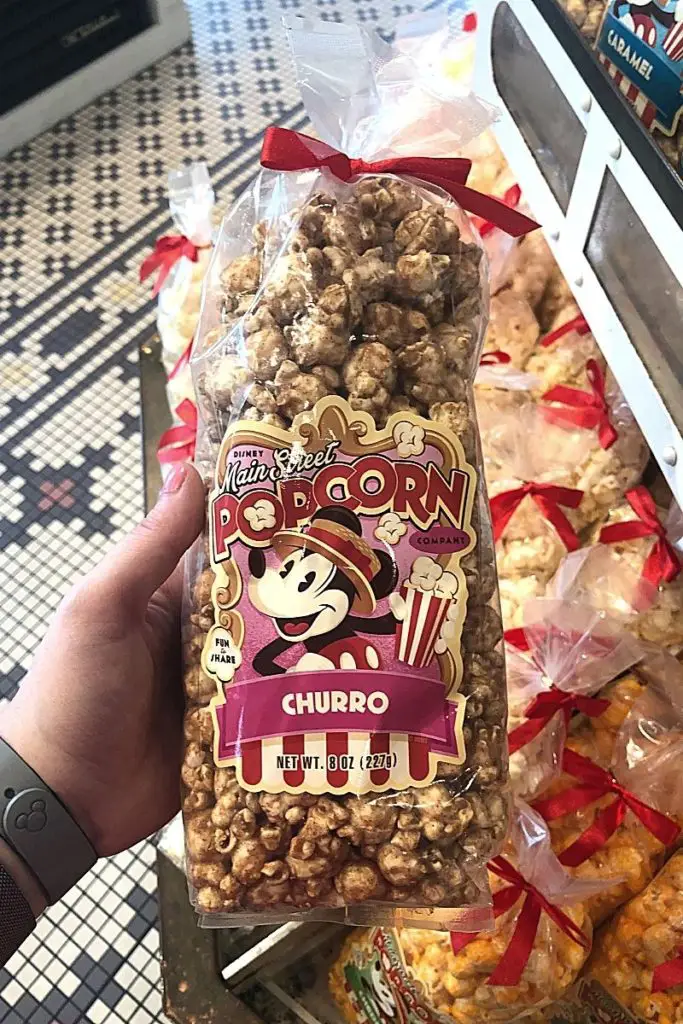 You can't go wrong with classic popcorn at Disney World!
Whether you get a paper bag filled with fresh popped popcorn, a pre-filled take-home bag in a variety of flavors, or a keepsake popcorn bucket filled to the brim, your tastebuds will thank you.
This treat can be found pretty much anywhere at the Disney World theme parks, so you won't have to hunt for it.
If you're interested in trying fun flavors outside of the usual butter, kettle corn or cheddar, head to Epcot's World Showcase.
At Karamell-Küche in the Germany pavilion you can get Werther's caramel popcorn. At the Canada pavilion popcorn stand, you can get maple-flavored popcorn.
Poutine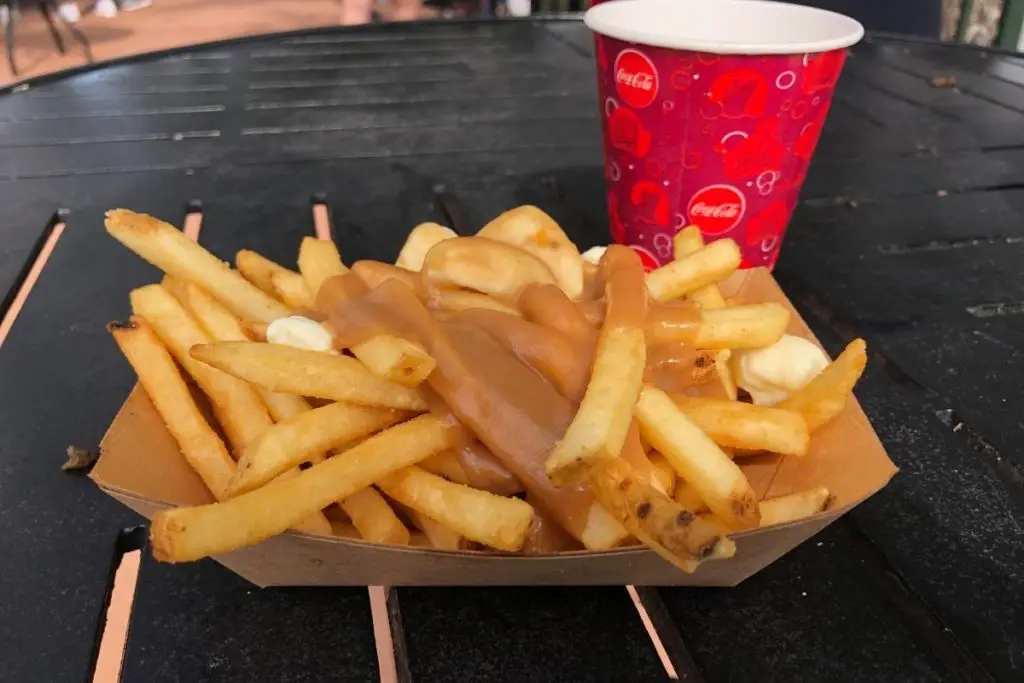 What the heck is poutine, you ask?
Poutine is a traditional Canadian snack consisting of french fries, gravy, and squeaky cheese curds. It sounds weird, but it tastes heavenly!
You can get this delicious snack at Epcot's Canada pavilion or at The Daily Poutine food kiosk at Disney Springs.
The Daily Poutine servers a variety of versions of this savory snack, such as Latin poutine with pulled pork, black beans, and cotija cheese and Italian poutine with meat sauce, mozzarella, and pecorino romano cheese.
Ronto Wraps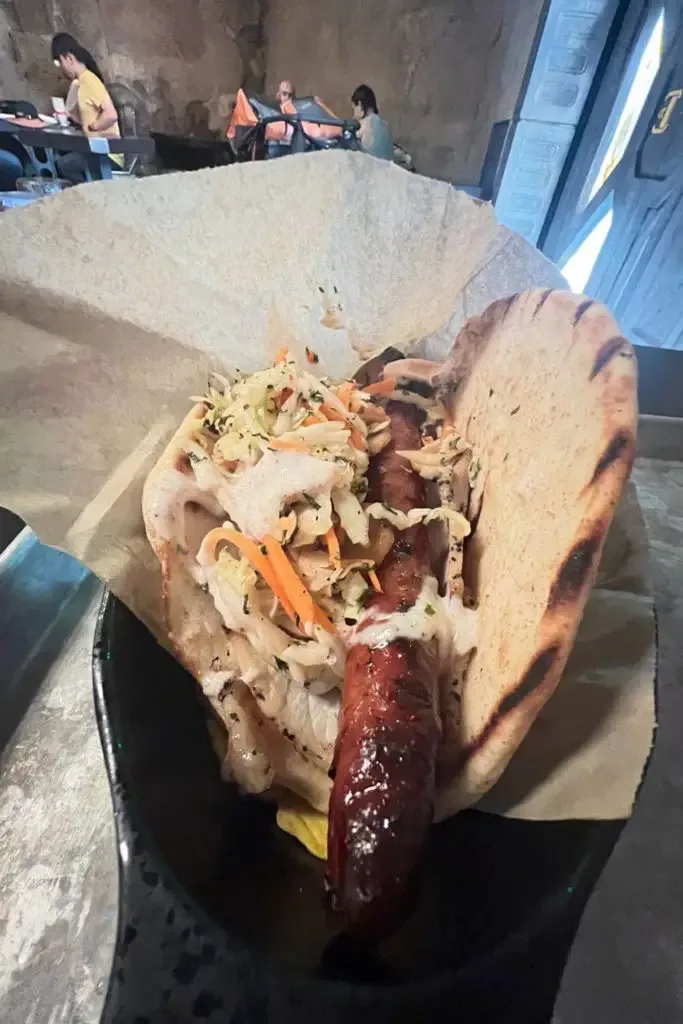 One of my newest favorite snacks are the Ronto Wraps from Star Wars: Galaxy's Edge at Hollywood Studios.
In the morning, you can get them with a little eggs and cheddar cheese added to the pork sausage wrap, making quite the hearty breakfast.
But the OG is my favorite – pork sausage, tangy slaw, roasted pork, and peppercorn sauce in a pita bread wrap.
You can get a ronto wrap at Ronto Roasters, which closes at 3 PM, as well as Docking Bay 7 Food and Cargo, which is open til close.
Starbucks iced drinks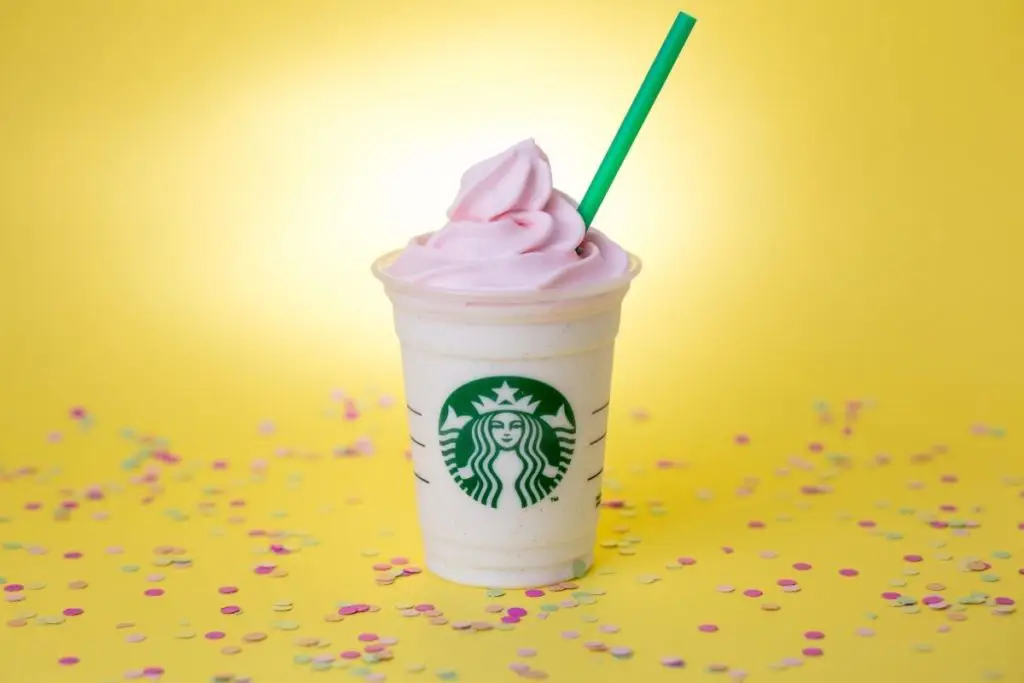 OK, so not exactly unique to Disney World – but if you love Starbucks, then you'll be happy to learn that there are 6 Starbucks at Disney World!
The best part is, if you have the Disney Dining Plan, you can use snack credits on any size drink! Woohoo!
Vegan & gluten free snacks at Disney World
If you're vegan or gluten-free and want in on the snack party, head to Erin McKenna's Bakery in Disney Springs.
All of the pastries and treats at Erin McKenna's Bakery are vegan, gluten-free! Plus, they use non-GMO ingredients and they are certified Kosher.
NOTE: While their treats are also soy-free, some of their ingredients are processed in facilities that also handle soy products, so there is a slight chance of cross-contamination with soy.
What are your favorite snacks at Disney World?
Leave a comment below and let me know what your favorite snacks at Disney World are!
For more Disney tips, check out these posts:
---
About the author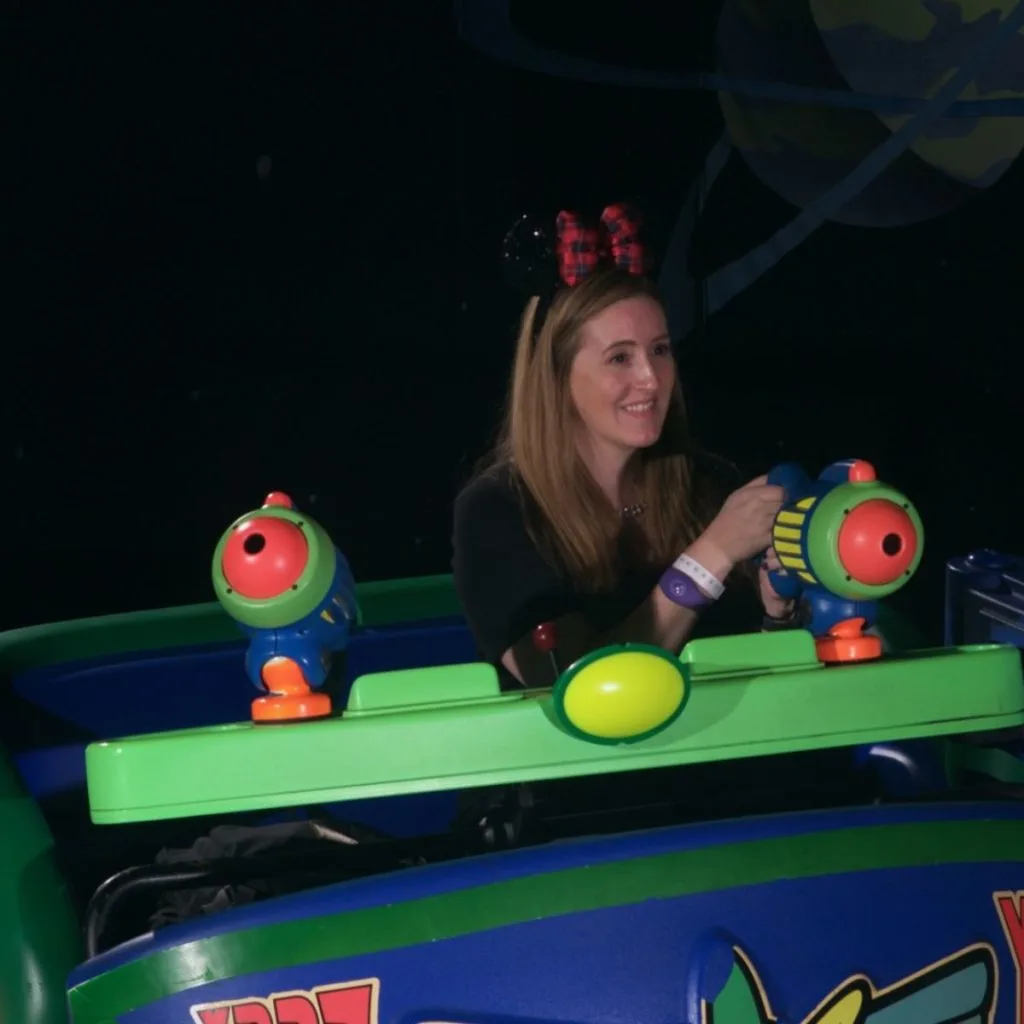 Meg Frost is the creator of The Park Pixie, where she covers Disney World, Disney+, and Disney fandom.
She holds an M.A. in Journalism from Northeastern University and B.S. in Communication & American Studies from University of Miami.
---
This post was originally published May 11, 2021. It was last updated April 14, 2023.