I am a creature of habit when it comes to my morning iced coffee from Starbucks. 
Yes, that's right. I, a girl from Boston, run on Starbucks iced coffee. Don't tell the folks at Dunkin Donuts!
When it comes to Disney World, I still want to start my day off with a giant cup of caffeinated goodness. 
While there are other options for iced coffee and other coffee drinks at Disney World, such as Everglazed and Joffrey's, if I can get my hands on Starbys, I am a happy girl.
Thankfully, Disney World started serving Starbucks at Disney World in 2012! 
In this post, I'll show you where you can get Starbucks at Disney World, including the hidden spots in theme parks, so you can get your Starbys fix while away from home, too.
Animal Kingdom
Yes, you can get Starbucks at Animal Kingdom. Head to Creature Comforts Coffee Shop, which is located on Discovery Island next to Pizzafari.
This location serves most of the usual Starbucks menu, plus a few Disneyfied extras, like Mickey Mouse cinnamon rolls.
In addition, if you get a flat white drink, a portion of the money gets donated to the Disney Conservation Fund to support the study of the endangered cotton-top tamarin monkey (which you can see at Animal Kingdom!).
The cotton-top tamarins can be watched directly across from the coffee shop, so you can enjoy your flat white while leisurely watching these cheeky monkeys play.
TIP: Plastic disposable straws are not allowed at Animal Kingdom due to the harm it could cause to the animals and the environment. Therefore, only paper straws are offered if needed. If you need a more durable straw, I recommend bringing a reusable silicone or metal straw.
Epcot
You can get Starbucks at Epcot at Traveler's Cafe, located just before you enter the World Showcase on the Canada side.
This location is easily identifiable as a Starbucks, right down to the hipster-like wooden exterior and green siren logo. 
Traveler's Cafe is in the same spot as the former Fountain View, which was torn down to make way for the Epcot expansion.
Given its small size, the snack options are limited, but at least you can still get your Starbucks pastry fix alongside your coffee.
This location will move in a year or 2 when the new Epcot neighborhoods debut. More to come as plans become available!
Hollywood Studios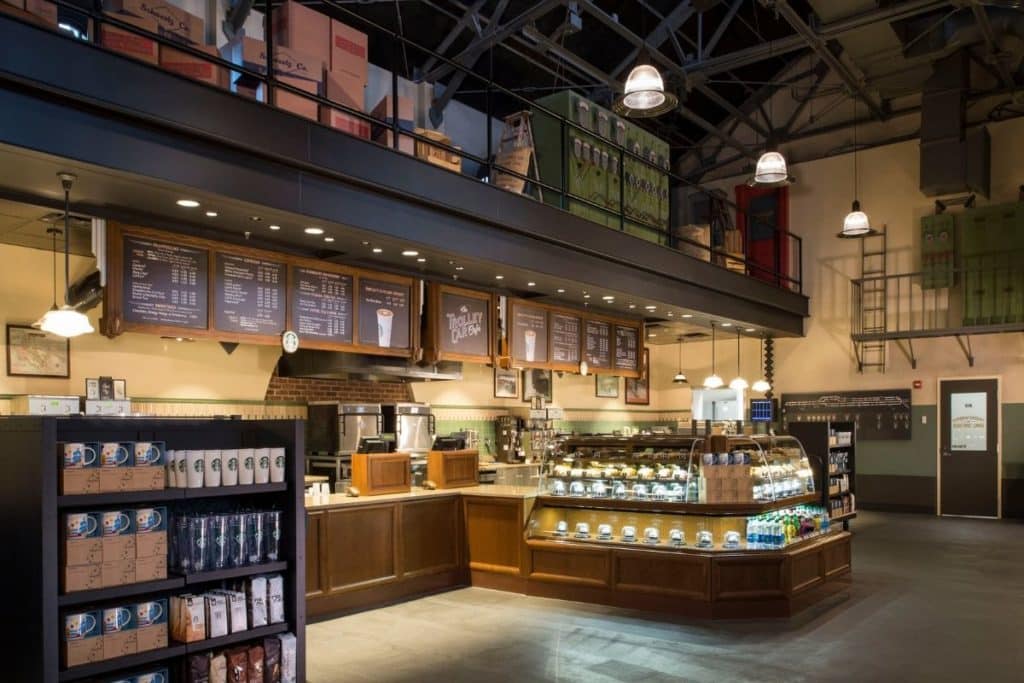 Yes, there is a Starbucks at Hollywood Studios, hidden inside The Trolley Car Café.
The Trolley Car Café is located on Hollywood Boulevard on the right side when you enter the park. 
This location has the usual Starbucks menu, plus lots of extras. It's a great spot to hunt for Disney cupcakes and Starbucks Disney mugs!
Magic Kingdom
Located right on iconic Main Street in Magic Kingdom is the Main Street Bakery, yet another hidden Starbucks at Disney World.
The Main Street Bakery is on the right side of Main Street as you enter the park and head toward Cinderella's Castle. If you have trouble finding it, look for the green siren logo in the window.
Disney Springs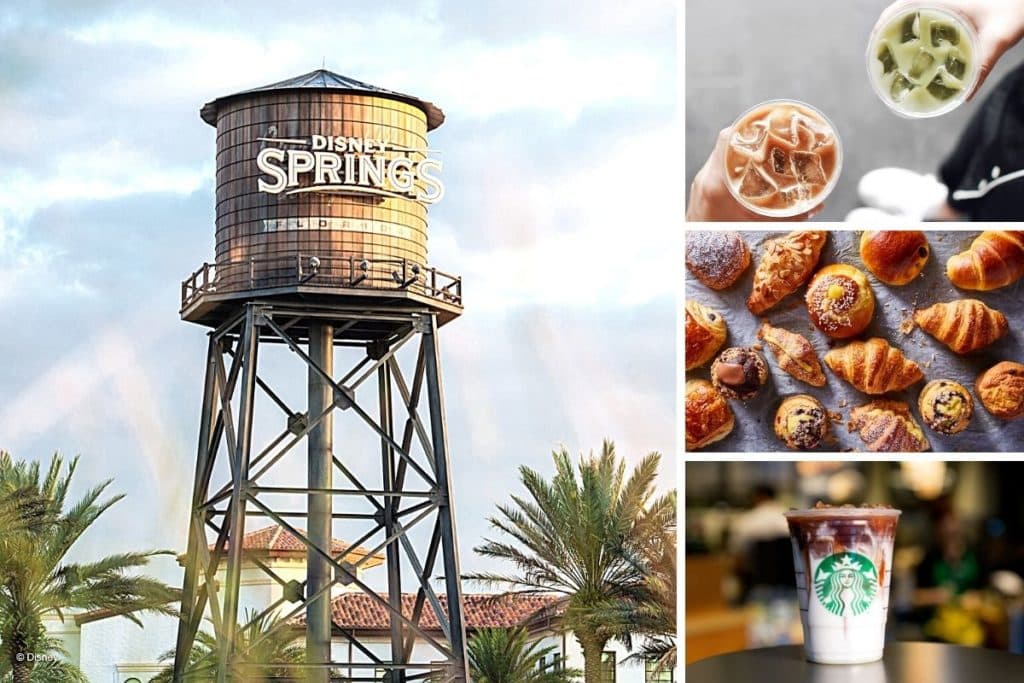 Yes, you can get Starbucks at Disney Springs. In fact, there are 2 locations there!
The first location is right next to the World of Disney store in the Marketplace section of Disney Springs. 
The second location is in the West Side section of Disney Springs, across from Disney Style.
This location has a Clover brewing machine which brews coffee order by order.
Typically the coffees available for the Clover machine are small batch blends from farmers around the world. 
I first got hooked on Clover brews when I tried a Hawaiian Kona blend iced at a Starbucks in Boston. It was heaven in a cup! Plus, I loved watching it be made fresh right in front of me. 
Any time I visit a location with a Clover brewing machine, I get something from the Clover menu!
Can I use Disney Dining Plan credits at Starbucks?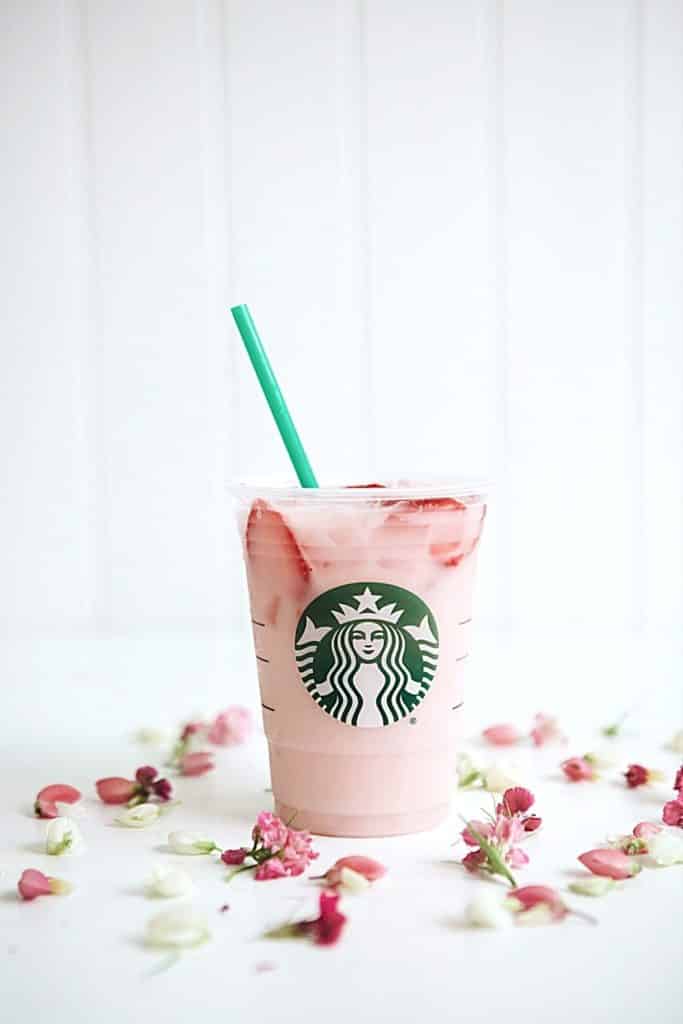 Yes – most Starbucks drink and bakery items are available for purchase using a snack credit. Just look out for the Disney Dining Plan DDP logo to confirm. 
This is one of my favorite ways to redeem a Disney Dining Plan snack credit, since you can get any size drink.
That said, keep an eye out for bakery items special to Disney, like cupcakes or Mickey shaped buns. 
Items like this might cost more than some drinks, even at venti size. Therefore, they would be a more valuable trade for a DDP snack credit.
What's your favorite thing to get at Starbucks at Disney World?
I always go for a venti cold brew with half & half or a venti iced caramel macchiato. 
I usually don't get a pastry at Starbucks when I'm at Disney World. However, if I'm with my niece, chances are she'll beg for one of the special Disney cupcakes (and I'll cave)! 
Let me know what your favorite Starbucks at Disney World order is in the comments below.
Next up, check out more of our Disney World vacation planning guides: