I used to think Hollywood Studios was super basic when it came to snacks and food in general.
But over the past few years, they've really stepped it up! While you still can't get Dole Whip at Hollywood Studios, they finally have an interesting line up of snacks.
In this post, I'm dropping the 10 best snacks at Hollywood Studios so you'll know exactly where to go when your tummy starts rumbling but it's not time for your dining reservation.
Bavarian pretzel & California cheese and charcuterie plate
As much as I love Mickey pretzels, the Bavarian Pretzel at BaseLine Tap House is salty, carby goodness! 
The Bavarian Pretzel is even better when you wash it down with one of many California craft brews on the menu.
Another excellent snack option at BaseLine Tap House is the California cheese and charcuterie plate with 3 California-made cheeses, salami, chorizo, and other snacks.
If you're more of a grazer, this is the snack for you.
Baseline Tap House is located on Grand Avenue, next to the Sci-Fi Dine-In Theater Restaurant.
Mustafarian Lava Roll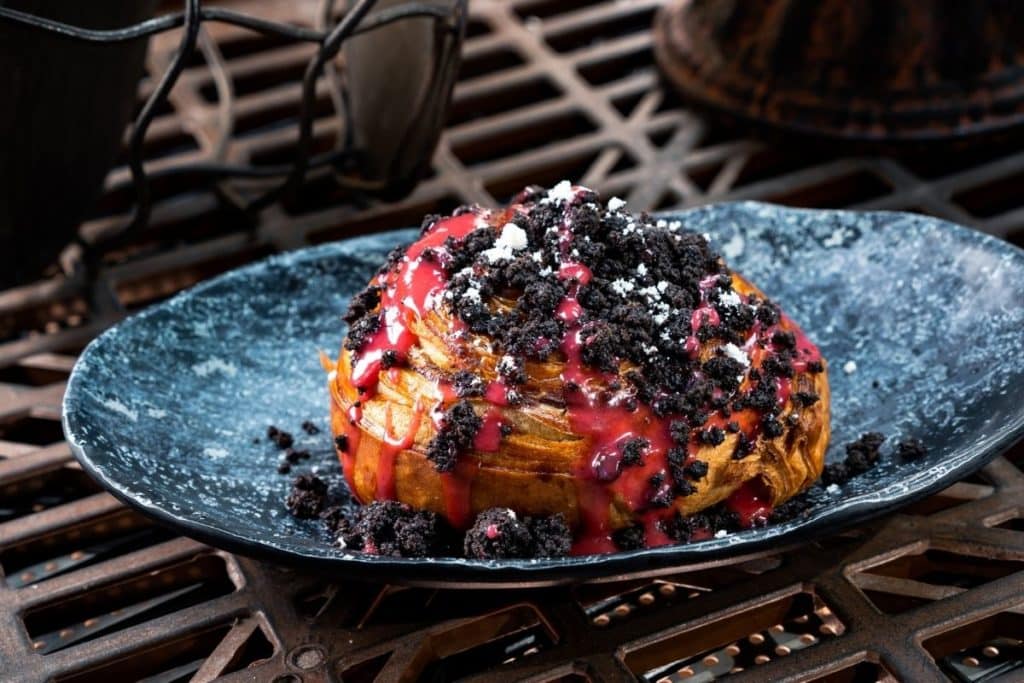 The Mustafarian Lava Roll is available at TWO locations in Star Wars: Galaxy's Edge – Docking Bay 7 and Oga's Cantina.
This sweet treat is a giant cinnamon roll topped with Oreo crumbs and red icing. If you've got a sweet tooth, this is the snack for you!
Best Snacks at Hollywood Studios' Oga's Cantina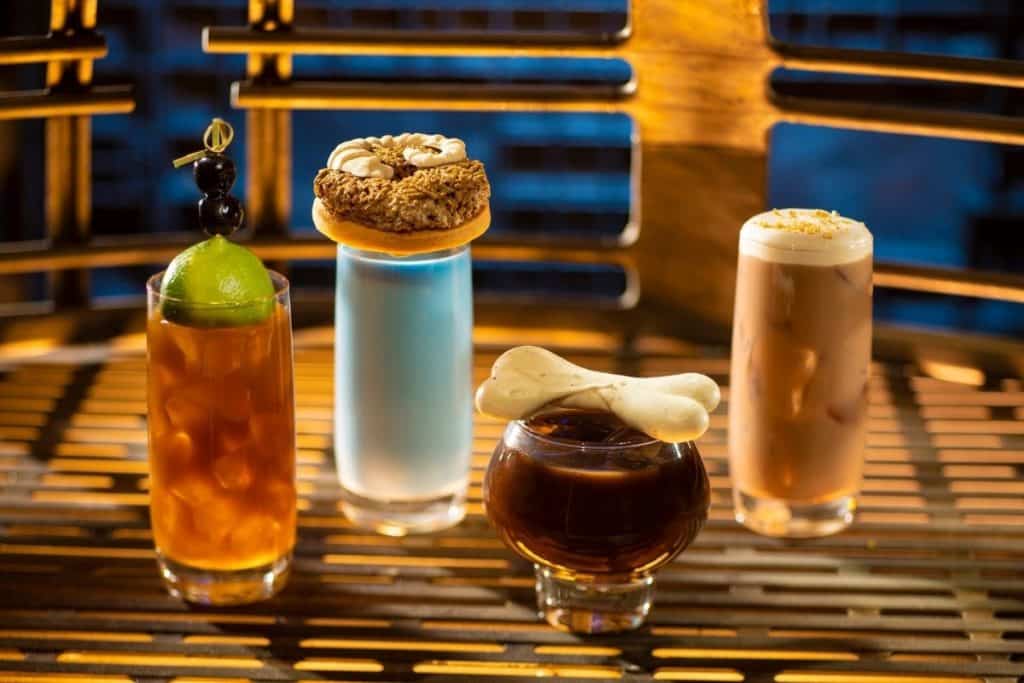 If beer or cocktails are your perfect idea of a snack at Hollywood Studios, bee line it to Oga's Cantina. 
Located in Star Wars: Galaxy's Edge, next to the Millenium Falcon: Smugglers Run ride, this lounge serves alcoholic and non-alcoholic drinks that look like they're straight out of one of the Star Wars movies or shows.
Honestly, you can't go wrong with pretty much any drink on the menu. Here are a few recommendations to start with, pictured above from left to right:
Moogan Tea: Unsweetened iced tea mixed with chocolate milk, vanilla, and cinnamon – no, that's not a typo!
Blue Bantha: Blue milk with a thickly frosted sugar cookie served on top – aka milk n cookies Star Wars style.
Bloody Rancor: Bloody Mary mix, vodka, and chile liquer, served with a vanilla meringue rancor bone on top – aka hot n spicy bloody mary.
Black Spire Brew: cold brew coffee mixed with passion fruit, citrus, honey, and falernum syrups – aka tropical yet spicy iced coffee.
TIP: Some of the drinks above are no longer listed on the menu, but can still be requested as part of the secret menu! So if you don't see it when you visit, ask a cast member if it can still be made.
Key Lime Pie Bar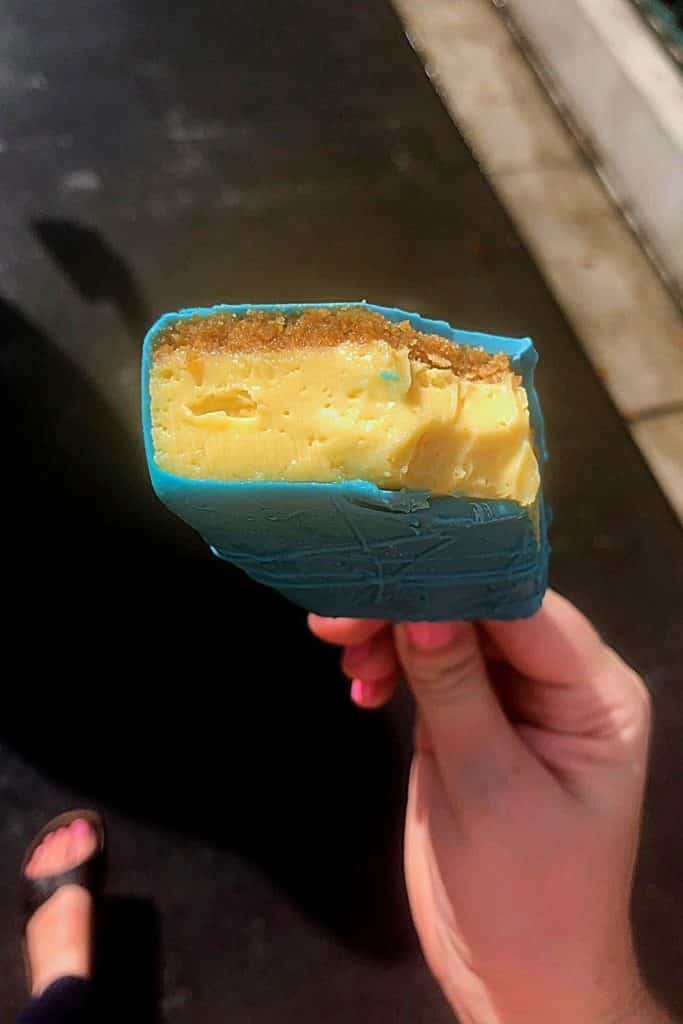 Did you even visit Florida if you didn't try some kind of treat made with Key limes??
The Key Lime Pie Bar includes a key lime pie filling and graham cracker crust, all covered in a blue-tinted white chocolate shell.
While the taste is absolutely phenomenal (especially if you're a fan of tart desserts), this treat can sometimes be a bit hard to eat if the shell breaks weird (which it did for me).
But snack foul aside, I'd 100% get this snack at Hollywood Studios again due to its delicious taste and textures.
The Key Lime Pie Bar is available at the Neighborhood Bakery in Pixar Place located in front of the main entrance to Toy Story Land.
Blue Milk and Green Milk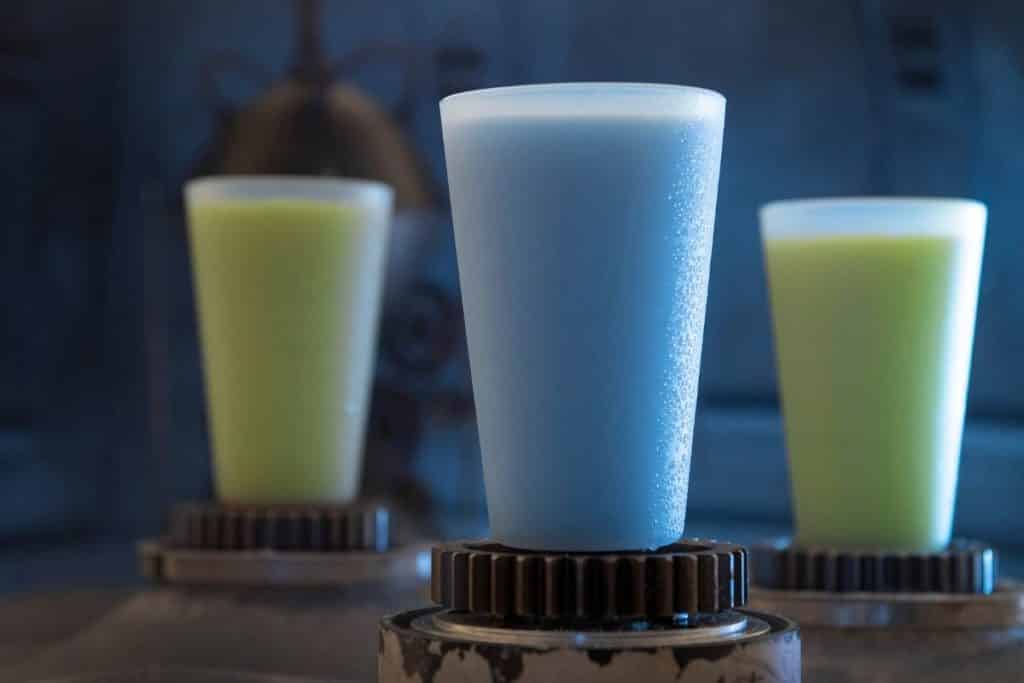 Straight from Star Wars: Episode IV and Star Wars: Episode VIII, the Milk Stand at Star Wars: Galaxy's Edge serves several different versions of Blue Milk and Green Milk. 
Both drinks are made with a blend of coconut and rice milk. Blue Milk has a fruity taste, while Green Milk is more tropical and citrus. 
For an adults-only twist, you can get Blue Milk with rum and Green Milk with tequila.
This snack is a must-try for any die-hard Star Wars fan.
Lunch Box Tart
Lunch Box Tarts are like a cross between a Pop-Tart and a hand pie.
They're available in 3 flavors: raspberry, chocolate-hazelnut with bacon, and lemon-blueberry. 
I love that the lemon-blueberry lunch box tart comes with a Pixar ball shaped candy on top!
The Lunch Box Tart is available at Woody's Lunch Box in Toy Story Land, across from the Alien Swirling Saucers.
Outpost mix popcorn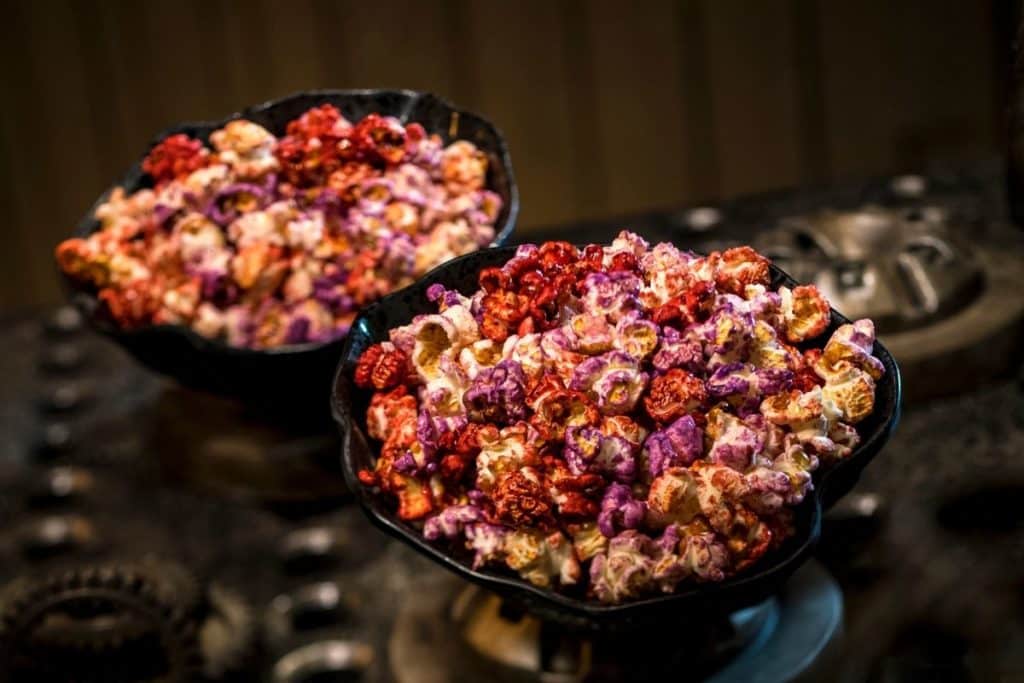 If your go-to snack at Disney World is popcorn, you have to try Outpost Mix popcorn.
Outpost Mix is a blend of sweet and spicy popcorn served hot. It's definitely not your usual buttery park snack!
This red-and-purple tinted popcorn mix is available at Kat Saka's Kettle in Star Wars: Galaxy's Edge, in between Ronto Roasters and Docking Bay 7.
Secret Identity Slushy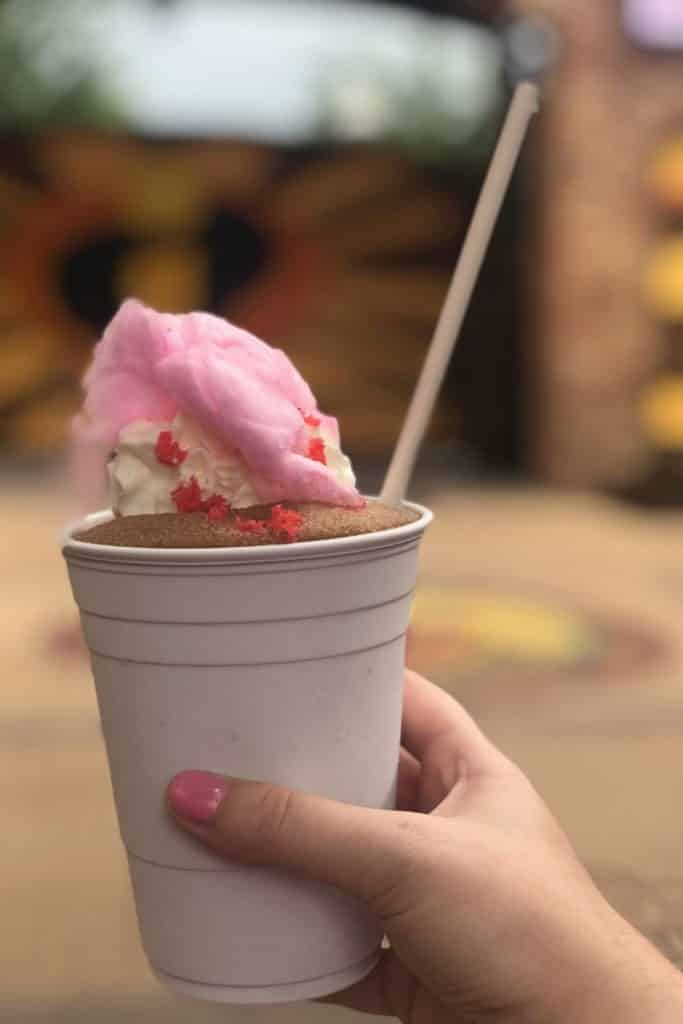 I rarely drink soda because it often bothers my stomach.
But sometimes a syrupy sweet, ice cold Coca-Cola really gets the job done at cooling you down, especially when it's hot and humid out! 
Enter the Secret Identity Slushy at Neighborhood Bakery in Pixar Place. 
This Coke-based slushy includes whipped cream, cherry cotton candy, and popping candy on top for a delightful and refreshing snack. 
The slushy Coke doesn't have fiziness like its soda form, so you get the flavor without too much carbonation.
Ronto Wrap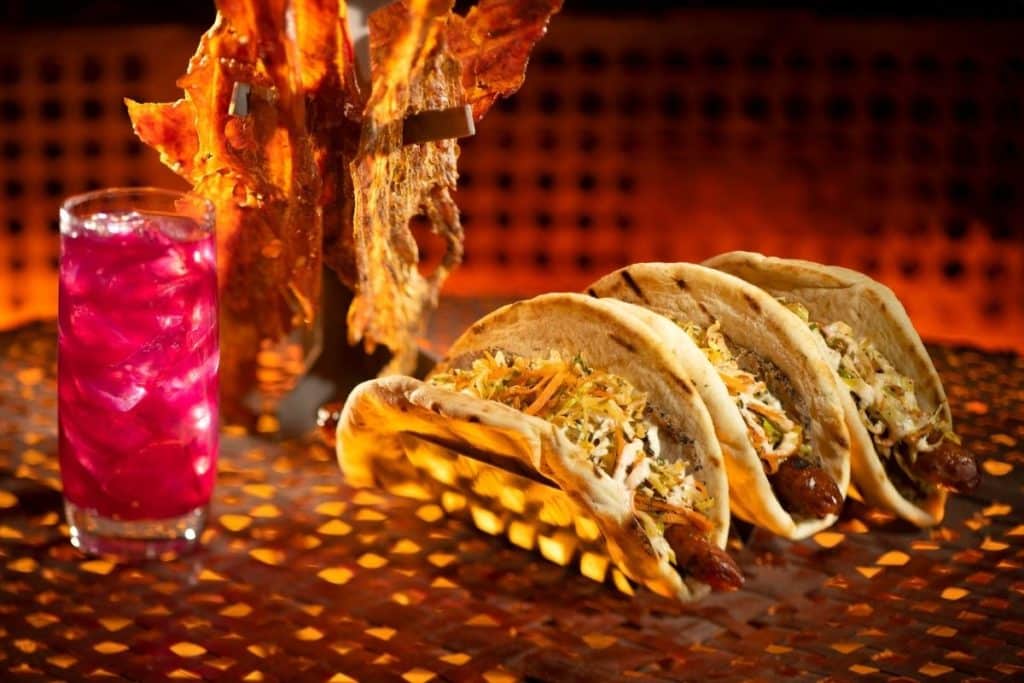 One of the most popular snacks that debuted at Star Wars: Galaxy's Edge is the Ronto Wrap.
The Ronto Wrap is available at Ronto Roasters, as well as Docking Bay 7.
This pita wrap combines a grilled pork sausage with roasted pork, creamy peppercorn sauce, and crunchy slaw wrapped up in pita bread. It's perfect for a hearty snack or small meal.
Ronto Roasters is located across from Savi's Workshop, where you can build your own lightsaber after satisfying your appetite. Docking Bay 7 is right next door!
BONUS: Tom Brady at Hollywood Studios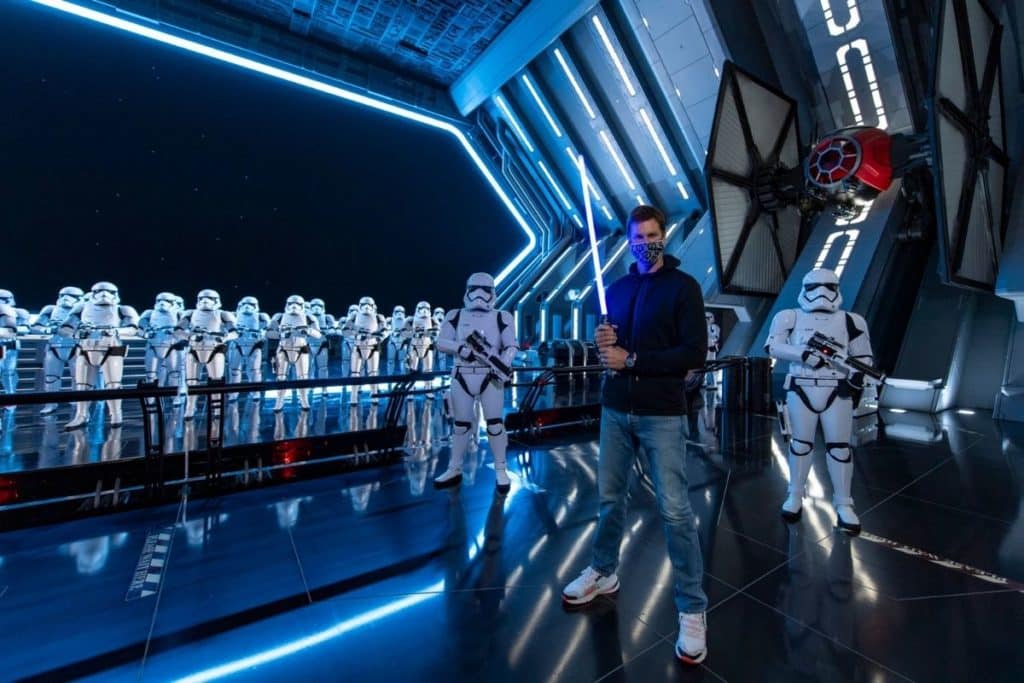 Last, but not least, I give you Tom Brady lookin' like a snack at Hollywood Studios' Star Wars: Galaxy's Edge.
OK, I kid, I kid. If you want a tasty snack when you're hitting up Hollywood Studios, you're gonna have to settle for the tasty treats I've listed above.
What are your favorite snacks at Hollywood Studios?
Ohhh this is a hard one!
For now, I'm going with the Key Lime Pie Tart from the Neighborhood Bakery and the California cheese and charcuterie plate from BaseLine Tap House.
Let me know in the comments below which snacks at Hollywood Studios are your favorite.
Next up, check out more of our Disney World vacation planning guides: