Aloha, my fellow Disney fans! Are you craving a taste of the islands but can't exactly hop on a plane to Hawaii or Disney right now?
Fear not, for I have a solution that will transport you to sandy beaches and warm sunshine with just one sip. Introducing the one, the only, POG juice!
This fruity juice blend hails from the beautiful state of Hawaii and is made up of passion fruit, orange, and guava juices.
Don't worry if you're not familiar with the recipe, I've got you covered with an easy-to-follow recipe below. Plus I share a handful of different ways you can use it to make even more delicious concoctions.
What is POG juice?
POG juice is a popular drink in Hawaii that's enjoyed by locals and tourists alike.
Its name comes from the abbreviation of its three main ingredients: passion fruit (P), orange (O), and guava (G). It was created by Mary Soon, an employee at Haleakala Dairy, on the island of Maui in 1971.
This delicious juice blend is super popular at Aulani, a Disney resort on the Hawaiian island of Oahu, as well as at Disney World, where it is served at several restaurants (sometimes under the name 'jungle juice.'
The sweet and tangy combination of the juices creates a refreshing drink that's perfect for sipping on a hot day. It's no wonder POG juice has become a staple in tropical destinations around the world!
Where to buy POG juice
If you live in Hawaii, surely you know you can buy this refreshing juice blend at any grocery or convenience store.
In fact, there are multiple brands that sell it, such as Hawaii's Own, Langers, Hawaiian Sun, and Meadow Gold.
Unfortunately for those of us on the mainland, it is often hard to find or quite expensive – especially the further you are away from the west coast of the US. Amazon has shelf-stable versions, but like I said – it's a tad too expensive in my opinion!
Thankfully for those of us who can't readily buy it or balk at the online prices like me, it's super duper easy to make!
How to make POG juice at home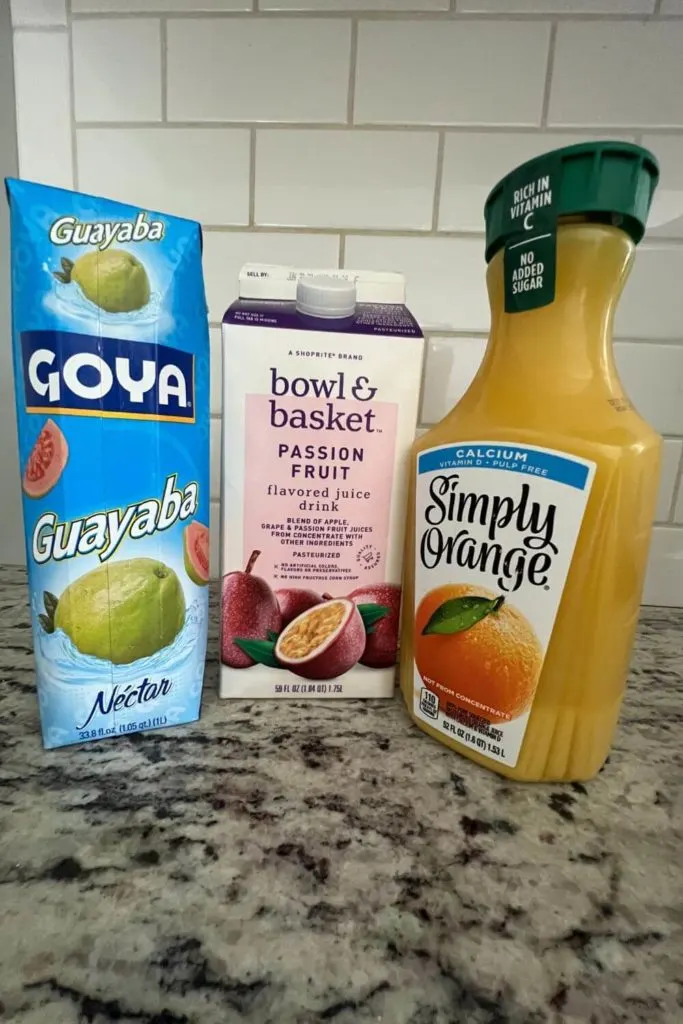 Now onto the good stuff – how to make your own POG juice at home.
Ingredients
Before we get into the instructions, let's talk about the ingredients. All you need for this recipe is passion fruit juice, orange juice, and guava juice.
You can usually find these juices in the refrigerated section of your grocery store or shelf-stable versions in the international section.
Look for the Goya or Ceres brands in a cardboard-like container. These will likely be nectars instead of juice, so they'll be sweeter. If you find that it's too sweet, you can cut it by adding water to taste.
Step-by-step instructions
You just need 4 things:
1 part passion fruit juice
1 part orange juice
1 part guava juice
Tall glass or pitcher
In a tall glass or pitcher, combine equal parts passion fruit, orange, and guava juice.
Stir to combine.
Sip and enjoy!
For tips on how much to use for a single serving vs a pitcher, consult the recipe card at the bottom of this post.
What to make with POG juice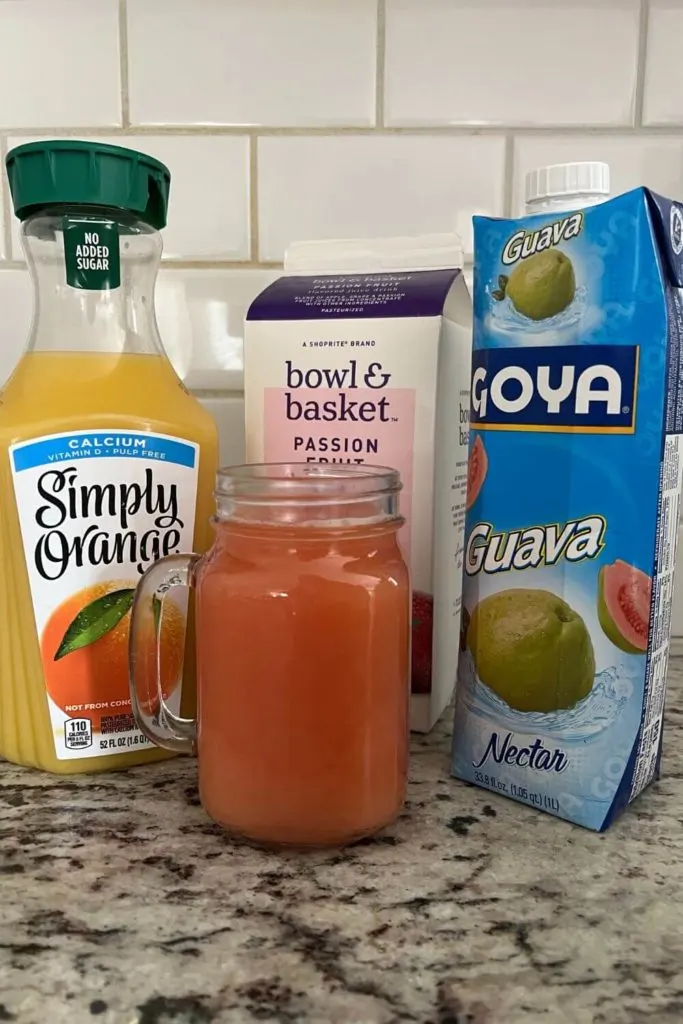 Feeling adventurous? Here are a few variations of the POG juice recipe that you can try.
Tropical POG smoothie
Blend the POG juice with frozen fruit (such as bananas or mangoes) and a splash of coconut milk for a creamy tropical smoothie.
Tropical POG sorbet
Freeze POG juice in an ice cream maker or Ninja Creami container overnight.
Once frozen, follow your ice cream maker or Ninja Creami instructions to turn the frozen juice into sorbet.
If you want something more creamy, add an equal part of coconut milk to the juice blend before freezing.
POG popsicle
Freeze POG juice in a popsicle mold for a minimum for 4 hours and enjoy an icy cold version of this delicious tropical fruit juice blend.
POG mimosa
Mix equal parts POG juice and champagne for a fun and fruity twist on the classic brunch cocktail.
Coconut rum POG cocktail
Add 1-2 oz of coconut rum for a boozy version of this delicious tropical juice blend.
POGscato
Mix equal parts POG juice and Barefoot apple-flavored fruitscato for a tropical wine cocktail – another perfect brunch drink!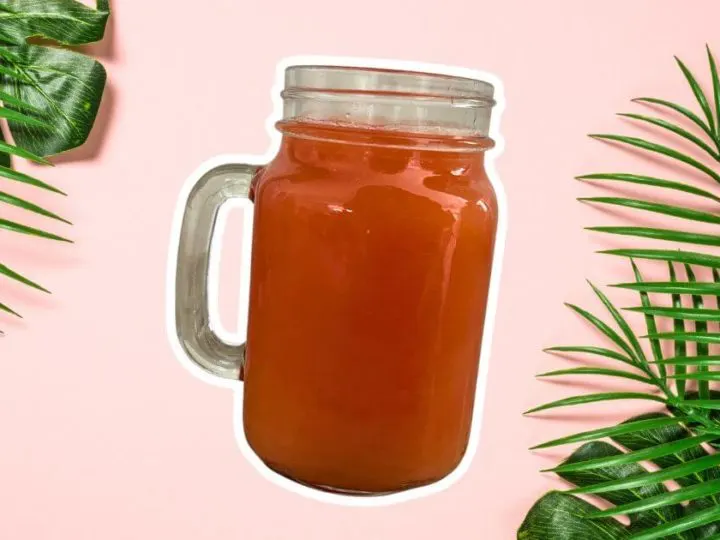 Yield:

1 drink
POG Juice (Passion Fruit Orange Guava Drink)
A deliciously tart, yet sweet, tropical fruit juice blend that will instantly take you back to Hawaii!
Instructions
Mix equal parts of each juice in a glass.
Add a straw and enjoy!
Notes
If you're making a single glass, use 2.5 ounces of each juice (roughly 1/3 cup), which will make about 7.5 oz of juice.
If you're making a pitcher, use 2 cups of each juice, which will make 48 ounces of juice or about 6 cups.
A standard size pitcher holds about 60 oz of juice, so unless your pitcher is much larger, you don't want to go over 2.25 cups of each.
Recommended Products
As an Amazon Associate and member of other affiliate programs, I earn from qualifying purchases.
Nutrition Information:
Yield:
1
Serving Size:
1
Amount Per Serving:
Calories:

126
Total Fat:

0g
Saturated Fat:

0g
Trans Fat:

0g
Unsaturated Fat:

0g
Cholesterol:

0mg
Sodium:

10mg
Carbohydrates:

31g
Fiber:

1g
Sugar:

27g
Protein:

1g
How will you enjoy your POG juice?
So there you have it, friends: a super duper easy recipe for POG juice!
Whether you're sipping it on your patio or pretending you're lounging on the beach at Aulani Resort in Hawaii, this drink is sure to transport you to a state of pure relaxation.
Now go ahead and give it a try – you won't regret it!
Next up, check out these other fun Disney-inspired drink recipes:
---
About the author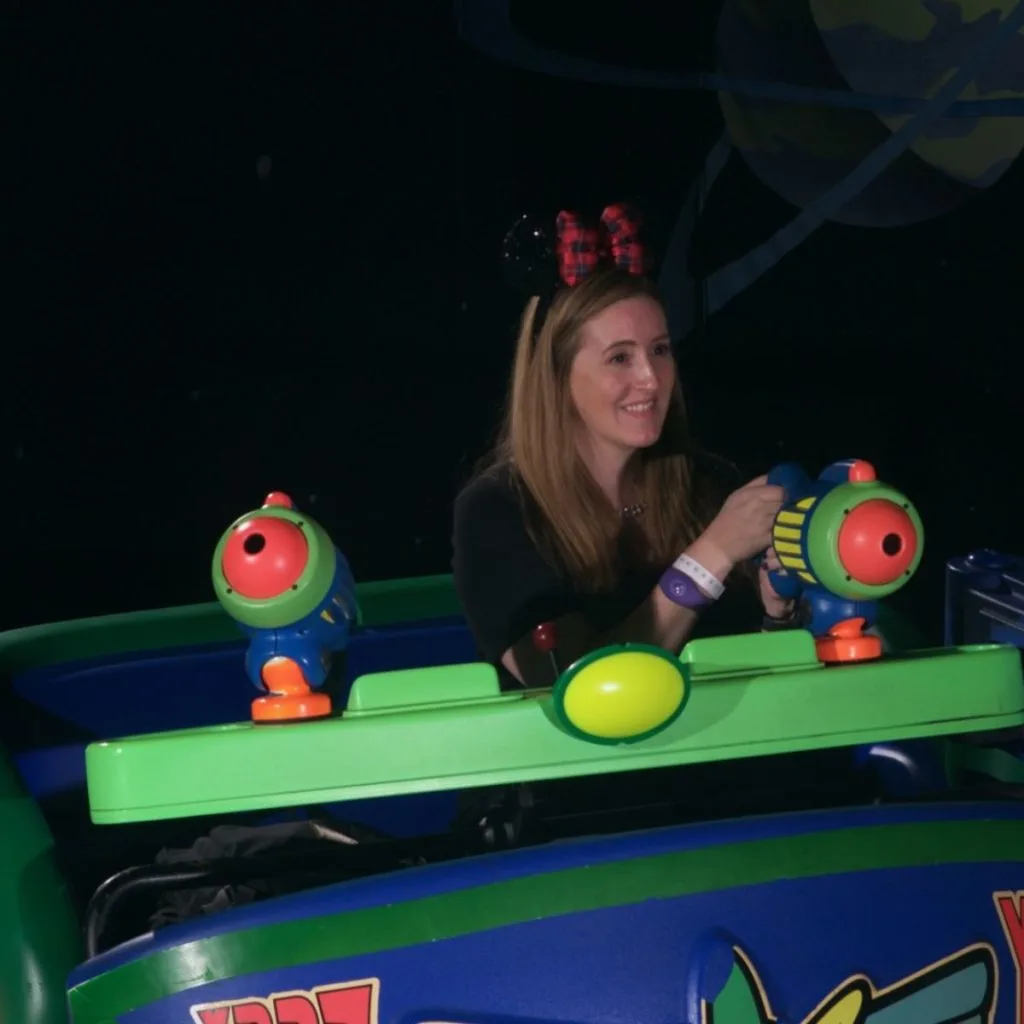 Meg Frost is the creator of The Park Pixie, where she covers Disney World, Disney+, and Disney fandom.
She holds an M.A. in Journalism from Northeastern University and B.S. in Communication & American Studies from University of Miami.
---