Hey there fellow Guardians of the Galaxy fans! Are you ready to take a sip on the wild side?
If you're looking for a refreshing beverage that's out of this world, you simply must try the Guardians of the Galaxy milky fizz sipper from Pym Test Kitchen in the Avengers Campus at Disney California Adventure theme park.
Not only is it delicious, but it also comes in an awesome reusable sipper that looks just like the one Rocket drinks in Guardians of the Galaxy, Vol. 3.
In this blog post, I'll be sharing all the juicy details about how to make this must-try drink – from the ingredients to the step-by-step instructions.
So buckle up and get ready to explore the galaxy with your taste buds!
About the drink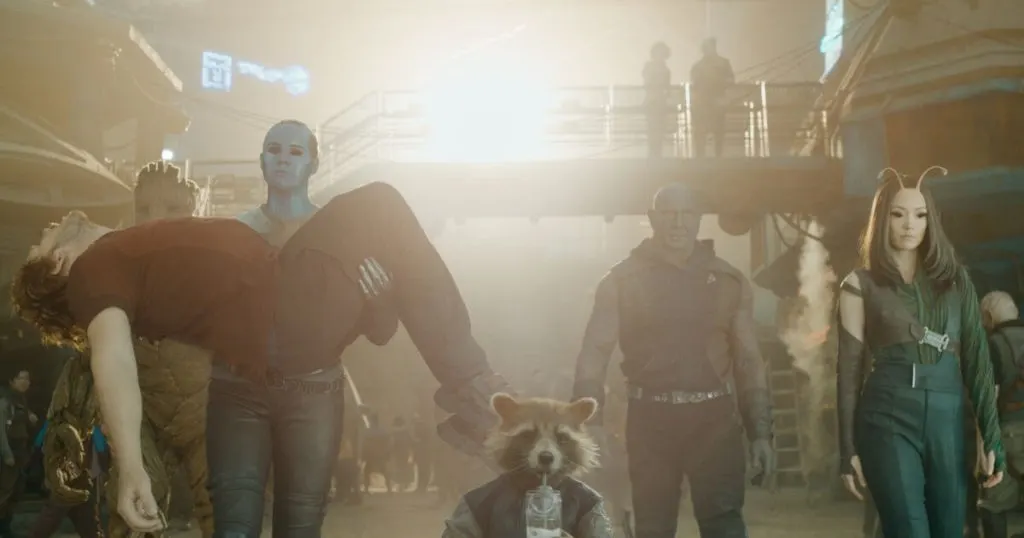 Let's start with the basics: what is the milky fizz sipper and why is it associated with Marvel's Guardians of the Galaxy?
In Guardians of the Galaxy, Vol. 3, Rocket Raccoon grabs a delicious light violet drink in a scene at a bar. You can kind of see it in the photo still from the movie at the beginning of this section.
To help promote the movie (and likely to honor our furry friend) Disney recreated the drink for guests, right down to the iconic milk carton-like container with a strap for easy carrying.
It's a fun and festive way to stay hydrated while exploring the many wonders of Avengers Campus.
The drink itself is a sweet and creamy carbonated beverage with a fruity twist. It's made with a mix of seltzer, cream, and desert pear syrup.
About the Ingredients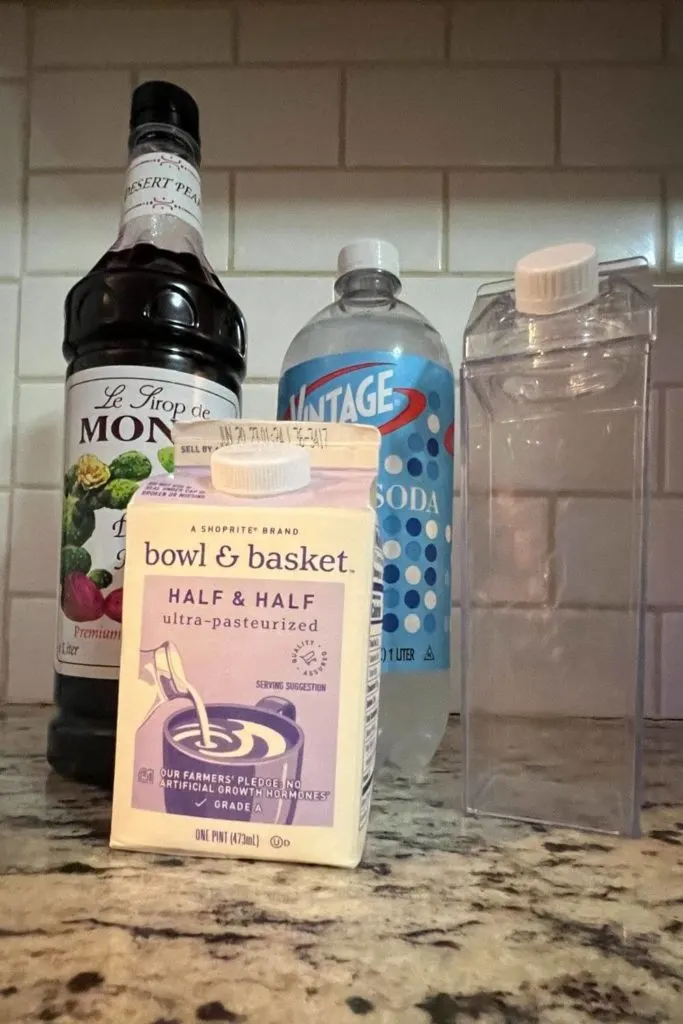 Now, let's dive a little deeper into the ingredients that make this sipper so special.
As I mentioned, the main flavors come from a mixture of desert pear, cream, and fizzy seltzer.
The desert pear gives it a tangy kick and gorgeous galactic violet color, while the cream cuts the tanginess a bit and lightens the color.
The fizzy seltzer is what really takes this drink to the next level, giving it that signature soda-like effervescence.
Step-by-Step Instructions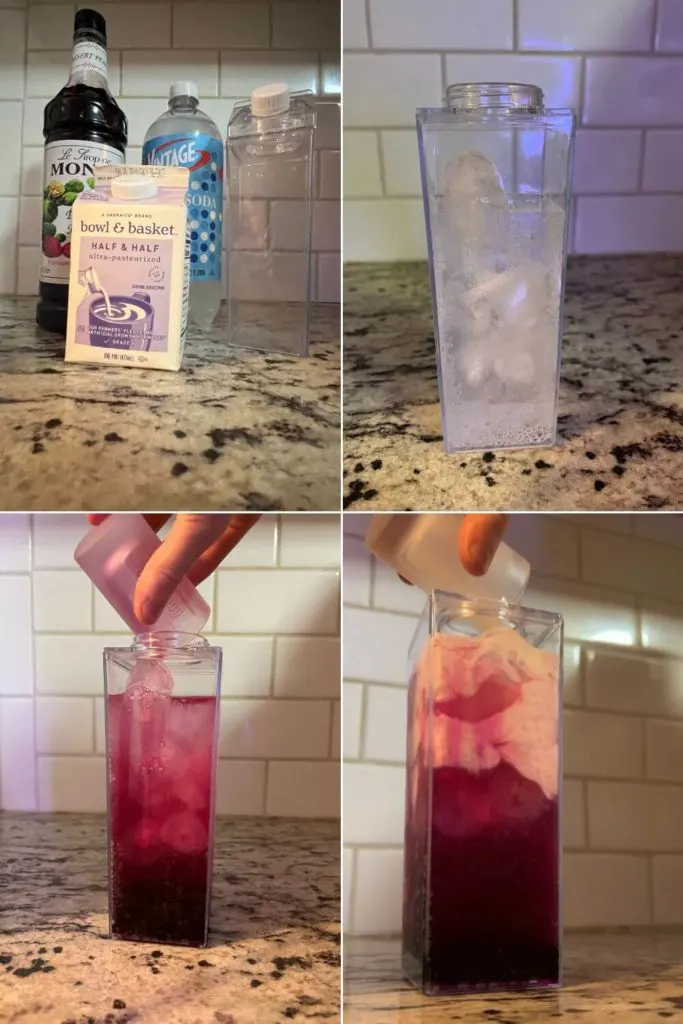 So, how do you make this cosmic concoction? While I can't promise it will be quite as magical as having it made for you at Pym Test Kitchen, I can provide you with a basic recipe to follow at home.
Here's what you'll need:
1.5 oz Monin desert pear syrup
2 oz Half & half or heavy cream
8 oz club soda
In a large glass, add 8 oz of club soda.
Next, add 1.5 oz of Monin desert pear syrup to the soda and stir to combine.
Last, pour the half & half or cream over the top.
Add a straw and enjoy!
NOTE: As you sip the drink, it will start to blend on its own, so there is no need to mix it after adding the half & half or cream. But no big deal if you stir it all together – it still tastes great!
Variations of the recipe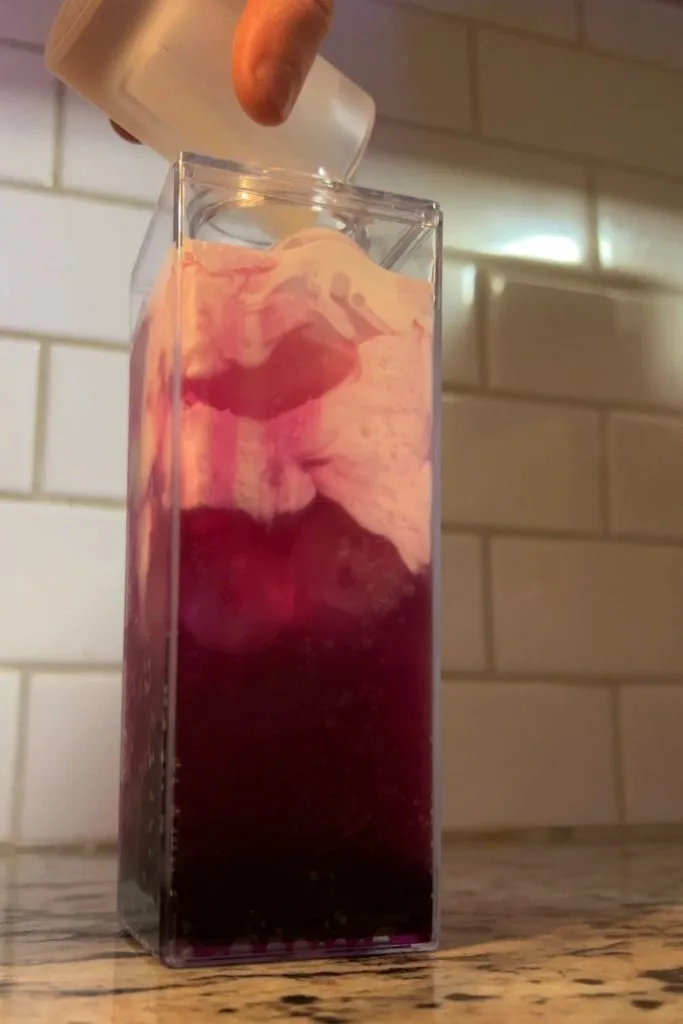 Of course, part of the fun of making your own drinks is getting creative with the recipe. If you're feeling adventurous, here are a few variations you could try.
Coconut milky fizz sipper
Make a non-dairy version by swapping out the cream with the same amount of coconut milk creamer.
Milky fizz sipper popsicle
Turn the drink into a refreshing popsicle so you can enjoy the flavors at any time. I recommend fully mixing the ingredients first, unlike the drink.
Bonus points if you use a rocket popsicle mold!
Yield:

1 drink
Guardians of the Galaxy Milky Fizz Sipper
Tart and refreshing drink reminiscent of a desert pear-flavored Italian cream soda. As seen in the Marvel film, Guardians of the Galaxy, Vol. 3 (2023).
Ingredients
2 oz half & half (or heavy cream)
Instructions
Pour 8 oz club soda into a tall glass with ice.
Add 1.5 oz Monin desert pear syrup and stir to combine.
Pour 2 oz half & half or heavy cream on top.
Add straw and enjoy!
Notes
The flavors will combine as you drink. If you stir everything, it will separate as it sits and won't look as nice, but is still drinkable!
Recommended Products
As an Amazon Associate and member of other affiliate programs, I earn from qualifying purchases.
Nutrition Information:
Yield:
1
Serving Size:
1
Amount Per Serving:
Calories:

318
Total Fat:

6g
Saturated Fat:

4g
Trans Fat:

0g
Unsaturated Fat:

2g
Cholesterol:

21mg
Sodium:

90mg
Carbohydrates:

67g
Fiber:

1g
Sugar:

42g
Protein:

2g
Exact nutrition depends on the ingredients chosen (ie, half & half will have less calories and fat than heavy cream or different brand of syrup might have more or less calories).
What will you enjoy your milky fizz sipper with?
And there you have it – everything you need to know about how to make the Guardians of the Galaxy milky fizz sipper from Pym Test Kitchen in Avengers Campus.
Whether you're a die-hard fan or just looking for a fun new drink to try, I highly recommend giving this one a spin. With its sweet and fruity flavors and playful presentation, it's sure to be a hit with all ages.
And of course, next time you're at Disney California Adventure, be sure to make a pit stop at Pym Test Kitchen. Your taste buds (and your Instagram feed) will thank you!
Next up, check out these posts:
---
About the author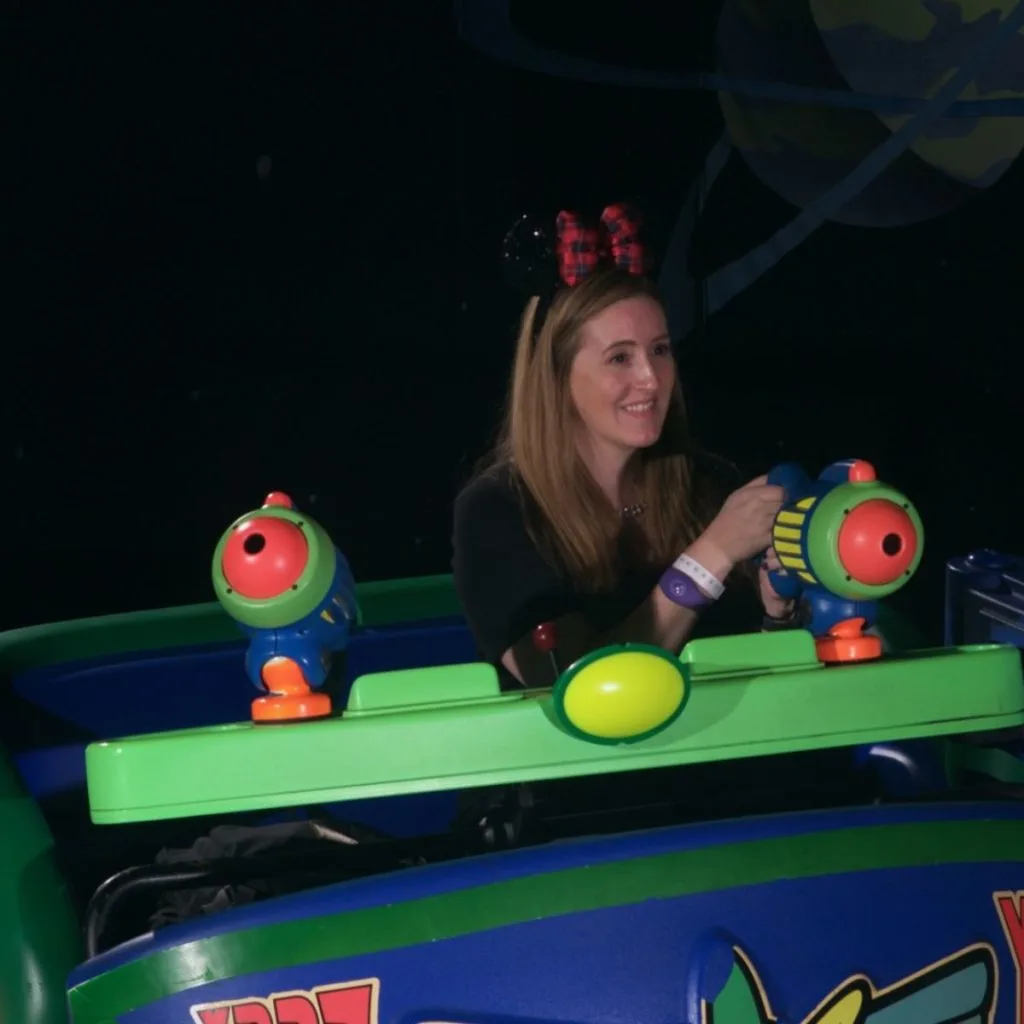 Meg Frost is the creator of The Park Pixie, where she covers Disney World, Disney+, and Disney fandom.
She holds an M.A. in Journalism from Northeastern University and B.S. in Communication & American Studies from University of Miami.
---
This post was originally published May 31, 2023. It was last updated June 7, 2023.