Dogs are loyal and loving creatures that make wonderful pets. So it's no wonder that Disney has made many movies over the decades with pups as the stars!
And now, with Disney+, you can stream your favorites with your subscription or free trial.
Check out this list of the best Disney dog movies on Disney Plus – plus 9 shows featuring your favorite furry friends.
101 Dalmatians (1961)
One of Disney's animated classics, this film features notorious villain Cruella de Vil, who steals all the Dalmatian puppies in London – for the cruel purpose of making a Dalmatian fur coat.
Pongo and Perdita, 2 Dalmatian parents whose 15 pups were stolen, lead the pack in rescuing the stolen puppies before it's too late.
Also streaming: 101 Dalmations II: Patch's London Adventure (2003)
101 Dalmatians (1996)
This live-action remake follows the same story as the original 1961 animated classic. It stars Glenn Close as the ultimate villain, Cruella de Vil.
Also streaming: 102 Dalmatians (2000), Cruella (2021)
Because of Winn-Dixie (2005)
Based on a book of the same name, Because of Winn-Dixie is about a young girl who adopts a stray pup who helps her heal after her mother passed away, as well as connect better with her heartbroken father.
Benji: The Hunted (1987)
In this movie, Benji, a canine actor, and his trainer are in a boat accident that separates them.
Benji makes his way to shore to a rugged area that he must cross to get to safety, adopting cougar cubs along the way.
NOTE: There are multiple Benji films, but this is the only one produced by Disney, so the others aren't likely to be added.
The Biscuit Eater (1972)
A young boy, Lonnie, and his friend, Text, train a bumbling dog into a champion bird dog, much to the surprise of Lonnie's dad, who is a dog trainer.
Bolt (2008)
This film focuses on Bolt (John Travolta), a pup/actor who thinks he's a superhero because he's played one on TV his entire life!
One day Bolt is separated from his owner and co-star, Penny (Miley Cyrus), and accidentally sent across the country to NYC.
In his journey to make his way back to Penny, who he thinks is in danger after filming a scene where she is kidnapped, he discovers the truth about his super powers.
Bolt also features the voices of Susie Essman (Mittens), Nick Swardson (Blake), Randy Savage (Thug), James Lipton (The Director), and Chloë Grace Moretz (young Penny).
The Call of the Wild (2020)
Now, where to begin with this film? Let me introduce you to Buck, a lovable dog who finds himself on a wild adventure in the Yukon during the Gold Rush.
Along the way, he meets the rugged and handsome John Thornton (Harrison Ford) who becomes his loyal companion.
Based on the Jack London book of the same name, this film truly captures the beauty of the wilderness and the bond between man and man's best friend.
So, if you're looking for a heartwarming film with a touch of adventure, grab some popcorn and settle in for The Call of the Wild.
Dr. Dolittle (1998)
Oh, Dr. Doolittle, how you charmed us all with your ability to talk to the animals!
And with comedian Eddie Murphy in the starring role, you know it's going to be hilarious. Who wouldn't want to hear Murphy's voice coming out of the mouths of dogs, monkeys, and other critters?
The film is a delightful romp through the animal kingdom, filled with humor, heart, and some pretty impressive special effects.
It's been over 20 years since the release of Dr. Doolittle, and yet it's still a family favorite that's guaranteed to make you laugh and sing along.
Also available to stream is Dr. Dolittle 3.
Eight Below (2006)
One of my favorite dog movies on Disney Plus is Eight Below. It's a tearjerker, but definitely worth a watch.
After a snowstorm approaches Antarctica, Jerry (Paul Walker), a sled dog guide, is forced to leave his dogs. The rescue pilot promises to return to retrieve the dogs, but ultimately isn't able to.
Unfortunately the storm prevents the immediate return and conditions are too bad to return.
Jerry makes it his mission to return to Antarctica to rescue his 8 dogs, but is unable to raise the financing to return. Will he make it back in time to rescue them?
Far From Home (1995)
In this 90s movie, a young teen named Angus and his dog fall overboard during a storm while sailing with family. They reach shore in a remote area and only have each other to survive. Will they make it?
Fox & the Hound (1981)
This adorable buddy movie centers around an unconventional friendship between a hound dog named Copper and an orphaned fox named Tod.
Copper and Tod's odd friendship causes some clashes as they get older, leading to a showdown where they must decide to protect one another or protect themselves.
This dog movie on Disney Plus is one of my childhood favorites, so much so, I convinced my grandfather to name one of his cats Copper!
Also streaming: Fox & the Hound 2 (2006)
Frankenweenie (1984)
After his dog, Sparky, passes away, Victor is determined to bring him back to life – at any cost.
Frankenweenie (2012)
Tim Burton's animated take on the 1980 live action film by the same name.
A Goofy Movie (1995)
One of the most iconic dog movies on Disney Plus from the 90s is this movie right here.
Goofy embarks on a road trip with his son, Max, who, like a typical teen, is embarrassed by his Dad's goofiness. Will their trip mend their bond?
Also streaming: An Extremely Goofy Movie (2000)
Greyfriars Bobby (1961)
Set in Scotland, Greyfriars Bobby, is based on a true story of a terrier pup named Bobby and his best friend, Old Jock, a shepherd.
Homeward Bound (1993)
In this remake of The Incredible Journey, 3 pets, Chance (an American Bulldog voiced by Michael J. Fox), Sassy (a Himalayan cat voiced by Sally Field), and Shadow (a Golden Retriever voiced by Don Ameche), set off on an adventure through the Sierra Nevada mountains, to find their humans, who have left them in the care of a friend.
Also streaming: Homeward Bound 2 (1996)
Hounded (2001)
In this Disney Channel original movie, Jay, who is competing for a scholarship, has his speech confiscated by the school headmaster. The headmaster's son then uses Jay's speech to win the scholarship for himself.
But, Jay decides to fight back, so he steals his speech back in order to prove the speech was actually his.
However, the headmaster's wife's show pup, who is quite the handful, follows him home.
When an investigation into the missing pup starts up, Jay must figure out how to make things right again.
How Dogs Got Their Shapes (2015)
You know what's better than dogs? National Geographic documentaries about dogs, such as How Dogs Got Their Shapes.
This documentary isn't just a treat for dog lovers, it's also a fascinating look at the science behind why our furry friends look the way they do.
It's like learning about dog anatomy, but way more fun than memorizing bones and muscles (sorry, medical students).
And let's be honest, who wouldn't want to spend an hour watching adorable pups prance around on screen?
The Incredible Journey (1963)
Based on the novel of the same name, 3 pets, Bodger (a English Bull Terrier), Luath (a Yellow Lab), and Tao (a Siamese cat), cross the Ontario wilderness to find their family, who has left them in the care of a young bachelor.
Iron Will (1994)
Inexperienced guide Will enters a sled dog race in an attempt to win $10,000 to save his family farm after his father's passing leaves the family financially devastated.
Isle of Dogs (2018)
Wes Anderson, the king of quirky films, has done it again with his 2018 film, Isle of Dogs.
This stop-motion animated wonder takes place in a dystopian future where all dogs are exiled to Trash Island.
But fear not, this isn't your typical post-apocalyptic drama. With whimsical characters and Anderson's distinct visual style, Isle of Dogs is a charming and hilarious adventure that will leave you barking with joy.
So gather up your favorite movie snacks and settle in for a doggone good time.
Lady & the Tramp (1955)
In this movie, Lady, a posh cocker spaniel, falls in love with Tramp, a stray mutt.
This animated film is known for the iconic scene where the 2 dine on spaghetti in an alley next to an Italian restaurant, where they both accidentally slurp the same noodle, nearly kissing. So cute.
Also streaming: Lady & the Tramp 2 (2001)
Lady & the Tramp (2019)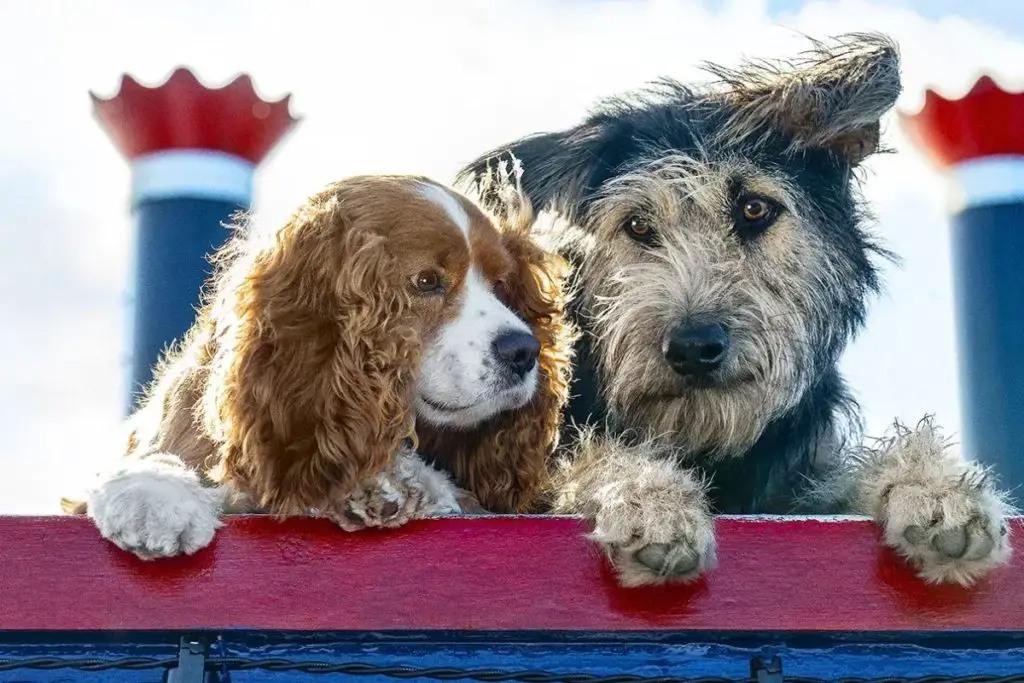 This delightful live-action remake of the classic animated film is a Disney+ original movie with a modern twist compared to the original animated film.
Many of the dogs are voiced by some of today's top entertainers, such as Justin Theroux, Tessa Thompson, Sam Elliott, and Janelle Monáe.
Life is Ruff (2005)
In this movie, pre-teen Calvin desperately wants to buy a rare comic book, but doesn't have enough money.
After hearing about show dogs from a neighbor, he decides to adopt a dog to enter into a show with a $5000 prize. But the only pup left at the pound is a ruff-and-tumble mutt.
Will Calvin and his mutt win the top prize??
Man Woman Dog (2021)
Man Woman Dog is the latest addition to National Geographic's documentary lineup on Disney+.
The documentary asks the age-old question of how humans and dogs came to coexist and owner and pet.
My Dog, The Thief (1969)
Jack Crandall, a helicopter traffic reporter, discovers that his dog and partner, a St. Bernard named Barabbas, has stolen a pricey necklace from jewel thieves.
Old Yeller (1957)
This classic film is a heartbreaking tale about 2 young boys who encounter a stray dog, Old Yeller, who ends up having a massive impact on their life despite it not exactly being love at first sight.
Oliver & Company (1988)
Loosely based on Charles Dickens' Oliver Twist, Oliver & Company stars a stray dog in New York City named Dodger (voiced by Billy Joel) and a stray cat named Oliver (voiced by Joey Lawrence).
Dodger, along with human thief Fagin, is the lead of a stray dog street gang that scams and steals to get by. He reluctantly takes Oliver in after he proves his worth in one of Dodger's shakedowns.
After a scam goes wrong that leads to Oliver being adopted by a wealthy family, the gang conspires to kidnap and hold him for ransom.
This film also features the talented voices of Bette Midler (Georgette), Cheech Marin (Tito), and Sheryl Lee Ralph (Rita).
Will he make it back to his new cozy home and owner, Jenny, or will he be stuck in a life of struggles? Watch to find out!
Oliver & Company was another one of my favorite Disney dog movies that inspired one of my childhood pets' name – a gray striped cat named Oliver!
Puppy for Hannukah (2020)
Daveed Diggs adds some puppy power to the Hannukah festivities with his 3-minute music video, Puppy for Hannukah.
Who knew incorporating an adorable furry friend could bring such a refreshing twist to the Festival of Lights?
So, grab some gelt, light those candles, and get ready to rock out with Daveed and his furry little sidekick.
I don't know about you, but this may just be the Hannukah miracle we've all been waiting for.
The Search for Santa Paws (2010)
In this adorable live-action Christmas movie, Santa visits New York City with his dog, Paws, to visit his holiday ambassadors.
The 2 become separated after an accident that leaves Santa with amnesia. After wandering the streets, Paws crosses paths with an orphan, Quinn, who is stuck in an abusive orphanage for girls.
Will Santa regain his memory? Will the girls be saved from their miserable situation? Watch to find out!
Also streaming: Santa Paws 2 (2012)
The Shaggy Dog (1959)
This quirky film follows Wilson Daniels, a mail carrier who often clashes with dogs, and his son, Wilby, who magically turns into a shaggy sheepdog!
The only way he can turn back to human is by doing something brave.
Oh and there's a subplot about international spies, too, which is just so '50s!
Also streaming: The Shaggy D.A. (1976)
Snow Dogs (2002)
Dr. Ted Brooks (Cuba Gooding, Jr.), a dentist from Miami, receives a mysterious inheritance – but there's a catch.
In order to receive it, he must move across the country to Alaska and compete in a dog sledding race.
Will this made-for-the-sun dentist survive the cold Alaskan weather? Will he even know how to handle Alaskan sled dogs? Watch to find out!
Super Buddies (2013)
The 2000s were jam-packed with Disney dog movies, such as Super Buddies, and the other "Buddies" films. Most of them are available on Disney+ or will be this Fall.
In this installment, the fab 5 dog buddies become secret superheroes and must save the planet from an alien force.
Also streaming:
Snow Buddies (2008)
Santa Buddies (2009)
Space Buddies (2009)
Spooky Buddies (2011)
Treasure Buddies (2012)
Teacher's Pet (2004)
It's time to dig up a classic Disney flick from the vault, Teacher's Pet.
The story follows Spot, a talking dog who dreams of becoming a human boy. Accompanied by his devoted owner Leonard, the duo end up going on wild adventures to help Spot's dream come true.
It's a cheeky and hilarious movie that will leave you barking with laughter. So grab some popcorn and your favorite four-legged friend, and get ready to learn some valuable lessons on companionship… and doggie disguises.
Togo (2019)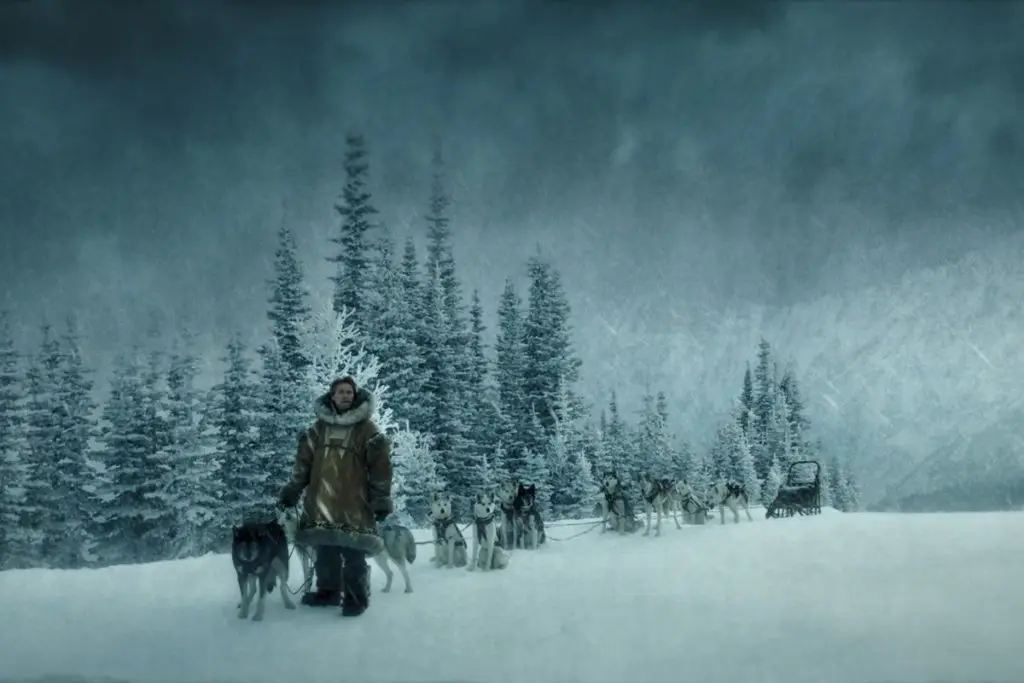 Based on a true story, an epidemic strikes a super rural town in Alaska. The cure is 600 miles away, across treacherous terrain.
Dogsled trainer Leonhard Seppala (Willem Dafoe), sets off in stark conditions with his top pup, Togo, leading the pack, in a quest to retrieve the only medicine that can save his town.
Turner & Hooch (1989)
In this popular 80s movie, Tom Hanks plays a neat-freak police detective named Scott who is forced to team up with a new partner at work – a slobbery, bumbling dog.
There used to be a Disney+ original series based on this movie, starring Josh Peck, but it was unfortunately removed from the service in May 2023.
Underdog (2007)
A beagle, Seashine, finds out he has superpowers after an accident in a mad scientist's lab. Seashine must save the day when he discovers the mad scientist is plotting to destroy their city.
White Fang (1991)
This movie centers around Jack (Ethan Hawke), a teen who sets off to accomplish his late father's dream of striking gold in the wilderness of Canada.
During his journey, Jack encounters a wolf-dog, White Fang, who he tames and befriends despite his fear and the 2 brave the wilderness together.
Also streaming: White Fang 2 (1994)
World's Greatest Dogs (2016)
National Geographic really outdid themselves with their documentary, World's Greatest Dogs.
Prepare to see your heart melt as these pooches steal the show on screen. From the smallest Chihuahua to the biggest Great Dane, National Geographic takes you on a journey of the most incredible dogs from around the world.
They showcase the loyal service pups, the brave rescue dogs, and the sweetest of companions.
So get ready to grab your tissues and prepare for some high-quality dog content. Big or small, fluffy or short-haired, these dogs are sure to leave a paw print on your heart.
You Lucky Dog (1998)
A dog psychiatrist, Jack Morgan, learns he can read the mind of one of his canine patients, Lucky, whose rich owner recently passed under suspicious circumstances.
Morgan ends up helping Lucky to find out what really happened to his owner.
Shows featuring Dogs on Disney+
Looking for something a little shorter? I used to include a list of dog shows on Disney Plus, but it started to get too long and needed its own post. So be sure to also read about the best Disney dog shows, too!
What are your favorite Disney dog movies on Disney Plus?
No matter which dog movie on Disney Plus is your favorite, I'm sure you'll agree they're all pretty great!
For more ideas on what to watch, check out these posts:
---
About the author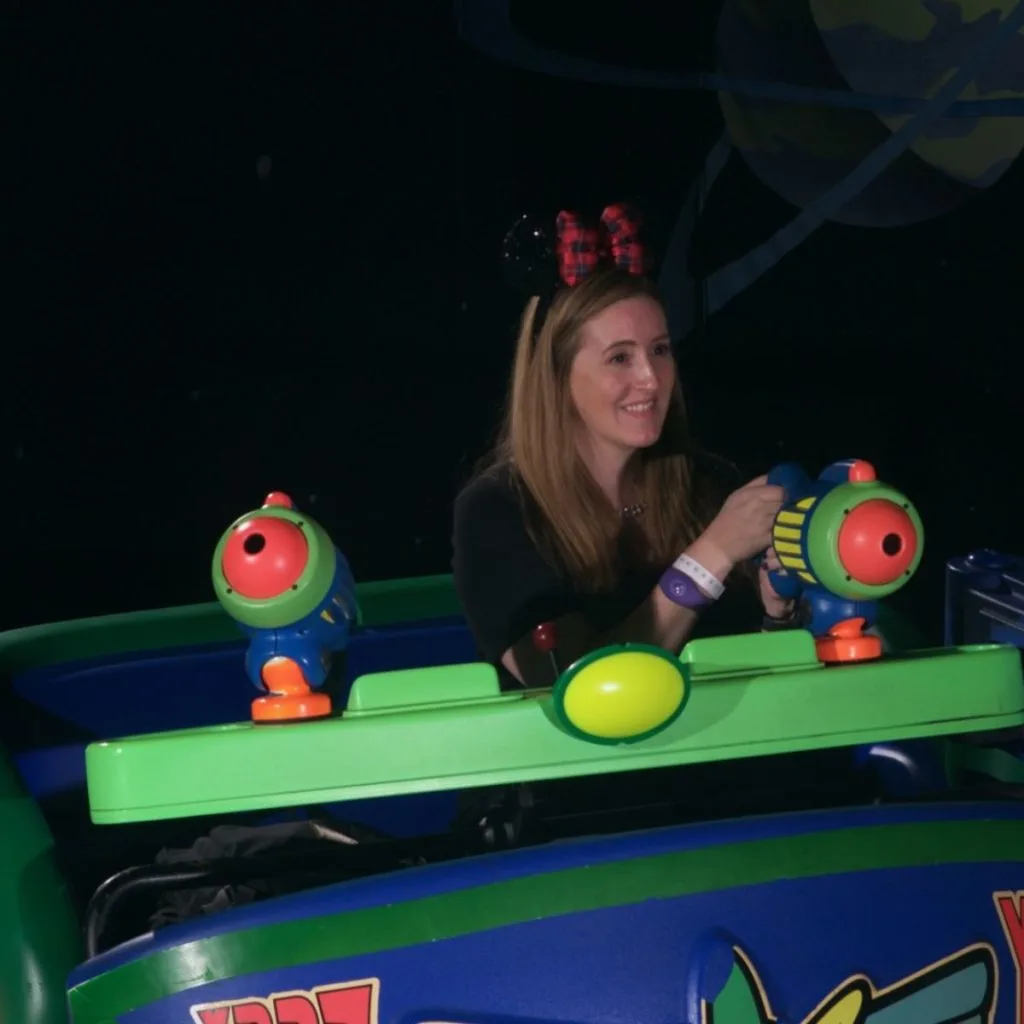 Meg Frost is the creator of The Park Pixie, where she covers Disney World, Disney+, and Disney fandom.
She holds an M.A. in Journalism from Northeastern University and B.S. in Communication & American Studies from University of Miami.
---
This post was originally published on May 22, 2021. It was last updated June 30, 2023.