Are you looking for something romantic to watch on Disney Plus? Look no further!
I love a good rom-com or drama and Disney+ has tons of them!
Whether you're in need of some serious swooning or just want a lighthearted pick-me-up, I found more than 50 perfect options ready and waiting for your next movie night with that special someone.
So grab your popcorn and get ready for a night filled with love, laughter, and tearjerking moments in these lovely romantic films available to stream on Disney+.
NOTE: This post may contain spoilers to movie or show plots. These movies and shows are available to stream on Disney+ in the US as of publication time, unless otherwise noted. Availability can change at any time.
New romantic movies on Disney Plus in 2023
Disney+ is constantly adding new movies and shows to their platform, so there's a bunch of new content to check out this year.
Bride & Prejudice (2016), Season 1 – summary
Carl's Date (2023) – summary
Elemental (2023) – summary
Feliz NaviDAD (2020) – summary
Harry & Meghan: A Royal Romance (2018) – summary
Harry & Meghan: Becoming Royal (2019)
The Little Mermaid (2023) – summary
Liz & Dick (2012) – summary
Maxine (2023) – summary
Wrapped Up in Christmas (2017) – summary
10 Things I Hate About You (1999)
In this '90s cult hit based on William Shakespeare's The Taming of the Shrew, Cameron (Joseph Gordon-Levitt) wants to date Bianca (Larisa Oleynik), but her single dad won't allow her to date until her older sister, Kat (Julia Stiles), dates first.
The problem is, Kat is totally uninterested in dating, so Cameron hatches a plan to get Kat to date the school's bad boy, Patrick (Heath Ledger).
101 Dalmatians (1961)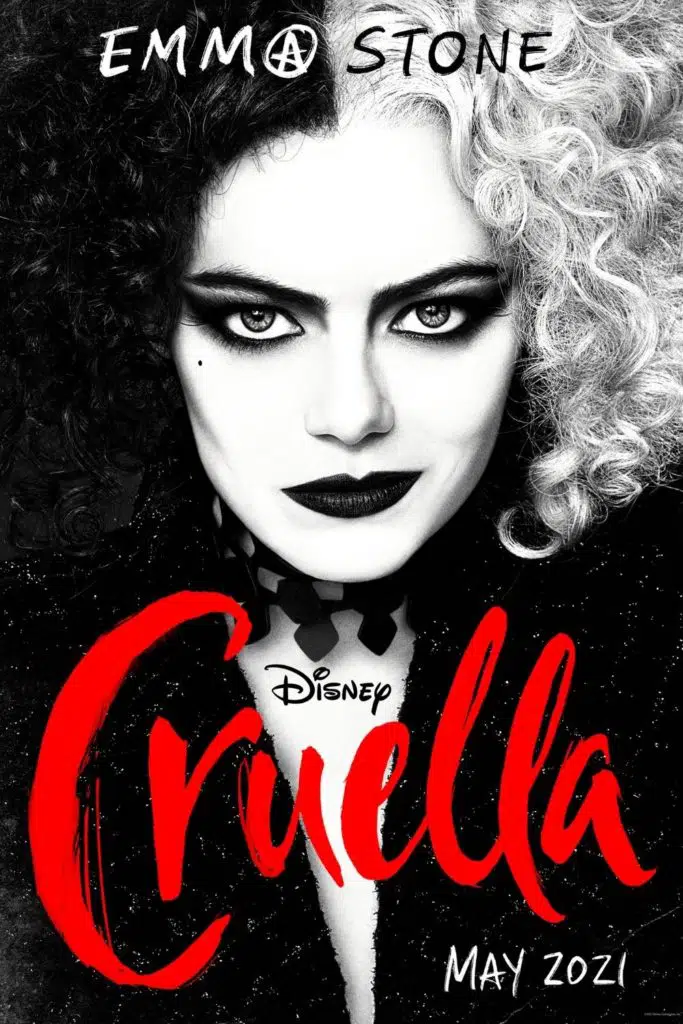 This popular Disney film based on Dodie Smith's 1956 novel 101 Dalmatians has spawned many sequels, games, theater shows, and live action movies ever since its release in 1961.
The story follows 2 Dalmatian dogs, Pongo and Perdita, whose parents, Roger and Anita, fall in love after meeting in the park. They, too, fall in love and have a litter of 15 puppies.
The puppies are kidnapped by Cruella De Vil, who intends to skin them, as well as 84 other Dalmatian puppies she has stolen, to make a coat with their spotted fur.
Also on Disney+:
101 Dalmatians (1996)
101 Dalmatians: The Show (1997-98)
102 Dalmatians (2000)
101 Dalmatians II: Patch's London Adventure (2003)
101 Dalmatian Street (2019-20)
Cruella (2021)
Aladdin (1992)
In yet another 90s animated hit from Disney, Aladdin, a petty thief from Agrabah falls in love with a mysterious woman, Jasmine, only to find out she is a princess.
Feeling defeated, Aladdin finds himself in a sticky situation where he finds a genie. What will he use his 3 wishes on?
Also on Disney+:
The Return of Jafar (1994)
Aladdin and the King of Thieves (1996)
Aladdin (2019) starring Will Smith as the Genie
The Aristocats (1970)
A retired woman changes her will to leave her large estate to her beloved fancy purebred cat, Duchess, and her 3 kittens, Toulouse, Berlioz, and Marie.
The estate was originally promised to her longtime butler, who kidnaps the cats in retaliation.
While trying to escape, Duchess and her family meet a street cat named Thomas O'Malley, who schemes to rescue them and get them home safely.
Avatar (2009)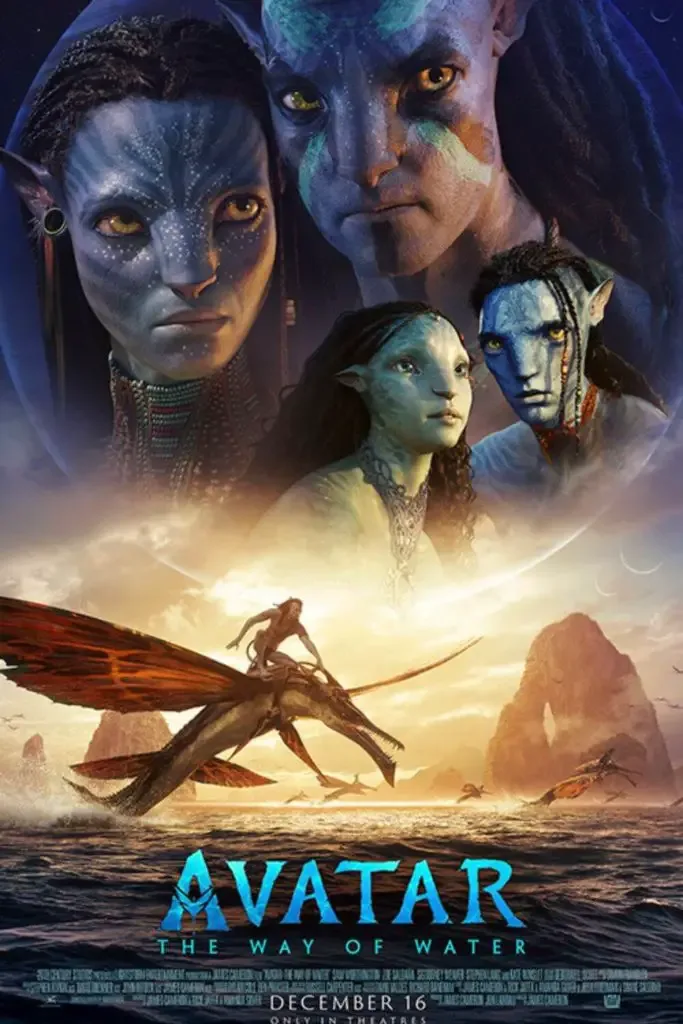 In this visually stunning film, humans are attempting to settle on a moon called Pandora after destroying Earth.
Jake Sully, a paralyzed soldier, is sent to explore Pandora via avatar, as it is uninhabitable as-is for humans. He must uncover information that will help humans takeover.
Instead, Sully falls in love with Neytiri, a female from one of Pandora's human-like species, the Na'vi, and helps the Na'vi fight back.
Also available is the sequel, Avatar: The Way of Water (2022).
According to The Direct, three additional Avatar films are in the works.
Avatar 3 is currently scheduled to debut in theaters on December 19, 2025.
Avatar 4 is currently scheduled to release in theaters on December 21, 2029.
Avatar 5 is currently scheduled to release in theaters on December 19, 2031.
Beauty and the Beast (1991)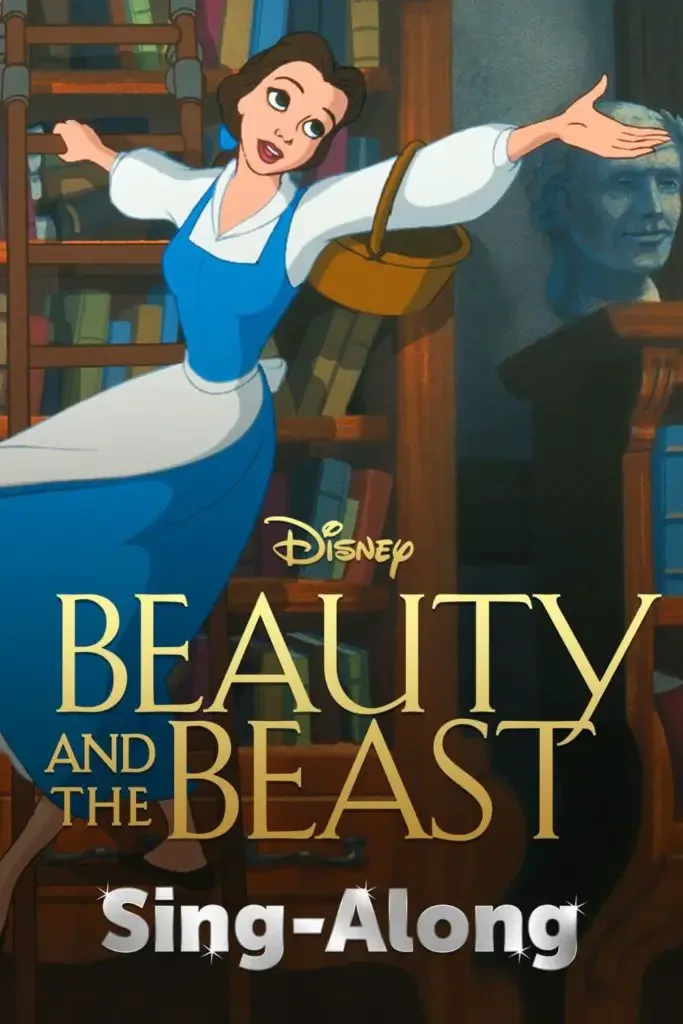 A tale as old as time, this classic fairy tale follows a young woman who is taken prisoner by a beast, who unbeknownst to her is actually a prince cursed by a witch he treated poorly due to her haggard appearance.
To break the curse, he must both love and earn love in return.
Also on Disney+.
Beauty and the Beast (1991) – Sing-Along Version
Beauty and the Beast: The Enchanted Christmas (1997)
Beauty and the Beast: Belle's Magical World (1998)
Beauty and the Beast (2017)
Beauty and the Beast (2017) – Sing-Along Version
Beauty and the Beast: A 30th Celebration (2022)
Bride & Prejudice (2016)
This reality series follows the lives of couples with different religions, different races, or are gay to show that their differences from conventional couples don't impact their ability to love.
Carl's Date (2023)
In this charming short film, Carl from Up is preparing to go on his first date in a long time. His canine pal, Dug, gives him some tips. Will they work?
Cinderella (1950)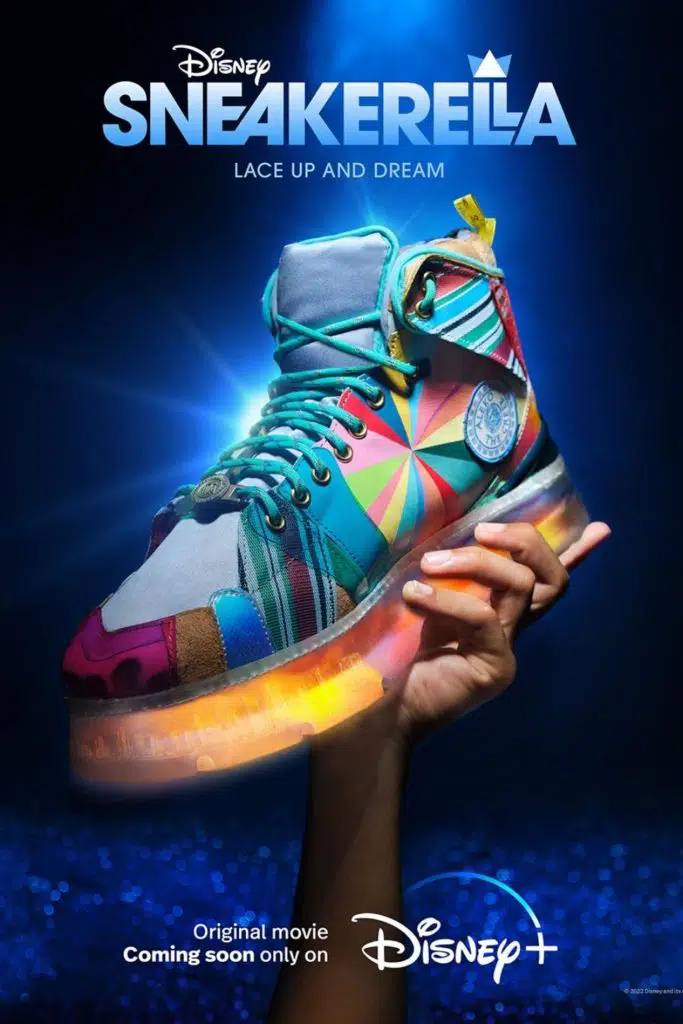 An orphaned young woman, who is treated poorly by her stepmother and stepsisters, secretly attends a royal ball intended for the prince to find a wife.
The prince becomes smitten with her after just one dance, but she disappears before he can even find out her name or where she lives.
Also on Disney+:
Rodgers & Hammerstein's Cinderella (1997)
Ever After: A Cinderella Story (1998)
Cinderella II: Dreams Come True (2002)
Cinderella III: A Twist in Time (2007)
Sneakerella (2022)
Unfortunately the 2015 live-action version of Cinderella is not available on Disney+. Last checked October 15, 2023.
Confessions of a Shopaholic (2009)
Isla Fisher stars as Rebecca Bloomwood, a young woman who has a serious shopping problem.
She longs to be a writer for a high fashion magazine but hilariously finds herself with a job as a personal finance writer for a money magazine.
While she navigates her secret debt and new job, she also tackles her feelings for her boss, the head of the magazine.
Dan in Real Life (2007)
Steve Carell stars as Dan Burns, a popular relationship advice columnist who hilariously fails in his own relationships.
He soon finds himself in love again, only to find out the woman he's smitten with is his brother's new girlfriend.
Destino (2003)
One of several romantic movies on Disney Plus, this 6-minute short film features the love story of Chronos, the personification of time, and a human woman all set in a Salvador Dalí-inspired surrealist setting.
Enchanted (2007)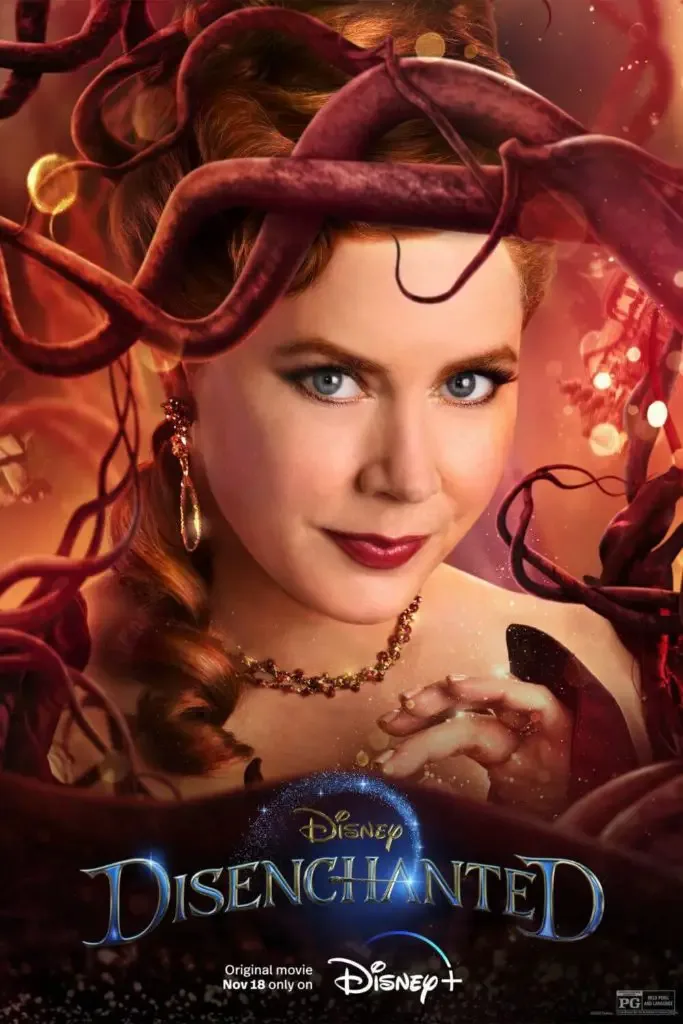 Giselle (Amy Adams), an almost-princess from an animated world, is cursed by a witch and sent to live in real-life New York City.
Giselle gets help from Robert, a divorce lawyer played by Patrick Dempsey, who is very much the complete opposite of the stereotypical wide-eyed, optimistic Giselle.
The chance meeting turns both of their lives upside down, but is it in a good way?
If you loved this Disney romantic movie, the sequel, Disenchanted (2022) is also available on Disney+.
Elemental (2023)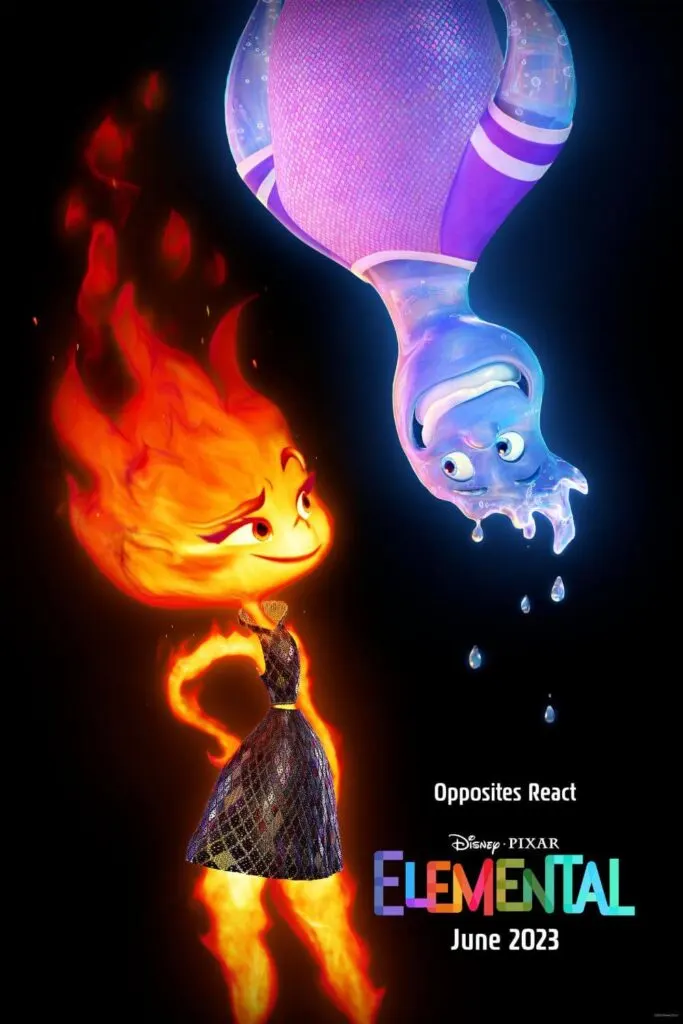 In this animated film, Ember and Wade live in a world of the four elements: air, water, earth, and fire.
Despite being elements that cancel each other out, Ember and Wade find they have a lot in common and fall in love.
Will it turn into a disaster or be the best thing to happen to both?
Father of the Bride (1991)
This 90s classic rom-com stars Steve Martin as an overwhelmed dad coming to terms with his first-born daughter getting married. The film also stars Diane Keaton and Martin Short.
What many fans don't know is that it's a remake of a 1950 film by the same name!
Also available on Disney+ is the sequel, Father of the Bride Part II (1995).
The Fault in Our Stars (2014)
Based on the bestselling book of the same name, 2 teens, Hazel Grace (Shailene Woodley) and Augustus (Ansel Elgort) fall in love at a cancer support group.
Will these teens get the uplifting love story they dream of or will their illnesses stand in the way?
In this holiday-time rom-com, a widowed dad, David (Mario Lopez) has lost the Christmas spirit.
His daughter and sister help him out by setting up a secret online dating profile for him.
Will their trick work or end up in disaster?
Forky Asks a Question: What is Love? (2019)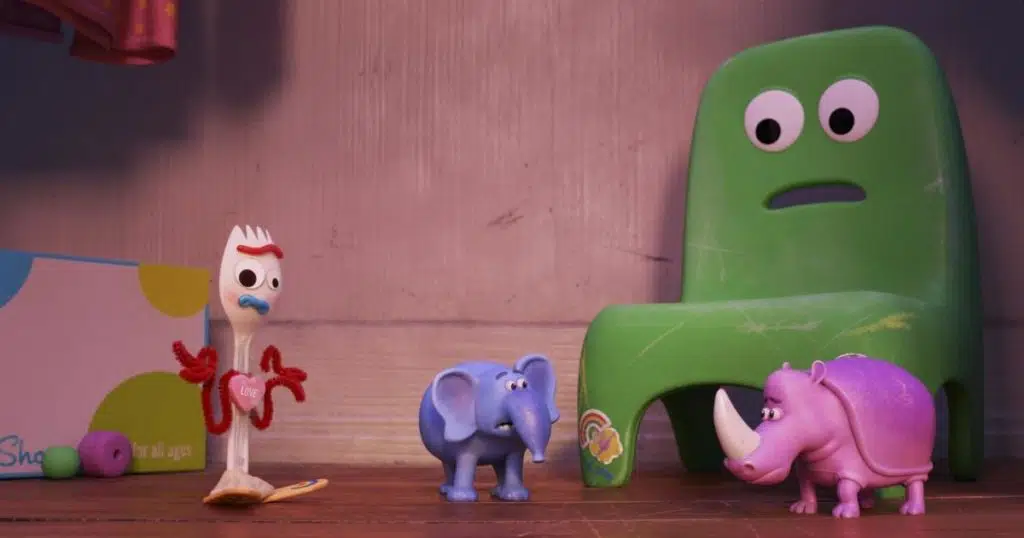 In this short film from the short series Forky Asks a Question, our beloved spork-turned-toy gets a lesson about love from the older toys.
Frozen (2013)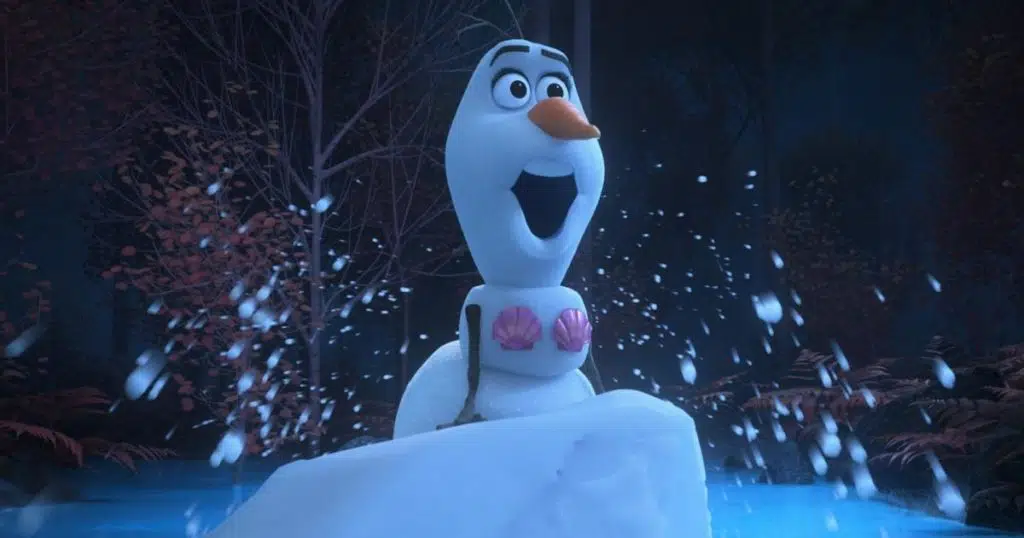 In this wildly popular animated film, we witness all kinds of love, from platonic to romantic.
The love between children and parents, between siblings, and new romances both good and bad. I bet that had a lot to do with its explosive popularity that still holds today!
Also on Disney+:
Frozen Fever (2015)
LEGO Frozen: Northern Lights (2016)
Olaf's Frozen Adventure (2017)
Frozen II (2019)
Myth: A Frozen Tale (2019)
Once Upon a Snowman (2020)
Into the Unknown: Making Frozen II (2020)
Arendelle Castle Yule Log (2020)
Arendelle Castle Yule Log: Cut Paper Edition (2021)
Gnomeo & Juliet (2011)
Gnomeo & Juliet is an animated twist on William Shakespeare's tragic romance, Romeo & Juliet, featuring 2 garden gnomes.
The Greatest Showman (2017)
This musical hit doubles as a biography of circus man P.T. Barnum (Hugh Jackman), including the love story with his wife, Charity (Michelle Williams).
This film also stars Zac Efron as Phillip Carlyle, Barnum's business partner, and Zendaya as Anne Wheeler, an acrobat, who also have their own love story.
Harry & Meghan: A Royal Romance (2018)
This made-for-tv flick tells the real-life love story of Prince Harry from the UK and American actress Meaghan Markle, from courtship to engagement to marriage.
Also available is the 2019 follow-up, Harry & Meghan: Becoming Royal, which chronicles their life after getting married.
Hello, Dolly! (1969)
In this 60s classic, Dolly is a matchmaker amongst her friends all while trying to find love – hopefully with her crush.
Hercules (1997)
In yet another 90s animated film from Disney, we follow the classic tale of Hercules, who was kidnapped at birth but rescued and taken in by a farmer and his wife.
He has no idea he is the son of 2 Greek gods, Zeus and Hera, until his adoptive parents reveal a trinket from Mount Olympus, home of the Gods, that he was wearing when they found him.
Hercules then learns he can become a God again if he proves he is a hero and he sets out to do it. Does he accomplish his goal?
Also on Disney+: Hercules: The Animated Series (1998).
High School Musical (2006)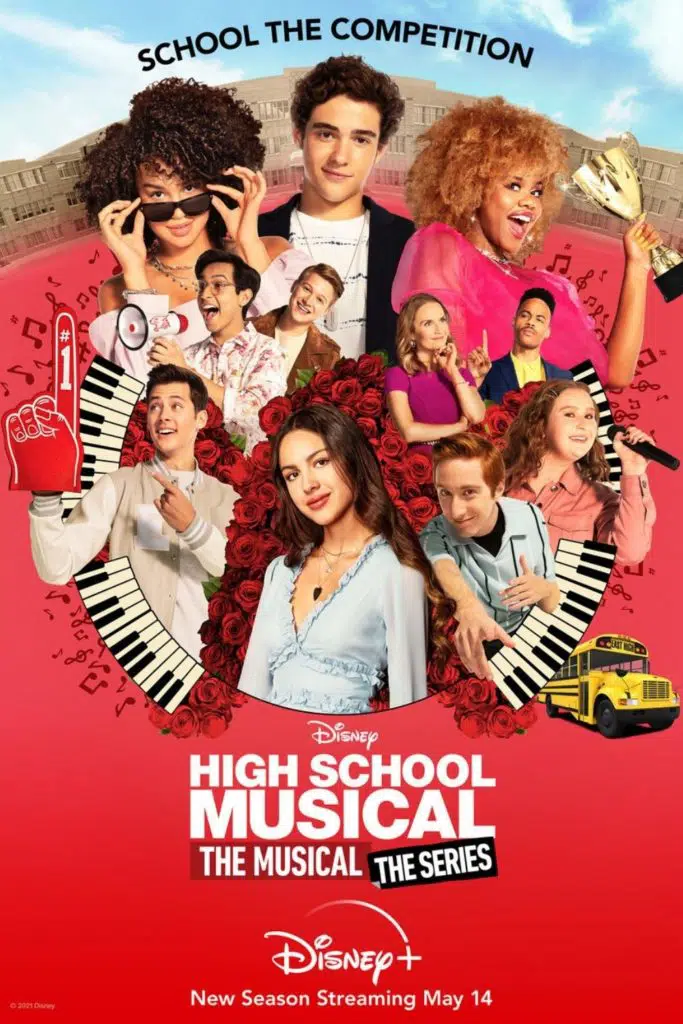 In this Disney Channel original movie, Troy (Zac Efron), a popular athlete known for playing the field, and Gabriella (Vanessa Hudgens), a quiet and nerdy academic, both have a secret: they love singing and long to try out for the school musical.
Their influence amongst their social circles sends the school into a musical craze, hence the movie's name. Oh and there's a love story or two in there.
Also on Disney+:
High School Musical 2 (2007)
High School Musical 3: Senior Year (2008)
Sharpay's Fabulous Adventure (2011)
High School Musical The Musical: The Series The Special (2019)
High School Musical The Musical: The Series (2019-21)
High School Musical The Musical: The Series Sing-Along! (2020)
High School Musical The Musical: Holiday Special (2021)
How to Build a Better Boy (2014)
In this Disney Channel Original movie, Mae (Kelli Berglund) tells kids at her school she has a boyfriend when she really doesn't.
Faced with getting caught in a lie, she and her friend Gabby (China Anne McClain) create a boyfriend using software that Mae's dad created.
Unfortunately the girls aren't aware that the software is for the military to create super soldiers.
Soon they find themselves on the run from the military and bad guys who want a hold of the software – and the boy.
Jungle Cruise (2021)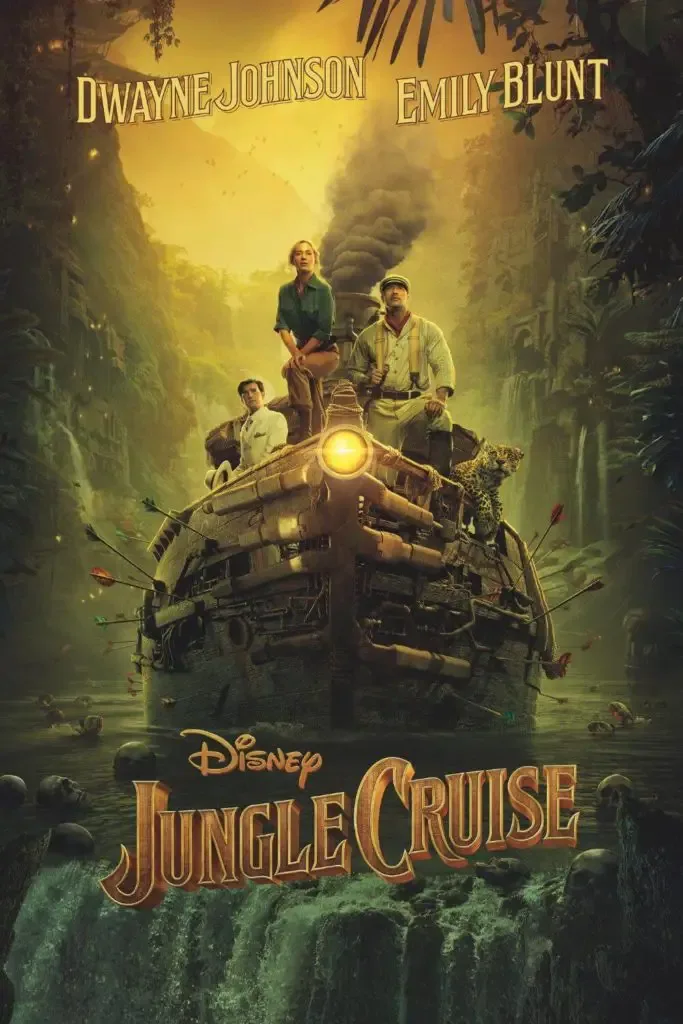 Everybody's punny, guilty-pleasure ride from Disneyland and Disney World finally got its own film!
Starring Dwayne "The Rock" Johnson and Emily Blunt, this movie is packed with action, adventure, comedy, and of course, romance.
About that last part? You'll have to watch to find out!
Lady & the Tramp (2019)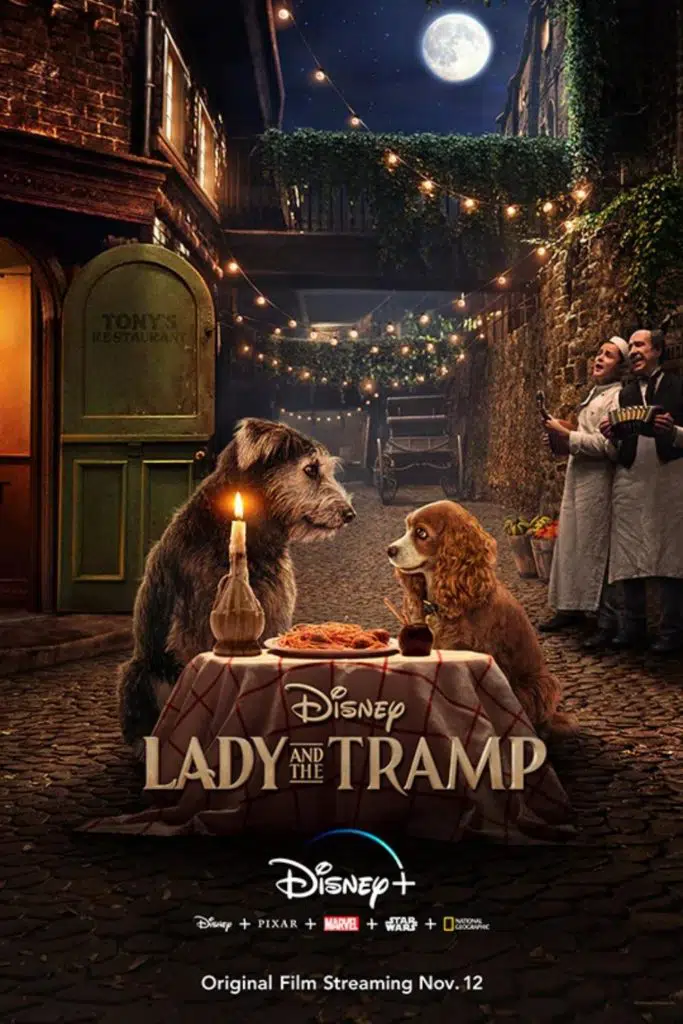 This cutesy live-action film is an adaptation of the original 1955 animated film.
It follows Lady, a spoiled purebred cocker spaniel, who gets loose from her family's yard and gets lost.
Lady is taken under the wing by Tramp, a mutt who lives on the street, and the two embark on an adventure as they try to make their way back to Lady's home.
Also on Disney+:
Lady & the Tramp II: Scamp's Adventure (2001)
Lady & the Tramp (1955)
The Last Song (2010)
Ronnie (Miley Cyrus) lives with her estranged dad for the summer. While there, she reconnects with her dad and also falls in love with a local boy, Will (Liam Hemsworth).
The Last Song is based on the Nicholas Sparks novel of the same name, so you know it'll be sappy and romantic!
Fun Fact: This is how now-ex's Miley Cyrus and Liam Hemsworth met and fell in love in real life!
Lava (2015)
In this sweet Pixar short film, a volcano longs for love as he watches life around him find love over millions of years.
He sings to the ocean each day, hoping to find a match of his own.
The Little Mermaid (1989)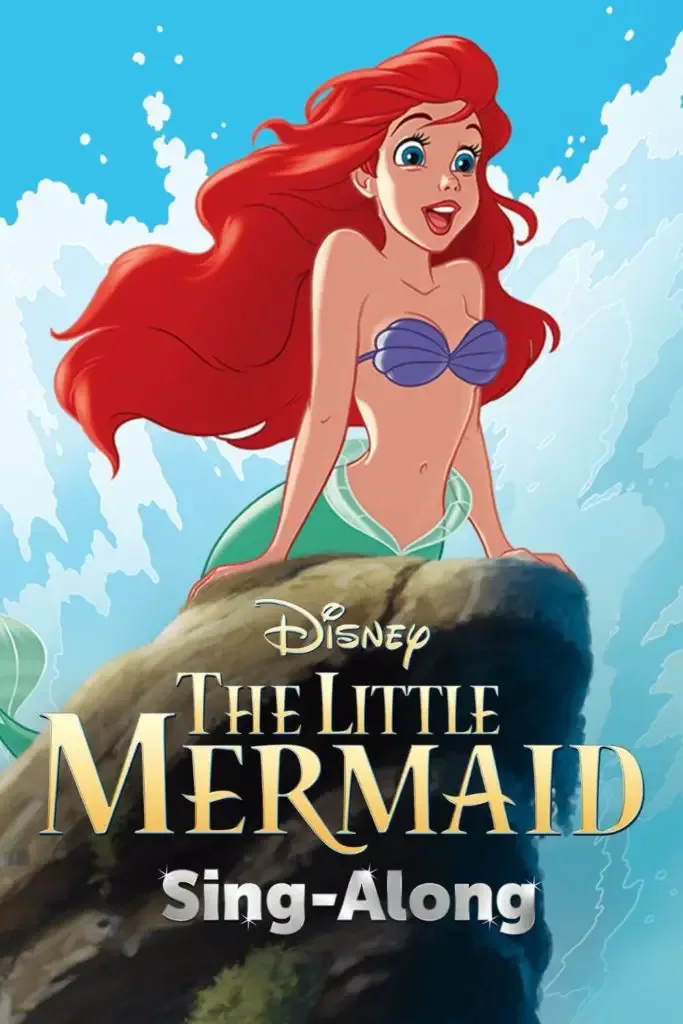 In this sweet movie, Ariel, a mermaid princess, is fascinated by humans and in no surprise, falls in love with one.
A sea witch makes her a deal that will give her the only chance to be with the man she has fallen for, Prince Eric, but it comes at a price.
Also on Disney+:
The Little Mermaid series (1992-94)
The Little Mermaid II: Return to the Sea (2000)
The Little Mermaid: Ariel's Beginning (2008)
The Little Mermaid Live! (2019)
The Little Mermaid (2023)
Liz & Dick (2012)
This biopic tells the story of the infamous romance between actress Elizabeth Taylor (Lindsay Lohan) and actor Richard Burton (Grant Bowler).
The Lizzie McGuire Movie (2003)
Hillary Duff concludes her role as Lizzie McGuire, a plucky teen who travels to Rome with her classmates.
While there, she meets and falls in love with an Italian teen pop singer, Paolo (Yani Gellman).
Meanwhile, one of her best friends, Gordo (Adam Lamberg), who has a secret crush on her, covers for her as she sneaks off to sing in a concert with Paolo.
Maxine (2023)
In this short film from Disney's Launchpad, Season 2, Allie is nervous about introducing her girlfriend to her family. She gets some help from an unexpected person.
Mom's Got a Date with a Vampire (2000)
Imagine being a teenager and finding out your mom has a date with a vampire. Talk about nightmare fuel!
That's kind of what happens in the 2000 Disney film Mom's Got a Date with a Vampire.
The film follows two kids who are grounded and conspire along with a friend to get their mom out of the house so they can sneak out for a concert.
Everything's going to plan until they start to suspect the guy their mom is going on a date with might be a vampire!
With a mix of humor, suspense, and some serious blood-sucking action, this movie will have you on the edge of your seat.
So sit back, grab some garlic bread (just in case), and get ready to sink your teeth into this fang-tastic Disney Channel Original Movie.
Out (2020)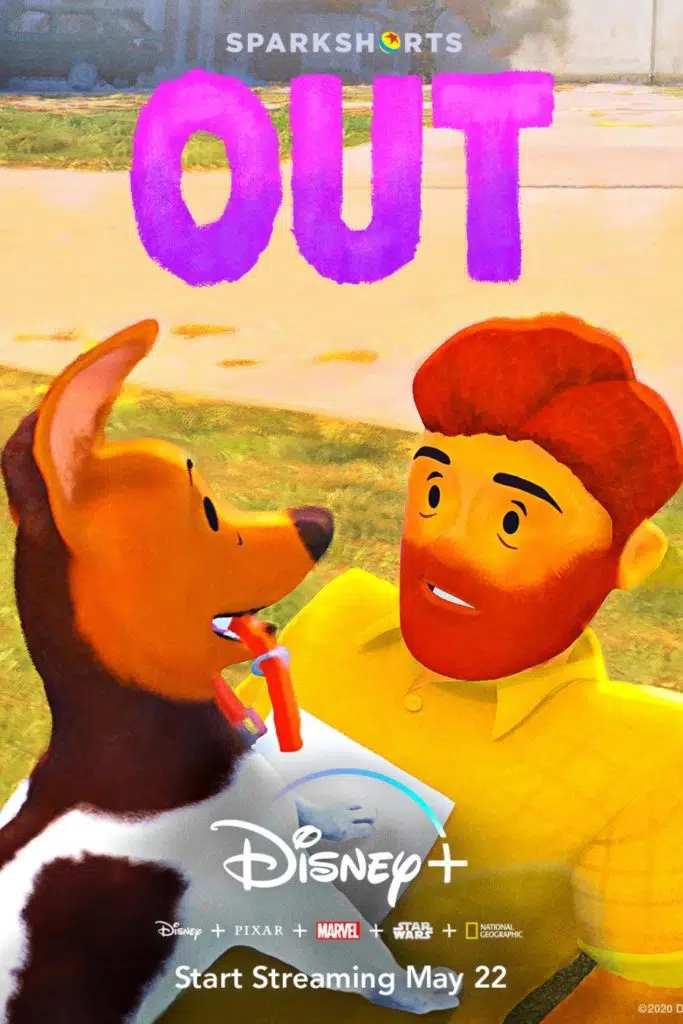 In this Pixar short, Greg has found love with Jim. His family doesn't know he is gay and he is nervous to tell them.
With a little bit of magic, and the help of his puppy, Greg comes out.
The Parent Trap (1961)
Separated at birth, twins (both played by Hayley Mills) separated after their parents split are reunited at summer camp where they conspire to switch places when returning home in an effort to also reunite their parents.
This beloved film was remade in 1998 starring Lindsay Lohan as the twin girls, which is also available on Disney+.
Pocahontas (1995)
This animated film is very loosely based on the legend of Pocahontas, an Indigenous American woman who married a colonial settler in the 1600s.
The real story is far more controversial, as Pocahontas was kidnapped at 14 and forced into marriage with a British colonizer.
The film version of Pocahontas tells the story of a Native American young woman who falls in love with John Smith, a British man who has arrived with colonial settlers that have sinister intentions. At least Disney gets the sinister part about the story right.
At the end of the day, the film has some redeeming qualities, but I wish more people knew the truth about the woman it is supposed to be based on.
Also on Disney+: Pocahontas II: Journey to a New World (1998).
The Princess and the Frog (2009)
Tiana (voiced by Anika Noni Rose) is a hardworking young woman who saves nearly every penny she makes so one day she can own a restaurant in New Orleans.
One day she meets a frog who claims to be a prince who will turn human again if they kiss. Except that's not exactly how it works…
The Princess Bride (1987)
Based on the 1973 novel of the same name, this 80s cult hit tells the story of a farm worker, Westley, who must rescue a princess, Buttercup, who is also his true love.
While that might seem like a simple plot, there are tons of fun characters and subplots involved!
The Princess Diaries (2001)
In this fun film based on Meg Cabot's 2000 novel of the same name, Anne Hathaway stars as Mia, an awkward, nerdy teen from San Francisco, California.
On her 16th birthday, Mia learns she is actually Crown Princess Amelia Mignonette Thermopolis Rinaldi, aka Princess Mia, royalty of a fictional European country, Genovia.
Mia must decide whether to accept her duties on the throne or throw it all away – all while dealing with typical teenager stuff like mean girls, learning to drive, school dances, and first loves.
The film also features Dame Julie Andrews as Queen Clarisse Marie Renaldi.
In late 2022, Anne Hathaway stated that a third film is in the works, although the script is still under development, so a release date is not yet known.
Surely it will be on Disney+ after its theatrical run or perhaps released as a Disney+ original!
Also on Disney+: Princess Diaries 2: Royal Engagement.
Prom (2011)
Reminisce about high school romance in this flick about teens preparing for the teenage rite of passage: prom.
There's heartbreak, new romances, surprise couples, and of course: teen drama and sparkly dresses.
Prom Pact (2023)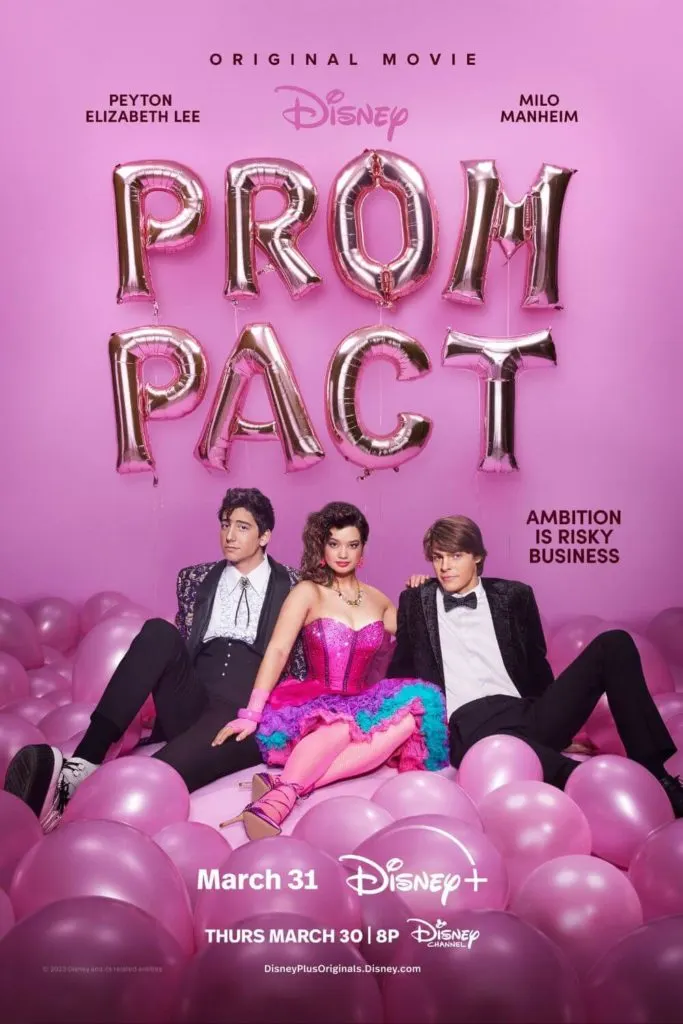 Hold on to your corsages and tuxedos, folks – Disney+ is bringing us a new teen comedy flick that's sure to deliver all the cringe and heartwarming moments we crave!
Prom Pact follows a high school senior who dreams of getting into Harvard and will do whatever it takes to get in after she learns that she is waitlisted.
Even if it means befriending a guy she despises, the high school jock!
For more movies like this, check out my post about all the best Disney+ chick flicks.
Riley's First Date (2015)
In this adorable short film, we follow Riley from Inside Out (also on Disney+) as she goes on her first date.
How fun would it be to have a series of shorts with more "firsts" and big events and how her emotions process it in real time?
Robinhood (1973)
In this retelling of the popular tale, Robin Hood and his crew of thieves rob from the rich and give to the less fortunate.
So where does the romance come in? Well, Robin Hood just might win the affection of one of the rich.
Sleeping Beauty (1959)
One of my absolute favorite fairy tales from my childhood!
In this sweet story, a dark fairy, Maleficent, tricks Princess Aurora into a cursed slumber. The only way to break the curse is true love's kiss.
Also on Disney+:
Waking Sleeping Beauty (2010)
Maleficent: Mistress of Evil (2019)
Snow White and the Seven Dwarfs (1937)
Disney's first animated film tells the story of Snow White, an orphaned young girl living with her jealous stepmother, the Evil Queen.
When she becomes a teenager, the Evil Queen orders Snow White to be offed, setting off a chain of events. Will jealousy outwit kindness?
Snowdrop (2021)
In this romantic Korean drama, a young student falls in love with an injured man – but each is harboring a secret.
Soundtrack #1 (2022)
In this fun k-drama, a young woman is tasked with writing lyrics for a love song. She asks the musical artist to move in with her while they work on the song together.
Splash (1984)
In this fun 80s romantic comedy, Allen (Tom Hanks) is rescued as a boy after jumping off a boat in the ocean by Madison (Daryl Hannah), a mermaid.
Flash forward 20 years later, Allen falls in the ocean again, only to be rescued by Madison again.
Madison gets a chance to walk among humans for a few days and sets out to find Allen.
They fall in love and Madison must decide: return to the ocean as a mermaid or remain a human forever.
Starstruck (2010)
A teen pop star, Christopher, has a chance to break into Hollywood movies.
But after falling in love with a sweet girl in the Midwest, he has to decide whether to follow his heart or his dreams.
Tangled (2010)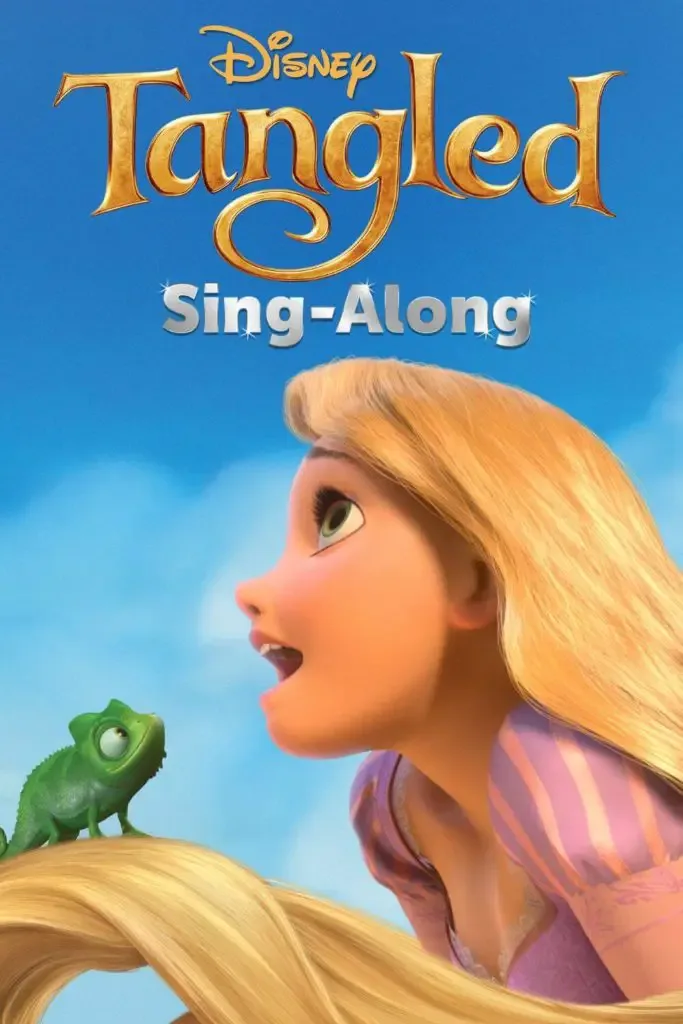 A thief on the run, Flynn Rider (voiced by Zachary Levi), and a teen being held captive in a tower, Rapunzel (voiced by Mandy Moore), both find themselves on the run together in this charming adventure, as they fall for each other.
Also on Disney+:
Tangled Ever After (2012)
Tangled: Before Ever After (2017)
Tangled: The Series Short Cuts (2017)
Rapunzel's Tangled Adventure (2017-19)
Tuck Everlasting (2002)
In this tale of young love, a teen girl named Winnie (Alexis Bledel) runs away from her luxurious life that she finds stifling and boring.
She meets and falls in love with a teen boy, Tuck (Jonathan Jackson), who lives in the woods and holds a secret: he is immortal due to a magical spring.
Winnie must decide: return home to a life of riches or drink from the spring and become immortal, too.
Up (2009)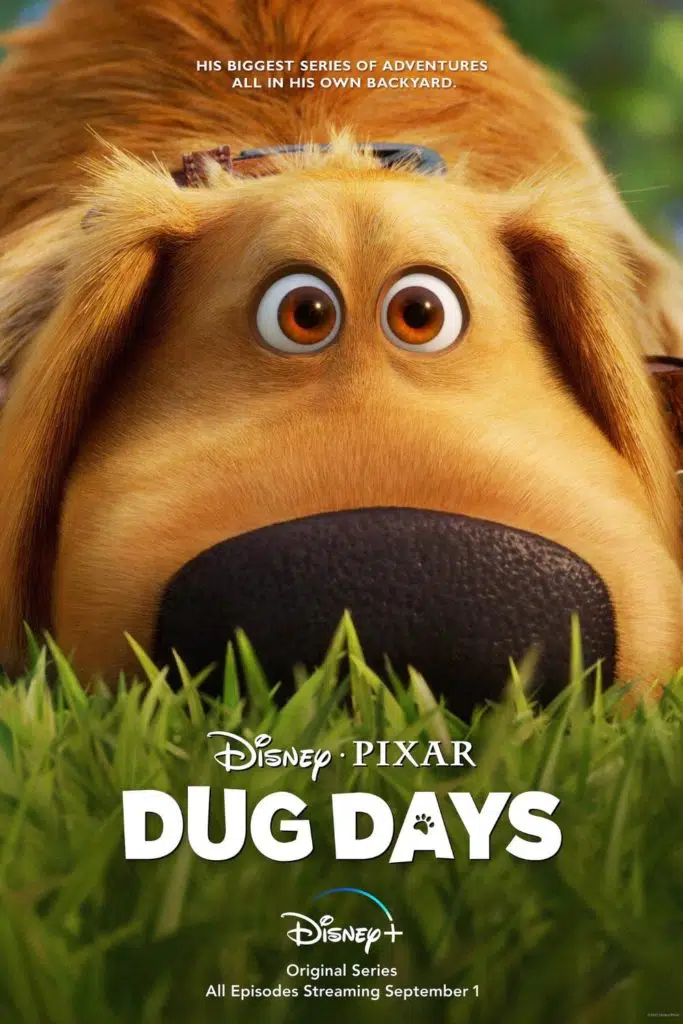 In one of Pixar and Disney's most romantic movies, we follow a plucky young boy scout, Russell, and an older man man, Carl, on a journey in honor of his late wife, Ellie, who dreamed of an adventure to Paradise Falls in South America.
Also on Disney+: Dug Days (2021).
Us Again (2021)
In this sweet short film, an older couple reminisce about their once youthful and lively life in the city when they first fell in love.
Wall-E (2008)
In this post-apocalyptic romance, WALL-E, a robot left on a destroyed Earth to clean garbage, falls in love with another robot, EVE, who was sent to Earth to find any signs of life.
Just as he falls in love, EVE is swept away by a spaceship and WALL-E must travel the galaxy to chase after her.
West Side Story (2021)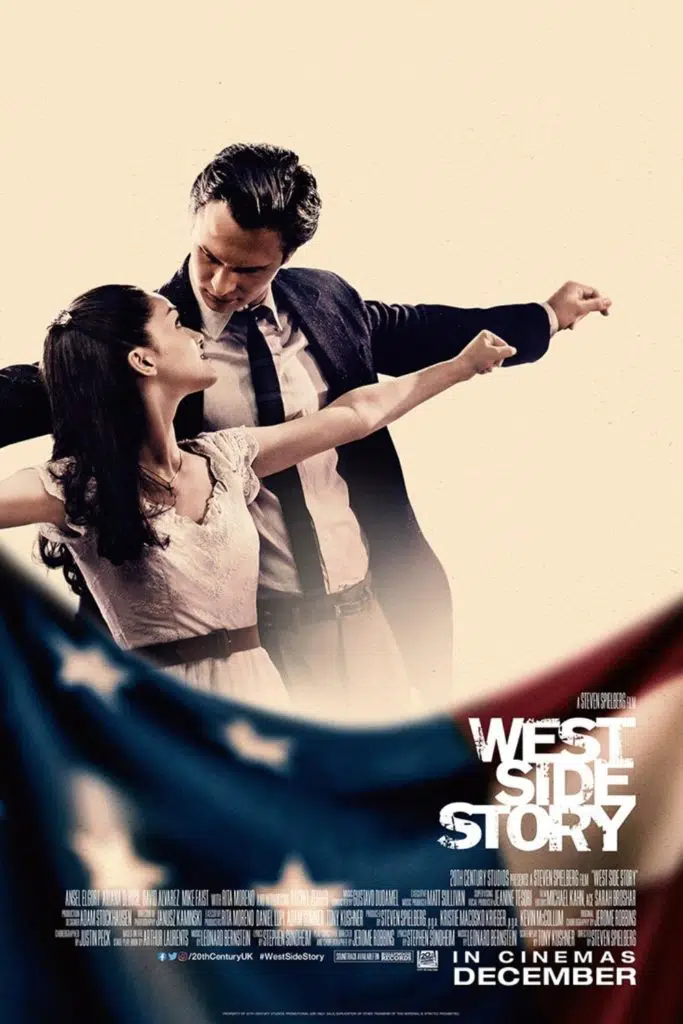 Stephen Spielberg's retelling of the ill-fated tale of 2 1950s teens from rival gangs, West Side Story, is available to stream.
This popular Romeo & Juliet-esque film also has a behind-the-scenes special from ABC's 20/20 available called Something's Coming: West Side Story (2021).
While You Were Sleeping (1995)
Lucy (Sandra Bullock), who works for the MTA subway, saves a passenger, Peter (Peter Gallagher), that she has admired from afar for some time from an accident.
The man falls into a coma and his family mistakes her for the man's fiancée. Lucy plays along, only to fall in love with the man's brother, Jack (Bill Pullman).
Wrapped up in Christmas (2017)
The manager of a mall, Heather (Tatyana Ali), is tasked with closing underperforming stores and unexpectedly falls in love with the nephew of one of the shops she was supposed to close.
Will she choose love or work?
The Park Pixie's top picks
If you're having a bit of analysis paralysis still, here's a list of my personal top picks of the best romantic movies on Disney Plus.
Best animated romance: Up (2009)
Best Shakespeare adaptation: 10 Things I Hate About You (1999)
Best holiday rom-com: Feliz NaviDAD (2020)
Best romantic short film: Us Again (2021)
What are your favorite romantic movies on Disney Plus?
As you can see, Disney+ has an incredible selection of romantic movies, each with its own qualities that make it stand out.
Whether you're looking for a classic love story, comedy, or action-packed adventure, there is surely something here for every romantic at heart to enjoy.
With so many options to choose from, it can be hard to pick just one to watch! So why not have a movie marathon?
Grab some snacks and settle in for the night as you explore the best romantic movies on the streaming service.
And before you go, let me know what your favorite romantic movies on Disney+ are in the comments below.
---
About the author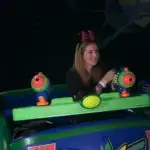 Meg Frost is the creator of The Park Pixie, where she covers Disney World, Disney+, and Disney fandom.
She holds an M.A. in Journalism from Northeastern University and B.S. in Communication & American Studies from University of Miami in Florida.
---
This post was originally published February 12, 2022. It was last updated October 15, 2023.