One of the best Spring Break trips in the US I can think of is the Epcot Flower and Garden Festival at Disney World.
I don't know about you, but I am not the biggest fan of Winter! I love to celebrate the end of this dismal, cold season with a trip to ring in the Spring season.
Keep reading to learn all of my best Epcot Flower and Garden Festival tips to ensure a spectacular Disney World Spring Break trip.
When is the Epcot Flower and Garden Festival?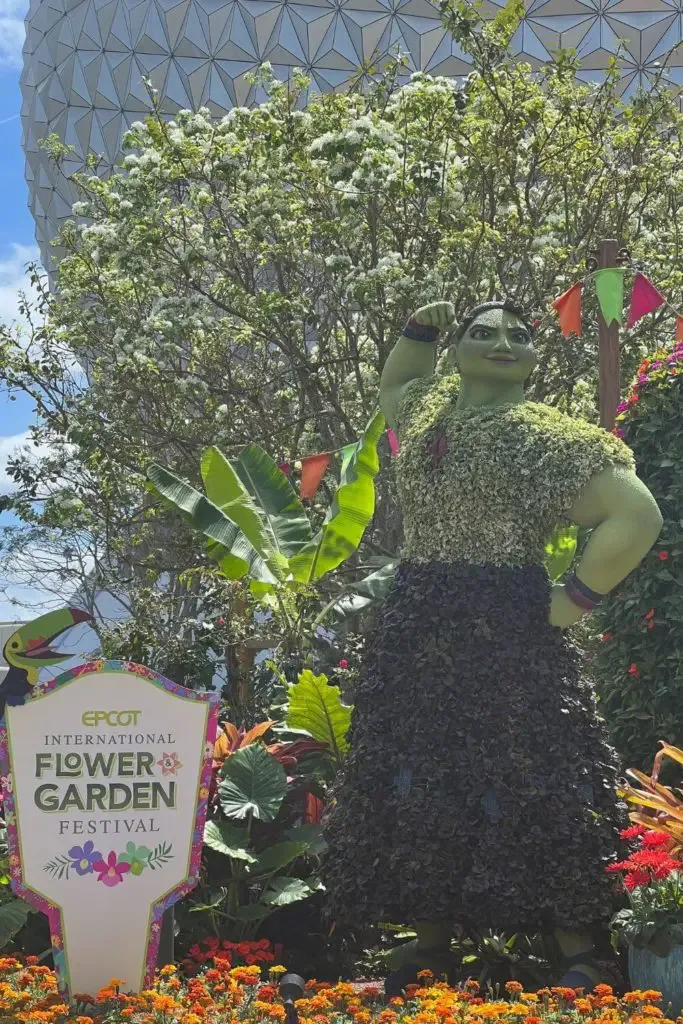 The dates for the 2024 Epcot International Flower and Garden Festival are not available yet. However, my best guess based on past years would be March 1, 2024 through July 7, 2024.
Again, this is just a guess! Once Disney announces the dates, I will be sure to update this post.
For tips on planning your Disney World vacation during these months, check out these planning guides:
Where to stay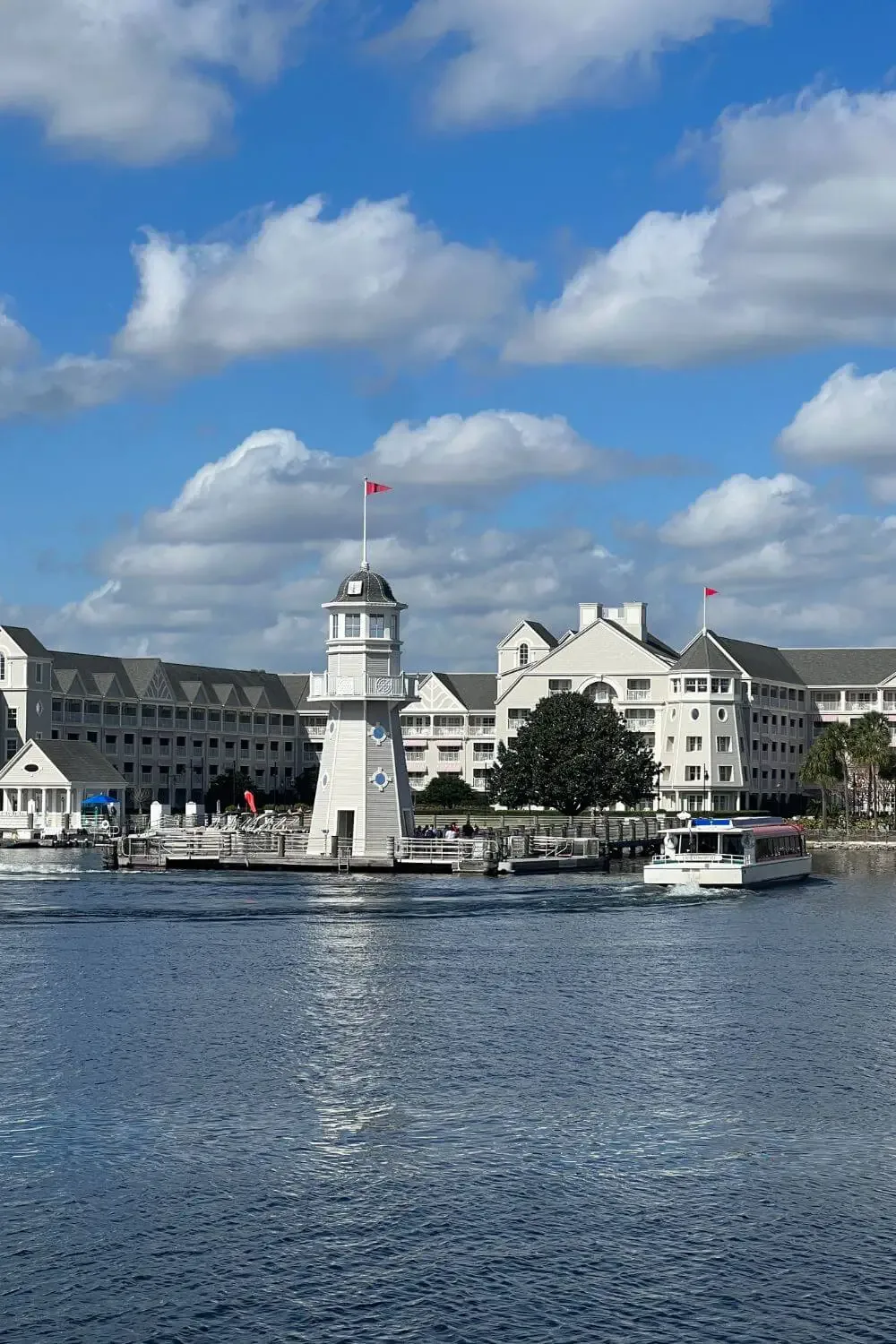 Book your Disney World resort package as far in advance as you can for the best deal.
At minimum, you should book more than 6 months ahead of your desired date for best price and availability.
Additionally, most Disney World resort deals for the Spring season will come out more than 6 months ahead, such as the ever popular free dining deals or reduced prices on hotels.
TIP: If you prefer deluxe level resorts, you can save money by renting a Disney Vacation Club (DVC) villa via an independent broker.
If you can swing it financially, I recommend booking one of the hotels near Epcot. This will cut down on your commute to Epcot, giving you more time at the park.
The 3 hotels closest to Epcot are the BoardWalk Inn, Yacht Club Resort, and Beach Club Resort.
All are excellent resorts, though my pick goes to the Yacht Club Resort or Beach Club Resort, as they have a sand-bottom pool that is quite refreshing to lounge in on a hot afternoon.
All 3 of these hotels are within walking distance to Epcot, plus there is also boat transportation.
A few other good options include the Caribbean Beach, Riviera, Art of Animation, and POP Century resorts, all a leisurely Skyliner ride away to Epcot.
As the aliens from Toy Story say…OooOooohhHhh!
Epcot Flower and Garden Festival Garden Rocks concert series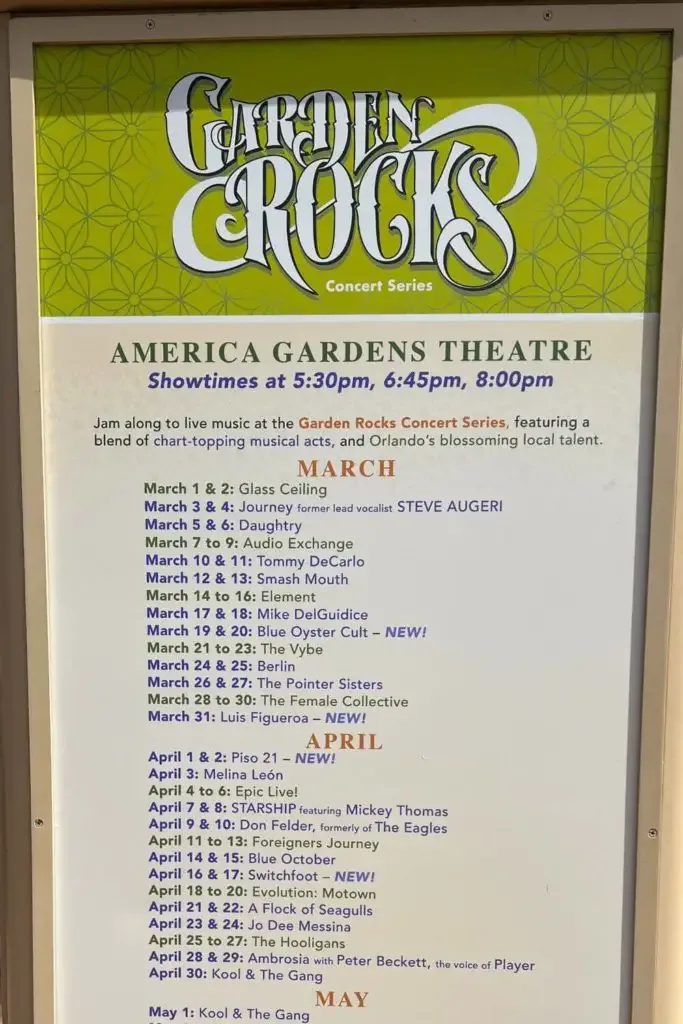 One of the classic parts of Epcot's festivals are its concerts and shows. So before you book your resort deal, check the schedule so you can plan your trip when your favorite musical act is scheduled.
Concerts take place 3 times on scheduled nights at 5:30 PM, 6:45 PM, and 8 PM.
As with other Epcot festivals, special dining packages are available for the Garden Rocks Concert Series. The dining package includes reserved seating in a special section for a designated time slot.
The following restaurants are eligible to be booked as the Garden Rocks Concert Series Dining Package:
Akershus Royal Banquet Hall
Biergarten Restaurant
Coral Reef Restaurant
Garden Grill
Le Cellier Steakhouse
Regal Eagle Smokehouse
Rose & Crown Dining Room
Spice Road Table
2023 Garden Rocks concert series schedule
| Date(s) | Performer(s) |
| --- | --- |
| March 1-2 | Glass Ceiling |
| March 3-4 | Steve Augeri, former lead vocalist for Journey |
| March 5-6 | Daughtry |
| March 7-9 | Audio Exchange |
| March 10-11 | Tommy DeCarlo |
| March 12-13 | Smash Mouth |
| March 14-16 | Element |
| March 17-18 | Mike DelGuidice |
| March 19-20 | Blue Oyster Cult |
| March 21-23 | The Vybe |
| March 24-25 | Berlin |
| March 26-27 | The Pointer Sisters |
| March 28-30 | The Female Collective |
| March 31 | Luis Figueroa |
| April 1-2 | Piso 21 |
| April 3 | Melina León |
| April 4-6 | Epic |
| April 7-8 | STARSHIP featuring Mickey Thomas |
| April 9-10 | Don Felder, formerly of The Eagles |
| April 11-13 | Foreigners Journey |
| April 14-15 | Blue October |
| April 16-17 | Switchfoot |
| April 18-20 | Evolution: Motown |
| April 21-22 | A Flock of Seagulls |
| April 23-24 | Jo Dee Messina |
| April 25-27 | Hooligans |
| April 28-29 | Ambrosia with Peter Beckett, The Voice of Player |
| April 30 & May 1 | Kool & the Gang |
| May 2-4 | The Finesse Party Band |
| May 5-8 | Herman's Hermits starring Peter Noone |
| May 9-11 | Latin Ambition |
| May 12-15 | The Orchestra starring former members of ELO |
| May 16-18 | 506 Crew |
| May 19-20 | A.J. Croce: Croce Plays Croce |
| May 21-22 | Casting Crowns |
| May 23-25 | M-80s |
| May 26-27 | Jason Scheff, former lead singer of Chicago |
| May 28-29 | Rick Springfield |
| May 30 – June 1 | Champagne Orchestra |
| June 2-5 | Plain White T's |
| June 6-8 | Glass Ceiling |
| June 9-10 | The Spinners |
| June 11-12 | The Commodores |
| June 13-15 | Element |
| June 16-17 | Vertical Horizon |
| June 18-19 | Tony Orlando |
| June 20-22 | Foreigners Journey |
| June 23-26 | Simple Plan |
| June 27-29 | Epic |
| June 30 – July 1 | Living Colour |
| July 2-3 | Wang Chung |
| July 4-5 | Evolution: Motown |
2023 Epcot Flower & Garden Festival Garden Rocks Concert Series Schedule
Grab your dining reservations 60 days ahead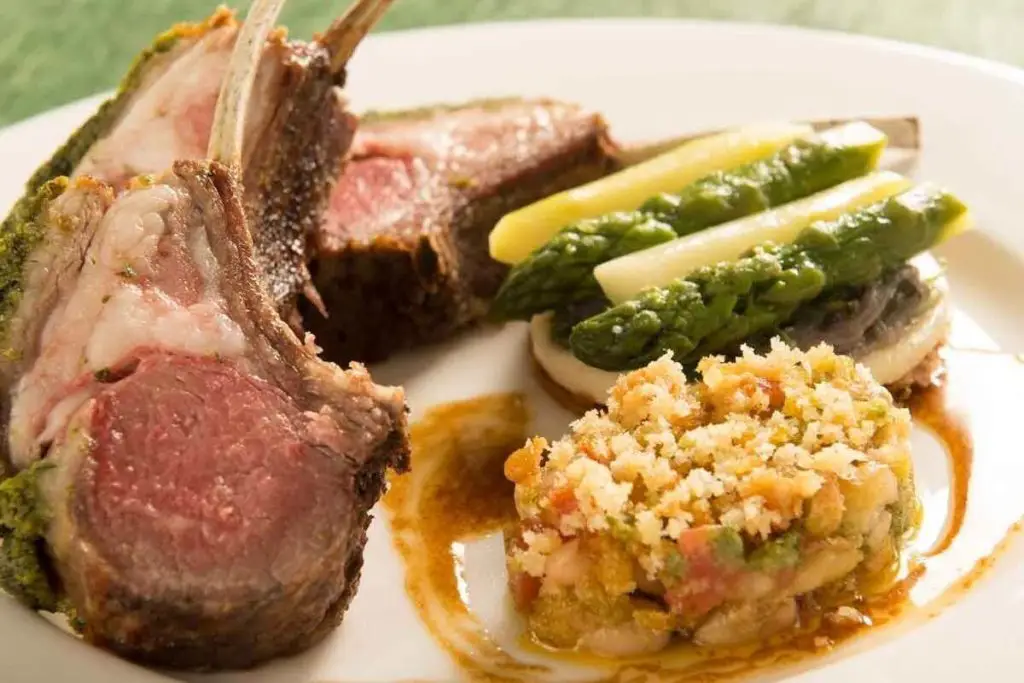 At 60 days before the first day of your trip, you can book your restaurant reservations. Reservations fill up FAST, so don't sleep on this tip!
Some of the best Epcot restaurant reservations to consider are Space 220, Le Cellier Steakhouse, Teppan Edo, Monsieur Paul, and La Hacienda de San Angel.
My all-time favorite table service restaurant at Epcot, however, is Akershus Royal Banquet Hall, where you can get delicious Norwegian meatballs. Nom!
Of course, your restaurant reservations don't have to be at Epcot. But if you're there for the Epcot Flower and Garden Festival, I'm betting you'll be spending most of your time there.
That said, reservations only apply to table service (aka sit-down) meals, so you can always skip this tip if you plan to stick to the outdoor kitchens and quick service meals.
Avoid the weekends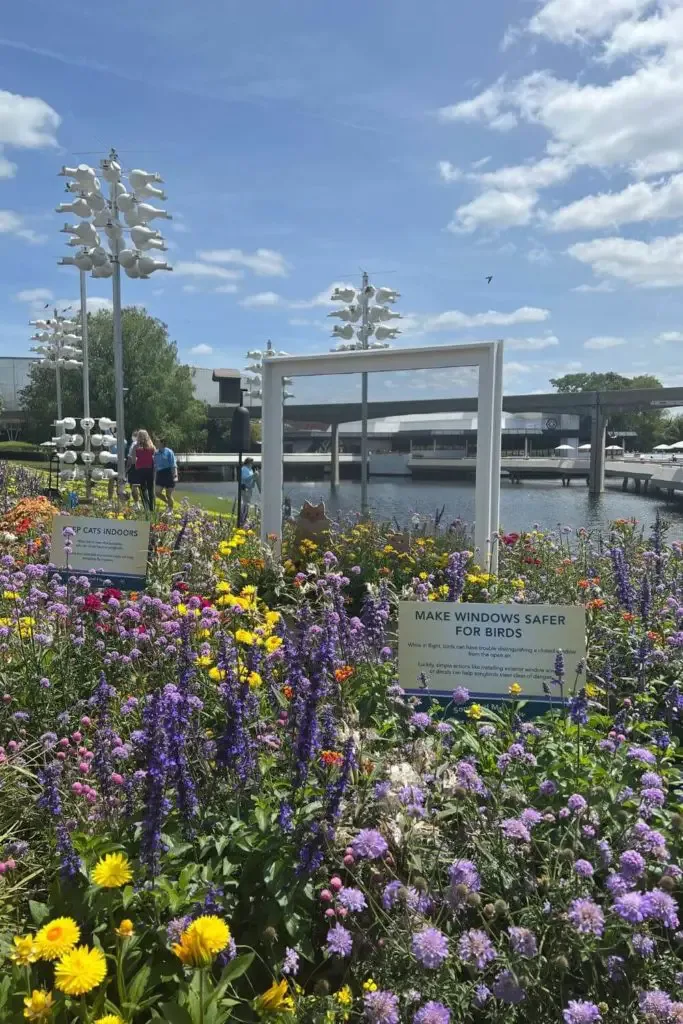 The Flower and Garden Festival is more crowded on the weekends, as it's when local residents are more likely to visit (in addition to out of town tourists).
So if you loath crowds, schedule your visit during the week so you can wander around the World Showcase without feeling like a sardine packed in a tin.
Save your snack credits
NOTE: The DDP is currently on hold, but expected to resume in the future. Crossing my fingers it will return for 2023!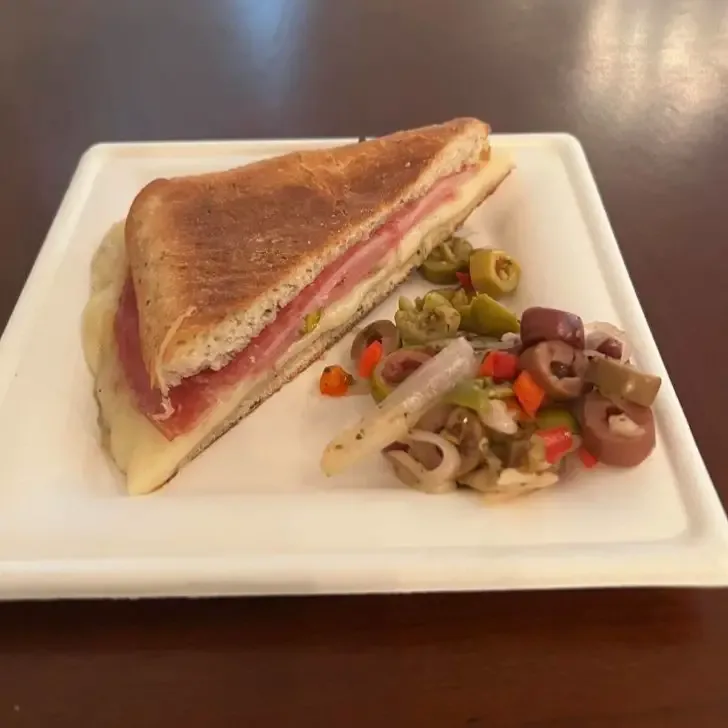 Most of the food and drink at the Epcot Flower and Garden Festival can be purchased using snack credits from the Disney Dining Plan.
Using these credits is a great way to save money and still sample lots of food and drink at the festival.
All of the Disney Dining Plans come with 2 snack credits per day, so even if you're only visiting for a long weekend, that's anywhere from 4-6 snack credits to play with.
Genie+ at Epcot (aka the new FastPass system)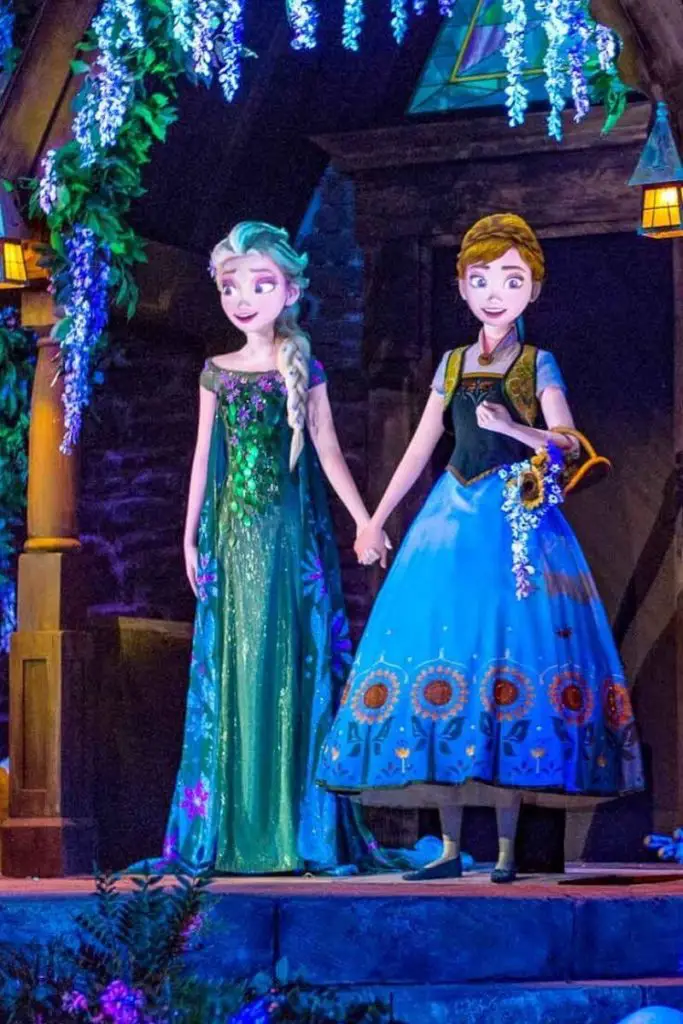 Genie+ has replaced the former Fastpass+ system.
Like FastPasses, Genie+ Lightening Lanes are basically a chance to skip the standard line at select rides and attractions for a nominal price per day.
Some rides and attractions have an additional cost on top of Genie+, but might be worth it for you.
I'm still a bit conflicted about whether I like this new system, mainly because FastPasses were completely free, while Genie+ can quickly add up.
But at the end of the day, no one enjoys waiting in line, so it's best to budget for it.
Plus, you can only add Genie+ to your account starting at 7 AM on the day you intend to use it. So silly. Hopefully this will change in the near future!
Check out my Genie, Genie+, and Lightning Lanes guide for more info on this new system.
Guardians of the Galaxy: Cosmic Rewind virtual queue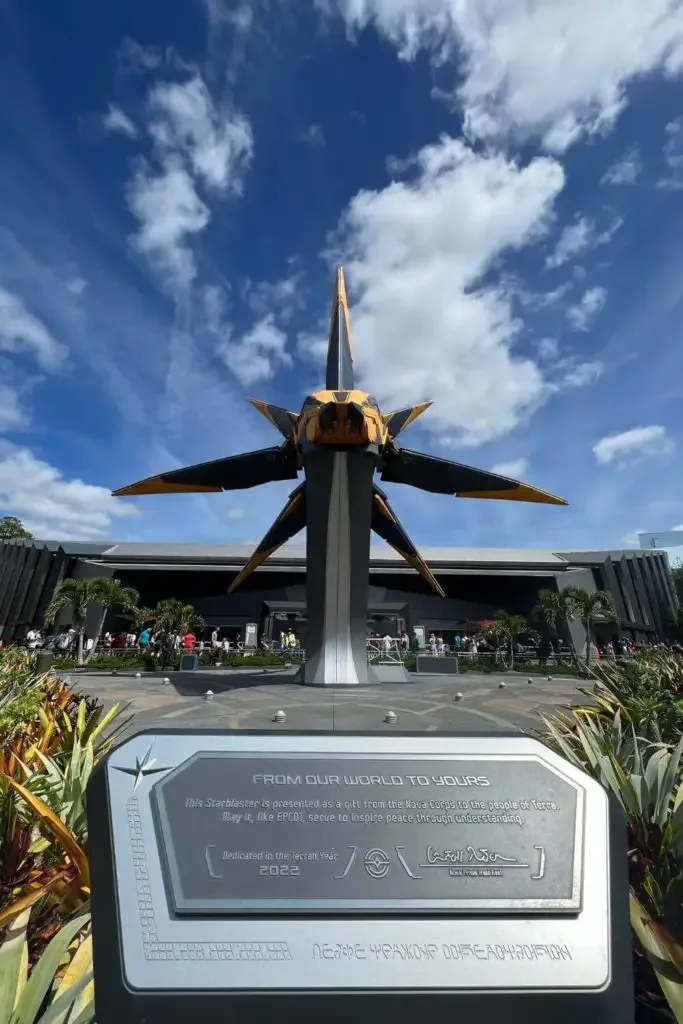 Epcot's newest ride, the Guardians of the Galaxy: Cosmic Rewind roller coaster, only does virtual queue and individual lightning lanes. There is no regular standby line.
The virtual queue opens up at 7 AM each day and can be reserved on the My Disney Experience app.
It opens up again at 1 PM if you miss the morning slot, but you must be in Epcot to join it.
If you are attending extended evening hours at Epcot, either through an extra ticketed event or free extra hours for select resort guests, a third chance to join the virtual queue starts at 6 PM.
At this time, guests can only enter the virtual queue for this ride once per day.
However, if you want to ride it more than once in a day, you can purchase an individual lightning lane pass, even if you used the virtual queue.
The lightning lane price varies, but expect to pay up to $20 (I recently paid $14).
Grab a festival passport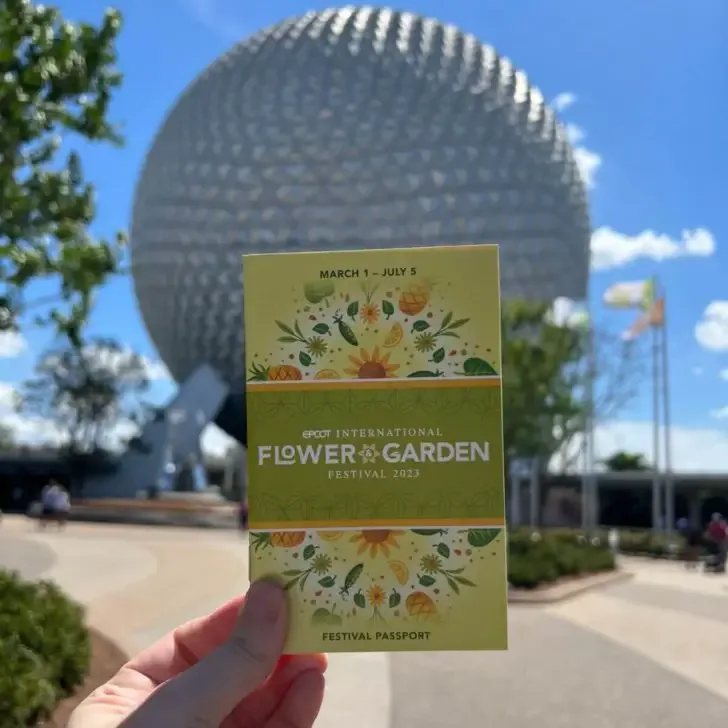 Once you get to Epcot, be sure to grab a festival passport.
It's a small booklet with details about all of the fun food, events, and fun to be had at Epcot during the festival.
If you forget or lose your passport, you can also get them in select stores around the park, too.
It's completely free and makes a fun souvenir for a memory box, scrapbook, or even a shadow box frame!
Spike's Pollen-Nation Exploration scavenger hunt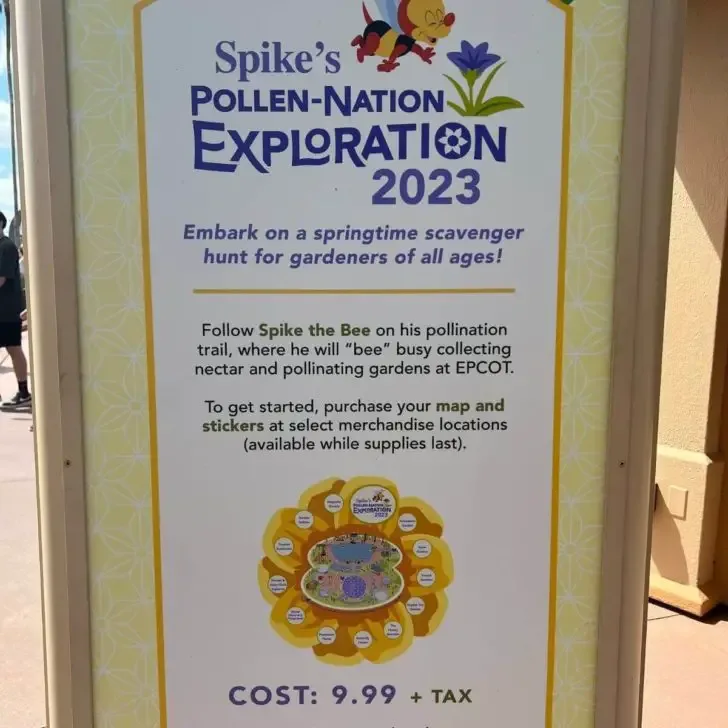 As with Epcot's other festivals, a special scavenger hunt is available for guests to play.
Maps and stickers for the game can be purchased at select stores within Epcot for $9.99 plus tax.
Once the game is completed, you can turn in your map for a prize!
Eggs-stravaganza Scavenger Hunt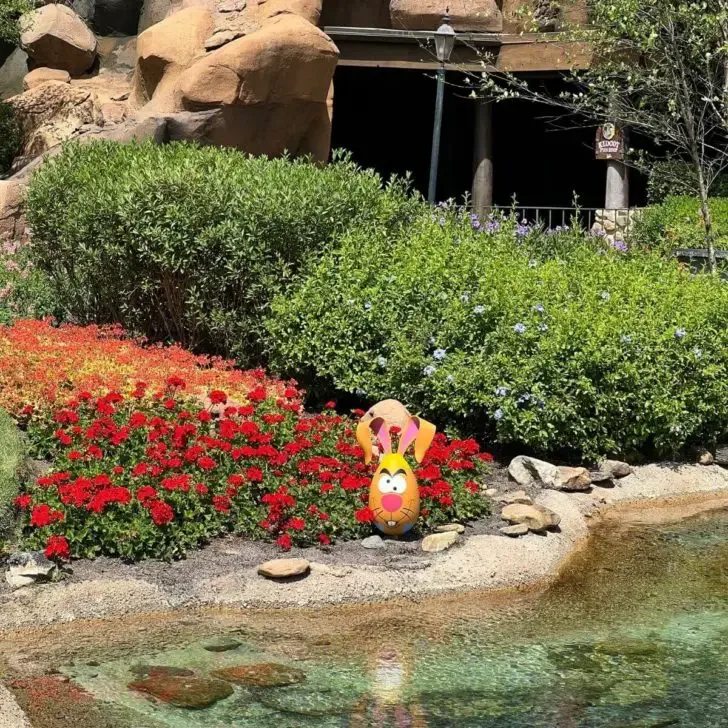 From March 13 through Easter, another scavenger hunt is available during the festival – the Eggs-stravaganza Scavenger Hunt. This activity is $9.99 plus tax.
The premise is similar to Spike's Pollen-Nation Exploration, except it's Easter themed!
Participants must find hidden eggs around the park (like the one shown above) and once they are all found, the map can be turned in for a prize.
Epcot Flower and Garden Festival outdoor kitchens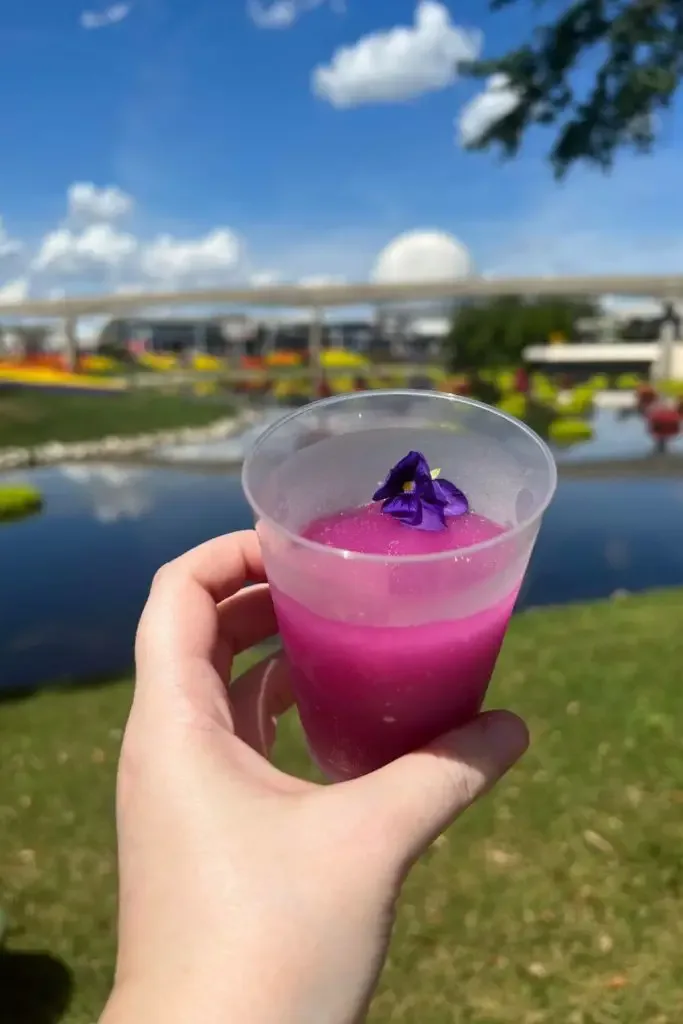 Don't let the festival's name fool you – it's more than just Disney topiaries and gardens!
In fact, I'll be so bold as to say the biggest (and best) part of the festival are its food booths, like the super popular Pineapple Promenade, The Honey Bee-stro, and Florida Fresh.
There are more than 50 NEW food and drink items at the Epcot Flower & Garden Festival in 2023!
Let's take a look at all the tastiness in store for us this year.
Near Test Track presented by Chevrolet
Over at BRUNCHCOT, you can get yummy brunch-inspired dishes all day. Look out for the Froot Loops milkshake, Lox Benedict on Everything Focaccia, and the ever popular shrimp and grits.
The menu at EPCOT Farmers Feast will change 3 times over the course of the festival to highlight the freshest local ingredients!
World Discovery
At Joffrey's Coffee & Tea Company cart, you can get the Exotic Lemon Tea, which is a mix of frozen lemonade and iced tea with berry flavoring. You can also add a shot of Grey Goose vodka.
Odyssey pavilion
The Citrus Blossom has moved over to the Odyssey pavilion.
This year's menu features orange sesame tempura shrimp, citrus baked brie with preserved lemon marmalade, limoncello-macerated blueberries with spiced Marcona almonds, and lemon meringue pie.
Mexico pavilion
At Jardin de Fiestas, check out the Mala Herb Margarita, which is made with elderflower-chamomile tea, Abosalo corn whiskey, Centinela tequila reposado, UNA flower-infused vodka, and a Chile salt rim.
Just be sure to go after you've already gone on Cosmic Rewind!
China pavilion
At Lotus House, try the spicy Mala chicken skewer with creamy peanut sauce, cheesy crab wontons or veggie dumplings. They also have bubble milk tea!
At the Refreshment Outpost between China and Germany, you can get a pineapple skewer with Tajin seasoning. It's so refreshing with just a bit of a kick from the seasoning.
They also have a few interesting drinks, like the lavender martini.
Germany pavilion
At Bauernmarkt: Farmer's Market, try to potato pancakes with either apple sauce or ham, onions, and sour cream. Pair it with a beer flight so you can try all of the yummy beers, too!
Italy pavilion
At Primavera Kitchen, go for the tortelloni primavera which has spinach tortelloni, sweet butter, pancetta, corn, peas, and fava beans. You can't go wrong with a glass of wine or prosecco, either.
American Adventure pavilion
Look for the new Tiana topiary and you'll find Magnolia Terrace nearby. Here you can find lots of Louisiana-inspired goodies, like crawfish pie, bananas foster bread pudding, a muffuletta panini, and spicy chicken gumbo.
The Funnel Cake stand has a special menu item during the festival – the banana split funnel cake. Yum!
At Joffrey's Coffee & Tea Company, you can get the key lime cold brew coffee during the festival months, to which you can also add a shot of Kahlúa rum and coffee liqueur.
Japan pavilion
Hanami is where you'll find the super popular crushing, which is made with strawberry, pineapple, and lychee wrapped in sweet rice and a pink soy wrap (kind of like a fruit roll-up).
I also recommend the Hakushika Hana Kohaku plum sake.
Morocco pavilion
At Tangerine Café: Flavors of the Medina, go for the hummus trio with traditional hummus, red beet and black garlic hummus, and avocado herb hummus with Moroccan bread and papadam.
Between the Morocco and France pavilion is La Isla Fresca, which features Caribbean inspired food and drink.
I recommend the braised oxtail with pigeon pea rice and coconut tres leches cake.
France pavilion
At Fleur de Lys, try the taste chocolate mogador, a chocolate tart with walnuts and raspberry coulis. Pair it with the very raspberry, a rosé wine with natural raspberry flavor.
Canada pavilion
At Northern Bloom, I recommend the chocolate maple whisky cake and maple popcorn shake with a shot of Tap 357 maple rye whisky.
Joffrey's Coffee & Tea Company features a special menu item – the Melonade, which is a mix of frozen lemonade with watermelon. You can also add Grey Goose vodka.
At the Refreshment Port, try the shrimp scampi poutine with lemon-garlic cheese fondue, spinach, and artichokes.
Port of Entry
At Trowel & Trellis, definitely try the Impossible Korean short ribs, as well as the Twinings iced green tea with cranberry and lime.
I'm not a vodka fan, but you can get the iced tea with Hanger 1 Market Lime Vodka, too!
The Honey Bee-stro, hosted by the National Honey Board, naturally serves honey infused food and drink.
Everything here is great, but the pollinator flatbread with honey whipped marscarpone, honey caramelized onions, blueberry gastrique, proscuitto, honey whipped goat cheese, arugula, honey vinaigrette, and bee pollen was delisssssh!
Nearby at Pineapple Promenade is where you can find cult-favorite drink, the frozen violet lemonade. You can also get pineapple Dole whip soft serve here.
Near Disney Traders
At Florida Fresh, you'll find dishes and drinks made with Florida fresh ingredients (get it?).
Check out the grilled street corn and cucumber watermelon slushy (which you can get with a shot of gin).
At this Joffrey's Coffee & Tea Company location, you can get the orange cream cold brew coffee with the option of adding a shot of Kahlúa.
Land Pavilion
The Land Cart specializes in healthy snacks, like the fruit and cheese plate and veggie plate.
Sunshine Seasons features a special menu item during the festival – the strawberry mango slushy.
Connections Café and Connections Eatery
At the Connections Café, you can get an Orange Bird liege waffle during the festival.
While the Connections Eatery features the flower drop cocktail, which has St. Germaine's liquor, Tito's vodka, elderflower, and lemonade. How Springy!
Garden Graze Food Stroll
Each year, five dishes from the food booths are selected for the Garden Graze food stroll, which is a bit like a food challenge.
Try each dish and collect a stamp for your festival passport. Once you have all 5 stamps, you can turn your passport in for a surprise gift!
In 2023, the following foods and outdoor kitchens are included in the food stroll:
Bauernmarkt: Farmer's Market: Potato pancakes with house-made apple sauce
BRUNCHCOT: Avocado toast with toy box tomatoes on toasted ciabatta bread
Florida Fresh: Grilled street corn on the cob with garlic spread and corn chips
Florida Fresh: Grilled street corn on the cob with garlic spread and plant-based cotija cheese
La Isla Fresca: Coconut tres leches cake
Refreshment Outpost: Pineapple skewer with Tajin seasoning
The Land Cart: Cookies 'n' Cream chocolate mousse cup
Trowel & Trellis: Boneless Impossible™️ Korean short ribs with cilantro-lime rice, danmuji slaw, and kimchi mayo
Trowel & Trellis: Impossible™️ lumpia with Thai sweet chili sauce
Trowel & Trellis: Chocolate cake with black currant ganache, mixed berry compote, and chocolate ice cream
Explore the gardens and topiaries
Aside from the delicious food and drink available at this festival, the main event is the gardens and topiaries sprinkled throughout EPCOT.
Check out this guide to what you'll find this year.
World Celebration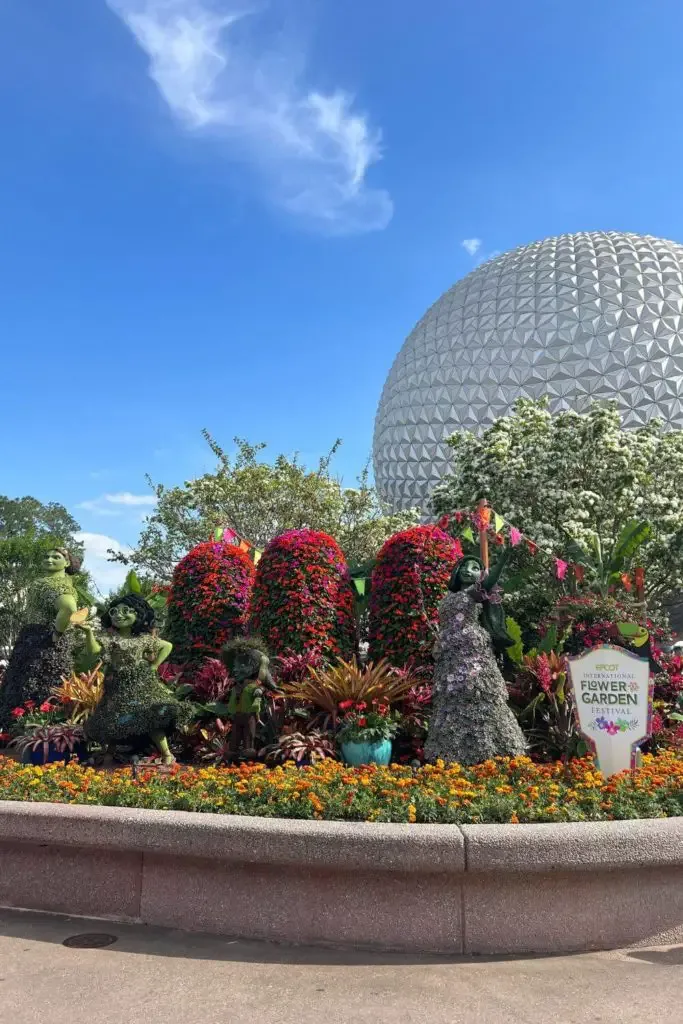 The Community Garden
Connections Conservatory Garden
Festival Blooms
In World Celebration, you'll find topiaries of all the classic characters – Mickey Mouse, Minnie Mouse, Pluto, Donald Duck, Daisy Duck, Chip, and Dale.
New in 2023 are topiaries of the characters from Encanto, including Antonio, Isabela, Luisa, and Mirabel. We don't talk about Bruno!
World Discovery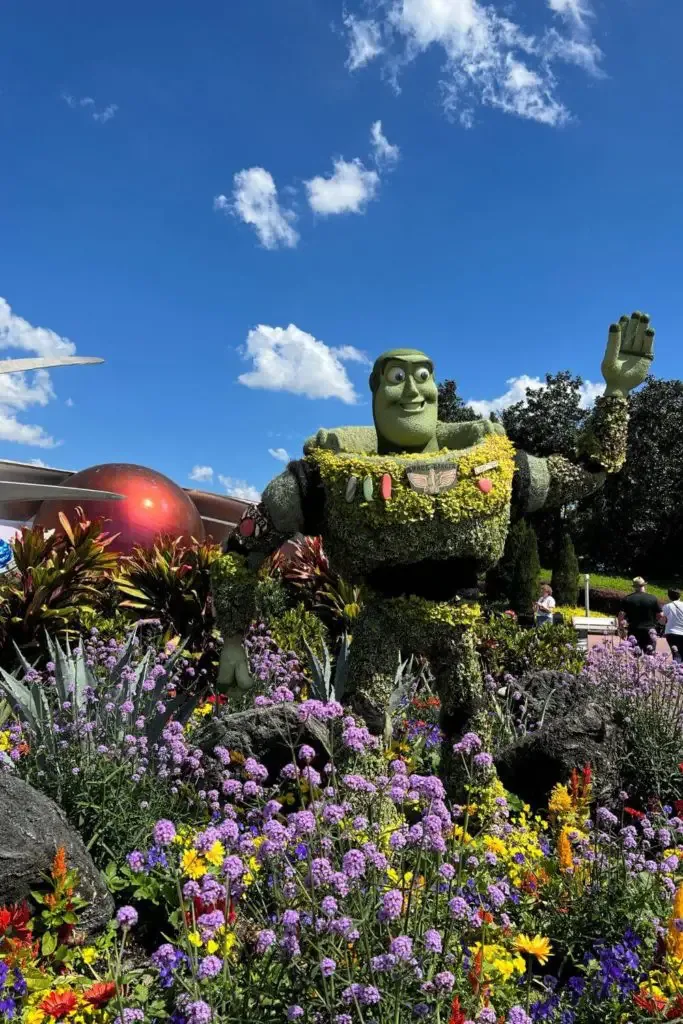 Family-Friendly Garden
Prehistoric Garden
Songbird Meadow
In addition to the 3 gardens, you'll also find a Buzz Lightyear topiary. To infinity and beyond!
World Nature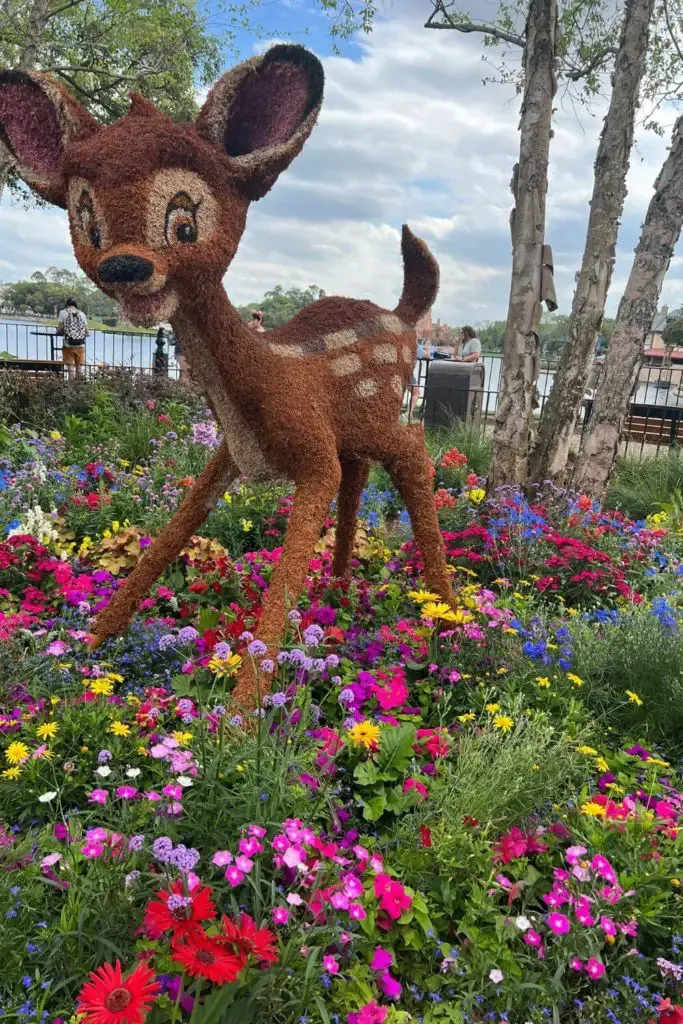 In addition to the Land pavilion, World Nature also includes the Imagination pavilion.
Here, you'll find several gardens:
Bold Bromeliads
Butterfly Landing
Floating Gardens
The Honey Bee-stro
In addition to those gardens, you'll find lots of topiaries!
First up, our favorite purple dragon, Figment. Because an Epcot festival is not complete without him!
You'll also find Bambi and friends, Woody, Bo Peep (and her sheep), as well as several characters from The Lion King – Simba, Mufasa, Sarabi, Rafiki, Pumbaa, and Timon.
World Showcase bridge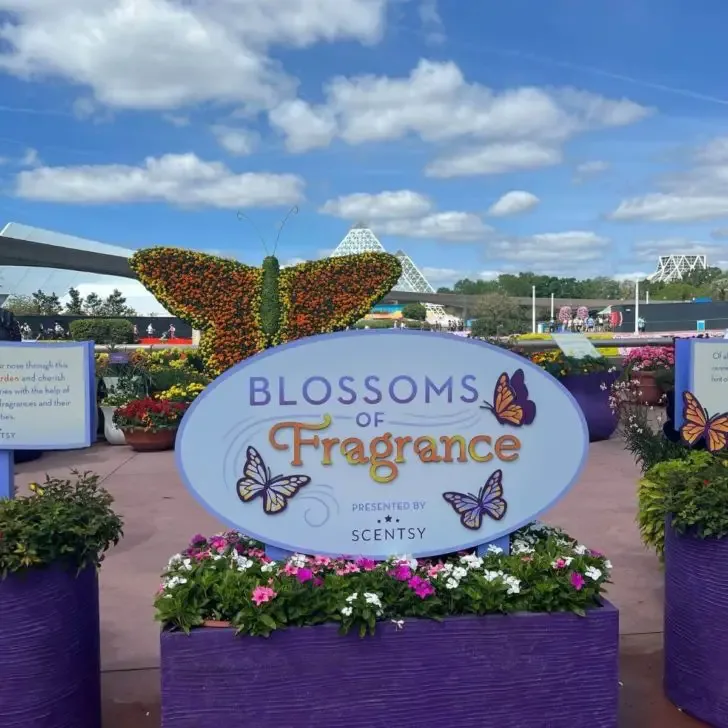 On the bridge that crosses over into the world showcase, you'll find Blossoms of Fragrance, sponsored by Scentsy. There's also a Goofy topiary.
Mexico Pavilion
In Mexico, you'll find the Desert Garden and Tropical Rainforest Garden.
There are also topiaries for The Three Caballeros, José, Donald, and Panchito.
Norway Pavilion
Unfortunately Norway does not have a garden. However, you will find topiaries of Anna, Elsa, and a troll here.
China Pavilion
At the China Pavilion, you'll find the Bamboo Garden and Chinese Zodiac Garden. There are also topiaries of pandas!
Germany Pavilion
At Germany, you'll find the Miniature Garden, as well as topiaries of Snow White and the Seven Dwarfs across from the pavilion, lined up against the lagoon.
Italy Pavilion
At Italy, you'll find the Garden Italiano, as well as topiaries of Lady & the Tramp.
Here's to hoping they add topiaries of Luca, Alberto, and friends in the future!
The American Adventure Pavilion
While there are no gardens at the American Adventure pavilion, they have added a brand new topiary of Princess Tiana – and she's gorgeous!
Japan Pavilion
At the Japan Pavilion, there are several must-see gardens:
Bonsai Collection
Kokedema Garden
Shishi-Odoshi (New for 2023!)
In addition, there is a gorgeous dragon topiary.
Morocco Pavilion
In Morocco, there's a spice garden, as well as topiaries of Kermit the Frog and Miss Piggy.
France Pavilion
At France, you'll find the Bouquet Garden, as well as topiaries of Beauty and the Beast, Lumiere, and Cogsworth.
The Lumiere and Cogsworth topiaries have new additions this year – a flame that lights up for Lumiere and a working clock for Cogsworth!
United Kingdom Pavilion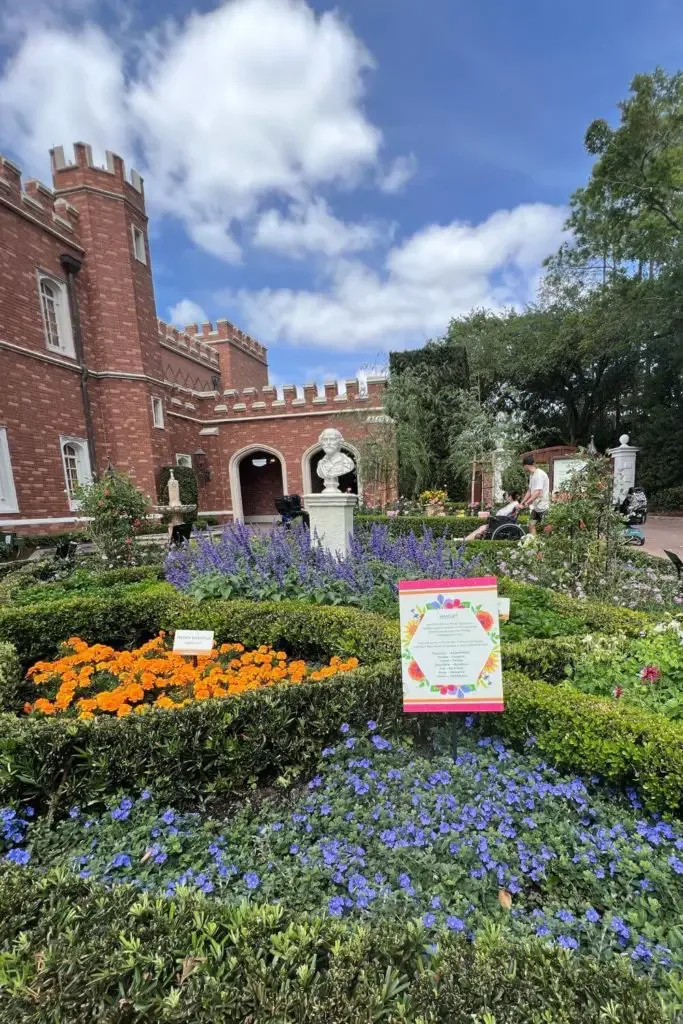 There are several gardens at the United Kingdom Pavilion that are worth checking out:
English Tea Garden
Shakespeare Garden
Topiary Heritage Garden
In addition, you'll find topiaries of the following characters:
Tinkerbell's Fairy House Garden
Winnie the Pooh, Piglet, Eeyore, Tigger, and Rabbit
Peter Pan, Captain Hook, and Tick Tock Croc
Canada Pavilion
Canada doesn't have any gardens, but they do have geese topiaries.
I would love to see more here in future years, how about you?
Take a free tour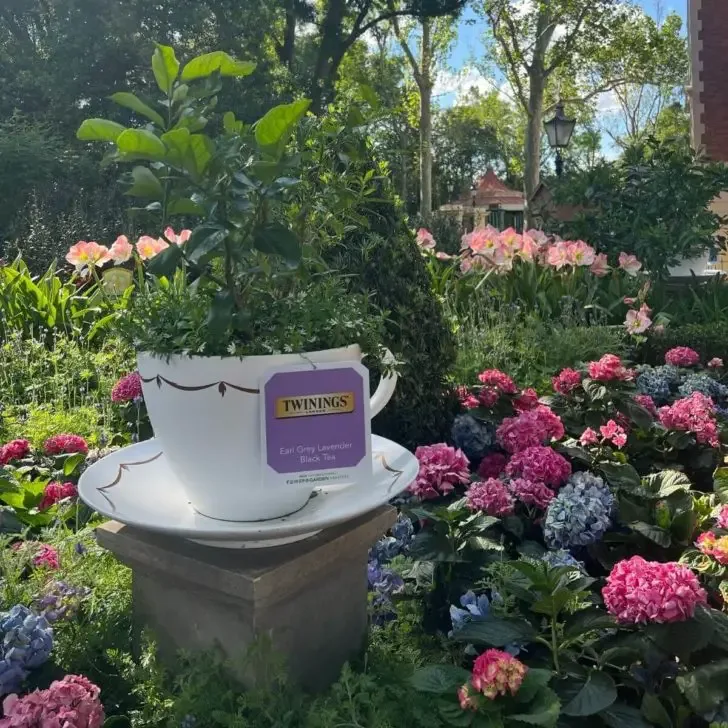 Over in the UK pavilion, you can do a guided tour of the English Tea Garden for free!
Head to The Tea Caddy shop to sign up for a tour time slot.
You'll receive a lanyard with your time slot printed on it and you can go about your park day if it's not til later in the day. Just be sure to return a few minutes ahead of the start time so there are no delays.
A cast member will provide lots of historical information about tea, as well as tips on brewing a perfect cuppa. Plus, tour guests get a mini goodie bag with tea samples at the end!
Purple martin nests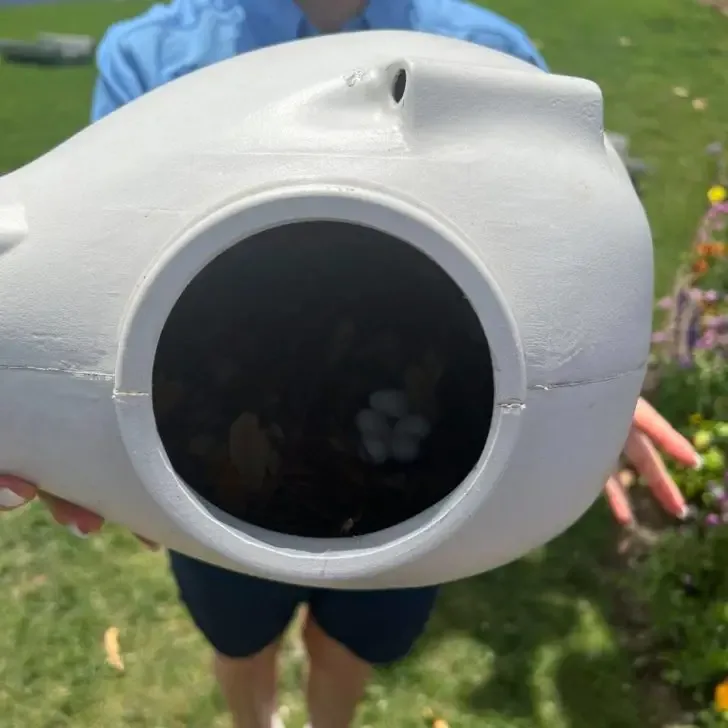 Have you seen the weird tree-looking sculptures that look like they have birdhouses attached?
Those are for the purple martins, a migratory bird that makes a pit-stop at Disney World every year to lay eggs.
Once the eggs hatch and the babies can fly, these purple-tinted birds continue their migration south to Brazil.
At Epcot, head over to the Songbird Meadow, where you'll sometimes catch cast members tending to the birdhouses to check on the eggs.
Butterfly Landing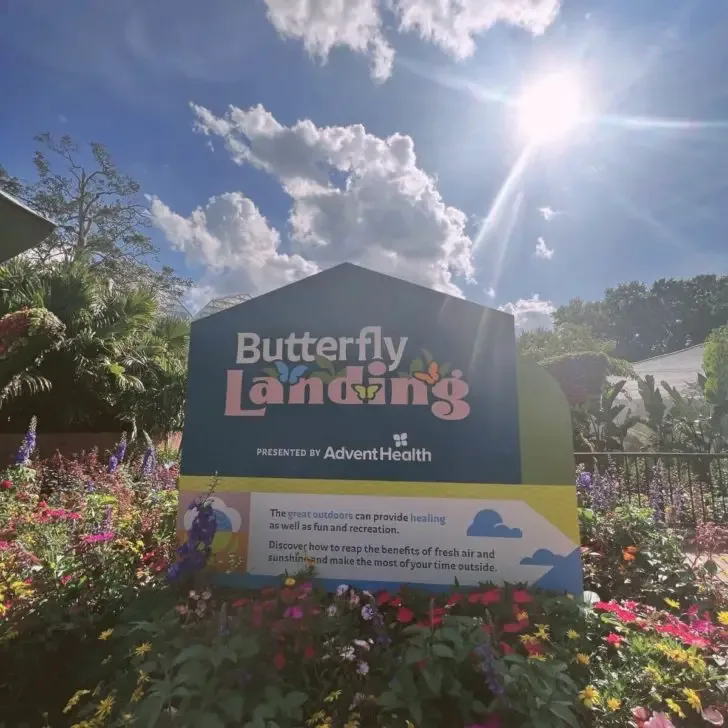 Although I mentioned this "garden" in the previous section about all the cool gardens and topiaries at the festival, it's so unique that it deserves a bigger callout.
Nothing says Spring like pretty plants, colorful flowers, and delicate butterflies, right??
The Epcot Flower and Garden Festival has had a butterfly garden for years now, but it changes names each year it seems!
This year it's called the Butterfly Landing and is sponsored by AdventHealth. It hosts over 1,000 butterflies and around 2 dozen types of nectar plants and flowers.
Epcot Flower and Garden Festival merchandise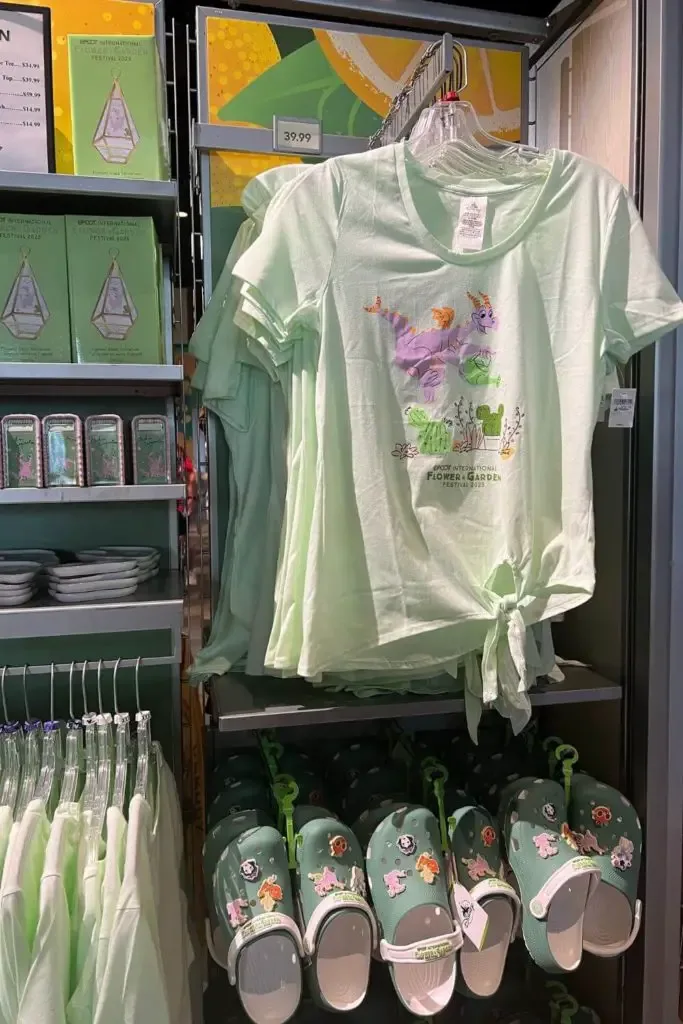 Epcot Flower and Garden merchandise can be purchased online at ShopDisney or at the MouseGear gift shop in Epcot. I'm loving the Orange Bird merchandise this year, like the adorable orange bird ornament (pictured above)!
What are your top Epcot Flower and Garden Festival tips?
I hope you enjoy your trip to Disney World for the Epcot Flower and Garden Festival. Leave a comment below and let me know how your trip went – especially all the yummy food you tried!
---
About the author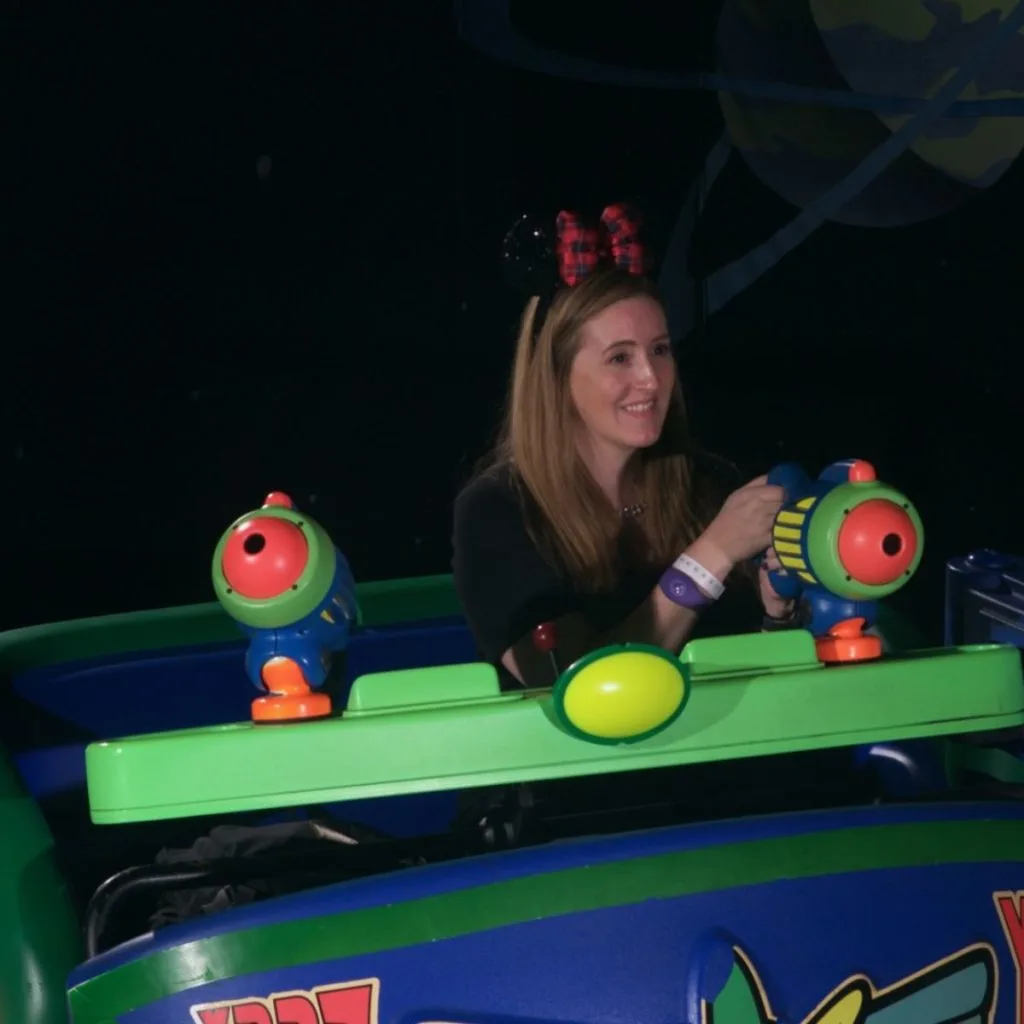 Meg Frost is the creator of The Park Pixie, where she covers Disney World, Disney+, and Disney fandom.
She holds an M.A. in Journalism from Northeastern University and B.S. in Communication & American Studies from University of Miami.
---
This post was originally published in March 2016 on Frost +Sun. It moved to The Park Pixie on May 4, 2021 and was last updated September 11, 2023.