One of the best Spring Break trips in the US I can think of is the Epcot Flower and Garden Festival at Disney World.
I don't know about you, but I am not the biggest fan of Winter! I love to celebrate the end of this dismal, cold season with a trip to ring in the Spring season.
Keep reading to learn all of my best Epcot Flower and Garden Festival tips to ensure a spectacular Disney World Spring Break trip.
This post includes affiliate links. If you click on or make a purchase from an affiliate link, I might earn a commission at no extra cost to you.
For the best Disney World resort deals, book early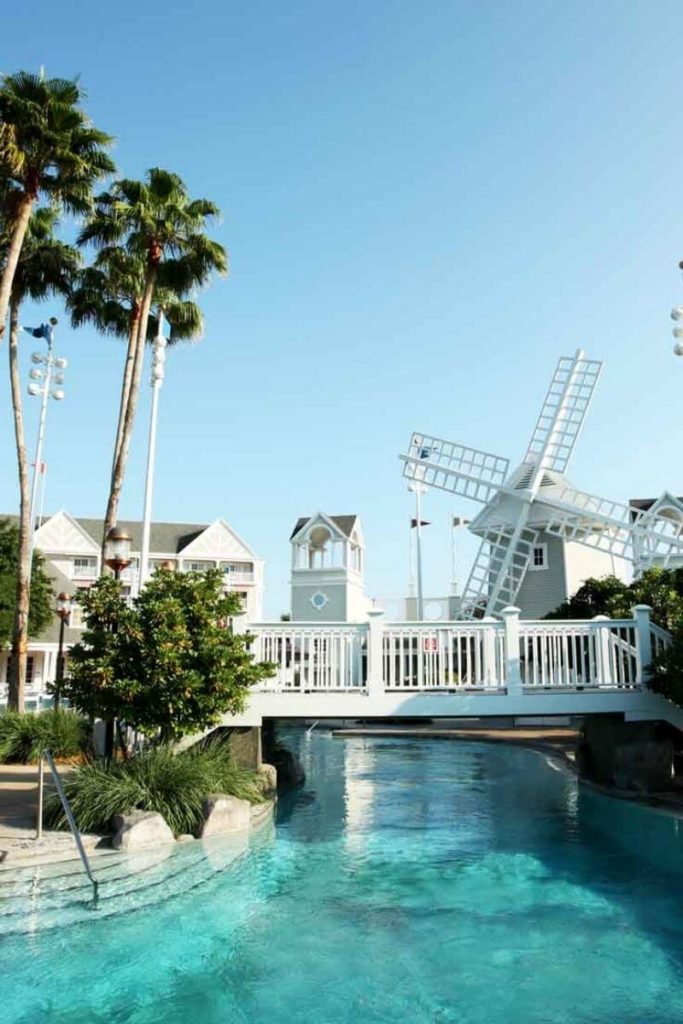 Book your Disney World resort package as far in advance as you can for the best deal.
2023 dates are not available as of October 31. However, it typically starts sometime in March and will run through early to mid Summer.
At minimum, you should book more than 6 months ahead of your desired date for best price and availability.
Additionally, most Disney World resort deals for the Spring season will come out more than 6 months ahead, such as the ever popular free dining deals or reduced prices on hotels.
TIP: If you prefer deluxe level resorts, you can save money by renting a Disney Vacation Club (DVC) villa via an independent broker.
If you can swing it financially, I recommend booking one of the hotels near Epcot. This will cut down on your commute to Epcot, giving you more time at the park.
The 3 hotels closest to Epcot are the Caribbean Beach Resort, Yacht Club Resort, and Beach Club Resort.
All are excellent resorts, though my pick goes to the Yacht Club Resort or Beach Club Resort, as they have a sand-bottom pool that is quite refreshing to lounge in on a hot afternoon.
If you stay at the Yacht Club Resort or Beach Club Resort, you can walk to Epcot, as these 2 hotels are right next to Epcot!
That said, the Caribbean Beach Resort just finished a massive update that is definitely worth checking out and right next door is the newest Disney World resort, Riviera Resort.
Both resorts have a Skyliner stop, so you can quickly hop to Epcot via the Skyliner air gondolas. As the aliens from Toy Story say…OooOooohhHhh!
Before you book, check the Epcot Flower and Garden Festival concert schedule
One of the classic parts of Epcot's festivals are its concerts and shows. So before you book your resort deal, check the schedule so you can plan your trip when your favorite musical act is scheduled.
Performers have not been announced for 2023, as of July 14, but take a peep at the 2022 schedule below for an idea of the types of musical acts to expect.
Here's who's performing in 2022 at the Epcot Flower and Garden Festival:
The Guess Who: March 4-5
Rick Springfield: March 6-7
Melinda León: March 11-12
CeCe Winans: March 13-14
Mike DelGuidice: March 18-19
Kool & the Gang: March 20-21
The Orchestra featuring former ELO members: March 25-28
The Spinners: April 1-2
The Pointer Sisters: April 3-4
Blue October: April 8-9
Don McLean: April 10-11
Tommy DeCarlo: April 15-16
Don Felder (formerly of The Eagles): April 17-18
STARSHIP: April 22-23
Claudia Leitte: April 24-25
Berlin: April 29-30
TobyMac: May 1-2
Blood, Sweat & Tears: May 6-7
The Commodores: May 8-9
Ambrosia with Peter Beckett: May 13-14
MercyMe: May 15-16
A Flock of Seagulls: May 20-21
Collin Raye: May 22-23
Thelma Houston: May 27-28
Little River Band: May 29-30
Simple Plan: June 3-6
Herman's Hermits featuring Peter Noone: June 10-13
Plain White T's: June 17-20
War: June 24-25
Daughtry: June 26-27
Reserve your Epcot restaurant reservations 180 days before your trip starts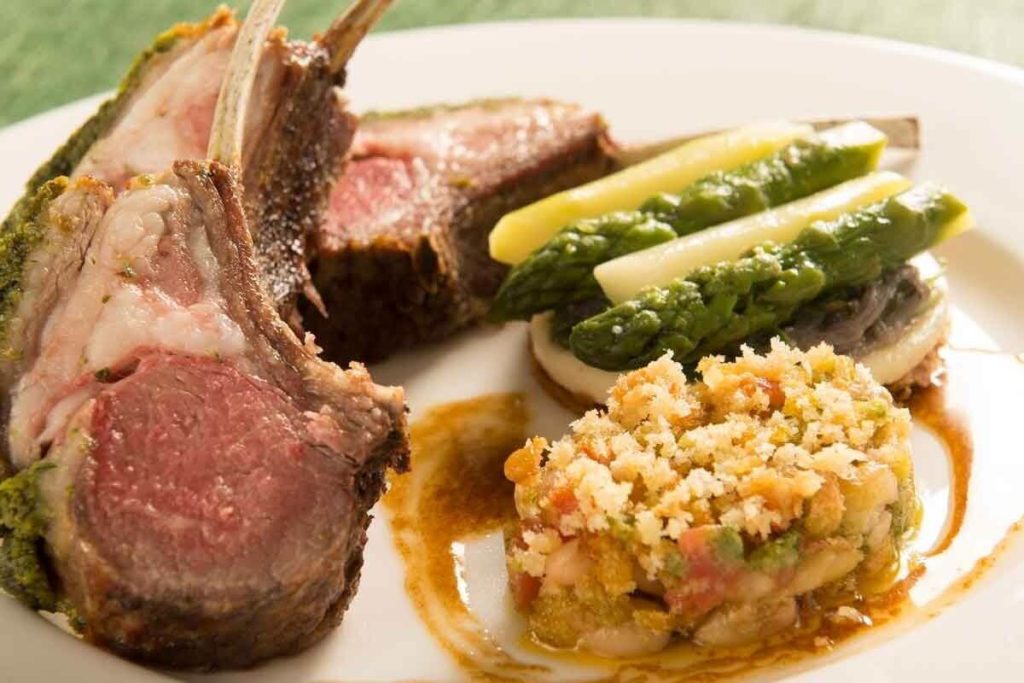 At 180 days before the first day of your trip, you can book your restaurant reservations. Reservations fill up FAST, so don't sleep on this tip!
Some of the best Epcot restaurant reservations to consider are Space 220, Le Cellier Steakhouse, Teppan Edo, Monsieur Paul, and La Hacienda de San Angel.
My all-time favorite table service restaurant at Epcot, however, is Akershus Royal Banquet Hall, where you can get delicious Norwegian meatballs. Nom!
Of course, your restaurant reservations don't have to be at Epcot. But if you're there for the Epcot Flower and Garden Festival, I'm betting you'll be spending most of your time there.
That said, reservations only apply to table service (aka sit-down) meals, so you can always skip this tip if you plan to stick to the food booths and quick service meals.
Add Genie+ to your reservation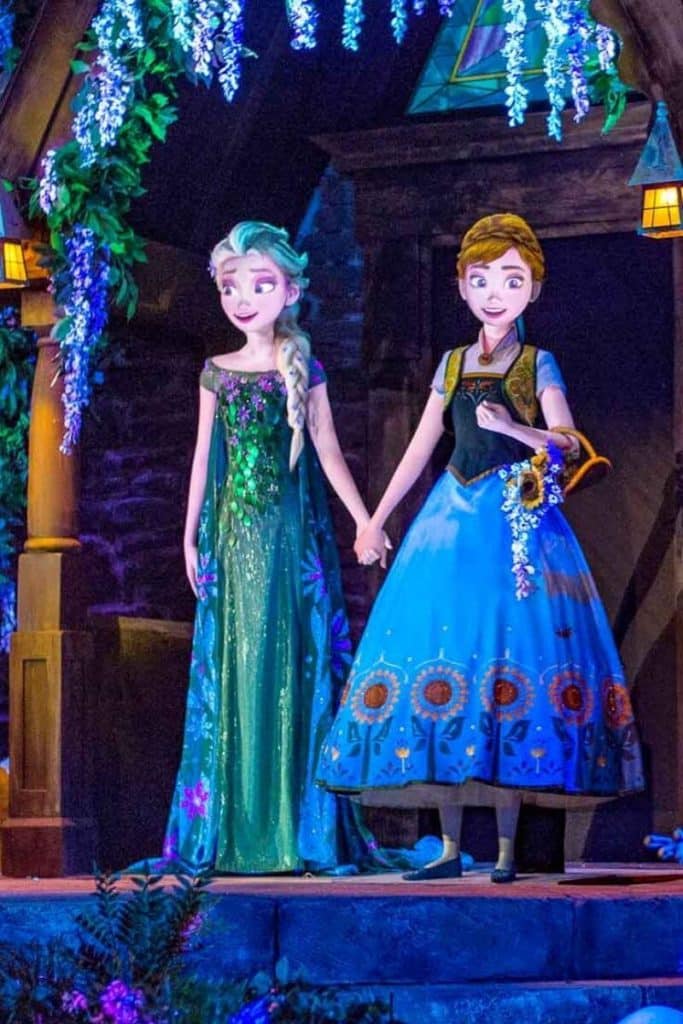 Genie+ has replaced the former Fastpass+ system.
Like FastPasses, Genie+ Lightening Lanes are basically a chance to skip the standard line at select rides and attractions for a nominal price per day.
Some rides and attractions have an additional cost on top of Genie+, but might be worth it for you.
I'm still a bit conflicted about whether I like this new system, mainly because FastPasses were completely free, while Genie+ can quickly add up.
But at the end of the day, no one enjoys waiting in line, so it's best to budget for it.
Check out my Genie, Genie+, and Lightning Lanes guide for more info on this new-ish system.
Avoid the Epcot Flower and Garden Festival on the weekend if you can't deal with crowds
The Flower and Garden Festival is more crowded on the weekends, as it's when local residents are more likely to visit (in addition to out of town tourists).
So if you loath crowds, schedule your visit during the week so you can wander around the World Showcase without feeling like a sardine packed in a tin.
You might also like: The Ultimate Guide to the Epcot Food and Wine Festival
If you have the Disney Dining Plan, save your snack credits
NOTE: The DDP is currently on hold, but expected to resume in the future. Crossing my fingers it will return for 2023!
Most of the food and drink at the Epcot Flower and Garden Festival can be purchased using snack credits from the Disney Dining Plan.
Using these credits is a great way to save money and still sample lots of food and drink at the festival.
All of the Disney Dining Plans come with 2 snack credits per day, so even if you're only visiting for a long weekend, that's anywhere from 4-6 snack credits to play with.
Come ready to taste everything on the Epcot Flower and Garden Festival menu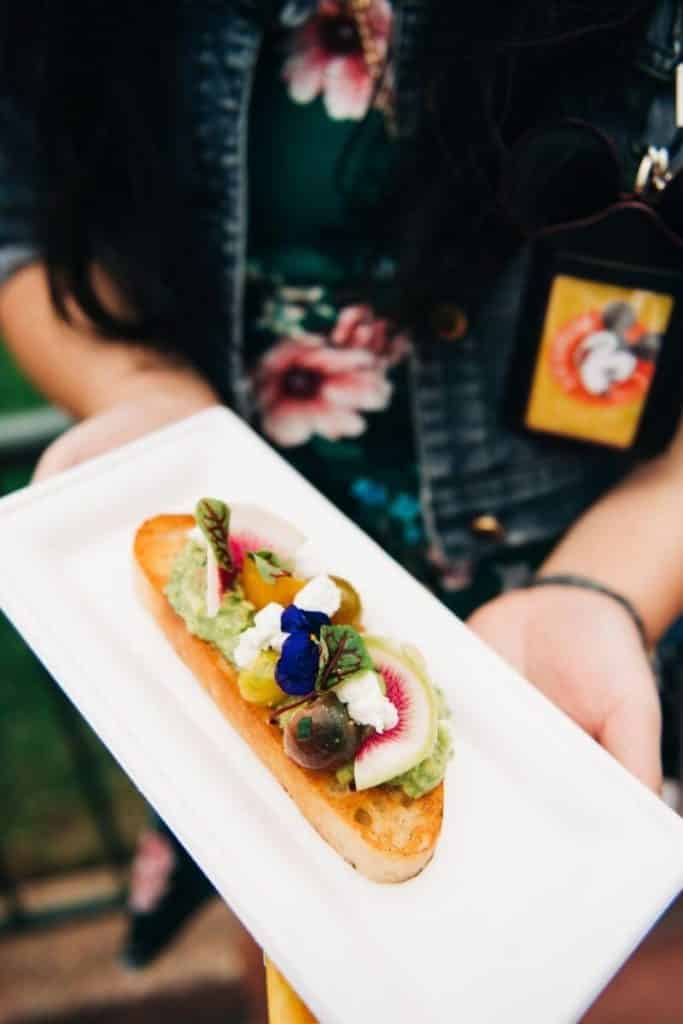 Don't let the festival's name fool you – it's more than just Disney topiaries and gardens!
In fact, I'll be so bold as to say the biggest (and best) part of the festival are its food booths, like the super popular Pineapple Promenade, The Honey Bee-stro, and Florida Fresh.
Menus tend to be a mix of fan favorites and new dishes. The menu isn't out for 2023 yet, so take a peep at some standouts from the 2022 menu for an idea on what there is to offer.
Bauernmarkt: Potato pancakes with homemade apple sauce
Cider House: 3 Daughters Brewing pink lemonade cider from St. Petersburg, FL
The Citrus Blossom: Meyer lemon-poached lobster salad with grapefruit-rosé vinaigrette, yuzu-marinated hearts of palm and avocado-yuzu panna cotta
Epcot Farmers Feast: Hibiscus lemonade cocktail with Islamorada Brewery & Distillery Hibiscus gin
Epcot Sunshine Griddle: Fruit Loops shake
Festival Favorites: Fried green tomatoes with blue crab fennel salad, remoulade, and smoked paprika oil
Flavor Full Kitchen: Grilled baby vegetables with hummus cream and red pepper coulis
Fleur de Lys: Caramelized beignet filled with vanilla cream and glazed with caramel fleur de sel
Hanami: Frushi (strawberry, cantaloupe, and pineapple rolled in rice and pink soy wrap) aka candy sushi roll
The Honey Bee-stro: Local wildflower honey-marscapone cheesecake with orange blossom honey whipped cream
Jardin de Fiestas: Passionfruit margarita
La Isla Fresca: sugar cane shrimp skewer w/ steamed rice and coconut-lime sauce
Lotus House: Panda bubble tea
Magnolia Terrace: crawfish étouffée with Andouille sausage and dirty rice
Northern Bloom: Maple popcorn shake (whisky shot optional!)
Pineapple Promenade: Violet lemonade
Primavera Kitchen: traditional Sicilian cannoli
Taste of Marrakesh: Moroccan seafood couscous
Trowel & Trellis: boneless Impossible Korean short rib with cilantro-lime rice, danmuji slaw, and kimchee mayo
Learn more about the Disney topiaries and gardens with a special tour
If you're interested in learning more about some of the gorgeous gardens and topiaries throughout Epcot, there are 2 tours to choose from.
NOTE: These tours are not available in 2022, but will likely be back in the future.
Royal Garden Tea Tour
Join the Royal Garden Tea Tour at the UK pavilion for a 45-minute tour of the English tea garden. The tour runs daily at 9:30 am and costs $20 (not including tax).
The Royal Garden Tea Tour includes tea and scones, so it's perfect for a quick breakfast.
The tour starts before the World Showcase opens to the public, so it's best to reserve your spot on the tour ahead of time. You can do this by calling (407) WDW-TOUR in advance.
TIP: If you just want a quick intro to the English Tea Garden, sans scones and tea, there is a 20-minute version of the Royal Garden Tea Tour available for free.
The mini tour runs 2-3 times per day during the festival, depending on the day of the week. Stop by The Tea Caddy store in the UK pavilion for times and to reserve your spot.
Gardens of the World Tour
For super gardening and horticulture enthusiasts, the Gardens of the World Tour is right up your alley.
This 3-hour tour takes you through several gardens across the entire Epcot World Showcase. The tour costs $85 (not including tax) and runs from 9am to noon several times a week.
For specific dates and to make reservations for the Gardens of the World Tour, call (407) WDW-TOUR.
See Spring's unofficial mascot at the Epcot butterfly garden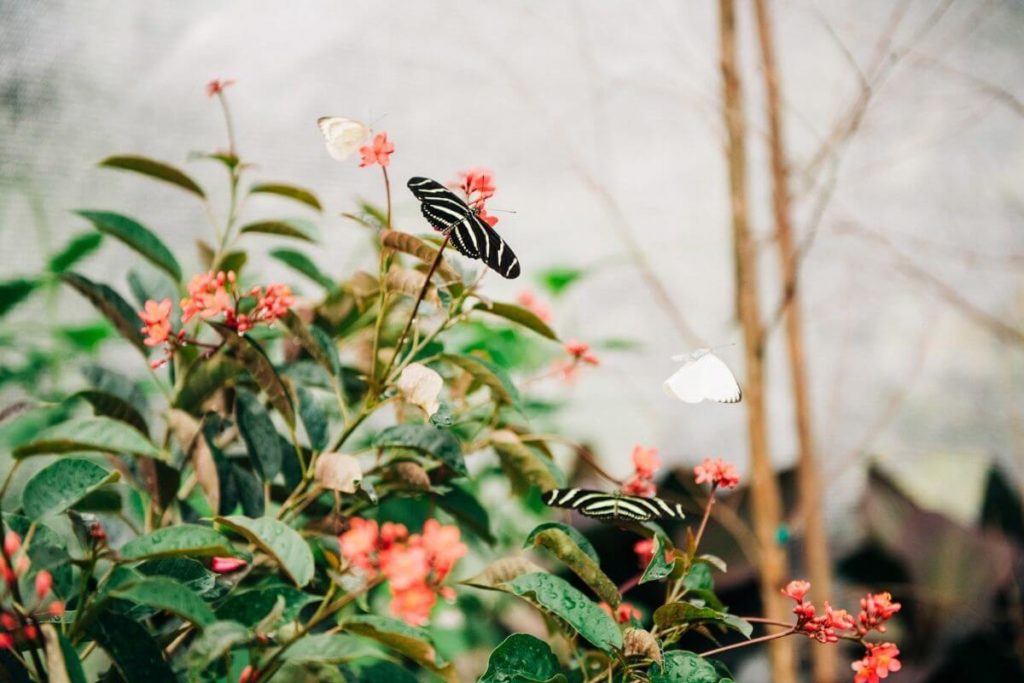 The Epcot Flower and Garden Festival features a butterfly garden, known as Bambi's Butterfly House this year.
The Epcot butterfly garden hosts over 1,000 butterflies and 2 dozen nectar plants and flowers. It is located in World Nature, near Imagination!
Nothing says Spring like pretty plants, colorful flowers, and delicate butterflies!
BONUS: Don't forget your Epcot Flower and Garden Festival merchandise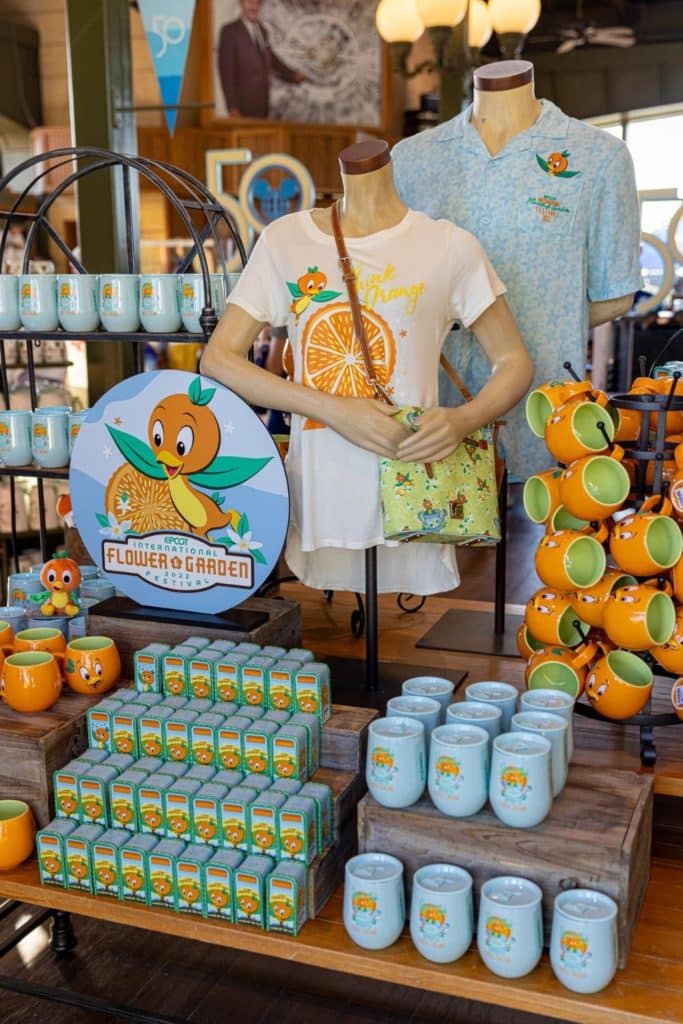 Epcot Flower and Garden merchandise can be purchased online at ShopDisney or at the MouseGear gift shop in Epcot.
I'm loving the Orange Bird merchandise this year! Shop for fun Epcot Flower and Garden merchandise in the widget below.
What are your top Epcot Flower and Garden Festival tips?
I hope you enjoy your trip to Disney World for the Epcot Flower and Garden Festival. Leave a comment below and let me know how your trip went – especially all the yummy food you tried!
Next up, check out more of our Disney World vacation planning guides:
This post was originally published in March 2016 on Frost +Sun. It moved to The Park Pixie on May 4, 2021 and was last updated on November 29, 2022.