The Epcot Festival of the Arts takes place annually at Walt Disney World Resort in January and February.
It features various forms of arts, including performing arts, culinary arts, painting, drawing, and more.
Sound like something you're interested in? Check out this guide for help planning your visit to the Epcot Festival of the Arts.
When is the 2023 Epcot Festival of Arts?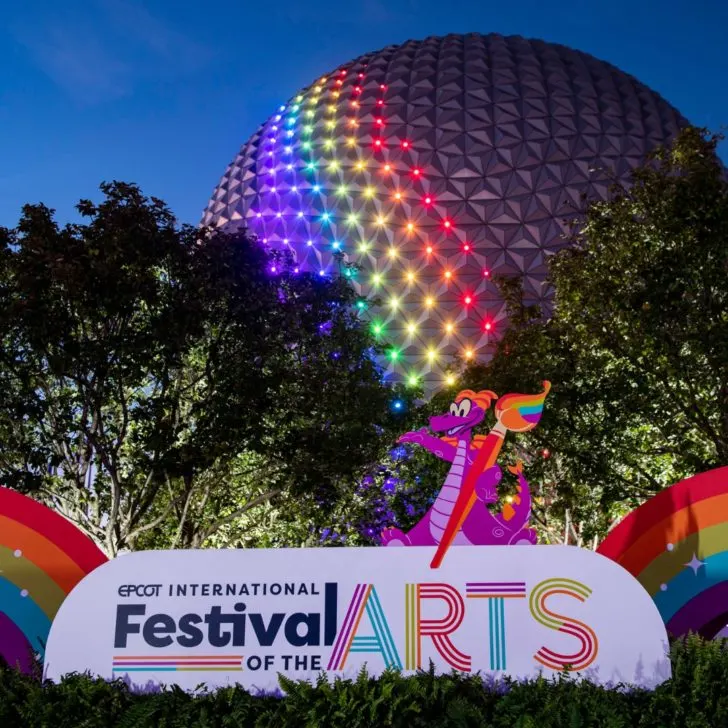 This year, the Epcot Festival of Arts takes place from January 13 through February 20, 2023.
It is the second shortest festival at Epcot, running just a few days longer than the Epcot International Festival of the Holidays.
Check out these monthly planning guides for tips on visiting in January and February:
Before you go, check the Disney on Broadway concert schedule
One of big draws for the Epcot International Festival of the Arts are the Disney on Broadway concert series.
These concerts feature some of the same performers that you see in Broadway productions, performing songs from various Disney shows!
Dining packages are available that combine dinner and reserved seating at the Disney on Broadway show.
Dinner includes 1 appetizer, 1 entree, and 1 dessert or 1 buffet, depending on the restaurant chosen.
Participating restaurants include:
Akershus Royal Banquet
Biergarten Restaurant
Coral Reef Restaurant
Garden Grill
Le Cellier Steakhouse
Regal Eagle Smokehouse
Rose and Crown Dining Room
Spice Road Table
The Disney on Broadway performances take place at the America Gardens Theatre at 5:30 PM, 6:45 PM, and 8 PM.
Here's the schedule and performers for the 2023 Epcot International Festival of the Arts:
Dates
Performers
January 13, 15, 16, 19 & 20
Kara Lindsay (Newsies) & Kevin Massey (Tarzan)
January 14, 17, 18, 21, & 22
Arielle Jacobs (Aladdin) & Adam Jacobs (Aladdin)
January 23, 25, 26, 29 & 30
February 2 & 3
Patti Murin (Frozen) & Robert Creighton (The Little Mermaid)
January 24, 27, 28 & 31
February 1, 4 & 5
Mandy Gonzalez (Aida) & L. Steven Taylor (The Lion King)
February 6, 8, 9, 12, 13, 16 & 17
Ashley Brown (Mary Poppins) & Michael James Scott (Aladdin)
February 7, 10, 11, 14, 15, 18 & 19
Kissy Simmons (The Lion King) & Josh Strickland (Tarzan)
February 20
Ashley Brown (Mary Poppins), Michael James Scott (Aladdin), Kissy Simmons (The Lion King) & Josh Strickland (Tarzan)
2023 Disney on Broadway Performances at the Epcot International Festival of the Arts
Also check the artist meet-n-greets schedule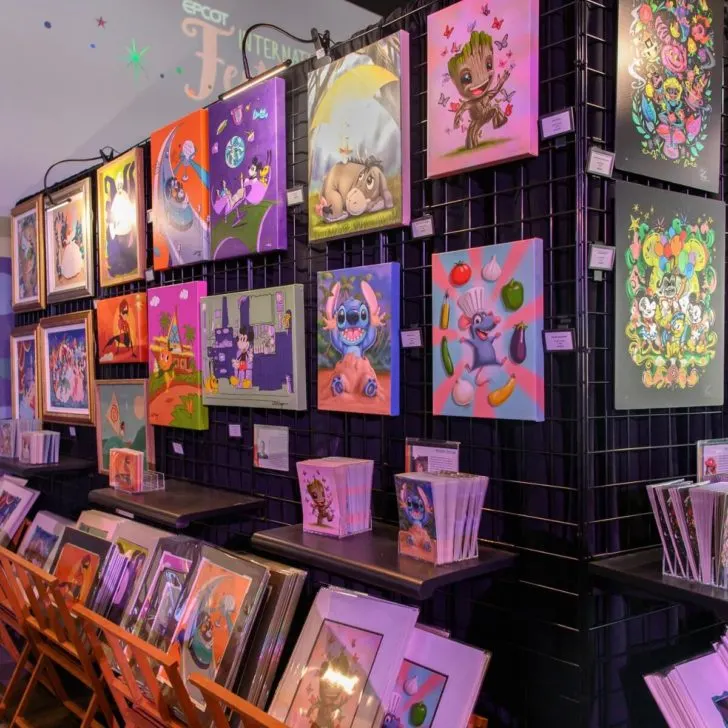 Another feature from the festival that you might want to schedule your trip around are the artist meet-and-greets.
A few artists included are:
Kahran and Regis Bethencourt of CreativeSoul Photography
Dylan Bonner
Trevor Carlton
Fenway Fan
Stephan Fishwick
Joe Ledbetter, painter and vinyl toy design
Larissa Marantz, cartoonist, illustrator, and educator
Jerrod Maruyama
Yesenia Moises, children's book illustrator and toy designer
Ryan Riller, animator and illustrator for Disney Junior's Whisker Haven Tales
Ashley Taylor
In addition to meeting your favorite artist, you can also buy artwork from some of them at the galleries set up around Epcot.
The artist meet-and-greets occur all around Epcot and Disney Springs, with artists rotating each day, so be sure to check the official schedule for more information.
Pick a nearby resort to minimize transport time
Now that you know when you want to visit, it's time to pick a resort so you can book your Disney World vacation package.
If you're specifically in town for the Epcot Festival of Arts, maximize your time at the festival by booking a resort close to Epcot.
Disney's Yacht and Beach Club Resorts and Boardwalk Inn and Villas are within walking distance of Epcot.
If you're more of a Marriott fan, the Walt Disney World Swan and Dolphin hotels are also nearby.
Next best would be to connect to the Epcot via Skyliner. For that, the 2 closest resorts via Skyliner are Disney's Riviera Resort and Caribbean Beach Resort.
Spring for the Memory Maker PhotoPass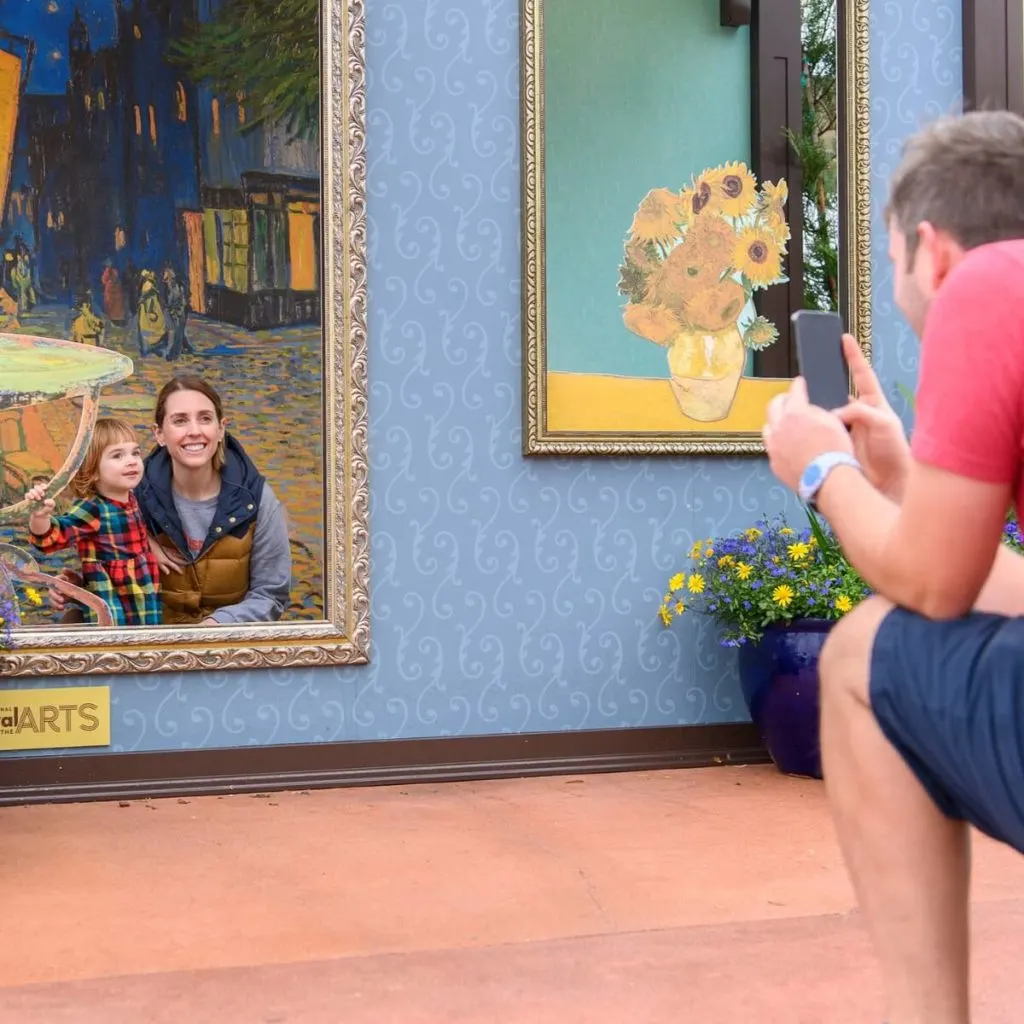 Before you arrive, add the Memory Maker PhotoPass to your vacation package.
The Epcot Festival of Arts includes fun photo ops around Epcot where you get to step into life-sized replicas of famous artwork like Leonardo da Vinci's Mona Lisa or photo props like the Peter Pan storybook seen below.
Plus, with it being Disney World's 50th anniversary, there are extra fun photo opportunities available at the other theme parks, too.
If you purchase Memory Maker at least 3 days before your trip, the advance purchase price is $169. Otherwise, it will cost $199.
Load up a gift card before you go
I usually recommend getting the Disney Dining Plan to save money on food at Disney World, but this program is on hold for the time being.
Until it returns, another way to stay on budget while at the Epcot International Festival of the Arts is to load up a Disney gift card with your chosen amount.
Then, stick to using your gift card as you eat and drink around the world and snatch up some new art for your home.
Pre-order a new MagicBand+
If you're staying at a Disney World resort, you can order your MagicBand in advance at a slight discount. Both MagicBand and MagicBand+ is available.
Isn't the Festival of the Arts MagicBand+ pictured above so cute?!
Alternatively, you can pick one up once you get there or use one you already have!
To learn more about this accessory, check out my post about the Disney MagicBand+.
Musical performances
At the World Showcase Place, see musical performances from musicians such as Nicholas Marks (guitar) and Victor Espinola (harp) daily.
Check the My Disney Experience app for scheduled show times.
Art Defying Gravity
Each week, Saturday through Wednesday, you can see acrobats perform at the World Showcase Plaza. Check the My Disney Experience app for performance times.
Expression Section: A Paint-by-Numbers Mural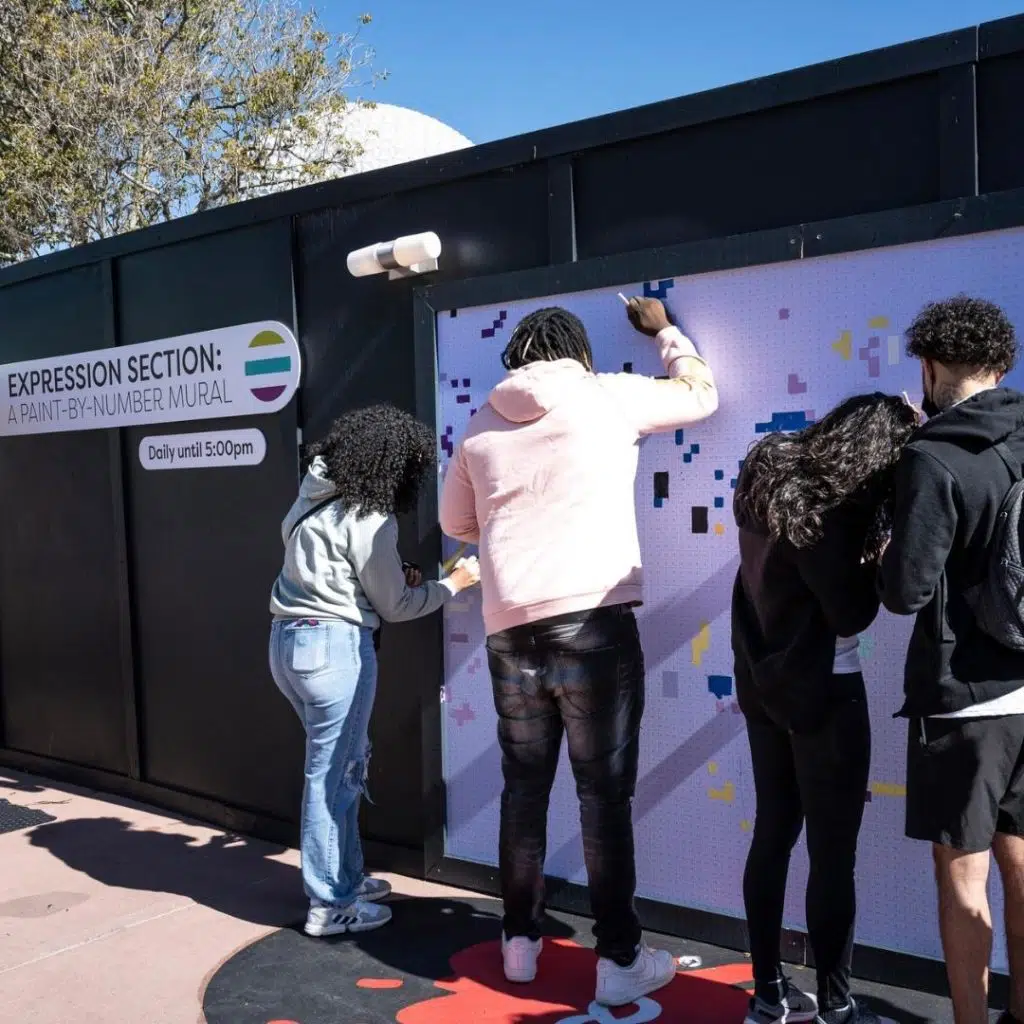 Over by the new World Nature neighborhood in Epcot, you can participate in a paint by number mural from 11 AM through 5 PM daily.
At Expression Section, you'll be given a small pot of paint and a number. Then, paint in a few squares with your given number. It's that easy!
By the end of the festival, a fun mural will be revealed – and you can say you helped out.
The best part: this activity is totally free!
Animation Academy
Over by the America Gardens Theatre, you can learn how to draw a Disney character between 12:30 PM to 1:00 PM daily.
Lessons are taught by an animation artist. This year's list of participating artists include Brian Blackmore, Ron Cohee, Matthew Dewater, Will Gay, David Holbrook, Alex Maher, Michael Montgomery, Sarah Schmidt, Lon Smart, and Andy Quiles.
I've participated in a similar activity in the past and had a blast learning how to draw Minnie Mouse!
I highly recommend this activity. Not only is it free, but it makes for a great souvenir that you can frame at home.
Visual Art in Performance
Thursdays through Sundays at 12:15 PM and 3:45 PM, you can watch a Disney artist draw a character in just minutes.
The demonstration takes place in the World Showcase Plaza. This year, the artists include Trevor Carlton and Stephen Fishwick.
Kids chalk art
Another fun activity for kiddos at the Epcot International Festival of the Arts is chalk art!
Head on over to the bridge by the World Showcase Plaza between 11 AM to 5 PM daily for this fun activity where kids have free reign to draw all over the sidewalk with chalk!
Chalk art galleries & surprises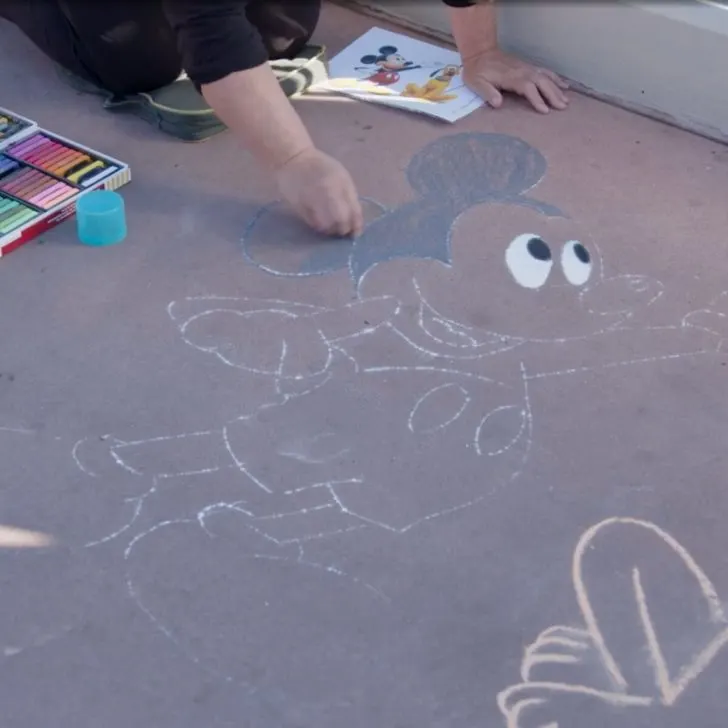 Speaking of chalk artists, along the bridge to the World Showcase, there are also galleries filled with professional chalk art. Perhaps in a few years, one of the kiddos will join them!
Plus, throughout the World Showcase, you just mind find a few surprise chalk drawings of Disney characters.
Drawing on Inspiration: Celebrating 50 Years of Magic
Near the Creations Shop, you'll find a special art gallery filled with art by Disney Imagineers representing different attractions from Disney World in celebration of its 50th anniversary.
Figment's Brush with the Masters Scavenger Hunt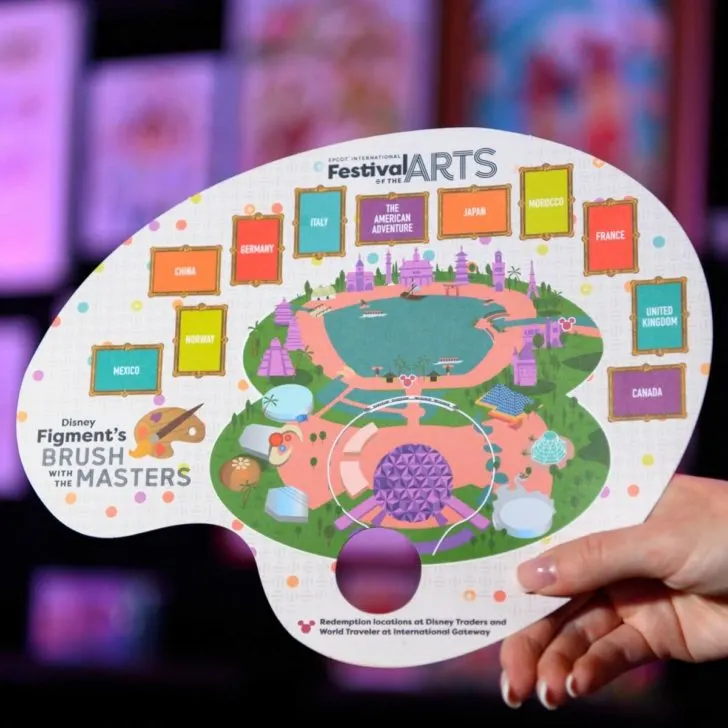 In true Epcot fashion, a scavenger hunt is available during the festival – this time featuring everyone's favorite Epcot character, Figment!
For $9.99 (plus tax), pick up a map with stickers at Creations Shop, Port of Entry, or World Traveler.
Embark on your adventure to find Figment hiding in various works of art around the World Showcase by following the map. Each time you find Figment, add a sticker to your map.
If you find all of them, bring your completed map to Disney Traders or World Traveler to trade it in for a special surprise!
Available while supplies last.
Food studios are the new food kitchens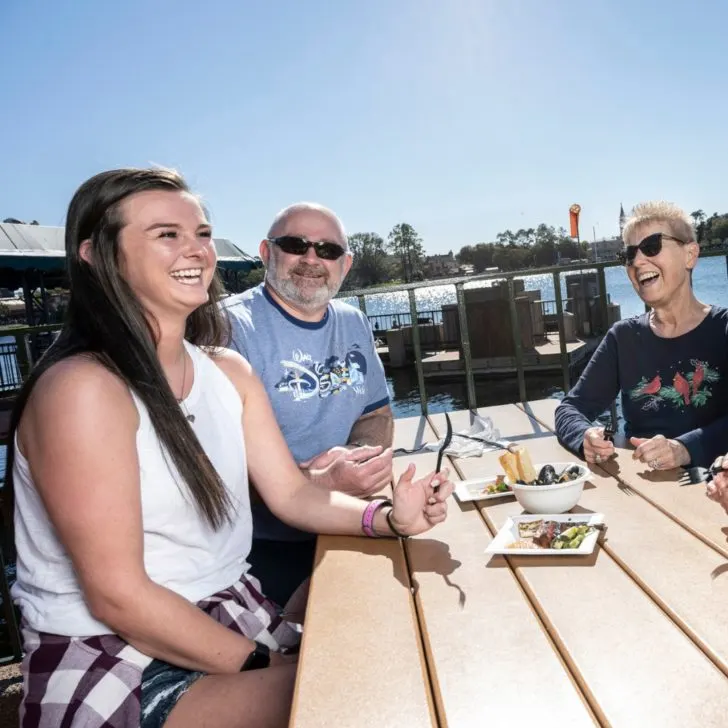 As with all of Epcot's festivals, there are plenty of limited edition food and drink available. It is, after all, culinary art!
Be sure to check out these food booths, er food studios, for some super tasty treats.
Mexico
In the Mexico pavilion, you'll find El Artista Hambriento with delicious Mexican fare like carne asada and coconut flan.
China
At the China pavilion is The Painted Panda, you can get bubble tea, plus dishes like char siu pork buns and General Tso's chicken shumai.
Germany
In the Germany pavilion is Pastoral Palate, serving dishes such as red wine-brained beef short ribs and wild boar cassoulet.
Italy
By the Italy pavilion is L'Arte di Mangiare, where you can get classic Italian food like ravioli and fried mozzarella.
American Adventure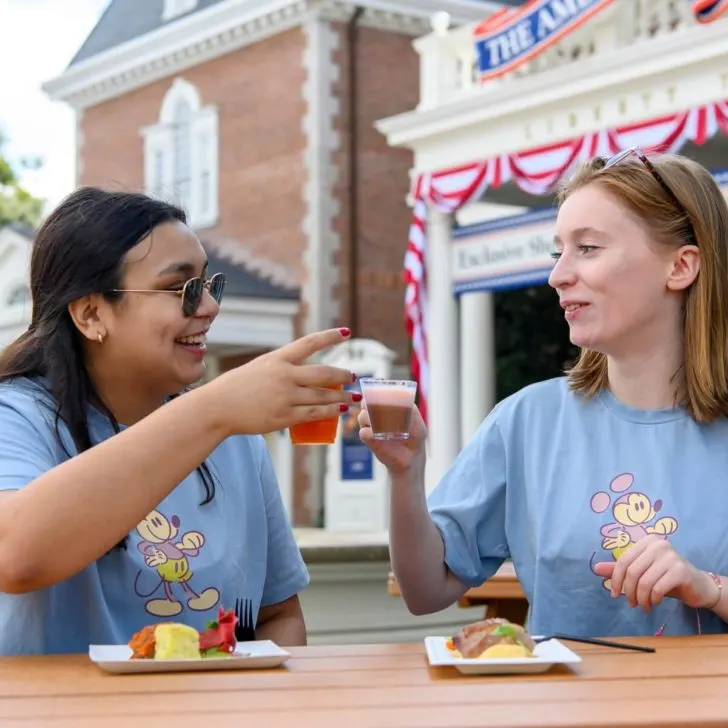 In the middle of the World Showcase, by American Adventure, is Artist's Table, serving up American comfort food like hummingbird cake, dumplings, meatloaf, and more.
Japan
At the Japan pavilion is Goshiki, which specializes in the 5 colors of Japanese cuisine. Here you'll find fun treats like sushi donuts and daifuku mochi.
Morocco
At the Tangierine Café in the Morocco pavilion, you can get grilled kebabs, almond phyllo pockets, chai tea mint mimosas, and more.
Between Morocco and France is Vibrante & Vívido with Colombian food, such as chorizo empanadas and spicy ajiaco soup.
France
Near the France pavilion is L'Art de la Cuisine Francaise, serving French treats such as black winter truffle croissant and warm brie in a bread bowl.
Canada
At the Canada pavilion, you'll find Gourmet Landscapes, with mouthwatering meals made from foraged ingredients, like wild mushroom risotto and beet tartare.
Test Track
Over by Test Track is Moderne, a new food studio that offers avant garde menu items like compressed watermelon, soft-shelled crab, and more.
Disney Traders
Nearby Disney Traders is The Craftsman's Courtyard where you can get classic dishes like beef Wellington and roasted mussels.
Port of Entry
Near Port of Entry are 3 fun food studios to check out.
Deco Delights features art deco-inspired desserts – think gold and pastels!
The Deconstructed Dish takes apart classic favorites, like BLTs, french onion soup, and key lime pie, and presents them in a new and unexpected way.
Pop Eats specializes in classic food, like grilled cheese with tomato soup or almond frangipane cake, presented with a pop art twist.
Odyssey
New this year is Figment's Inspiration Station at the Odyssey: Art, Food, and Little Sparks of Magic where you can expected colorful food, like fruit pizza and rainbow cake.
Wonderful Walk of Colorful Cuisine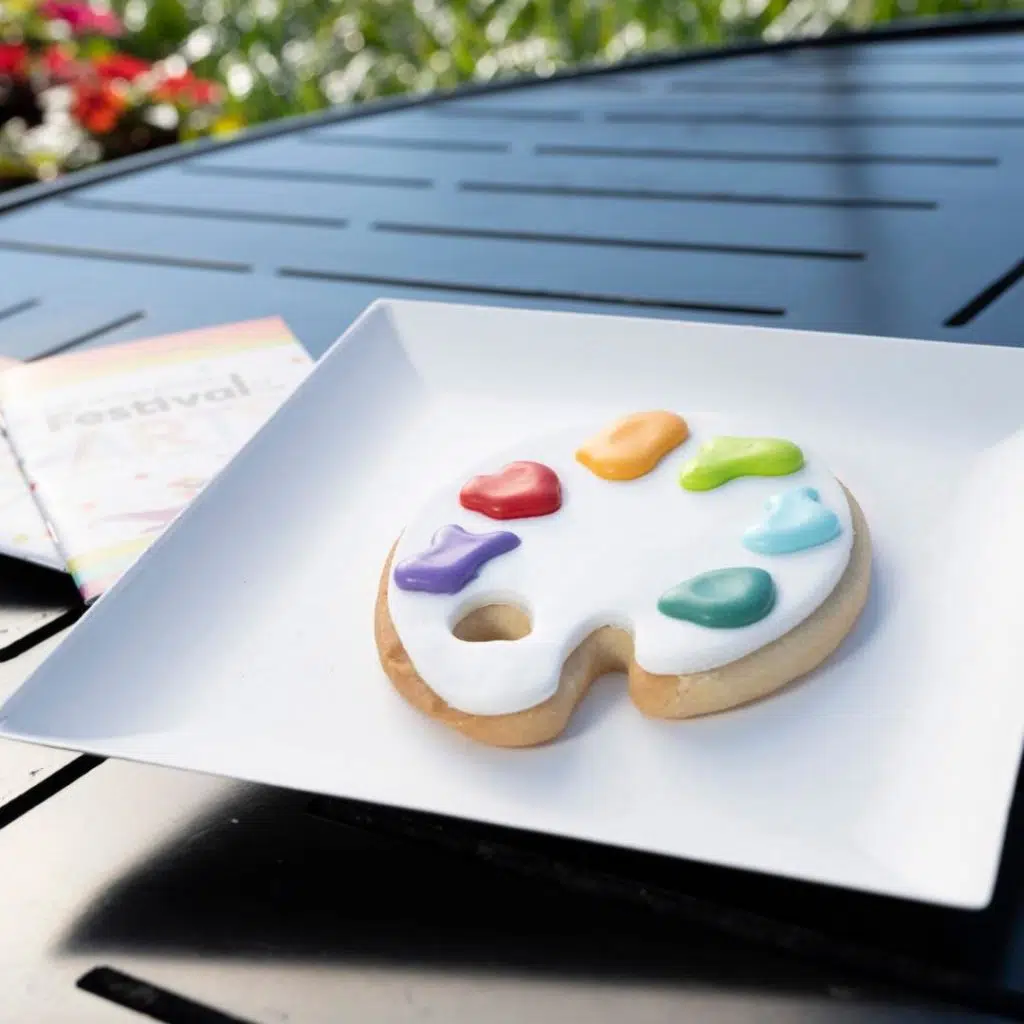 Another fun way to taste your way around the festival is on the Wonderful Walk of Colorful Cuisine.
This fun food stroll involves trying at least 5 of 7 color-coded treats at the festival.
Each time you try one of the treats, you'll get a special stamp that you add to your festival passport. Once you try at least 5 of the 7 treats, you can trade your passport in for a free artist palette cookie!
This year, the treats to try are:
Red Stamp: Blood orange-braised beet tartare with mustard vinaigrette, pickled clamshell mushrooms, and golden beets from Gourmet Landscapes
Orange Stamp: Pan-seared scallops with vanilla butternut squash purée, brown butter cauliflower purée, and lime foam from Moderne
Yellow Stamp: Chorizo and potato empanada with turmeric aïoli and annatto aïoli from Vibrante & Vívido
Green Stamp: Deconstructed Key Lime Pie with flexible key lime curd, "key lime" mousse, graham cracker cake, and meringues from The Deconstructed Dish
Blue Stamp: Orange mousse with lemon cake and raspberry meringues from Deco Delights
Indigo Stamp: Almond frangipane cake layered with raspberry jam and Belgian chocolate from Pop Eats
Violet Stamp: Pop't Art, a sugar cookie with a blueberry filling from Figment's Inspiration Station at the Odyssey
You don't have to complete the stroll in one visit, so you can take your time over your vacation or come back throughout the month if you're local.
Don't forget your Epcot Festival of the Arts merchandise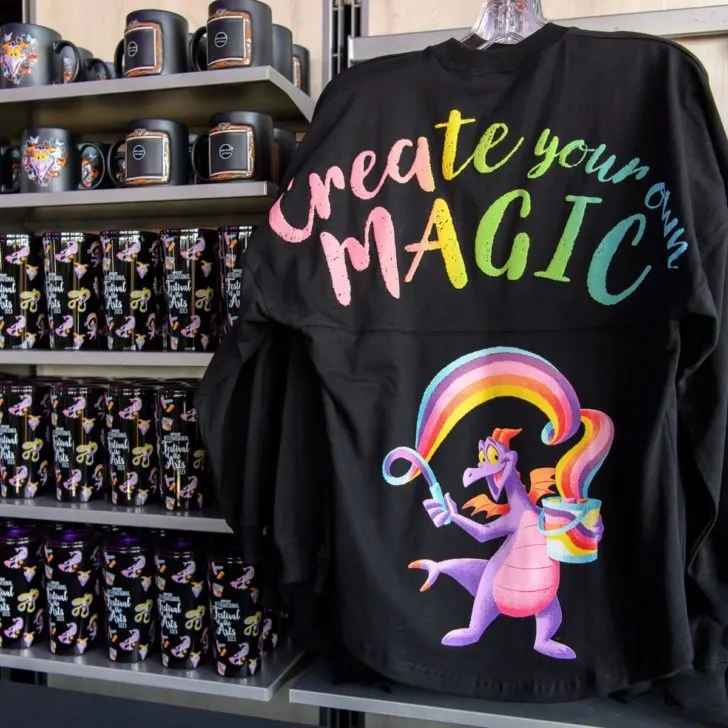 Last up, don't forget to pick up a souvenir or 2 to remember your visit to Disney World for the Epcot Festival of the Arts.
Festival merchandise includes spirit jerseys, Munchlings, tumblers, Magicbands, hats, and other fun offerings.
You can get your merch at souvenir shops in the parks or at shopDisney.com.
Have you been to the Epcot Festival of the Arts yet?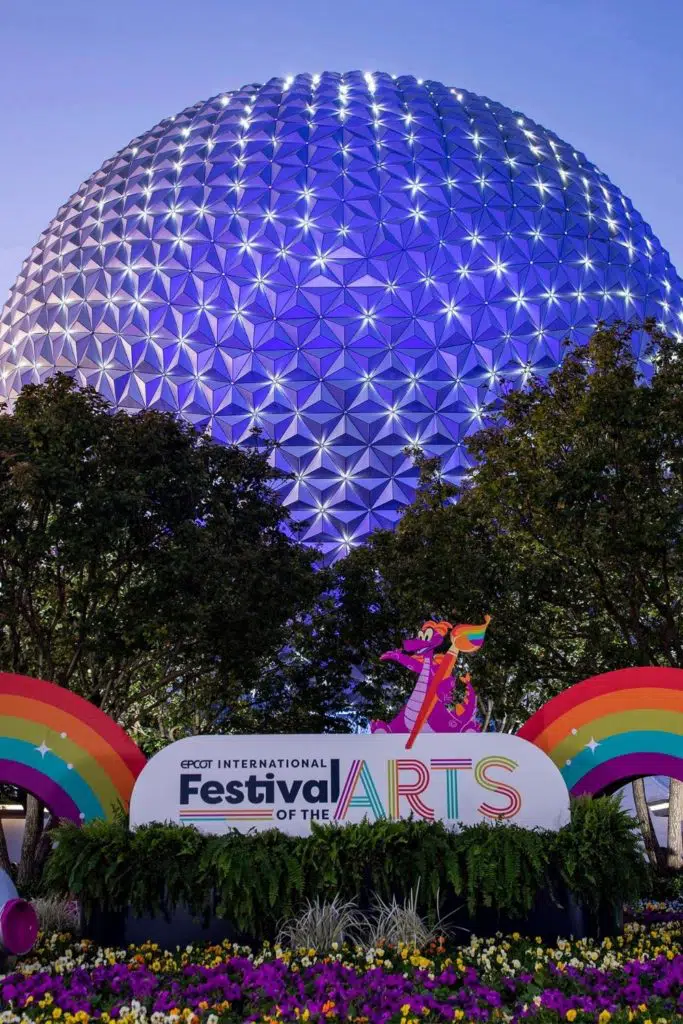 Let us know what your favorite part of the festival is in the comments below.
This post was originally published February 5, 2022. It was last updated January 13, 2023.