The Epcot Festival of the Arts takes place annually at Disney World in January and February.
It features various forms of arts, including performing arts, culinary arts, painting, drawing, and more.
Sound like something you're interested in? Check out this guide for help planning your visit to the Epcot Festival of the Arts.
This post includes affiliate links. If you click on or make a purchase from an affiliate link, I might earn a commission at no extra cost to you.
Before you book, check the Disney on Broadway schedule
One of big draws for the Festival of the Arts are the Disney on Broadway performances.
These concerts feature some of the same performers that you see on Broadway performing songs from various Disney shows.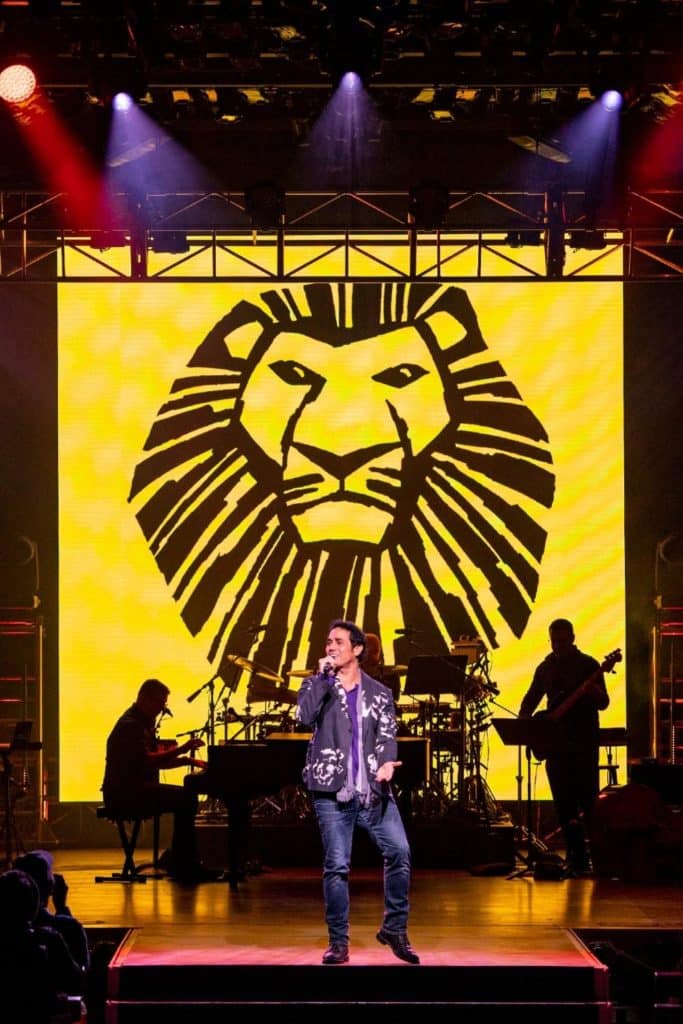 Check out the 2022 schedule below for an idea of the performances available. Performers and dates are not yet available for 2023.
Heidi Blickenstaff (Freaky Friday, The Little Mermaid) and Robert Creighton (Frozen): January 14, 16, 17, 20, and 21
Kara Lindsay (Newsies) and Dan DeLuca (Newsies): January 15, 18, 19, 22, and 23
Ashley Brown (Mary Poppins) and Josh Strickland (Tarzan): February 7, 9, 10, 13, 14, 17, and 18
Kissy Simmons (The Lion King) and Michael James Scott (Aladdin): February 8, 11, 12, 15, 16, 19, and 20
Closing Group Performance: On February 21, Ashley Brown, Josh Strickland, Kissy Simmons, and Michael James Scott join forces for a special performance to close out the festival.
Meet your favorite Disnified artist
Another feature from the festival that you might want to schedule your trip around are the meet-and-greets with popular Disney artists, such as Jerrod Maruyama.
In addition to meeting your favorite artist, you can also buy artwork from some of them at the galleries set up around Epcot.
To see a list of participating artists, as well as where and when they'll be at the festival, check out this schedule from Disney.
Pick a nearby resort to minimize transport time
Now that you know when you want to visit, it's time to pick a resort so you can book your Disney World vacation package.
If you're specifically in town for the Epcot Festival of Arts, maximize your time at the festival by booking a resort close to Epcot.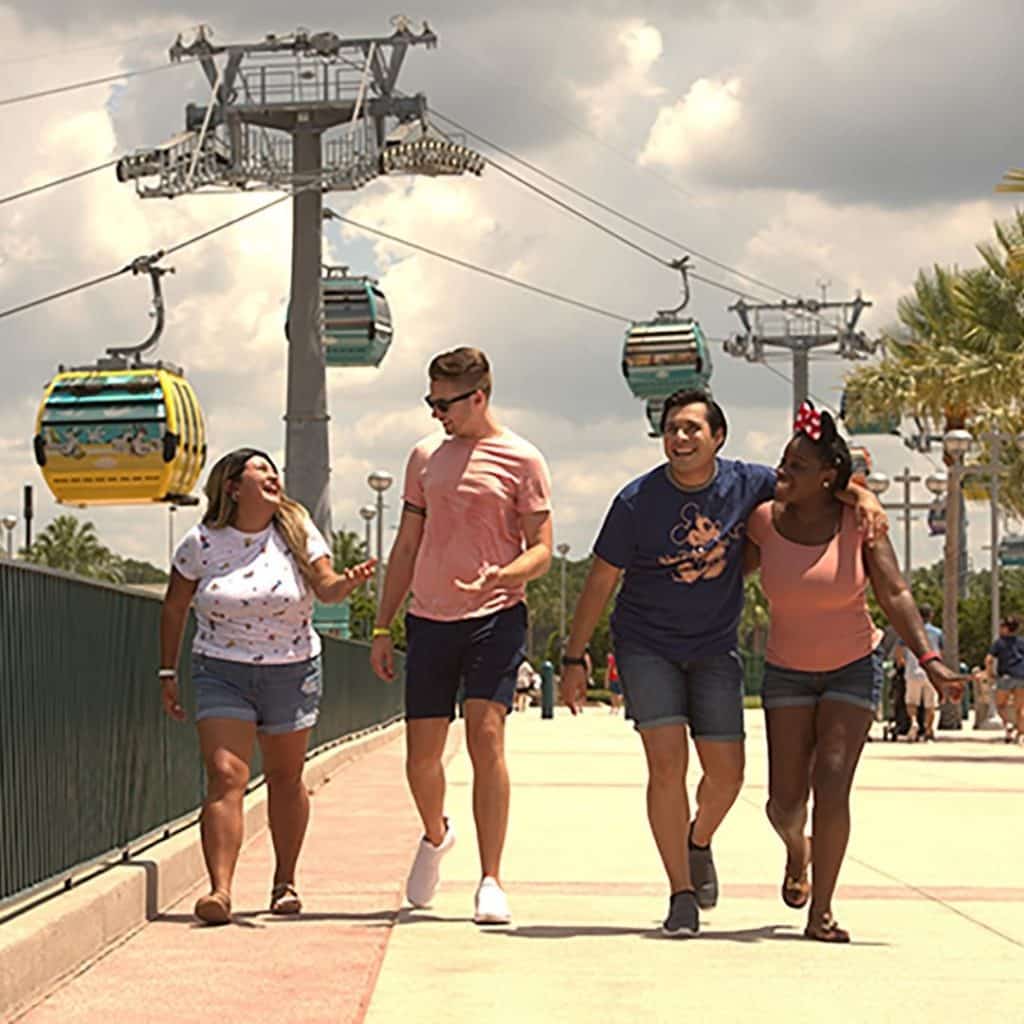 Disney's Yacht and Beach Club Resorts and Boardwalk Inn and Villas are within walking distance of Epcot.
If you're more of a Marriott fan, the Walt Disney World Swan and Dolphin hotels are also nearby.
Next best would be to connect to the Epcot via Skyliner. For that, the 2 closest resorts via Skyliner are Disney's Riviera Resort and Caribbean Beach Resort.
You might also like: Epcot Flower & Garden Festival Guide
Spring for the Memory Maker PhotoPass
Before you arrive, add the Memory Maker PhotoPass to your vacation package.
The Epcot Festival of Arts includes fun photo spots around Epcot where you get to step into life-sized replicas of famous artwork like Leonardo da Vinci's Mona Lisa or photo props like the Peter Pan storybook seen below.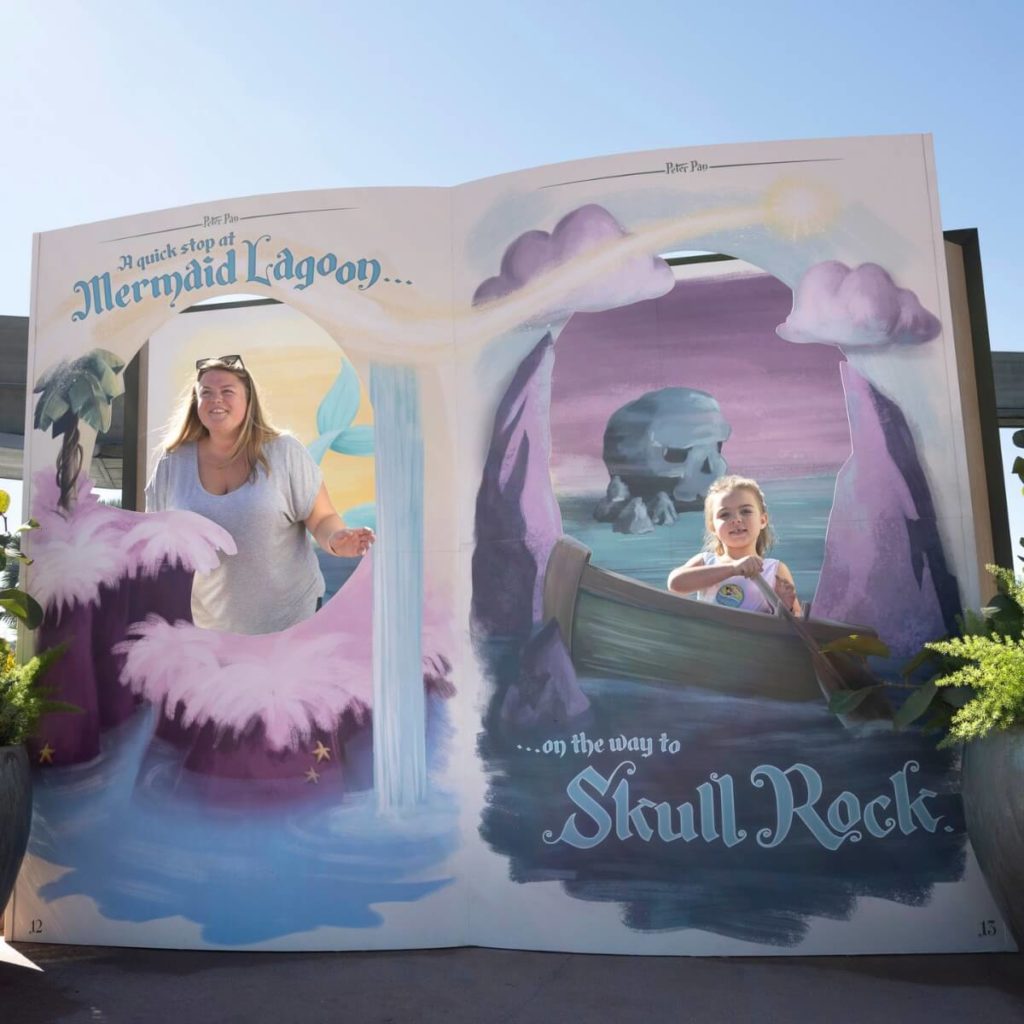 Plus, with it being Disney World's 50th anniversary, there are extra fun photo opportunities available at the other theme parks, too.
If you purchase Memory Maker at least 4 days before your trip, the advance purchase price is $169. Otherwise, it will cost $199.
You can also get a 1-day pass for $69.
Be prepared to eat & drink
As with all of Epcot's festivals, there are plenty of limited edition food and drink available. It is, after all, culinary art!
I usually recommend getting the Disney Dining Plan to save money on food at Disney World, but this program is on hold for the time being.
Until it returns, another way to stay on budget while at the Epcot Festival of the Arts is to load up a Disney gift card with your chosen amount and stick to using that as you eat and drink around the world.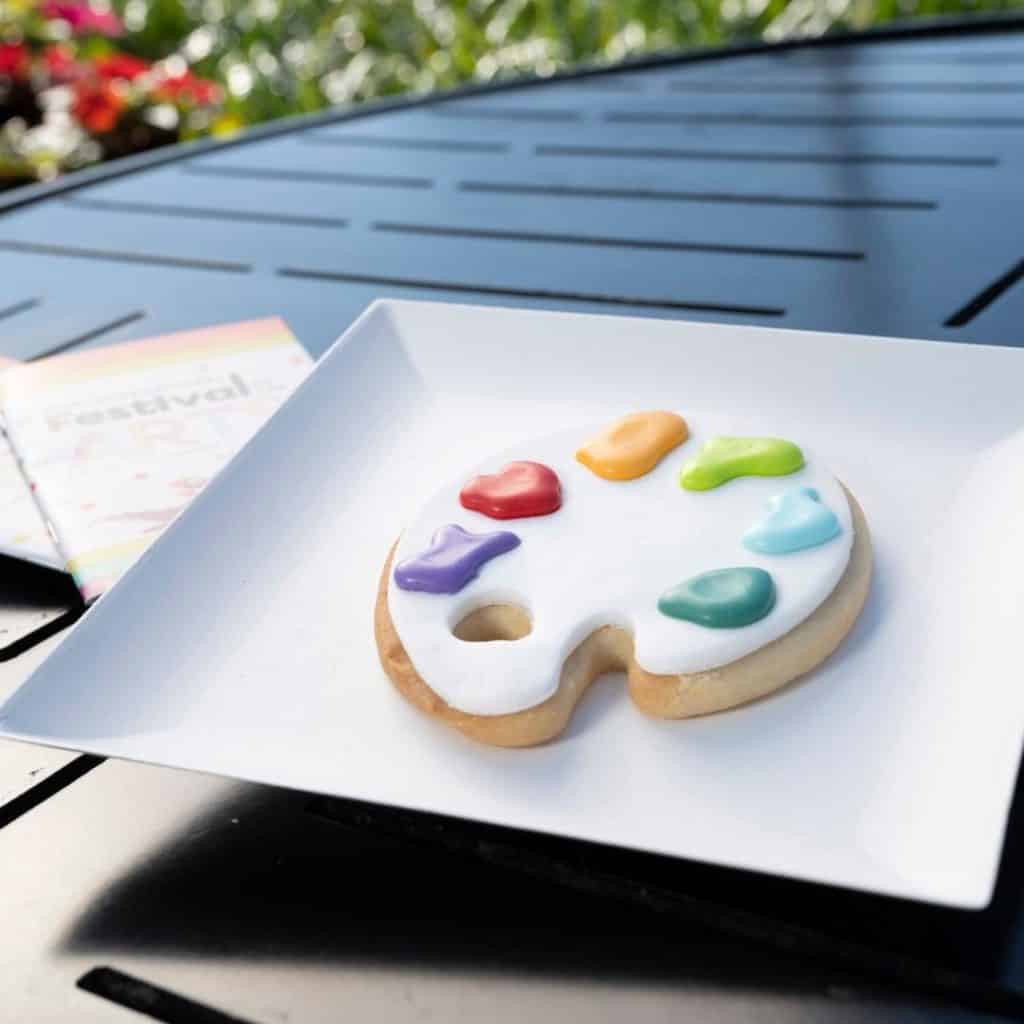 What to try at the Epcot Festival of the Arts
The Artist's Table: Beef Wellington and Sipping Chocolate flight
The Craftsman's Courtyard: Cast-iron roasted PEI mussels with sauteed tomatoes, garlic, and fresh herbs
Deco Delights: Decadent Valrhona chocolate with dark chocolate mousse, chocolate brownie, and cassis mousse and Neopolitan beer flight
The Deconstructed Dish: Deconstructed Key Lime pie
The Donut Box: Vanilla donut with strawberry sugar, strawberry ice cream, fresh strawberries, and strawberry gele
El Artista Hambriento (Mexico): Carne asada and Smoky raspberry cocktail
Goshiki (Japan): Sushi donut and Niseko Flurry sake cocktail
Gourmet Landscapes (Canada): Wild mushroom risotto with aged parmesan, truffle shavings, and Zinfandel reduction
L'Art de la Cuisine Francaise (France): Crème de brie en petit pain and Frozen French martini
L'Arte di Mangiare (Italy): Ravioli alla Boscaiola and Bergamotto cocktail
The Painted Panda (China): Char Siu pork bun and "Panda" bubble tea
Pastoral Palate (Germany): Opera cake with almond joconde, coffee buttercream, and chocolate ganache
Pop Eats: Tomato Soup Can Bloody Mary cocktail
Refreshment Port (Canada): Gnocchi poutine with red wine braised beef, cheese curds, basil, and burrata
Refreshment Outpost: Artist palette jumbo chocolate chip cookie
Tangierine Café (Morocco): Grilled chicken or lamb kebabs with carrot-chickpea salad and garlic aïoli
Vibrante & Vívido: Encanto Cocina: House-made chorizo and potato empanada with turmeric aïoli and annato aïoli
You might also like: Epcot Food & Wine Festival Guide
Learn to draw a character
At the America Gardens Theatre, you can learn how to draw various Disney characters. I've participated in a similar activity in the past and had a blast learning how to draw Minnie Mouse.
I highly recommend this activity! Not only is it free, but it makes for a great souvenir that you can frame at home.
Paint a mural
Over by the new World Nature neighborhood in Epcot, you can participate in painting a mural.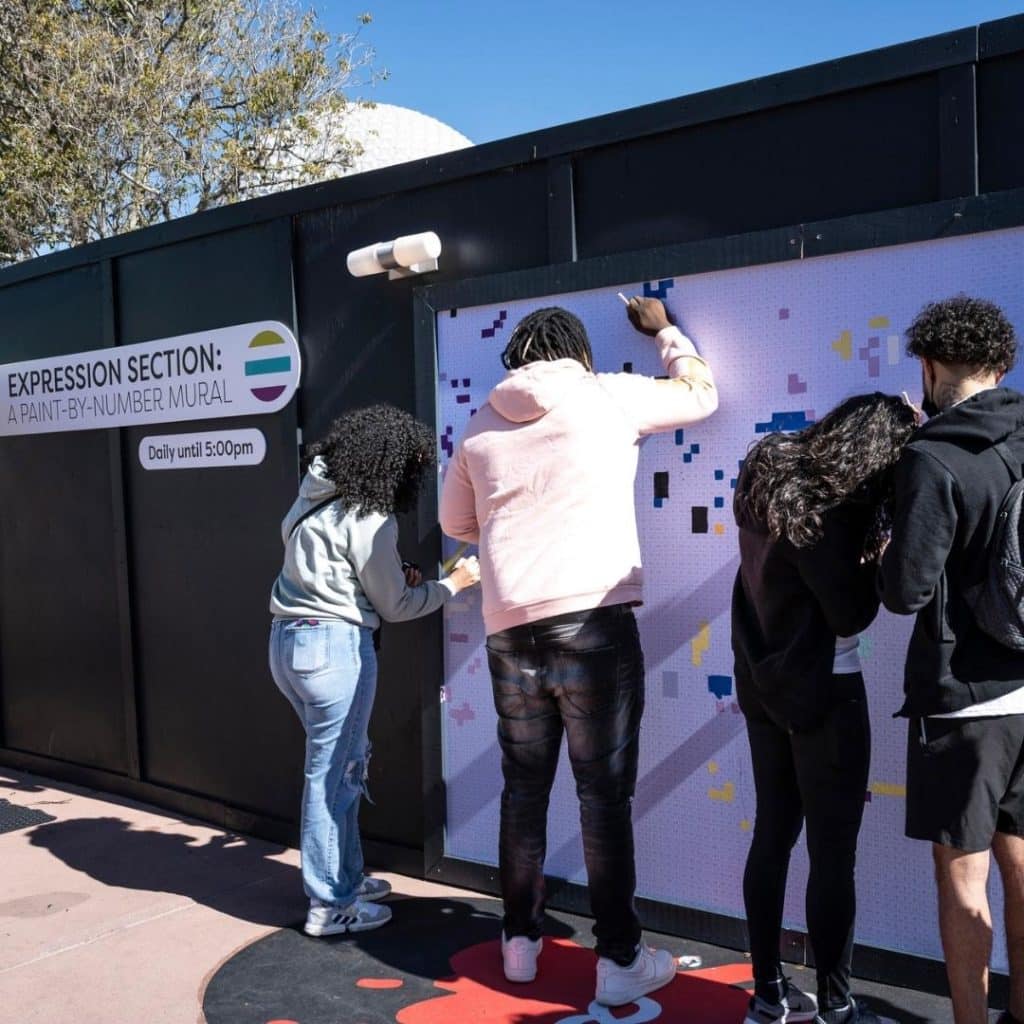 You'll be given a small pot of paint and a number. Then, paint in a few squares with your given number.
By the end of the festival, a fun mural will be revealed – and you can say you helped out.
The best part: this activity is totally free!
Figment's Brush with the Masters
In true Epcot fashion, a scavenger hunt is available during the festival – this time featuring everyone's favorite Epcot character, Figment!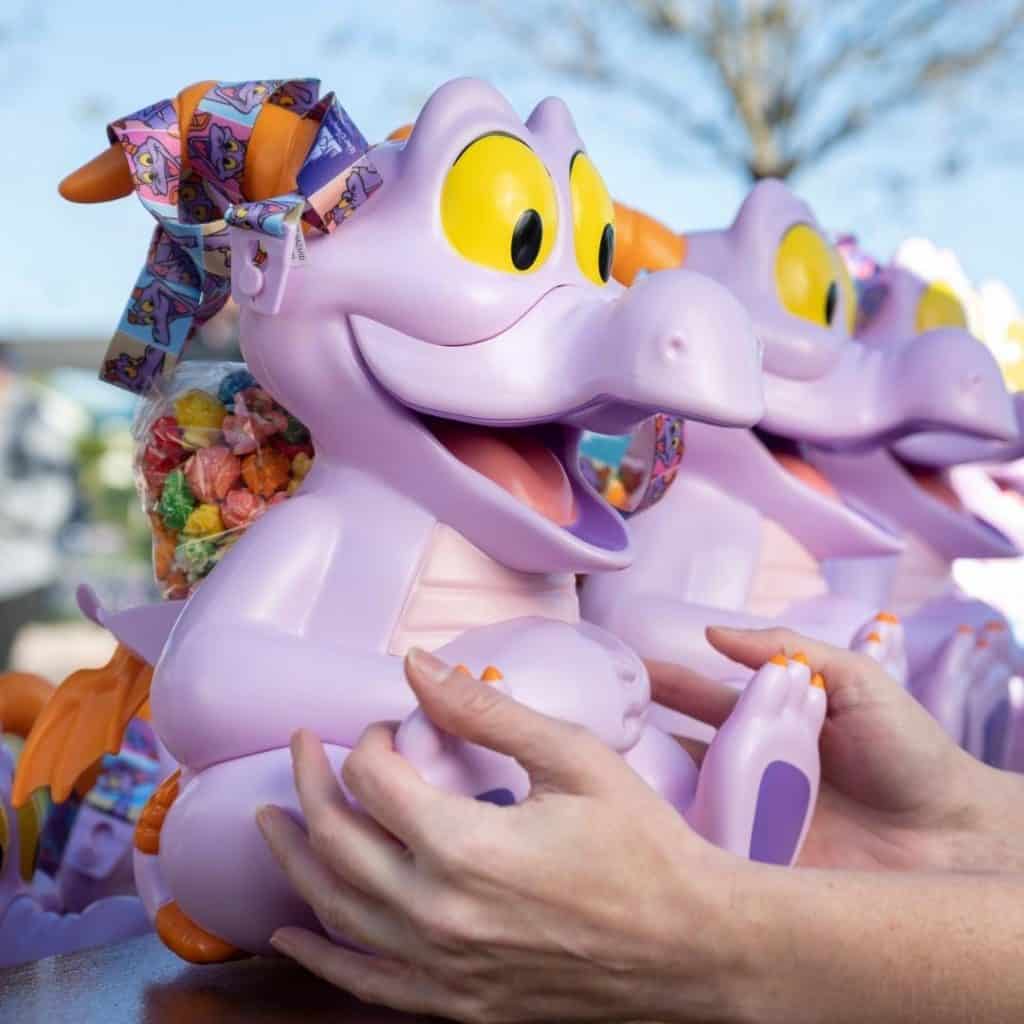 For $9.99 (plus tax), pick up a map with stickers at Creations Shop, Port of Entry, or World Traveler.
Embark on your adventure to find Figment hiding in various works of art around the World Showcase by following the map. Each time you find Figment, add a sticker to your map.
If you find all of them, bring your completed map to Disney Traders or World Traveler to trade it in for a special surprise!
Available while supplies last.
Don't forget your Epcot Festival of the Arts merchandise
Last up, don't forget to pick up a souvenir or 2 to remember your visit to Disney World for the Epcot Festival of the Arts.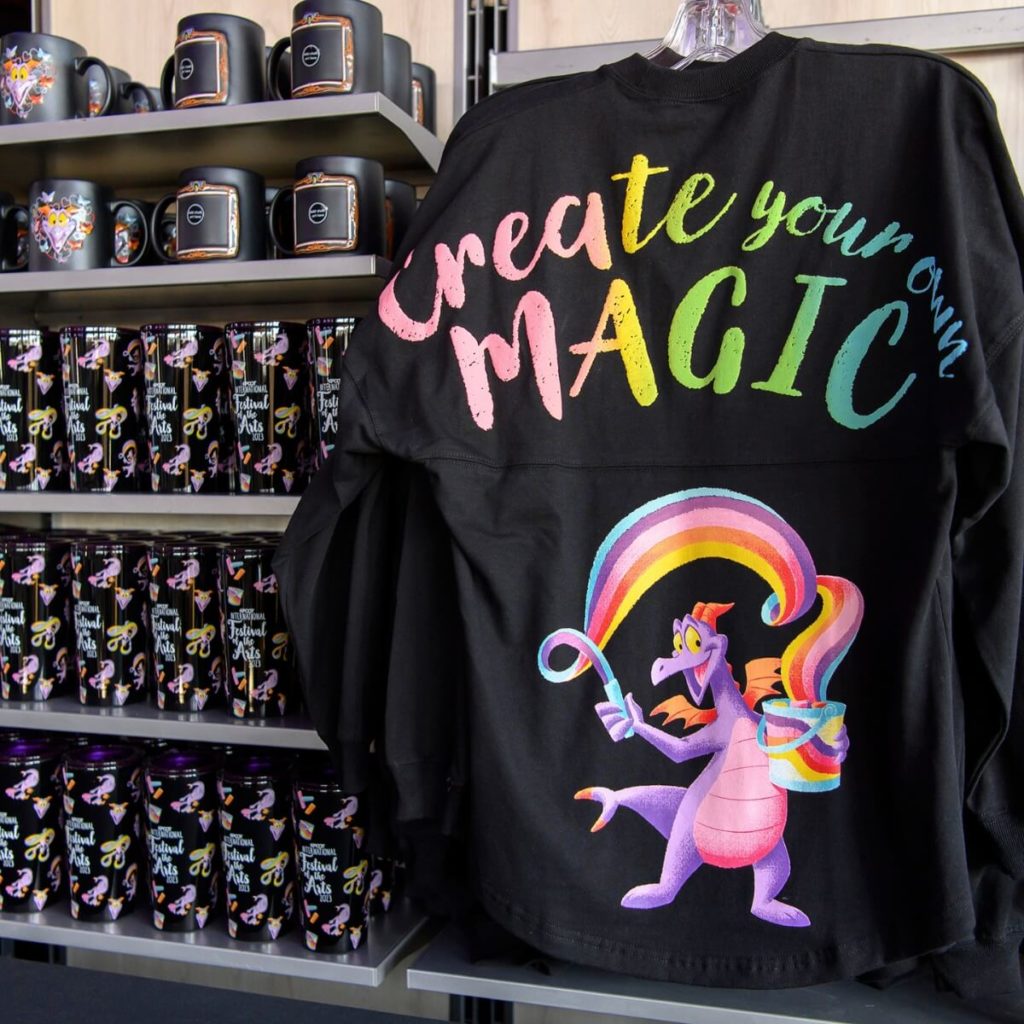 Or snag some Festival of the Arts merchandise from shopDisney in the shopping widget below.
Have you been to the Epcot Festival of the Arts yet?
Let us know what your favorite part of the festival is in the comments below.
Next up, check out more of our Disney World vacation planning guides:
This post was originally published on February 5, 2022. It was last updated on March 14, 2022.