Disney Springs is the perfect place to take a break during your visit to Walt Disney World.
Whether you want to go shopping, take in a show, or just relax for a bit, there's something for everyone in this sprawling complex.
But when hunger strikes and you don't have time for a full sit-down meal, there are plenty of quick-service restaurants that will fill you up without emptying your wallet and don't require a dining reservation.
Here are some of our favorite Disney Springs quick service locations to hit up on your next trip.
The Basket at Wine Bar George
Whether you're looking to enjoy delicious charcuterie, cheese, and crackers al fresco or find a cool treat to beat the Florida heat, The Basket at Wine Bar George has you covered.
Guests who order at least $60 of cheese, charcuterie, and other yummy bites get a custom picnic basket to take their treats to go.
And what's more? You can even try the delightfully unexpected frozcato with pineapple Dole whip. Yes, that Dole whip!
BB Wolf's Sausage Co.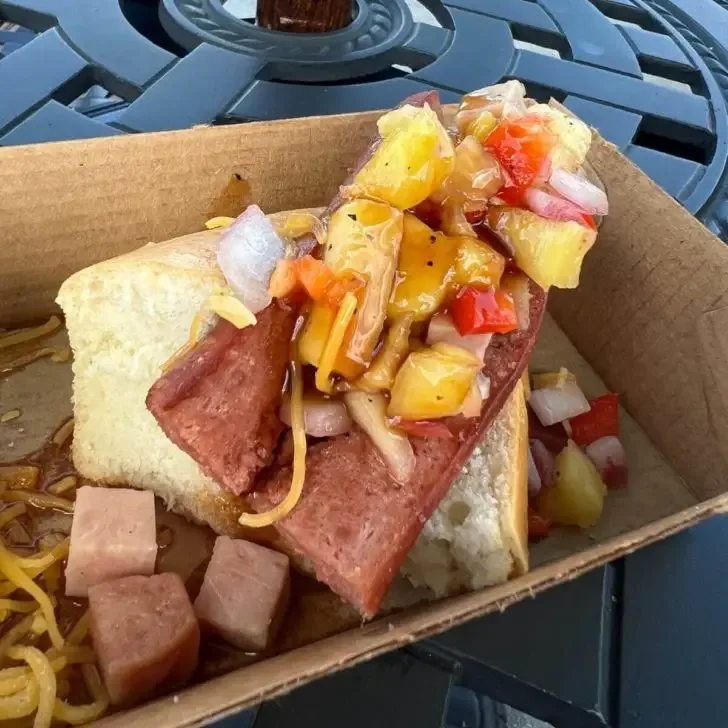 Are you looking for a delicious and quick meal in Disney Springs? Look no further than BB Wolf's Sausage Co.!
Their Texas chili cheese dog is out of this world; It comes topped with chili, cheese, and corn chips.
If you're more of a sweet than savory fan, be sure to try their Hawaiian Island dog with grilled pineapple, Spam, and teriyaki glaze. It's my favorite pick here.
Can't choose? Go for the Three Little Pigs, a sampler with 3 mini dogs: Texas Chili Cheese, Hawaiian Island, and Pastrami Reuben.
Blaze Fast Fire'd Pizza
If you're looking for a delicious and convenient way to refuel at Disney Springs, Blaze Fast Fire'd Pizza is the place to go.
With signature pizzas like the Green Stripe, Red Vine, and Art Lover, there's something for everyone who visits this quick-service restaurant.
If none of the signature options float your boat, Blaze Pizza offers the option to customize your pizza with over 40 premium ingredients.
All of the pizzas are served in just minutes after having been "Fast Fire'd" in an 7-800 degree oven, so you don't have to wait long before enjoying your meal.
Whether you pick one of their signature creations or build your own pizza, Blaze Fast Fire'd Pizza is sure to make your next visit to Disney Springs much tastier.
Chicken Guy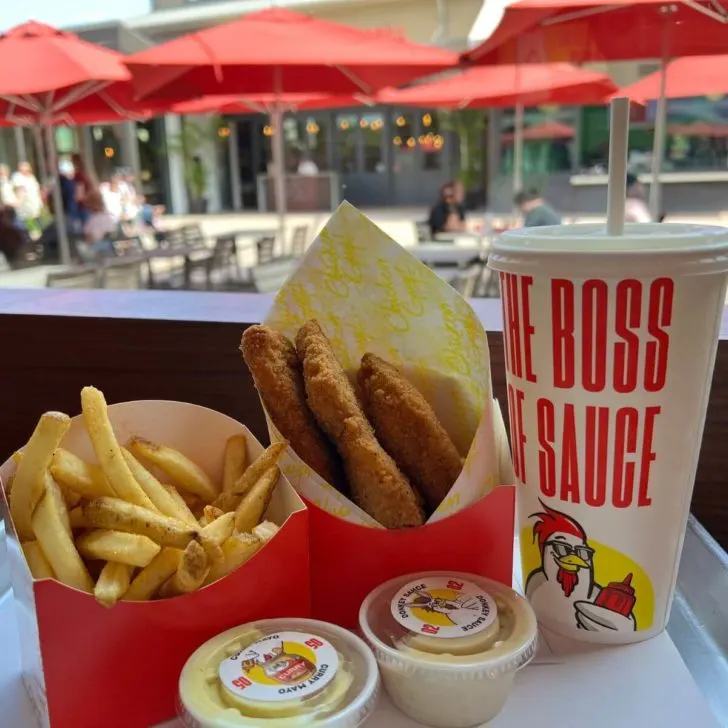 Chicken Guy! is easily one of the best quick-service restaurants at Disney Springs, especially if you're a fan of Guy Fieri and his famous flare for all things delicious.
From their classic Chicken Tenders to the Bourbon Brown Sugar BBQ Chicken Sandwich, everything here packs a flavor punch.
Of course, nothing here is complete without his signature Donkey Sauce. It adds just enough zing to all the dishes while not being overpowering.
Plus, with over 20 varieties of sauces like Teriyaki Gorgonzola or Mango Habanero, there's sure to be a favorite flavor for everyone!
Come on by and see why Chicken Guy! is your best bet for an amazing yet quick meal in Disney Springs.
D-Luxe Burger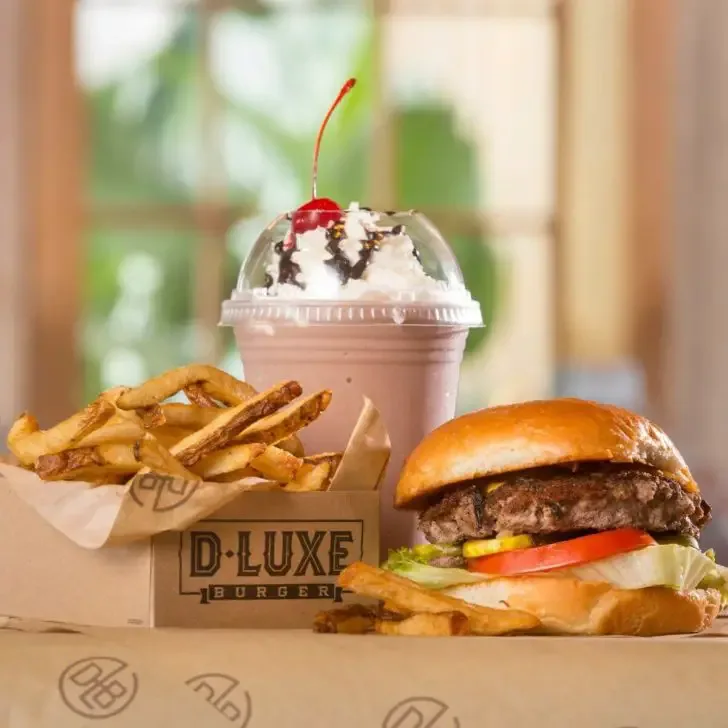 D-Luxe Burger at Disney Springs is a must-try for anyone looking for delicious and fast filling meal at lunch or dinner.
Their fresh cut fries are unbeatable; cooked to perfection with the perfect amount of seasoning and served in generous portions.
You can also get incredible milkshakes, with flavors like sea-salted caramel and s'mores, or fresh-made burgers that have been grilled on an open flame grill, giving each burger a unique smoky flavor.
The variety of menu items ensures there's something everyone can enjoy, so don't miss out on visiting D-Luxe Burger while you're spending time in Disney Springs!
The Daily Poutine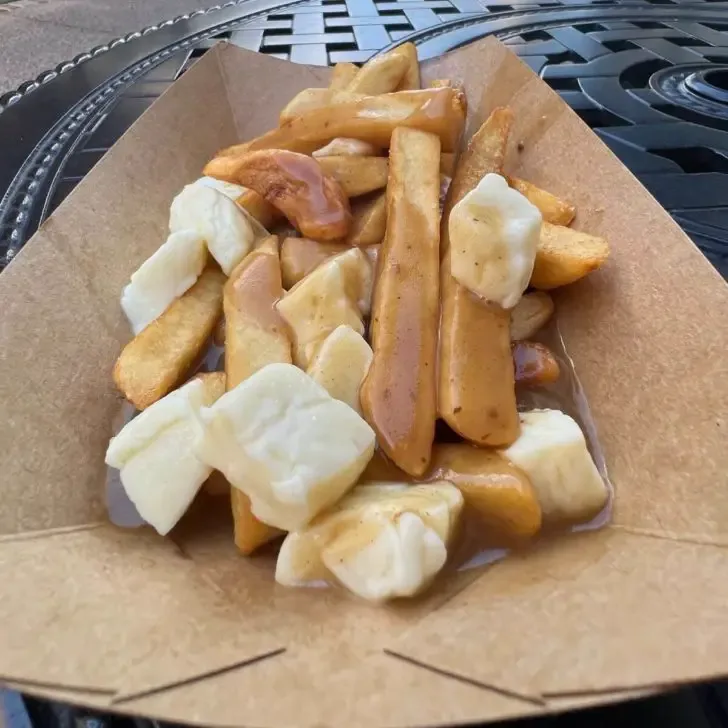 If the name didn't give it away, The Daily Poutine offers the classic Canadian dish, poutine.
Traditionally made with french fries, gravy, and cheese curds, The Daily Poutine also has specialty options like Loaded Poutine, Italian Pizza, and Korean Barbecue.
With its convenient location near the Wide World of Disney store, this spot is sure to keep your energy levels up while shopping for souvenirs.
Earl of Sandwich
Earl of Sandwich offers hot and cold sandwiches sure to satisfy all tastes.
The variety ranges from classic roast beef to Italian specialties and you'll even find vegan and vegetarian options.
If you're feeling extra festive, you can always opt for the Holiday Turkey sandwich with cornbread stuffing, cranberry sauce, and gravy, which is thankfully available year round!
And don't forget to grab an Earl Grey Lemonade to wash down your meal. I love this blend of tart lemonade and flowery, yet citrusy iced tea.
Morimoto Asia Street Food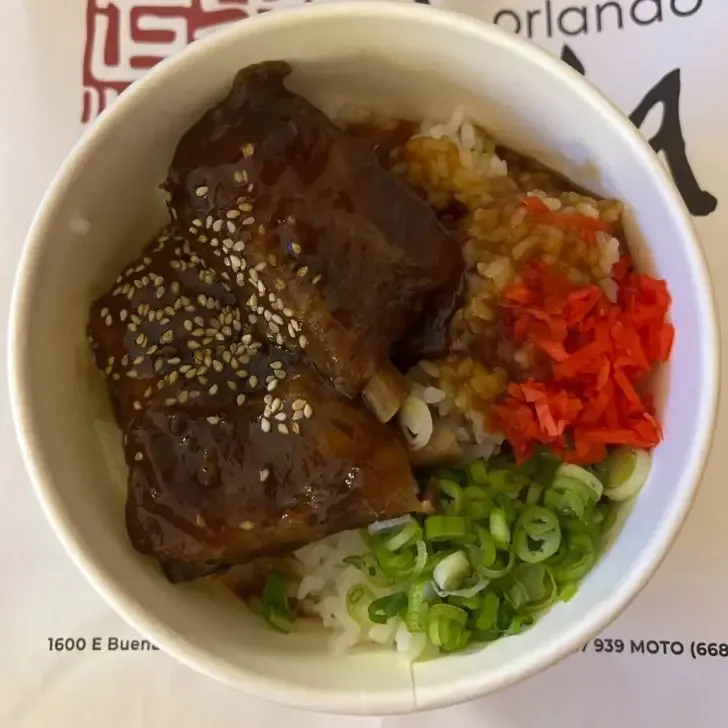 Morimoto Asia Street Food is a must-try when visiting Disney Springs.
It's one of the best quick-service restaurants available due to its delicious food and excellent presentation – especially the Spicy Kimchi Ramen and Morimoto Baby Ribs (featured above in the char siu baby rib bowl)!
Whether you're looking for something savory, like the delicious egg rolls or the Spicy Pork Belly Bun, or something sweet like a classic mango smoothie – Morimoto Asia Street Food has what you need.
The quality of their dishes is always impeccable: they are made with fresh ingredients and just the right amount of flavor to make every dish truly stand out. Additionally, you won't have to spend hours waiting in line for your order.
Check out Morimoto Asia Street Food for a wonderful meal that'll leave your taste buds asking for more.
Pepe by Jose Andrés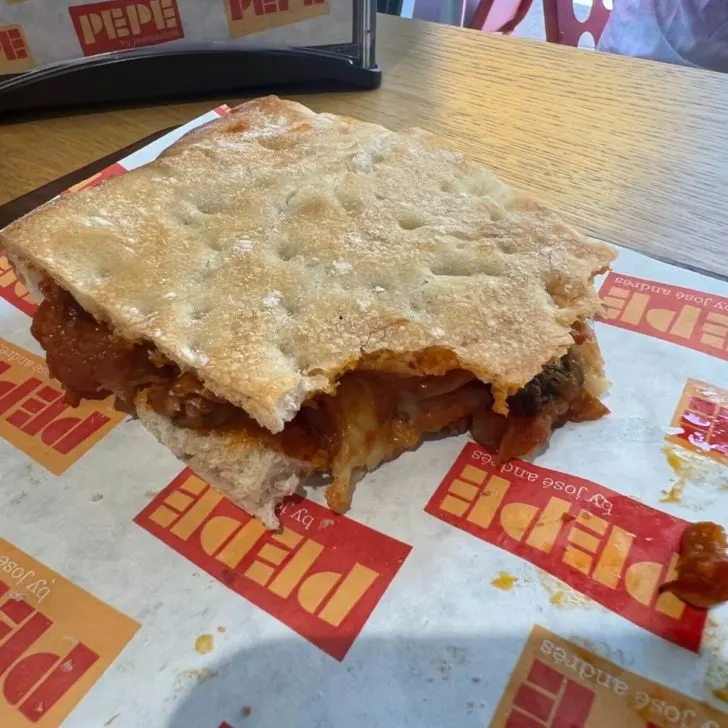 You know those moments where you're starving, but don't want to compromise your taste buds for a quick fix? Well, let me introduce you to Pepe by Jose Andrés.
This quick service spot in Disney Springs is the ultimate answer to all your cravings.
The Spanish-style sandwiches are so flavorful, they're like a party in your mouth.
If you're in the mood for something a bit colder, their gazpacho is a game changer. And let's not forget about their sangria – it's basically a vacation in a cup.
Your Disney Springs quick service dining options have never been so delicious!
The Polite Pig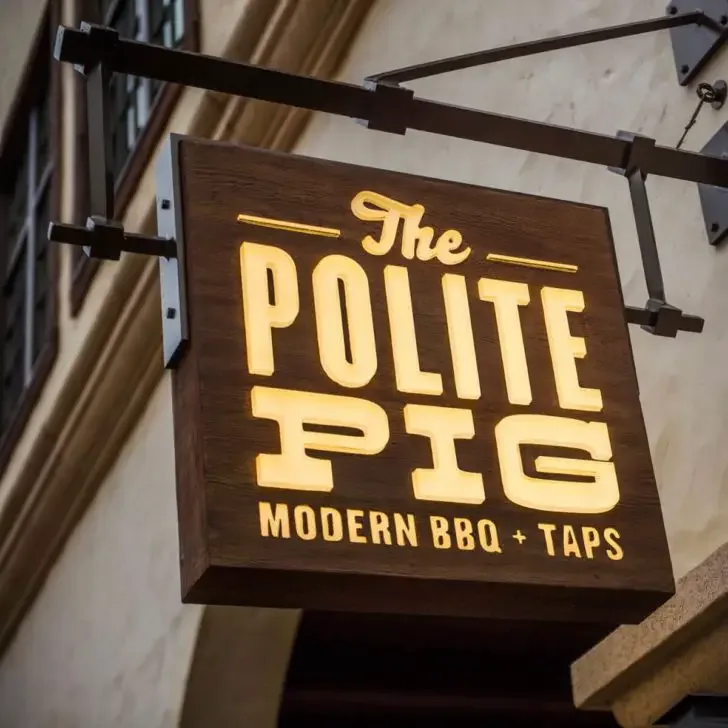 The Polite Pig is an amazing quick-service restaurant located in Disney Springs.
It offers delicious pulled pork, smoked chicken, ribs, and other meats that are smoked low and slow to produce the best in tender, juicy flavors.
And their ridiculously flavorful brisket is a must-try! Not to mention, their sides like potato salad and mac and cheese pair perfectly with any of their savory options – your mouth will be watering just thinking about it.
With several of the best quick-service meals in Disney Springs, you can't go wrong with The Polite Pig.
Rivers Cantina Barbacoa Food Truck
Rivers Cantina Barbacoa Food Truck has delicious, fresh Mexican food that is quick and easy for those on the go. It is also one of several food trucks available in Disney Springs.
Not only can you find tasty tacos and quesadillas here, but there is also an option to get your favorite dishes in a taco cone – perfect for a meal on-the-go!
In addition to these unique menu items, they have amazing sides such as Mexican street corn, chips and guacamole, and plantains.
Those looking to make their meal a little healthier could enjoy one of the salads or bowls.
This eatery is truly one of the best quick-service restaurants in Disney Springs!
Ye Sake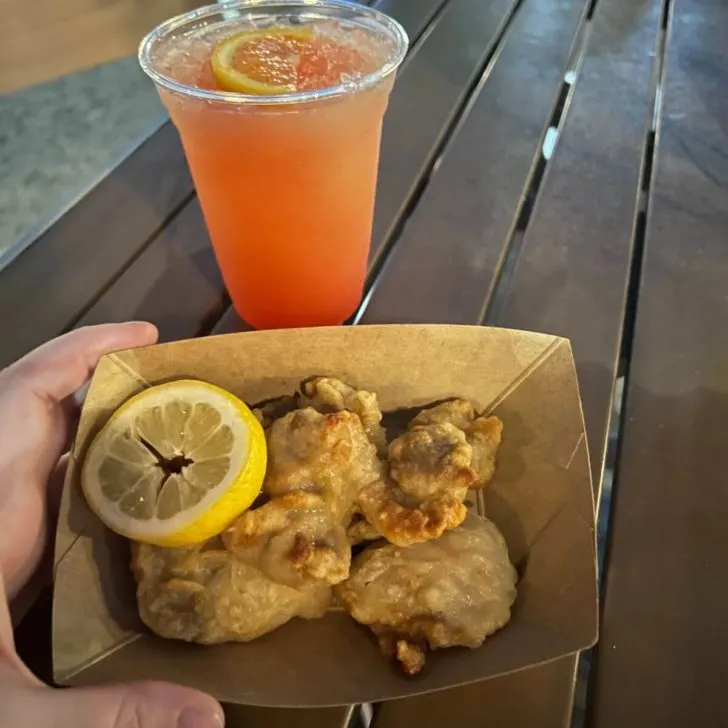 The latest buzz on the Disney Springs foodie scene is Ye Sake, a quick service spot that'll knock your socks off.
Don't be fooled by their unassuming exterior – inside (the food), they're packing some serious flavor.
Let's start with the poke bowls. Fresh and delicious, they're perfect for a quick bite or if you're feeling adventurous.
Try the karaage (or Japanese fried chicken, if you're not down with the lingo), which comes with fresh lemon to squeeze on top.
And if you're really feeling fancy, wash it all down with one of their sake cocktails – the perfect combination of class and sass.
So, keep your taste buds on their toes and head on over to the Ye Sake kiosk – your new go-to quick service spot in Disney Springs.
What are your favorite Disney Springs quick service restaurants?
There are plenty more quick-service restaurants at Disney Springs worth exploring, but these 10 should definitely be on your must-try list!
Next time you decide against dining at a table service restaurant, but still want a delicious meal while visiting Disney Springs, be sure to stop at one of these fantastic places.
Looking for more Walt Disney World vacation planning tips? Check out these posts:
---
About the author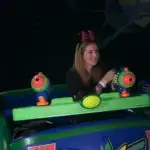 Meg Frost is the creator of The Park Pixie, where she covers Disney World, Disney+, and Disney fandom.
She holds an M.A. in Journalism from Northeastern University and B.S. in Communication & American Studies from University of Miami in Florida.
---
This post was originally published February 9, 2023. It was last updated June 10, 2023.