Are you planning a trip to a Disney park and wondering whether or not to give Space Mountain a try?
Space Mountain is a dark, indoor roller coaster ride with a sci-fi theme that has made it an instant hit with guests around the world.
It's one of the most popular rides at several Disney Parks, with the first location having opened in 1975.
But is it really as scary as people make it out to be?
In this blog post, I'll give you all the basic information and history about this ride, its locations, all to help you answer the all-important question – is Space Mountain scary?
Is Space Mountain scary?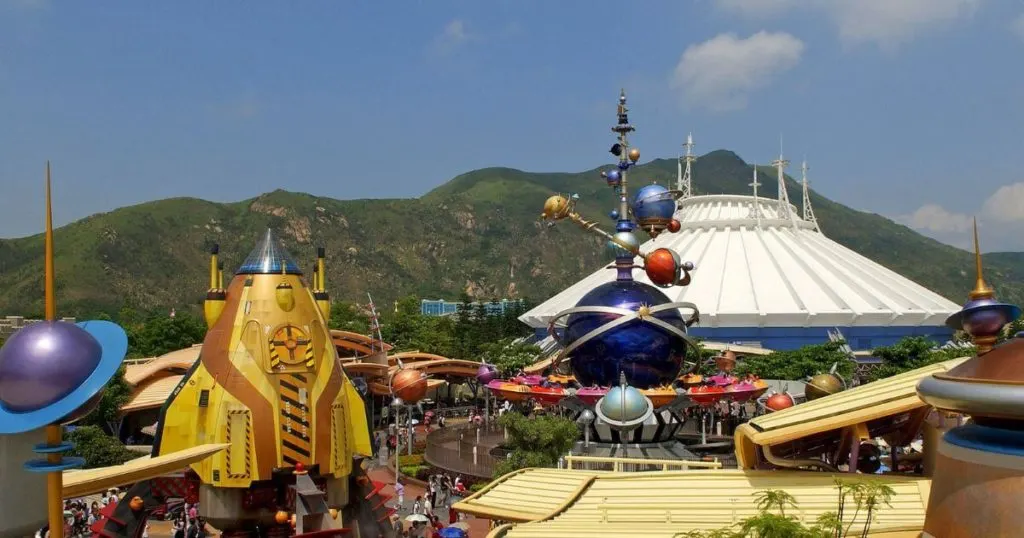 To be honest, the answer really depends on what you consider scary.
If you're scared of roller coasters in general, then Space Mountain might not be for you.
But, if you're more worried about the dark, spooky atmosphere, then you might find it more thrilling than anything else.
Overall, Space Mountain is dark, twisty, and fast. The ride can be jerky, but it really only lasts for a few seconds.
And if you find yourself at Disneyland Paris, don't forget that it goes upside down! That might be too much for some riders to handle when it comes to what makes a ride too scary!
If safety is a concern, one of the best things about Space Mountain, and all Disney roller coasters really, is that they are incredibly safe.
The rides go through rigorous safety inspections and checks multiple times throughout the day. Disney takes the safety of their guests incredibly serious. So, while the ride may be intense, it is definitely safe.
At the end of the day, if you're scared, there are a few things you can do to help manage any anxiety you're feeling: take a deep breath and keep your eyes closed if you need to.
Once in a while I have to close my eyes and take deep breaths if I'm feeling overwhelmed or nauseous on a roller coaster. It definitely helps!
I also like to watch POV videos on YouTube before I ride something for the first time, too.
While some people think this spoils the ride, for me, it helps with any anxiety I'm having since I'll have an idea of what to expect. Sometimes the anticipation is too much!
Now that I have those tips out of the way, let's go over several concerns that might make it or break it in regard to whether it's too scary for you to ride.
How fast does Space Mountain go?
The speed of this coaster also depends on which park you're at! In general, it ranges from 27 to 44 mph.
Disney World has the slowest version, while Disneyland Paris has the fastest.
Does Space Mountain have drops?
Yes, Space Mountain has big drops – that's part of the fun of roller coasters!
Depending on which version you go on will depend on how steep the drops are.
Does Space Mountain go upside down?
Space Mountain at Disneyland Paris, aka Star Wars: Hyperspace Mountain, goes upside down.
The remaining 4 Disney parks with Space Mountain do not go upside down.
I'm kinda jealous and also eyeing flights to Paris, ha!
Is Space Mountain plus size friendly?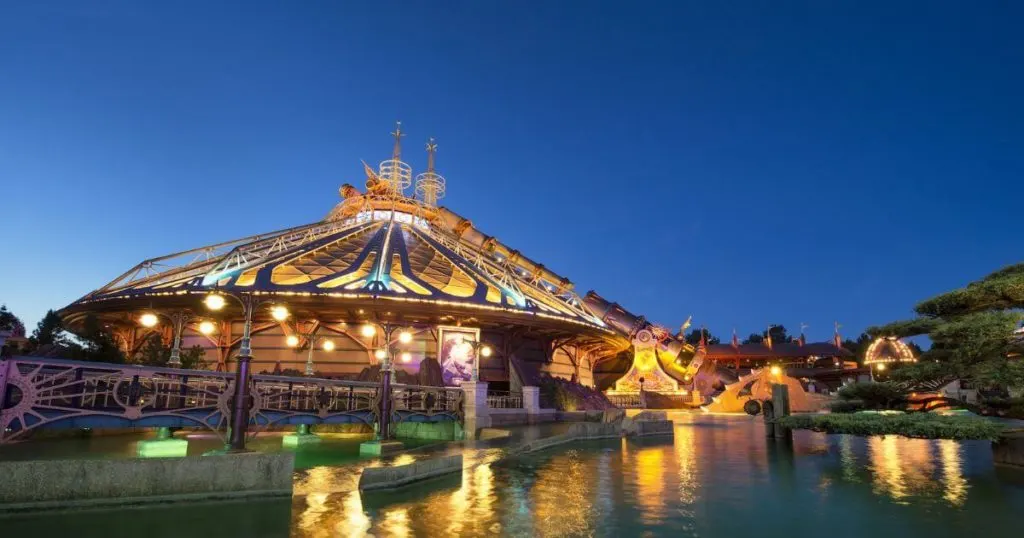 This is a hard question to answer, as that depends on the ride vehicle for each location, as well as the size of the passenger.
With the exception of Disneyland Paris, riders sit single file and therefore have their own seat, so it is likely more accommodating than other roller coasters.
Star Wars: Hyperspace Mountain at Disneyland Paris, however, has traditional side-by-side seats, plus restraints that go over the head due to the inversions. Therefore, it may not be as plus size-friendly as the other locations.
So for now, if this is something you're wondering, you may need to do some digging to get first-hand accounts from plus-size guests similar to you or your loved-one.
TIP: YouTube and Disney discussion boards would be helpful resources for research on this topic!
How long is Space Mountain?
The duration of Space Mountain depends on which version you ride! But overall, it ranges from 2 minutes and 15 seconds to 3 minutes long.
Disneyland Paris has the shortest version, while Disneyland in California has the longest.
Health and safety requirements
There are several safety requirements to consider before riding Space Mountain any of its locations.
First, expectant mothers should not ride. This is pretty much a rule across the board for all of Disney's roller coasters.
In addition, if you have head, back, or neck issues, high blood pressure, or tendency to get motion sickness, Disney advises you not to ride.
Lastly, there is a height requirement, but it varies from 40 to 47.2 inches depending on the location.
Is there a single rider line?
Only Space Mountain at Disneyland and Hyperspace Mountain at Hong Kong Disneyland have a single rider line.
Unfortunately, the versions at Disney World, Disneyland Paris, and Tokyo Disneyland do not include a single rider line.
What is Space Mountain like?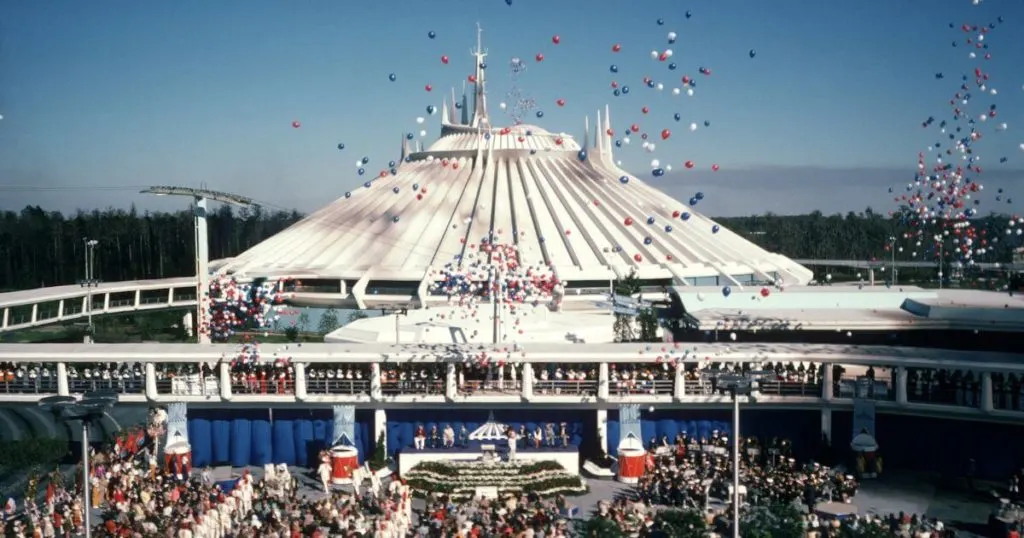 This galactic roller coaster is located in five Disney parks:
Disney World in Florida
Disneyland in California
Tokyo Disneyland
Hong Kong Disneyland
Disneyland Paris
This leaves Shanghai Disneyland as the only park that doesn't have its own version of Space Mountain.
With Disney's recent news that's planning to spend a whopping $60 billion dollars on its parks and cruise line over the next several decades, perhaps it will finally get one.
While there are similarities between each location, as noted above, there are definitely differences that give location a unique experience.
Plus, some locations have seasonal overlays! Let's go over each one.
Disney World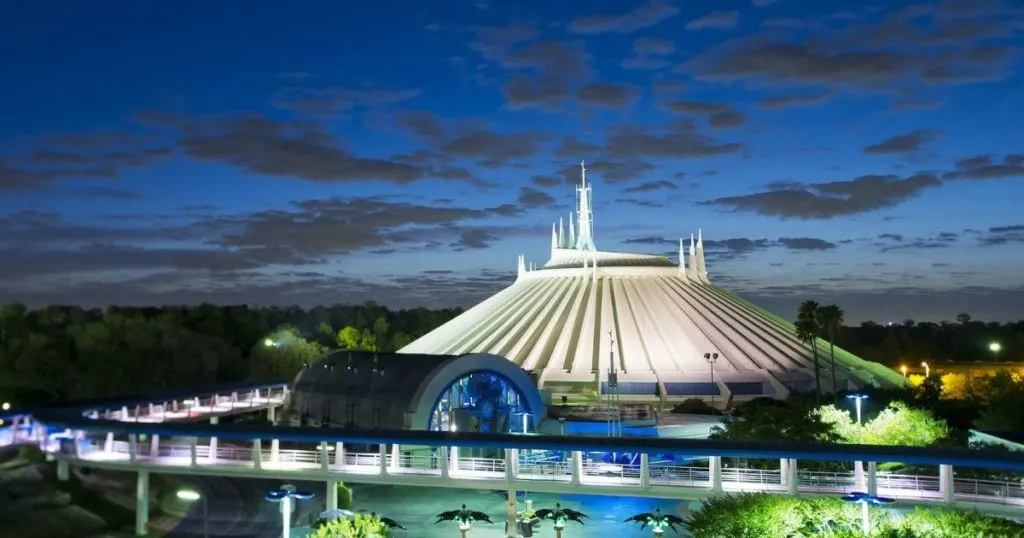 The OG Space Mountain roller coaster opened nearly 50 years ago on January 15, 1975 – wow!
Technically speaking, since this version of the ride doesn't include any large drops or inversions, Disney refers to this version as a thrill ride as opposed to a roller coaster.
But I feel like this is one of those arguments like tomayto versus tomahto.
Anyway, Space Mountain at Disney World is one of the shortest versions of this ride at 2 minutes and 30 seconds in duration, as well as the slowest, reaching a top speed of 27 mph.
Riders must be at least 44 inches tall to go on.
Despite being the slowest out of the 5 versions available, every time I've ridden Space Mountain, I've ended up in happy tears.
Even the ride queue is fun thanks to its incorporation with the Play Disney Parks app, where 2 to 5 people can play Rocket Race while in line. What a great way to make the time pass when you have to wait in line!
POV Video: Space Mountain at Disney World / Space Mountain with the lights on!
Disneyland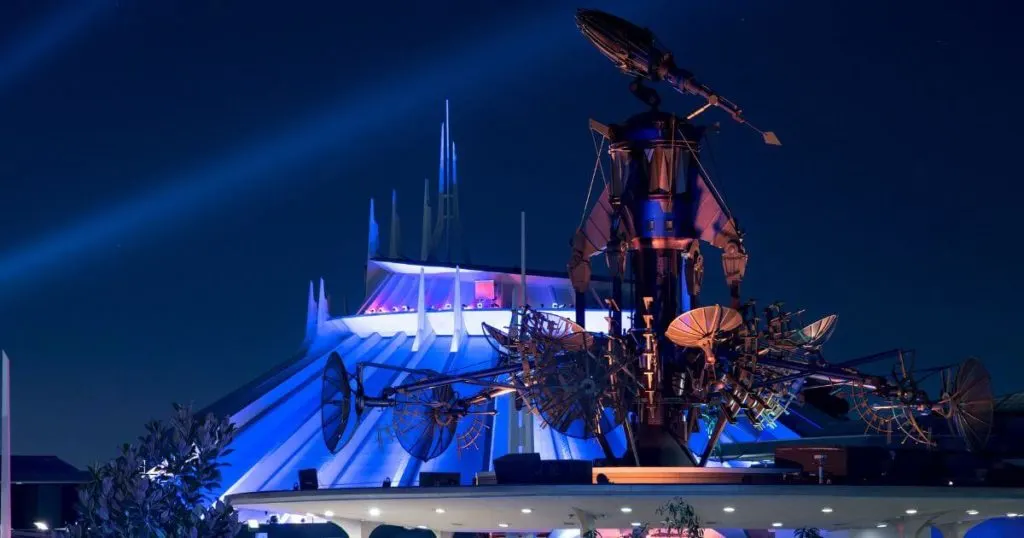 According to the episode 5 of Behind the Attraction on Disney+, after the success of the Matterhorn roller coaster-like ride, Walt Disney came up with the idea of a dark, indoor roller coaster.
However, after he passed in 1966, the idea was set aside.
It was then brought to Magic Kingdom and after successfully opening there, it was built at Disneyland, opening on May 27, 1977.
Currently Disneyland has the longest version at 3 minutes flat. It reaches a speed of 35 mph. Guests must be at least 40 inches tall to ride.
It is one of two versions that offers a single rider line, as well.
Side note: I wish all thrill rides and coasters at all the Disney parks had single rider lines!
Disneyland's version of Space Mountain has had quite the number of makeovers in its 45+ years of thrilling guests.
It was the first location to bring the hyperspace Star Wars concept on board. This version of the ride runs on and off, nearly every year since it first started in 2016. It did not run in 2021.
In 2007, Space Mountain also had a nighttime concept where the ride had special effects and a rock soundtrack called Rockin' Space Mountain.
The concept was essentially a rock concert in space, with Higher Ground by Red Hot Chili Peppers as the soundtrack (source).
Also in 2007, it got a Halloween overlay dubbed Nightmare Nebula. Visitors weren't too keen on it, perhaps due to its simplicity.
Then from 2009 through 2018, it got a new, more elaborate Halloween overlay called Ghost Galaxy (source).
These days, Space Mountain at Disneyland has its usual space concept, with the only temporary overlay being Hyperspace Mountain, which typically runs for 1-2 months starting in May in honor of the unofficial Star Wars holiday, May the 4th.
POV Video: Space Mountain at Disneyland / Hyperspace Mountain at Disneyland
Disneyland Paris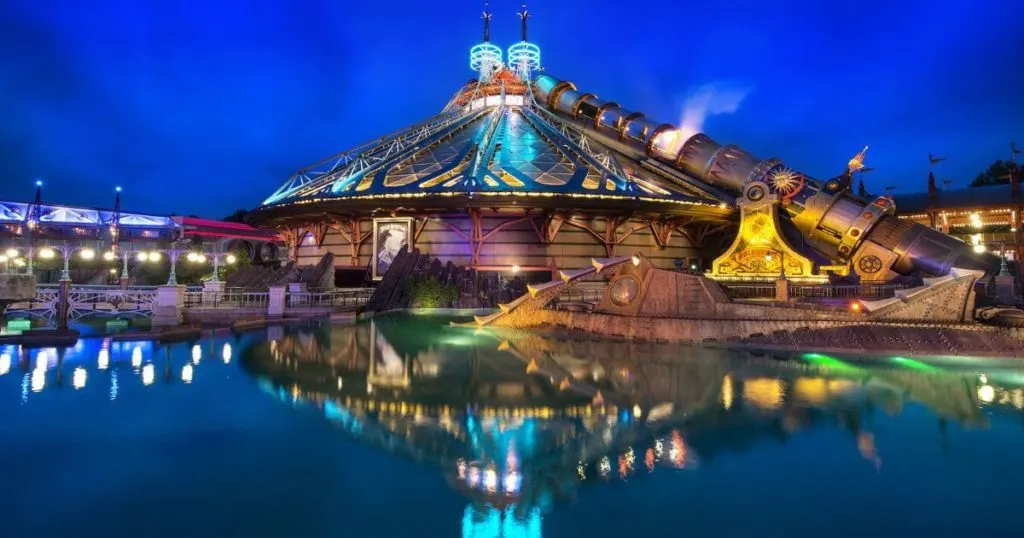 At Disneyland Paris, this ride is currently known as Star Wars: Hyperspace Mountain and features the Star Wars theme by John Williams. It opened on June 1, 1995.
Unlike the other locations' version of this ride, there are 3 inversions!
The ride reaches 44 mph and lasts about 2 minutes and 15 seconds long. Guests must be at least 1.2 meters (roughly 47.2 inches) tall to ride.
POV Video: Star Wars: Hyperspace Mountain at Disneyland Paris
Hong Kong Disneyland
Space Mountain at Hong Kong Disneyland is the youngest location, having opened on September 12, 2005 – nearly 20 years ago!
It was originally modeled after the same ride at Disneyland, but switched over to the Hyperspace Mountain concept in 2016.
This version of Hyperspace Mountain reaches speeds up to 30 mph but unlike in Paris, it does not include any inversions.
Its duration is 2 minutes and 50 seconds. Riders must be at least 102 cm (or 40 inches) tall to go on.
From 2007 to 2013, it added a Halloween themed overlay called Ghost Galaxy, which was also brought over to Disneyland in California.
POV Video: Space Mountain at Hong Kong Disneyland
Tokyo Disneyland
Tokyo Disneyland opened on April 15, 1983, nearly 10 years after the original location at Disney World opened.
According to Behind the Attraction on Disney+, the track layout for Space Mountain at Tokyo Disneyland is exactly the same as Disneyland in California.
Perhaps that is why it is scheduled to close in 2024 for a complete rebuild. As of right now, it is set to reopen in 2027, but no further plans have been shared as to what will change (source).
Although I'm sad to see such an iconic ride be closed for so long, I'm excited for its potential to bring something new and exciting to the overall experience.
Currently this ride is 2 minutes and 45 seconds long and reaches speeds up to 30 mph. Guests must be 102 cm or around 40 inches tall to ride.
POV Video: Space Mountain at Tokyo Disneyland
Are you ready to ride Space Mountain?
So, how scary is Space Mountain? It really is up to personal interpretation, as well as which park you're at.
One thing is for certain – it is an absolutely thrilling ride that is a must-do at any park, and it has stood the test of time for over 40 years.
According to Variety, it's such a cool and iconic ride that Disney is even working on a movie inspired by it!
Even if you're scared, I suggest giving it a try. You might be surprised at how much you end up enjoying it.
So, put on your bravest face, fasten your seatbelt, and get ready to blast off into space on one of the coolest rides at (almost) all the Disney parks.
---
About the author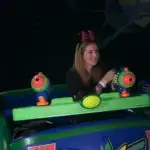 Meg Frost is the creator of The Park Pixie, where she covers Disney World, Disney+, and Disney fandom.
She holds an M.A. in Journalism from Northeastern University and B.S. in Communication & American Studies from University of Miami in Florida.
---
This post was originally published May 15, 2023. It was last updated October 14, 2023.