Walt Disney World in Florida is an amusement park fan's dream come true. With four parks to choose from, each with its unique attractions and magical experiences, it can be hard to determine which park to visit.
For today's blog post, I'm going to compare and contrast Animal Kingdom vs Hollywood Studios to help you decide which park to visit or prioritize.
I'll discuss transportation, early entry, rides and attractions, parades, nighttime shows, character experiences, food and drink, souvenirs, beacons of magic, and special events.
Transportation options
When it comes to transportation, Hollywood Studios has the edge thanks to its Skyliner station and ferry service.
Both parks are car-friendly with ample parking and have bus transportation to and from resorts and other parks.
That said, if you're visiting from out of state and haven't rented a car (you really don't need to), the lack of variety of transportation options at Animal Kingdom can make it a bit of a frustrating experience with long lines.
Whereas at Hollywood Studios, people can disperse amongst the 3 transportation options, which helps lighten the load a bit.
Early entry and after hours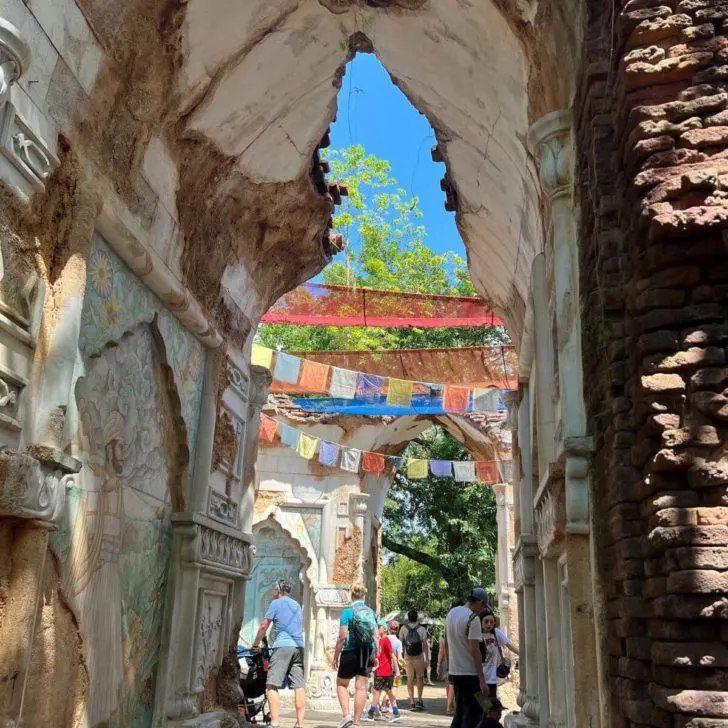 Both parks offer early entry to guests of Disney resorts and select neighboring hotels, with different tips and tricks required when visiting each of them.
In my opinion, taking advantage of early entry is a good idea for both theme parks, as they are both packed with a handful of big ticket rides and attractions.
Get there about an hour or at minimum, 30 minutes, ahead of early entry time. Cast members are known to open the gates earlier than the stated time, plus you can position yourself ahead of other guests in line.
If you're at the beginning of the line to get in, you'll be amongst the first on your desired ride and can then hop over to another popular ride with a short wait.
It's really just a way to maximize your time and limit wait as much as possible while getting in as many your fave rides and attractions – even without the use of Genie+!
Rides and attractions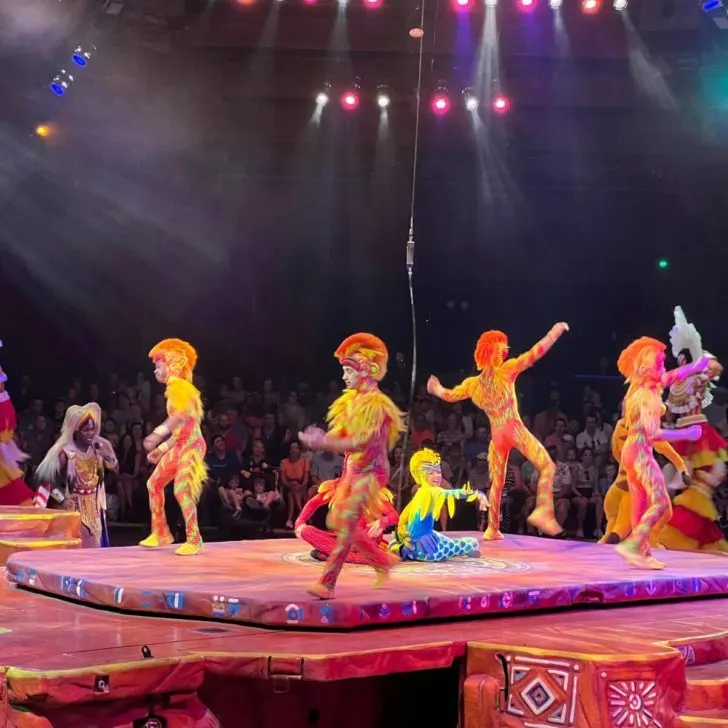 This is a tough call to make! Both parks have some really cool rides across the spectrum, from fun and family-friendly to thrilling experiences.
Hollywood Studios is king when it comes to Star Wars and Toy Story (or really all of Pixar), whereas Animal Kingdom has Avatar, plus wildlife and nature focused attractions.
Here's a list of the top 10 attractions at each park so you can determine which is of more interest for you when it comes to things to do.
Animal Kingdom rides and attractions
Na'vi River Journey
Kilimanjaro Safari
Kali River Rapids
DINOSAUR
Finding Nemo: The Big Blue…and Beyond!
Festival of the Lion King
Affection Section (petting zoo area)
Wilderness Explorers experience
Hollywood Studios rides and attractions
Toy Story Mania
Pixar Place meet-and-greets
Millennium Falcon: Smuggler's Run
Mickey and Minnie's Runaway Railway
For the First Time in Forever: A Frozen Celebration
Fantasmic!
Food and drink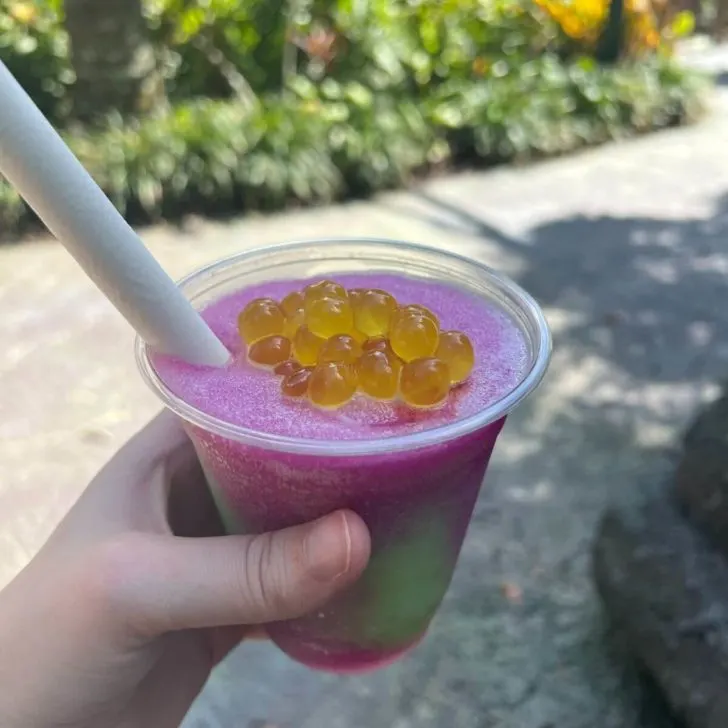 Both parks have a good mix of classic theme park staples like popcorn, funnel cake, and burgers, as well as fun and inventive options.
Animal Kingdom has some fun food and drink in Pandora – World of Avatar, such as cheeseburger pods, Satuli bowls, and the iconic night blossom slushy.
There are also several options offering American BBQ, African, and Asian inspired dishes.
Over at Hollywood Studios, the food options at Star Wars: Galaxy's Edge are out of this world. The Black Caf cold brew coffee is a personal fave, as well as the Ronto Wraps.
The options in Toy Story Land are also super fun. I love the lunch box tarts at Woody's Lunch Box, which are kind of like homemade Pop Tarts.
Character experiences
When it comes to character experiences, which is best depends on which characters you're interested in meeting.
If you're into Star Wars or Pixar characters, Hollywood Studios wins without a doubt!
Characters from The Incredibles (including my fave, Edna Mode) and Monsters Inc. at Pixar Place, while characters from Toy Story meet inside Toy Story Land.
At Star Wars Launch Bay, you can meet Chewbacca, while other characters meet up at Galaxy's Edge.
Check the My Disney Experience app for meet-and-greet times at Galaxy's Edge, as there isn't a permanent spot for all of them.
Animal Kingdom is just starting to beef up their character meet-and-greets again.
Currently there are permanent meet-and-greet spots for Mickey & Minnie (in safari gear) and Moana, as well as Chip & Dale and Donald Duck.
Sometimes there are random encounters with other characters like Kevin from Up, so check the My Disney Experience app to see if any of your faves are scheduled to make an appearance.
Lastly, some characters you can't meet, but they make an appearance on flotillas (parade float like boats) on the Discovery River.
This usually includes Pocahontas, Russell & Dug from Up, Scrooge McDuck, Launchpad McQuack, Goofy, and Pluto.
Parades and calvacades
Neither theme park has a parade or calvacade at the moment, so neither park wins in this category!
Both parks have had parades and calvacades in the past, so I hope they'll bring something back in the future. I feel like it's such a mainstay feature of a theme park!
Anyway, if you're in the mood for parades, head to Magic Kingdom instead of one of these 2 parks.
Nighttime shows
Hollywood Studios has the advantage when it comes to the night show experience, mainly because there isn't currently a nighttime show at Animal Kingdom.
Hollywood Studios on the other hand, has two: Fantasmic! and Wonderful World of Animation.
Fantasmic! is a stunning show that features our favorite Disney characters, fireworks, and special effects.
It takes place in a dedicated outdoor stage with stadium seating, which is perfect for resting your feet before trudging back to your resort for some sleep!
Personally, Fantasmic! is my favorite nighttime show out of all the parks!
New at Hollywood Studios is the Wonderful World of Animation, a 12-minute show that celebrates Disney and Pixar animation.
The show is projected onto the same building where Mickey & Minnie's Runaway Railway is located. It's typically only shown once per night, although perhaps that will increase during the busy Summer season.
Gift shops and souvenir experiences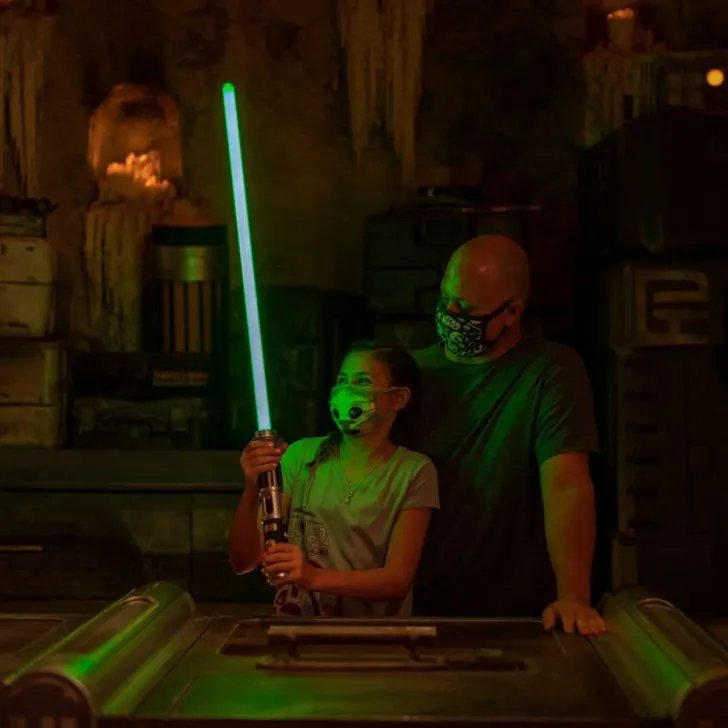 Animal Kingdom has some great souvenirs and gift shops where you can get all the typical Disney park souvenirs, like pins, shirts, hats, and so on.
One of their special souvenirs can be found at the Rookery inside Windtraders at Pandora – World of Avatar, where you can adopt a banshee.
Hollywood Studios also has plenty of shops with classic souvenirs. There are 2 interactive souvenir experiences that Star Wars fans will want to check out, though.
At Savi's Workshop, you can build your own lightsaber, while at the Droid Depot, you can build your own droid. Both are super fun, but perhaps only of interest to Star Wars fans.
So when it comes to which park has the best gift shops and souvenir experiences, it really depends on which special experience you're interested in. Otherwise, both excel when it comes to your typical gift shops!
Special events
Right now Hollywood Studios is the only park with a special event and it's honestly not that special in terms of theming.
It's the After Hours event, which limits the number of guests and provides access to most rides, attractions, shops, and such after regular park hours.
Hollywood Studios has had some cool special events in the past, such as Villains After Hours and Star Wars Weekends, so here's to hoping they'll bring them back or step it up with new experiences.
Beacons of Magic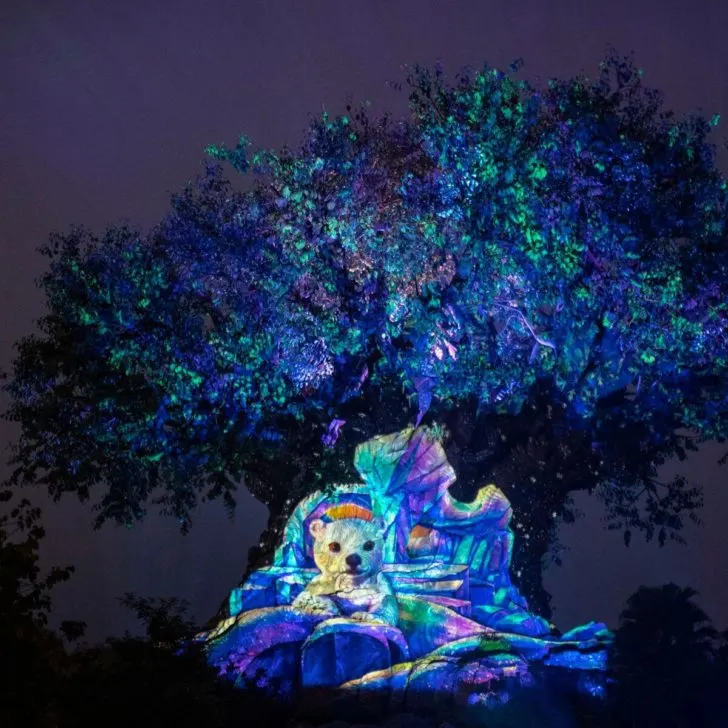 Each theme park at Walt Disney World is easily identified by an iconic "beacon of magic," as Disney calls them.
At Hollywood Studios, it's the Hollywood Tower Hotel aka Tower of Terror, while at Animal Kingdom, it's the Tree of Life.
The Tower of Terror is a thrill ride with a really fun and spooky pre-show. But in my opinion, the Tree of Life is more magical.
It's home to It's Tough to Be a Bug!, plus it often has seasonal projections on it at night. Not to mention it makes for an iconic photo!
When it comes to Animal Kingdom vs Hollywood Studios, which one will you choose?
Both Animal Kingdom and Hollywood Studios are unique in their ways and deciding which one to visit can be a matter of personal preference.
If you're a foodie, definitely head down to Animal Kingdom, although you might find taste testing your way around Galaxy's Edge to be fun, as well.
That said, if you're a Star Wars fan or obsessed with Toy Story and other Pixar pals, Hollywood Studios is an absolute must-visit for you.
In the end, no matter which park you choose, it's sure to be a magical experience that you won't forget any time soon.
Next up, check out the rest of the Theme Park Showdown posts for help planning your trip.
---
About the author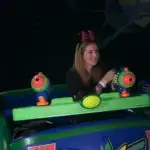 Meg Frost is the creator of The Park Pixie, where she covers Disney World, Disney+, and Disney fandom.
She holds an M.A. in Journalism from Northeastern University and B.S. in Communication & American Studies from University of Miami in Florida.
---
This post was originally published May 16, 2023. It was last updated October 14, 2023.