Getting ready for a visit to Disney World can be exhilarating and overwhelming at the same time.
With so many options of theme parks, rides, shows, and activities, how can you possibly decide which ones to choose? Especially if you are a first-time visitor!
Fear not, dear reader, for I am here to help you make that tough decision between two of the most beloved parks in Disney World: Epcot vs Magic Kingdom.
So, buckle up, grab a snack, and let the ultimate battle begin!
Which park is best for rope drop and early entry?
If you're a hardcore Disney fan, you know how important rope drop is. It's the moment right before the park officially opens when you can enter and run towards your favorite attraction without waiting in long lines.
In my experience, Magic Kingdom's rope drop is more fun and cheerful than Epcot's.
You get to see the opening ceremony with Mickey and friends, and wave at them as they greet you from the train station. Plus, there are more attractions open early in Magic Kingdom than in Epcot.
There isn't all too much when it comes to Epcot's rope drop experience, mainly because most people are heading to two spots: Remy's Ratatouille Adventure or the Norway pavilion for Frozen Ever After.
I suppose in the future if Guardians of the Galaxy: Cosmic Rewind moves to standby instead of virtual queue, there might be more of a benefit to hitting up Epcot at rope drop.
All that said, this one's a draw for me! If you like the rush that rope drop can bring or are an early bird, then Magic Kingdom wins by a long shot.
But if you don't like rope drop and would rather sleep in, Epcot is the clear winner in this category.
Which park has the best transportation options?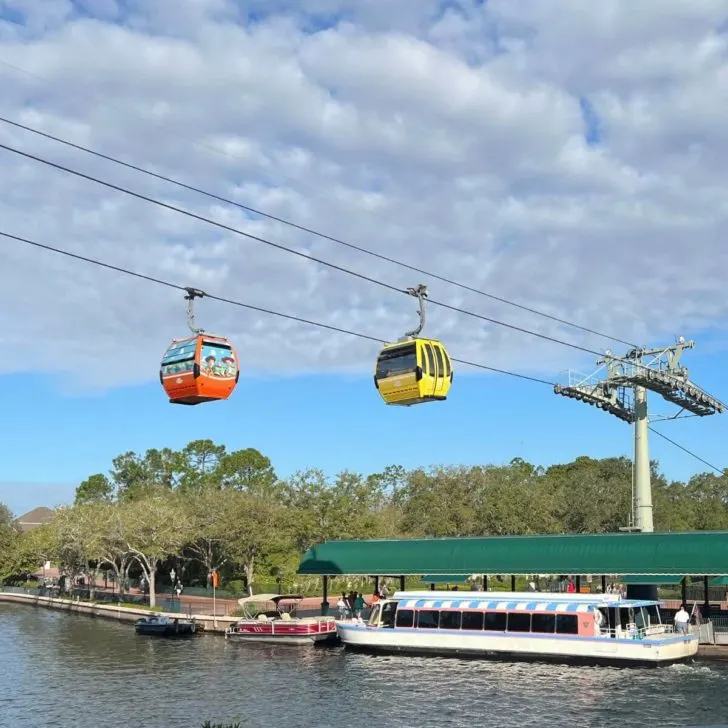 Epcot and Magic Kingdom are both easily accessible via several of Disney's free transportation options.
Both parks have bus, monorail, and ferry boats as a transportation option. In addition, both parks have resorts within walking distance – although Epcot has more whereas Magic Kingdom has only one.
Lastly, Epcot can also be accessed via the Skyliner from select resorts, as well as when park hopping to or from Hollywood Studios.
The Minnie Van Lyft option is also available at both parks, although at an additional cost via the Lyft app.
With additional transportation options and being very walker friendly, Epcot is the clear winner when it comes to transportation options to and from the resorts and other parks.
Which park has the best rides and attractions?
This is where things get tricky. Both parks offer unique and amazing rides and attractions that you don't want to miss.
Magic Kingdom is the classic Disney theme park, with famous attractions like Space Mountain, Haunted Mansion, and Pirates of Caribbean.
It's also home to the newest ride at Disney World: the TRON Lightcycle Run roller coaster. And let's not forget, the iconic Cinderella's Castle, complete with a princess character dining experience.
Epcot, on the other hand, is more educational and cultural, with attractions like Soarin Around the World, Test Track, and The Seas with Nemo & Friends.
It's also home to the lone Marvel attraction at Disney World: the Guardians of the Galaxy: Cosmic Rewind roller coaster.
If you have kids or are a fan of Disney's classic movies, then Magic Kingdom is the way to go.
However, if you're interested in learning about different cultures and technologies, then Epcot is your jam.
You might also like: Learn more about rides and attractions at Epcot and Magic Kingdom.
Which park has the best food and drink?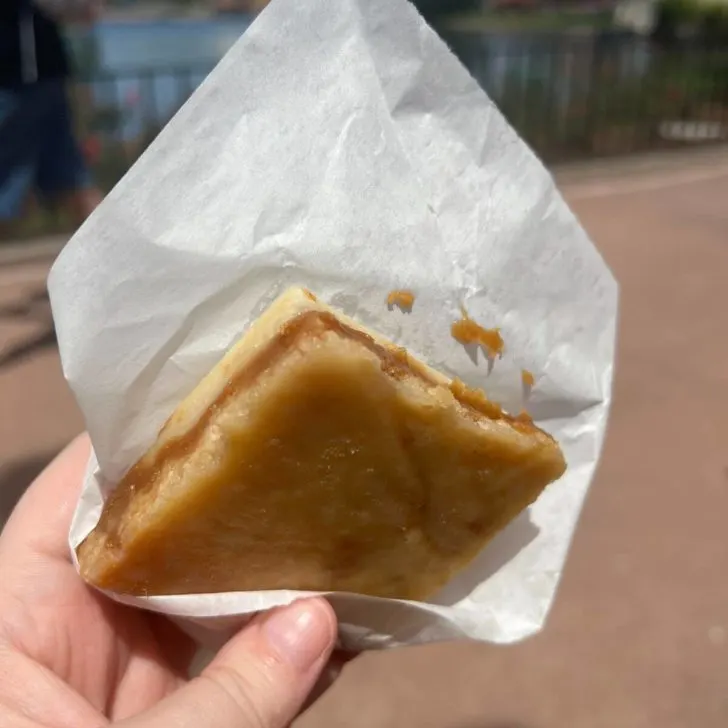 Both parks offer a wide variety of food and drink options that suit every taste and budget. However, Epcot steals the show when it comes to food and drink – especially international cuisine.
Epcot's World Showcase is a culinary paradise that takes you on a delicious tour around the world.
From violet sake and fresh sushi in Japan or fresh pasta and gelato in Italy to champagne and macarons in France or empanadas and margaritas in Mexico…well, you get the idea.
Epcot is filled with delicious food from a wide variety of cuisines. You won't find that much diversity when it comes to food and drink at Magic Kingdom.
Which park is best for character meet and greets?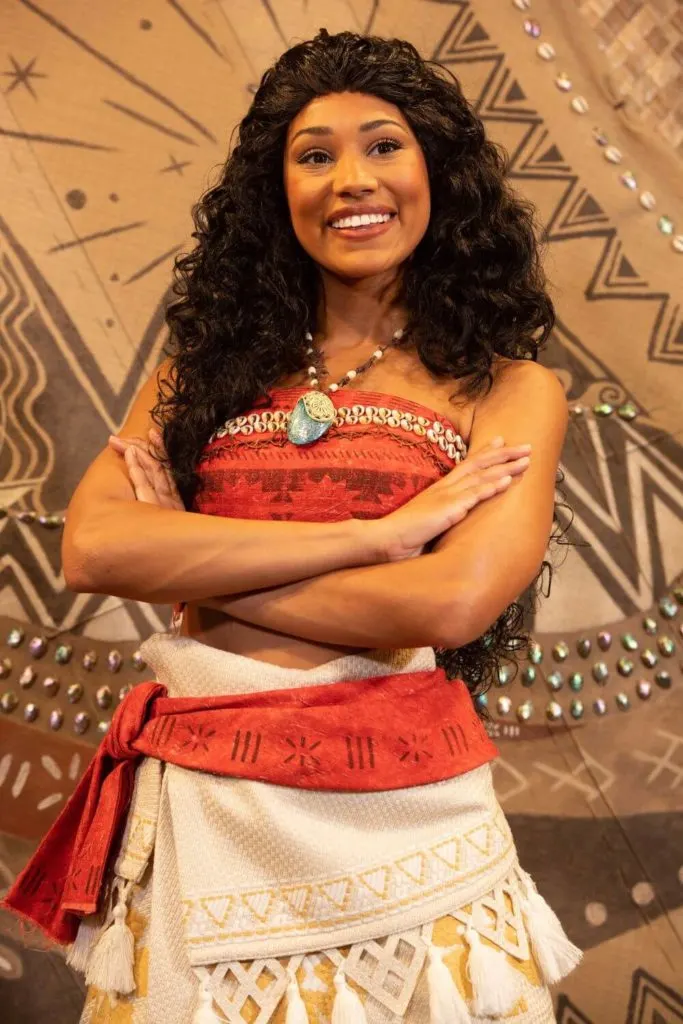 Meeting your favorite Disney characters is a magical moment that you'll treasure forever.
Both parks offer character meet and greets with classic Disney characters like Mickey and Minnie.
However, Magic Kingdom has more character meet and greet locations and character dining spots, and thus more characters overall, so you'll have a higher chance of meeting your favorites.
Epcot, on the other hand, has a few unique character meet and greets like Mulan in China, Joy and Sadness at ImageWorks, or the upcoming Figment meet-and-greet at the Imagination pavilion.
In the end, I think this will have to go to whichever park has the character you're clamoring to meet!
Which park has the best souvenir shops?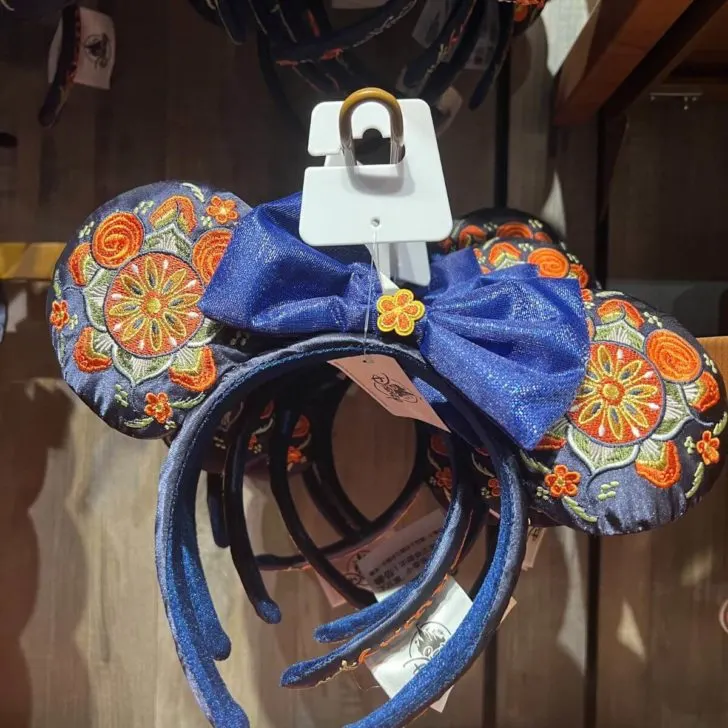 No visit to Disney World is complete without a souvenir to bring back home.
Both parks have numerous souvenir shops that sell everything from Mickey ears and sweet treats to plush toys and t-shirts.
However, Magic Kingdom has a larger selection of souvenirs and shops overall, including the iconic Emporium on Main Street USA.
Epcot's souvenir shops are more unique in theme and products, with shops like Mitsukoshi in Japan selling authentic Japanese products and La Bottega Italiana in Italy selling designer jewelry and accessories.
If you're looking for classic park gear, Magic Kingdom is your best bet. But if you're looking for something unique, Epcot might be the spot.
Which park has the best parade?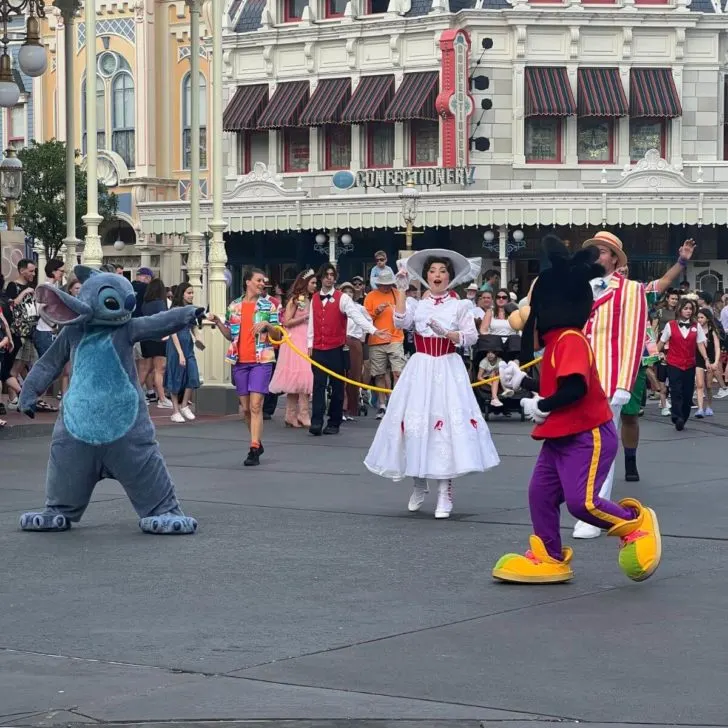 This is any easy category to judge simply because Epcot doesn't have a parade, so by default, the Magic Kingdom wins.
Although, even if Epcot did have a parade, Magic Kingdom would probably still win because there are two parades at Magic Kingdom: Festival of Fantasy Parade & Disney Adventure Friends Cavalcade.
Many years ago, Epcot had a small parade with characters that I could swear were in a double decker like bus from the UK. But as of May 2023, there is no parade at this park.
Which park has the best nighttime show or fireworks?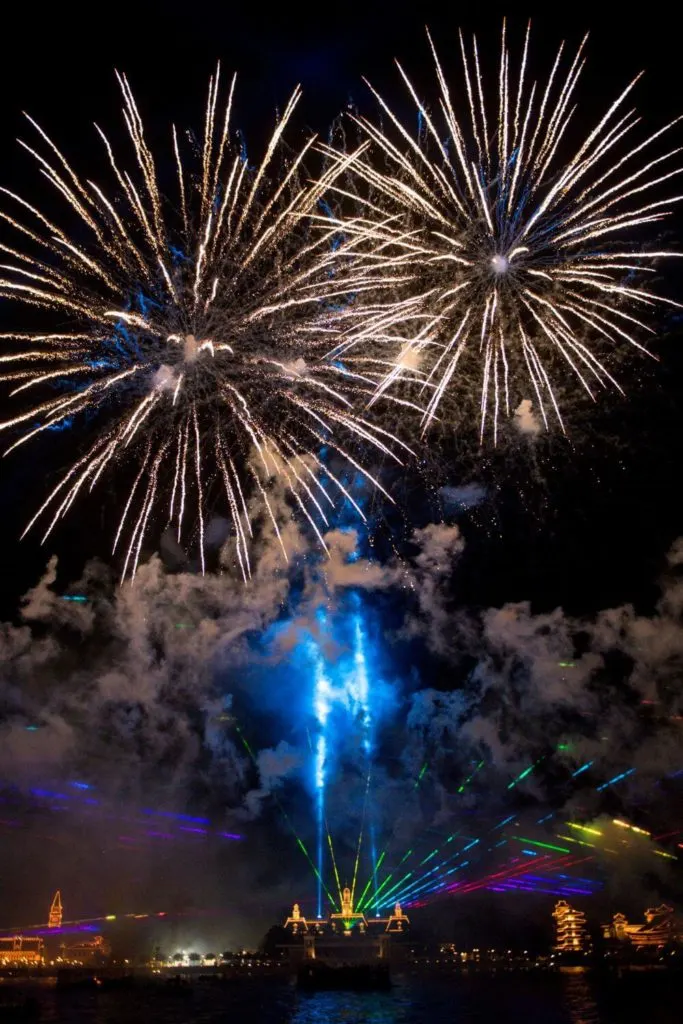 Last but not least, both parks have spectacular nighttime shows and fireworks that you shouldn't miss.
Magic Kingdom's Happily Ever After fireworks show is a must-watch for those who love Disney's classic movies and songs.
It's a beautiful show that combines projection, fireworks, and music, and of course, our favorite characters and stories.
EPCOT Forever is an epic nighttime show that celebrates the past, present, and future of the park.
It's a show that will leave you in awe and wonder, with its stunning fireworks, music, and storytelling.
Personally, I like EPCOT Forever more than Happily Ever After. I think the projections are better, plus it's easier to find a decent viewing spot.
At the end of the day, I think most fans of the parks have a lot of nostalgia with Magic Kingdom's show – so it's hard to say which one is best, really.
That said, Epcot's show is only in place temporarily while Disney preps yet another new nighttime show, Luminous: The Symphony of US, which debuts on December 5, 2023.
Who knows if the new show will still top Happily Ever After (for me)!
For this category, it's really more about what you prefer as to which nighttime show is best when it comes to Magic Kingdom vs Epcot.
Which park has the best special events?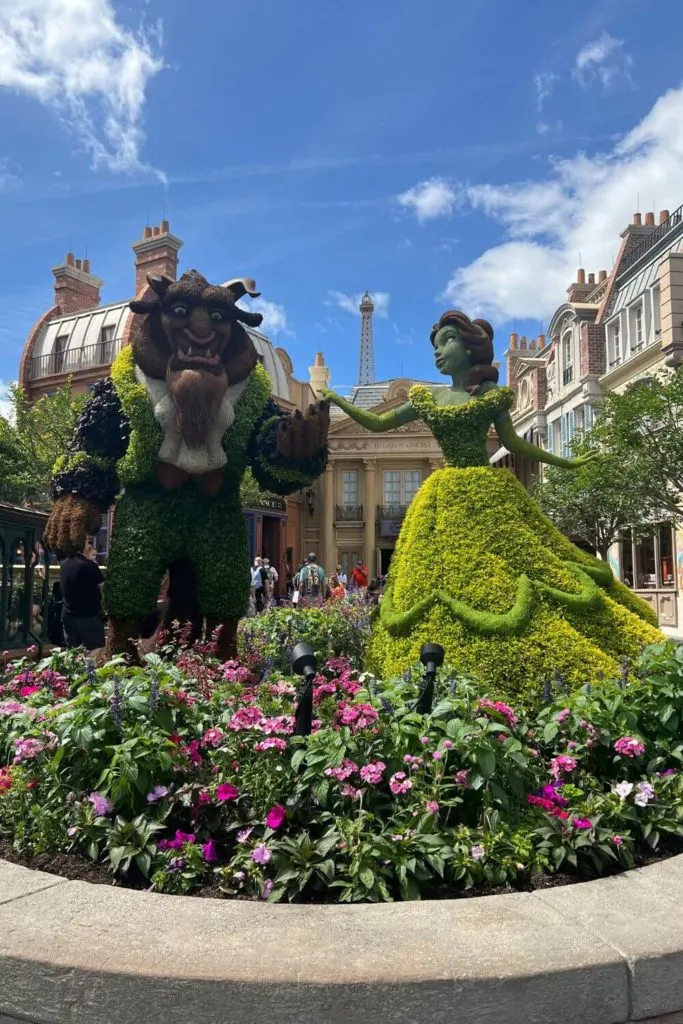 Both parks have unique experiences and events that you won't find anywhere else.
For example, Magic Kingdom has the famous Mickey's Not-So-Scary Halloween Party and Mickey's Very Merry Christmas Party that offer special parades, shows, character experiences, and holiday theming.
Epcot is well-known for its festivals, the Festival of the Arts, Flower and Garden Festival, the über-popular Food and Wine Festival, and Festival of the Holidays, all of which offer delicious food and drink tastings and special activities.
As much as I love the festivals at Epcot, they have taken over Epcot so much that you're always guaranteed to be at one, so it feels less and less special the more they expand the dates.
In my opinion, Magic Kingdom wins this round! Their special events are more exclusive with less dates and smaller crowds. The only con is that they cost extra, even if you have an annual pass.
Which park is better: Epcot or Magic Kingdom?
In conclusion, both Epcot and Magic Kingdom have their own unique charms and experiences that make them worth visiting.
If you're interested in classic Disney attractions, character meet and greets, and special holiday events, then Magic Kingdom is the park for you.
But if you're looking for a more educational and cultural experience, as well as international cuisine, then Epcot is the way to go.
My advice? If you have the time and budget, then visit both parks and experience everything they have to offer.
You could even upgrade to a park hopper ticket and hop between the two via monorail. You won't regret it!
What's your verdict when it comes to Epcot vs Magic Kingdom? Let's chat in the comments below.
Next up, check out my other Theme Park Showdown posts to help you plan your day at Disney World:
---
About the author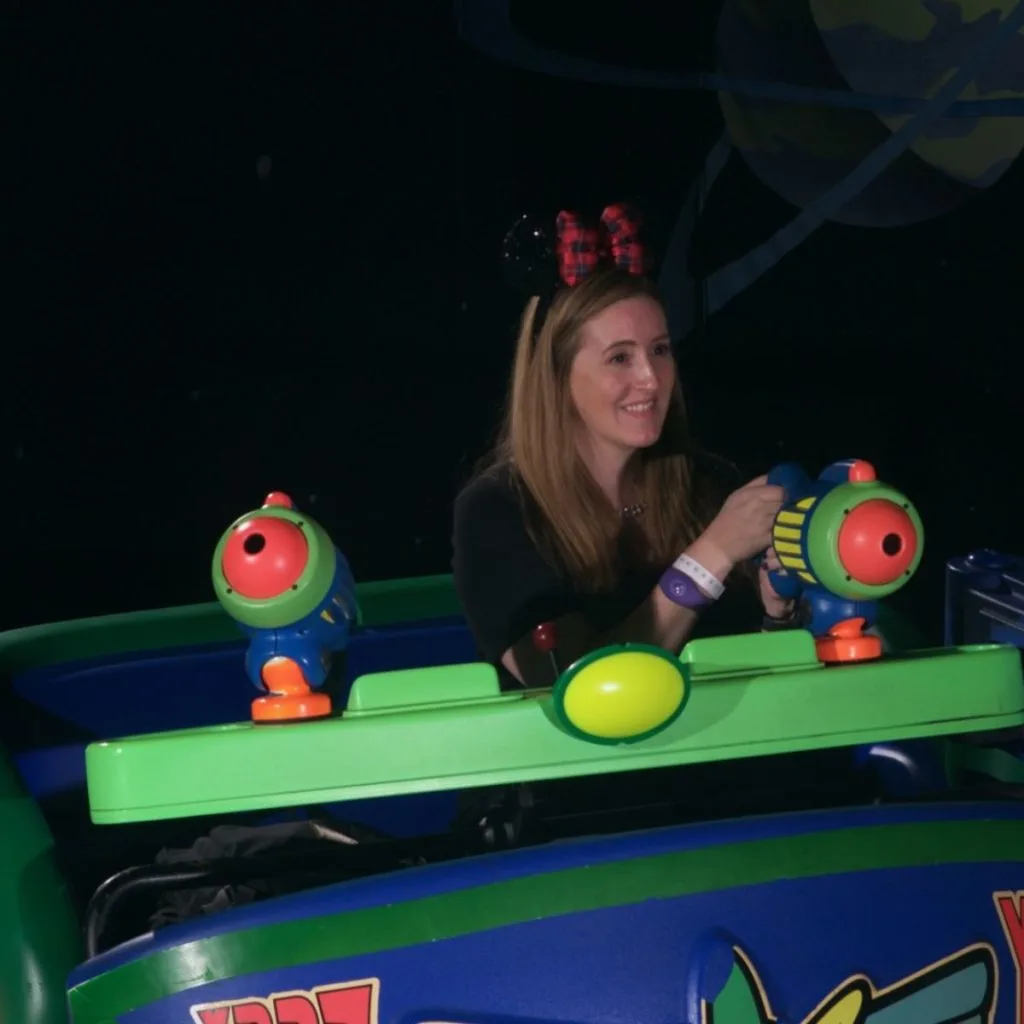 Meg Frost is the creator of The Park Pixie, where she covers Disney World, Disney+, and Disney fandom.
She holds an M.A. in Journalism from Northeastern University and B.S. in Communication & American Studies from University of Miami.
---
This post was originally published May 11, 2023. It was last updated September 20, 2023.