Planning a trip to Walt Disney World can be overwhelming with 4 main theme parks to choose from, each with unique attractions and experiences.
If you're stuck between Animal Kingdom vs Magic Kingdom, don't worry, I've got you covered!
In this comparison guide, I'll help you decide which park to visit based on various factors such as transportation, rides, food, character experiences, parades, nighttime shows or fireworks, and special events.
So, let's dive in and discover which park deserves your time and attention!
Transportation options
When it comes to transportation, Magic Kingdom definitely takes the lead with multiple forms of free transportation to and from resorts and other parks.
Depending on where you're starting from or going to, your options include buses, ferry boats, and the fan-favorite monorail.
While the ferry boats can be slower than other forms of transportation, who doesn't love a gentle scenic ride across the Seven Seas Lagoon?
Animal Kingdom, on the other hand, relies on buses, which can be time-consuming and crowded at peak times. As of right now, it does not have other forms of free transportation.
But perhaps it will in the future (I'm crossing my fingers for Skyliner access!).
Early entry and rope drop experience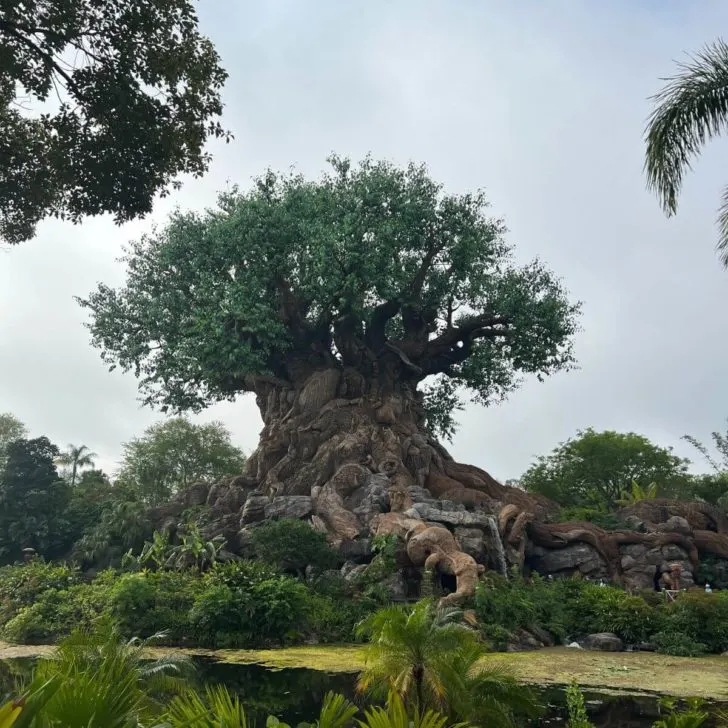 Rope Drop refers to the moment when the park officially opens to the public. It can be an exciting experience, especially if you're an early bird, or absolutely dreadful, especially if you've been wanting to sleep in.
Both Magic Kingdom and Animal Kingdom offer early entry to guests of Disney resorts and select neighboring resorts.
This allows guests to enter the park before the official opening and enjoy exclusive access to select attractions.
Both parks have rides that nearly always have a ridiculously long line over an hour, sometimes more than two hours.
So in this case, participating in early entry or rope drop can be a really good strategy for avoiding super long lines without having to buy Genie+.
That said, if you're like me and want to sleep in a bit, Genie+ is going to be the best way to get all your favorite rides in sans-wait at both parks.
Best rides and attractions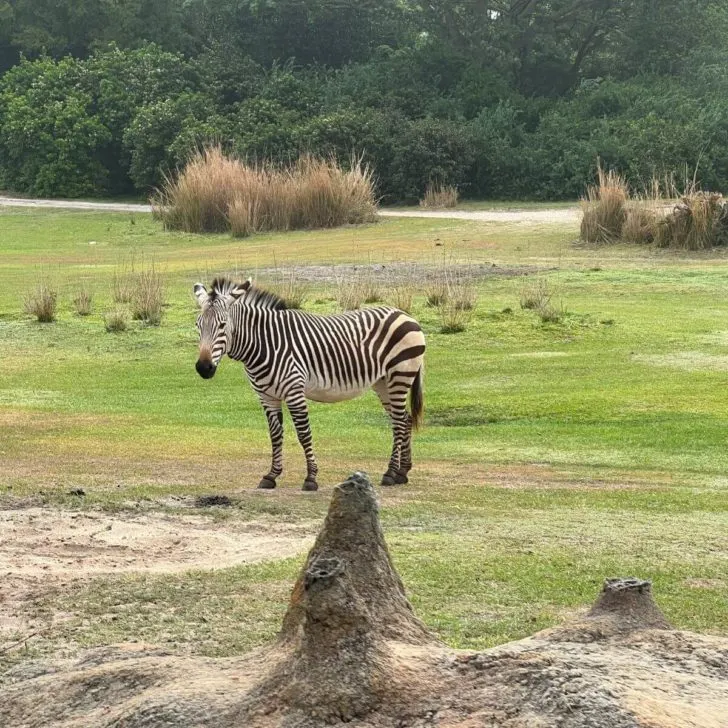 There really is no clear winner when comparing Magic Kingdom vs Animal Kingdom rides and attractions.
Both parks have their share of family-friendly and thrilling options, so it depends on who you're traveling with and the type of rides you like when it comes to which one is the best.
Magic Kingdom is famous for classics like Seven Dwarfs Mine Train, Space Mountain, and Dumbo the Flying Elephant, while Animal Kingdom boasts the popular Avatar ride (aka Flight of Passage), Expedition Everest, and Kilimanjaro Safaris.
If you're visiting with young kids, Magic Kingdom is likely going to be your best bet for rides. They have a wider variety that suites all ages, even toddlers! Plus you'll be able to meet all the classic Disney characters, like Mickey Mouse and the princesses.
On the other hand, Animal Kingdom has a lot of unique rides, although most of them are best for older kids or adults. They do have a few good shows for all ages, like Festival of the Lion King, though!
Best food and drink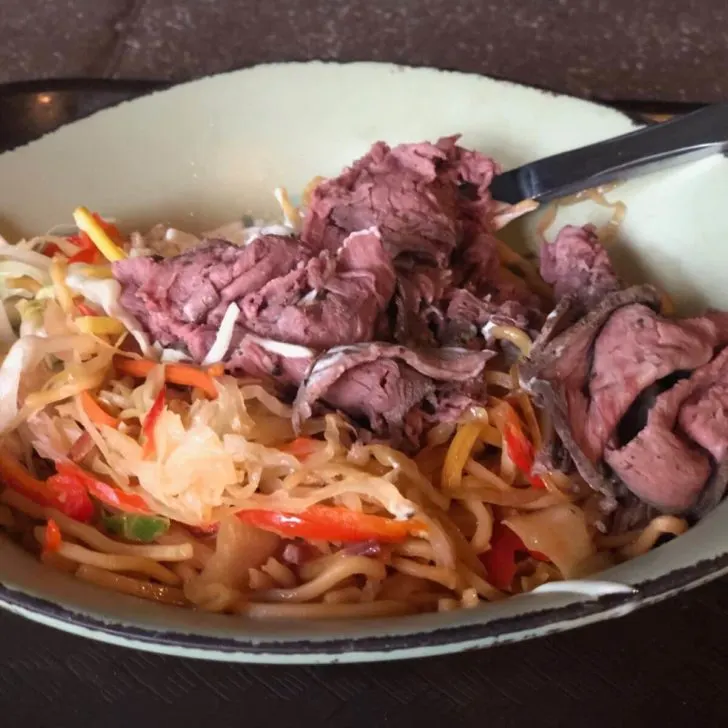 Believe it or not, Disney World is a foodie's paradise! Both parks offer a fantastic selection of dining options ranging from quick bites to sit-down meals and even character meals.
Magic Kingdom has unique dining experiences such as Be Our Guest and Cinderella's Royal Table, which is a character dining experience featuring princesses. There are also several places you can get the iconic Dole Whip soft serve.
Animal Kingdom, on the other hand, boasts the wildly popular Satu'li Canteen, featuring delicious bowls with unique flavors and ingredients inspired by the movie, Avatar.
It also has Tusker House, a fun character dining experience featuring Donald Duck and other classic characters.
In my opinion, the variety and quality of food at Animal Kingdom is better. You'll find more unique options, as well as more cuisines represented.
At Magic Kingdom, the majority of the food options are pretty bland and you really have to look hard for the unique and fun food options.
Character experiences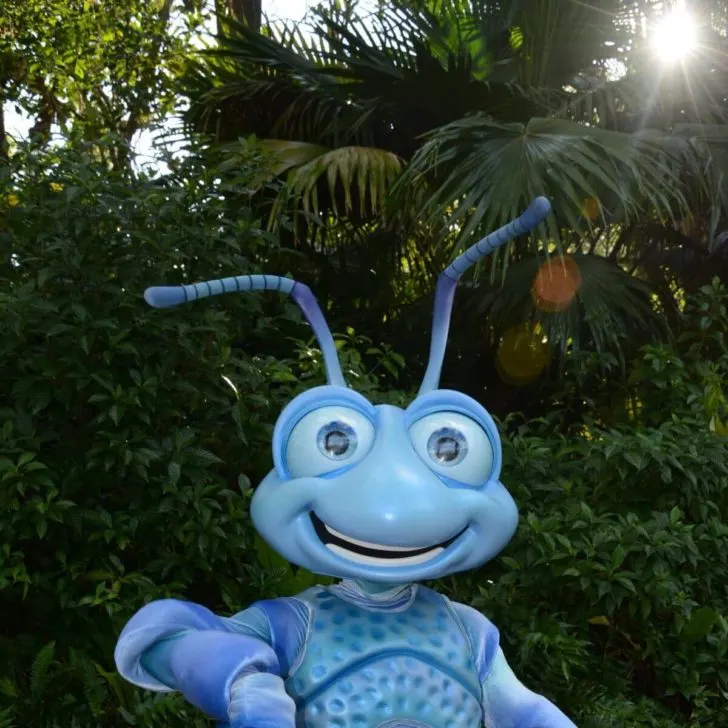 Disney World is known for its amazing character experiences and both parks offer plenty of opportunities to meet your favorite characters.
Magic Kingdom has more traditional characters like Mickey Mouse, Cinderella, and Belle, while Animal Kingdom has unique Disney characters like Kevin from Up, Flick from A Bug's Life, and Moana.
If it's your first time at Disney World and you want to meet as many classic characters, go with Magic Kingdom.
But if you're looking for unusual and unique character experiences, Animal Kingdom is the place to be.
Parades and calvacades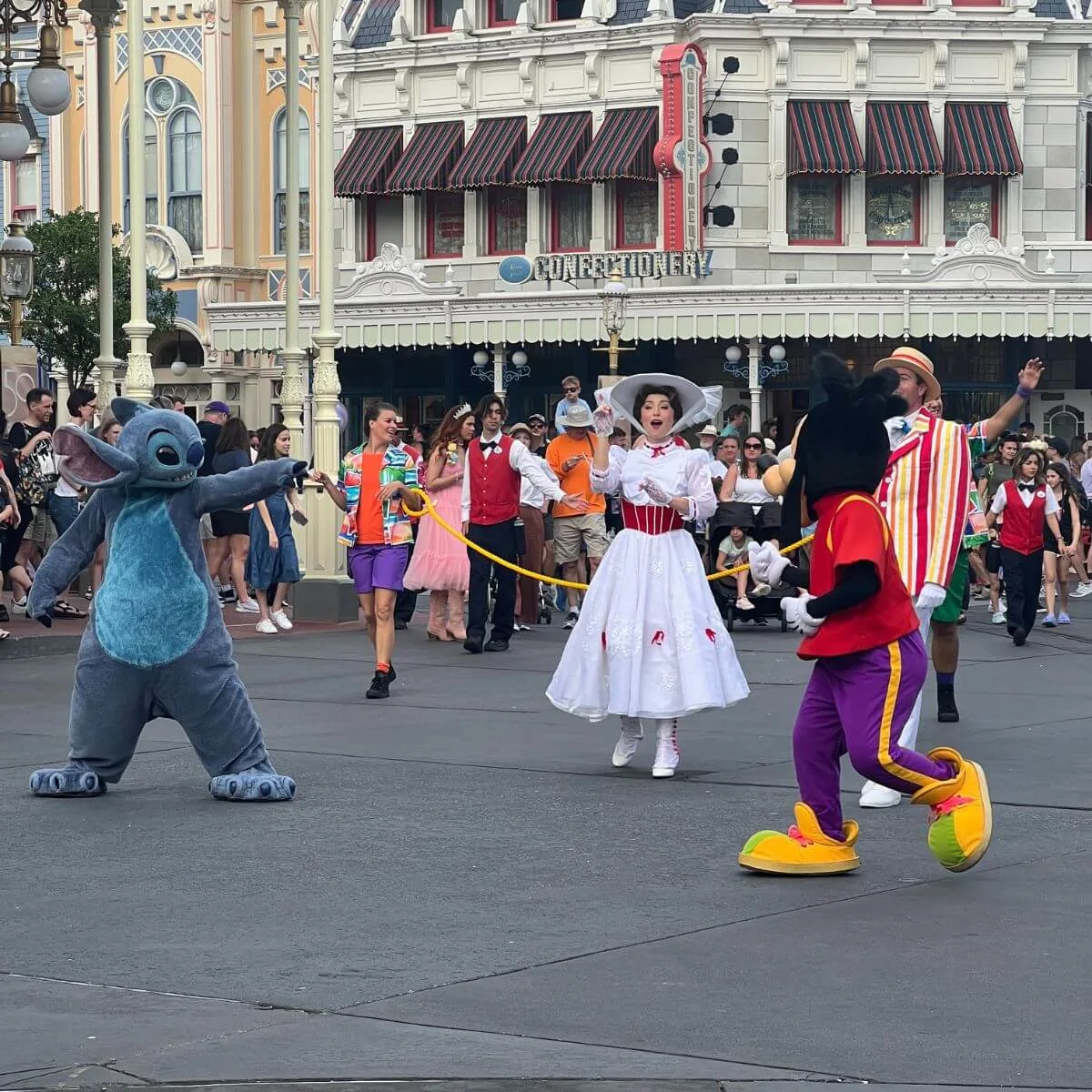 Magic Kingdom hosts 2 spectacular parades, both worth watching.
Their main parade, the Festival of Fantasy Parade, featuring Disney characters, floats, dancing, and music. It's a lively and colorful experience that can thrill anyone, both young and old.
The Adventure Friends Cavalcade is smaller, but features tons of characters, many of whom are walking and will great viewers, rather than being stuck on floats.
Animal Kingdom, on the other hand, doesn't host a daily parade at the moment.
In the past they had Mickey's Jammin' Jungle Parade, which was super fun and more intimate than either of Magic Kingdom's parades, so I hope they'll bring it back in the near future.
Given that Magic Kingdom is the only park with parades, it automatically wins in this category!
Nighttime shows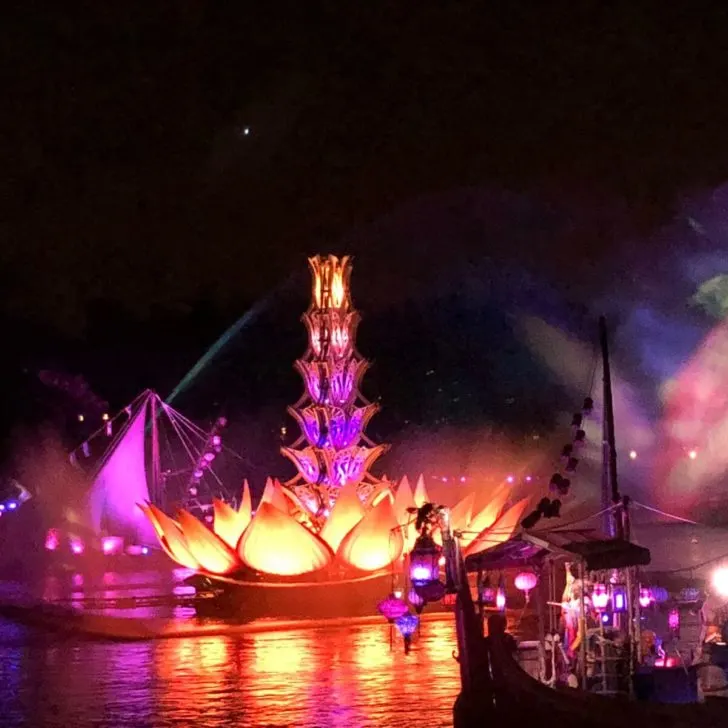 Magic Kingdom puts on a mind-blowing fireworks display, Happily Ever After, a show that combines classic Disney music, animated projections, and pyrotechnics.
Animal Kingdom, however, doesn't offer a nighttime show at the moment.
In the past they had Rivers of Light: We Are One, which featured floating lanterns, water screens, and live performances celebrating nature and its wonders.
It was absolutely stunning and I truly hope they bring it back – or something similar. As much as I love fireworks, I really enjoyed this sit-down performance!
Magic Kingdom wins yet again by default, since Animal Kingdom doesn't offer anything in this category.
Gift shops and souvenir experiences
Both parks have a handful of good souvenir shops available. Originally I would have said that Animal Kingdom has a slight edge thanks to the adopt-a-banshee experience at Windtraders.
However, the opening of TRON Lightcycle Run introduced the TRON Identity Program experience, where guests can buy an interactive action figure.
The rest of the gift shops at both parks offer your standard souvenirs, like t-shirts, pins, Minnie ears, and so on. So this one's pretty much a draw unless you're after one of the special souvenir experiences over another.
Special events
Lastly, here's another category in which Magic Kingdom wins by default, as Animal Kingdom doesn't offer any special events.
Magic Kingdom has Mickey's Not-So-Scary Halloween Party and Mickey's Very Merry Christmas Party, along with its generic, non-themed After Hours events. I highly recommend attending their holiday extra-ticketed events; it's well worth the cost!
It makes sense that Animal Kingdom doesn't have a lot of late night special events, as it is likely too disturbing for the animals, though!
Beacons of Magic
As part of Disney World's 50th anniversary, they branded each park's icon as a "beacon of magic."
Magic Kingdom has Cinderella's Castle, while Animal Kingdom has the Tree of Life.
Both icons are a must-see, with many guests wanting photos of and with these in the background.
The Tree of Life is stunning, although clearly not a real tree. Nonetheless, its animal carvings in the trunk and projections in the evening are quite beautiful.
Plus It's Tough to Be a Bug takes place in the roots of the tree – how fun!
Cinderella's Castle takes the cake in my opinion, though.
One could argue it's the main beacon of magic, since Magic Kingdom was the first park at Disney World.
It's the first thing you see when you enter the park and serves as a backdrop for stage shows and fireworks.
It is also home to Cinderella's Royal Table, a princess-themed character dining experience, as well as Bibbidi Bobbed Boutique, where kids can get Fantasyland-style makeovers.
Lastly, there is a hidden suite inside that most guests don't know about because it's not open to reservations.
Every once in a while Disney will open it up for a contest, with one lucky winner getting the rare chance to stay the night.
Now that's a true beacon of magic!
Which park will you choose between Animal Kingdom vs Magic Kingdom?
Choosing between Animal Kingdom and Magic Kingdom can be a tough decision, and ultimately, it depends on your interests and preferences.
If you're traveling with young children, Magic Kingdom is a must-visit, and if you're a fan of wildlife and nature, Animal Kingdom is the ideal choice.
Foodies will definitely appreciate Animal Kingdom more while fans of thrill rides will probably be torn between the two – in which case, a park hopper pass comes in handy!
Don't stress out too much, though. Both parks offer unique, magical experiences that you'll cherish for a lifetime.
Next up, check out the other theme park showdown guides:
---
About the author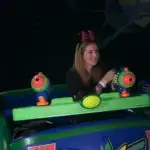 Meg Frost is the creator of The Park Pixie, where she covers Disney World, Disney+, and Disney fandom.
She holds an M.A. in Journalism from Northeastern University and B.S. in Communication & American Studies from University of Miami in Florida.
---