Picture this: you're standing in front of the iconic Millennium Falcon, taking in the sights, sounds, and smells of a galaxy far, far away. The only thing missing is a heart-pumping adventure with your favorite Star Wars characters.
Enter Rise of the Resistance, the newest addition to Disney's theme park attractions in Disney World's Hollywood Studios and Disneyland.
In this blog post, I'll dive into the details of this ride, from how it works to whether it's worth braving the lines. And of course, the question you're probably wondering the most: Is Rise of the Resistance scary?
Which park is Rise of the Resistance located in?
Rise of the Resistance is available at two Disney parks: Hollywood Studios at Disney World and Disneyland.
In Hollywood Studios, the ride is located in Star Wars: Galaxy's Edge in the back left corner from the park's main entrance.
You can get there by walking through Grand Avenue to the tunnel that leads into Galaxy's Edge or by walking through Toy Story Land's main entrance to its back entrance that also leads into this area.
At Disneyland, the ride is located in Star Wars: Galaxy's Edge, which is located in the back left corner of the park from the main entrance.
You can access Star Wars: Galaxy's Edge at Disneyland by walking through Critter Country to the left side entrance or Frontierland to the right side entrance. The ride itself is closest to the left side entrance.
The ride is exactly the same at both parks, so there isn't an advantage to one or the other, which is great if you're trying to decide which park to visit (one less thing to weigh!).
When did Rise of the Resistance open?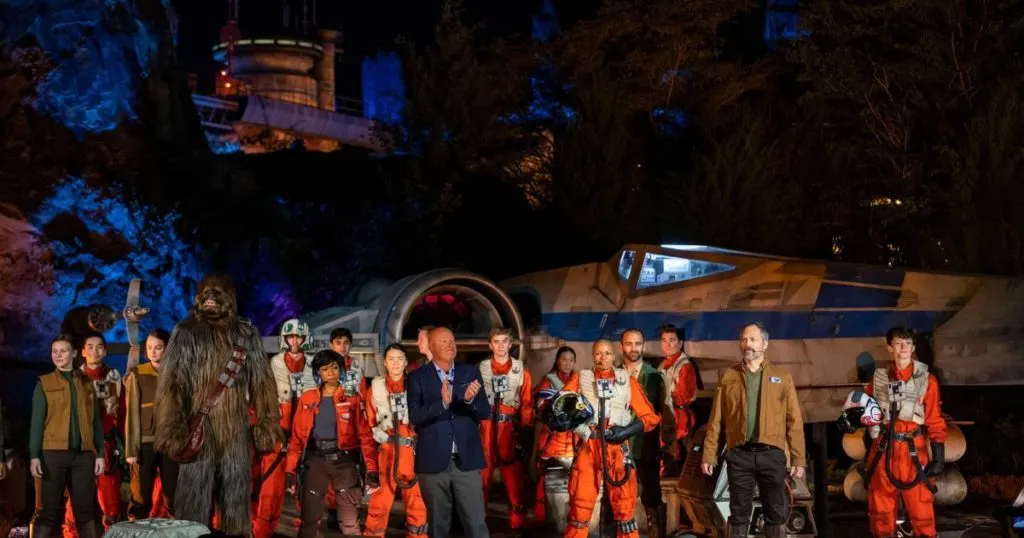 At Hollywood Studios, Rise of the Resistance opened on December 5, 2019, which is Walt Disney's birthday!
Rise of the Resistance opened at Disneyland on January 17, 2020 (source). What terrible timing. Thank goodness the parks are reopened now!
How does Rise of the Resistance work?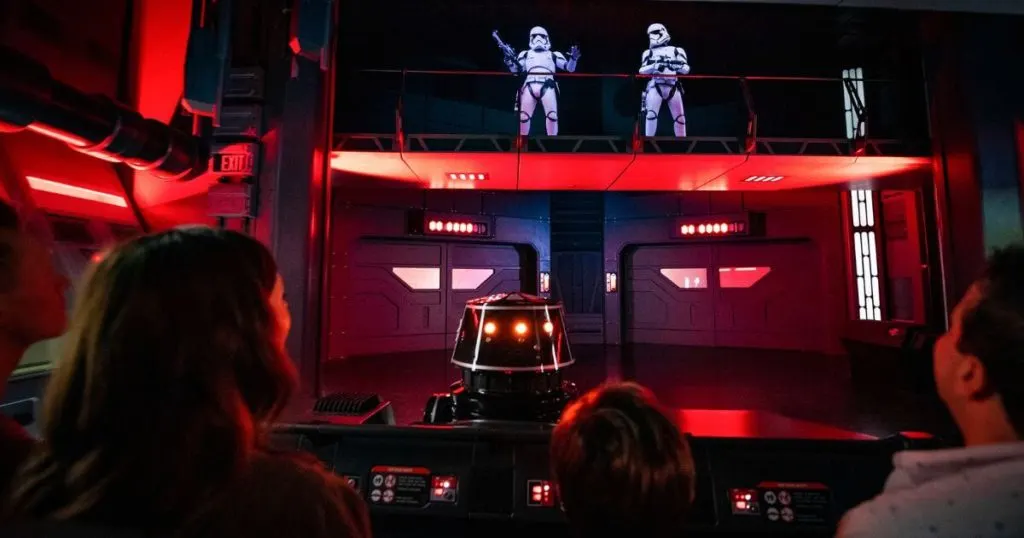 First, let's talk about how Rise of the Resistance works. This ride is a multimedia experience that lets you join the Resistance in their fight against the First Order.
You are grouped with fellow riders and directed through a series of experiences that include multiple rooms, animatronics, and virtual reality scenes. It truly feels like you're inside a Star Wars movie.
But don't worry, you won't be left to fight Darth Vader or Kylo Ren on your own – familiar faces from the movie series will be your guides, including Finn, BB-8, and Rey.
When the ride first opened at both Disneyland and Hollywood Studios, it was only available via virtual queue.
However, both parks dropped this requirement in late 2021 in favor of a traditional standby line and Lightning Lane. Lastly, there is no single rider line.
How long is Rise of the Resistance?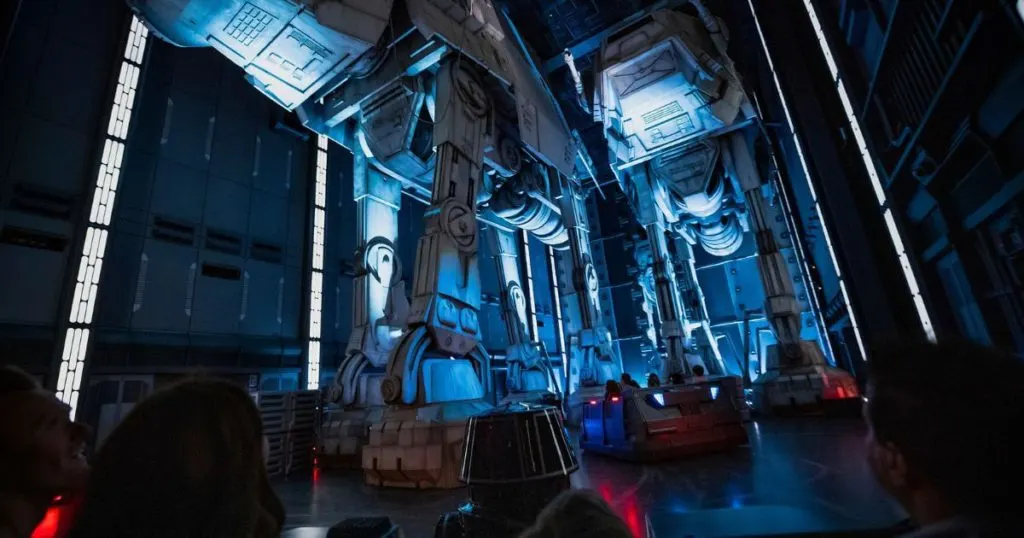 The ride itself is about 18 minutes long, making it one of the longest rides at Disney.
It's broken down into different sections, with walk-throughs, pre-shows, and the main ride itself.
If you're a Star Wars fan, this time will fly by as you're transported to a galaxy far, far away.
That is, of course, unless it breaks down. And unfortunately, this ride is prone to breaking down on the regular.
The first time I went on Rise of the Resistance, I lucked out with a relatively short wait time since it was the end of the night.
I hopped in line, super stoked that I wouldn't have to miss out on riding it again, as during my last visit, it hadn't opened yet and then you-know-what shut down the parks.
Anyway, I'm diabetic and need to eat every 2 hours or so to help keep my blood sugar level, so I avoid getting on rides if the wait time is too long.
After waiting about 30 minutes in line, my group was let on, only for the ride to break down after the first pre-show area. We ended up stuck for over an hour and a half!
The cast members offered free Lightning Lanes that were good for a week or so, but I was only in town for a short visit – and this was my only day at Hollywood Studios.
Thankfully I had a protein bar and juice with me, so I powered through with my snacks and eventually we made it on. Otherwise I would have had to miss out again!
Can I use Genie+ or lightning lane?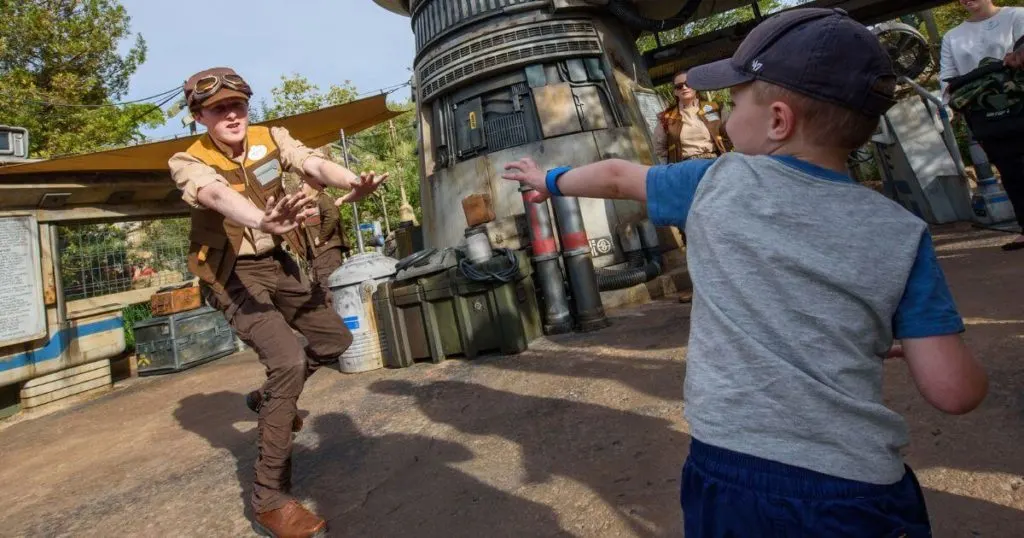 Speaking of long waits…
Rise of the Resistance is not available as part of Genie+. However, you can purchase an individual lightning lane, whether you're at Disneyland or Hollywood Studios.
If you don't want to wait in line too much, purchasing a Lightning Lane for this ride is worth the cost in my opinion!
The price varies based on demand and season, but usually hovers around $20, give or take. For reference, I'm writing this post over Memorial Day weekend and it's $22 today.
Is rider switch available?
Yes, rider switch is available for Rise of the Resistance. So if you have kids that don't want to ride or don't meet the height or health and safety requirements, you can utilize rider switch.
Can you ride Rise of the Resistance pregnant?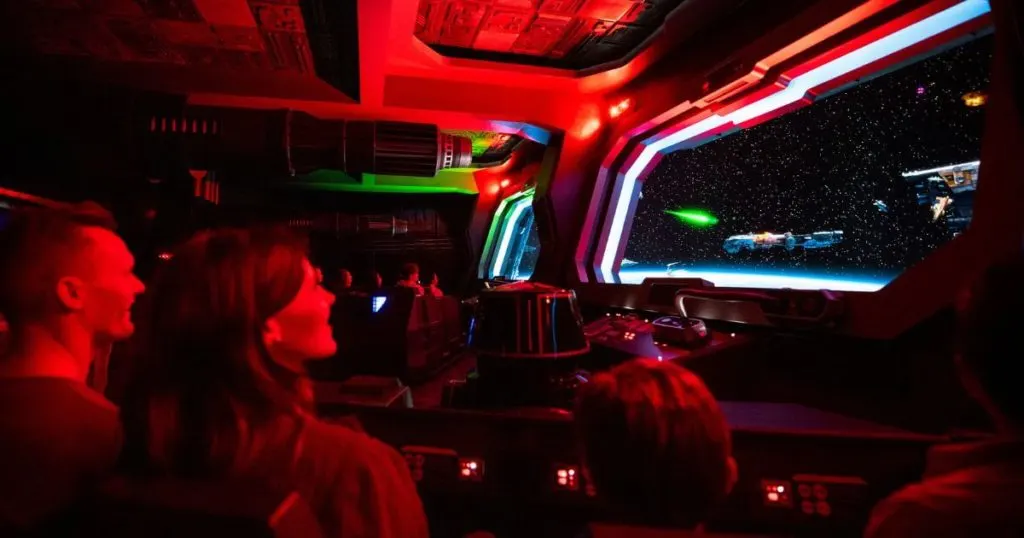 If you're pregnant, you might be wondering if you can still ride. Unfortunately Disney advises that you should not ride Rise of the Resistance if you're pregnant.
My guess is this is likely due to the drop in the ride, which does cause a jolt that could push you into the lap bar.
But of course, I don't work for Disney nor am I a lawyer or medical professional, so I can't say with 100% certainty.
Are there any health or safety restrictions for this ride?
Yes, there are several health and safety restrictions for Rise of the Resistance.
People with the following conditions should not go on this ride:
High blood pressure
Prone to motion sickness
Heart problems
Neck problems
Back problems
Pregnant
Guests with wheelchairs or EVs must be able to transfer into the vehicle by themselves, as cast members cannot help with this for liability reasons.
Lastly, guests must be at least 40″ tall to ride and guests under the age of 7 must ride with someone that is 14 years old or older.
Are there any accessibility features?
Yes, there are several accessibility features available for this ride. Audio descriptions of visual features and handheld captioning are both available.
However, you must go to Guest Relations at either park to get a receiver for the captioning or audio descriptions. They do not have devices at each ride, so you'll have to get one and carry it with you throughout the day.
Is Rise of the Resistance scary?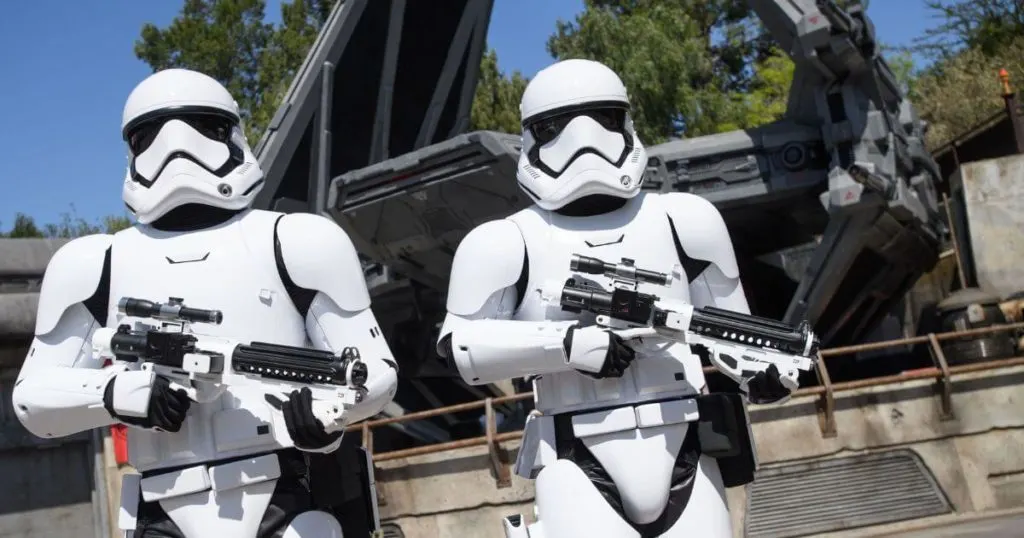 Now, let's talk about the million-dollar question – is Rise of the Resistance scary?
While there are definitely intense moments, like dodging blaster fire from Stormtroopers or riding a moving platform through a First Order Star Destroyer, it's not designed to be a horror attraction.
The aim is to give you a thrilling Star Wars experience, not to scare you out of your wits.
One of the most heart-pumping experiences of Rise of the Resistance is the drop – but don't worry, it's not nearly as scary as Tower of Terror or Splash Mountain.
The drop is a controlled motion simulator that simulates the feeling of a shuttle entering warp speed. It's definitely thrilling, but not too intense for most riders.
I didn't know about the drop before I went on it for the first time. While I was caught off guard and certainly surprised, it didn't create the stomach drop feeling that you usually get on rides like Guardians of the Galaxy: Mission: BREAKOUT! or Tower of Terror.
When is the best time to ride Rise of the Resistance?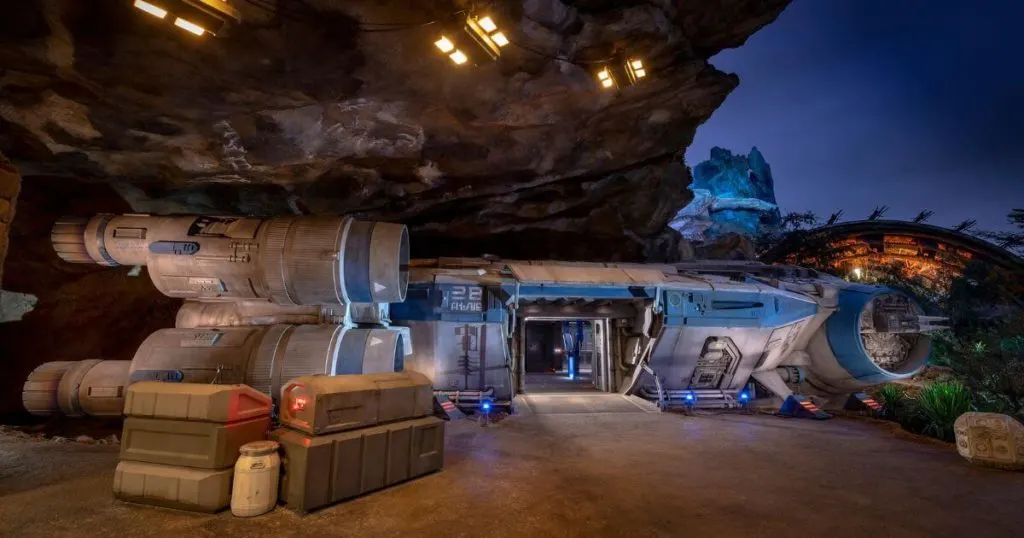 As I've mentioned a few times in this post, the lines for Rise of the Resistance can get super duper long.
The easiest way to avoid long lines for this ride is to purchase a Lightning Lane pass.
But, there are a few ways you can minimize your wait time without having to pony up your hard-earned cash.
To minimize your wait time without purchasing a Lightning Lane, I recommend going right at park opening.
If you're a Disney resort guest at Disney World, you get early entry to the parks. That's usually a half hour before official opening time. BUT, at Hollywood Studios, they often let resort guests in up to 1 hour before – it's just not advertised nor official.
Alternatively, if you get in line right before the park closes, the wait times are usually inflated to deter folks from entering. So even if it says it's going to be an hour, it's possibly a walk-on or at the very least, a short wait.
Lastly, if you're a Disney resort guest at a deluxe level resort at Disney World, you get extra evening hours on select nights at Hollywood Studios. Check wait times around the regular closing time to see if wait time has gone down.
If not, give it at least 30 minutes before checking again. You'll definitely see wait times go down since the park will have far less guests.
Is Rise of the Resistance worth it?
In conclusion, Rise of the Resistance is an incredible experience that is definitely worth the hype.
The ride feels like you're part of a Star Wars movie and it's an incredible way to get even more immersed in the Star Wars universe.
While there are elements of thrills and excitement, it's not too intense for most riders.
So if you're a Star Wars fan planning a trip to Disney's Hollywood Studios or Disneyland, be sure to add Rise of the Resistance to your must-ride list. It's an unforgettable experience you won't want to miss!
---
About the author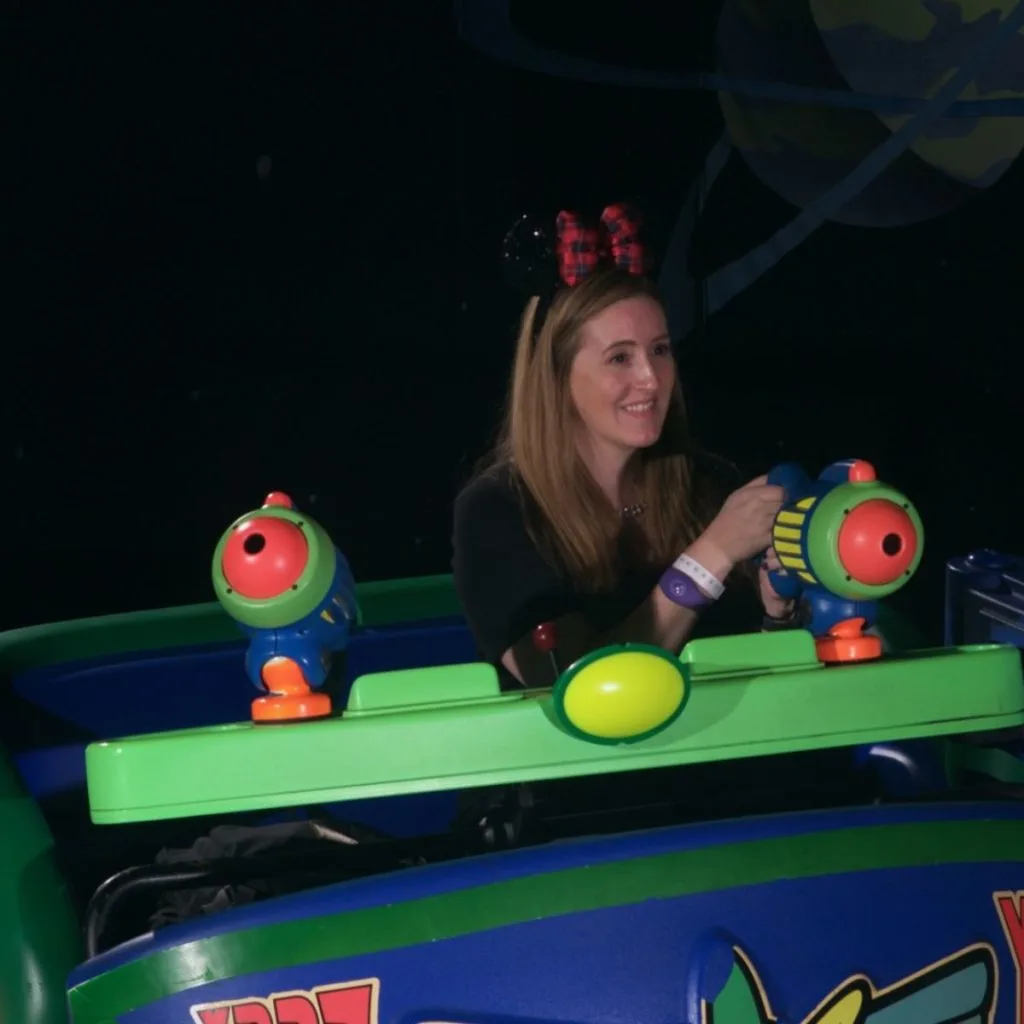 Meg Frost is the creator of The Park Pixie, where she covers Disney World, Disney+, and Disney fandom.
She holds an M.A. in Journalism from Northeastern University and B.S. in Communication & American Studies from University of Miami.
---