Walt Disney World in October is an excellent time to visit, especially if you adore the Fall season and all the spooky fun that comes with it.
While it's not peak tourist season, October only has a few pockets with lower crowds. Plus there are plenty of events and Halloween activities to keep everyone entertained.
Whether you're trying to decide when to visit or have already booked, this guide to Disney World in October has everything covered, from weather and packing tips to events and closures.
All dates and information subject to change throughout the year. This post will be updated frequently, but for the most up to date information on what's closed and what's reopened, check out my post about Disney World closures and what's new.
This post includes affiliate links. If you click on or make a purchase from an affiliate link, I might earn a commission at no extra cost to you.
Weather in Orlando in October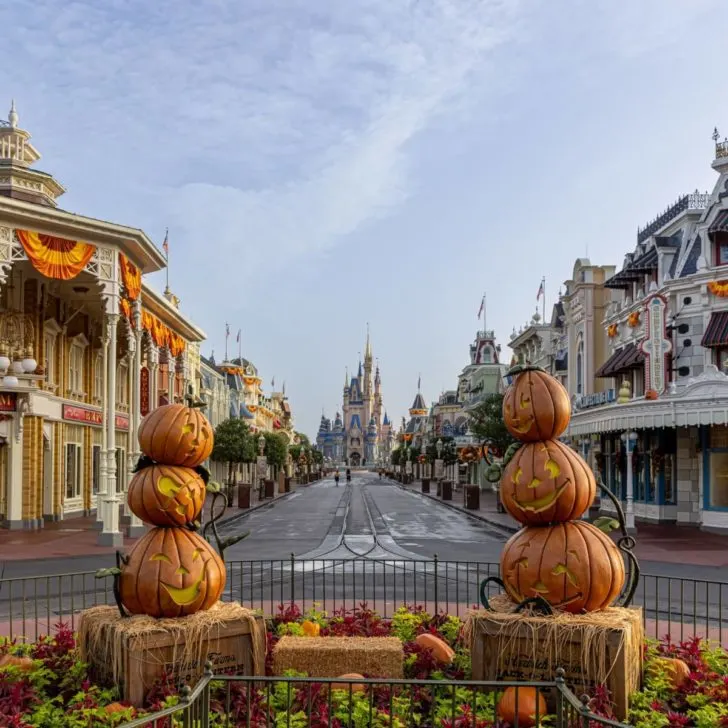 October ushers in the end of hurricane season for Florida and the rest of the southern US, which means drier weather.
In Orlando in October, the average high temperature is 84℉ and average low is 68℉ with average precipitation at 3.29 inches of rainfall (source).
Compared to just the month before, the average rainfall is nearly 50% less. Nice!
As you can see, it can still get hot in October, so if you want better chances of less hot and humid weather, you may want to visit in the late Fall or Winter months instead.
Now with it still being hurricane season – have no worries! It's rare for a hurricane to impact the Disney area in a drastic way.
In the event that a hurricane is projected to hit the area, Disney will keep guests safe and entertained in their resorts.
And if you choose to reschedule, Disney will graciously allow you to do so. Airlines and car rental companies usually do the same, too.
What to Wear to Disney World in October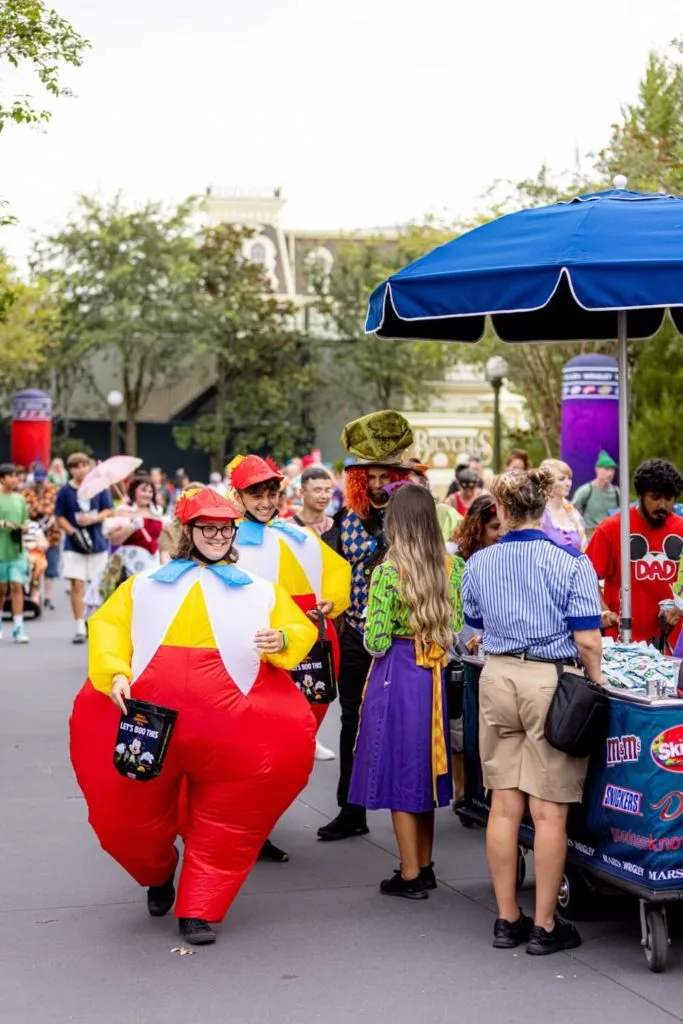 When thinking about what to pack and what to wear to Disney World in October, you're likely going to end up with a similar list compared to the Summer months.
Pack clothes that are light layers, like tank tops, t-shirts, shorts, and breezy dresses, or whatever it is that you prefer to wear in warm weather.
However, since the evenings can be a bit chilly, I recommend throwing in a light jacket or sweatshirt, maybe even a Disney spirit jersey, in case you get cold.
As for shoes, you know your feet best, so pack what will make your tootsies happy. I usually bring 1-2 pairs of sandals, like Birkenstocks, and 1 pair of canvas sneakers, like Vans slip-ons or Converse low-tops.
I see lots of folks rocking Crocs at Disney World, as well. Personally I'm not a fan of Crocs, but I have heard from many people that they are very comfortable, even at Disney World.
Last, but not least, Halloween costumes! Be sure to pack something fun, but keep in mind that there are strict rules that cast members will follow.
Per Disney's rules, kids under age 14 can wear costumes to the parks, as long as they follow general guidelines, such as nothing dragging on the ground and no face coverings (except, of course, health masks).
Guests over the age of 14 are not allowed to dress in costumes on regular park visits.
However, guests over the age of 14 can wear costumes when attending Mickey's Not-So-Scary Halloween Party.
Learn more about Mickey's Not-So-Scary Halloween Party in my MNSSHP Guide.
In addition to the usual dress code rules, if an adult is wearing a costume at one of these events, they cannot pose for photographs or sign autographs.
October Events & holidays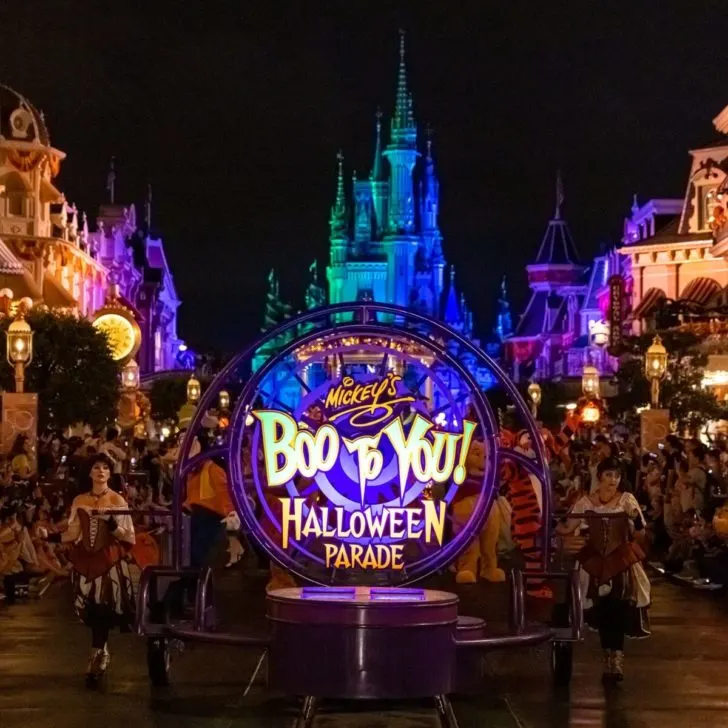 October has become one of the busiest times of the year at Walt Disney World, with Halloween growing in popularity, resorts offering more discounts, and longer school breaks contributing to a higher number of guests choosing October as the vacation month.
Along with the benefits the fall season brings (like ideal weather and lower crowds), fall offers unique experiences you cannot find any other time of the year at Disney World.
Halloween is well underway throughout the month of October, which is one of our favorite times of year to attend special events at Walt Disney World, such as the Epcot Food and Wine Festival and Mickey's Not-So-Scary Halloween Party, both of which continue through the end of the month.
Journey of Water ~ Inspired by Moana
Annual passholder and DVC owner previews for Journey of Water ~ Inspired by Moana continue October 1 – 4. The attraction will open to all guests on October 16.
A Moana meet-and-greet will also open nearby this new attraction, but Disney has not said when, nor whether the one at Animal Kingdom will close.
Disney's 100th Celebration
Disney's 100th Celebration kicks off on 9/22 and continues through the end of the year.
Epcot will be the host of this celebration, so be sure to reserve some time at Epcot if you'll be visiting this month!
Mickey's Not-So-Scary Halloween Party
If you're looking to go to Mickey's Not-So-Scary Halloween Party on or near Halloween, buy your tickets as soon as they go on sale (usually around July) as these dates sell out SUPER quick!
Also keep in mind that the Halloween party only runs on select nights, not every night, as it requires the Magic Kingdom to close early when it runs.
Columbus Day Weekend & HBCU Week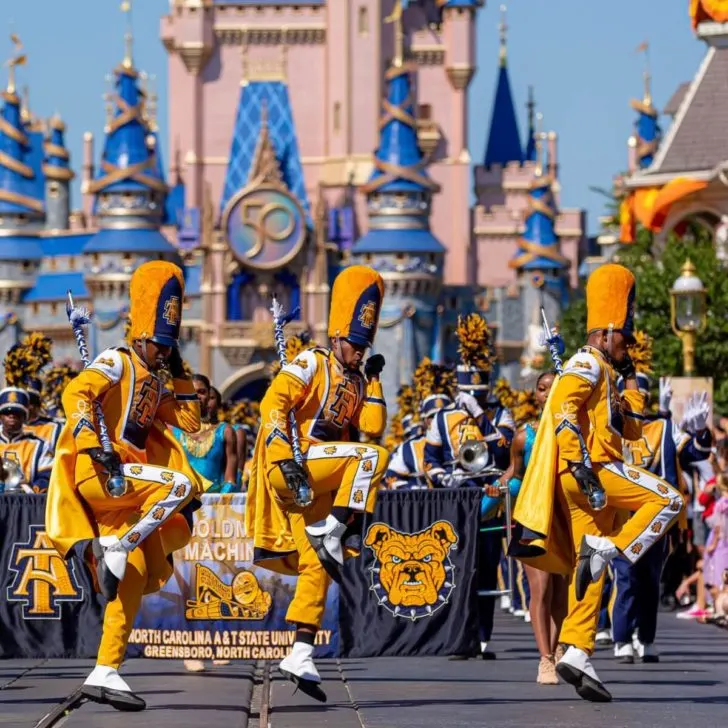 Columbus Day weekend is October 6-9, ending on Columbus Day, aka Indigenous Peoples Day. Many schools in the US have school breaks during this time due to the long weekend, resulting in larger crowd levels.
HBCU Week is expected to occur in October, as well, although the dates for 2023 have yet to be announced.
This event includes a college fair, scholarship awards, and learning opportunities in coordination with Disney on the Yard and the HBCU (Historically Black Colleges & Universities) Foundation.
In addition, several HBCU bands perform in parades at Magic Kingdom, as well as the ticketed Battle of the Bands event at the ESPN Sports Complex.
In 2022, HBCU week ran from October 7-9. Given that it coincided with Columbus Day weekend in previous years, my guess is it will again this year.
Halloween
Lastly, Halloween falls on Tuesday, October 31. If you're not able to visit WDW on Halloween, check out my post about the best Halloween movies and shows on Disney+, such as Hocus Pocus 1 & 2, for some at-home Disney fun.
As soon as Halloween passes, Christmas time is quickly ushered in at Walt Disney World resort, with many of the resorts and theme parks decorating as soon as the first week of November.
In fact, Mickey's Very Merry Christmas Party often starts just a few days after Halloween!
What's closed at Walt Disney World in October?
There should be minimal closures at Disney in October. Keep reading to see what's closed in October.
Disney's Animal Kingdom
At Animal Kingdom, most of the in-person character meet-and-greets are still on hold.
For the time being, many characters make surprise visits on boats that sail the Discovery River around Discovery Island.
Characters include Dug, Russell, Pocahontas, Timon, Rafiki, Scrooge McDuck, Launchpad McQuack, and more.
Lastly, the face painting station in Pandora, Colors of Mo'Ara, will likely still be closed.
Epcot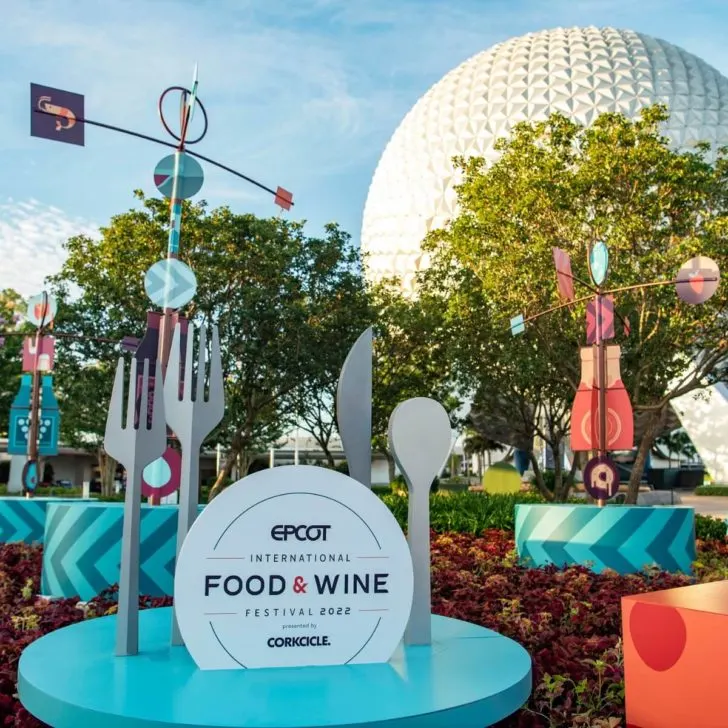 A handful of shops and restaurants at Epcot have been closed for some time now, with no opening date announced.
There's a possibility some might reopen by October, but also just as much a possibility that some will still be closed.
The shops and restaurants that are closed are:
Germany: Der Teddybar
Japan: Mitsukoshi Kiosk
Mexico: El Ranchito del Norte
Morocco: The Brass Bazaar, Casablanca Carpets, Marketplace in the Medina, and Restaurant Marrakesh
United Kingdom: Sportsman's Shoppe
In addition, Village Traders between the China and Germany pavilions and the Trading Post between Canada and the United Kingdom pavilions will also likely be closed in October.
Disney's Hollywood Studios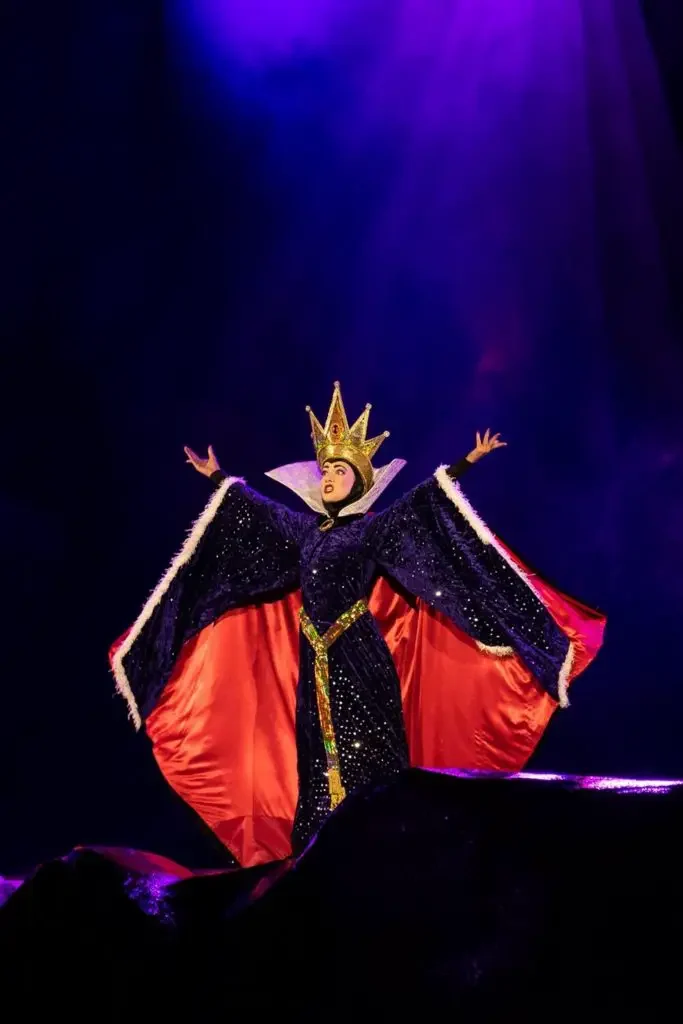 There are several shops and attractions that have been closed at Hollywood Studios for quite a while, but still expected to reopen at some point in the future.
Disney hasn't announced them as permanently closed, but they also haven't stated when they'll reopen. So it's very possible that some or all will still be closed in October.
The impacted shops and attractions include:
Star Wars Launch Bay theater*
Voyage of the Little Mermaid show
Disney Studio Store
In Character
Indiana Jones Adventure Outpost
It's a Wonderful Shop
Stage 1 Company Store
Despite so many closures at Hollywood Studios, there's still tons to do, so it is still worth a visit in my opinion.
*Although the theater is closed, the shops and meet-and-greets at Star Wars Launch Bay are open!
Magic Kingdom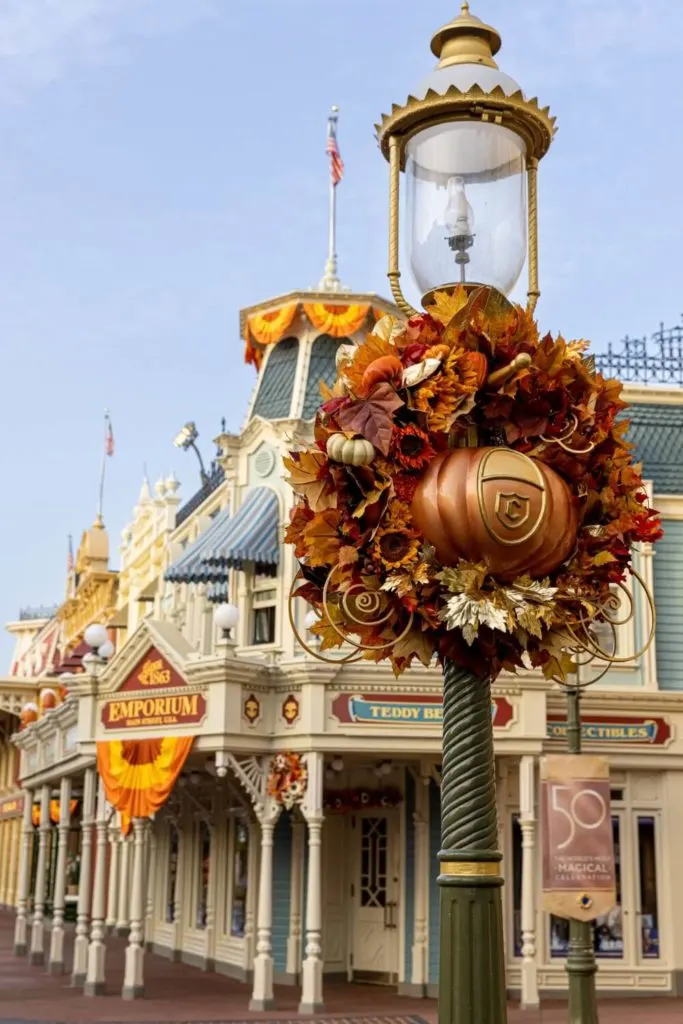 There are multiple closures expected at Magic Kingdom in October. This includes:
Meet Gaston (near his tavern)
Meet Alice at Mad Tea Party
Meet Tinkerbell at Town Square Theater
Splash Mountain, which will continue through late 2024 when it reopens as Tiana's Bayou Adventure.
The meet-and-greets listed here may or may not be permanently gone. They don't appear on the Disney World website or app as potential meet-and-greets, but I list them because I know they are guest faves and many of us hope they'll return soon!
Disney Springs
Bibbidi Bobbidi Boutique in Disney Springs is closed for refurbishment until further notice.
Will you visit Walt Disney World in October?
Visiting Disney in October can be a great time for fewer crowds and a variety of Halloween and Fall activities.
Many of the parks are less crowded than they are during the Summer, although beware of surges near Columbus Day weekend and Halloween.
We hope this Disney World in October planning guide has helped you make the most of your time at Walt Disney World. If you have any questions, please leave them in the comments below!
For more monthly planning guides, check out the following posts:
---
About the author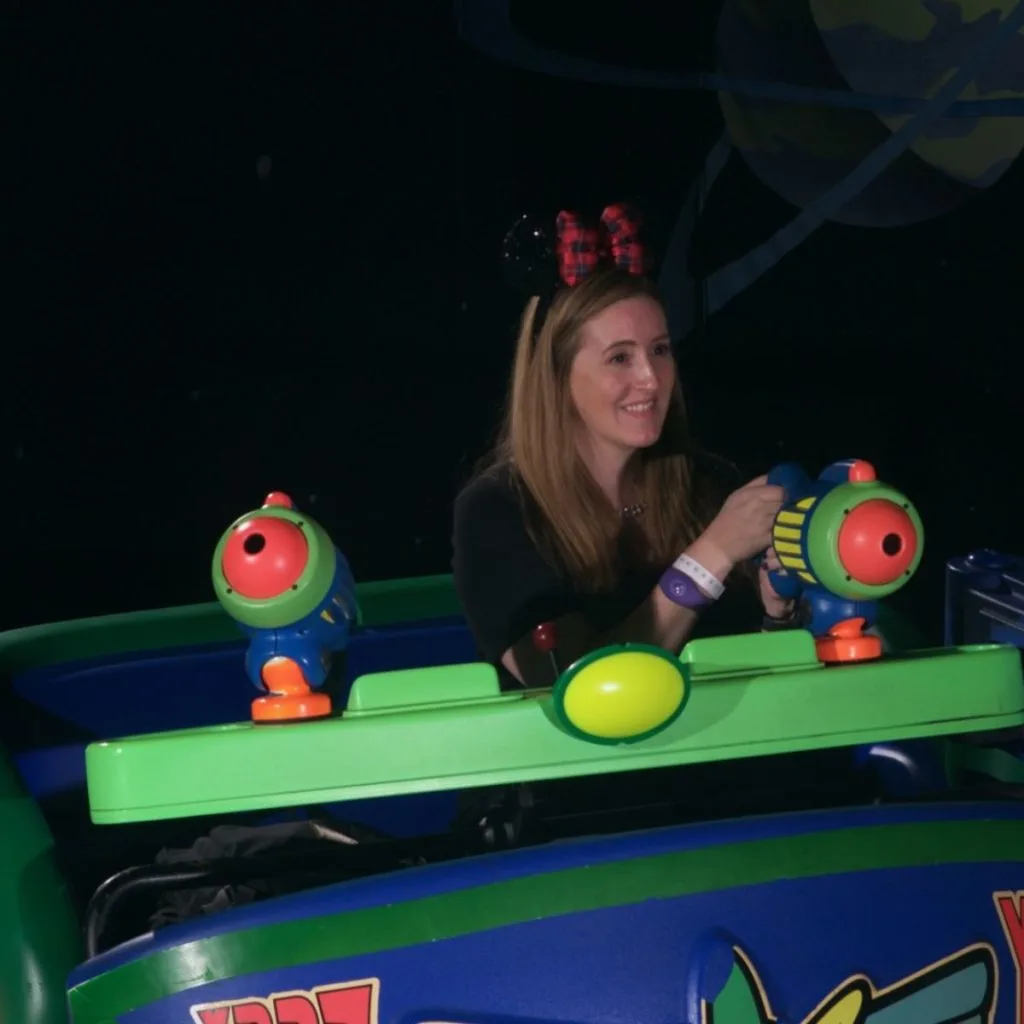 Meg Frost is the creator of The Park Pixie, where she covers Disney World, Disney+, and Disney fandom.
She holds an M.A. in Journalism from Northeastern University and B.S. in Communication & American Studies from University of Miami.
---
This post was originally published January 13, 2023. It was last updated September 12, 2023.