With so many options on Disney Plus, it can be a challenge to decide where to start. Don't worry, I've got you covered with my list of the best Thanksgiving movies on Disney Plus.
Whether you're looking for a good documentary, a family-friendly animated film, or something more dramatic and adventurous, I've got more than 24 suggestions on what to watch this holiday.
And if you're busy cooking and baking up the storm, keep an eye out for short films you can watch while taking a break.
So grab a pumpkin spice latte and some apple pie to snack on while I share the best Thanksgiving movies in Disney+ to watch this season.
NOTE: This post may contain spoilers to movie or show plots. These movies and shows are available to stream on Disney+ in the US as of publication time, unless otherwise noted. Availability can change at any time.
TPP's top picks
Don't have time to peruse the full list? No problem, here are my top five picks for best Thanksgiving movies on Disney Plus:
Most relevant: Turkey Hollow
Best short film: The Roof
Best Thanksgiving-y message: The Emperor's New Groove
Most random, but not random at all: Spider-Man
Chef's Pick: Ratatouille
Ratatouille (2007)
Director: Brad Bird
Voices by: Will Arnett, Janeane Garofalo, Patton Oswalt, John Ratzenberger, Lou Romano
Genre: Animation
Duration: 1 hr 51 min
Best for: When you need a pep talk about how everyone can cook
Set in the culinary city of Paris, Ratatouille tells the story of Remy, a rat who dreams of becoming a chef.
Remy forms a partnership with a kitchen worker at Gusteau's, a well-respected restaurant, to realize his dreams and change the minds of those who doubt him – especially a notoriously picky and snobby food critic.
The Wonderful Autumn of Mickey Mouse (2022)
Director: Karl Hadrika, William Reiss, and Eddie Trigueros
Voices by: Chris Diamontopolous (Mickey Mouse), Kaitlyn Robrock (Minnie Mouse)
Genre: Animation, Short Film
Duration: 24 min.
Best for: The day before Turkey Day when you have a full day of cooking and baking ahead of you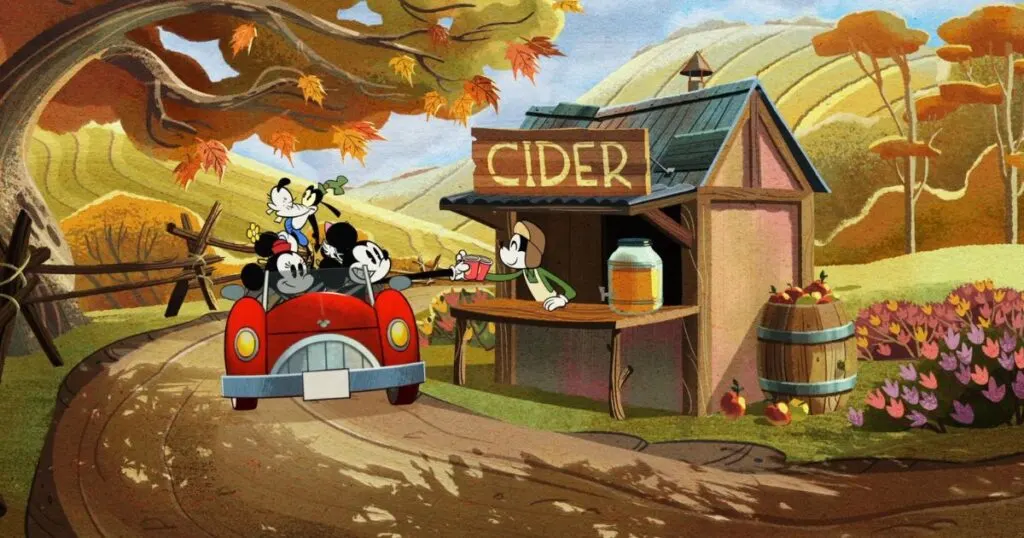 Mickey Mouse takes center stage in this Fall-filled animated short where he inherits a pumpkin farm and must bring it back to its old charm.
Pocahontas (1995)
Director: Mike Gabriel and Eric Goldberg
Voices by: Christian Bale, Irene Bedard, Mel Gibson, Linda Hunt
Genre: Animation
Duration: 1 hr. 28 min.
Best for: When you see the first Autumn leaf hit the ground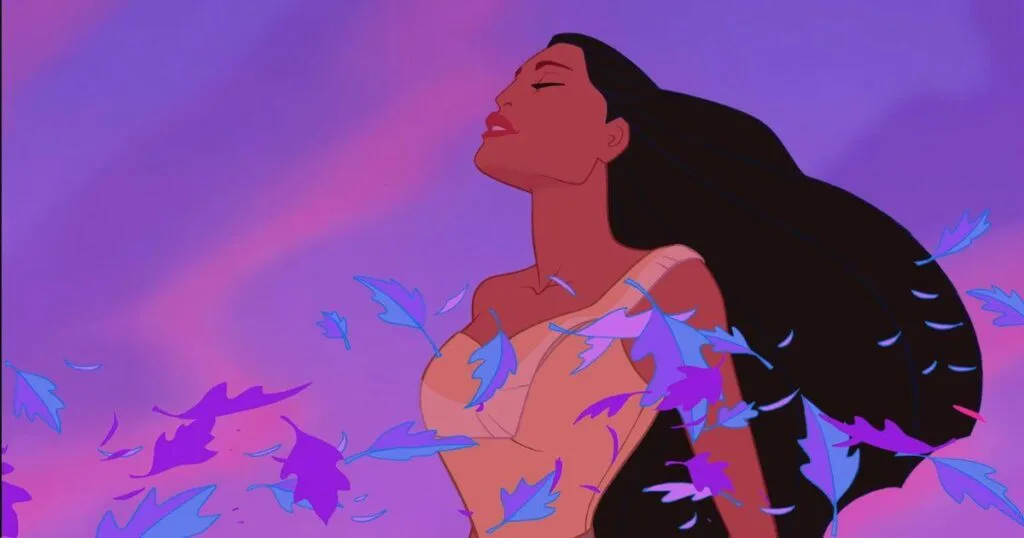 This beloved 90s animated film tells the story of an unlikely romance between Pocahontas, an Algoquin, and John Smith, whose people are taking over the Algonquin's land.
It's very loosely based on a true story – the invasion and romance happened, but the cutesy ending did not.
Inaccuracies aside, there are some lovely moments in this film, such as Pocahontas' ode to nature with the song Colors of the Wind.
Shortsgiving with Big City Greens (2020)
Voices by: Dee Bradley Baker, Chris Houghton, Bob Joles, Raven-Symoné
Genre: Animation, Short Film
Duration: 22 min.
Best for: Corralling the kiddos when there's too much chaos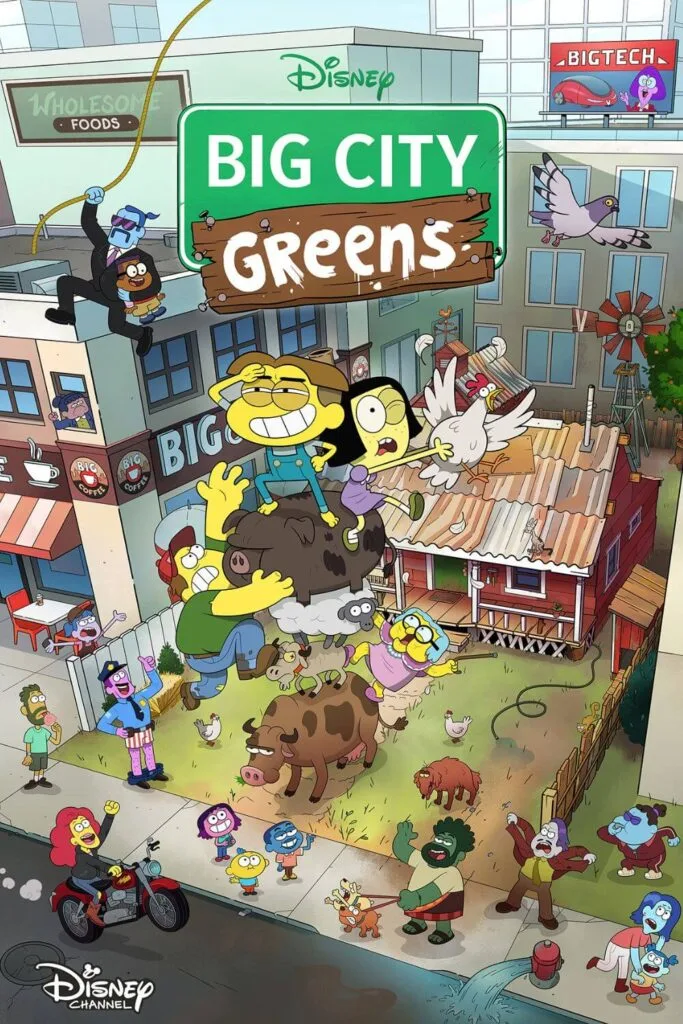 In this special short film, the animated stars of Big City Greens, show off their favorite short films from fellow animated Disney shows, Amphibia, Phineas & Ferb, and The Owl House, all while preparing for a Thanksgiving feast.
It's such an interesting concept and I love the meta-ness of it!
Spider-Man (2002)
Director: Sam Raimi
Starring: Tobey Maguire, Willem Dafoe, Kirsten Dunst
Genre: Action
Duration: 2 hr. 1 min.
Best for: While you're waiting for the turkey to cook
You might be a bit surprised to see this title on the list, especially if you've never seen it.
However, part of the movie takes place around Thanksgiving, with a pretty epic scene between Spider-Man and the Green Goblin during the Macy's Thanksgiving Day Parade.
And since it takes forever for the turkey to cook, you might as well make it a Spider-Man movie marathon and watch these titles as well:
Spider-Man 2 (2004)
Spider-Man 3 (2007)
The Amazing Spider-Man (2012)
The Amazing Spider-Man 2 (2014)
Spider-Man: Homecoming (2017)
Spider-Man: Far From Home (2019) – starts streaming November 3, 2023!
The most recent live-action Spider-Man film, Spider-Man: No Way Home (2021), is not available on Disney+.
However, Disney signed a deal in 2021 that will move this film to Disney+ after its existing agreements with other streaming services end (source). Maybe for Thanksgiving 2024?
National Treasure (2004)
Director: Jon Turteltaub
Starring: Nicholas Cage, Harvey Keitel, Diane Kruger, Jon Voight
Genre: Action, Adventure
Duration: 2 hr. 11 min.
Best for: An American history lesson with a twist
This action-packed adventure follows a treasure hunter, Benjamin Franklin Gates (Nicholas Cage) as he and his friends attempt to uncover a secret they believe is hidden on the back of the Declaration of Independence.
So if you're not in the mood for a family feel-good type flick, this mysterious action movie might be a better fit to watch this Thanksgiving.
Also available to stream on Disney+ is the sequel, National Treasure 2: Book of Secrets (2007).
And on that note, I secretly hope Nic Cage comes back for a third installment of this series.
The spin-off National Treasure show was cute, but cancelled way too soon. And it just didn't feel the same without Cage's character.
Lilo and Stitch (2002)
Director: Dean DeBlois, Chris Sanders
Voices by: Daveigh Chase, Chris Sanders, Tia Carrere, Ving Rhames
Genre: Animation
Duration: 1 hr. 25 min.
Best for: When tensions are high at the dinner table and everyone just needs to chill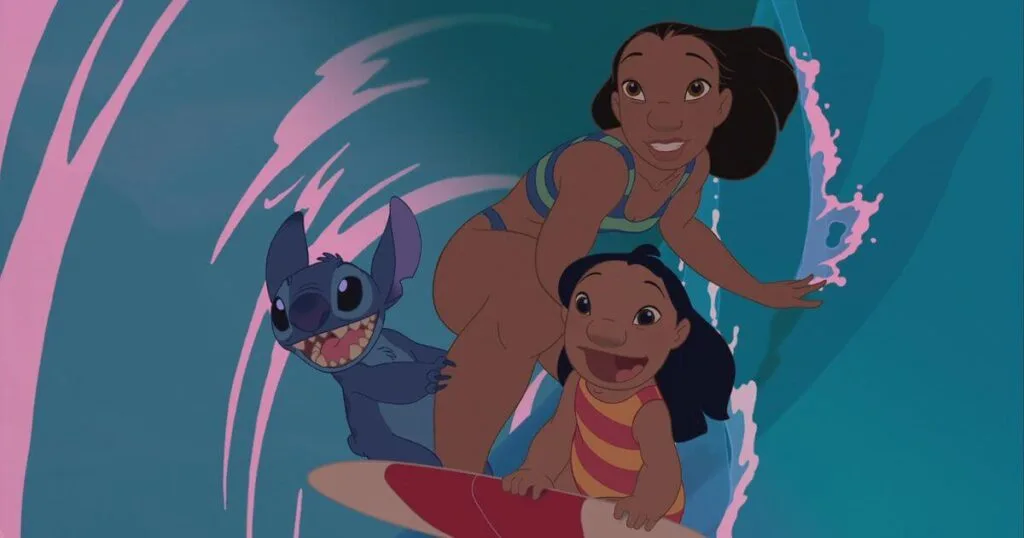 Lilo & Stitch is one of my favorite Disney animated movies – especially when it comes to stories about 'ohana (that's Hawaiian for family).
The film follows the story of a young, orphaned girl from Hawaii who lives with her older sister and is a bit of an outcast.
One day they adopt a pet from the local shelter, who turns out to be a rabble-rousing alien, Stitch, who is on the run from scientists in space who were experimenting on him.
It's a lovely story that is sure to make you appreciate the importance of your loved ones even if they did mess up the turkey again this year.
If you love this film, you'll also enjoy these selections on Disney+:
Stitch!: The Movie (2003)
Lilo & Stitch: The Series (2003-4)
Lilo & Stitch 2: Stitch Has a Glitch (2005)
Leroy & Stitch (2006)
Turkey Hollow (2015)
Director: Kirk R. Thatcher
Starring: Ludacris, Genevieve Beuchner, Jay Harrington, Mary Steenburgen, Graham Verchere
Genre: Family
Duration: 1 hr. 27 min.
Best for: a post-meal movie fest while you digest dinner before tackling dessert
Turkey Hollow is a heartwarming TV movie that follows the adventures of a family visiting their eccentric Aunt Cly during Thanksgiving.
With nothing much to do, the kids, Annie and Tim, set off to the woods to track down a legendary creature that most people don't even believe exists. Except it does!
Meanwhile, there's a turkey thief on the loose and the family teams up with some new friends to solve the mystery.
This feel-good movie is perfect for the whole family and will make you feel warm and fuzzy inside.
Squanto: A Warrior's Tale (1994)
Director: Xavier Koller
Starring: Adam Beach, Mandy Patinkin
Genre: Drama, Adventure
Duration: 1 hr. 42 min.
Best for: When you need a reminder of how Pilgrims really treated the Native Americans
This historical drama tells the story of Squanto, a Native American from the Patuxet people who helped the first wave of Pilgrims settle in the area now known as Massachusetts.
Despite his diplomatic efforts, he's kidnapped and must fight to escape and make his way home.
This movie is based on a true story, although some parts are fictionalized.
But it does serve as a reminder that the history many of Americans were taught in school about Thanksgiving isn't as rosy as it was made out to be.
The Roof (2023)
Director: Alexander Bocchieri
Starring: Phoenix Wilson
Genre: Short Film
Duration: 19 min.
Best for: Learning stories about modern day indigenous Americans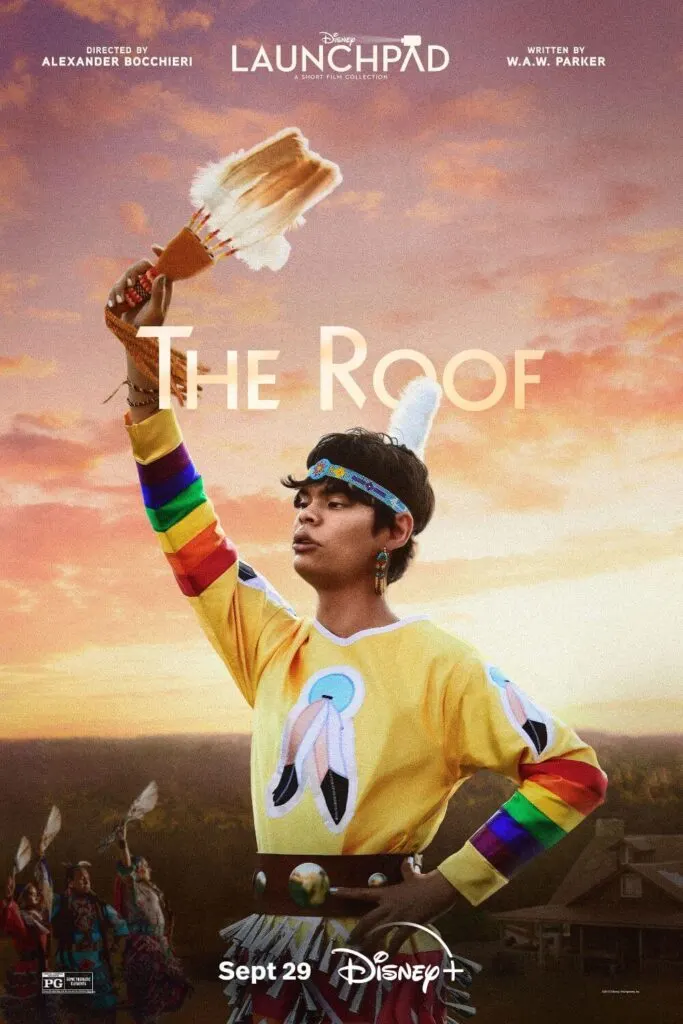 In this new short film from Disney's Launchpad, Season 2, a teen is sent to stay with his grandfather, igniting a connection to his indigenous roots.
I'm so glad Disney is finally adding more content with positive stories featuring indigenous characters! I just hope this means more is coming down the pipeline because the few stories we have are just ok.
America's National Parks (2015 & 2020-22)
Narrated by: C.T. Taylor (2015) & Garth Brooks (2020-22)
Genre: Docuseries
Duration: 45-46 min per episode
Best for: When you need a reminder about how beautiful America is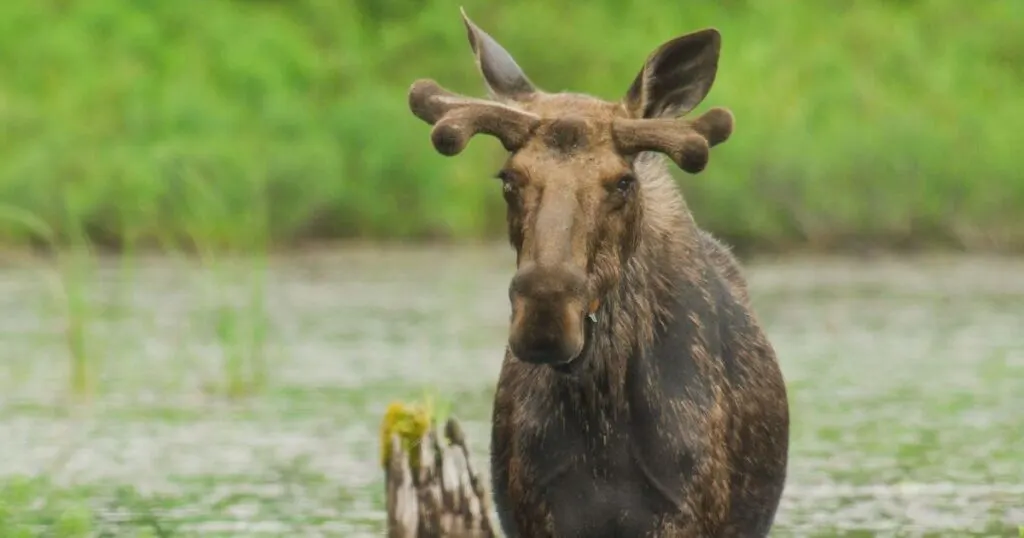 For those who love nature and exploration, National Geographic's docuseries, America's National Parks is the perfect pick to watch while cooking Thanksgiving dinner.
As the show's title suggests, the series explores a different US national park in each episode, showing of the most stunning landscapes across the country, from the Yosemite to the Everglades.
This show is a great reminder to be thankful for the beautiful land we're inhabiting, because one day it may no longer be here.
Safety (2020)
Director: Reginald Hudlin
Starring: Jay Reeves, Thaddeus J. Mixson
Genre: Drama
Duration: 2 hr. 3 min.
Best for: When half the fam wants to watch football and the other half wants a family-friendly movie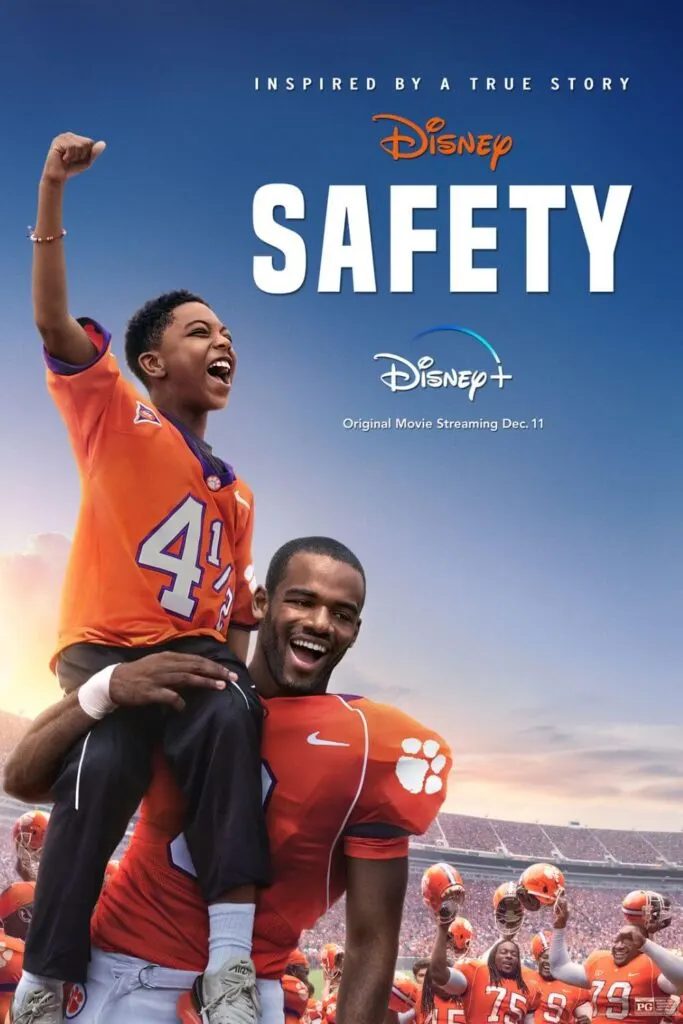 This inspiring movie tells the true story of a college football player, Ray McElrathbey (Jay Reeves), who is forced to take care of his little brother because their mom is struggling with substance abuse.
With themes of perseverance and community, this movie is sure to inspire and uplift – just be prepared with some tissues for your inevitable tears.
For more great football flicks, check out my post about the best football movies and shows on Disney+.
The Emperor's New Groove (2000)
Director: Mark Dindal
Voices by: John Goodman, Eartha Kitt, David Spade, Patrick Warburton
Genre: Animation
Duration: 1 hr. 22 min.
Best for: Reminding everyone to be more giving than greedy
This hilarious movie tells the story of a greedy emperor, Kuzco (David Spade), who gets turned into a llama by his advisor, Yzma (Eartha Kitt) and her crony, Kronk (Patrick Warburton).
After being banished, Kuzco must find his way back to his throne (and human body) with help from Pacha (John Goodman), a reluctant peasant whose land is about to be taken over by Kuzco.
The Emperor's New Groove is one of my all-time faves that has an important lesson about gratitude, service, and community that everyone needs a reminder of, not just at Thanksgiving, but year round.
And if you like this movie, there's more available on Disney+:
Kronk's New Groove (2005)
The Emperor's New School, 2 Seasons (2006-7)
We Feed People (2022)
Director: Ron Howard
Genre: Documentary
Duration: 1 hr. 30 min.
Best for: A reminder to give back to your community and those in need
This documentary, directed by Ron Howard, follows the story of World Central Kitchen (WCK), an organization started by famous chef José Andrés.
WCK was originally a small, local organization, but has transformed into a huge aid program that helps feed people after disasters strike.
Cheaper by the Dozen (2003)
Director: Shawn Levy
Starring: Hillary Duff, Bonnie Hunt, Steve Martin, Piper Perabo, Alyson Stoner
Genre: Family
Duration: 1 hr. 39 min.
Best for: Those who have big families and need a reminder that despite the craziness, it's kinda cool
Cheaper by the Dozen follows the Bakers, a blended family with a dozen children between them and their chaotic life with ambitious parents and equally as ambitious children – which is a recipe for disaster.
Can they make it work or will everything fall apart?
As someone who grew up in a large, blended family, I greatly appreciated seeing this film because I often felt out of place because there weren't any families like mine in my hometown.
But honestly, I wouldn't trade it for the world! Here's to more representation for modern day, blended families!
P.S. The sequel, Cheaper by the Dozen 2, is also available on Disney+.
Coco (2017)
Director: Lee Unkrich
Voices by: Anthony Gonzalez, Gael García Bernal, Benjamin Bratt
Genre: Animation
Duration: 1 hr. 44 min.
Best for: Bonding with the whole family, followed by trading stories together
Coco follows the story of Miguel, a young Mexican boy who dreams of being a musician, despite his family banning music due to a supposed curse.
Except the story he's always been told is wrong, leading to disaster that might take Miguel away from his family forever.
Will Miguel make it back to his family? Will everyone learn the true story about the curse?
Prepare the tissues because this movie will make you cry unless you have a heart of stone.
But you'll also be inspired to trade stories with one another after watching with your family, vowing to never hide anything from one another again. And isn't togetherness a big part of the Thanksgiving holiday?
If you enjoy this film, you might also like these selections on Disney+:
Coco en Español (2017)
A Celebration of Music from Coco (2020)
Coco – Sing-Along Version (2022)
Frozen (2013)
Director: Chris Buck and Jennifer Lee
Voices by: Kristen Bell, Josh Gad, Jonathan Groff, Idina Menzel
Genre: Animation
Duration: 1 hr. 46 min.
Best for: Sisterly bonding time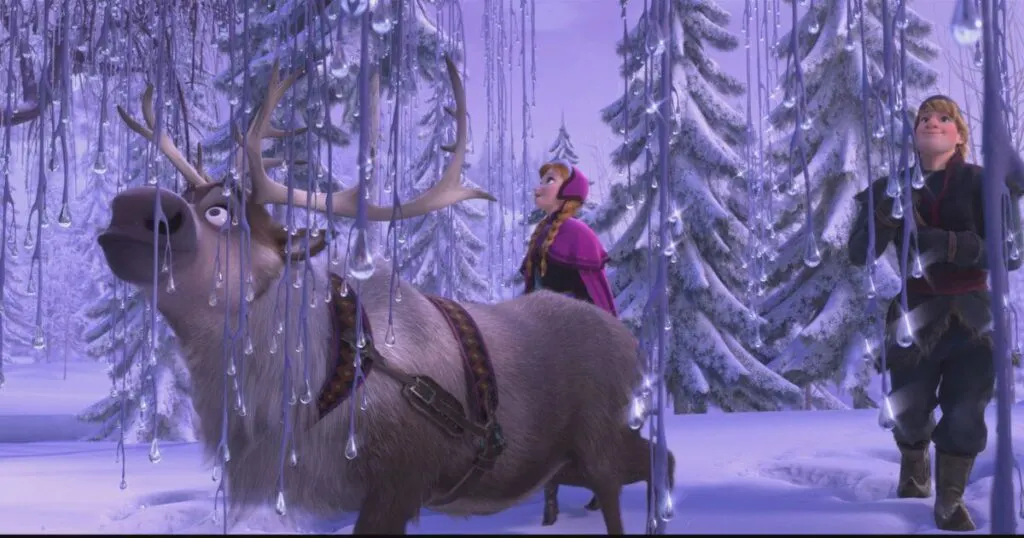 Frozen follows the story of princesses Anna and Elsa, two orphaned sisters kept apart by Elsa's deadly secret.
When the secret comes out on an important day, further driving them apart, and endangering their home, Anna makes it her mission to make things right.
With themes of sisterhood and love, along with some comedic relief from Olaf the walking, talking snowman, this movie is perfect for some sisterly bonding time before things get wild during the holiday season.
If you enjoy this film, you'll probably also enjoy these selections on Disney+:
Frozen – Sing-Along Version (2014)
Frozen Fever (2015)
Olaf's Frozen Adventure (2017)
Frozen II (2019)
Myth: A Frozen Tale (2019)
Arendelle Castle Yule Log (2020)
Once Upon a Snowman (2020)
Into the Unknown: Making Frozen II (2020)
Arendelle Castle Yule Log (2021)
Olaf Presents, Season 1 (2021)
Frozen II – Sing-Along Version (2022)
Onward (2020)
Director: Dan Scanlon
Voices by: Tom Holland, Chris Pratt
Genre: Animation
Duration: 1 hr. 24 min.
Best for: Watching with your siblings, even if they annoy you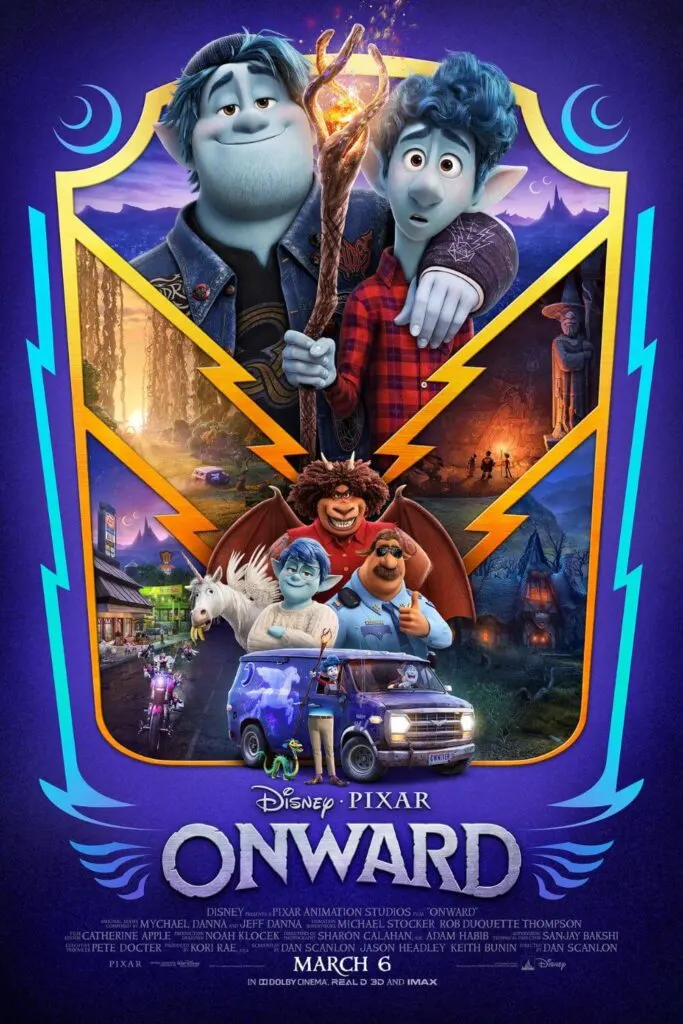 In this adventurous story, two brothers, who are polar opposites, head off on a road trip of sorts, in an effort to bring their late dad back to life.
This story is a touching reminder about the importance of siblings, even when you don't always see eye-to-eye or can't agree on who brings which side dish to Thanksgiving dinner.
Freaky Friday (2003)
Director: Mark Waters
Starring: Lindsay Lohan, Jamie Lee Curtis
Genre: Family, Comedy
Duration: 1 hr. 38 min.
Best for: A little mother-daughter bonding time
This film follows the story of a mother and teenage daughter, Tess (Jamie Lee Curtis) and Anna (Lindsay Lohan) who magically switch bodies just before Tess is set to remarry.
The duo is forced to live the other's life for a day until they can figure out how to switch back and naturally it leads to some chaos!
This fun and heartwarming movie showcases the importance of acknowledging and understanding others' perspectives – something that's especially important during the holiday season.
The 1977 and 2018 versions of this film are also available on Disney+, but I personally think the 2003 version is the best one!
Flamin' Hot (2023)
Director: Eva Longoria
Starring: Jesse Garcia
Genre: Biopic
Duration: 1 hr. 38 min.
Best for: When you need a reminder that the American dream still exists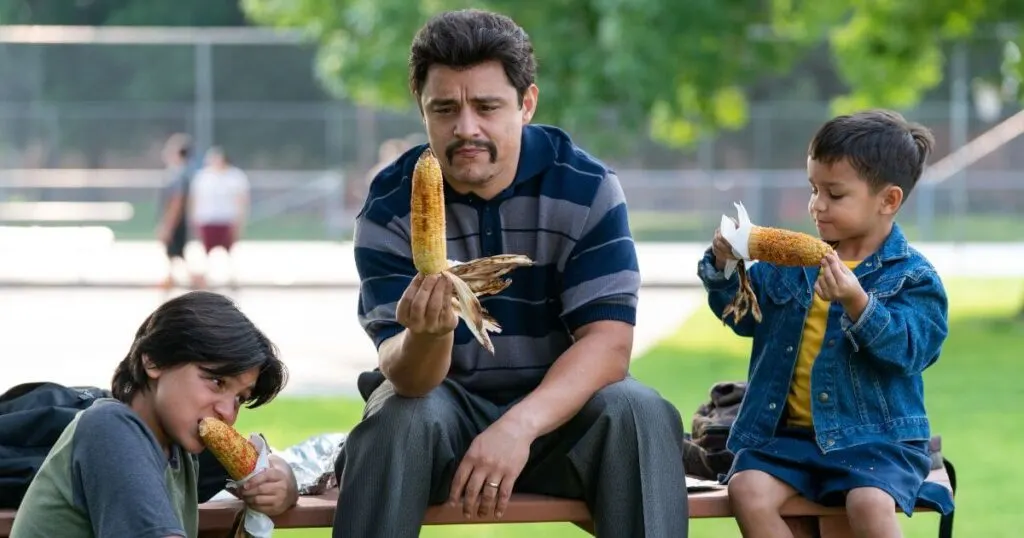 This fascinating biopic explores the history behind Flamin' Hot Cheetos.
I bet you never even gave a thought as to how this spicy snack came to be, but when you find out a janitor at Frito-Lay, Richard Montañez (Jesse Garcia), created them, you'll be running to press play on Disney+.
Flamin' Hot is an interesting film about the American dream that gives hope to those who dream just as big as Richard.
Once Upon a Studio (2023)
Director: Dan Abraham and Trent Correy
Voices by: Chris Diamontopolous, Kaitlyn Robrock, and countless others!
Genre: Animation, Short film
Duration: 9 min.
Best for: When you're feeling nostalgic and thankful for Disney's brilliant storytelling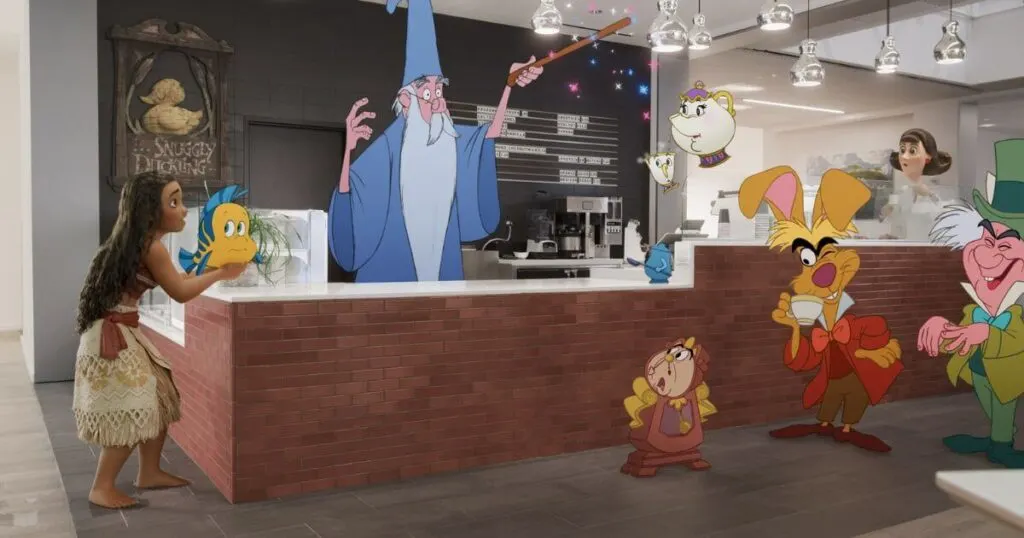 One of the newest titles on Disney+ is the animated short film, Once Upon a Studio, which follows all of the animated Disney and Pixar characters gather together for a 100th anniversary photo.
While Thanksgiving is not featured in this short story, it did make me feel so very grateful for all of the beautiful stories Disney has given us over the past 100 years.
Without them, we wouldn't have such a full list to watch on a holiday about gratitude and family.
So give it a watch – but prepare yourself with tissues because you might tear up like I did!
The Santa Clause (1994)
Director: Michael Lembeck
Starring: Tim Allen
Genre: Family
Duration: 1 hr. 38 min.
Best for: Saying goodbye to Thanksgiving and kicking off the Christmas season
In this fun Christmas movie, a divorced dad accidentally becomes Santa Claus after the previous one falls off his roof.
He's given until Thanksgiving of the next year to come to terms with his new job and report to the North Pole, which is where the holiday of thanks comes in.
It's the right blend of both holidays that makes it a great pick to watch as you're kicking off the next holiday.
If you love this holiday film, you'll also like these selections on Disney+:
The Santa Clause 2 (2002)
The Santa Clause 3: The Escape Clause (2006)
The Santa Clauses, Season 1 (2022) – Season 2 starts on November 8, 2023.
And once you get through all of the sequels, check out my post about must-watch Christmas movies on Disney+ for even more selections.
Decorating Disney Holiday Magic (2017)
Starring: Sofia Carson, Jordan Fisher, Whoopi Goldberg
Genre: Documentary
Duration: 42 min.
Best for: the day after Thanksgiving, with Black Friday sales ads in hand and boxes of Christmas decor to go through
For those who love all things Disney parks, Decorating Disney Holiday Magic is a must-watch.
This fascinating special takes a behind-the-scenes look at how Disney parks and resorts around the world are decorated for the holiday season.
I make it a point to watch this at the beginning of the Christmas season every year, especially if I can't make it to one of the parks for some holiday fun that year.
Thanksgiving episodes on Disney Plus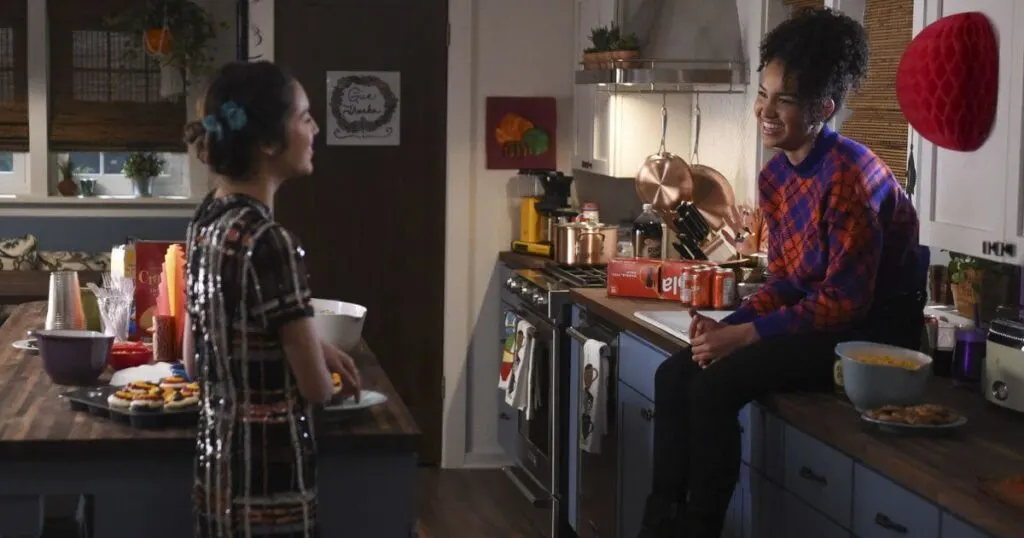 In addition to all of the great movies available, here's a running list of Thanksgiving episodes I've found on Disney+:
High School Musical: The Musical – The Series, Season 1, Episode 7: Thanksgiving
Mickey Mouse Mixed-Up Adventures, Season 1, Episode 7: Mickey's Thanksgiving Day Fun Race / Happy Thanksgiving Helpers
Marvel's Spidey & His Amazing Friends, Season 2, Episode 8: Halted Holiday / Merry Spidey Christmas
The Simpsons Thanksgiving episodes
Voices by: Nancy Cartwright, Dan Castellaneta, Julie Cavner, Yeardley Smith
Genre: Animation, Comedy
Best for: Older kids and adults looking for some short-ish content to watch in between cooking a feast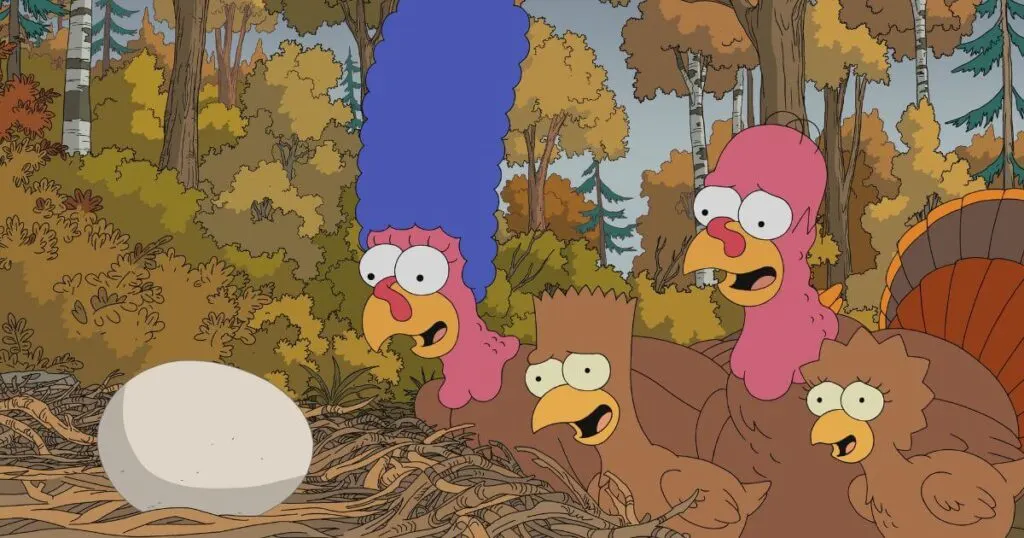 The long-running animated series has created some epically funny Thanksgiving episodes over the years.
From Homer accidentally cooking a poisoned turkey to Bart running away from home, these episodes are sure to get you in the holiday spirit.
Here are all the Thanksgiving episodes from The Simpsons available on Disney+:
Season 2, Episode 7: Bart vs. Thanksgiving
Season 12, Episode 5: Homer vs. Dignity
Season 13, Episode 3: Homer the Moe
Season 23, Episode 9: Holidays of Future Passed
Season 25, Episode 5: Labor Pains
Season 31, Episode 8: Thanksgiving of Horror
What are your favorite Thanksgiving movies on Disney Plus?
There are many different types of movies and shows on Disney+ to enjoy this Thanksgiving holiday.
From watching our favorite characters celebrate the holiday themselves to movies with themes of gratitude, family, and community, each of these movies and shows brings something great to the table.
Remember to take breaks from screen time and spend quality time with family and friends, too!
Whether it's baking cookies, playing games, or going for a walk in nature, it's important to balance entertainment with real-life connections.
Also, don't forget to spread joy and kindness to those around you, just like many of the heartwarming messages found in these movies and shows.
Happy Thanksgiving to you and yours!
---
About the author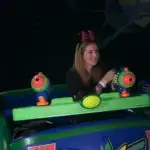 Meg Frost is the creator of The Park Pixie, where she covers Disney World, Disney+, and Disney fandom.
She holds an M.A. in Journalism from Northeastern University and B.S. in Communication & American Studies from University of Miami in Florida.
---
This post was originally published October 22, 2023. It was last updated November 17, 2023.