Are you ready to step up to the plate and swing for the fences?
Whether you're a lifelong baseball fan or just looking for something fun and nostalgic to watch on Disney Plus, I've compiled a lineup of 14 home runs that will make your night.
So grab some popcorn, put on your warmest jersey, fire up the TV, and get ready to watch these iconic baseball movies on Disney Plus.
New baseball movies on Disney+ this year
Here's a quick list of all the new baseball movies, shows, and documentaries on Disney+ this year:
Air Bud: Seventh Inning Fetch (2002) – added October 1, 2023
Air Bud: Seventh Inning Fetch (2002)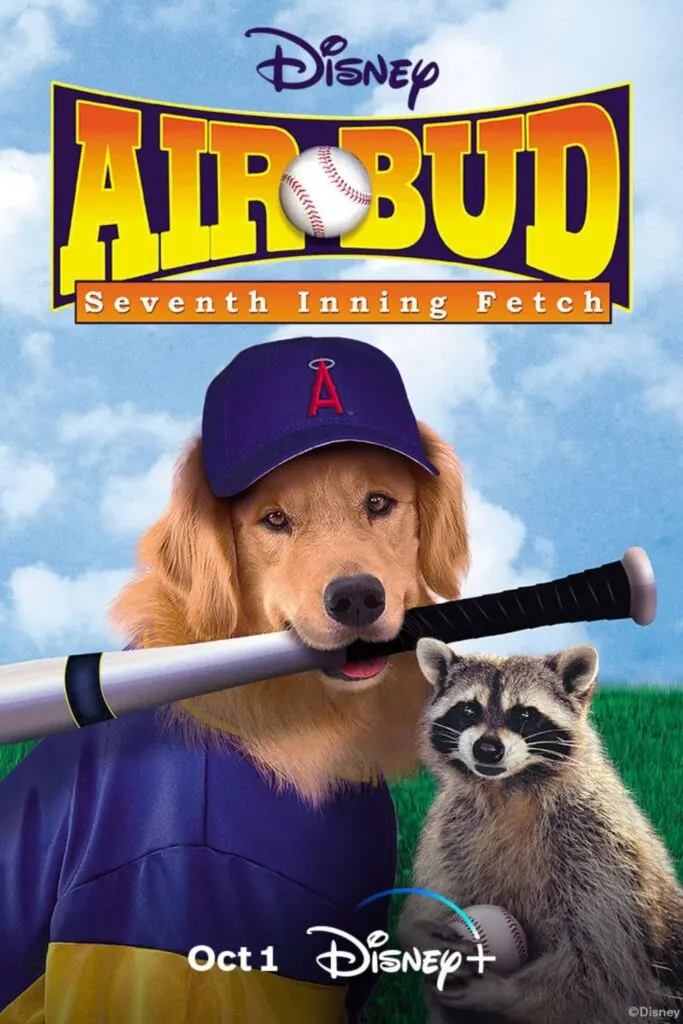 Air Bud: Seventh Inning Fetch is a family favorite among Disney Plus subscribers.
Buddy, the beloved golden retriever pup, steals the show once again with his impressive baseball skills and heartwarming charm.
The movie follows Buddy and his friend Andrea as they attempt to save the high school baseball team from a disastrous season.
Along the way, they face both triumphs and tribulations, but ultimately demonstrate the power of determination and teamwork.
Brothers in Exile (2014)
Brothers in Exile is an incredibly inspiring baseball documentary on Disney Plus.
This documentary follows the journey of Livan and Orlando "El Duque" Hernandez, two Cuban brothers who rose to greatness against all odds.
Watch Brothers in Exile to dive deep into the lives of these talented Cuban brothers and see their extraordinary story brought to life.
The Day the Series Stopped (2014)
The Day the Series Stopped focuses on a beautiful day in 1989 when Candlestick Park was hosting the World Series between the San Francisco Giants and Oakland A's.
Right when it looked like things were about to get really exciting, an unexpected event occurred.
A massive 6.9 earthquake hit northern California abruptly stopping play and forcing those involved to manage through the disaster.
This documentary perfectly chronicles this unique moment in our history that was simultaneously unforgettable and devastating.
Deion's Double Play (2019)
Deion's Double Play recounts the real-life story of dual-sport professional athlete Deion Sanders during the overlap of the NFL and MLB seasons.
Focusing on his unique journey to become the only athlete to play in both Major League Baseball and the National Football League in the same year, Deion's amazing feat was realized when he played for both Atlanta Falcons and Atlanta Braves in 1989.
His unprecedented record still stands today, making him one of the most iconic athletes ever.
Whether you're an NFL or MLB fan, Deion's Double Play is a must-see for anyone interested in sports history and an inspirational story about sacrificing for success.
Doc & Darryl (2016)
Doc & Darryl chronicles the journeys of Dwight "Doc" Gooden and Darryl Strawberry, two former superstars of the New York Mets.
The documentary follows their stories, from incredible success to devastating consequences during 1980s New York.
Eddie's Million Dollar Cook-Off (2003)
If you're looking for a classic Disney Channel Original Movie, look no further than Eddie's Million Dollar Cook-Off.
The movie follows Eddie as he rebels against his father by participating in a televised cook-off instead of pursuing baseball like his father prefers. It also features legendary chef Bobby Flay in a supporting role.
Whether you're just in it for the laughs or for some actual cooking wisdom, Eddie's Million Dollar Cook-Off has something for everyone!
Fernando Nation (2010)
Relive some of the glory days of LA Dodgers' legendary pitcher Fernando Valenzuela with ESPN Film's documentary, Fernando Nation.
So grab your Dodgers cap and get ready to celebrate one of the greatest players in history!
Four Days in October (2010)
If you're looking for an absolute classic of a baseball documentary, look no further than Four Days in October.
This gem provides an unforgettable look at the redemption story of the Boston Red Sox.
It focuses particularly on their remarkable 2004 ALCS comeback against the New York Yankees, offering an interesting and entertaining insight into their one-of-a-kind journey from the bottom to the top.
I'll never forget this day, as I had just moved to Boston a month prior – right near Fenway Park.
It was an absolutely wild time to be in Boston and I highly recommend catching this documentary!!
Goofy: How to Play Baseball (1942)
Released by Disney in 1949, this classic short animated film is now available on Disney Plus for your viewing pleasure.
In this charming educational video, Goofy takes us through the fundamentals of the game – from discerning baseball positions to understanding rules and technique.
Full of lovable animation and iconic characters, How to Play Baseball is a great way to entertain yourself while getting familiarized with America's pastime.
Jordan Rides the Bus (2010)
In 1993, at the top of his game, NBA great Michael Jordan walked away from everything after his father passed unexpectedly (and at the hands of others).
Jordan Rides the Bus follows that stunning year Jordan quit basketball and went to play minor league baseball in Birmingham, AL.
A Kid in King Arthur's Court (1995)
If you're looking for a magically fun movie, look no further than A Kid in King Arthur's Court.
Starring the lovable Thomas Ian Nicholas, this movie puts the game of baseball in a whole new realm.
Join young Calvin as he is transported to a far off kingdom filled with knights, kings, and wizards after he falls through a crack in the earth during an earthquake while playing little league baseball.
Whether you're looking for family fun or just want a unique spin on America's favorite pastime, A Kid in King Arthur's Court won't fail to deliver laughs and inspire all at once.
Long Gone Summer (2020)
Have you ever heard of the great home run race between Mark McGwire and Sammy Sosa back in 1998?
Well, if you missed out on it, never fear because ESPN captured it all in Long Gone Summer.
As a heartfelt baseball story dedicated to a record-breaking season, viewers are taken on an exciting journey with two of America's favorite players at the time.
Who will come out on top?
The Rookie (2002)
A true underdog story that'll have you rooting for the lead character the entire way through, The Rookie tells the inspiring true story of Jim Morris, played by Dennis Quaid.
High school teacher and coach Jim Morris gets a second chance to play in the major leagues at age 35.
I love a good underdog story, don't you?
The Sandlot: Heading Home (2007)
The Sandlot: Heading Home is a must watch on Disney Plus! If you're a baseball fan, you'll love this heartwarming movie.
The third installment of the Sandlot films follows LA Dodgers player Tommy Santorelli who time travels back to his childhood after being hit in the head by a pitch.
The year is 1976, when he and his friends played baseball on the sandlot. The sandlot is in danger of having condos built on it, so he and his friends set out to save it.
Can they do it? And will Tommy get back to present time?
As of publication time, the first 2 Sandlot movies are not on Disney Plus. However, it's possible they'll be added in the future!
Silly Little Game (2010)
The documentary Silly Little Game tells the story of the Rotisserie League, which many say was the beginning of fantasy sports.
This documentary takes us through a time capsule to relive one of America's favorite pastimes told by quirky experts who have seen it all.
If you love baseball and some good old humor at the same time, be sure to check out this gem!
The Park Pixie's top picks
There's not much when it comes to baseball content on Disney+, but there are a few gems!
Here's my top 3 picks:
Best documentary: Silly Little Game (2010)
Best for little kids: Air Bud: Seventh Inning Fetch (2002)
Best for older kids: A Kid in King Arthur's Court (1995)
What are your favorite baseball movies on Disney Plus?
Whether you're a casual fan or die-hard devotee of America's pastime, these titles offer something for everyone.
As we look back fondly on these timeless tales from the MLB's greatest moments (not to mention its most beloved legends), why not make a plan to watch one this week?
So what are you waiting for? Crack open a cold one, pop some popcorn, and let's stream something on Disney Plus!
What are your favorite baseball movies on Disney Plus? Let me know in the comments below.
---
About the author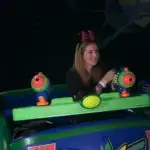 Meg Frost is the creator of The Park Pixie, where she covers Disney World, Disney+, and Disney fandom.
She holds an M.A. in Journalism from Northeastern University and B.S. in Communication & American Studies from University of Miami in Florida.
---
This post was originally published April 7, 2023. It was last updated October 10, 2023.